Wondering about Dollywood's most recent expansion, Wildwood Grove? After several visits, we have absolutely fallen in love with the enchantment of Dollywood Wildwood Grove!
From the theming, to the rides, and even the food options, we just love hanging out in Dollywood's largest and newest expansion! Read on to learn more about all that Wildwood Grove has to offer and the tips we learned along the way!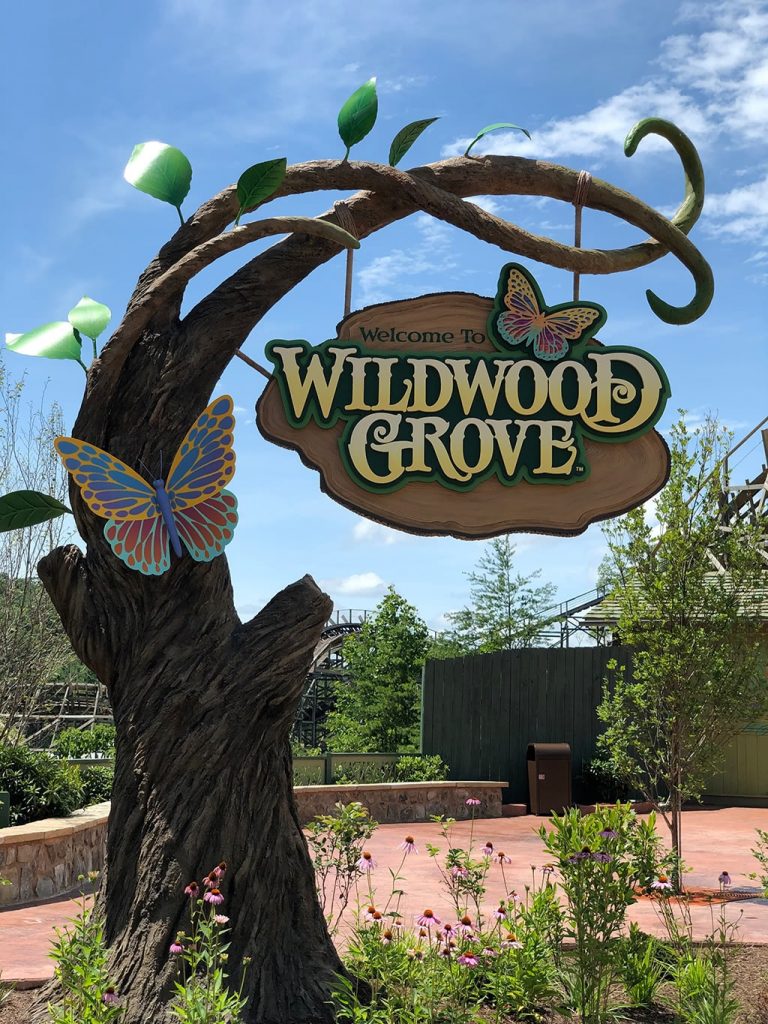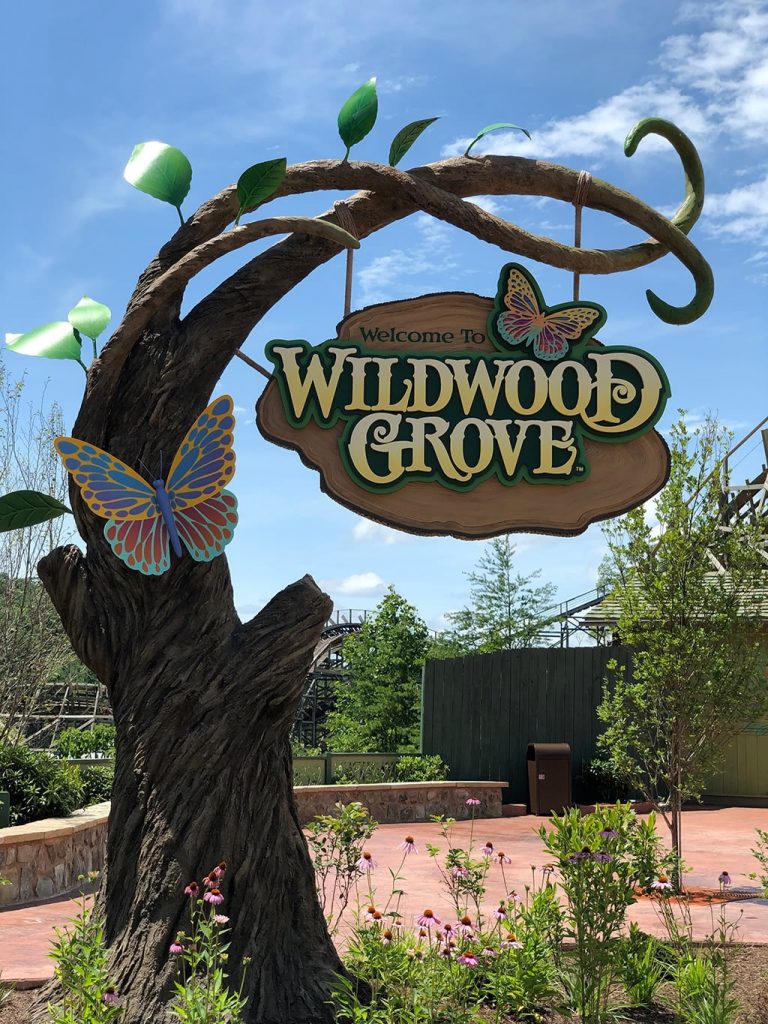 *This post may contain affiliate links which help support this site, but won't cost you anything extra. Read our full disclaimer.
Get a Little Dolly Parton Inspiration Beforehand!
Growing up in East Tennessee, it's hard not to be a Dolly Parton fan! From her music, to movies, to the Imagination Library and so much more, she is such an inspiration to many!
In case you need a little extra Dolly Parton inspiration before heading to visit Dollywood, be sure to check out some of our favorite Dolly Parton books!
The Story of Dollywood's Wildwood Grove
As you enter, you will find a sign that tells the story of a young girl that wandered away from Timber Canyon and into an unfamiliar area of the Smoky Mountains that later became known as Wildwood Grove.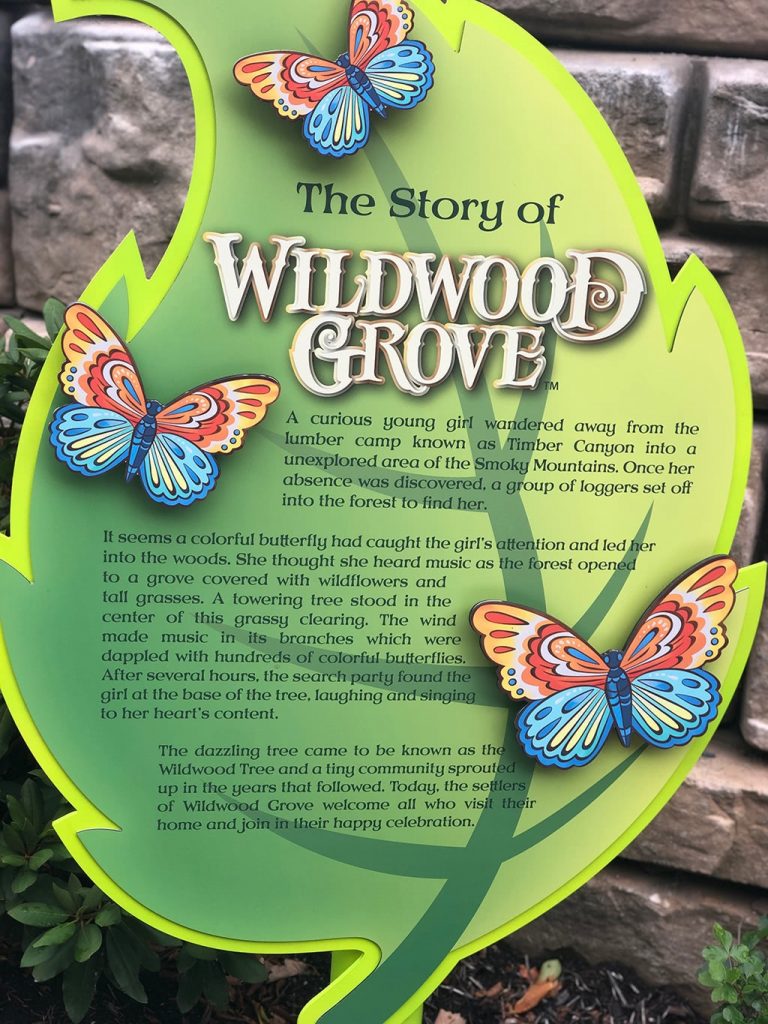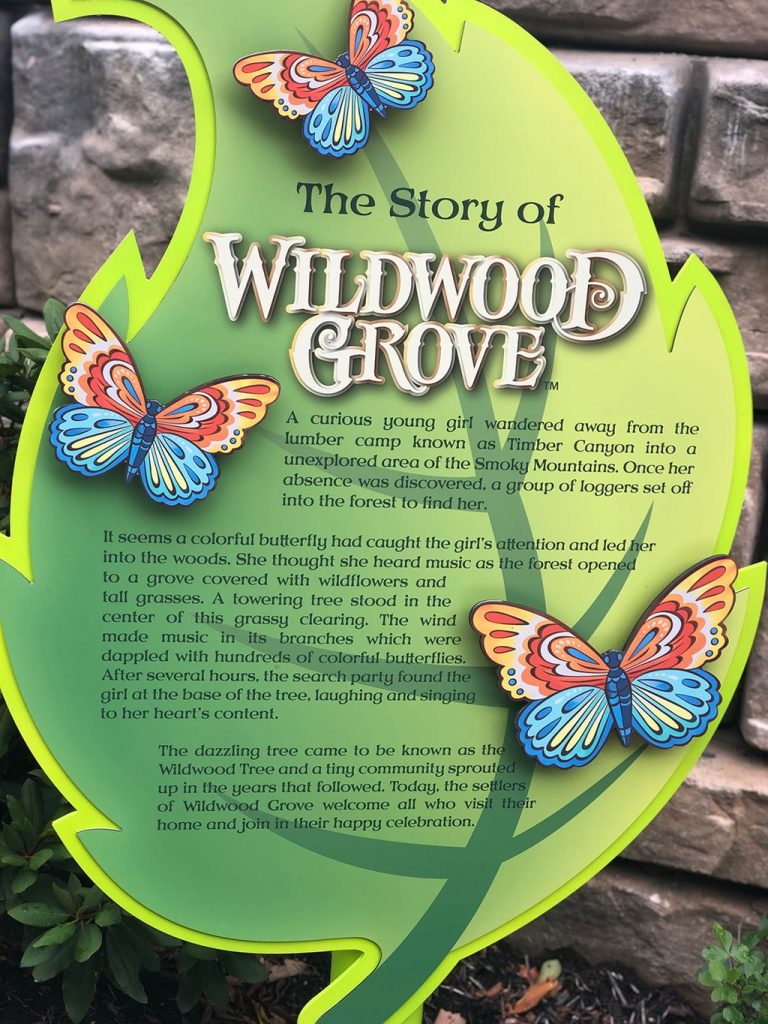 As you proceed along the walkway, you walk through a hollow tree to "enter" Wildwood Grove.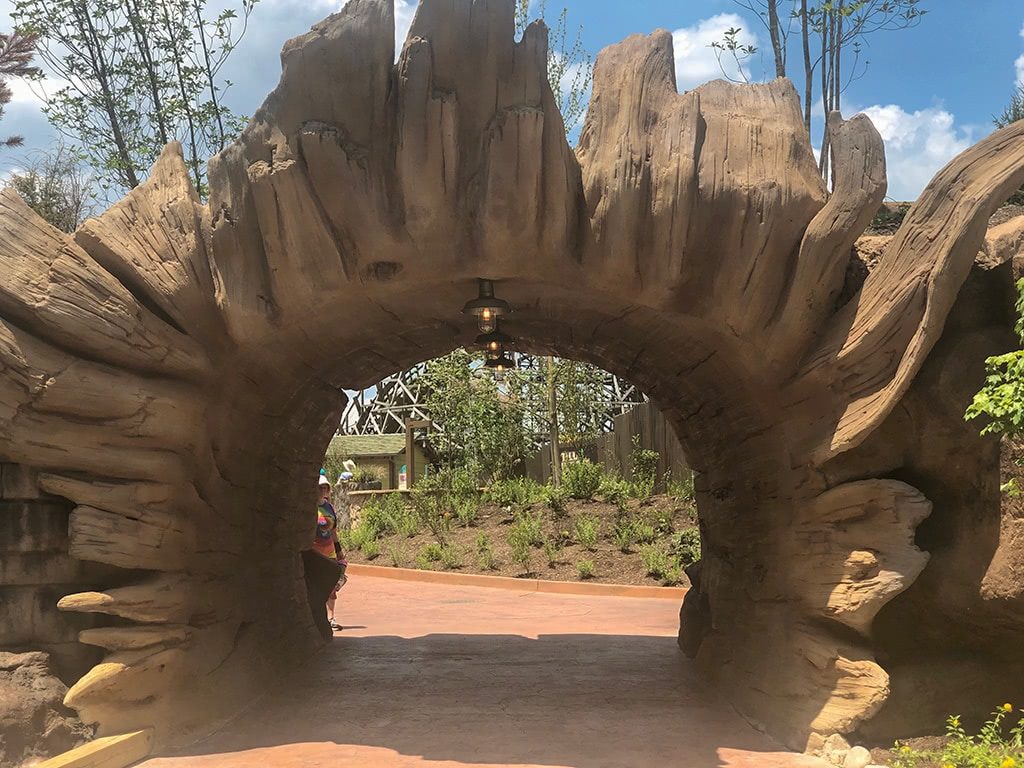 Once in Wildwood Grove, you immediately feel like you are in a different place. The theming and unique feel in Wildwood Grove is like no other area in Dollywood.
From the music playing at the beautiful fountain, to the sights and sounds of the new rides it is so fun to take it all in!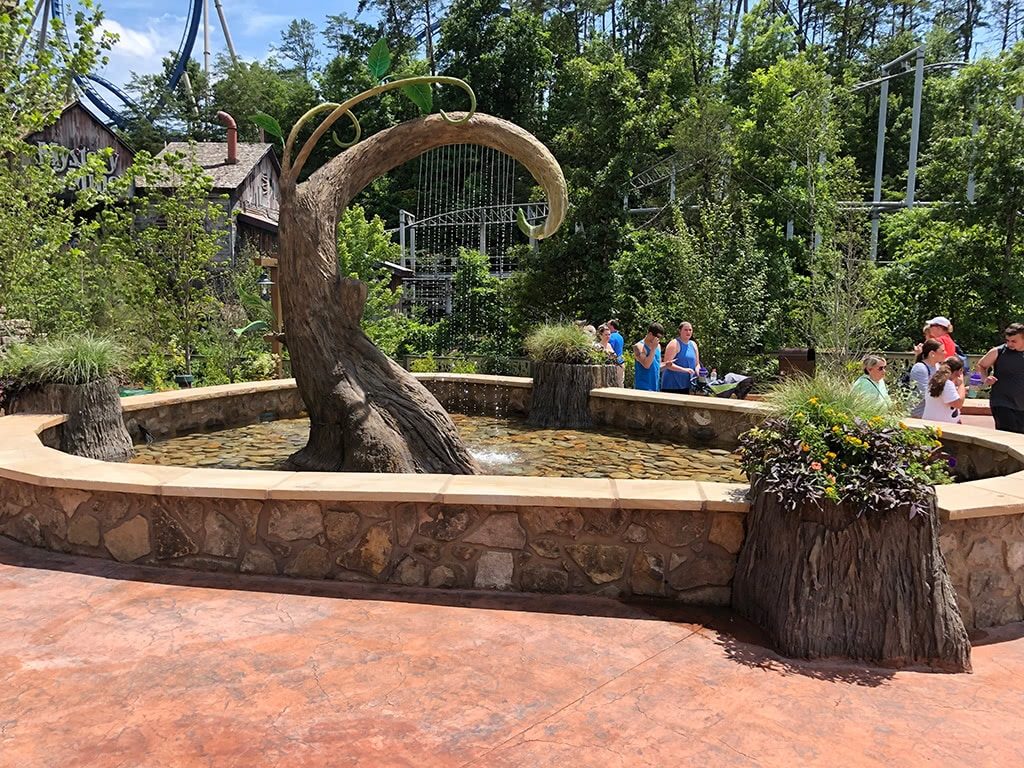 Dollywood Wildwood Grove Rides & Attractions
So of course one of our family's favorite things to do at theme parks are the rides! And Wildwood Grove definitely offers some really unique attractions that are certain to appease the whole gang!
Treetop Tower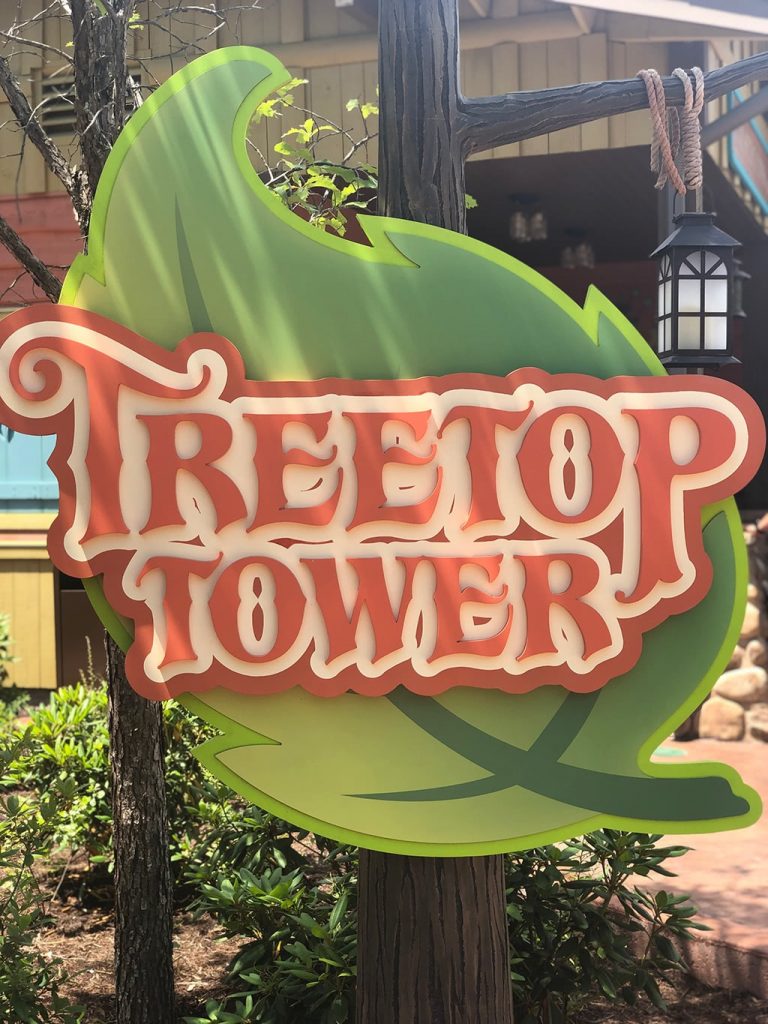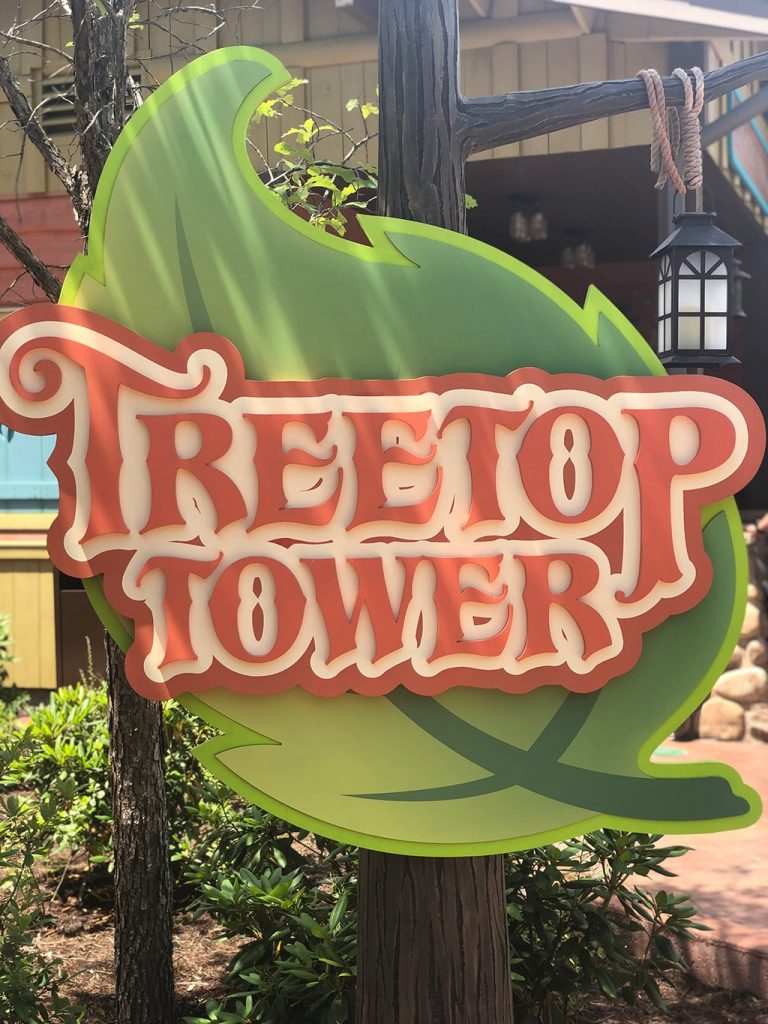 The first ride you will come to is the Treetop Tower. This ride has 8 "acorns" that spin around up in the sky. We were able to fit several people inside one acorn.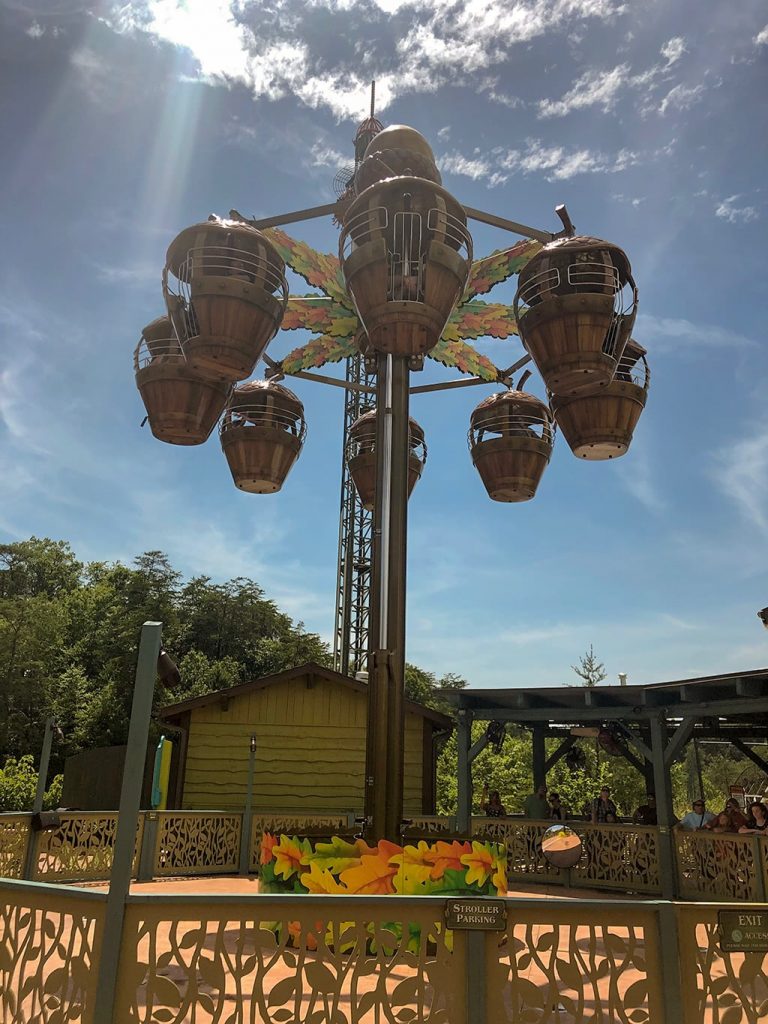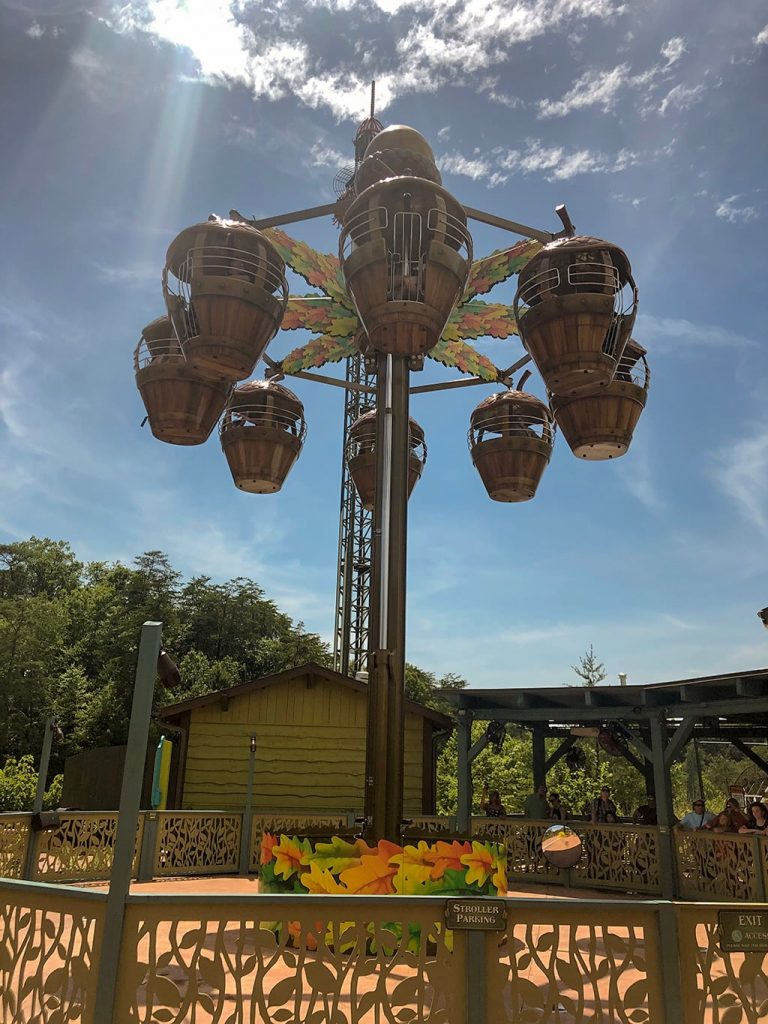 I totally underestimated how fast this guy spins. It was MUCH faster than I expected. The views from the top were pretty though!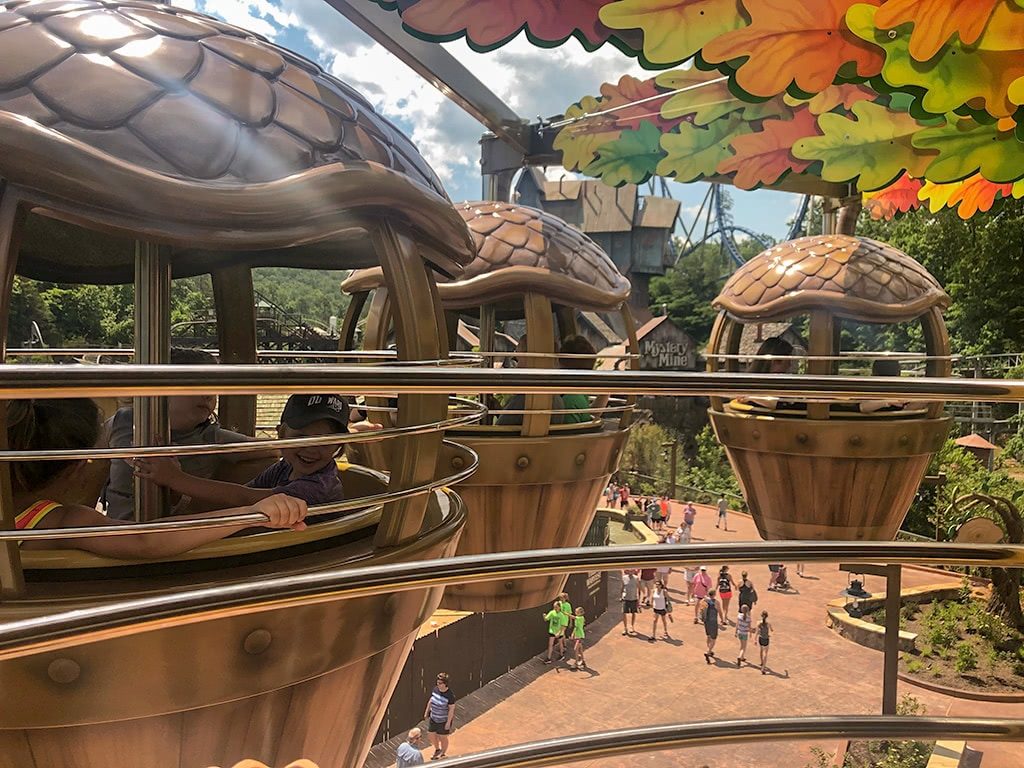 Great Tree Swing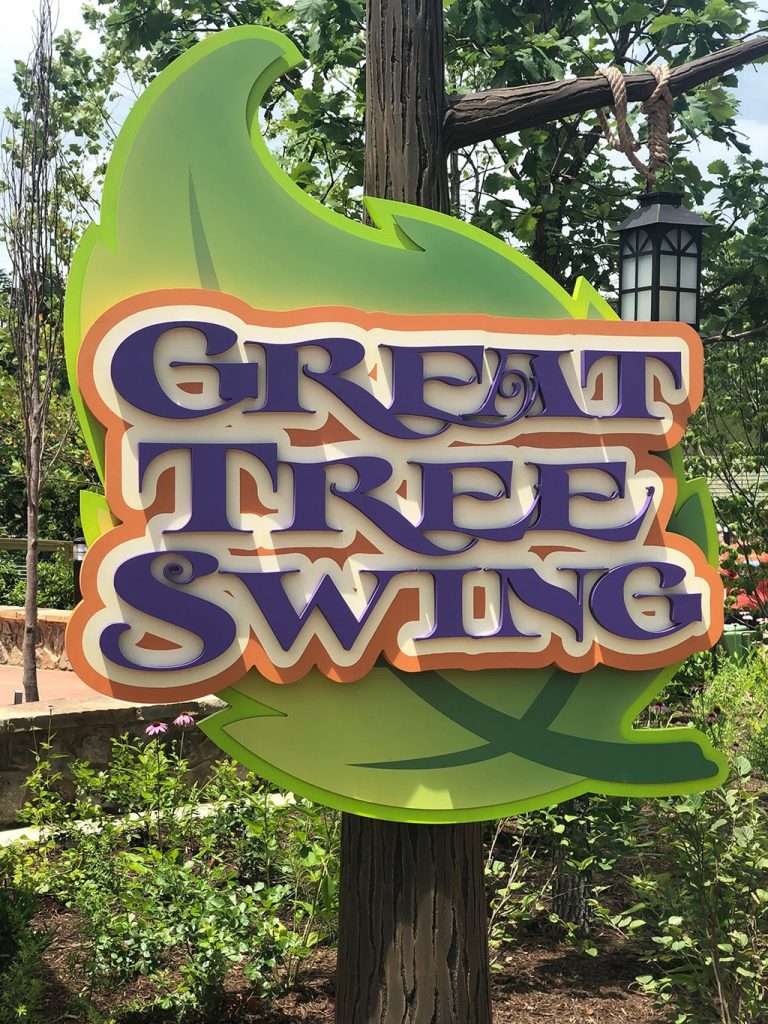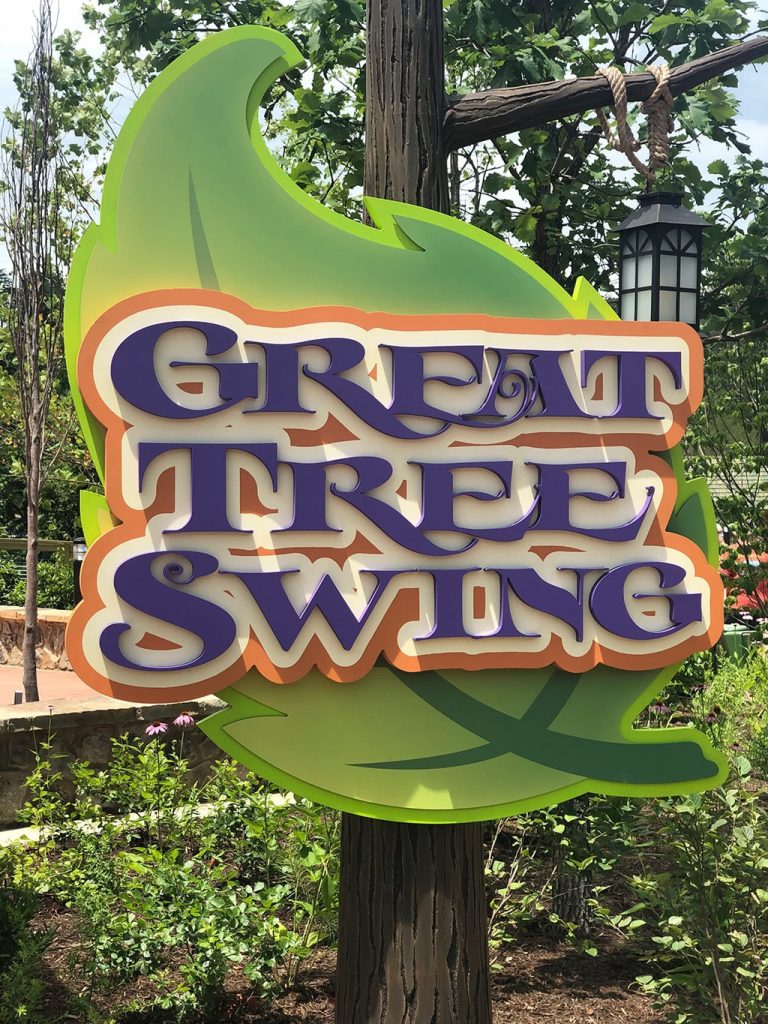 Next you will come to the Great Tree Swing. This is what we refer to as the pirate ship ride. It's basically a big ship that swings like a pendulum back and forth.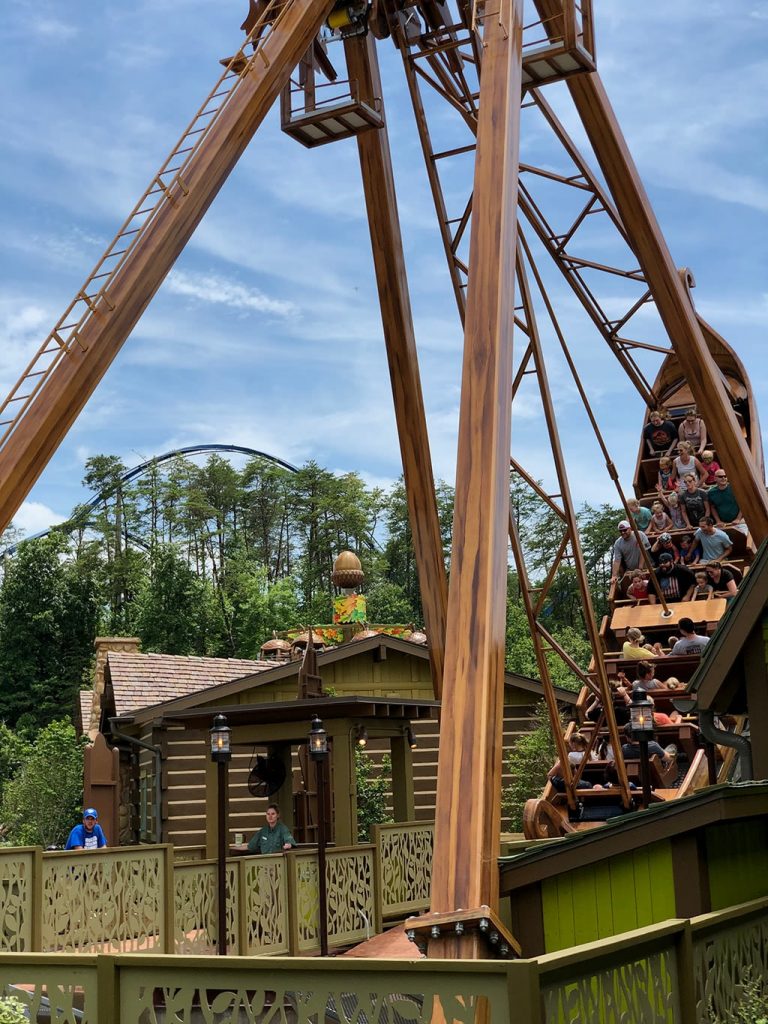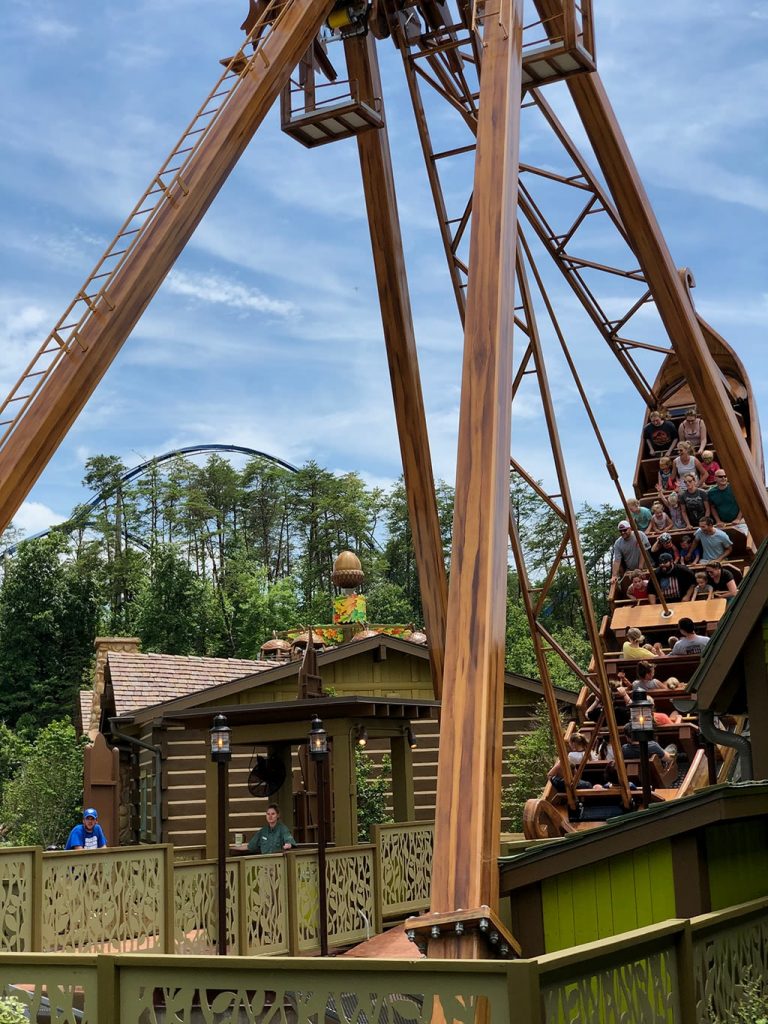 The kids absolutely love this ride! Me? I personally prefer the view from the ground due to my inclination to motion sickness.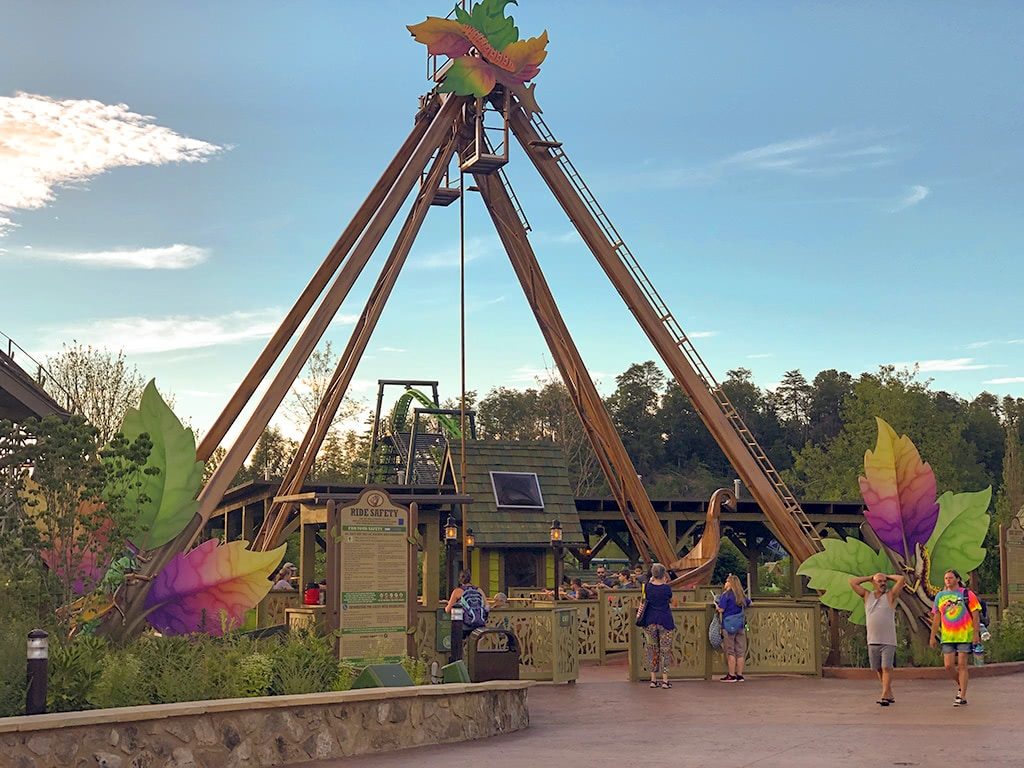 Black Bear Trail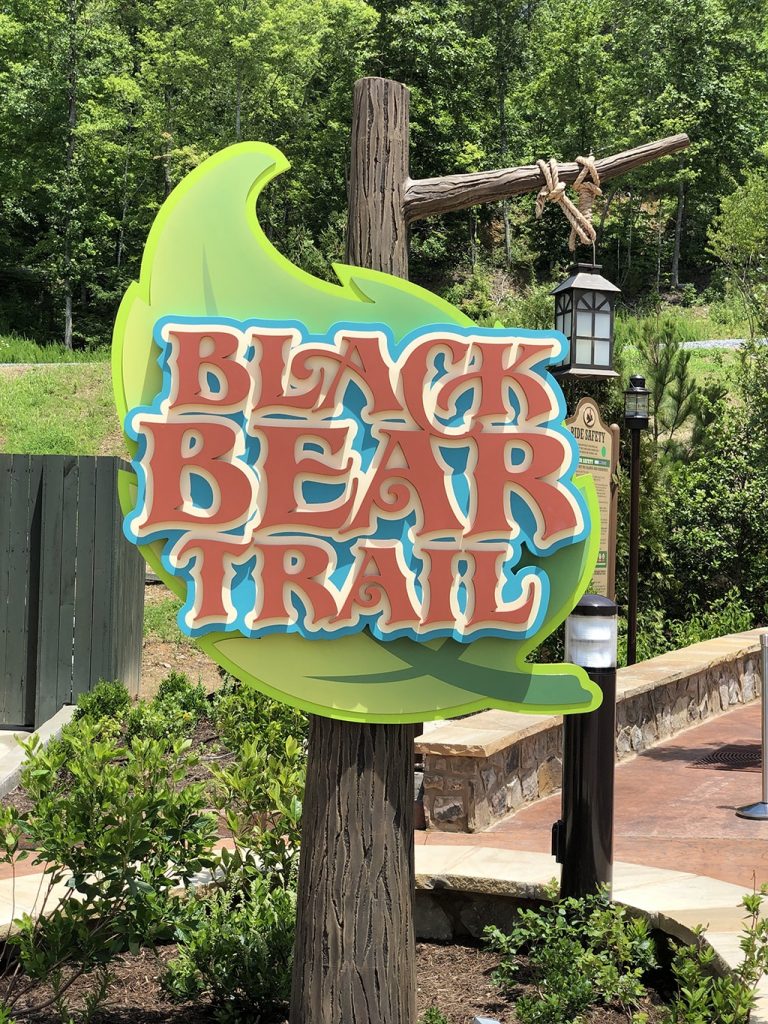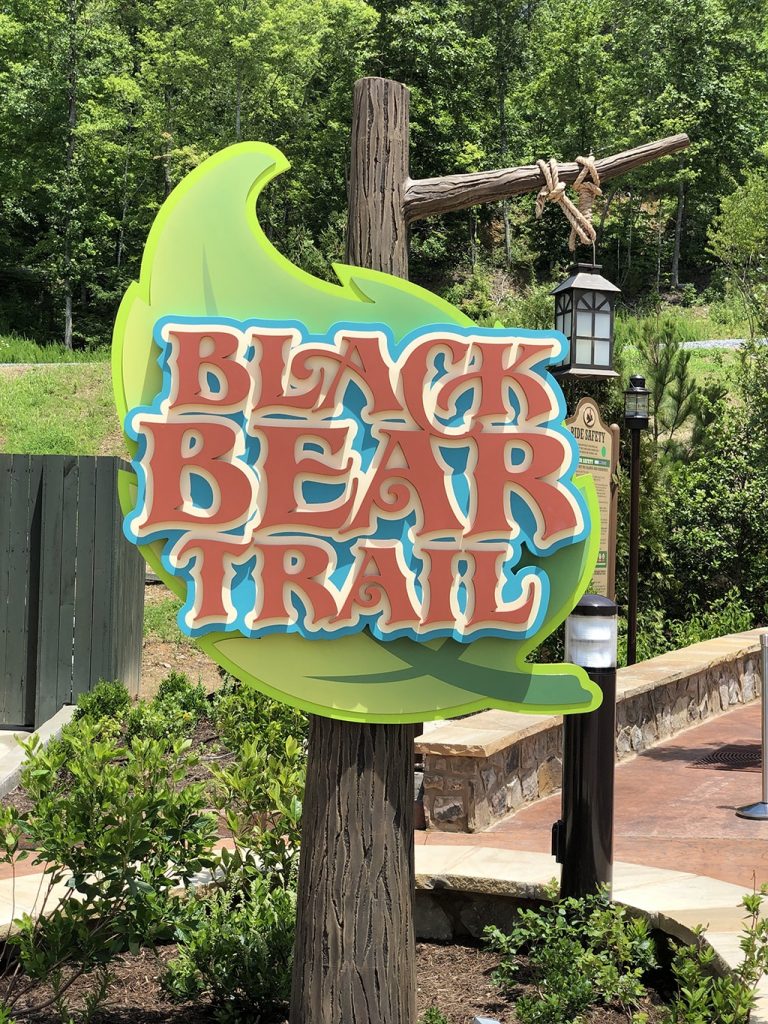 Up next is the Black Bear Trail ride. This ride is just incredible. It makes me laugh.
The boys ride it like they are on a motorcycle.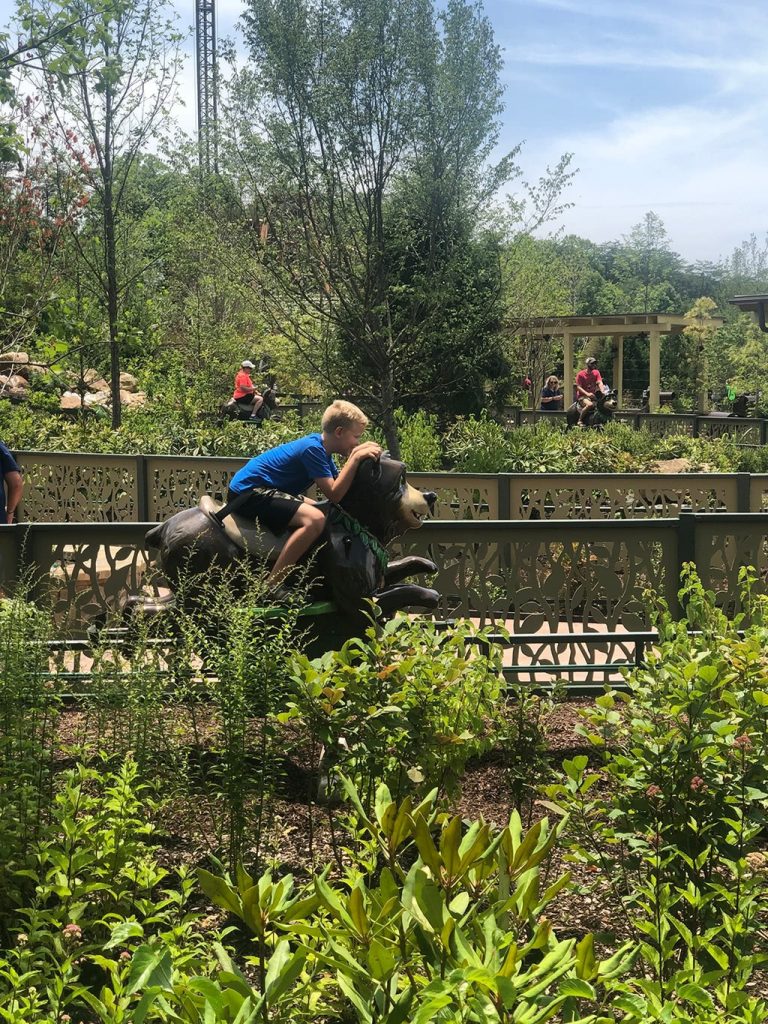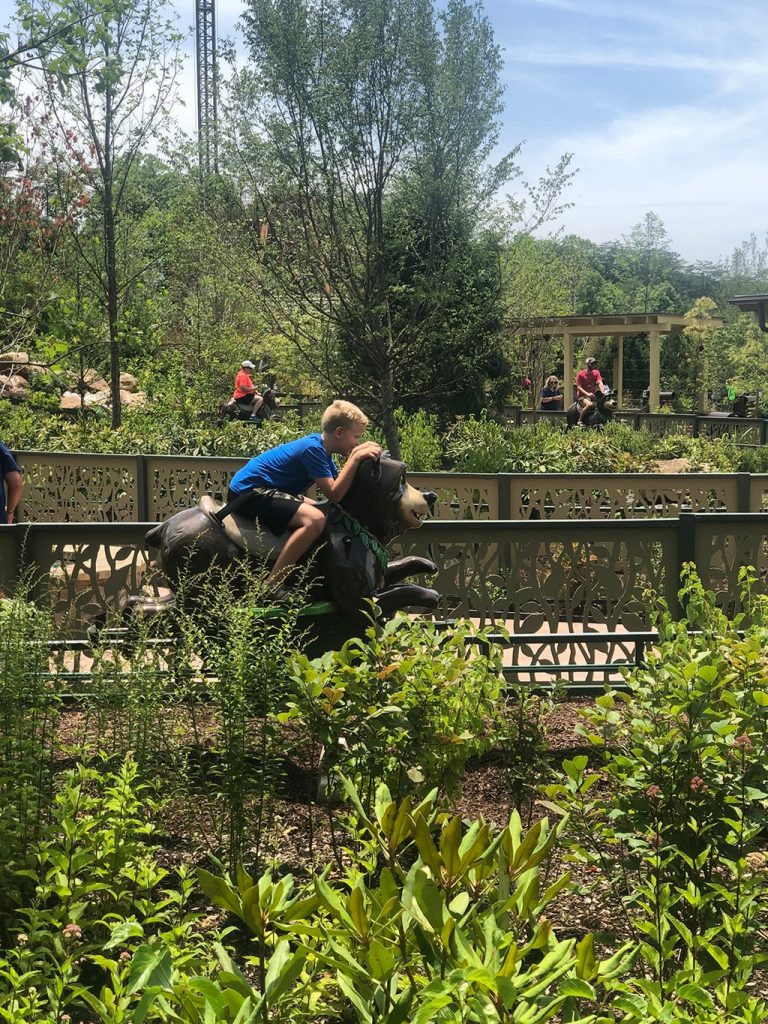 Matt always rocks it out like a champ.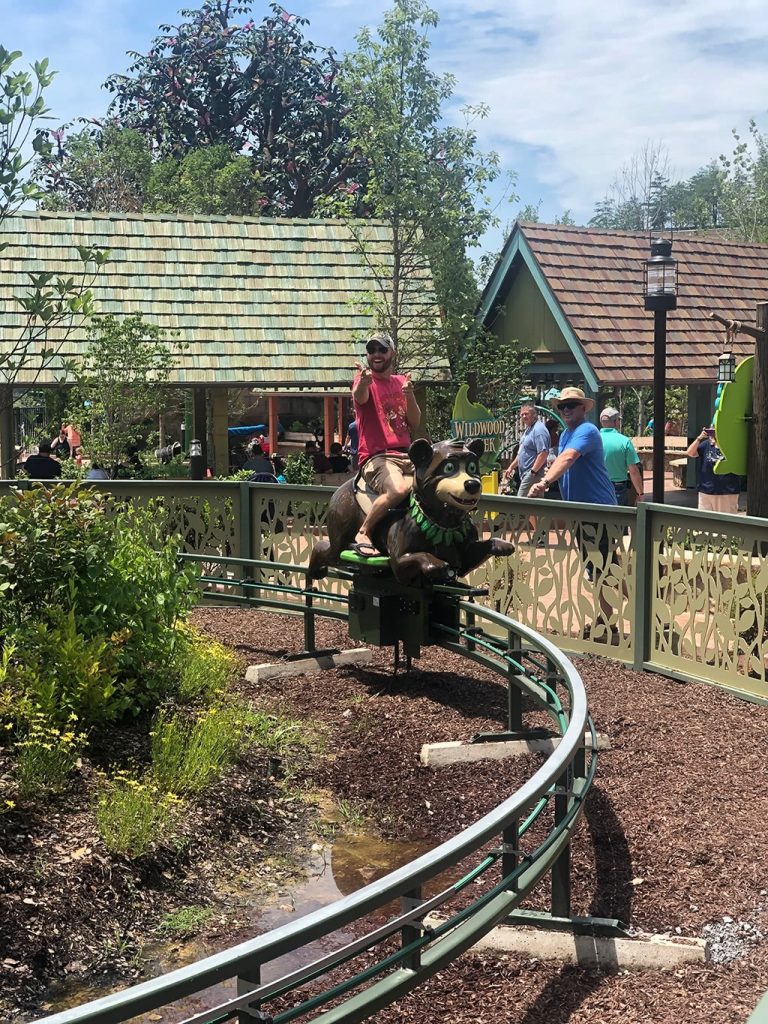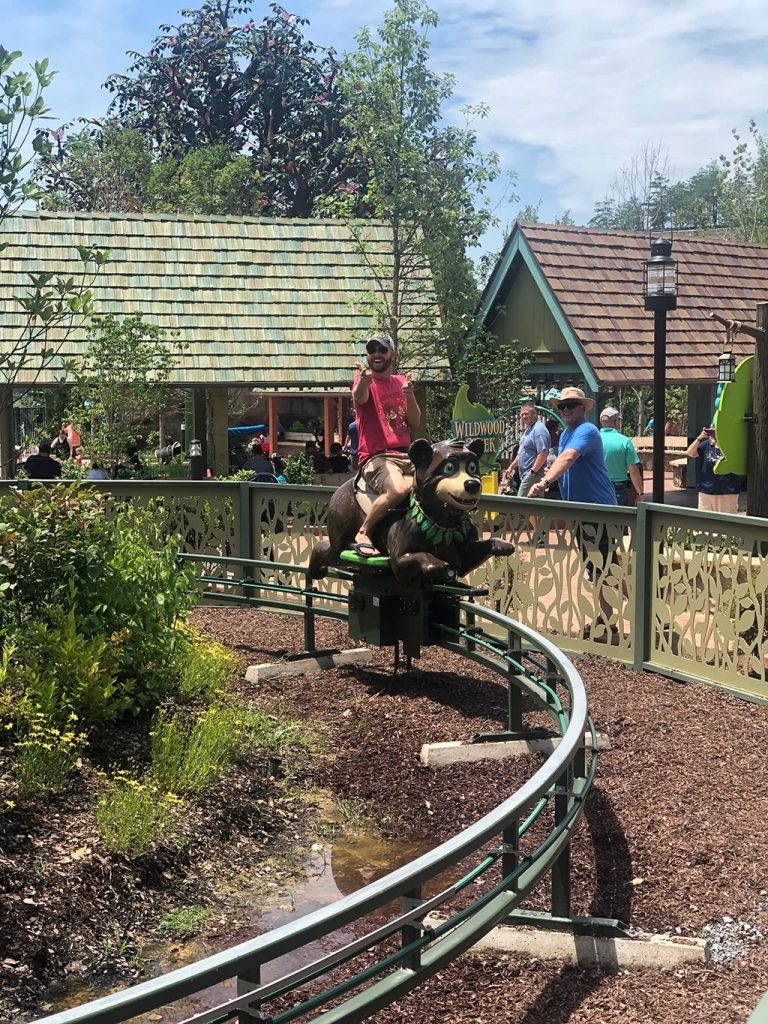 And Maggie just enjoys the ride.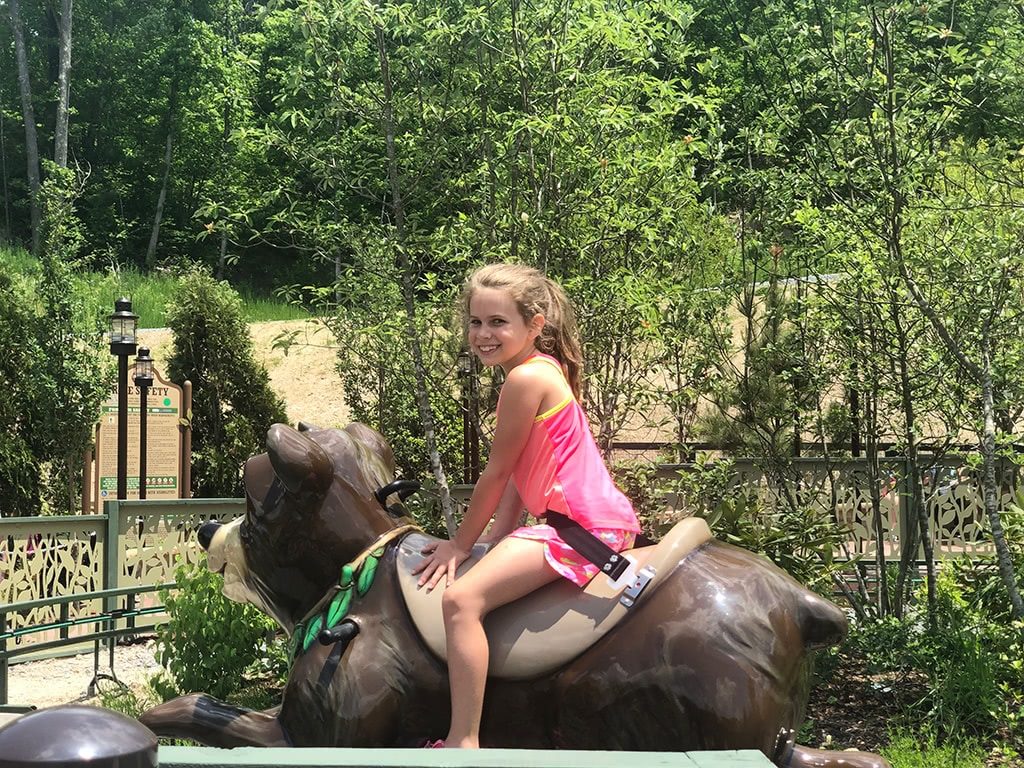 The loading takes a little bit of time, but it is a sweet ride that I think little kids (and kids at heart) will enjoy!
Frogs and Fireflies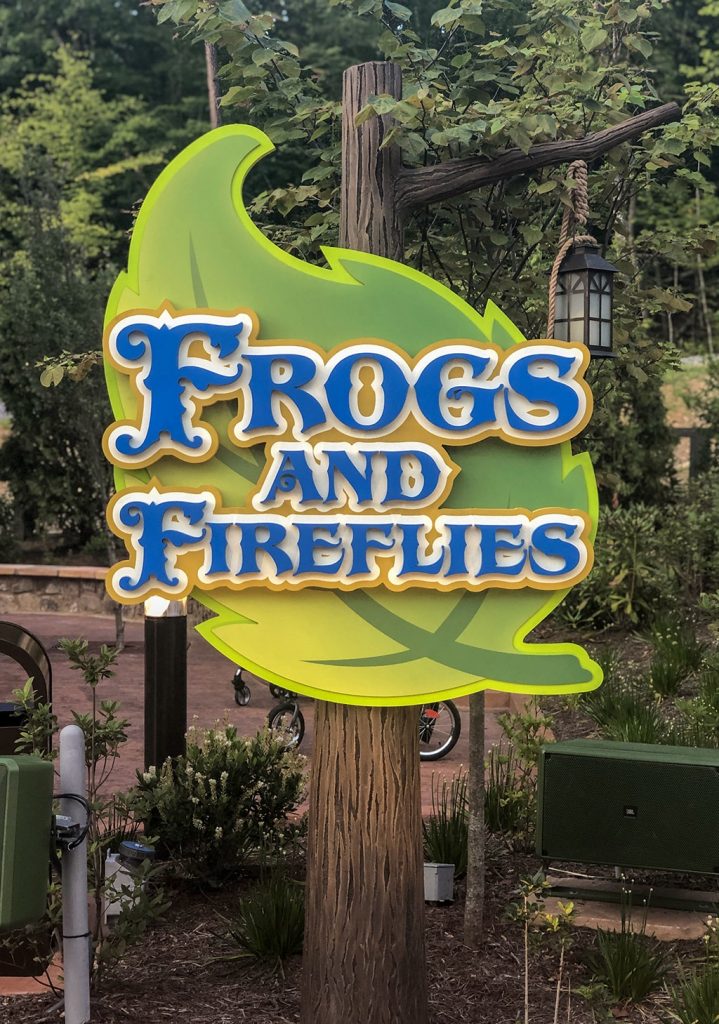 On around the bend, you will find Frogs and Fireflies. This ride is great for little kids. I wasn't originally planning to ride it since Maggie is big enough to ride by herself….BUT she persuaded me to ride it with her.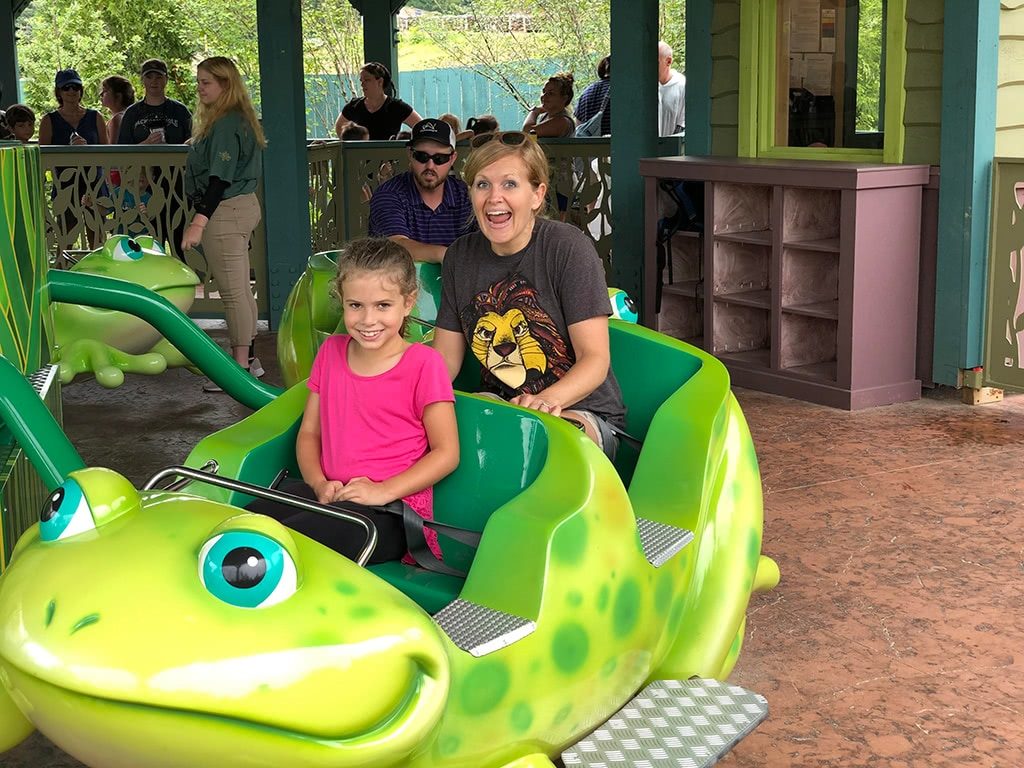 And I'm not going to lie…it was pretty fun! It may be one of my favorite rides in Wildwood Grove. It bounces up and down as it goes around (like a frog hopping…get it?!?).
Just beware…the ride is designed for little kids, so there isn't much leg room. I was able to fit in the back okay but I imagine larger or taller adults may have more of a challenge.
The Mad Mockingbird
Next on your way through Dollywood Wildwood Grove, you will find The Mad Mockingbird!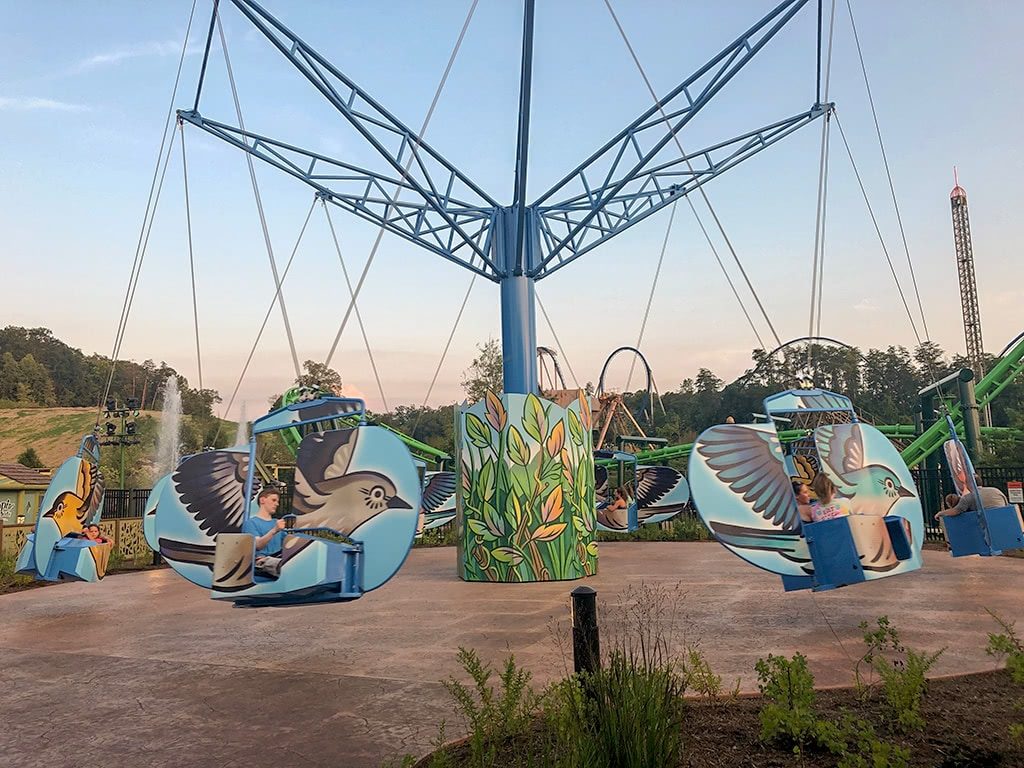 This is a really unique ride. You have a control lever that allows you to make the Mockingbird move around as it flies through the sky. And it totally surprised me at how fast it goes. You definitely catch some wind flying around on that Mockingbird!
Dragonflier
And last but definitely not least, you will find Wildwood Grove's coaster, the Dragonflier.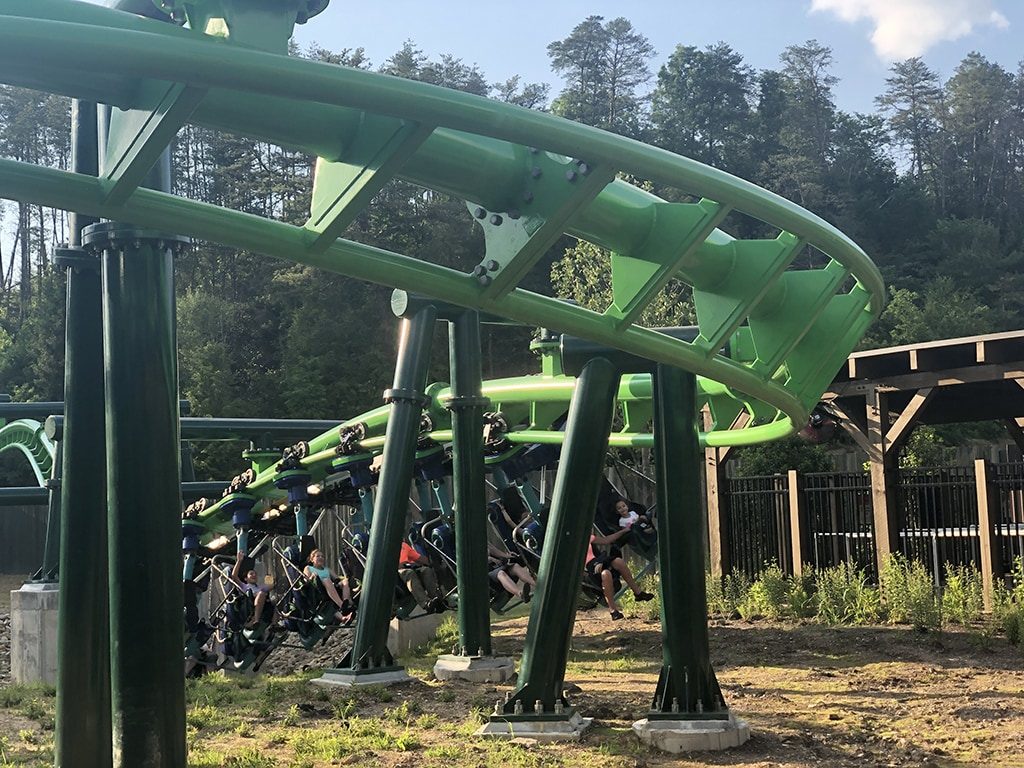 This is definitely one of my favorite rides at Dollywood. And although the ride itself is short, it is a really smooth ride. It's almost as if you are riding on a dragonfly!
This is the only ride in Wildwood Grove that tracks its wait time on the Dollywood app. So be sure to periodically check the wait times on the app (at the moment you need to be connected to the Dollywood guest wifi to see wait times), or on the Wait Time screens scattered throughout the park and head that way when the line is shorter!
Dollywood Wildwood Grove Play Areas
Wildwood Creek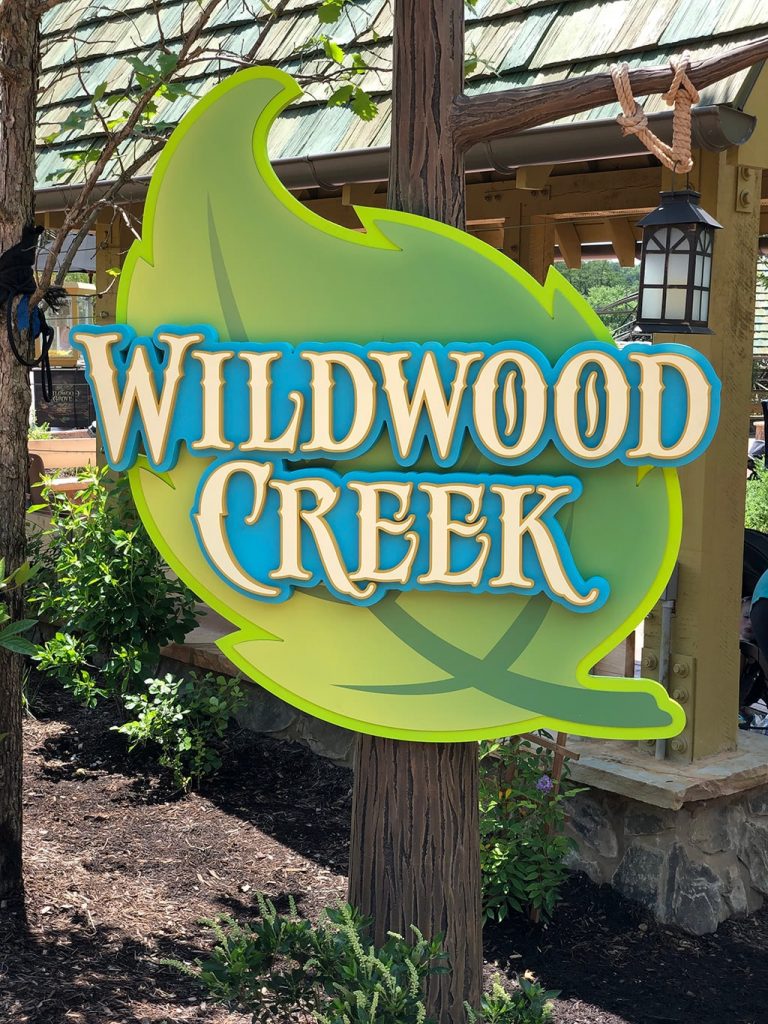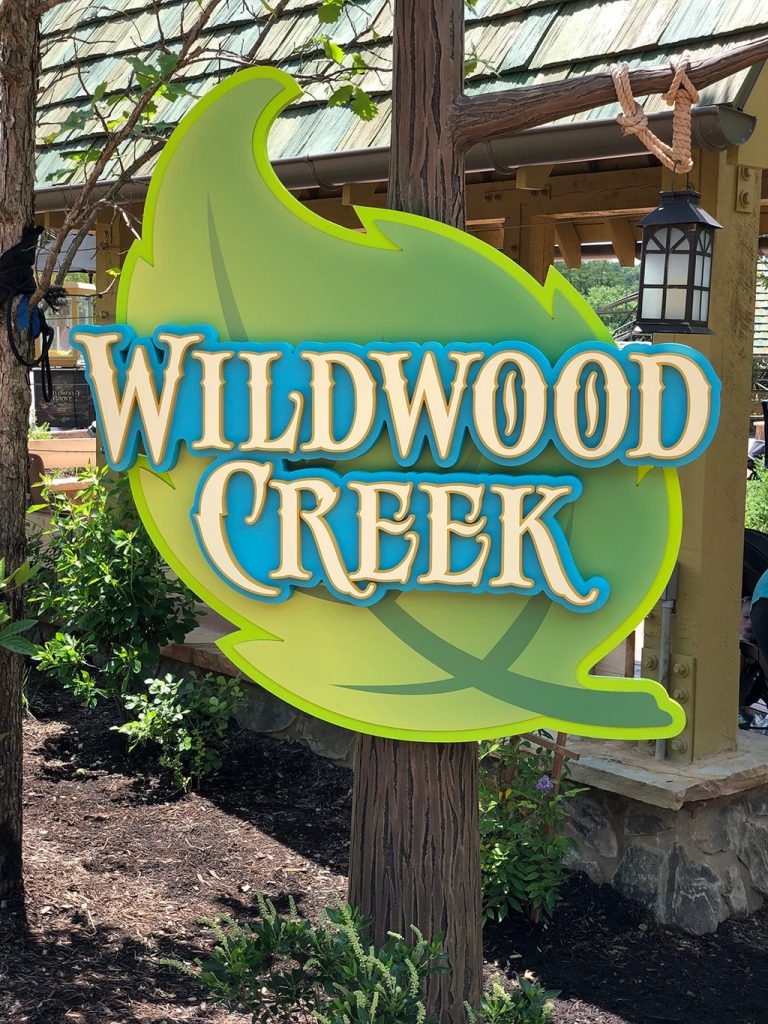 Right in the heart of Wildwood Grove near the Wildwood Tree, you will find a fun water play area in Wildwood Creek.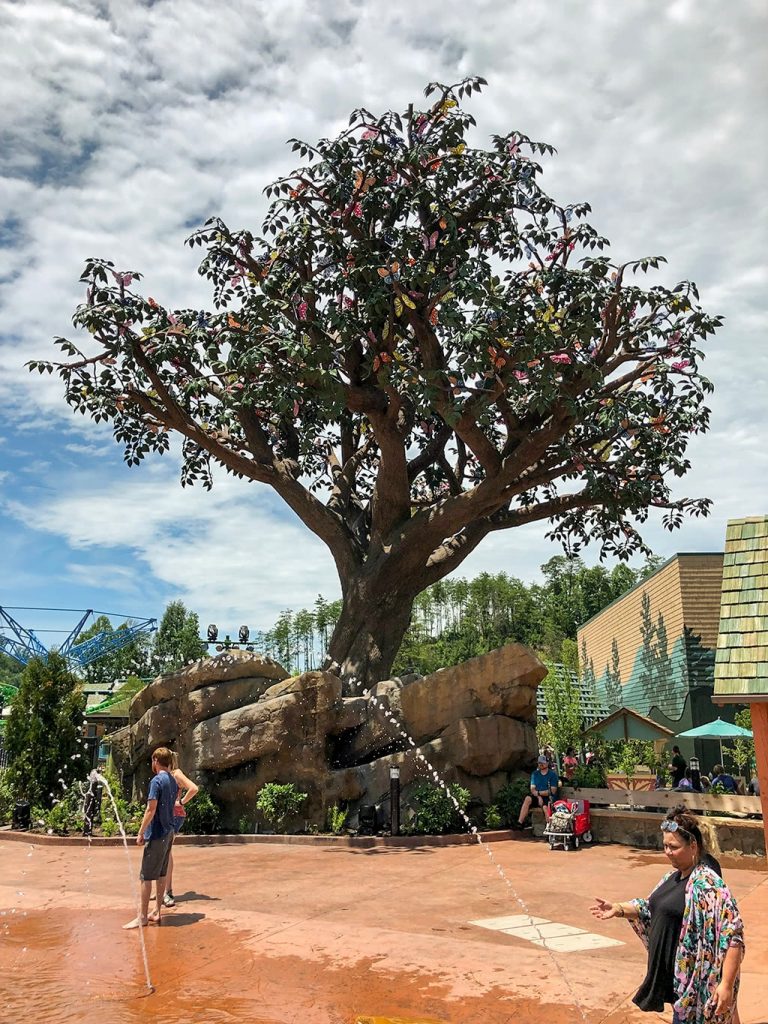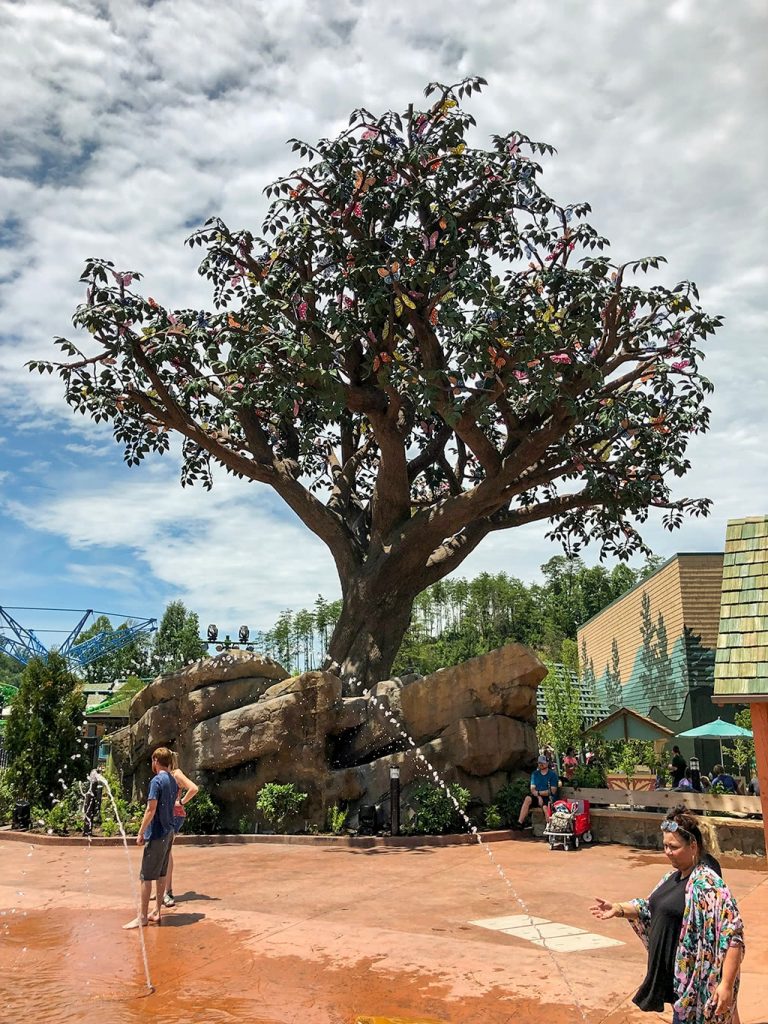 The kids love to play on the instruments.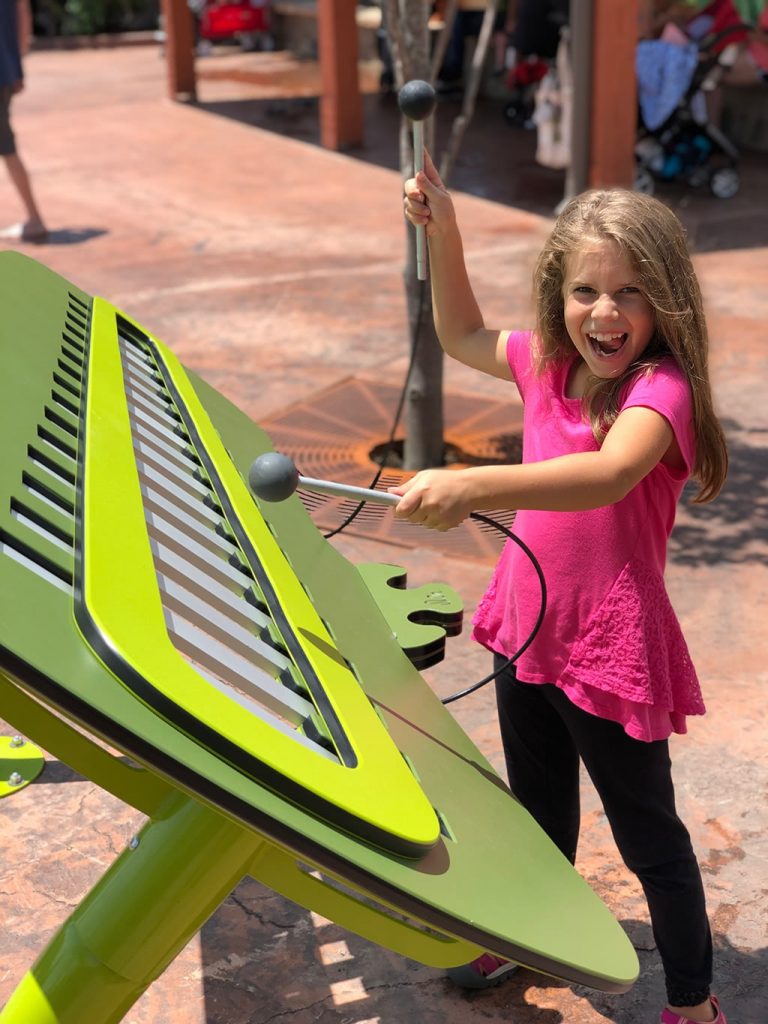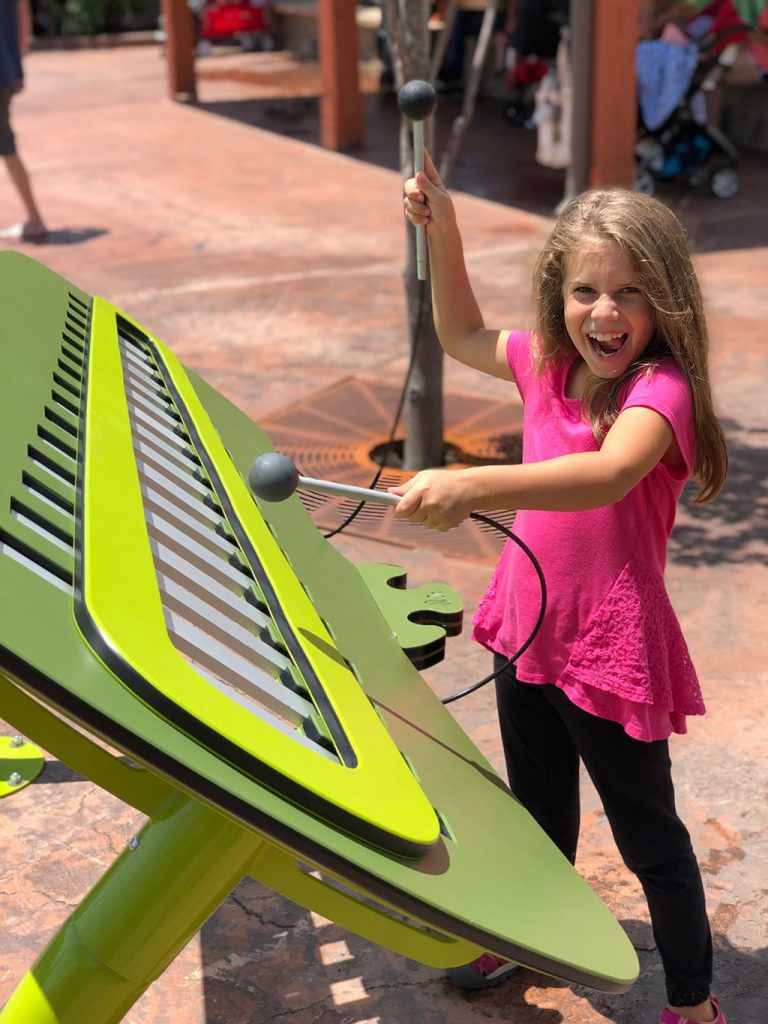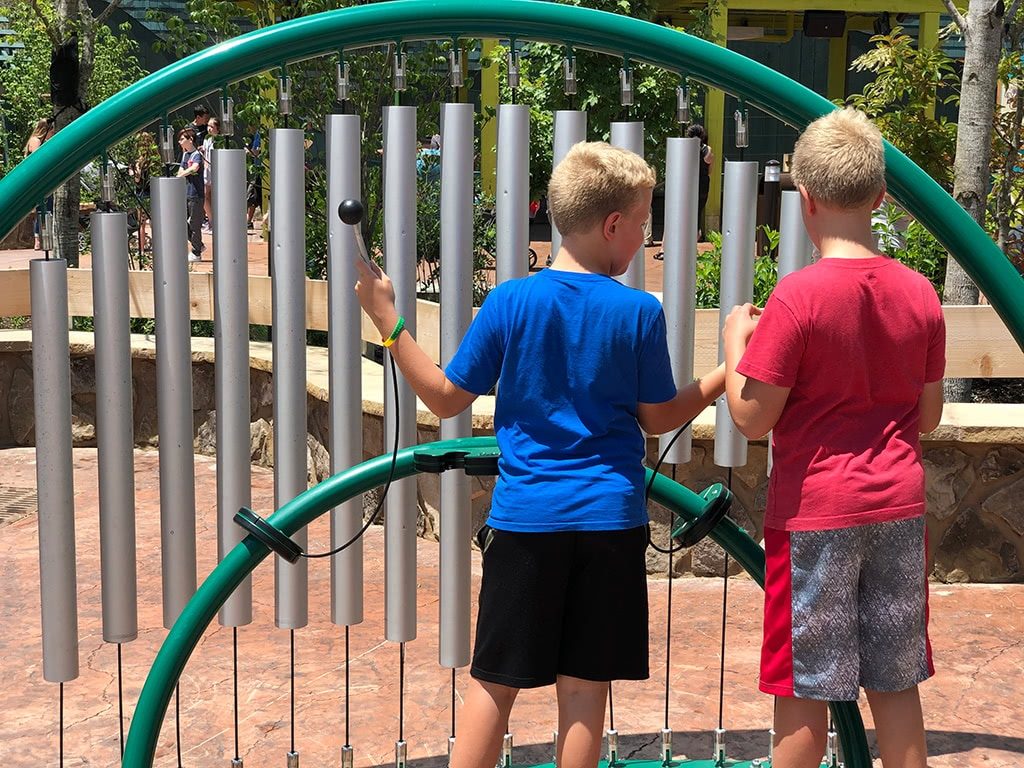 And splash around in the water.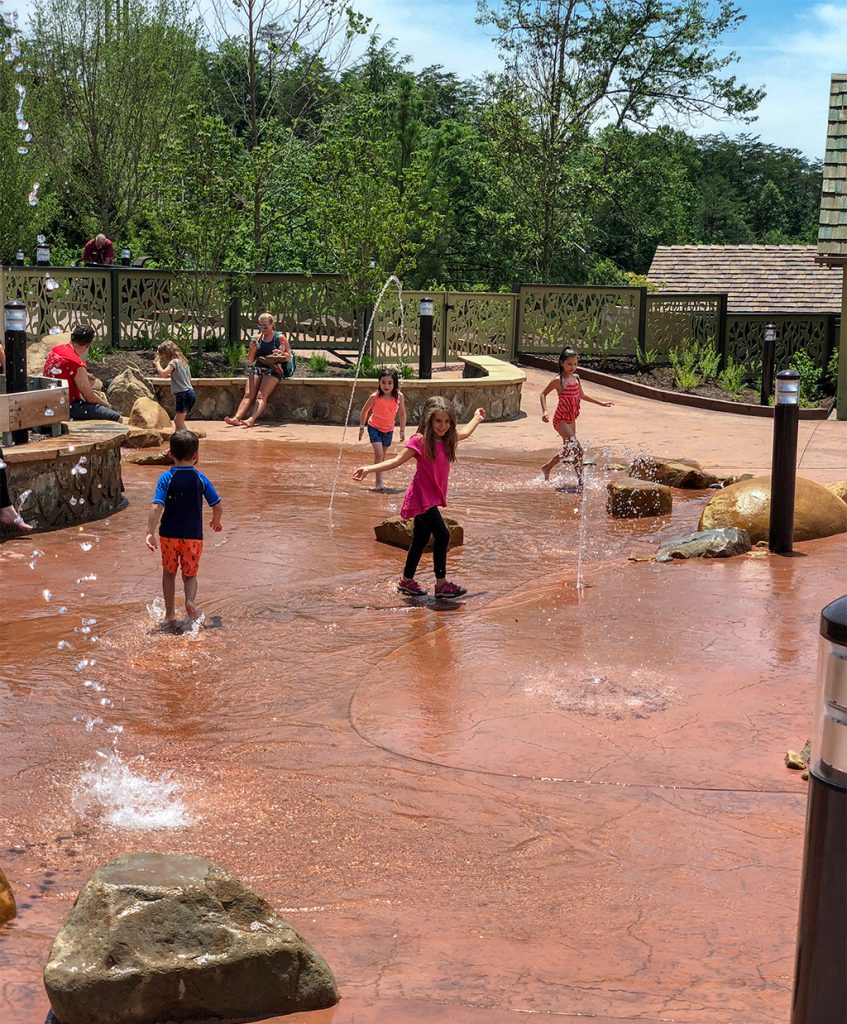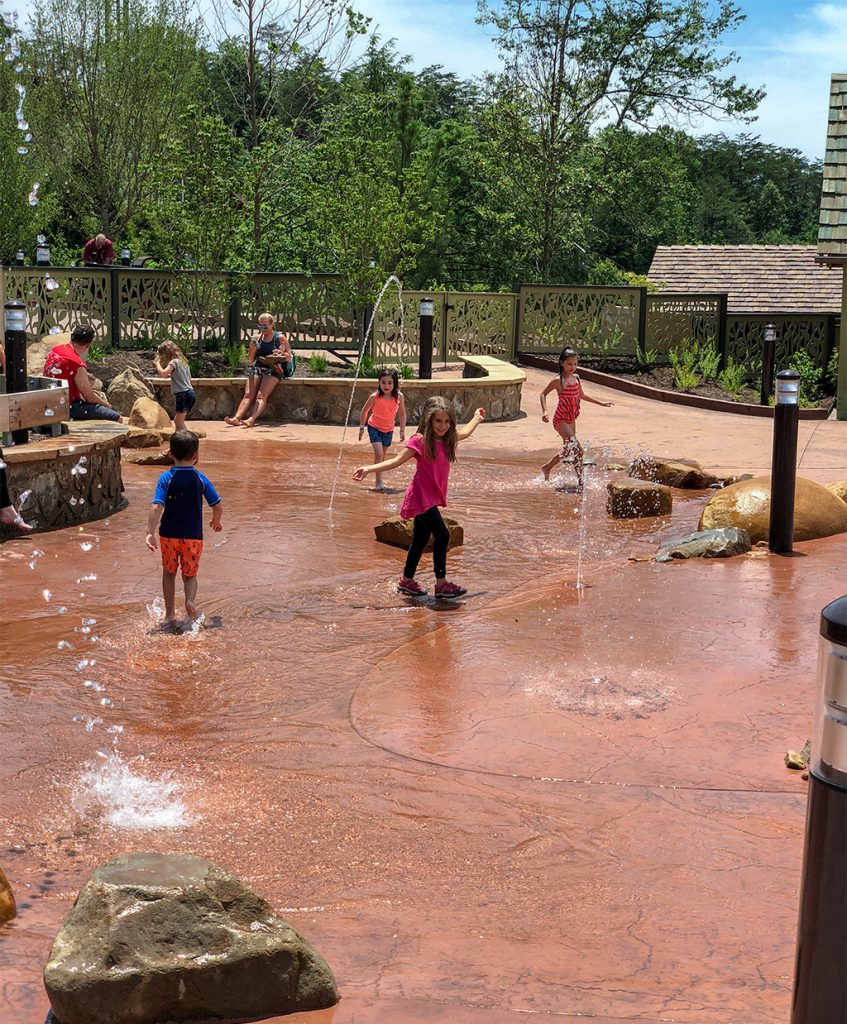 This is definitely a great spot to let the kiddos play and cool off on a hot summer day!
Hidden Hollow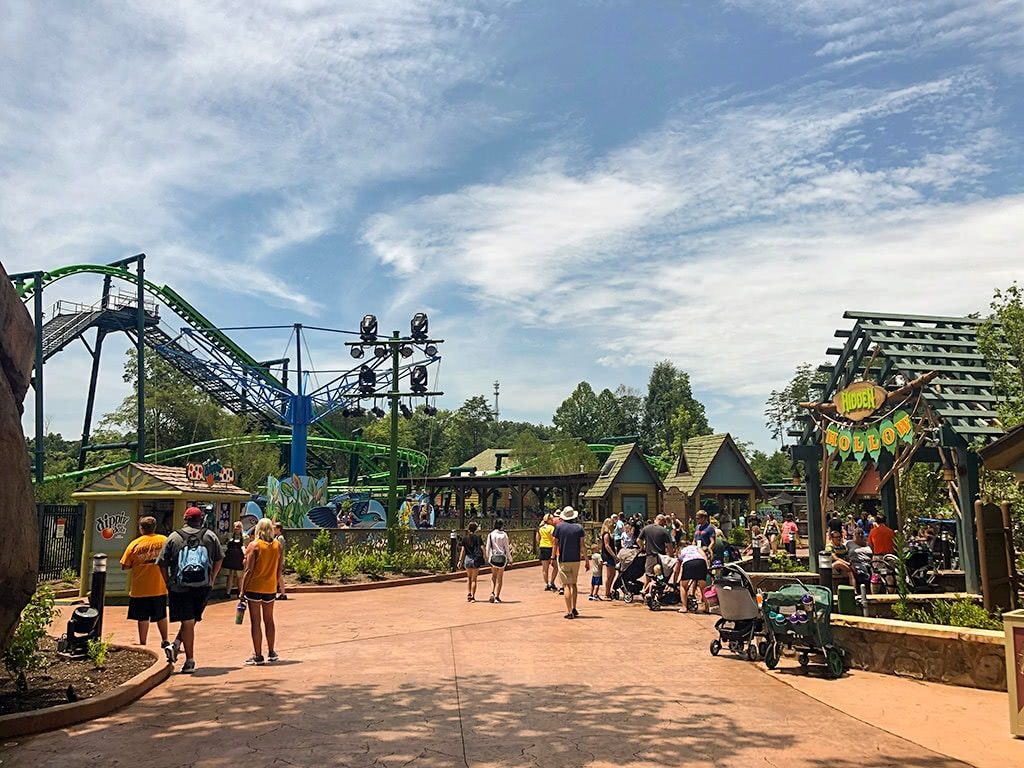 Down past the Wildwood Tree, you will find another great place to take a break and let the kids play in Hidden Hollow!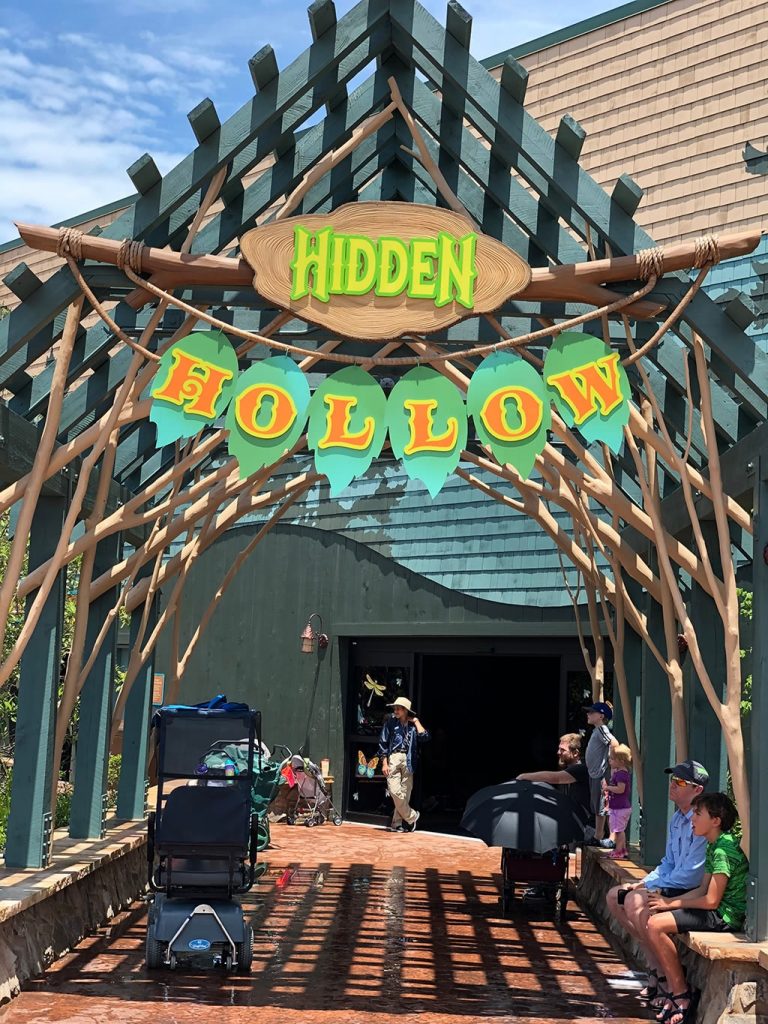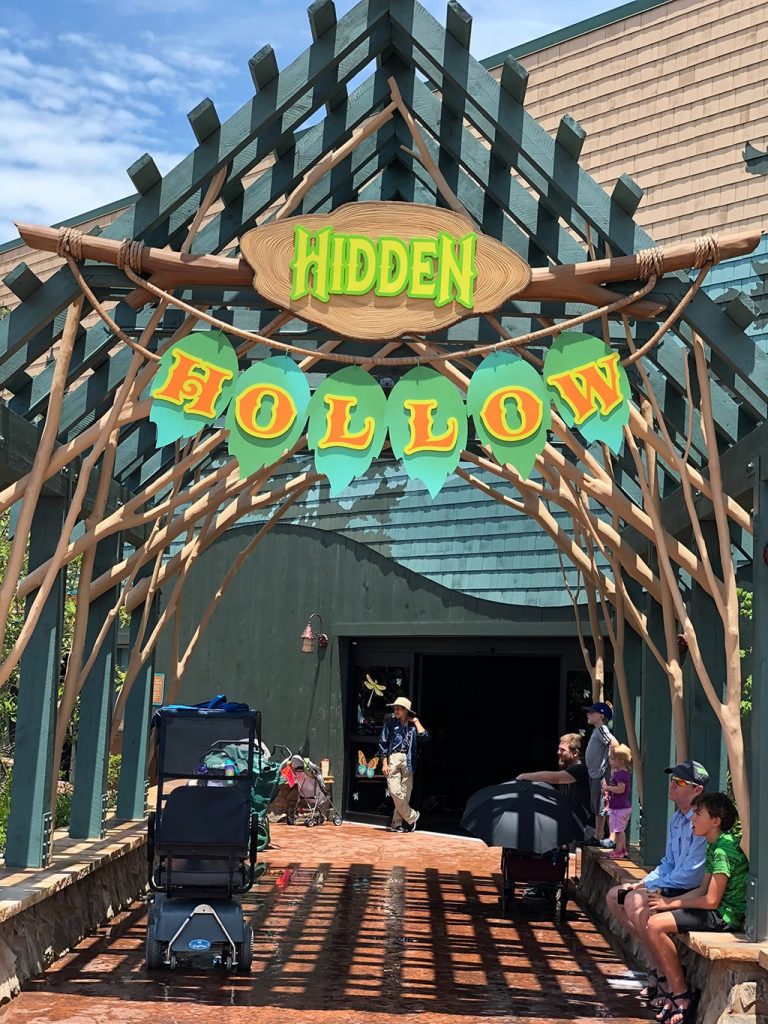 This is a fantastic play area. This might be one of the kids' favorite things in all of Wildwood Grove.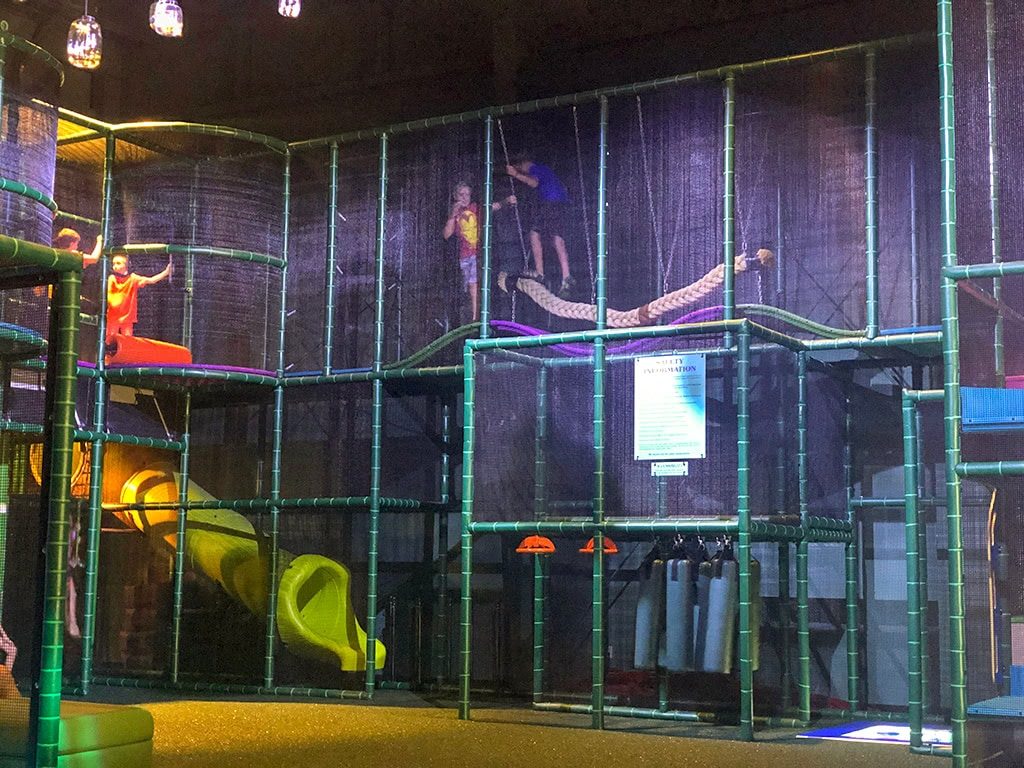 The theming is really cool. There are lights that are hanging down that look like fireflies.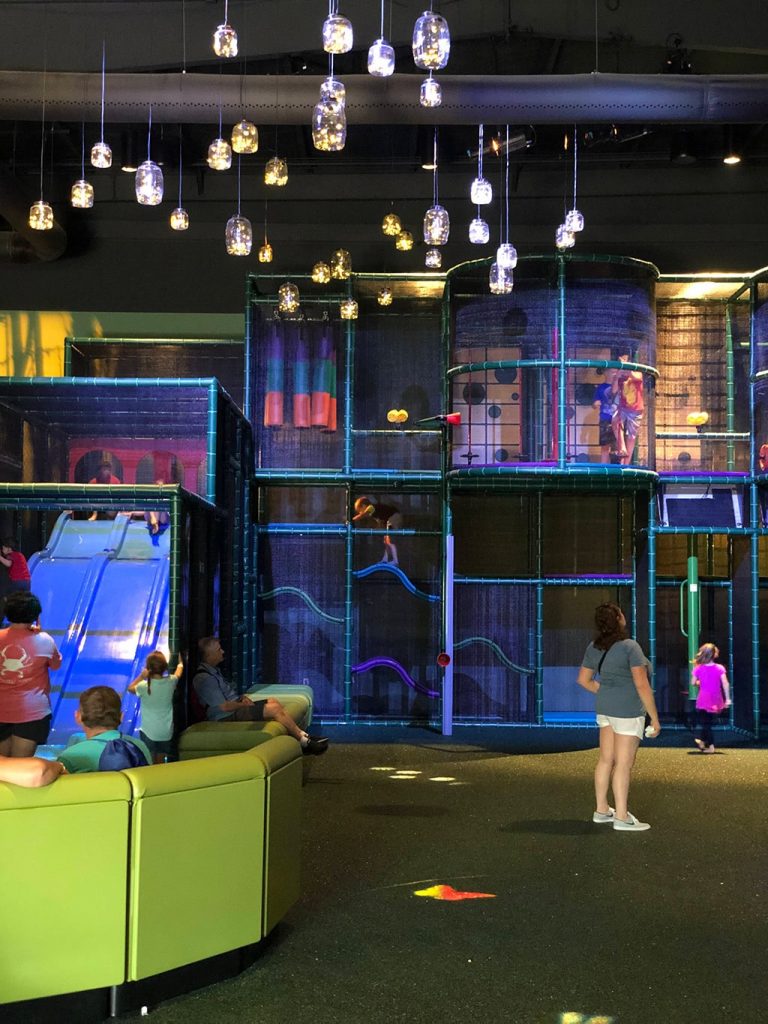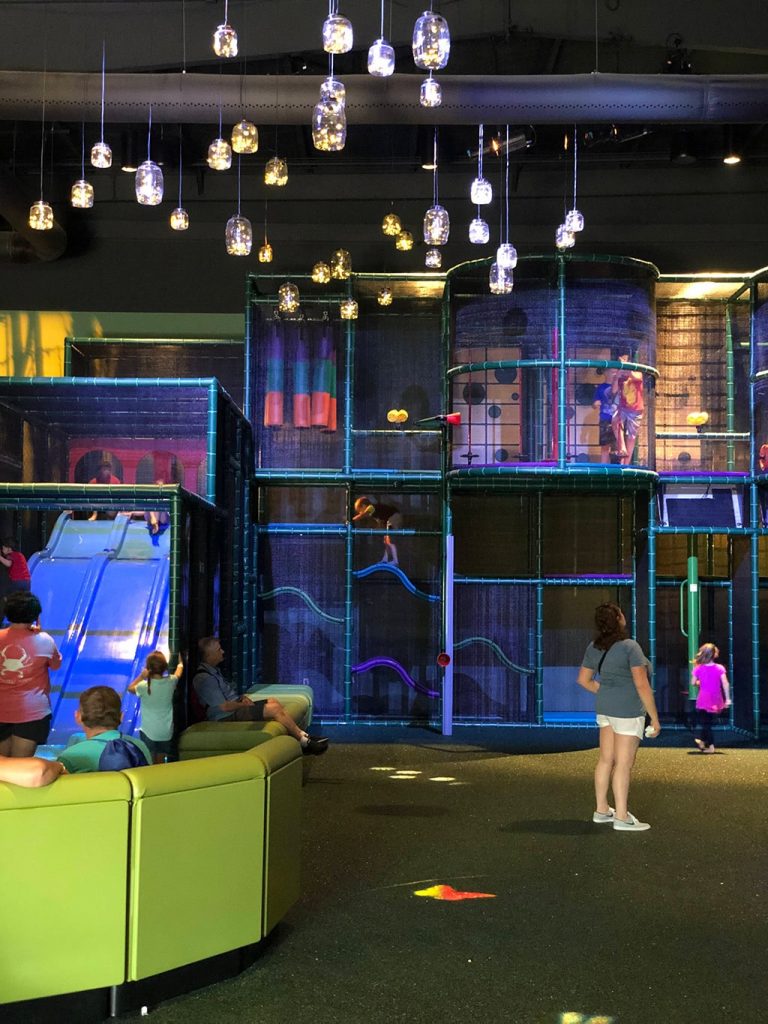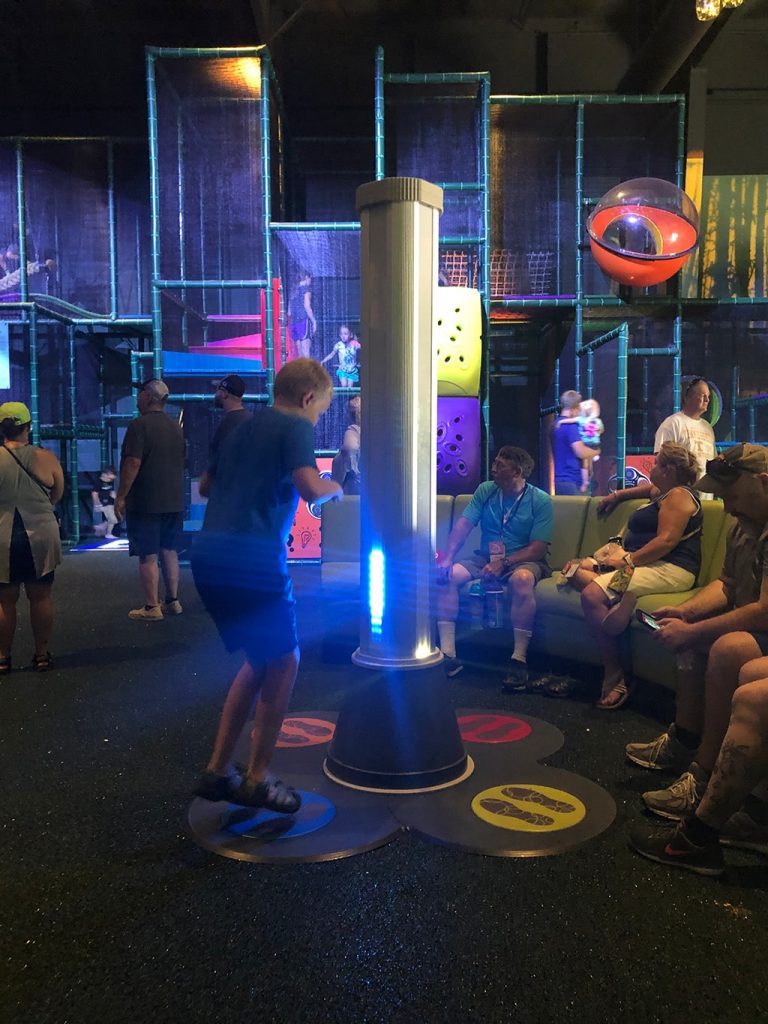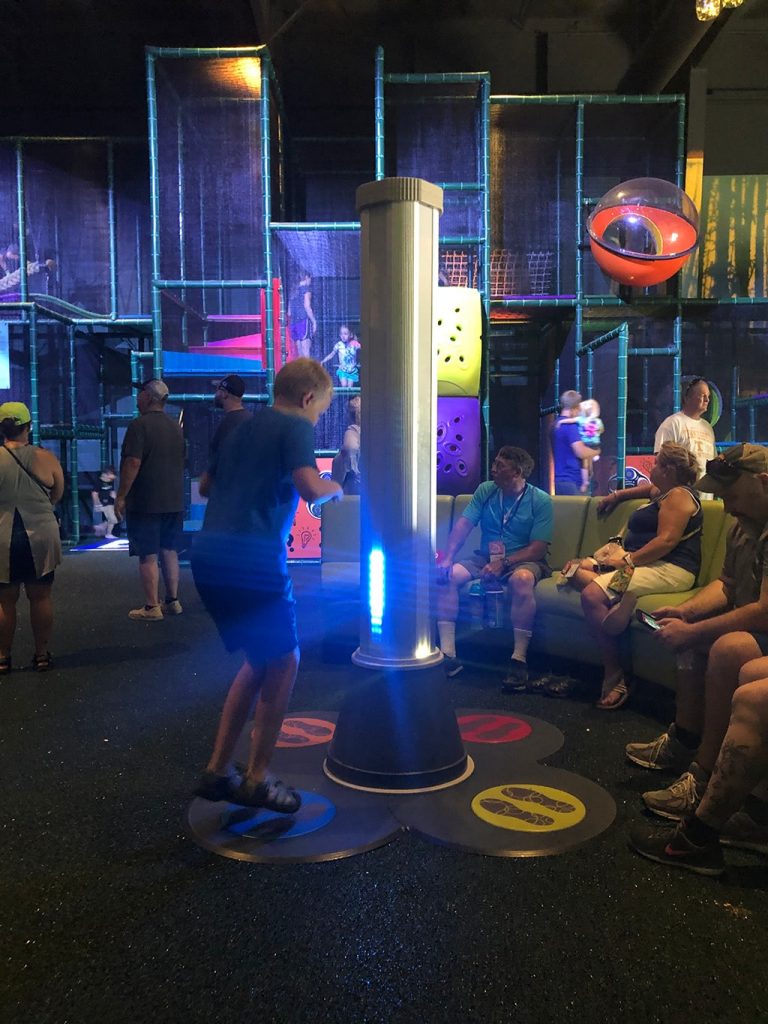 And they have super comfy couches to get off your feet for a bit! It's a win for everyone!
Dollywood Wildwood Grove Shopping
Right past the Black Bear Trail ride, you will find the cutest little open air shopping area called Mountain Grove Merchants.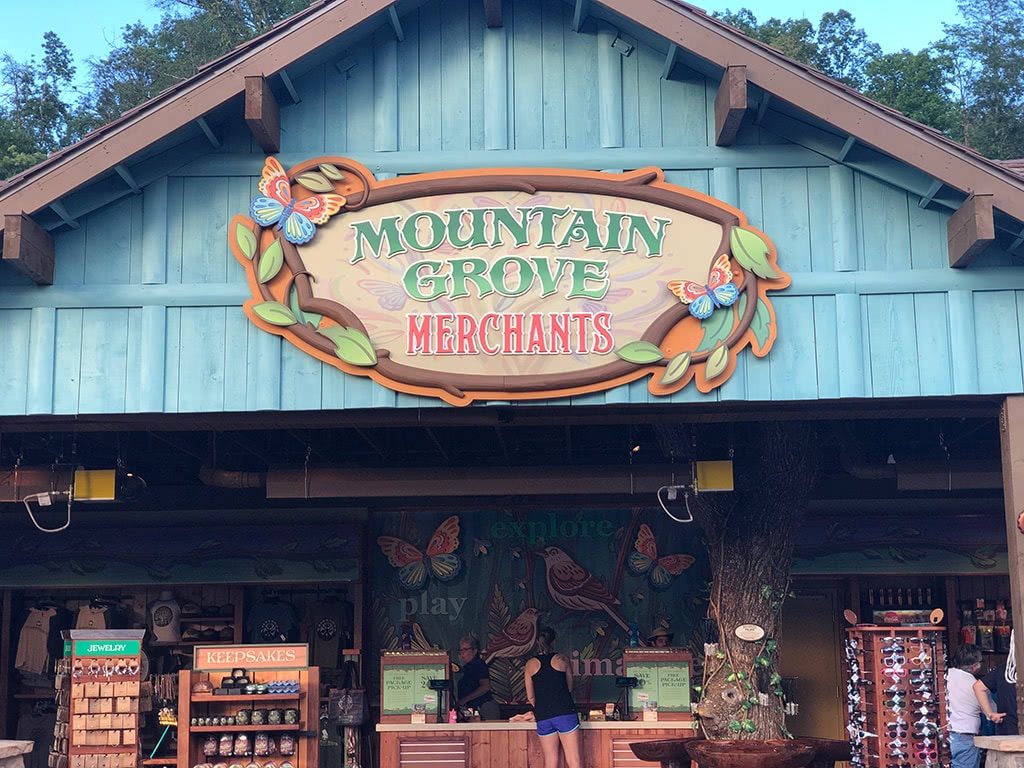 They have everything from shirts to hats to stuffed animals and everything in between. So if you are looking to take a souvenir home from Wildwood Grove, this is the perfect spot to take a gander!
Dollywood Wildwood Grove Dining
Till & Harvest
Right at the entrance of Wildwood Grove you will find the main restaurant, Till & Harvest.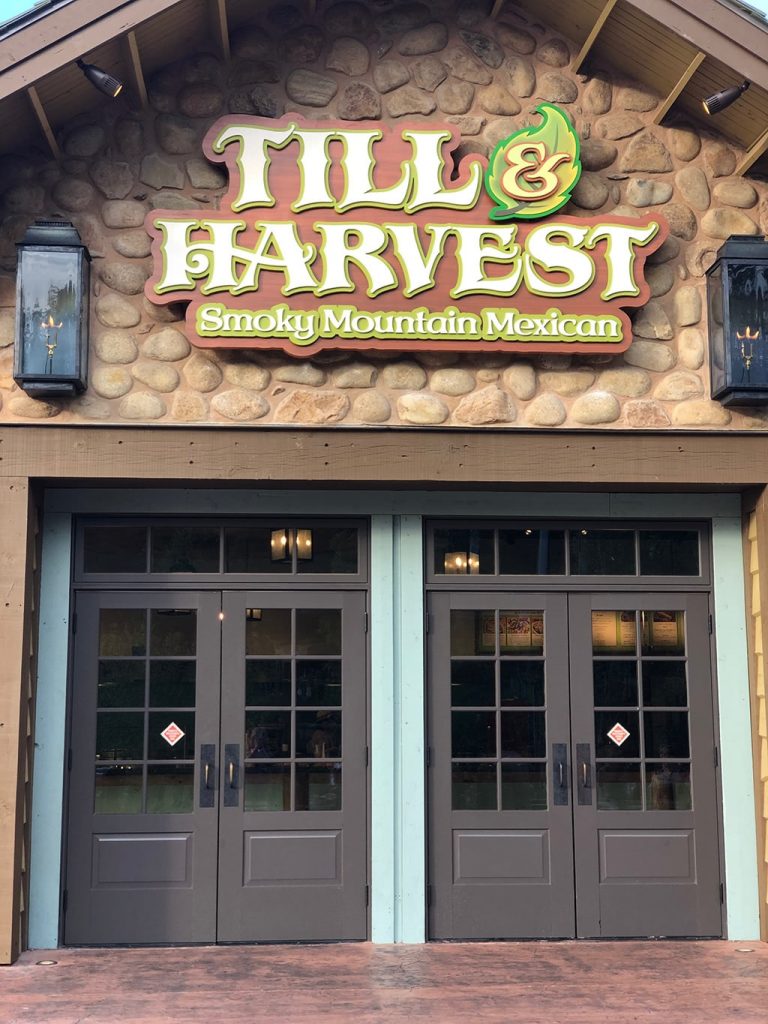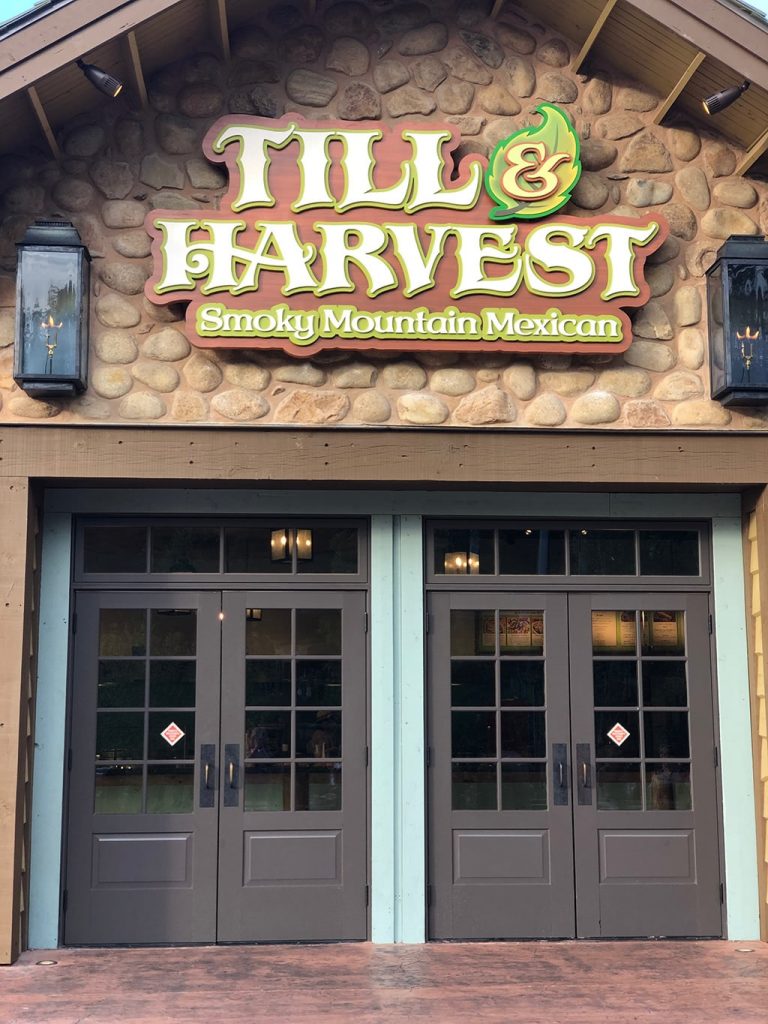 They offer several options to satisfy your Mexican cravings!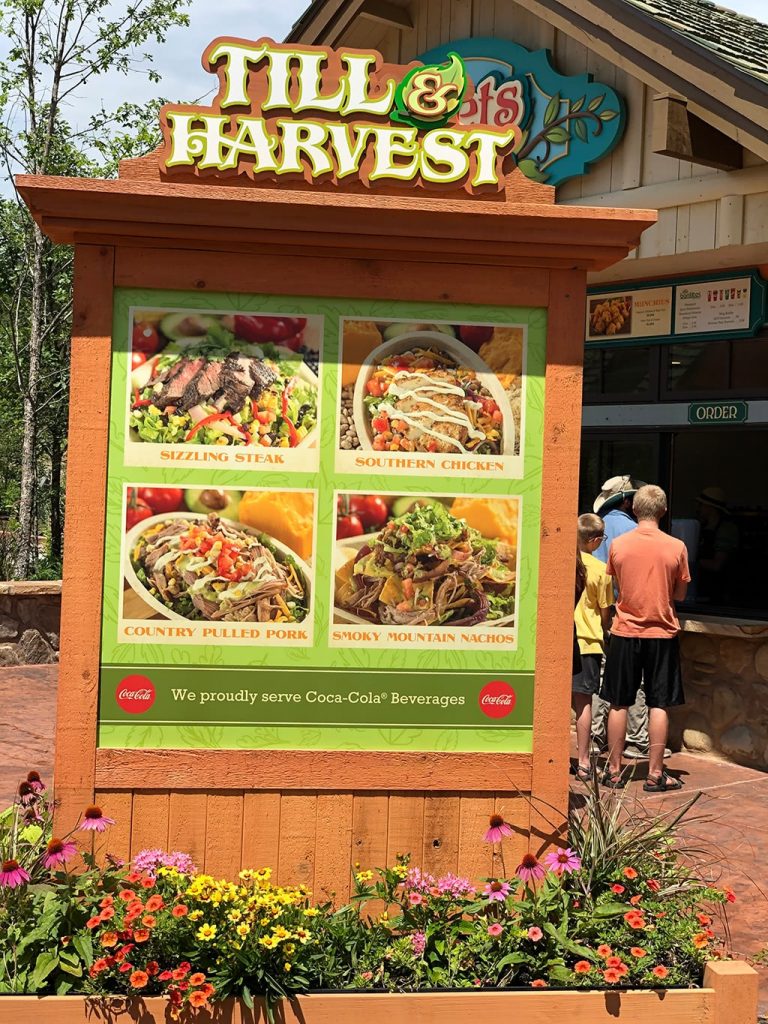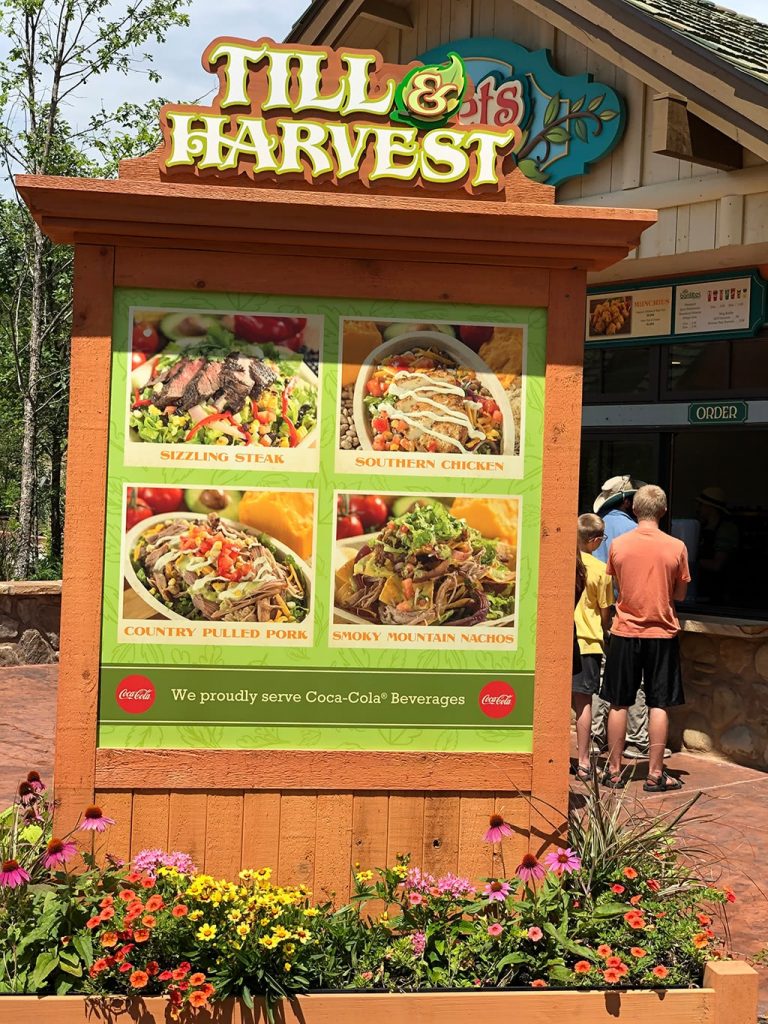 And they have a really beautiful outdoor covered seating area.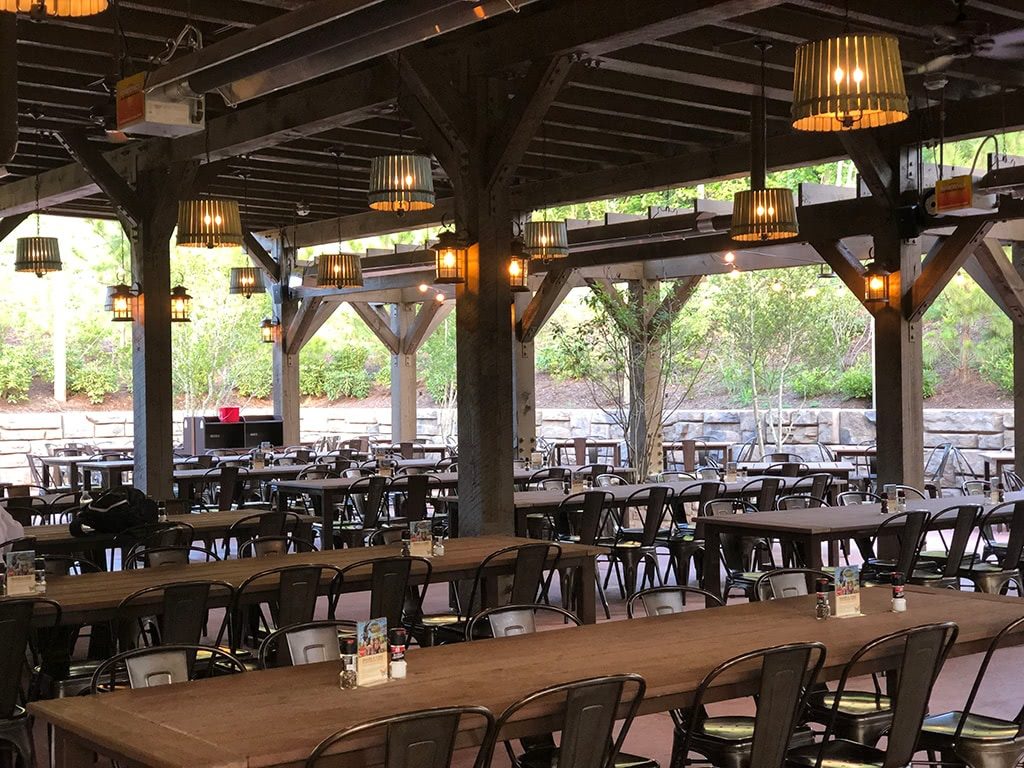 Sweets and Treats
On the left side of the Till and Harvest, you will find a great snack place called Sweets and Treats!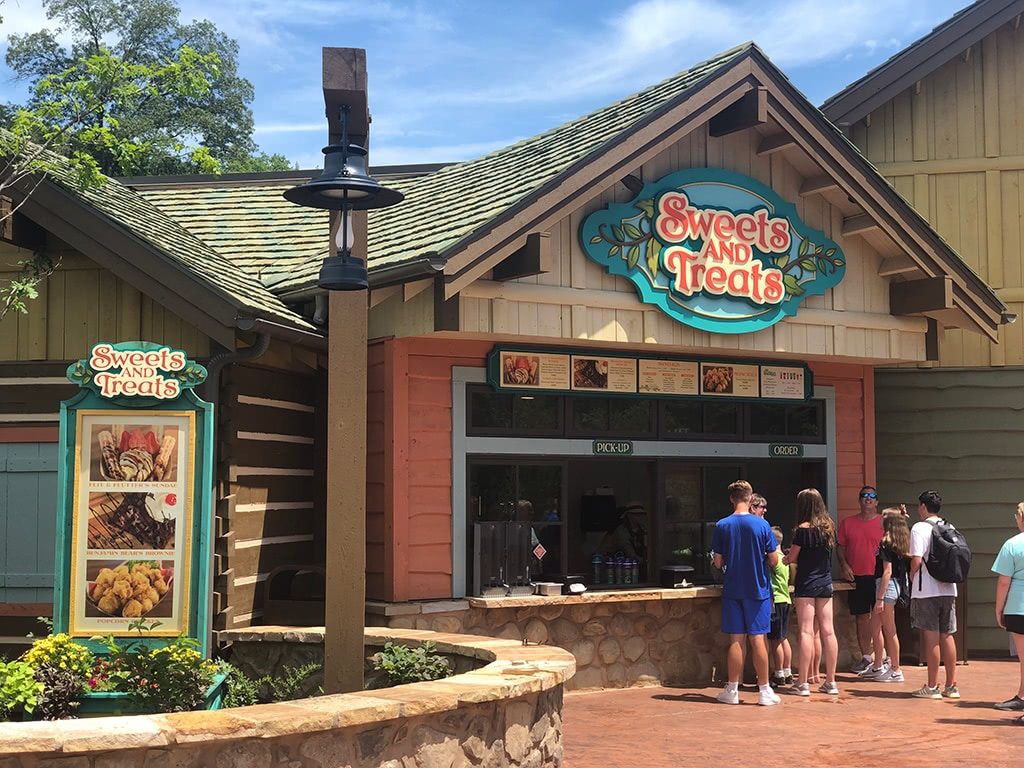 They have everything from sundaes, to brownies and churros to satisfy your sweet tooth! And they even have some popcorn chicken and tater tots if you're needing a little snack to refuel!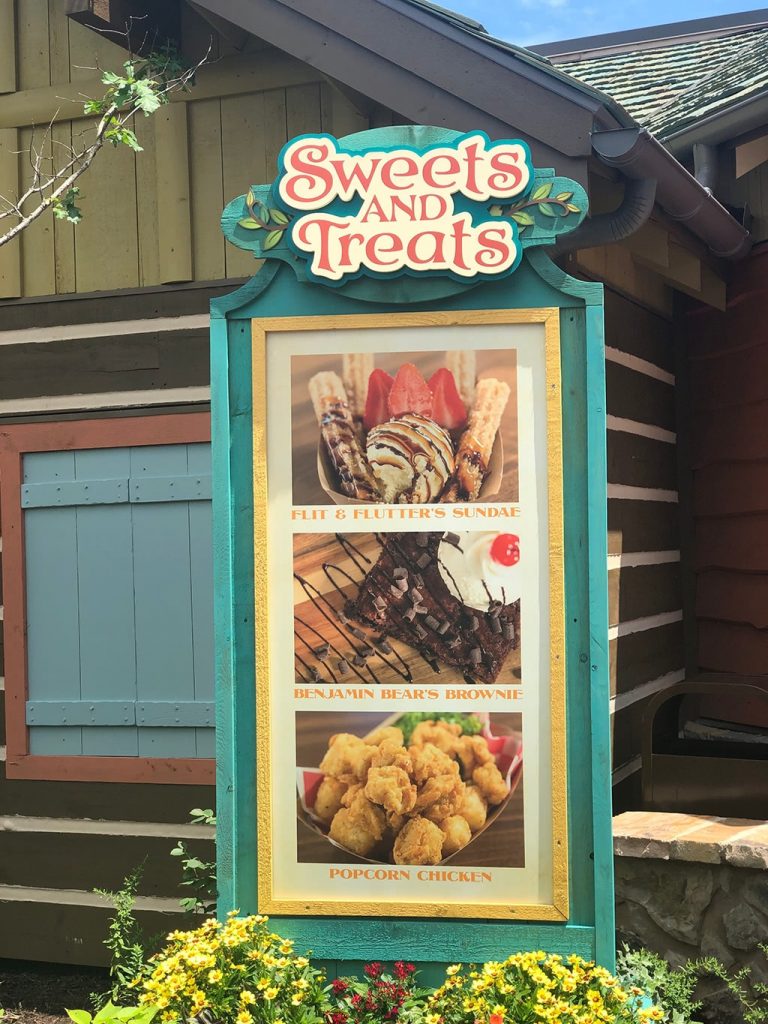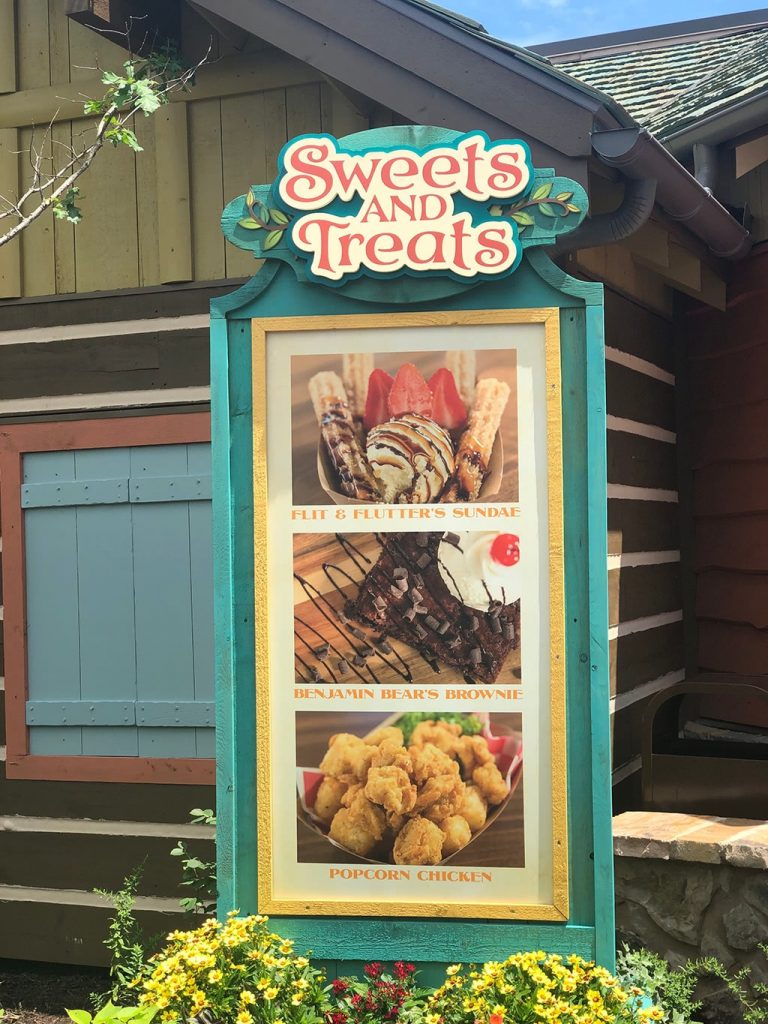 This has become our go-to for getting treats while we are in Wildwood Grove! The small sundae comes with 2 toppings and 1 sauce and is MORE than enough!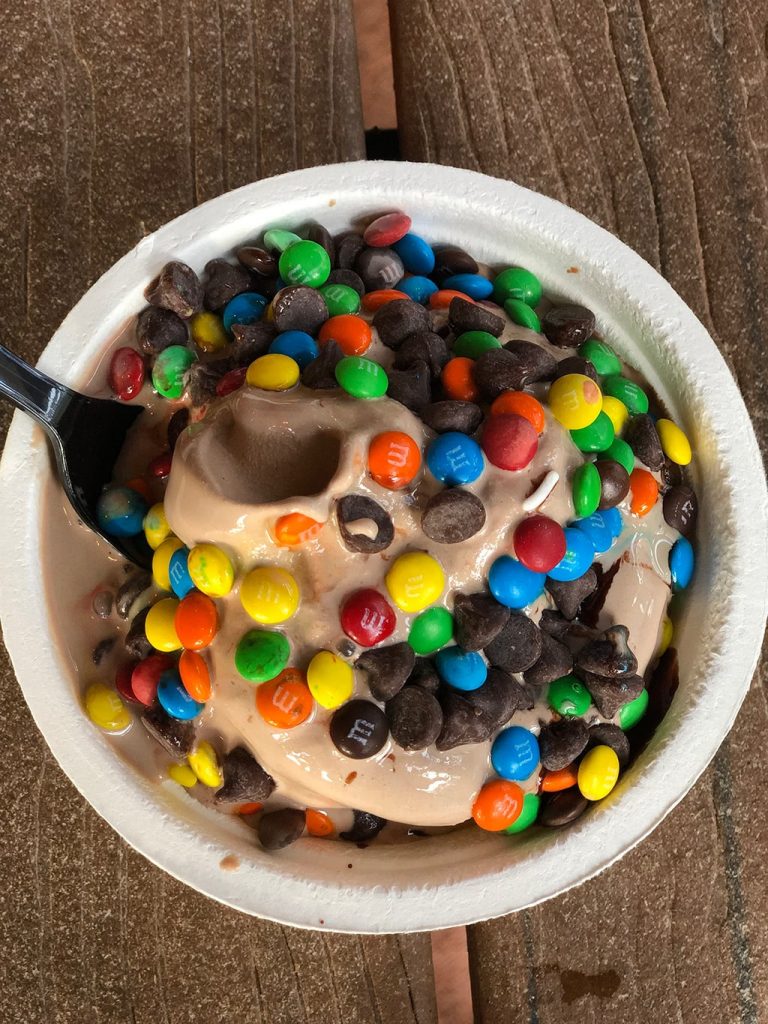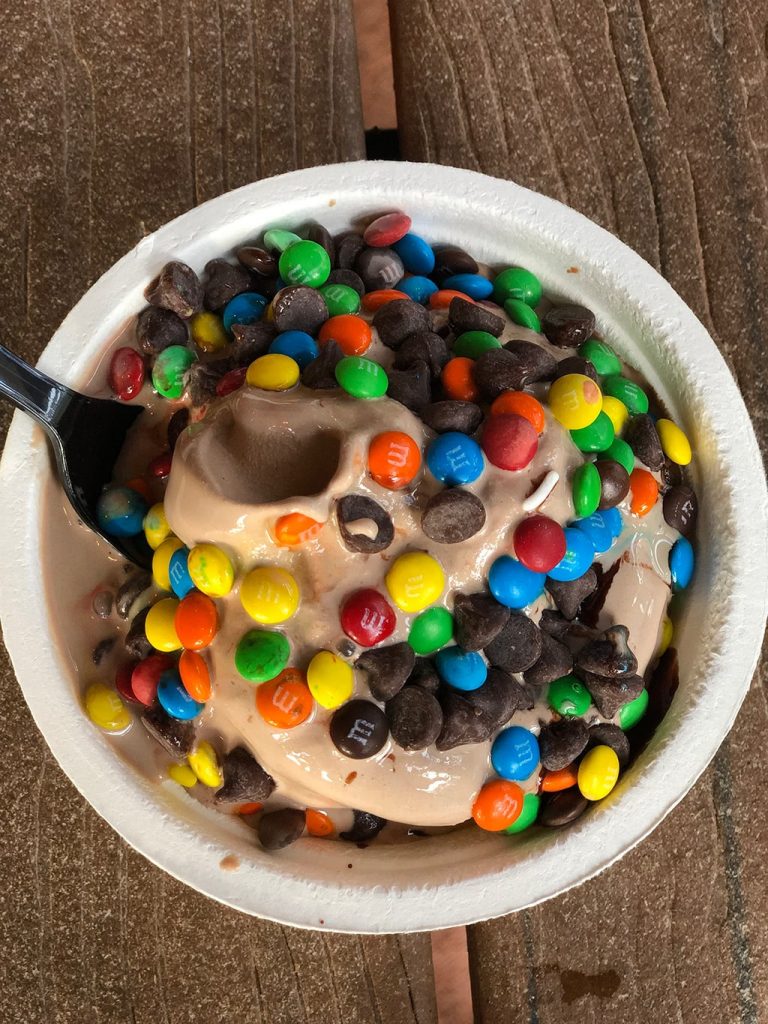 (Just make sure to hit the treats AFTER you do all of the spinning rides. Trust me on this one.)
Other Food Options
In addition to that, they also have a few other food options to choose from. There is usually a Dippin' Dots stand over near the entrance to Hidden Hollow.
And then over between the Dragonflier and the Mad Mockingbird rides, there is a stand that will often have Butterfly shaped pretzels! So you definitely are not going to starve while you are venturing in Wildwood Grove!
Other Experiences at Dollywood Wildwood Grove
And if the rides, food and shopping isn't enough, they have some other unique experiences that you will only find in Wildwood Grove!
Live Music
You may just luck out and get to see the Wild Roots Band that roams throughout Wildwood Grove playing some local diddies!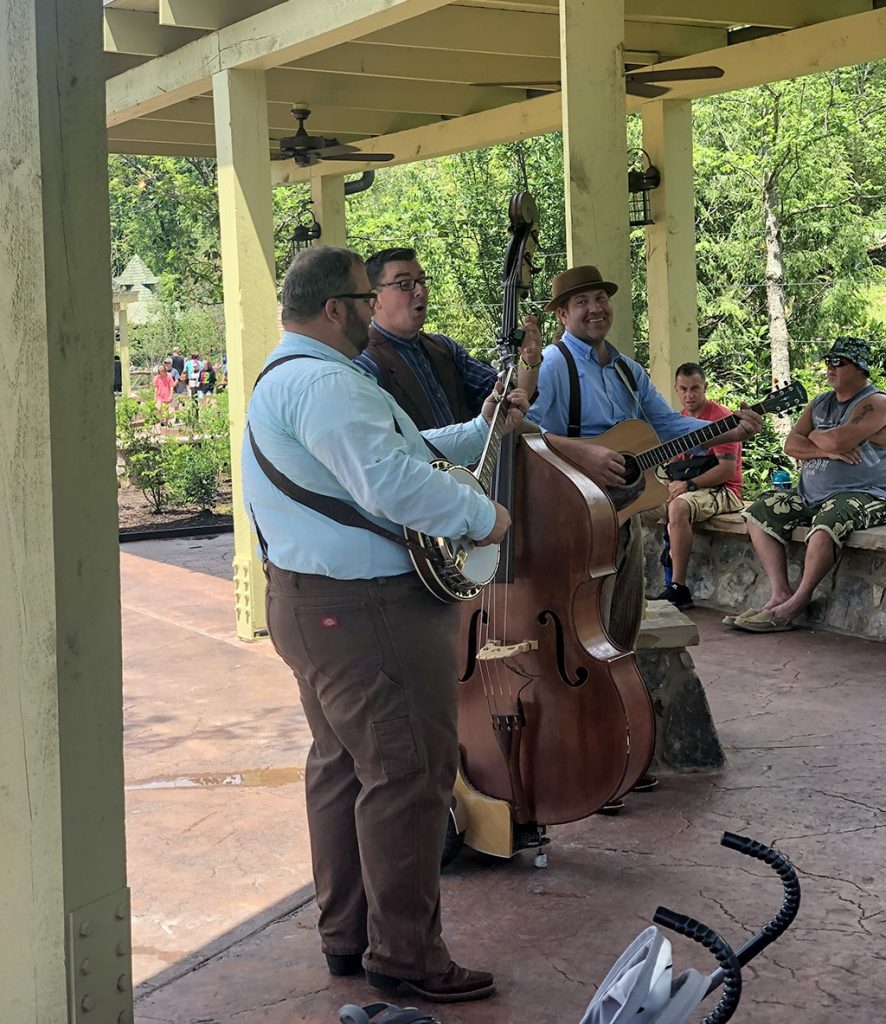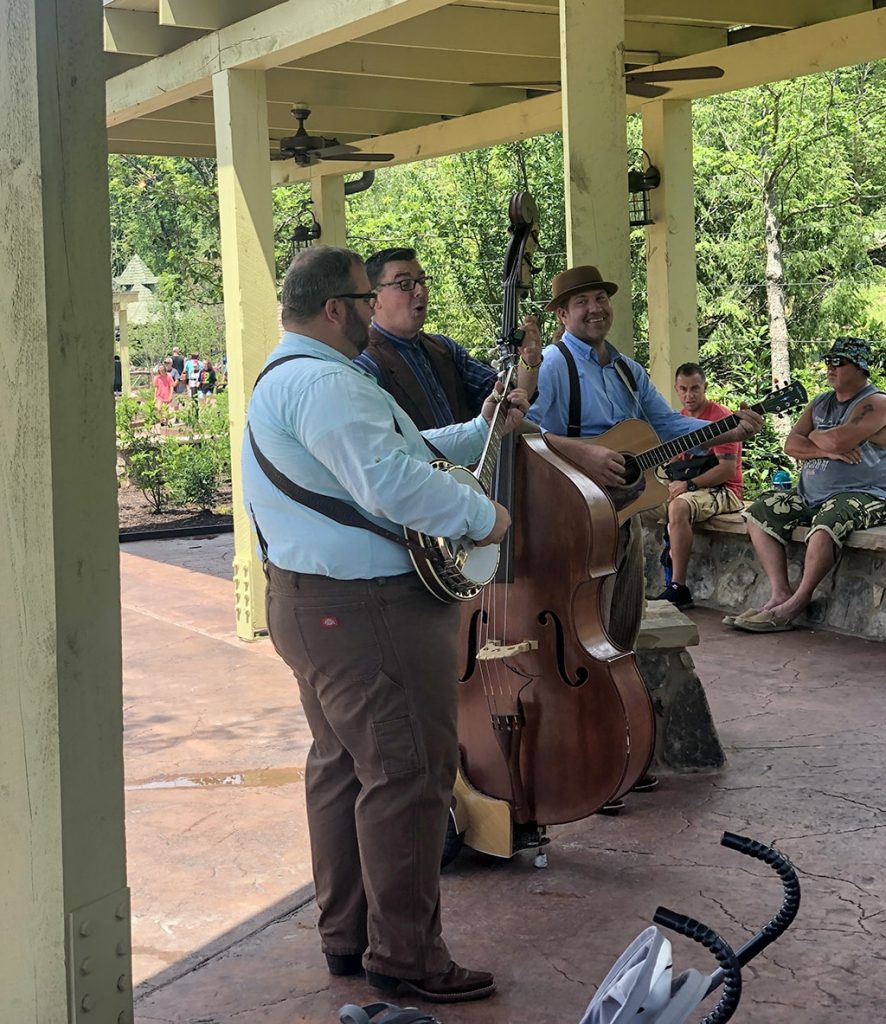 One day we got to sit and enjoy their music under the covered pavilion across from the Great Tree Swing. Their sound is definitely unique to the Smoky Mountain area which is some of my favorite kind of music! If you enjoy music with a good bluegrass feel, you will love the Wild Roots Band!
Photos at the Butterfly Wall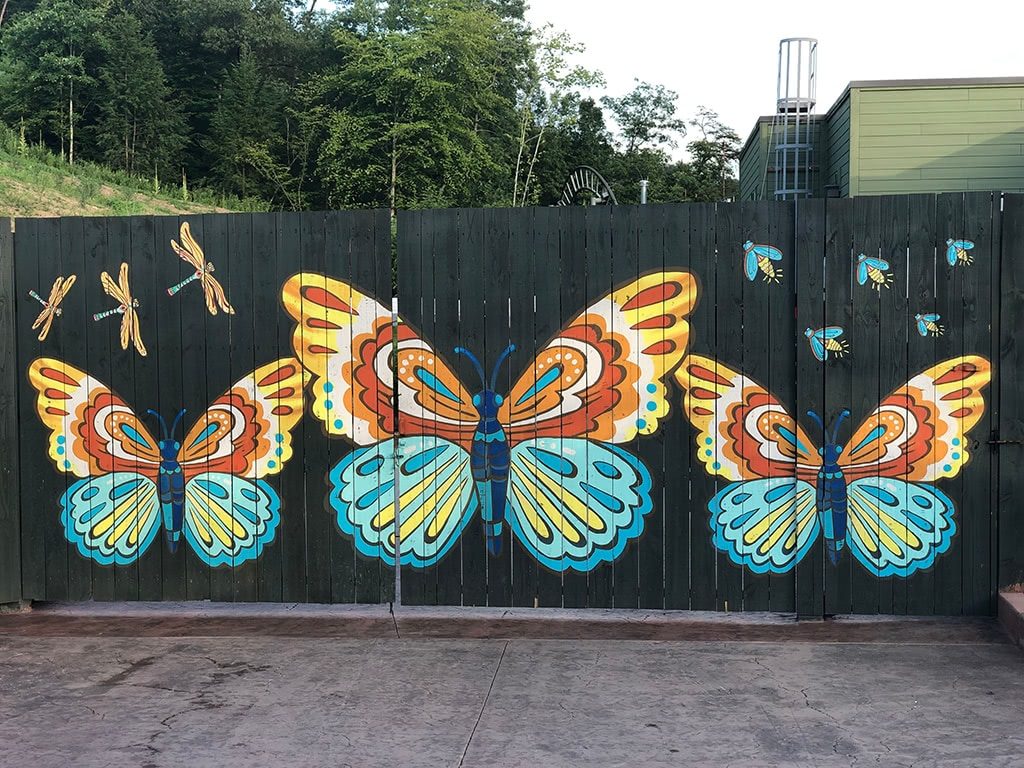 We always love a great opportunity for fun family photos! And this beautiful wall of butterflies is no exception!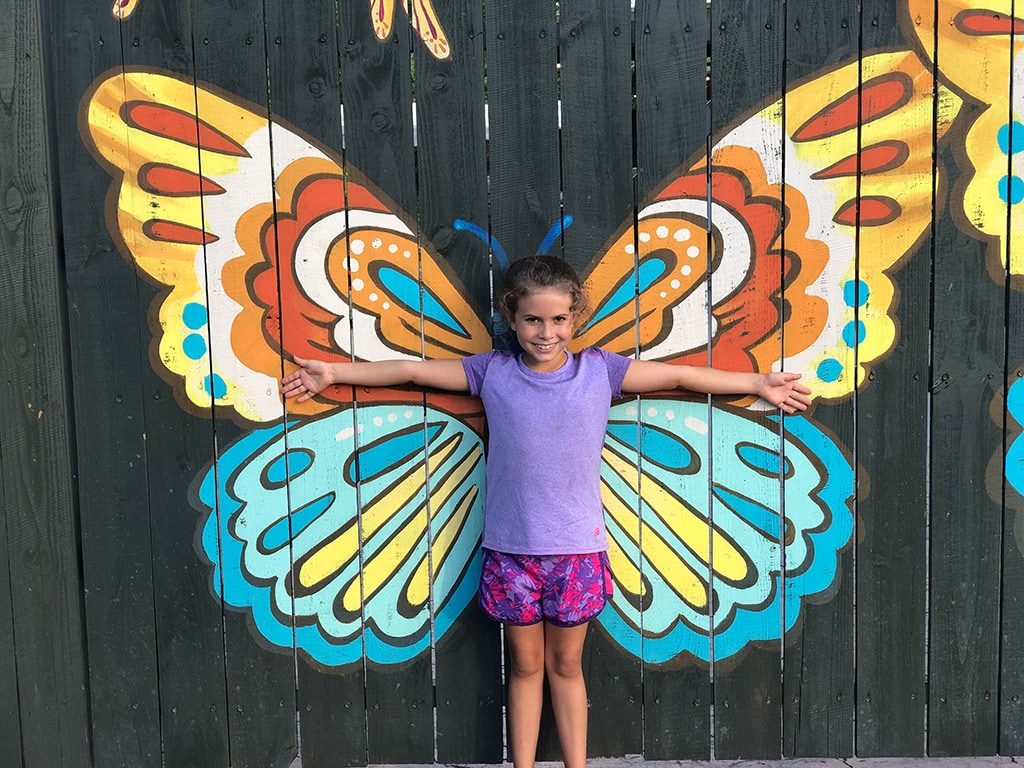 Be sure to take a couple of minutes to capture a few pictures as you pass by this beauty on your right after you pass Sweets and Treats!
Character Meet and Greets
New to Wildwood Grove are three special characters that you can meet at different times throughout the day: Flit, Flutter and Benjamin Bear.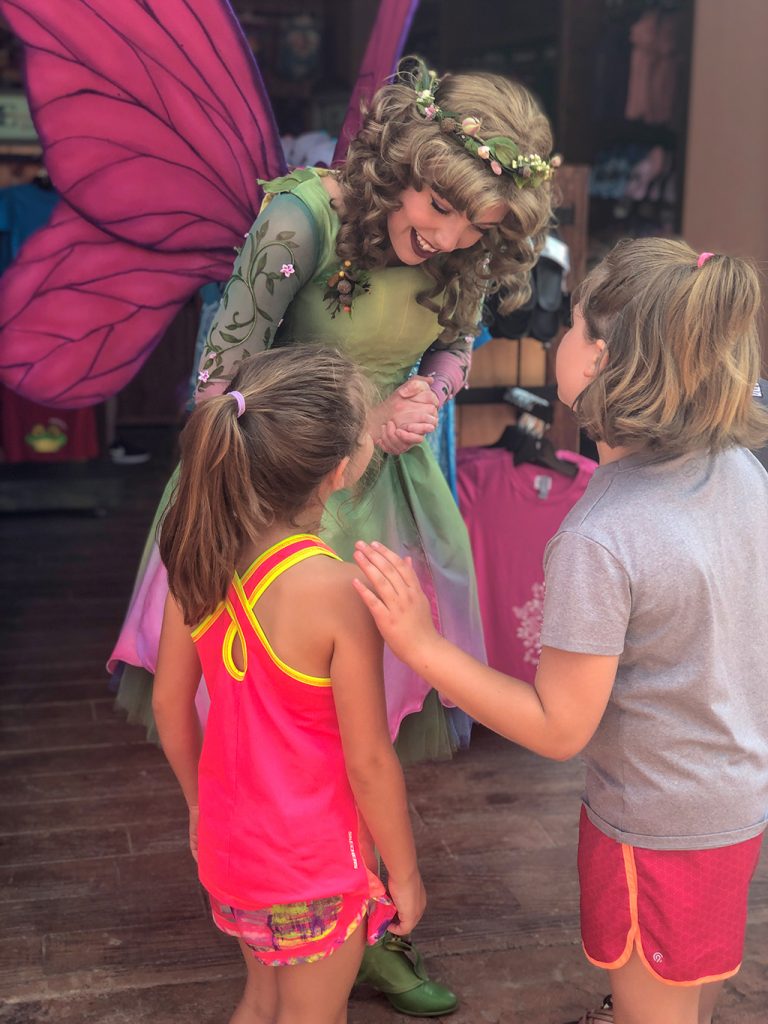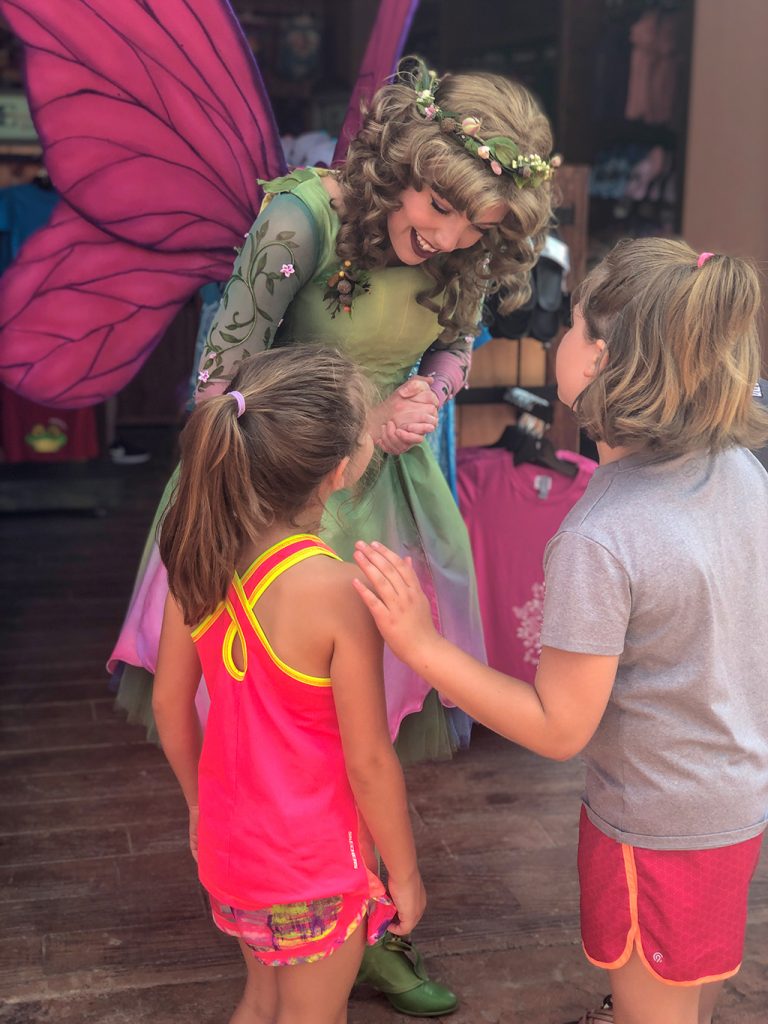 They have a special meet and greet location next to the Frogs and Fireflies ride. A sign is there with times for the meet and greets posted (usually about four a day). You can also check the Dollywood app for the Meet and Greet times.
The Wildwood Tree at Night
If you happen to be around at night time, you will not want to miss seeing the Wildwood Tree light up and tell the story of Wildwood Grove (narrated by Dolly Parton!).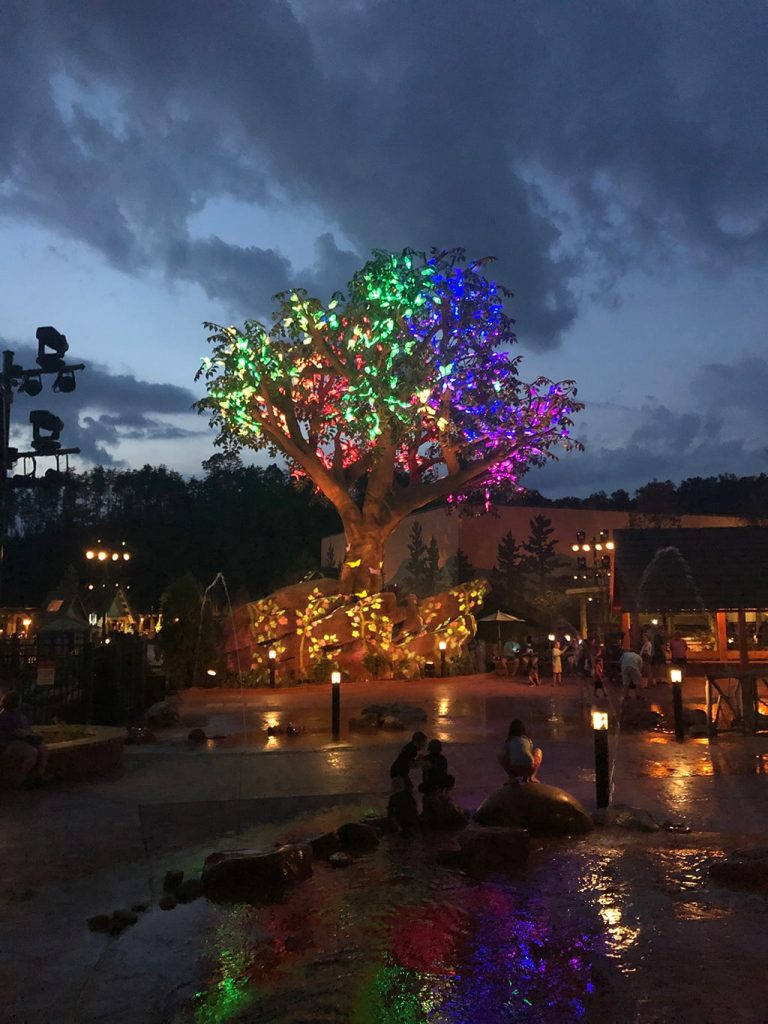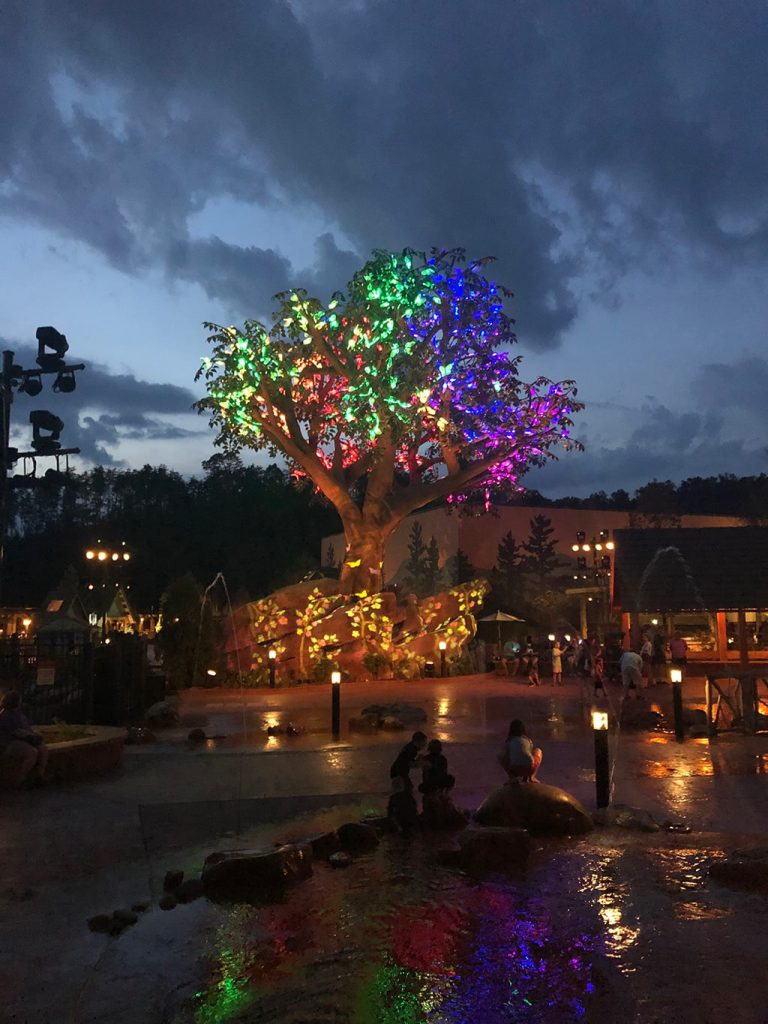 It is a really great experience that just tops off your night at Wildwood Grove.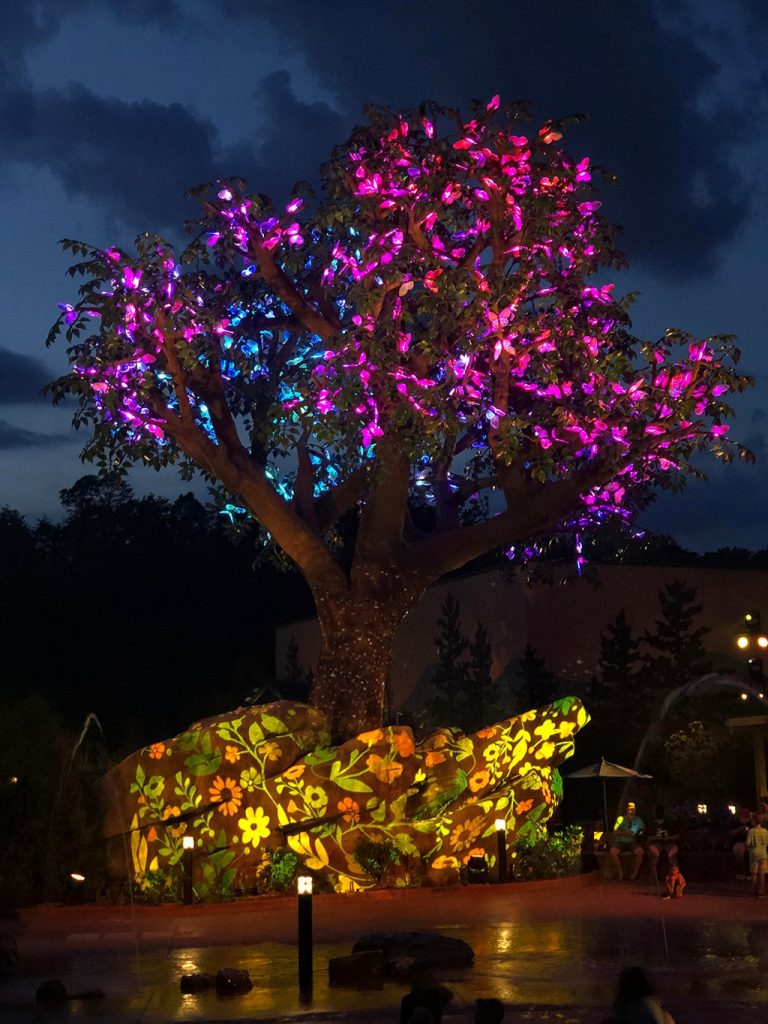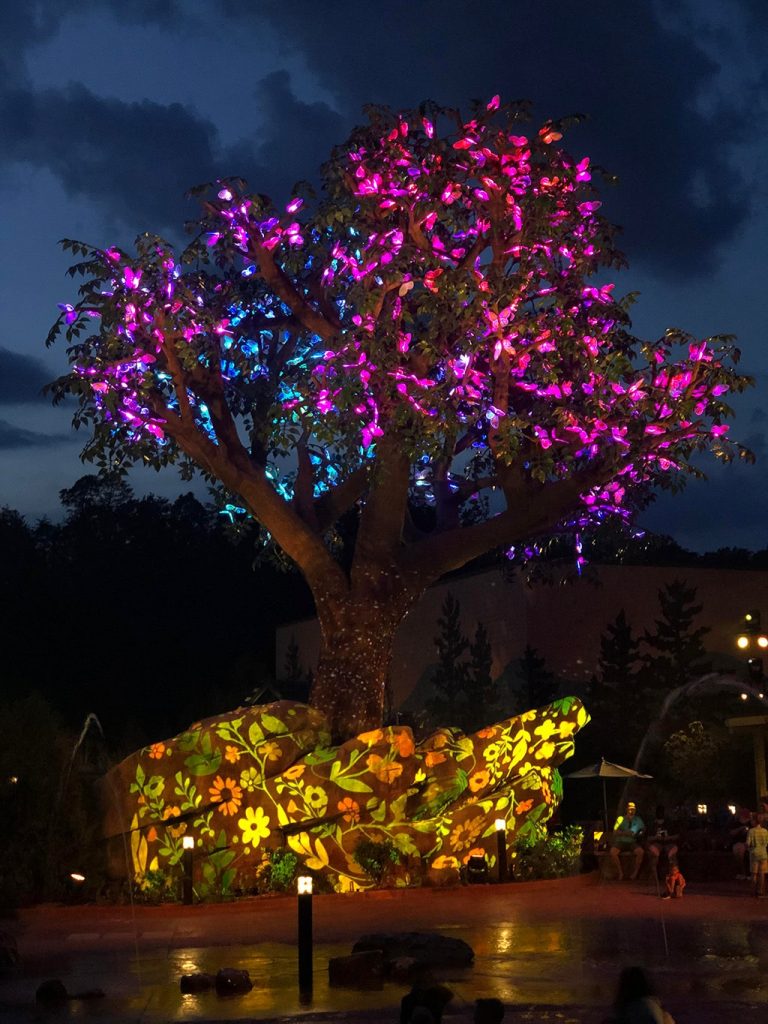 A Few Things to Consider
Be sure to make a list of your family's priorities for the Wildwood Grove area. If you only have a day to explore, be sure to hit your must do's!
Don't forget to check the app for character meet and greet times and also for wait times for the Dragonflier as you are making your plan of attack!
Stop by the height measurement station at the front of the park near the entrance before you head into Wildwood Grove. Check more about ride height requirements at each of the rides on the Dollywood website.
And don't forget to take lots of pictures and have fun making memories with your family in Wildwood Grove!
Final Thoughts
So what are your thoughts about Dollywood's newest expansion? Have you been to Wildwood Grove? What are your favorite things to do there? Be sure to comment below! We would love to hear from you!
---
More Related Articles: