"Oh boy!" (you have to say that in your best Mickey Mouse voice). Halloween at Disney World?!? Have you ever wondered what all the hype with Mickey's Not So Scary Halloween Party Disney World is about? AND…is it really worth it?
You are not alone! We had the same questions and decided to test it out ourselves!
Read on to find out more about our experiences 2 years in a row at Mickey's Not So Scary Halloween Party Disney World and some tips we have discovered along the way!
(I will give you a little spoiler…we loved it so much that we went 2 years in a row…?)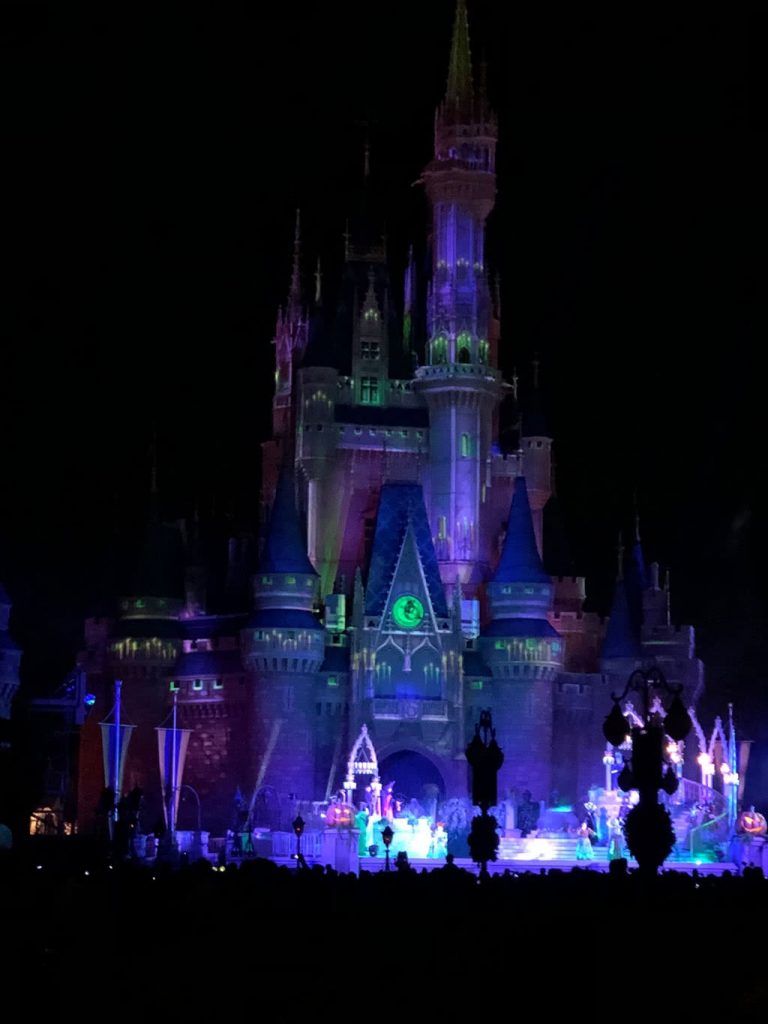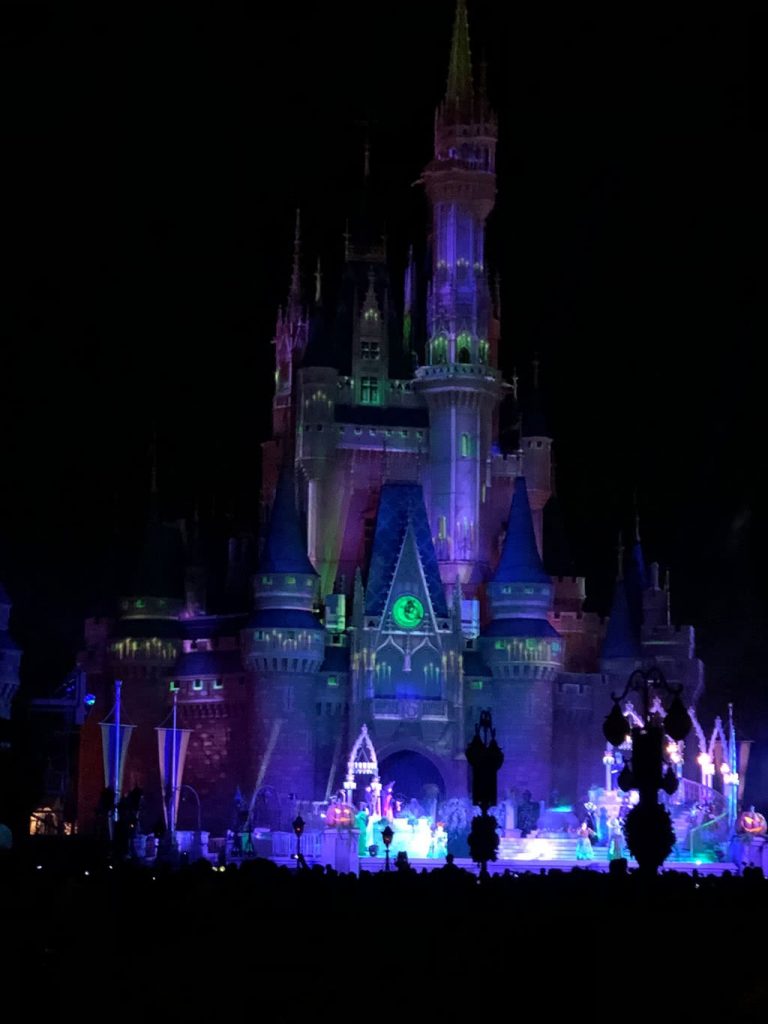 *This post may contain affiliate links (which means if you make a purchase after clicking a link we may earn a small commission but it won't cost you a dime)! Read our full disclaimer.
Disney World Junkies
So, I'm not gonna lie. We have become quite the Disney World junkies over the last several years. Disney World had been on our bucket list for quite a while.
Then in 2016, we finally took our first Disney trip and it was absolutely incredible! Now we constantly look for an excuse to make it back to Disney World!
Nine months after our first trip, we came across an amazing last minute deal for Disney's Caribbean Beach Resort. (We may or may not keep an eye on deals pretty regularly…it's seriously a problem.)
It took us less than 10 minutes to decide to just go for it and take a little mini trip to try out the resort and to give Mickey's Not So Scary Halloween Party a good run!
So…where to begin?
Read, Research, Then Watch Some YouTube Videos about Mickey's Not So Scary Halloween Party Disney World!
We read and researched a ton before we went. Because with Disney World, (as we learned with our first trip), it is VITAL to have a plan of attack! So be sure to plan ahead to experience as much as possible and make the best use of your time!
If you search "Mickey's Not So Scary Halloween Party Disney World", you will find tons of articles with helpful tips and recommended strategies to make the most of your time.
However, every family has different priorities of the Halloween Party. So be mindful that everyone has their own preferences and there is no set way that you HAVE to do it!
We also got into watching YouTube videos of some of our favorite Vloggers that cover Disney. They will actually walk through the park during the party and show you little snippets of each of the elements of the party. Our kids LOVE to watch these!
That was super helpful for us as we could see firsthand what we thought our crew would not want to miss! Then we would discuss as a family what each person really wanted to do and make a note to make that happen!
Our First Trip To Mickey's Not So Scary Halloween Party Disney World
We had our list of priorities ready for our first experience at the Mickey's Not So Scary Halloween Party Disney World. As there is so much to do at the party that you couldn't possibly experience everything in one night.
Our first Mickey's Not So Scary Halloween Party was SO much fun! From all of the halloween themed music, the special decorations, the parade, the characters in costumes, the shows, riding some of our favorite rides, to trick or treating in the park…it was such a memorable experience for our family!
The crowds were actually not bad at all, so we were able to accomplish all of our bucket list and more!
All in all, our first trip was amazing and so fun to experience together as a family!
Our Second Trip to Mickey's Not So Scary Halloween Party Disney World
Our second experience was completely different! Since we had extended family with us, we all listed our priorities so everyone in the party felt included and got to do things they wanted to do!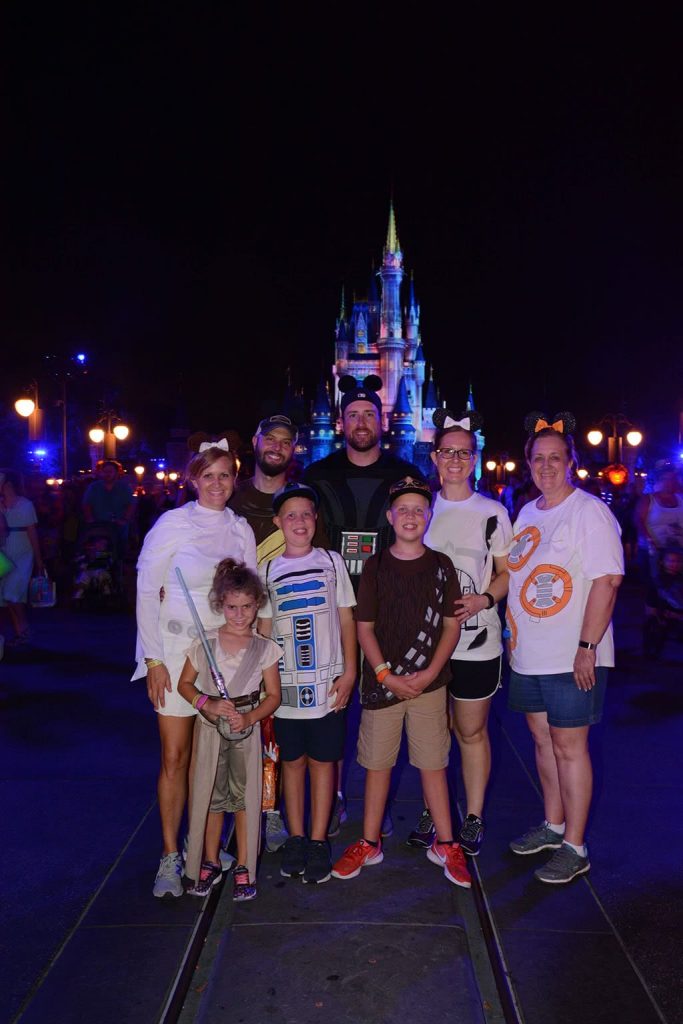 Our bucket list was pretty much the same as the first time, however we didn't do AS good of a job at executing.
Our CaddyWampus Moment
For example, we messed up big time and didn't get there early enough to get a good spot for the Hallowishes Fireworks. We totally got stuck in a sea of people on the bridge between Tommorrow Land and Fantasy Land.
Here was a picture of our view. Notice you can only see the tippy top of the castle…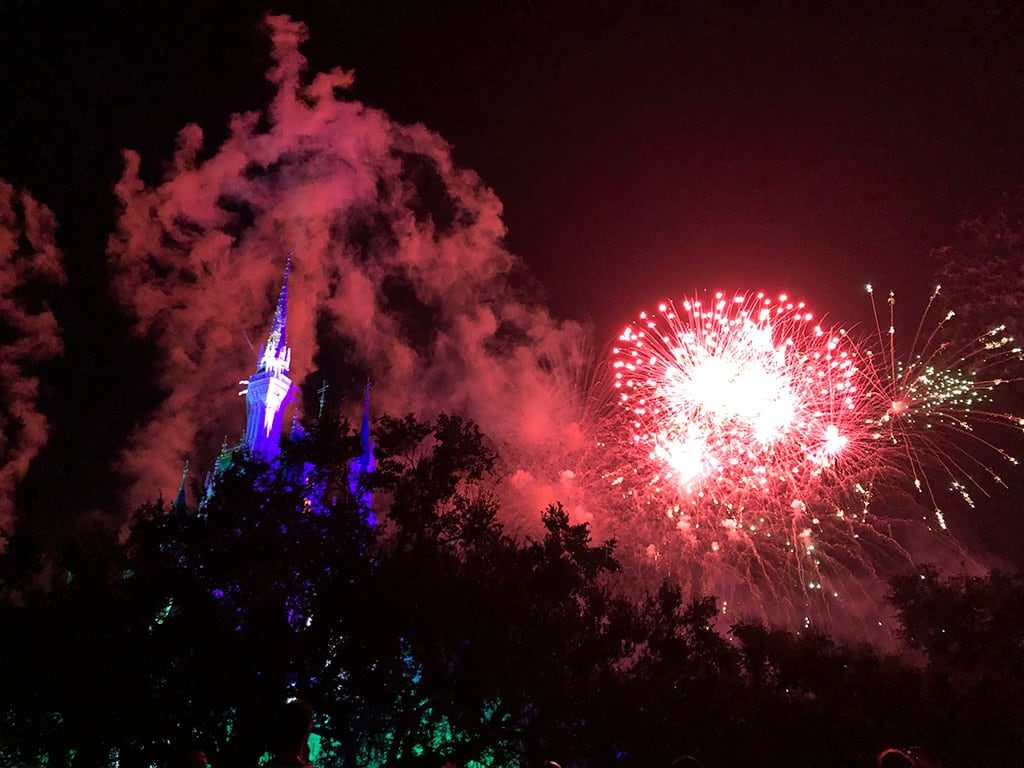 Not ideal, but we made the best of it and didn't let it ruin our night!
So learn from our mistake and make this a priority to get a good spot, WELL before it begins.
It also seemed to be much more crowded than the first time we went. So that definitely impacted our game plan as well!
Overall, our second trip was still amazing and we made some amazing memories together!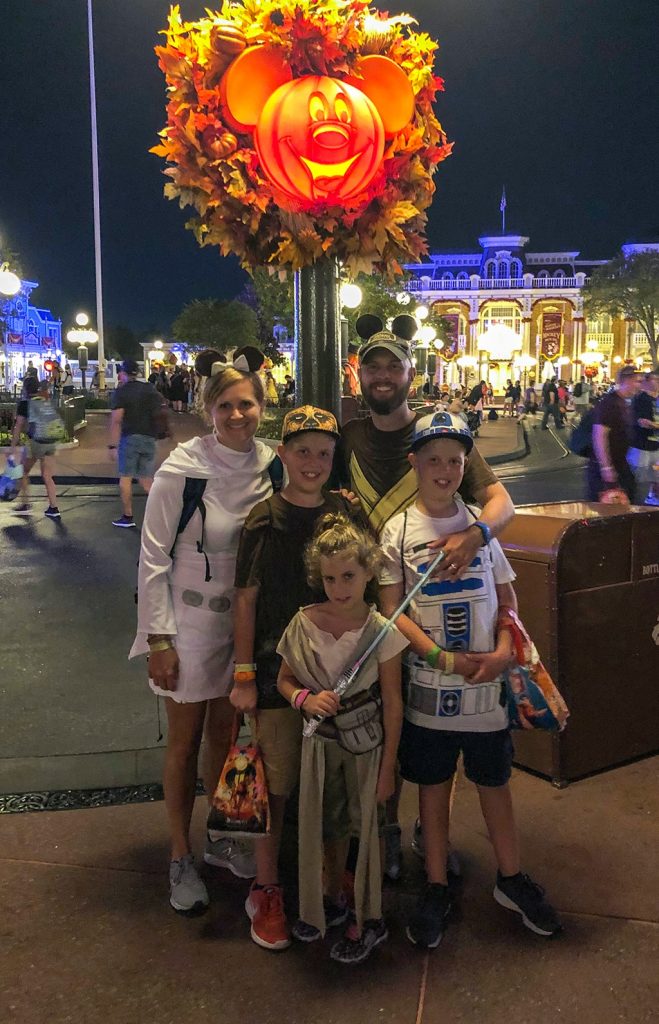 Mickey's Not So Scary Halloween Party Disney World Costumes or Not?
Round One
Since we booked our first trip very last minute, we didn't have ample time to coordinate themed costumes. Although the OCD part of me REALLY wanted to do it, we decided to not let it become a stressful thing for this trip. We had read costumes aren't a must…but just adds to the fun!
It was also early October in Florida, which means it was still relatively warm. Which also means you probably do not want to go in a full-blown long sleeve and pants costume (although we definitely saw plenty of those brave committed souls!).
The boys had some super hero shirts, Maggie had a Snow White dress and Matt and I just wore some of our favorite Disney shirts! Nothing to write home about, but it absolutely did not dampen our trip one bit!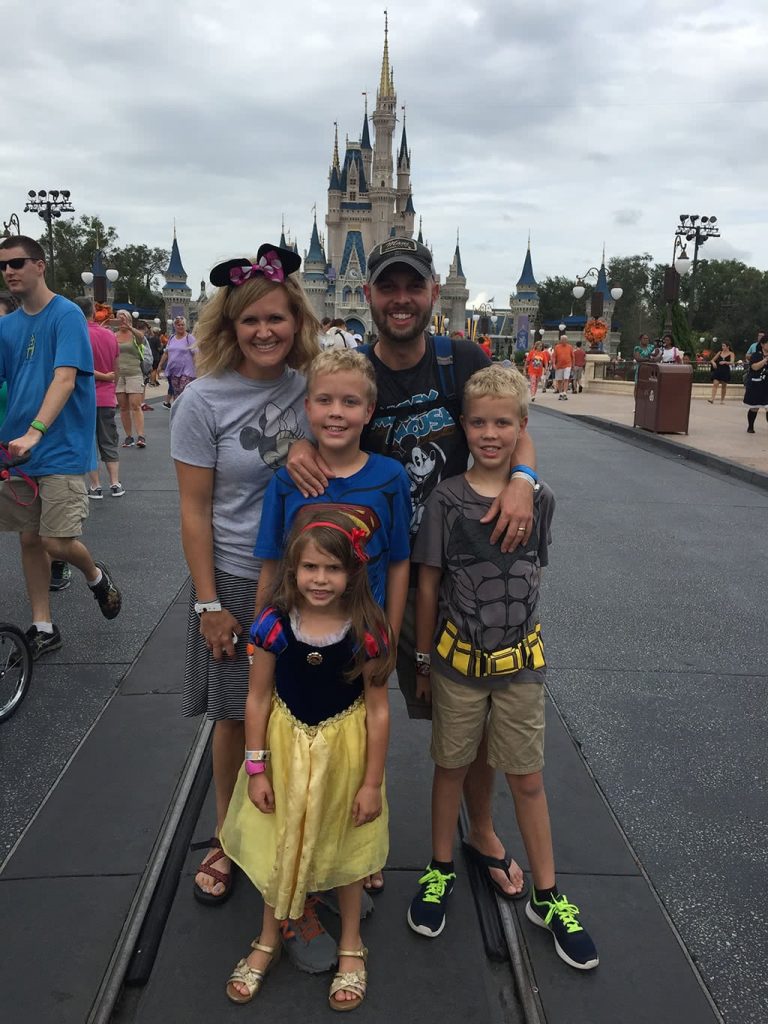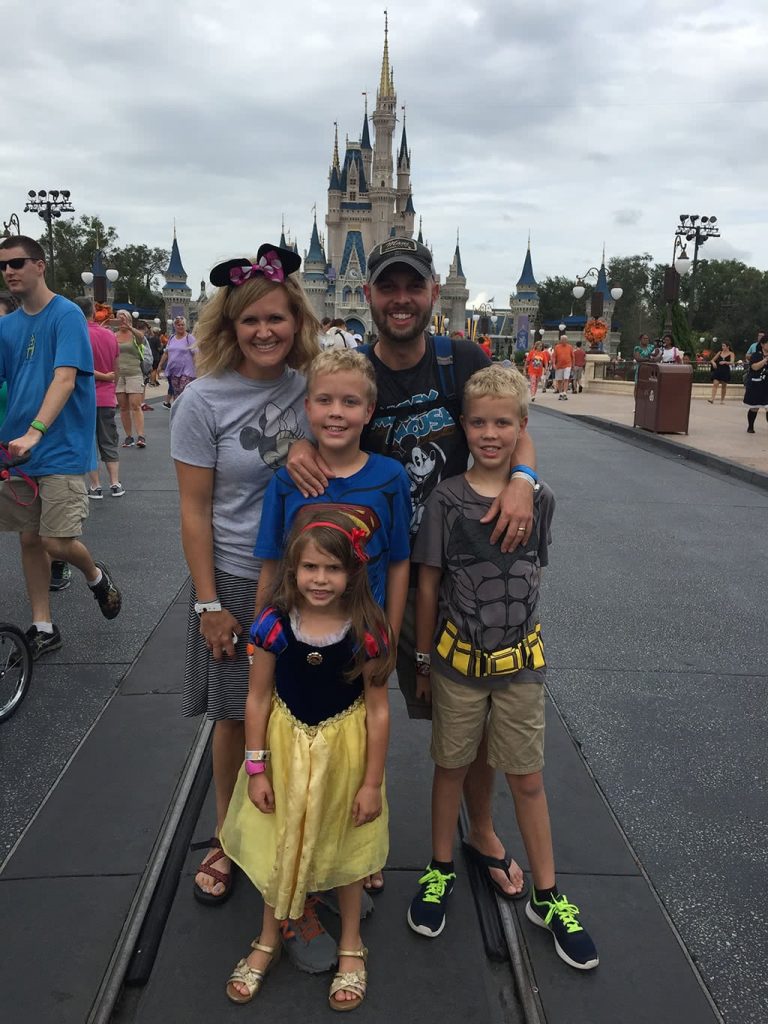 When we got there for the party, we saw all of the fun costumes that people had and we made note that next time we wanted to up our game on the costumes for sure!
*Side note- Look how excited Maggie was to be at Disney World. She was totally on the verge of hangry…so we got food in her STAT after this picture. It was all smiles the rest of the night, but this moment got scary real fast. Another tip…ALWAYS have snacks available. They may save your life with little ones in tow.
Round Two
On our second go around, we had more time to put some thought into it. We also had some extended family with us which required more creativity to have a theme that everyone would enjoy!
After saving many ideas on Pinterest boards, we finally voted and the result was Star Wars!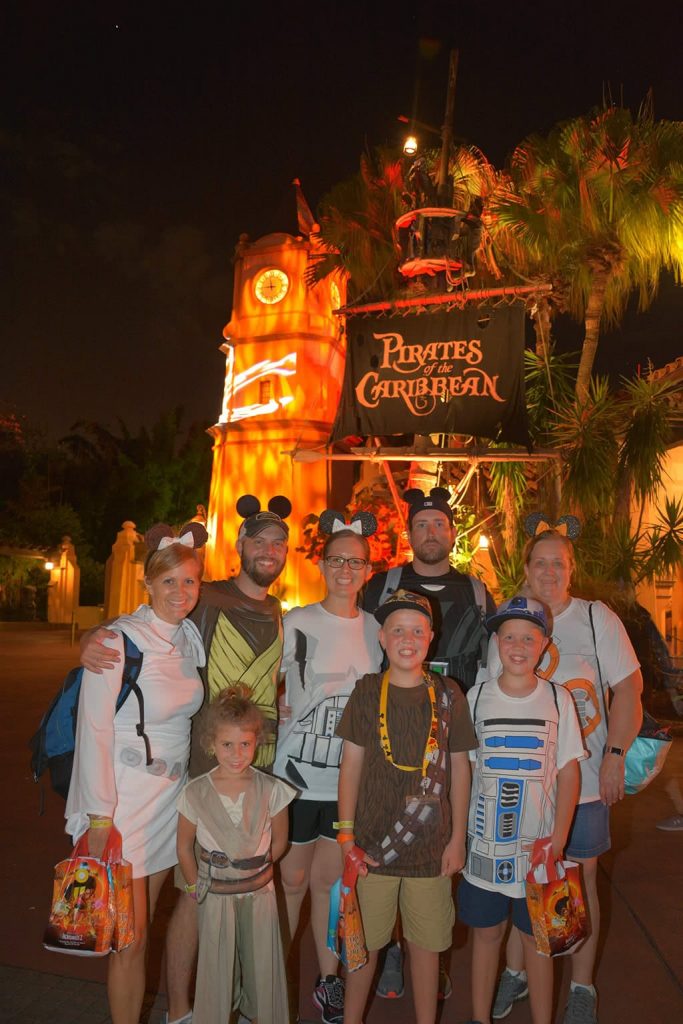 Again, we could have gotten a lot more elaborate, BUT…it is Florida…and we didn't want to sweat to death. So we just went with T-shirts and a few other light-weight costume variations of our favorite Star Wars characters. We bought most of our Star Wars Costume T-shirts on Amazon.
These are some of the exact ones we bought and they held up great:
There are also some really great Disney costume ideas out there floating around on Pinterest. If you do decide to do costumes, plan ahead and pick something that everyone in your party will enjoy.
The boys were definitely more opinionated about the costumes than any of us. I really wanted to do 7 Dwarves as Maggie would be the perfect Snow White, but the boys just weren't excited about it.
So I realized quickly that it was important to include them in the process as to avoid any future disappointments of them not wanting to participate. I can't imagine walking around the happiest place on earth with sulky people in our party. No thanks!
Some other fun ideas we saw were Toy Story, Pirates of the Caribbean, Villains, etc…the possibilities are seriously endless! Be creative, plan ahead and make it fun…for everyone!
Must Do's at the Mickey's Not So Scary Halloween Party Disney World
While there is seriously more to do than you could possibly imagine, we always start with the shows/parades that have specific times and then plan around those.
Here is a list of our Top 3 Must Do's for the Mickey's Not So Scary Halloween Party.
Mickey's Boo to You Halloween Parade – This is a MUST! Between the Headless horseman that comes out moments before the actual parade starts, the gravediggers sparking the concrete with their shovels, the dancing ghosts, the fun halloween-themed music, and of course many of your favorite characters decked out in their specialty halloween costumes, you don't want to miss it! The parade will run 2 times during the night, so make sure to plan accordingly!
Disney's Not-So-Spooky Spectacular Fireworks Show – Be sure to make this a priority to get in a good spot where you can see the front of the castle! They have a really amazing laser light show that covers the front of the castle which is so fun! The music and theming of this show is amazing! Be sure not to make the same mistake we made that I referenced above. Plan ahead and be in place WAY before time for it to start. The fireworks only happen one time during the party, so if you miss it you won't get another chance to see it! (*Side note- This replaced Hallowishes and was BRAND NEW for 2019! )
Hocus Pocus Villan Spelltacular – The first year we totally bought Hocus Pocus the movie and watched it right before we went…just so the kids had a connection for this show! They are absolutely hilarious characters and the show takes place in front of Cinderella Castle three times during the night. Take time to watch at least one of the shows, especially if you are Hocus Pocus fans! "Amuk, Amuk, Amuk!"
To Ride Attractions…or Not?
For our family, we LOVE rides! It is so incredibly hard to be IN the Magic Kingdom and not ride any of the attractions! Many people will advise you not to spend time riding the attractions because of all of the special stuff going on for the party.
And while this is partially true, you also have to keep in mind that it is absolutely impossible to do EVERYTHING at the Mickey's Not So Scary Halloween Party. So again, you and your family need to prioritize what your most important takeaways from the night will be.
Rides…Just Do It!
If your family loves rides, then by all means…ride some rides! Usually the lines at the Mickey's Not So Scary Halloween Party are MUCH shorter than regular park days.
Want to ride Seven Dwarfs Mine Train at night? This is the time to do it! It's one of our faves and we never are able to ride it at night on regular park days! So just do it!
Some Special Rides To Consider
This past year, they added some new variations to 3 of the rides to make them unique to the Mickey's Not So Scary Halloween Party. It was actually pretty fun! So we made it a priority to check those out! Here is the rundown of the speciality rides for all the ride lovers out there!
Tea Cups -These had some really cool special lights and music that came on after dark. While we didn't ride it (my equilibrium doesn't like spinny rides…), we did walk by and it seemed very fun. So if you are into that kind of thing, you will love this unique experience!
Space Mountain – This is one of our crew's absolute favorite rides. They were so excited to try this out, as this is a unique opportunity called Deep Space Mountain where they turn all of the lights out! Our whole party got loaded into the cars and were about to blast off when they shut it down. We sadly never got to ride it that night, but are super grateful that we weren't stuck in a car on the inside of the ride! Next time we hope to try again!
Pirates of the Caribbean – This was totally one of our favorites! The cast members are hyping everyone up in line and asking if anyone has seen Gunpowder Pete. "Be on the look out for Gundpowder Pete!" As we rode through the attraction, he was hidden in the ride and talking to the park guests as we rode past in our boat! Our crew got really excited and started yelling with excitement that we found him and he replied back to us "I like your moxy!" It was definitely one of our favorite moments of the night! It's the little extra touches that make Disney World such a fun and unique experience! We definitely would recommend it!
Haunted Mansion – This is just a really fun ride that goes right along with the theme of the night. It's not a must do…but it is just fun! Plus there are special Haunted Mansion characters sitting out at the entrance talking and interacting with the guests. That alone is worth walking over to check out and experience!
To Trick or Treat…or Not?
Free candy?!? Of course!
Okay, really this again depends on your priorities. Some people don't recommend wasting your time on this. However…this is actually one of our kiddos' FAVORITE parts of the Mickey's Not So Scary Halloween Party!
Now keep in mind, you will NOT find us waiting in line for any of the Treat locations, but if the line looks like it is moving quickly, by all means…we will jump in that line and grab some candy!
One really great tip that we learned somewhere along the way, was as the night goes on- the cast members become more generous with the helpings they give out.
So…if you are patient and don't mind waiting until closer to the end of the party, both times we had cast members giving the kids HEAPING handfuls of candy!
However, our crew is not great at waiting sometimes, so we have to hit some of the treat locations along the way throughout the night.
People Mover Treat Break!
Another tradition that we started from our first trip was to take a little candy break and ride the People Mover and cram our faces with snacks and candy.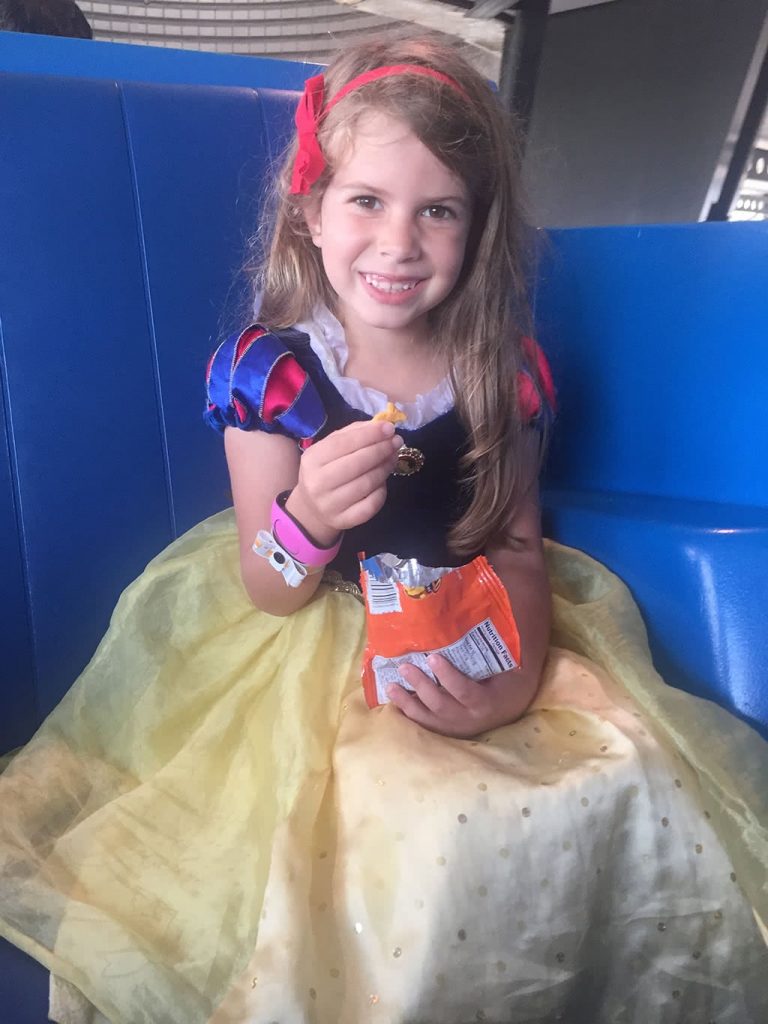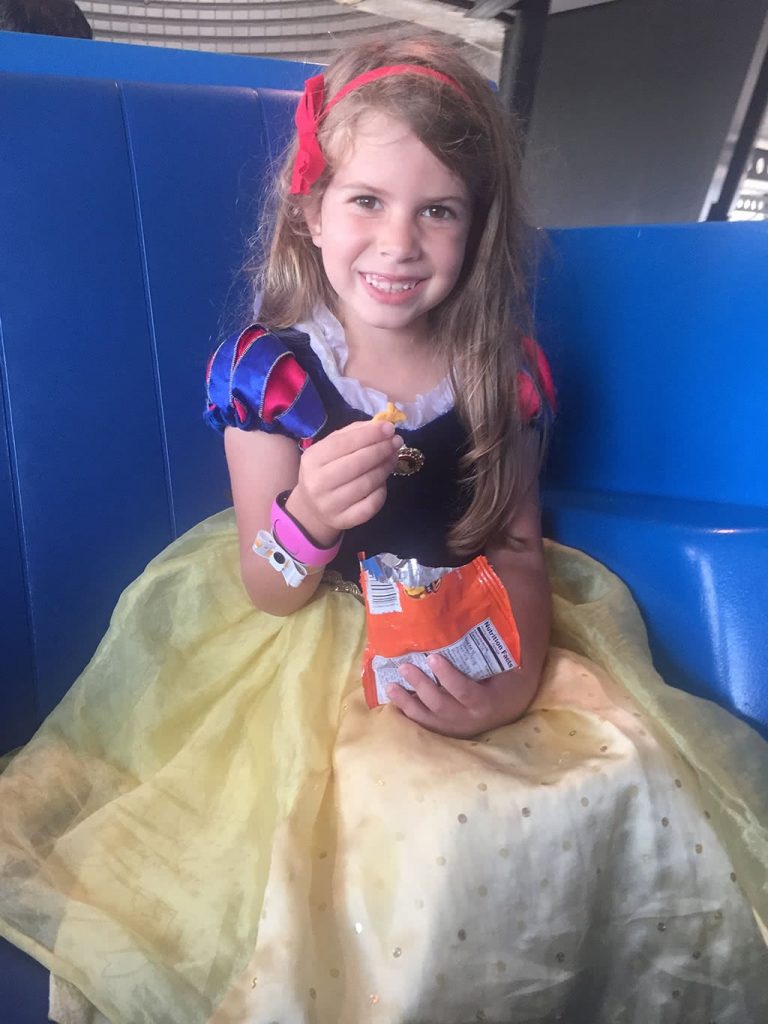 It's a nice break to get off of our feet for a bit and enjoy the treats! This is seriously one of our crew's favorite memories from both trips!
Treat Locations
All of the treat locations are listed on the Mickey's Not So Scary Halloween Party brochure that you can grab at the start of the night. I'm sure you can find it at other places throughout the evening, but we always grab one when we are walking in!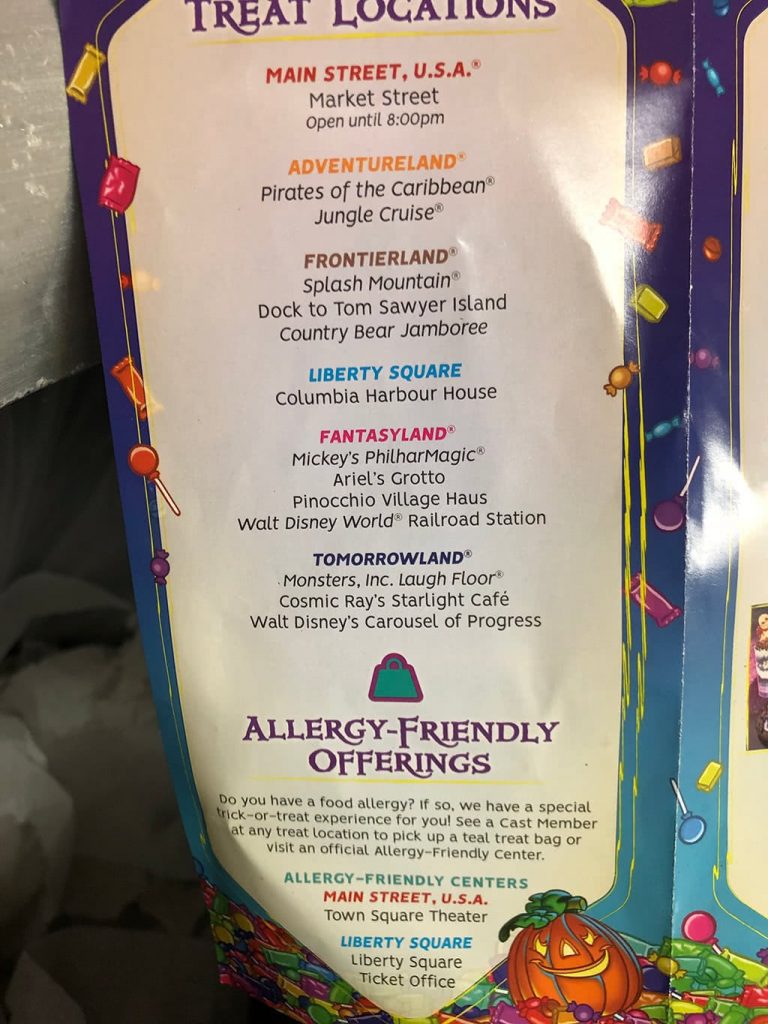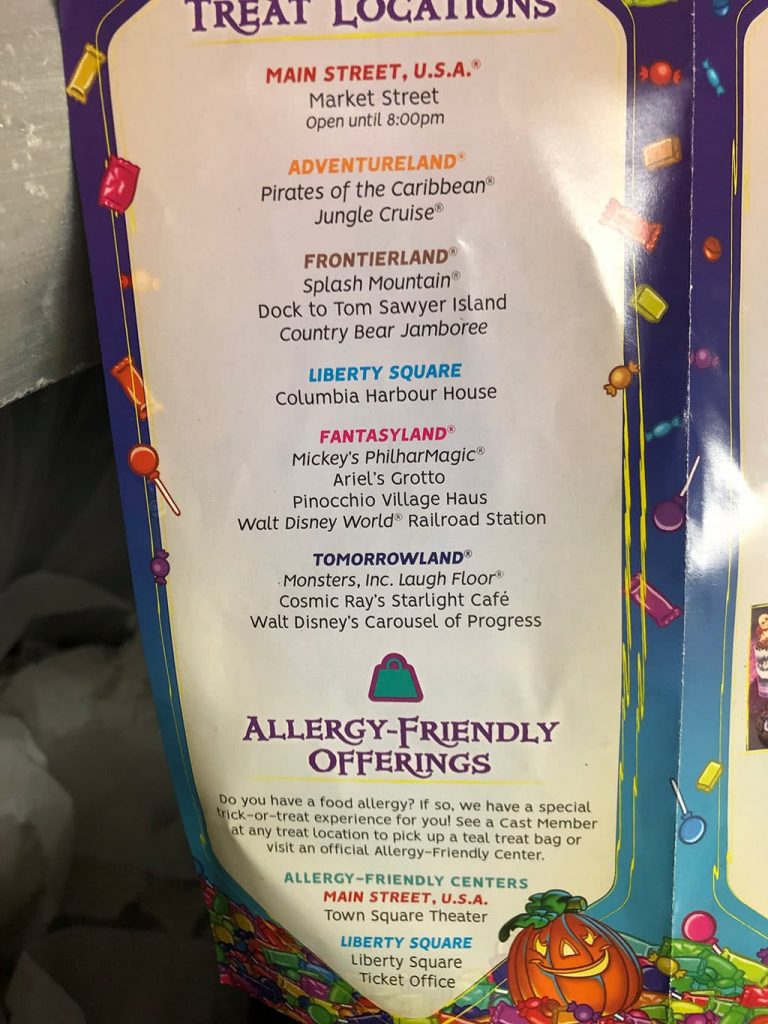 Allergy Friendly Options
On our second go around, one the extended family members we went with has a food allergy. So we got to experience firsthand what kind of accommodations Disney has for allergies.
When we first got there, they direct you to an area where you can pick up your complimentary treat bag to collect candy for the night. It's at this point that you can ask for the Allergy Friendly option.
They will then provide you with a special bag and then as you go through the Treat Locations throughout the night, the cast members will give you a special token.
At the end of the night you can visit a few set locations (listed on the brochure) and cash in your tokens for special allergy friendly treats. To be honest, it was kind of weird for the person in our party to just be getting tokens all night, while we were getting all of the loot.
At least it is an attempt for them to address allergies and try to include options, but I definitely see opportunities for them to grow in this area!
To Do Character Meet and Greets….or Not?
While we LOVE us some good meet and greets with the Disney characters, this is actually not something we make a priority at the Mickey's Not So Scary Halloween Party.
The first year we REALLY wanted to meet the Seven Dwarfs (since Maggie was dressed as Snow White)! When we got there, the line was already SO long, and the cast member said it would be at least 45 minutes to wait.
Our kids just don't want to stand in line that long for meeting characters. Now if this was a higher priority for them, you betcha we would stand in line!
Our alternative is to go around and just see them from afar. It's still really fun to see them and take pictures (even if you aren't the ones in the picture…).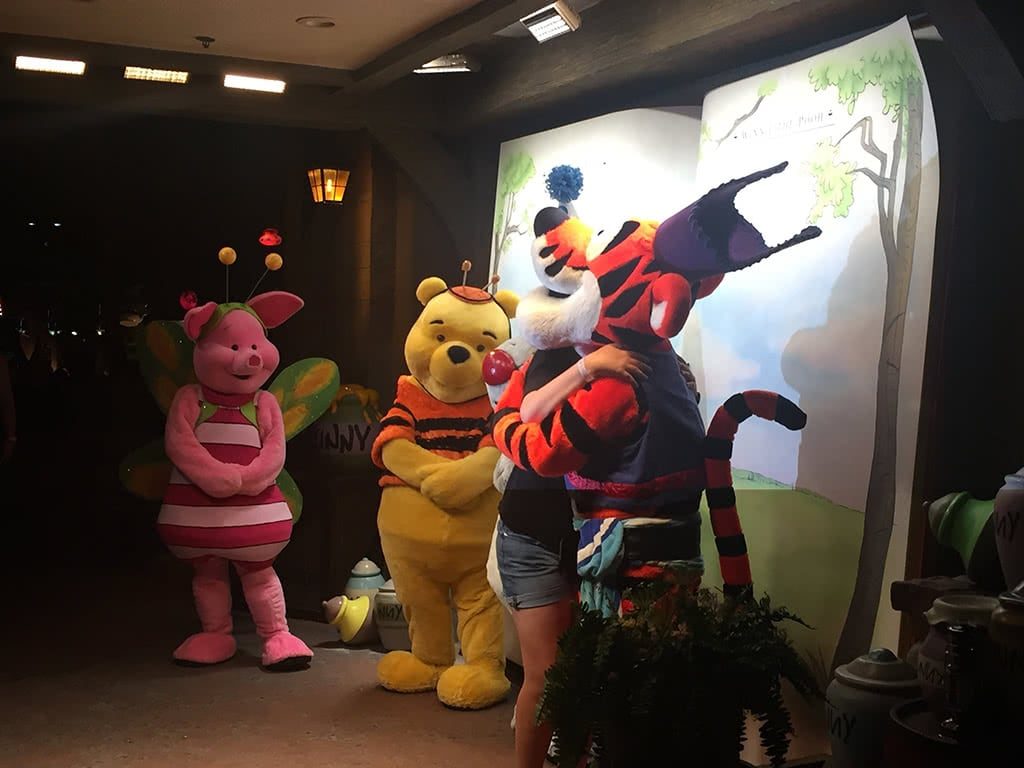 If you do decide to make characters a priority, research and have a good game plan of when to get to the line, so you can lessen your wait time as much as possible!
For locations of where the characters will be, you can look at the map on the Mickey's Not So Scary Halloween Party brochure or your My Disney Experience app.
Also…this is not highly advertised for some reason, but some of the villains are roaming throughout the night. They aren't technically posing for pictures or anything, but if you do see one, you can talk to them and interact with them. We saw a few along the way like Cruella Deville, and she was rather hilarious to chat with!
Dance Parties…Ahh Yeah!
Another fun experience (especially if you don't do any character meet and greets) are the dance parties where you can dance with some of your favorite characters!
Mostrous Scream-O-Ween Ball
Somehow the first year we totally missed this, but on our second visit we hopped over to the Tomorrowland stage after our People Mover candy buffet. We actually really enjoyed jumping in a good dance party with some of the characters from Monsters, Inc., like Mike Wazowski and Sulley!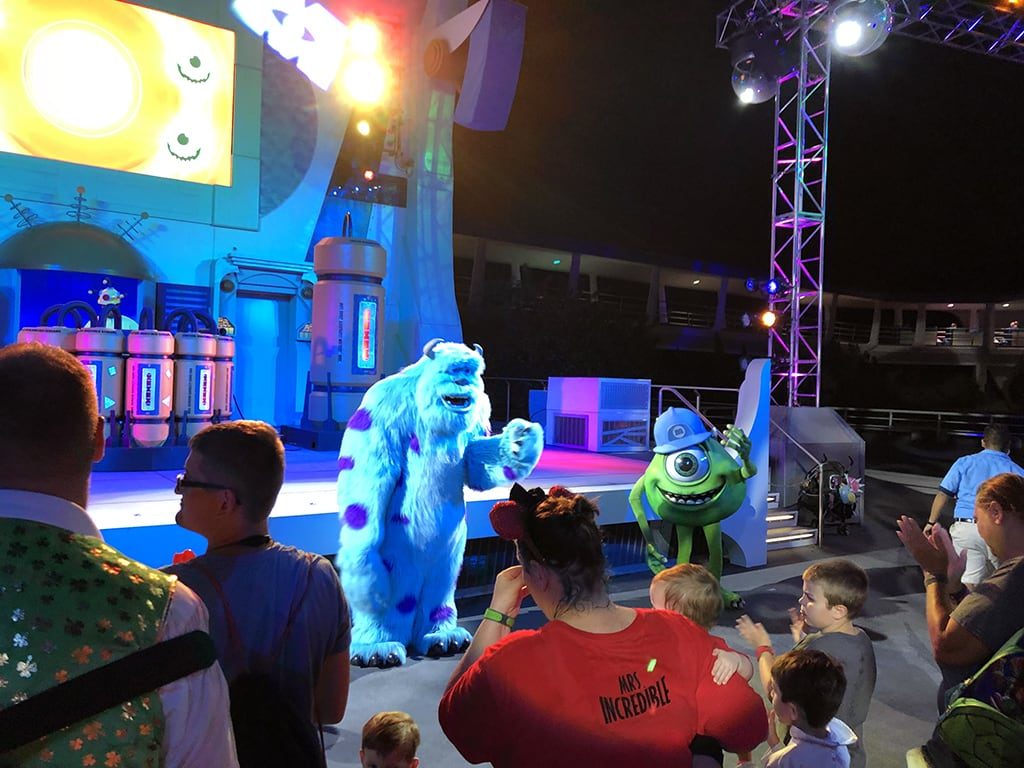 Matt was in his own world breaking a good dance move and Sulley walked right by us and brushed against Matt's leg with his giant arm. We laughed so hard because Sulley's costume is ginormous and it was just surprising to have such a giant monster "dancing" with you. I may have been a little too excited about this encounter.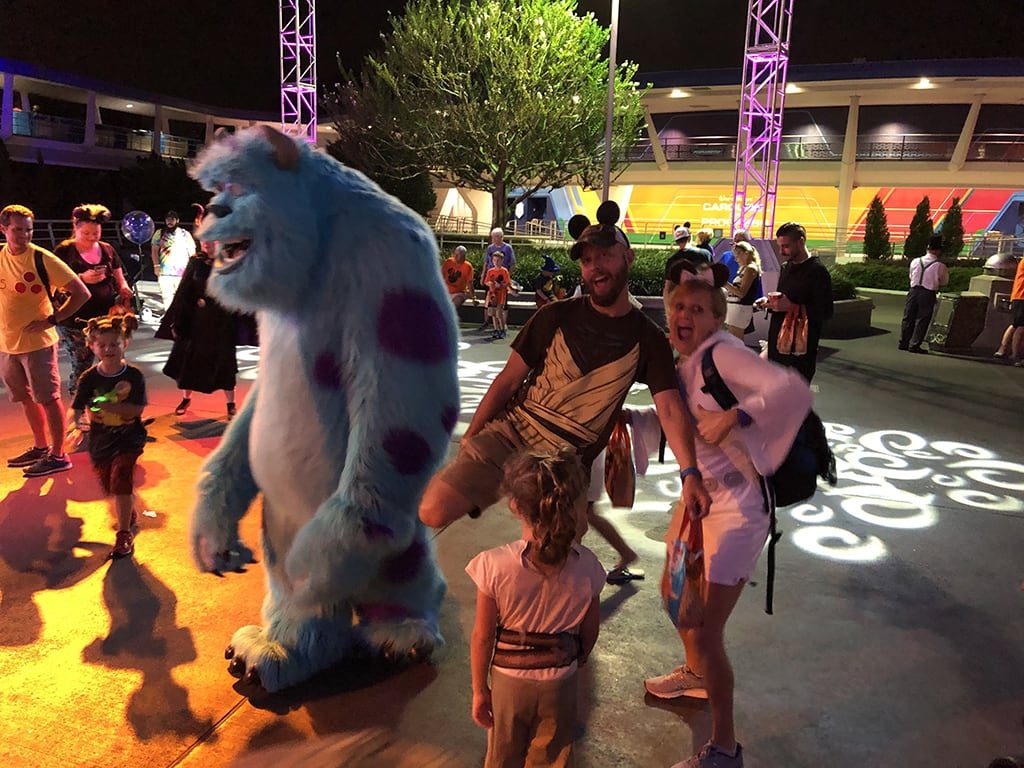 Also, the boys may have not enjoyed it as much as Maggie, Matt and I did…BUT they at least kind of posed for a picture with us. For the memory, of course.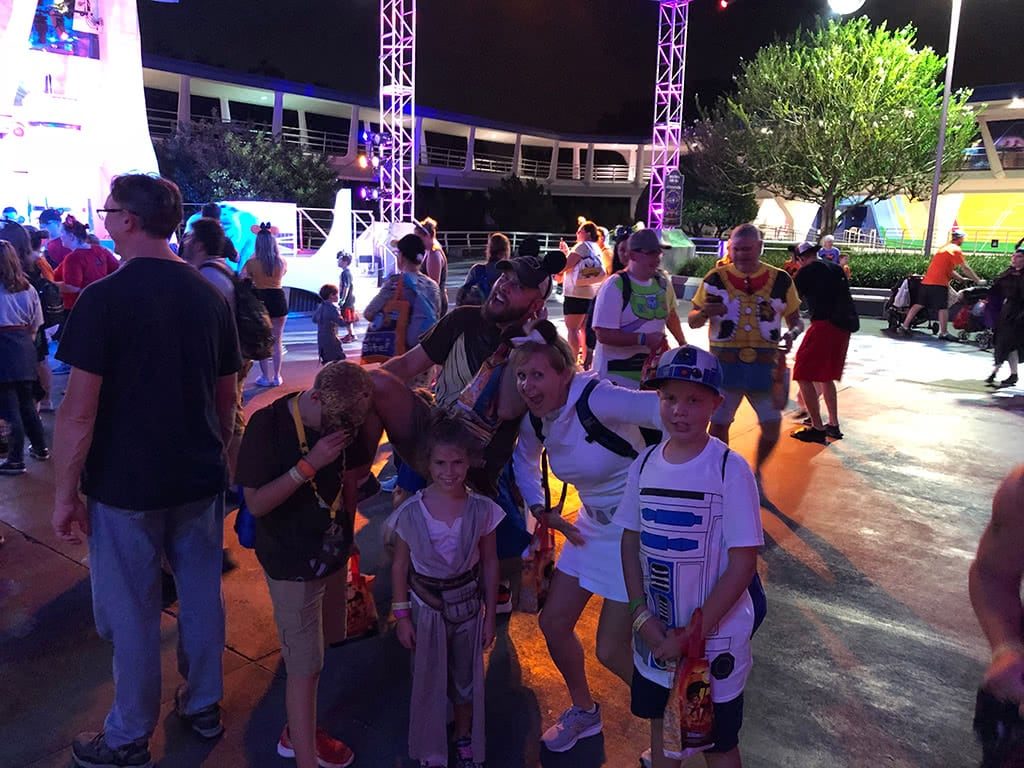 Storybook Circus Disney Junior Jam in Fantasyland
New this past year was a dance party with all of your favorites from Disney Junior! We didn't make it over that way, but if you have little ones that love Disney Junior, I would imagine this would definitely be worth checking out!
DescenDANCE Party
If anyone in your party is into Descendants, I would imagine this would be pretty awesome!
Other Special Mickey's Not So Scary Halloween Party Stuff
Event Merchandise
One thing that we got into a little more on our second trip was the special Halloween Party merchandise. They have special items that are exclusive to the Mickey's Not So Scary Halloween Party for that year.
Our kids got into pin trading this time, so they each had their eye on some special halloween pins they wanted. Turns out one of them was a Disney Passholder exclusive pin, so we had a very sad boy when he found out he couldn't get the one he wanted.
However, the cast member was very, very gracious and felt very bad about it and worked out another deal with him on another pin.
AND then another random guest just overheard and he came over and offered him any pin off of his lanyard.
Just the generosity and kindness that was expressed during that time by the cast member and the random guest was so unexpected. Another reason that Disney World is just such a special place!
Other than pins, there are always shirts and collectible popcorn buckets. These things apparently can sell out as the night goes on…so if you plan on purchasing some kind of merchandise, you better do your homework and make sure you get it before it's gone!
Specialty Food
Another extra fun addition to the Mickey's Not So Scary Halloween Party are the special treats that can only be found at the Halloween Party!
While we haven't personally tried any of them, they really do look amazingly delicious! This is definitely on our list for the next go around!
Things to Consider
Here is a list of our final tips and tricks that we have learned along the way!
Pick a lower priced ticket – If you look at the ticket prices, you will see they vary each day. Typically the lower ticket prices are on a weeknight and earlier in the season. The closer to Halloween you get, the more pricey the tickets usually are. The weekends also tend to be a little more as well. That being said…the crowd levels are also typically lower on the less expensive nights. So if at all possible, pick a night that has a lower ticket price and you *should* be able to avoid heavy crowds and save some moolah!
Plan your day accordingly – It is a late night for kiddos…so I do HIGHLY recommend having a very low key day and to just plan on resting and relaxing around the resort or something. We usually just play at the pool a little and let the kids have some down time in the room.
Get in as early as 4pm – Even though the party technically doesn't start until 7pm, they will start letting guests in around 4pm. Go ahead and get there early and ride a few rides. Another little tip is that usually you can snag a couple of fastpasses before the party. Once the party starts, they do not utilize the fastpass system…so no more fastpasses after that!
Eat dinner earlier in the night – Go ahead and eat dinner before the party actually starts so you don't have to waste precious party time on eating. That way you will be ready to hit all of the fun party activities once the party officially starts!
Take plenty of breaks (and hydrate often!) – Both times we were going full force so by the time we stopped for the parade, we were VERY thirsty! Even though it is in the evening, you do still sweat and need to stay hydrated!
Carefully plan the day after – Plan on having a lazy morning to sleep in and get some rest on the day after. You will be exhausted. This would not be the day to plan an 8am Character breakfast. Just trust me on this one.
Consider using a Disney travel agent – If all of this seems too overwhelming for you to plan on your own, be sure to take advantage of using a Disney Travel Agent. It's completely free and they can help make an itinerary for you!
Final Thoughts
So…is the Mickey's Not So Scary Halloween Party REALLY worth it? Our answer is YES!
In our opinion, if you can swing it financially AND have the time in your schedule, then definitely go for it! It is so much fun!
If this is your first time to Walt Disney World, don't feel like you HAVE to do it. To be honest, if we did it on our first trip, we would have been exhausted to squeeze in a special party like that.
On your first trip, there will be so many first time experiences that you would never even know what you're missing.
BUT…if this is a must do for you and your family and/or you don't know if (or when) you will be going back, then you may want to seriously consider it.
It really is one of our favorite things to do at Disney World and we would seriously go every year if the old wallet would allow it. But in the meantime, we will keep watching videos and start making notes for our next plan of attack!
---
What about you and your family? Have you been to the Mickey's Not So Scary Halloween Party at Disney World? What are your favorite tips? Do you think it is worth the price? We would love to hear your thoughts!
---
More Related Articles: