Looking for a unique and memorable place to stay in the Great Smoky Mountains?
Then you have to check out these luxury treehouses at Treehouse Grove in Gatlinburg, Tennessee!
Nestled right at the edge of the Great Smoky Mountains, this is a perfect place to get away and connect with nature while making incredible memories with family or friends.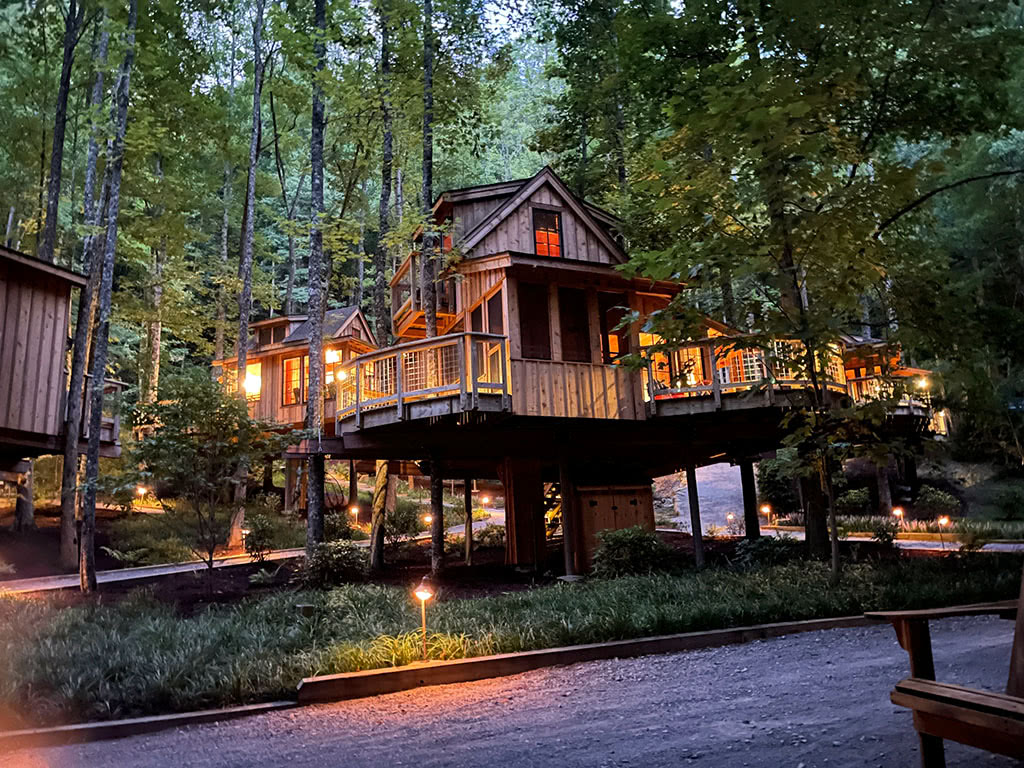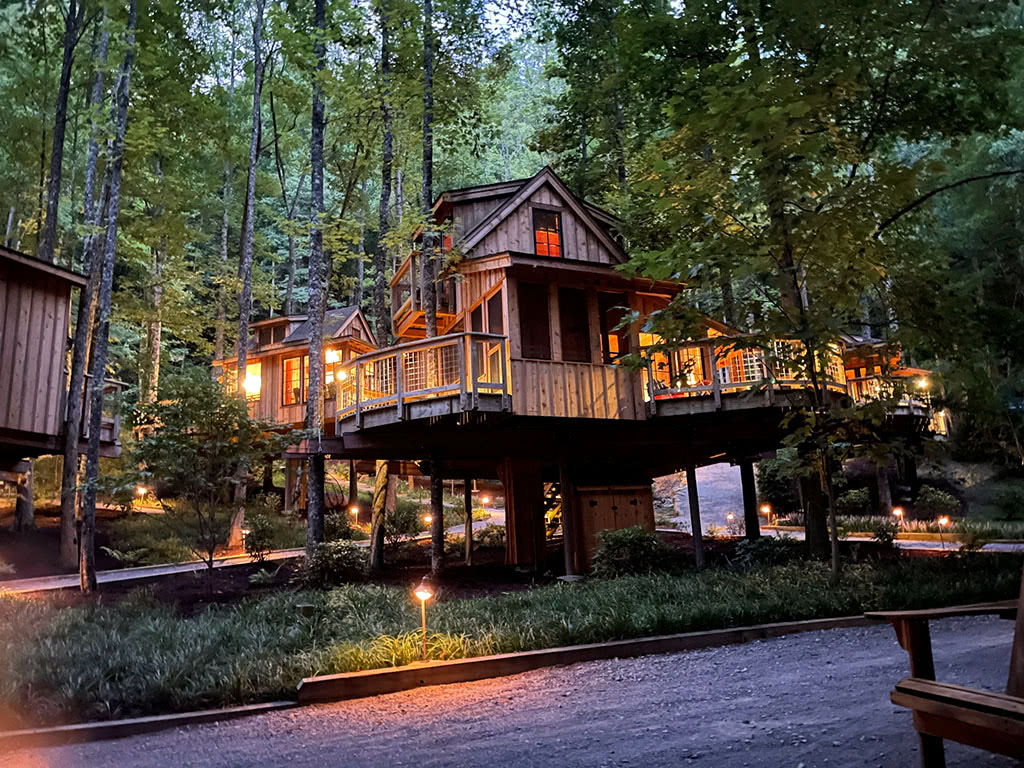 Read on to learn more about our recent stay at Treehouse Grove and see a sneak peek at their newest addition of their brand-spankin' new treehouses with incredible mountain views.
And hear a little about our exclusive interview with Pete Nelson, the Treehouse Master himself, as well as some exciting news about what's coming next to Treehouse Grove!
*This post may contain affiliate links. Read our full disclaimer.
The Story Behind Treehouse Grove
I don't know about you, but I love a good story. And Treehouse Grove sure does have a pretty good one.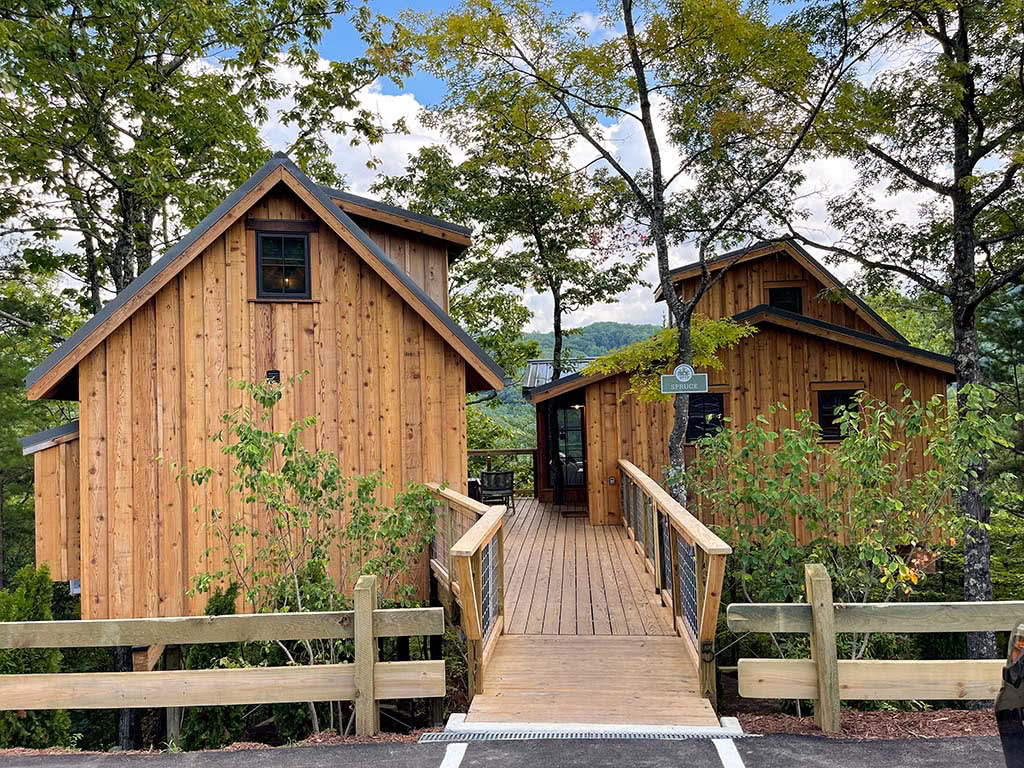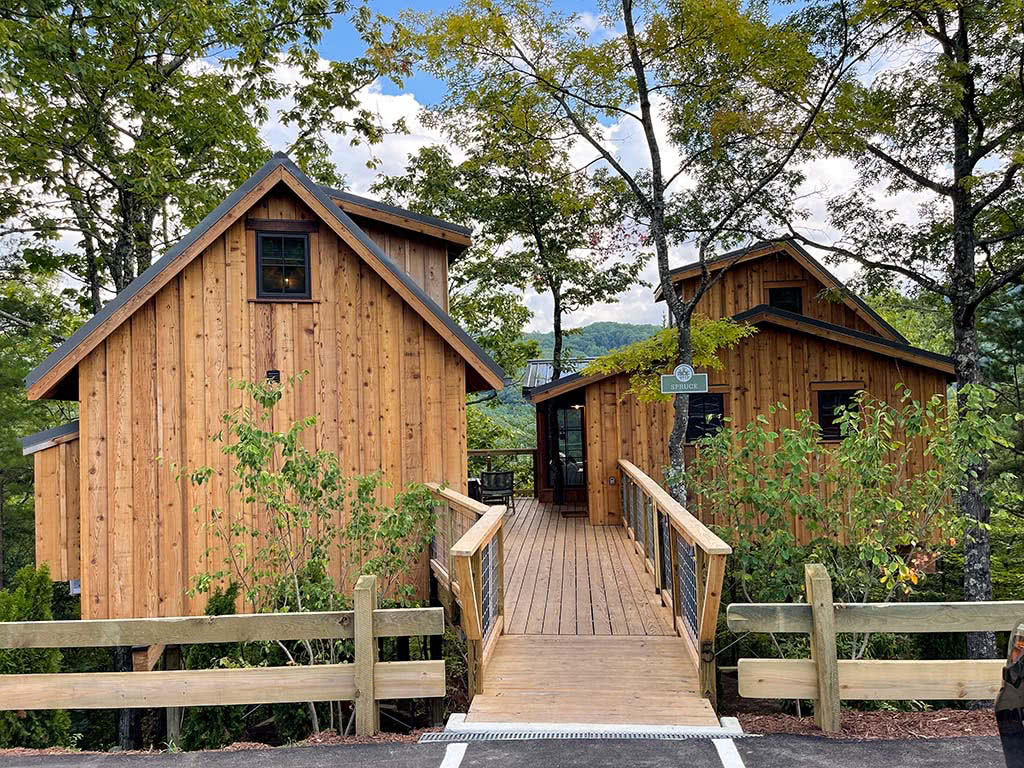 Just a few years ago, a local East Tennessee family, the Ayres family made it their mission "to create a lodging experience unlike any other near the Great Smoky Mountain National Park, (which) resulted in creating Treehouse Grove at Norton Creek Resorts." -(treehouse-grove.com/)
They envisioned a place where people of all ages can come and experience staying in a treehouse while also connecting with nature, and making special memories along the way.
And what better location than the Great Smoky Mountains? It is the perfect place for treehouses!
Enlisting the Help of Pete Nelson and the Nelson Treehouse Team
It didn't take long until the Ayres connected with Pete Nelson and the Nelson Treehouse Team, which began a beautiful partnership. Two phases and 16 treehouses later, here we are with what is now known as Treehouse Grove, located in Gatlinburg, TN.
Pete and his team at Nelson Treehouse are the masterminds behind all of the beautifully crafted treehouses at Treehouse Grove.
At our recent stay, we got a chance to spend some time with Pete, the Master Treehouse Builder himself, who was there to help commemorate the opening of the newest phase of treehouses.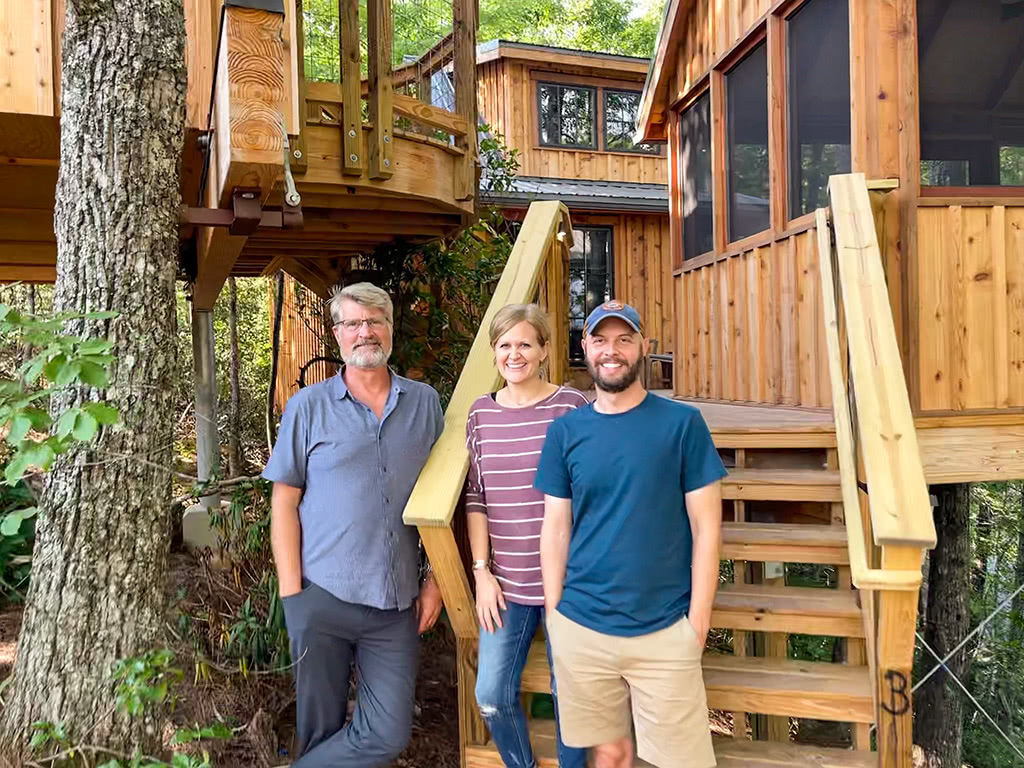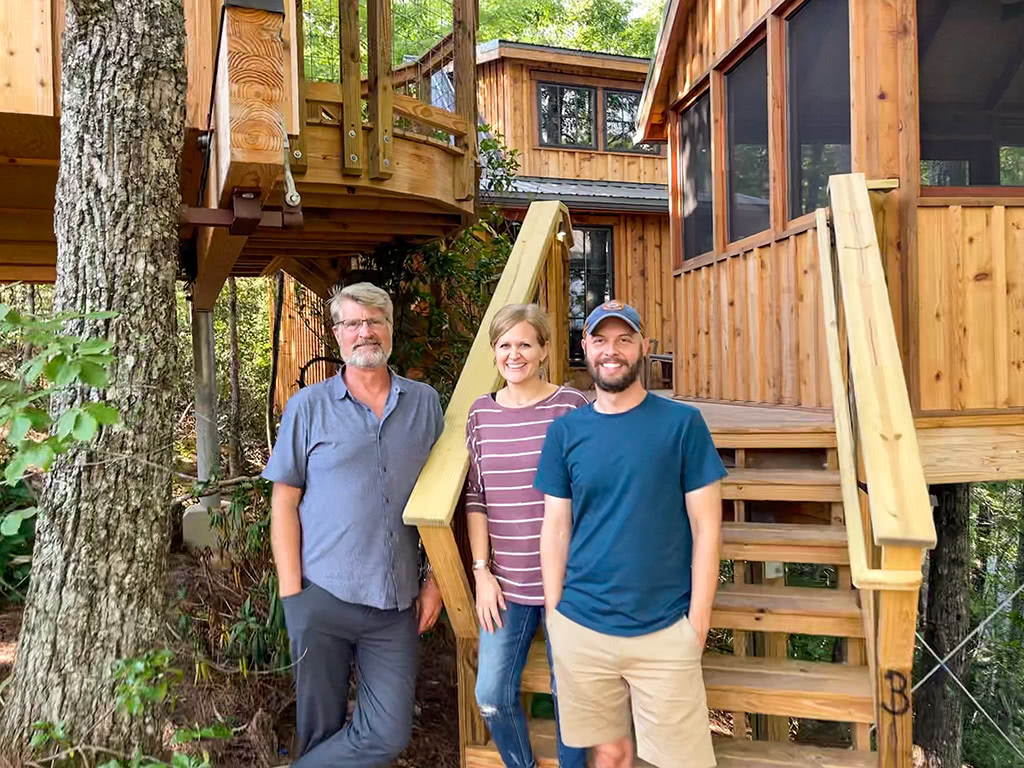 You may know Pete from the Animal Planet television show, Treehouse Masters. He has also written several books about the art of treehouses, including the latest "Be in a Treehouse" which talks about the design, construction, and inspiration behind building treehouses. (It's a super interesting book. We highly recommend it!)
Pete graciously gave us a chance to spend a little time with him to pick his brain about their unique treehouse building process at Treehouse Grove. Beginning with the initial tree selection, to the exact placement of the treehouses, there are a ton of details that go into each treehouse to make it one-of-a-kind. For Pete, his passion for sharing treehouses with people is what helps fuel the success of this kind of project.
We've all agreed as a company, being able to share these treehouses and get more people into the trees is [what it's all about]!" -Pete Nelson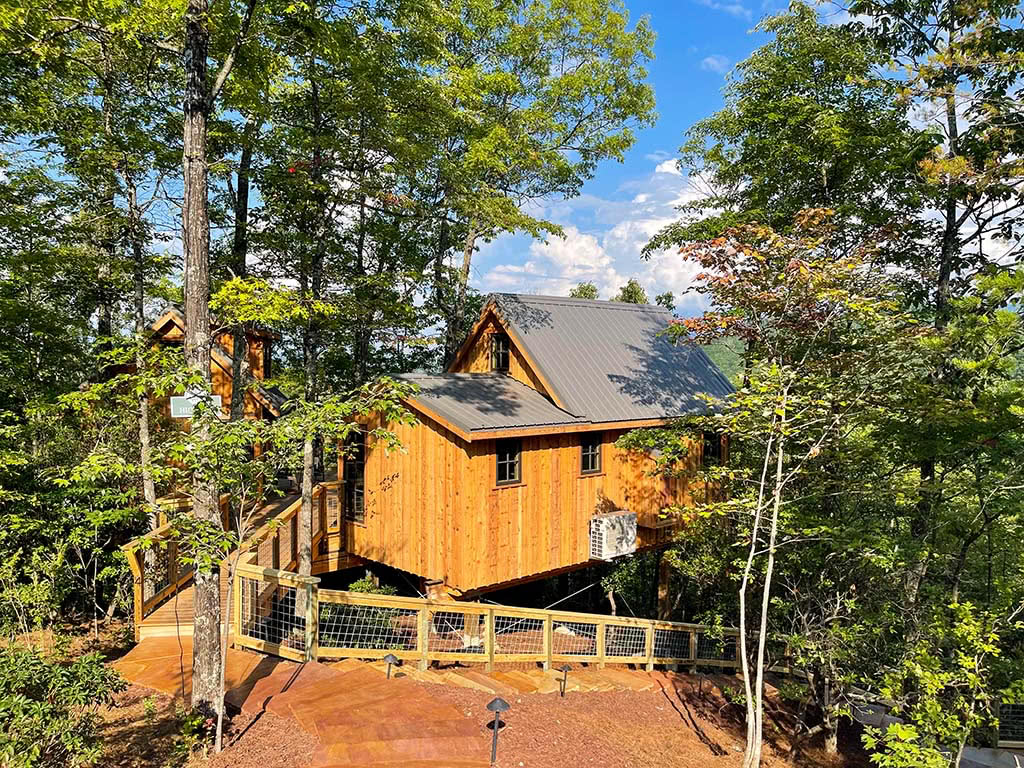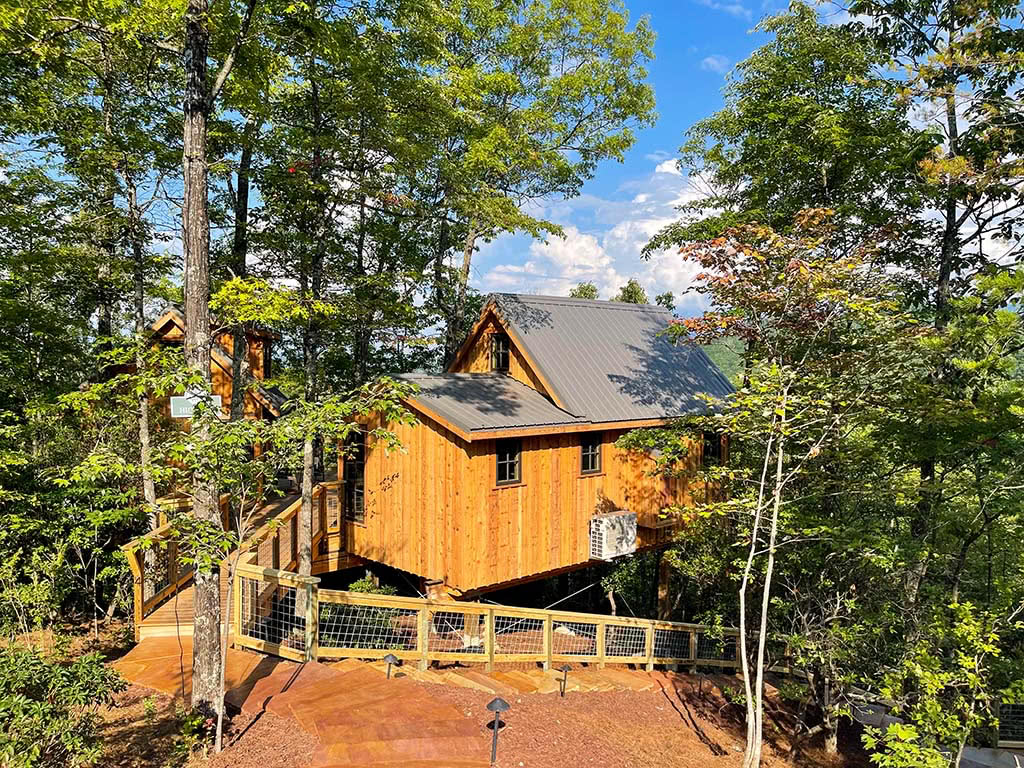 The Nelson Treehouse team has been a part of building both of the current phases at Treehouse Grove. Pete took us on a couple of tours of the recently completed Phase 2 treehouses that have incredible mountain views and are just simply stunning.
He pointed out some of the different woods that were used on certain parts and also how they love using reclaimed wood to build these beauties. It is so fun to see all of the little creative details that are incorporated into each treehouse, which make them each unique in their own way.
You can definitely tell that the Nelson Treehouse team takes pride in their craftsmanship and truly love what they do.
I'm so proud of the way this has all turned out." -Pete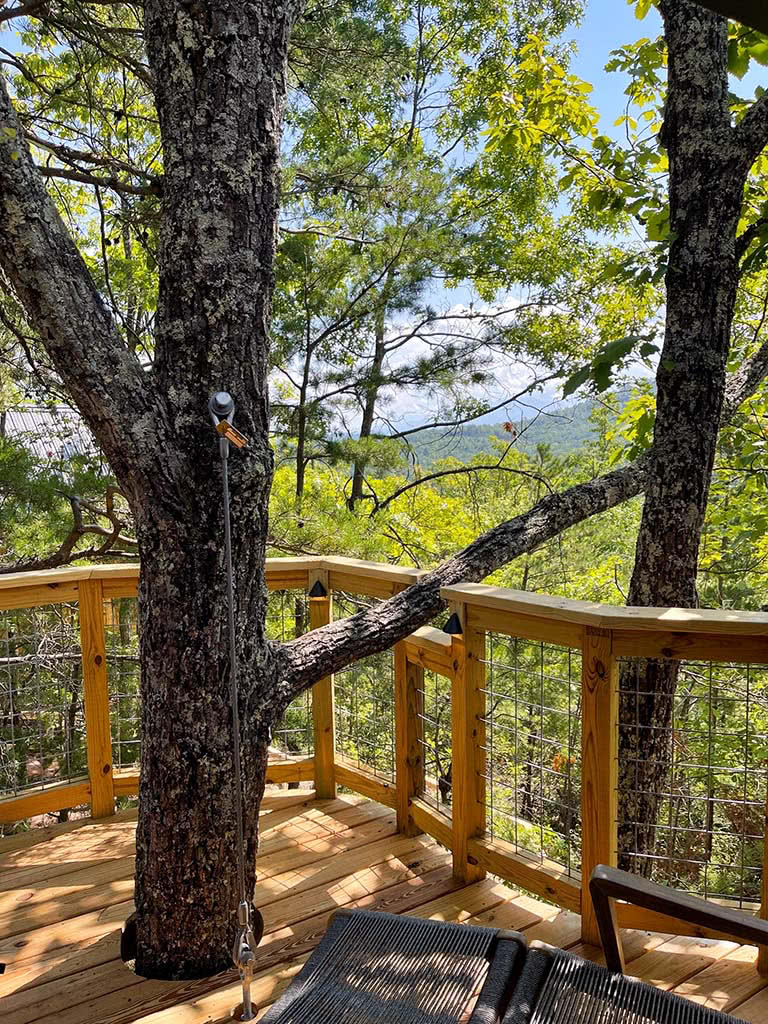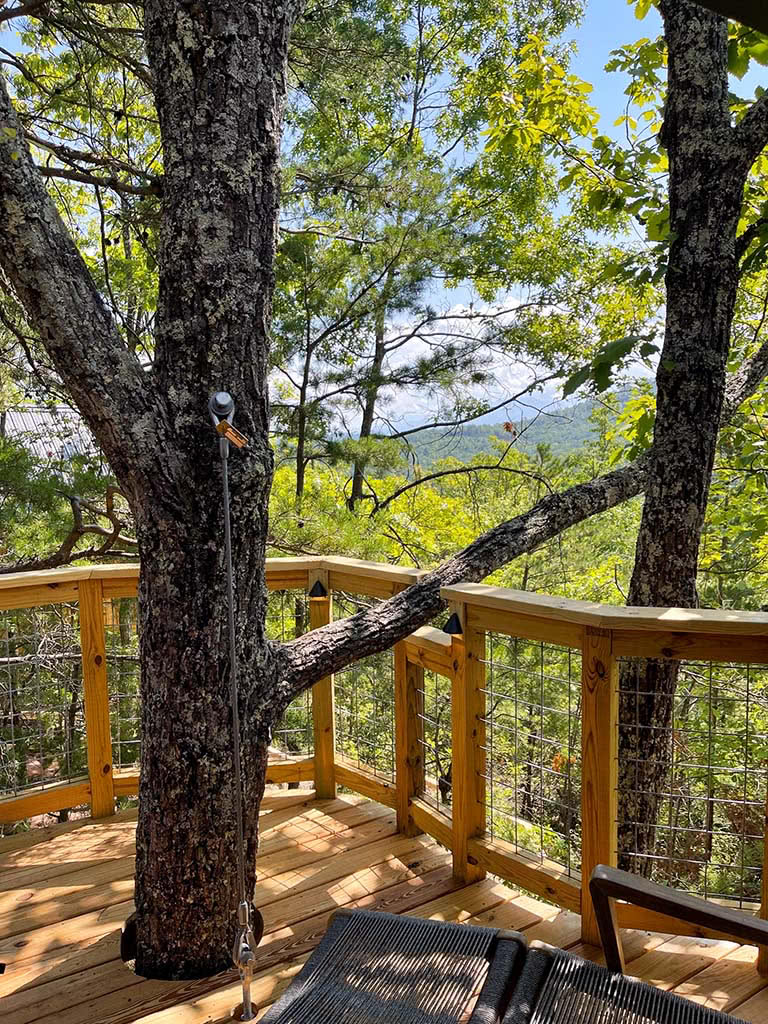 Each treehouse is carefully and thoughtfully designed, and this attention to detail is what turns these dreams into a reality, with each treehouse becoming a memorable and unique experience for people of all ages.
And it is clear that this special partnership between the Treehouse Grove team and the Nelson Treehouse team is what makes these dreams happen.
To be able to transform these little dreams into a reality like this, is so fun." -Pete
Treehouse Grove Development Phases
It was super fascinating to learn about the process of building a treehouse resort. Each area is designed to have its own special feel to it.
Phase 1 – "By the Creek"
The Treehouse Grove development started with Phase 1, which was completed just a few years ago with its first 8 treehouses.
Although this was around the same year that COVID made its appearance, this treehouse vacation destination was still a popular choice for people of all ages looking for a place to get away and still be able to safely social distance.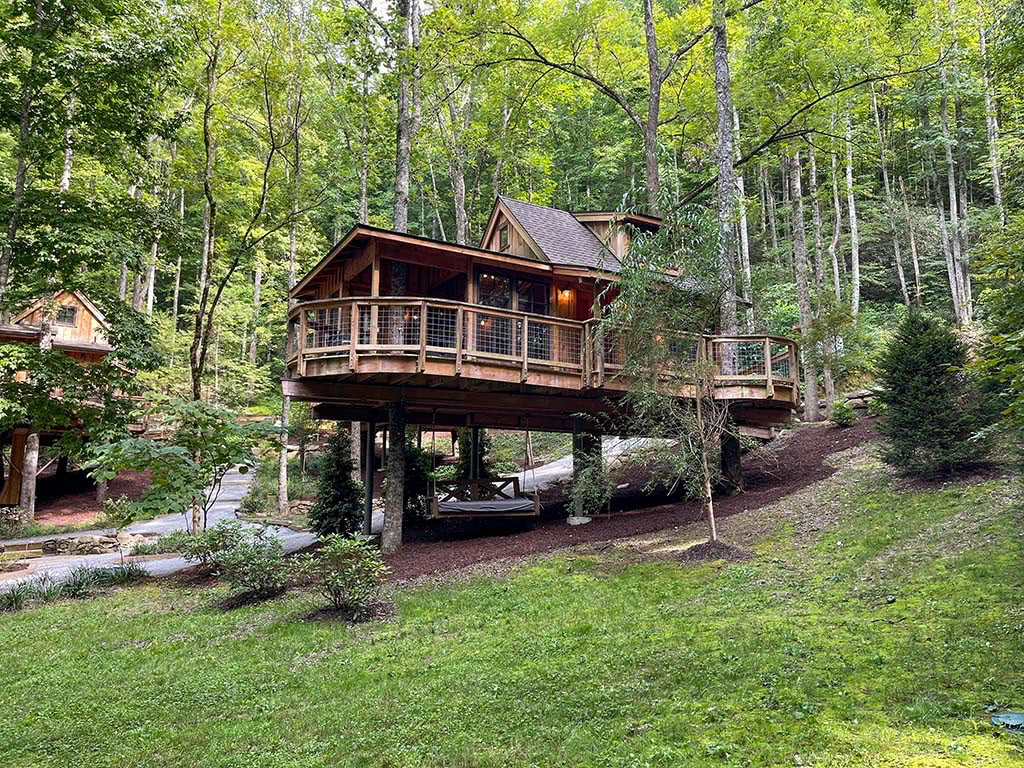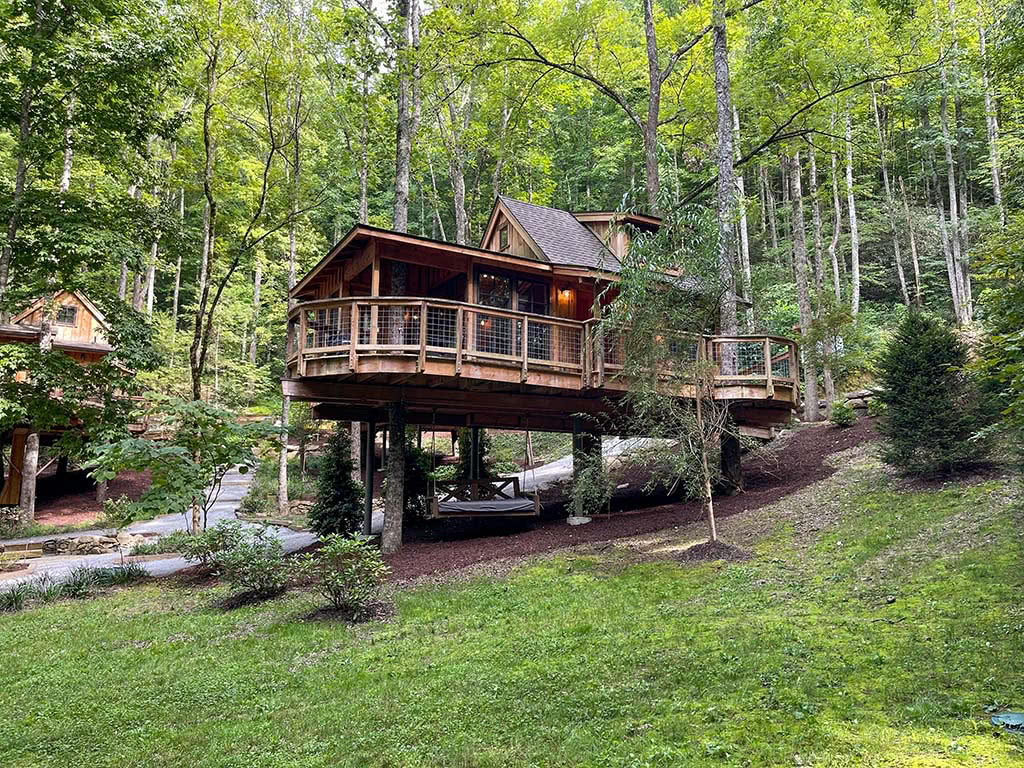 The "By the Creek" treehouses, which accommodate up to 4 guests, were designed to have a more intimate treehouse feel. Each is equipped with all the necessities – including a bedroom, a loft, a bathroom, a kitchenette, and a living area.
These treehouses are carefully nestled on the edge of Norton Creek, giving guests the soothing sounds of a mountain stream 24 hours a day.
Hop over here to learn more about the "By the Creek" treehouses.
Phase 2 – "Mountain Views"
Opening officially in the summer of 2022, the second phase of Treehouse Grove now offers 8 additional mountaintop treehouses.
These treehouses are designed to accommodate larger families with expanded dining areas and the ability to sleep more people (6-10). Each of these new treehouses also offers distinct layouts adding a one-of-a-kind treehouse experience.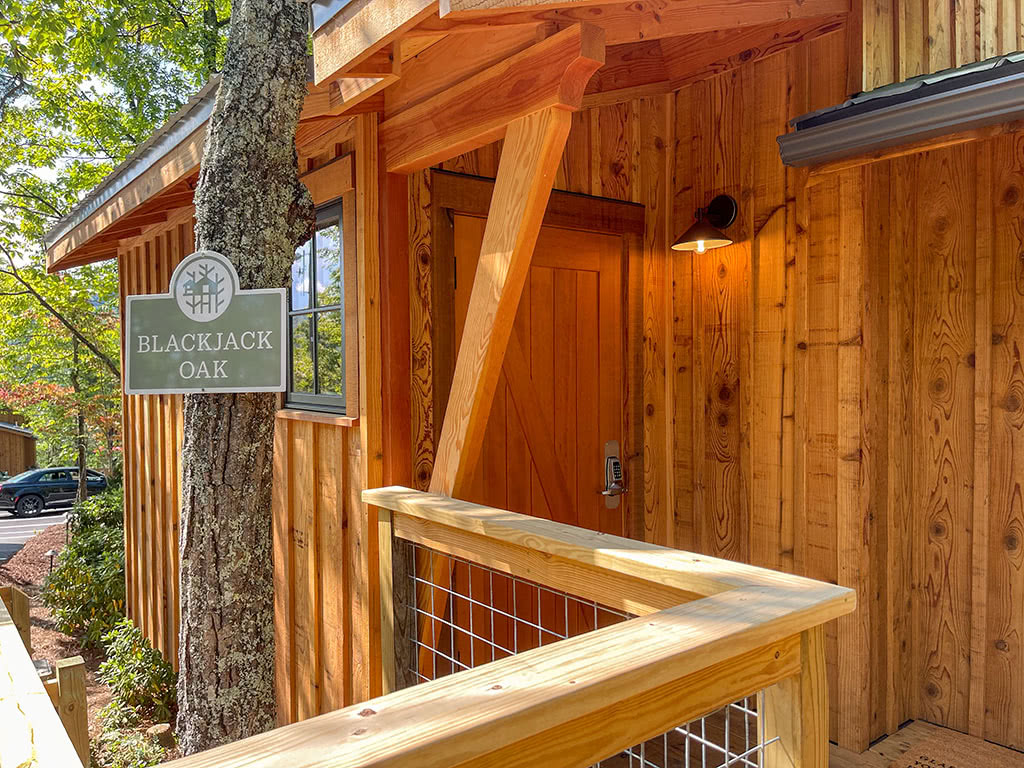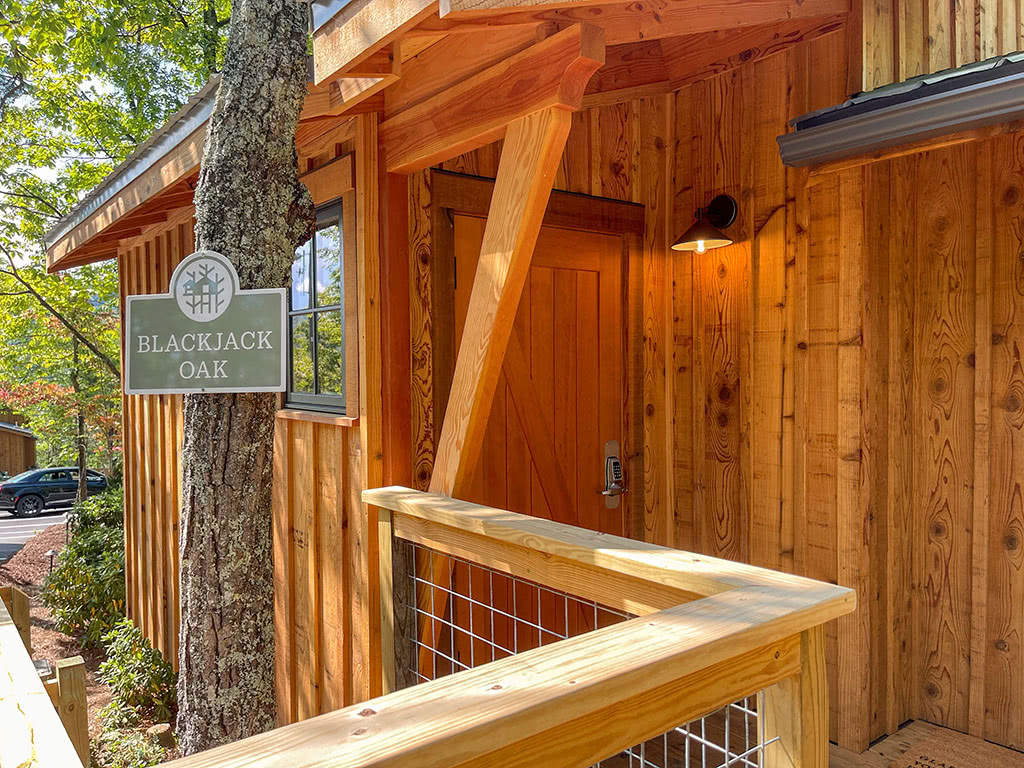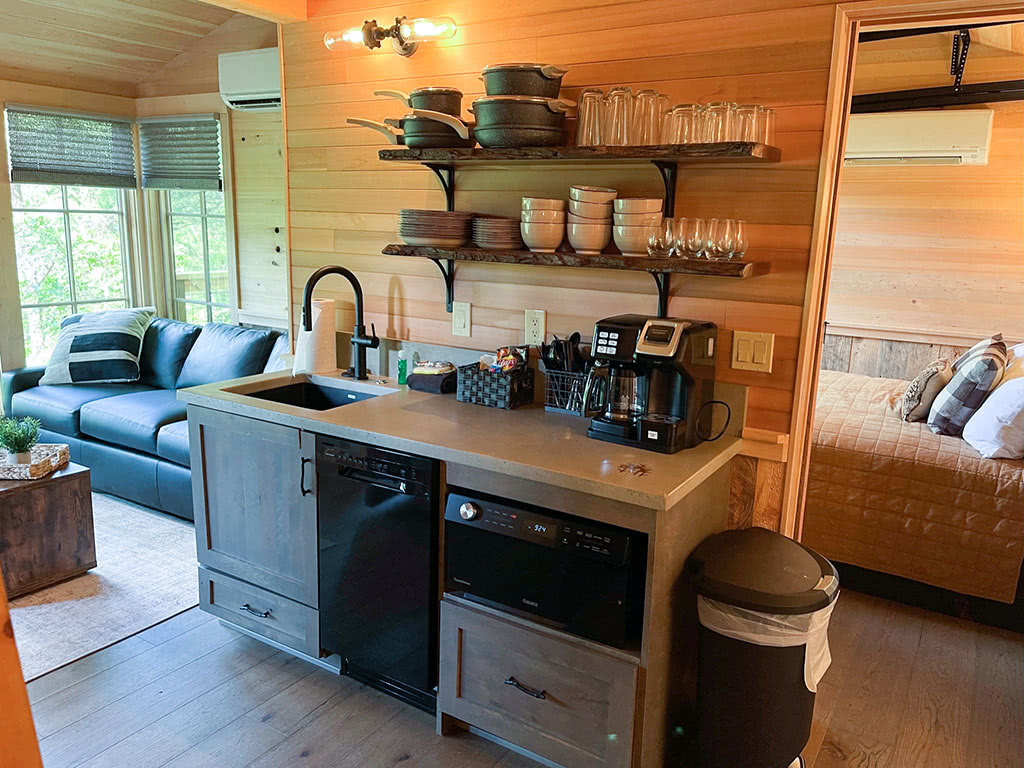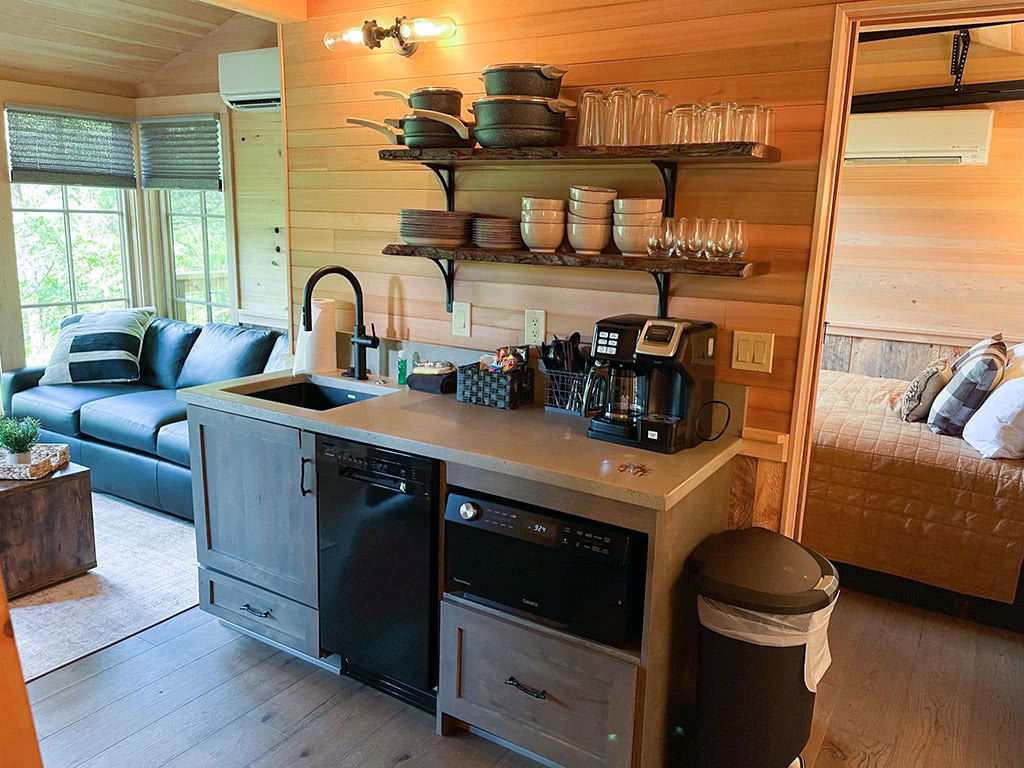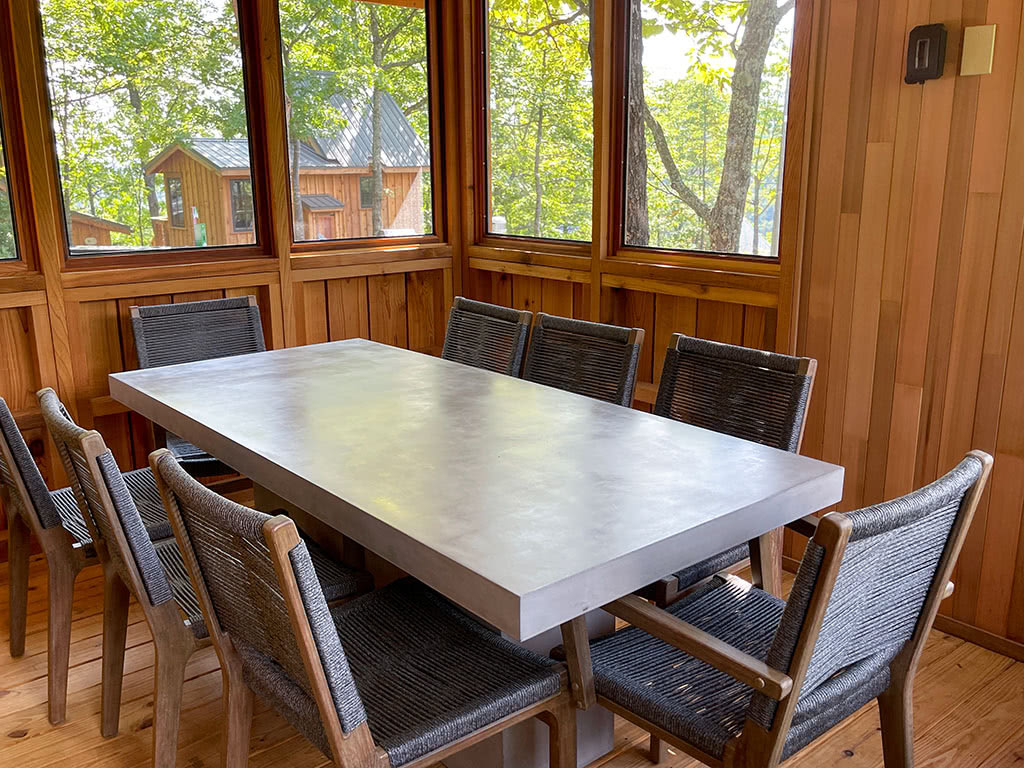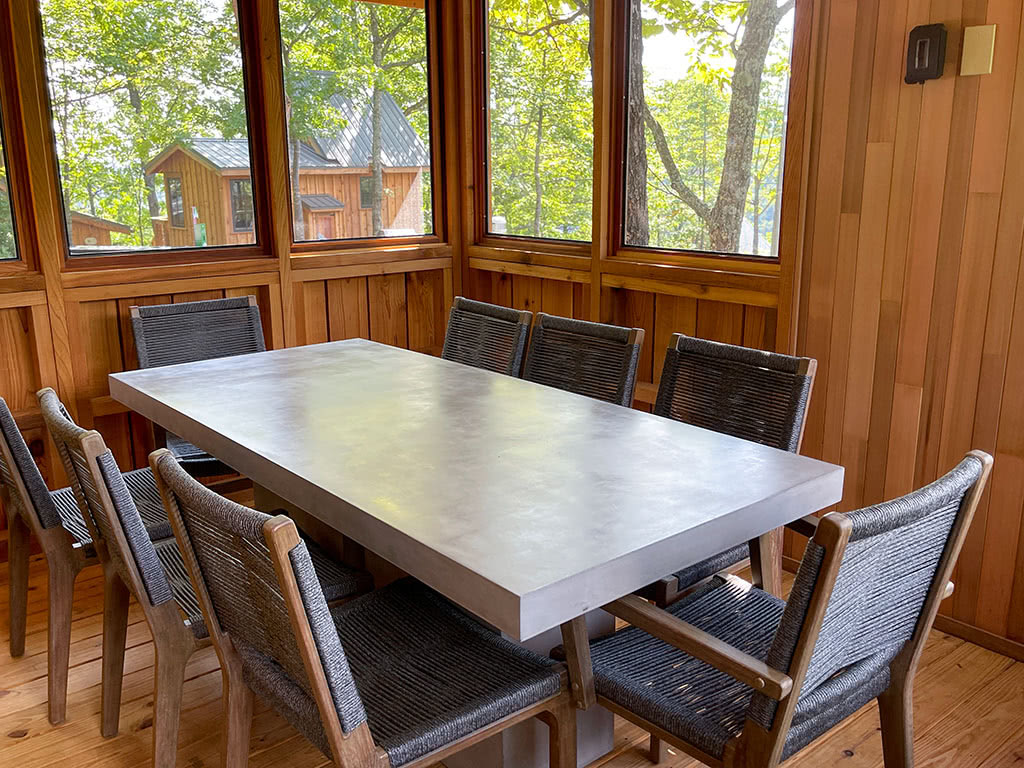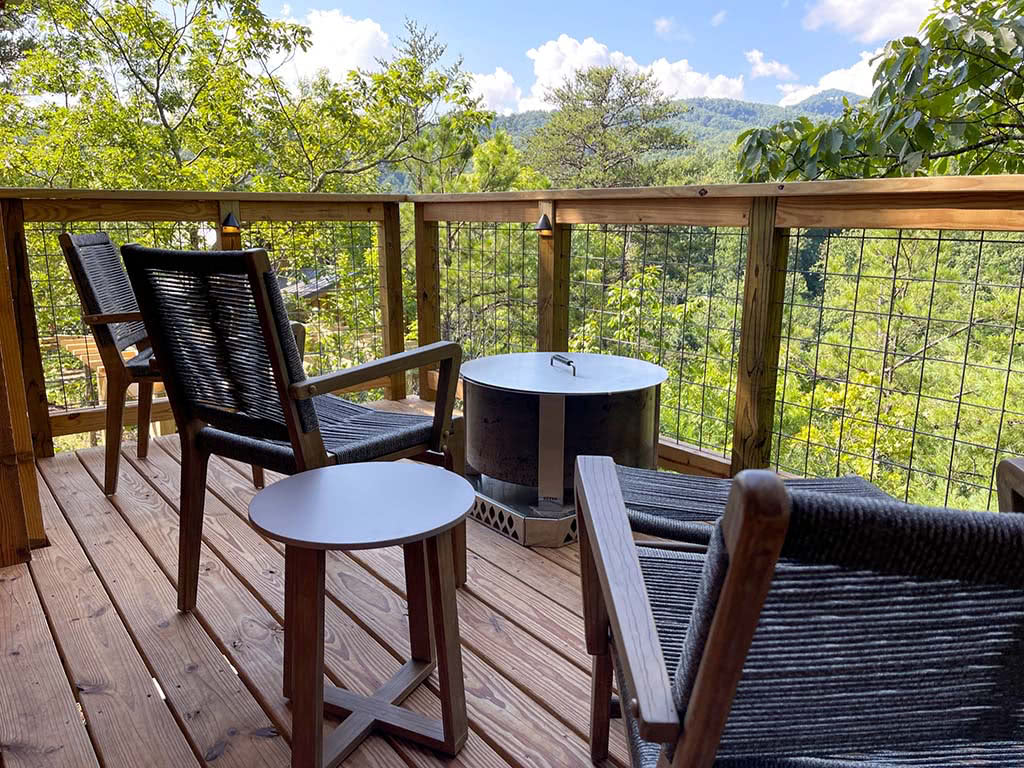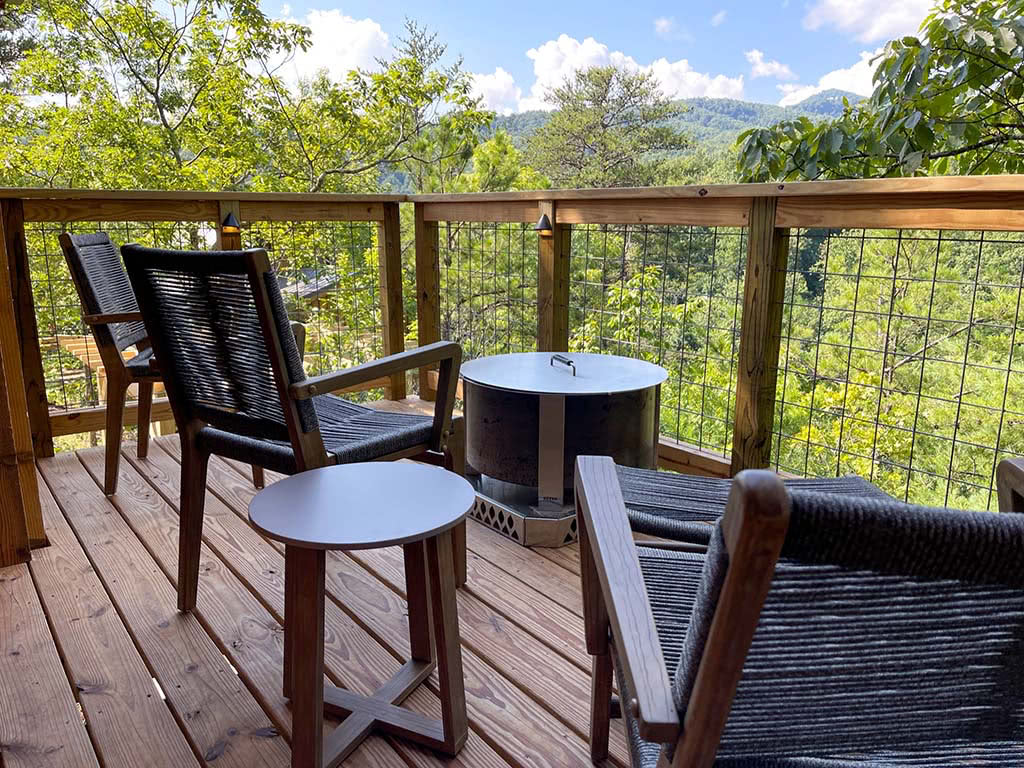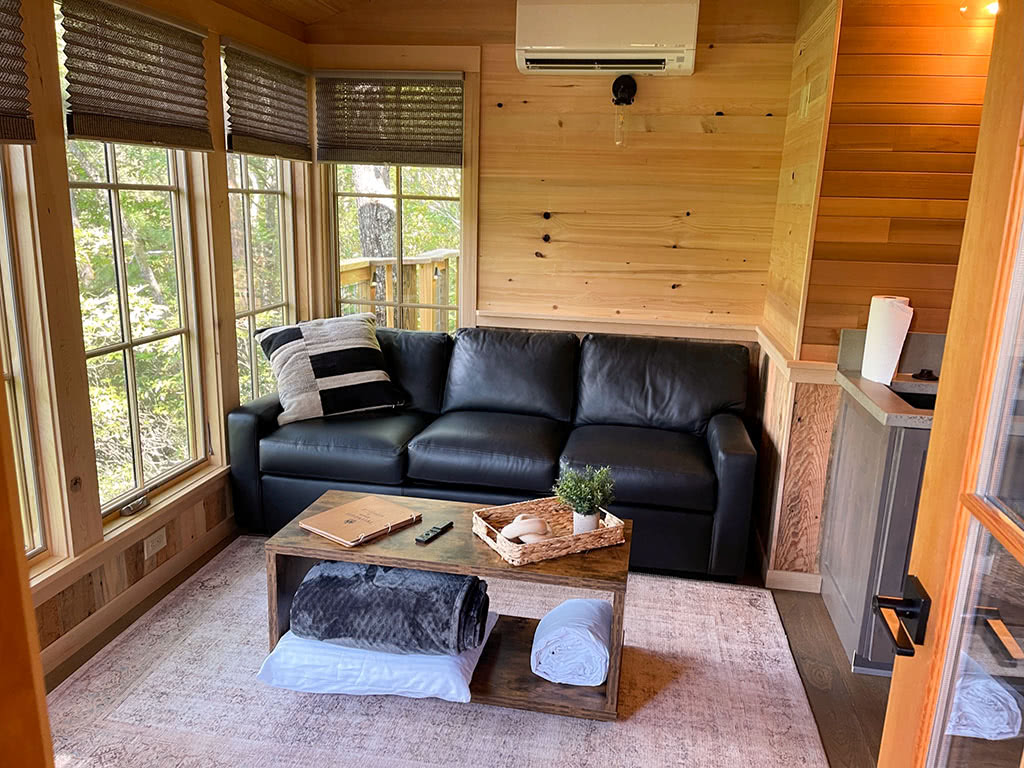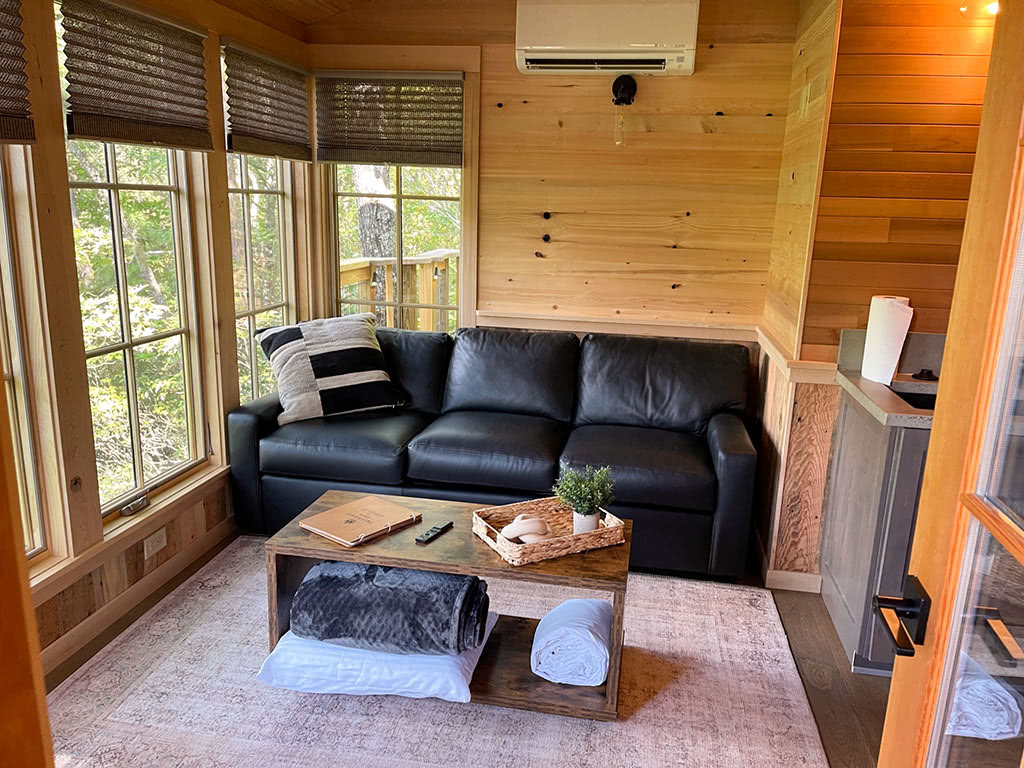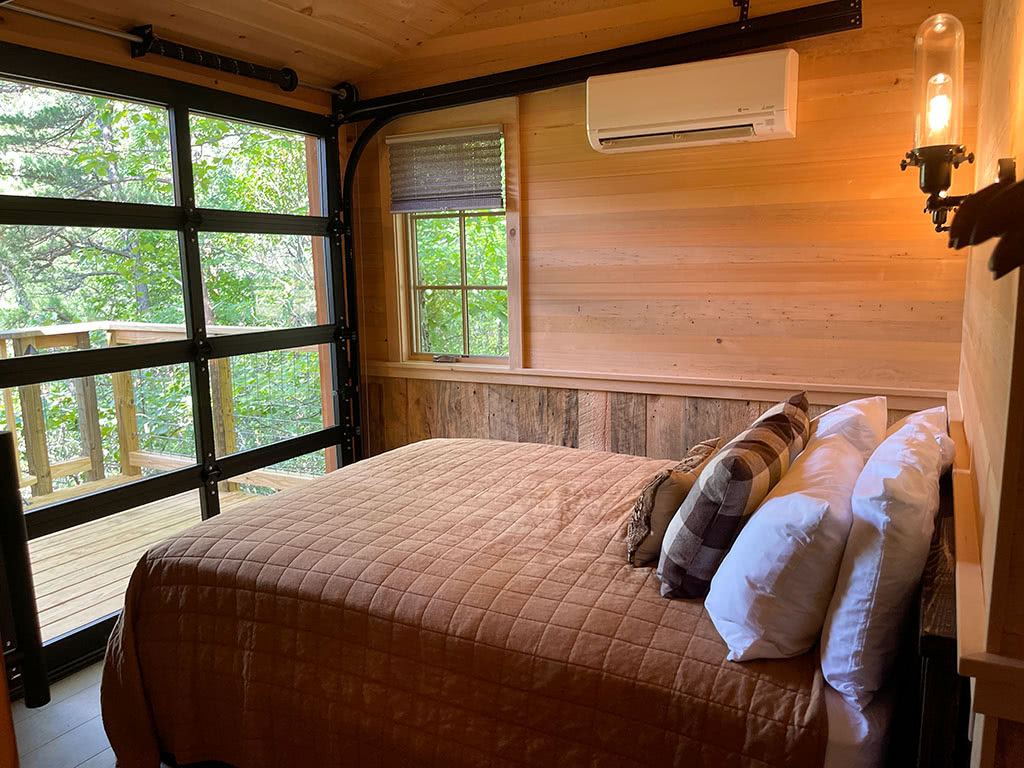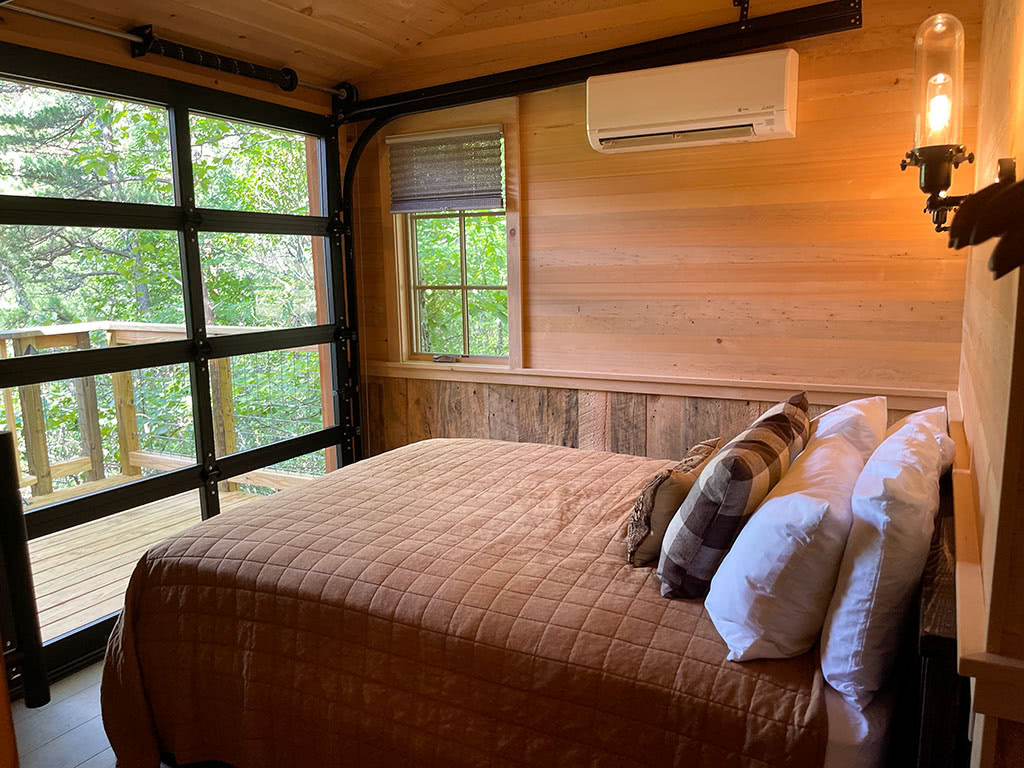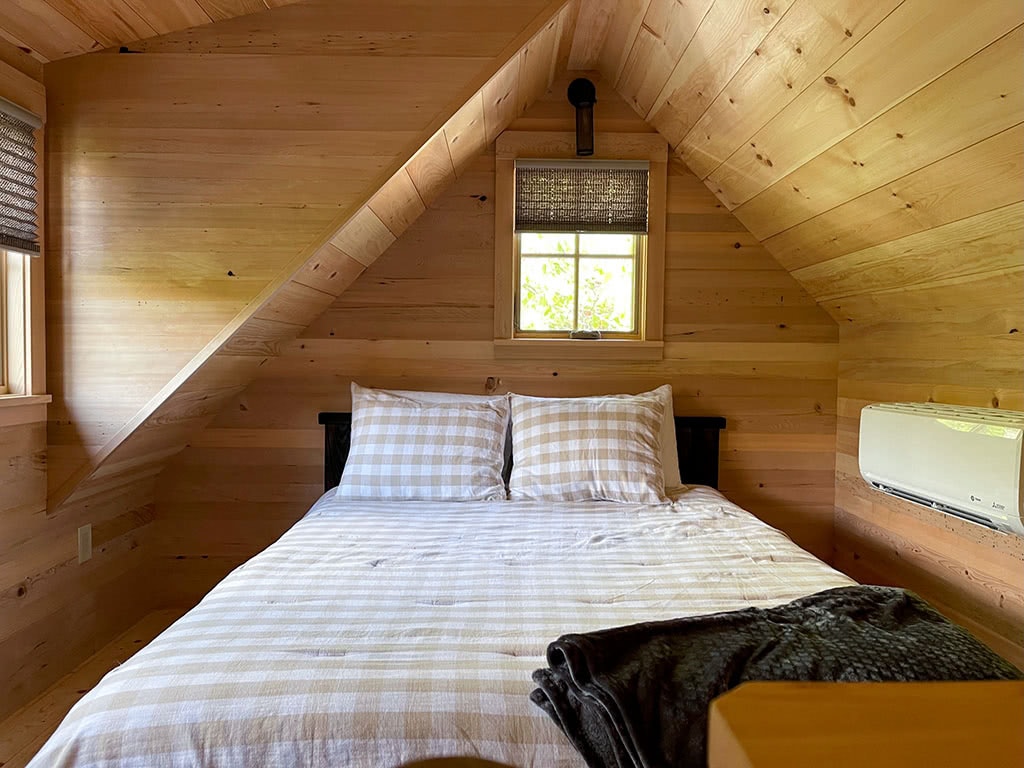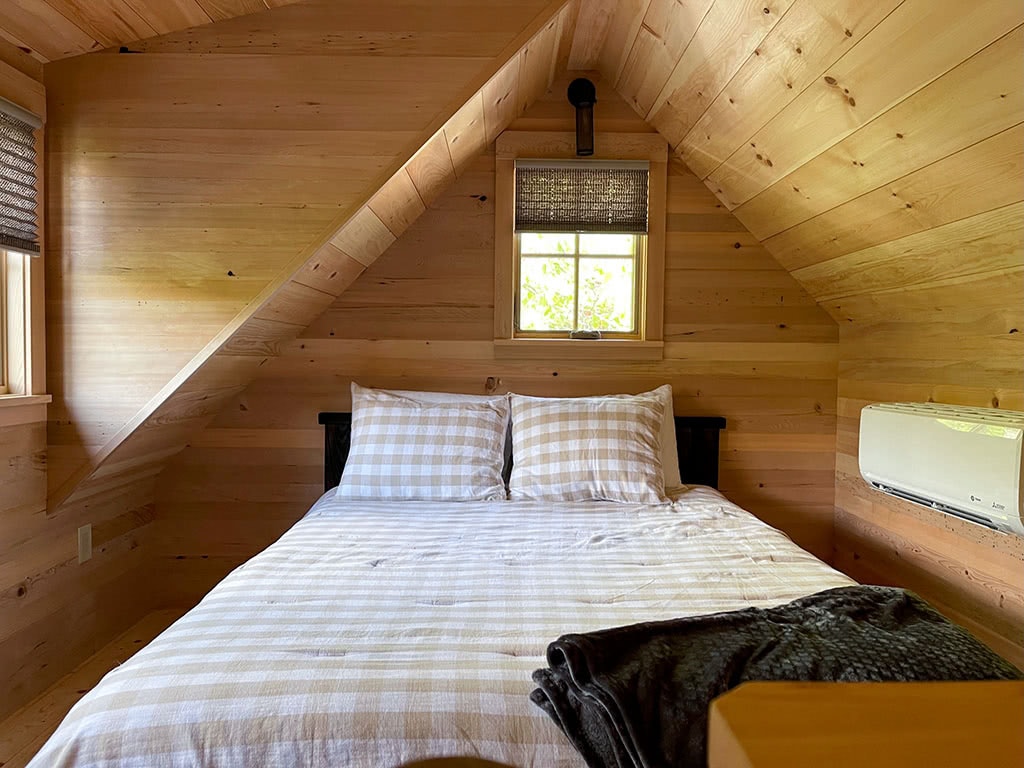 Some of our favorite features they added to this section are:
Communal hot tubs
Grilling area including an outdoor pizza oven (How fun is that?!? Pizza in the mountains!)
Beautiful mountain views of the surrounding areas
Ability to accommodate larger families/groups (some can sleep up to 10 people)
Cooking kitchens that are equipped with larger fridges, stove tops, etc.
Dining areas for sharing meals together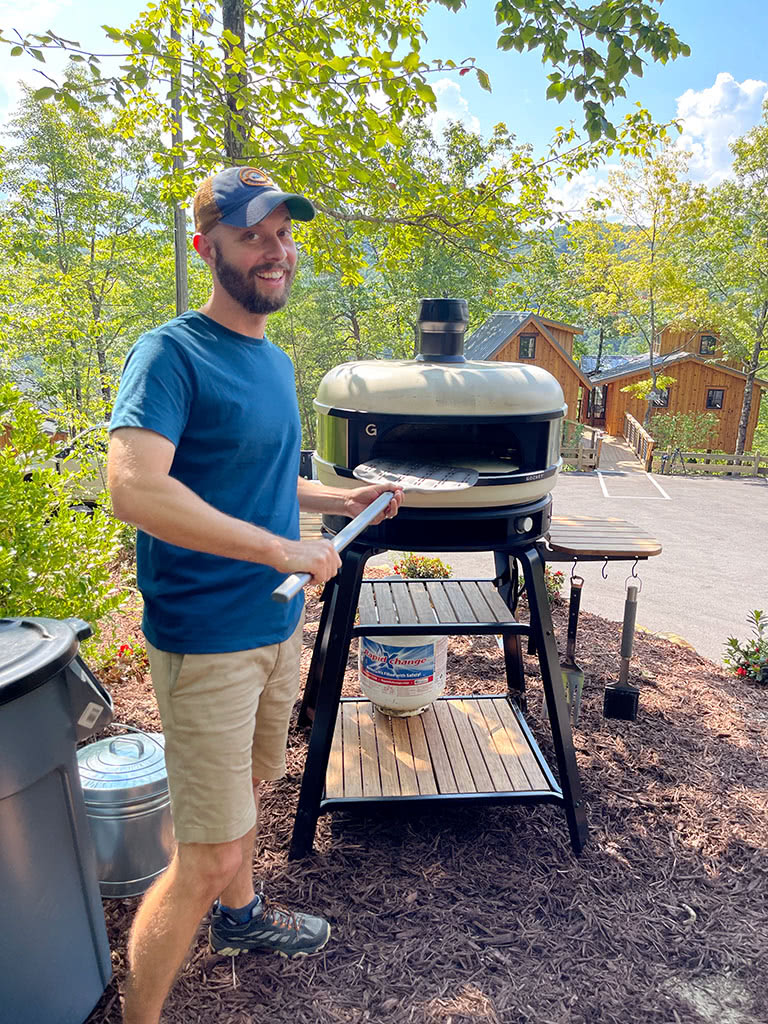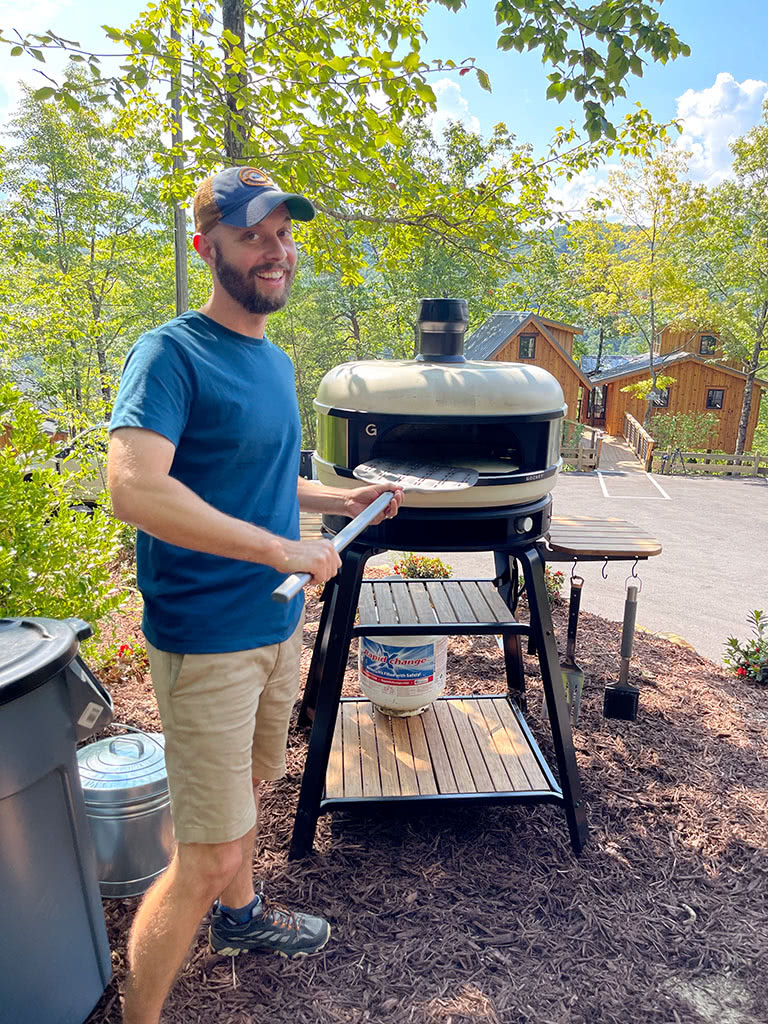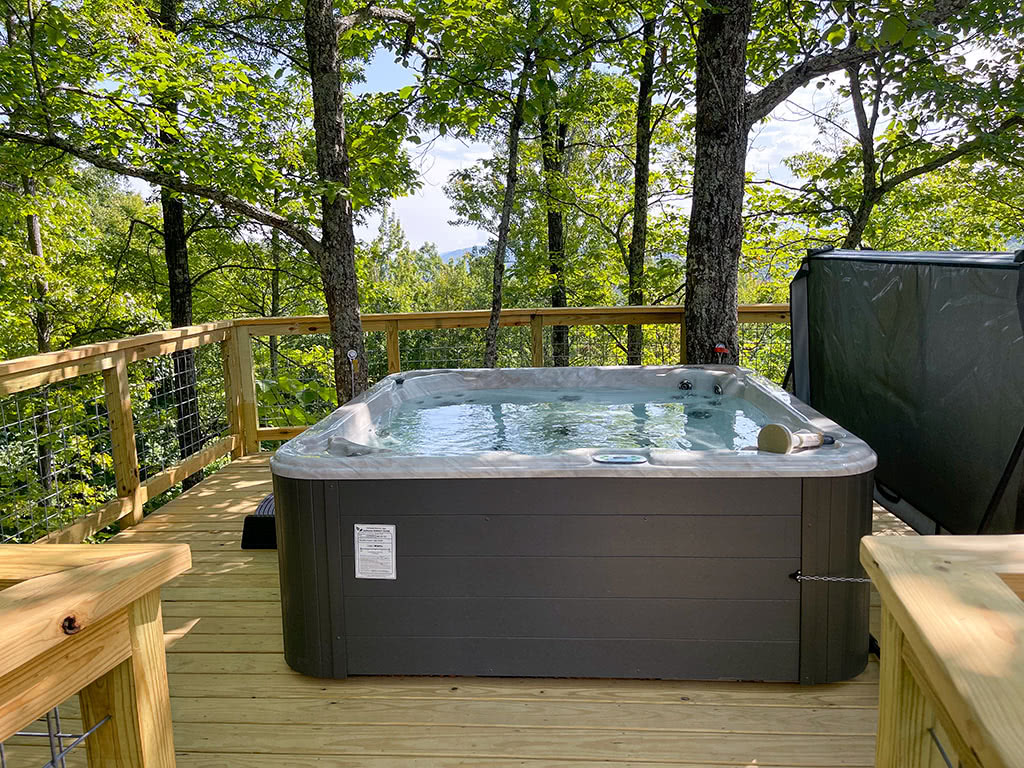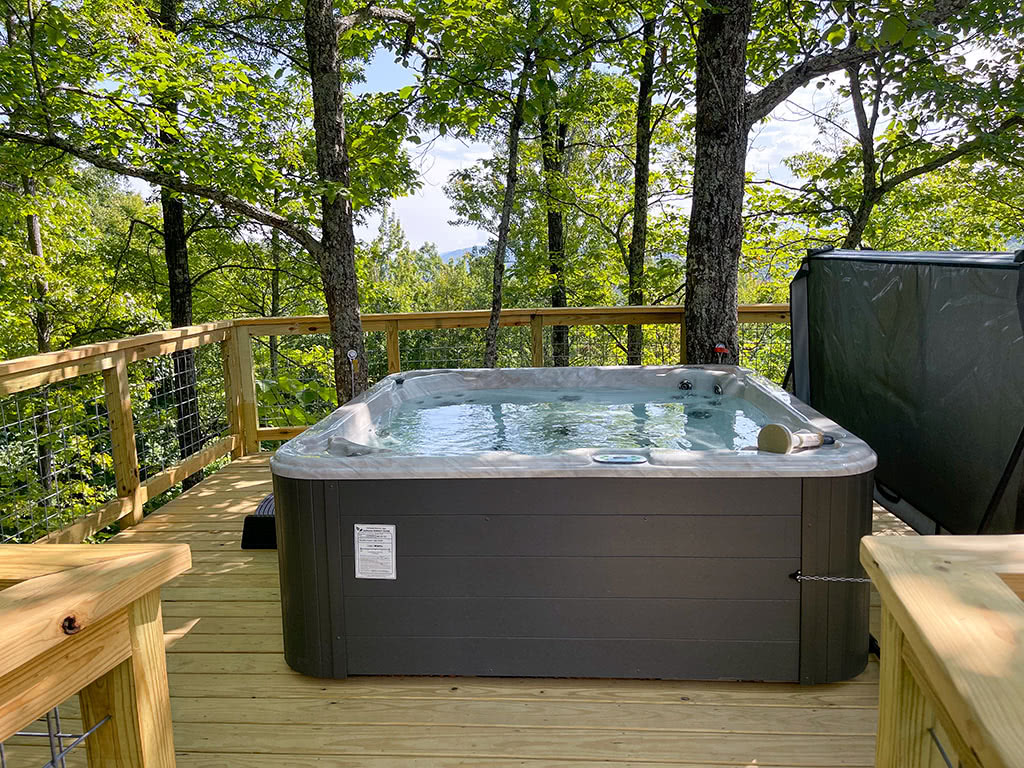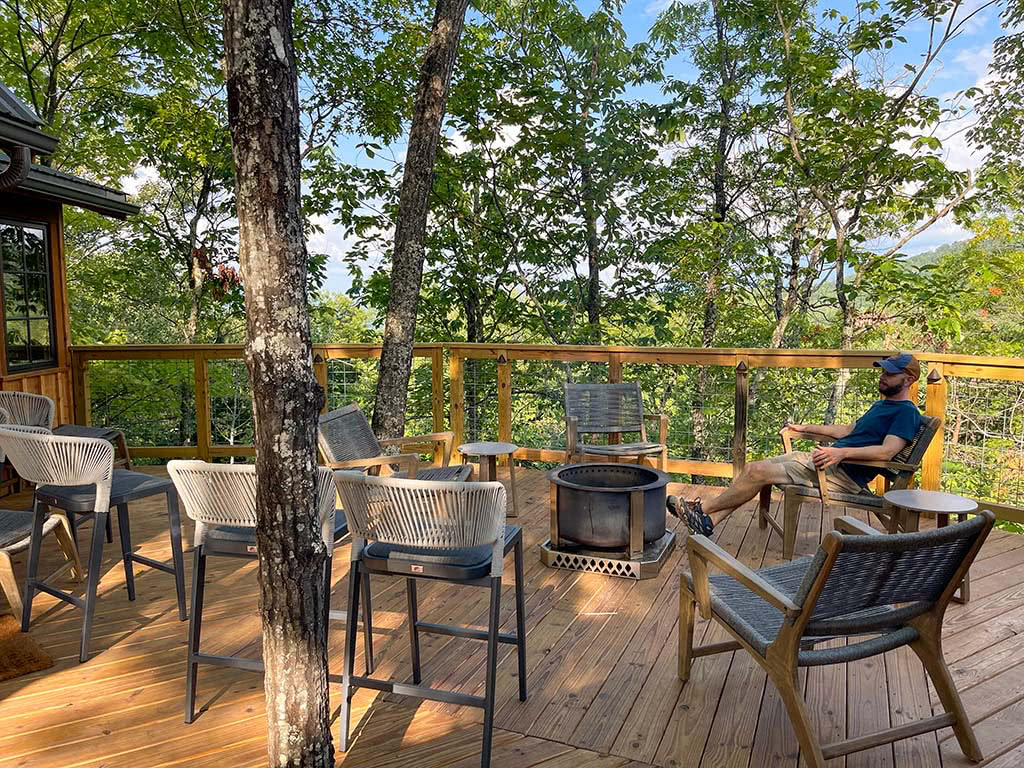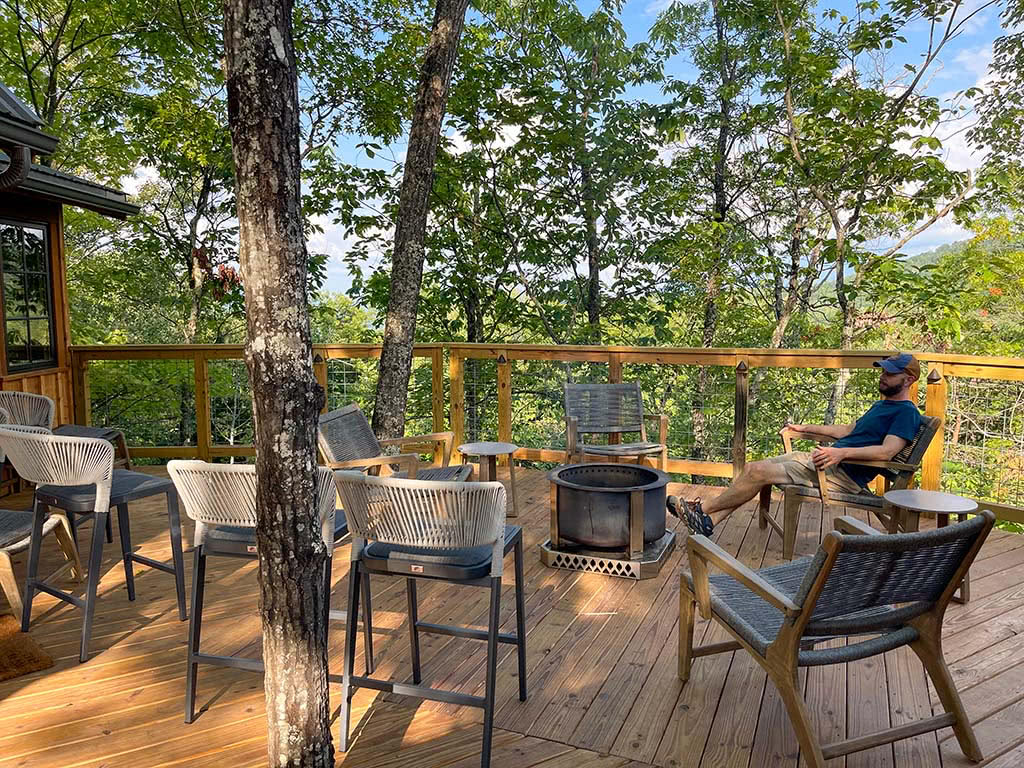 In the near future, Treehouse Grove has plans for a general store on site that will offer pizza kits, s'mores supplies, and more, so you can conveniently have what you need right at your fingertips without having to leave the property. What a fun idea!
We absolutely can't wait to return and stay in one of these treehouses!
Hop over here to learn more about the treehouses with Mountain Views.
Phase 3 – Future Plans
We also got a sneak peek of the upcoming Phase 3 development location. Pete Nelson and Joseph Ayres shared their vision behind this new area and how this phase will really give you that treetop experience. (Think of bridges and treetop views! 😍)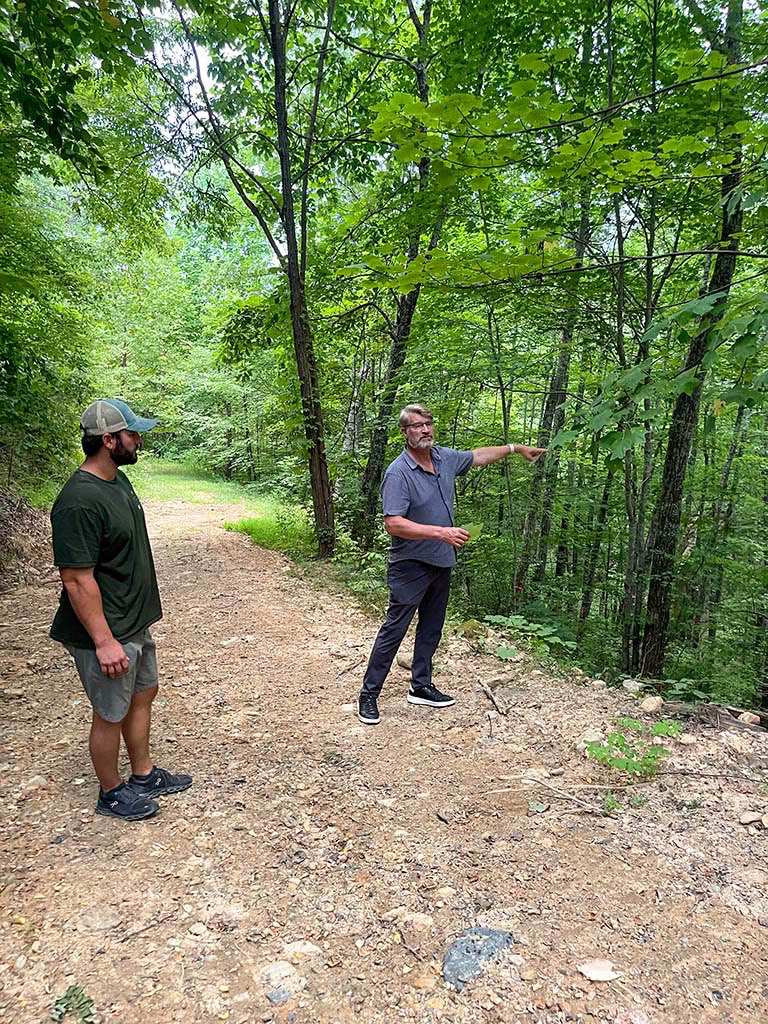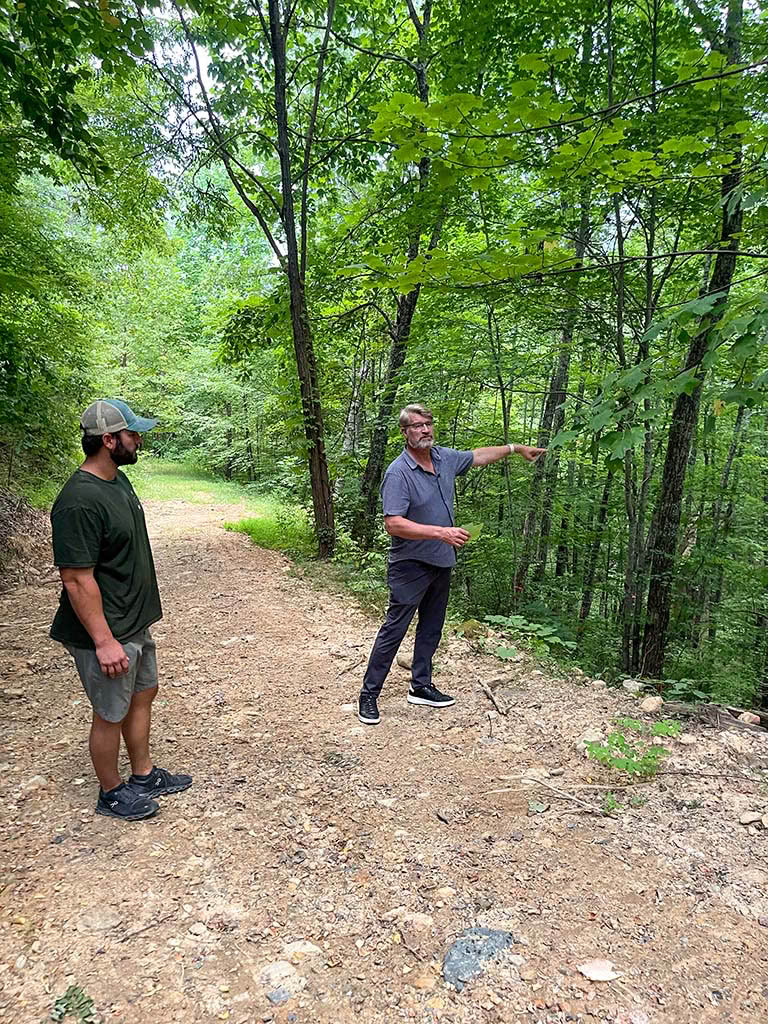 Joseph also shared that his heart behind Treehouse Grove is to be a place where people of all ages can come and make memories for years to come, with each visit bringing a one-of-a-kind experience.
Whether you are staying in the creekside treehouses, the mountain view treehouses, or this up-and-coming new phase…every stay at Treehouse Grove will be a special and memorable time for you and your loved ones.
Our Experience at Treehouse Grove
Staying at Treehouse Grove was definitely a fun and memorable getaway for both of us (yes, we left the kids at home this time!)
From the moment we stepped foot on property, we felt like kids going on an adventure: the sights of the beautifully crafted treehouses tucked into the trees; the smells of nature and fresh wood; and the sounds of the rippling water of nearby Norton Creek with the humming and chirping of the many bird and critter residents.
We knew right away that we had come across something pretty special.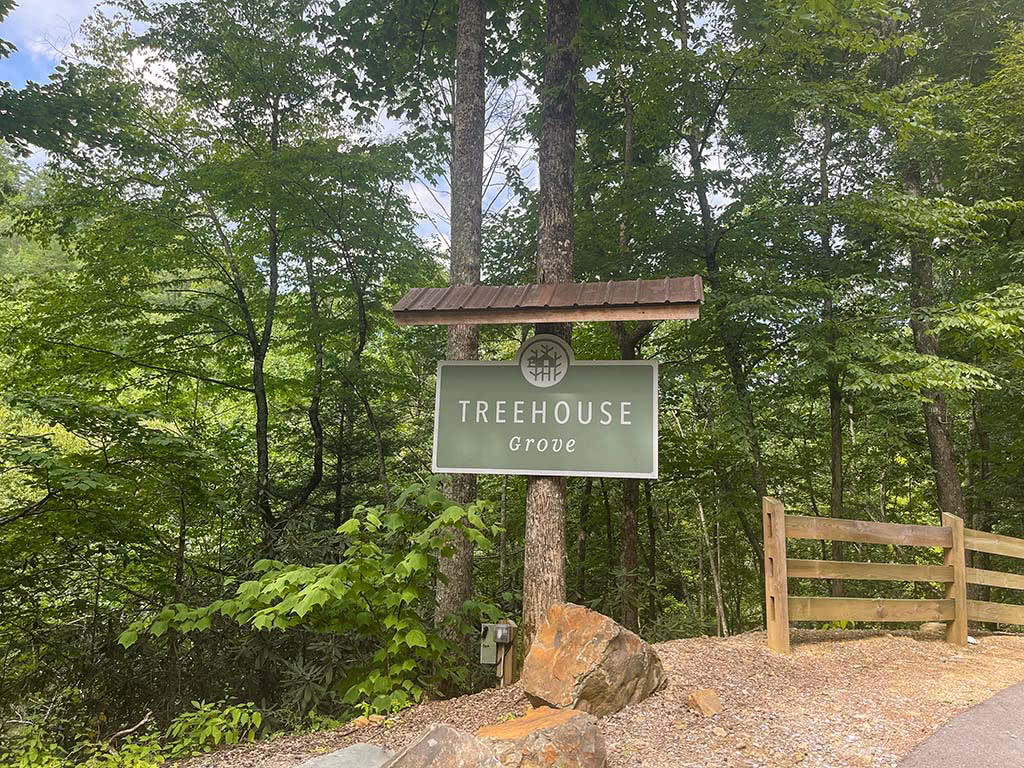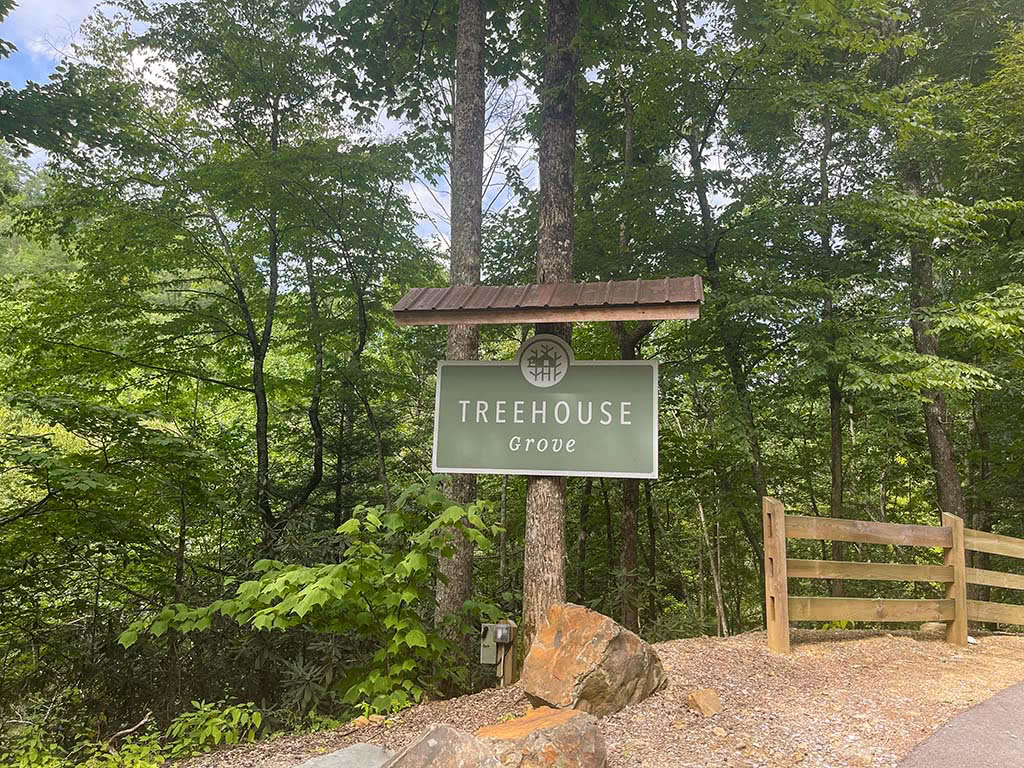 The Willow Treehouse
Our stay began with a contactless entry to our treehouse. The team at Treehouse Grove sent us our check-in information prior to arrival, so all we had to do was follow the map and locate our treehouse, "The Willow."
(Although, after getting to know some of the incredible staff there, I highly recommend you stop by to meet them and say hello in the office.)
As we walked down the pathway to our very own treehouse, we couldn't help but feel excited. I don't care how old you are, treehouses are so much fun!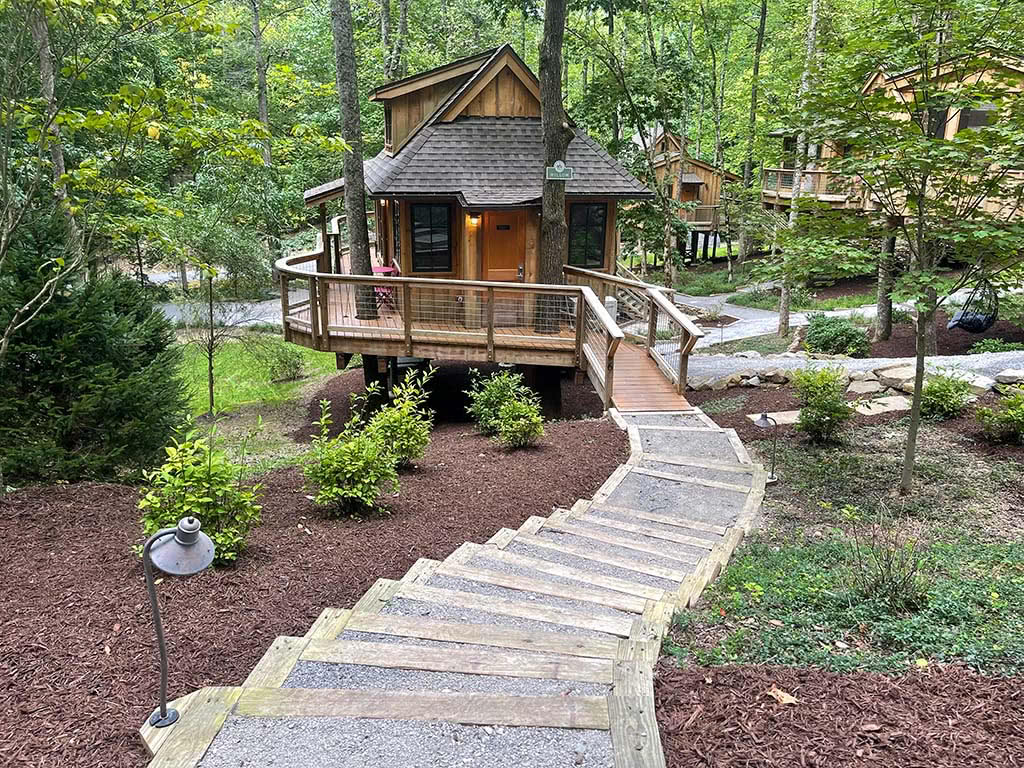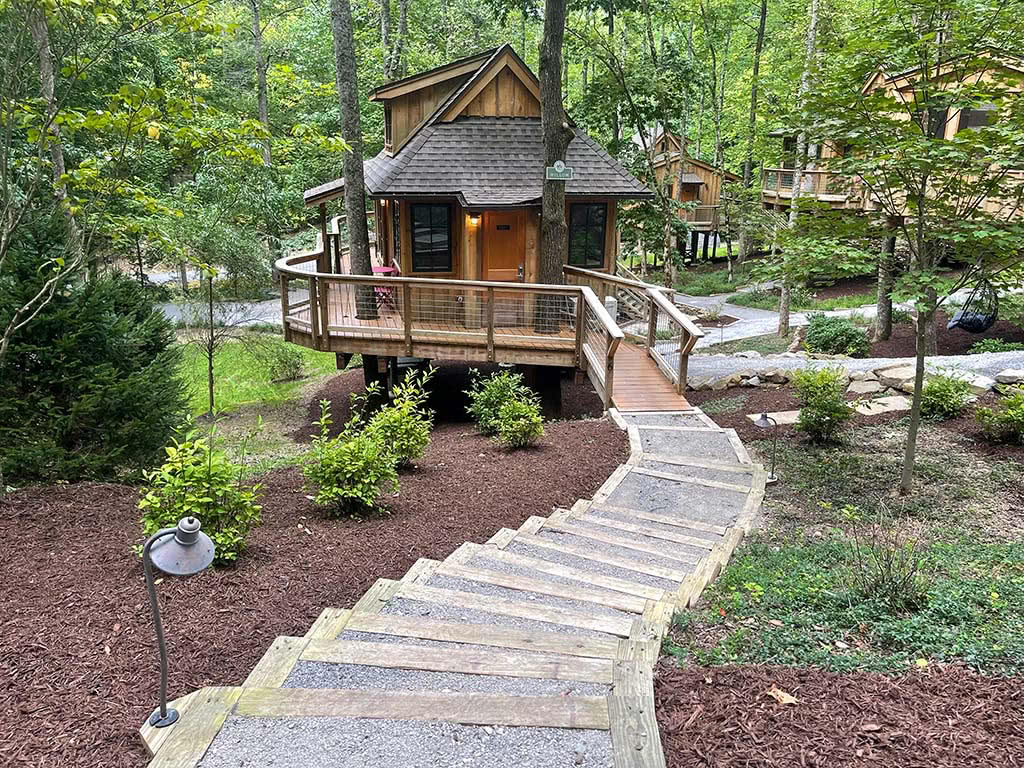 Immediately upon walking in, we were greeted with a quaint living room/kitchenette stocked with the basic necessities for our stay – fridge, microwave, toaster oven, coffee pot, cups, plates, bowls, and more.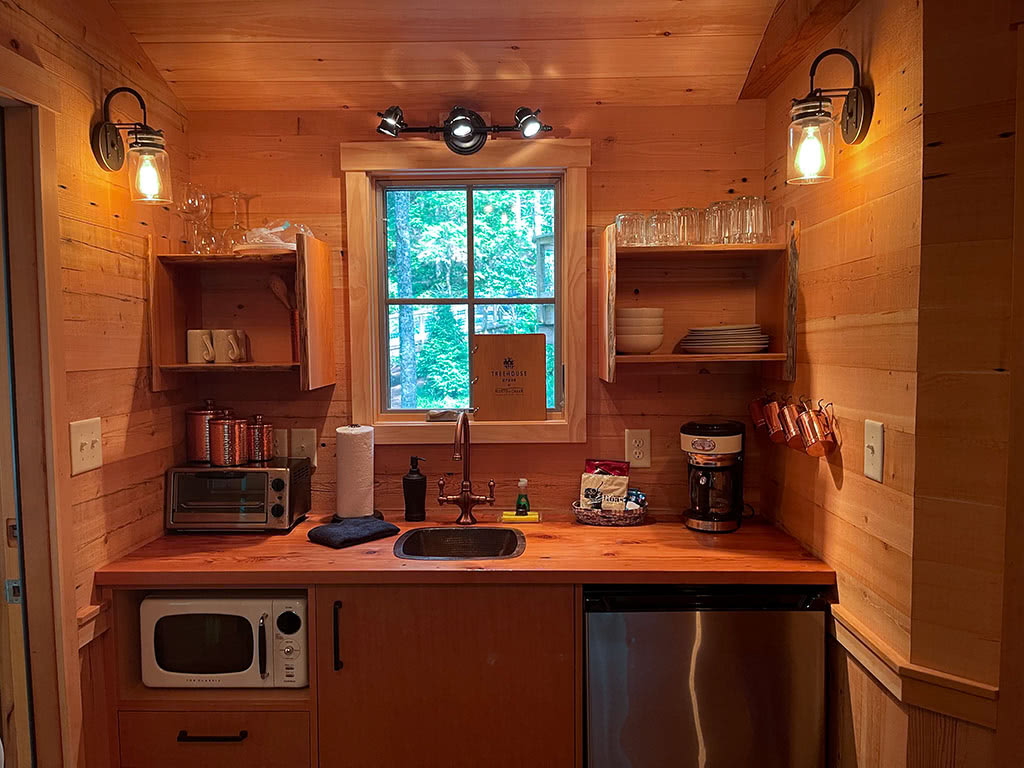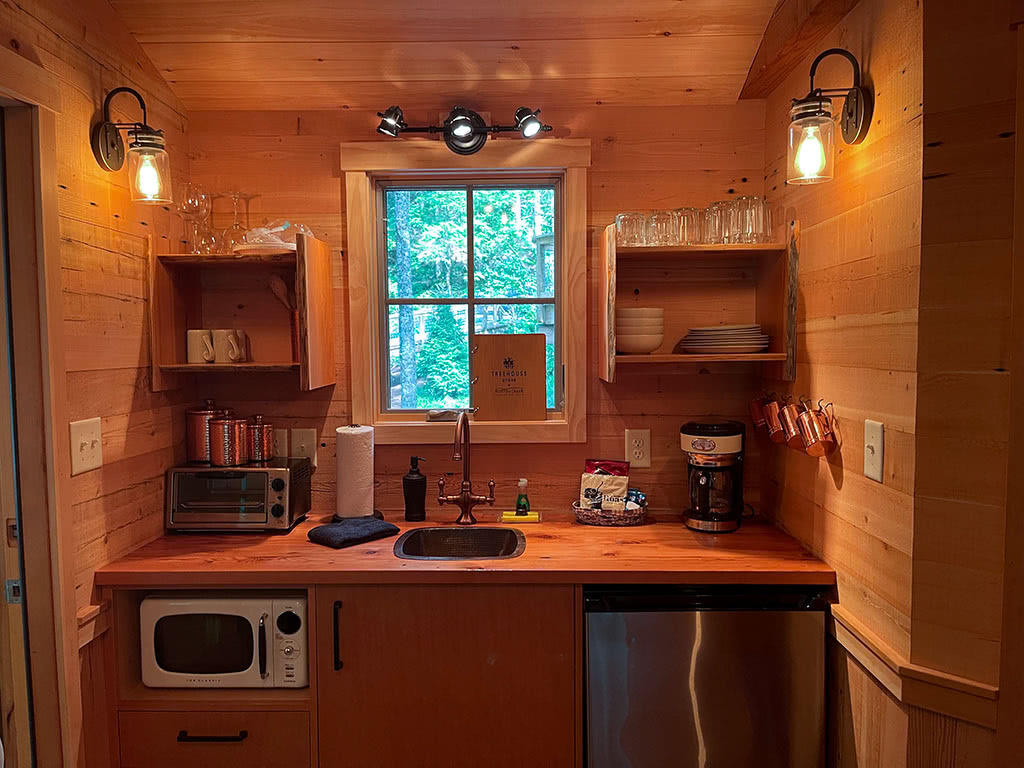 The inside of the treehouse was full of rustic, yet modern touches. Reclaimed wood surrounded us wherever we sat, and the smell of cedar permeated each room with a pure forest scent.
Beautiful copper fixtures and a gorgeous hammered copper sink adorned the kitchen. Light fixtures filled with Edison bulbs set the inside of the treehouse in a warm glow, completing the package.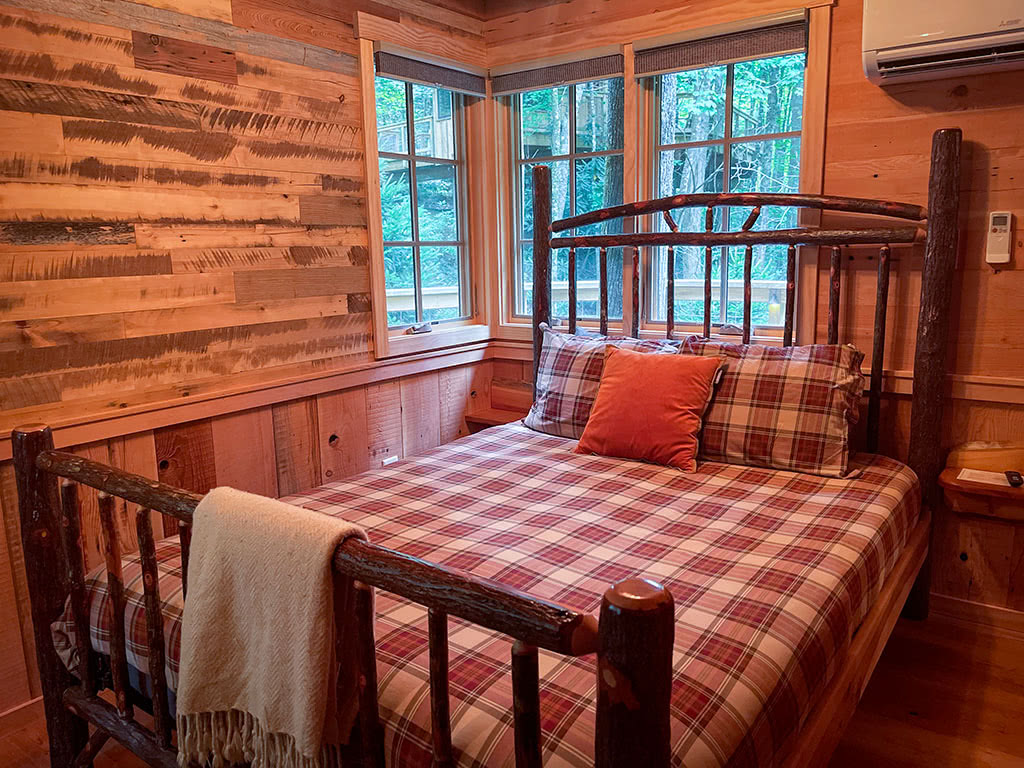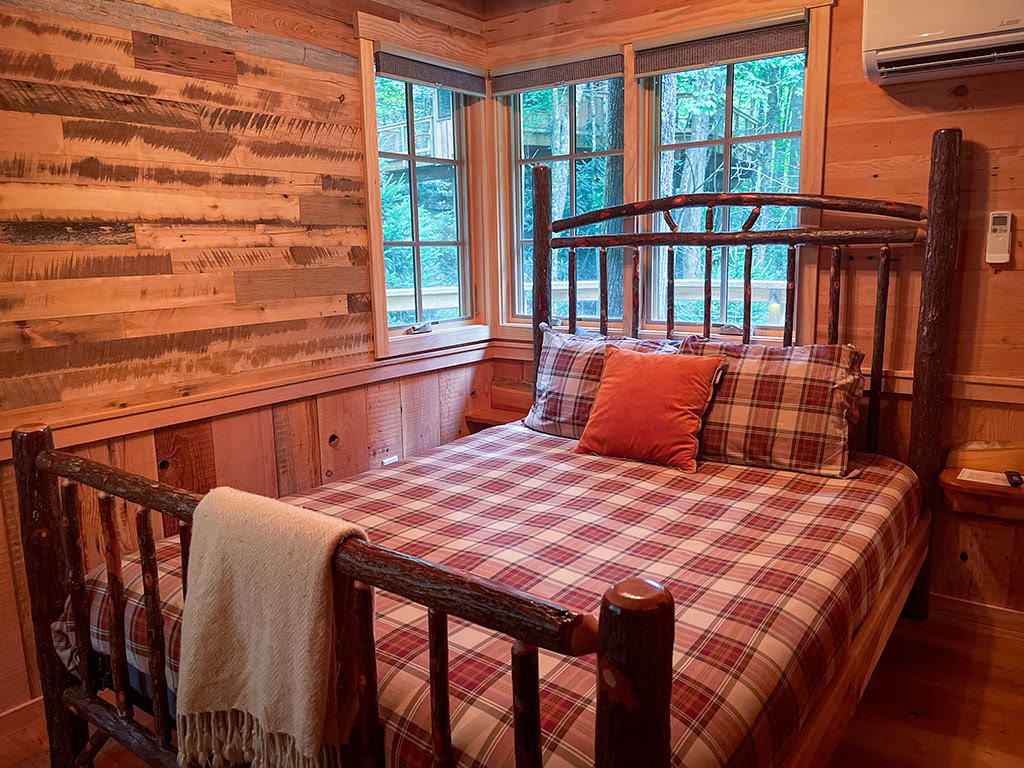 After thoroughly exploring the inside, we headed outside to check out our porch, which was equipped with a couple of chairs for relaxing and a Solo Stove for roasting marshmallows.
We were so excited to settle in!
Exploring The Area
We stayed in the "By the Creek" section, where there are a total of 8 unique treehouses tucked right into a little village-like area (for our Star Wars fans…think Ewok village).
We walked down below our treehouse and then spent some time relaxing on the swing bed that was hanging underneath.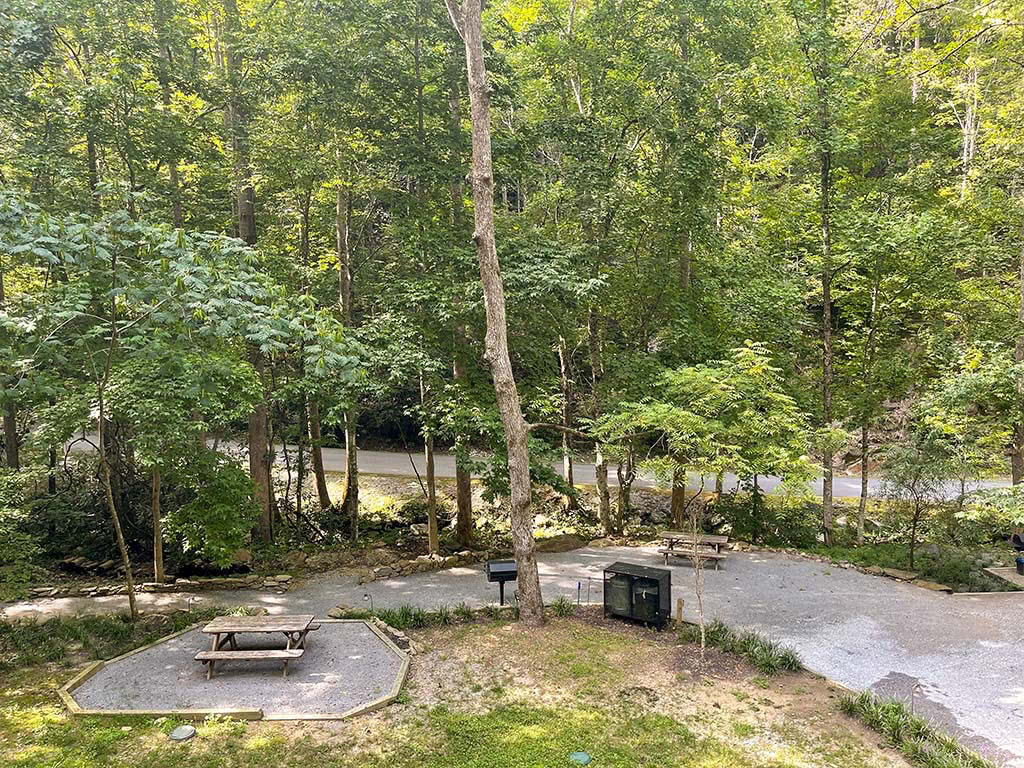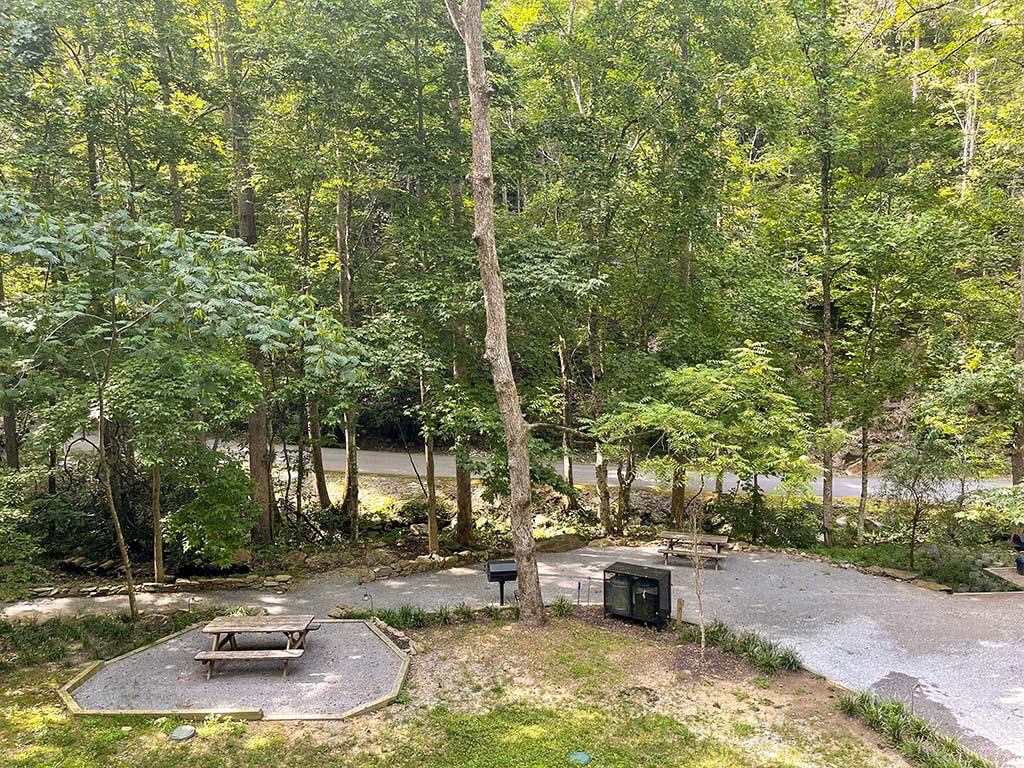 Down near the creek area, there are several picnic tables with a charcoal grill, perfect for having a little picnic time with your family or friends.
Situated right by the creek is the communal fire pit, where you can pull up a chair and spend some time by the fire while taking in the views of these incredible treehouses and listening to the gentle flow of the creek right beside you.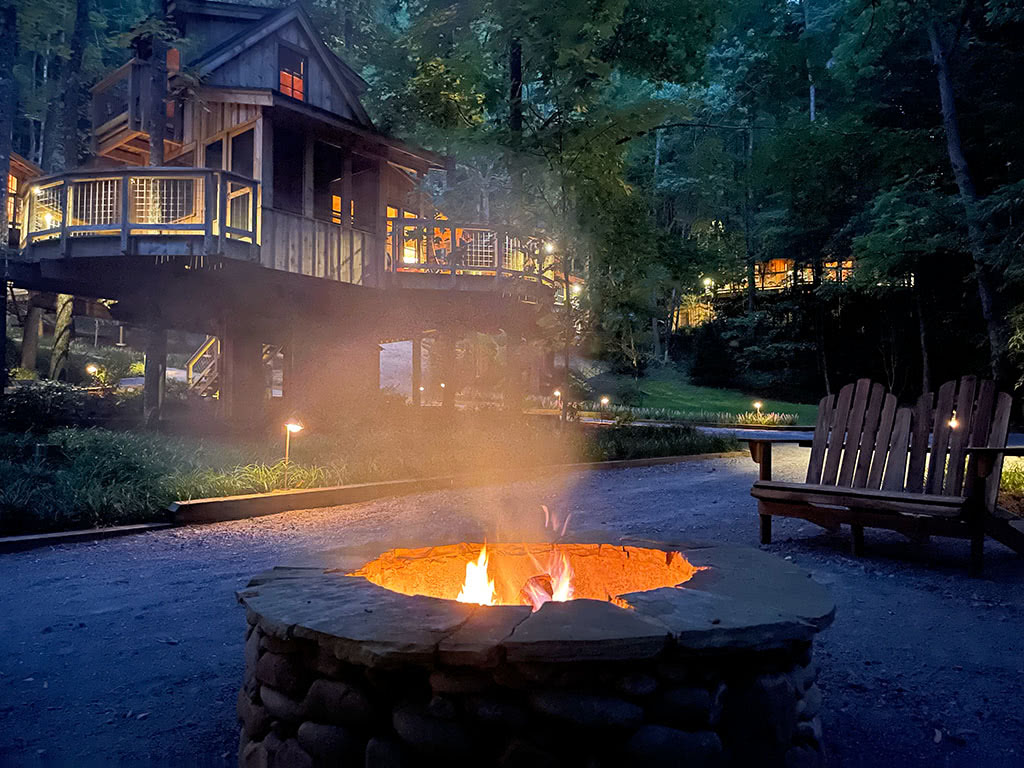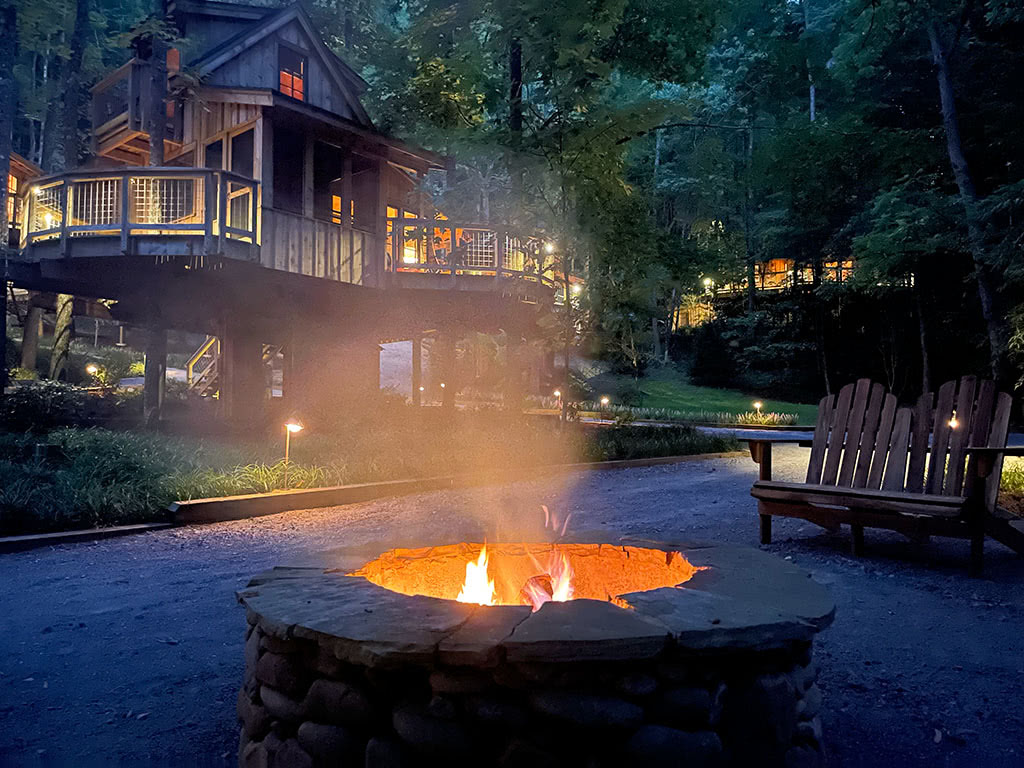 3 Things to Do at Treehouse Grove
No matter which treehouse you end up staying in, there are plenty of ways to enjoy your time at Treehouse Grove. Here are 3 things you can to do make extra special memories of your time there.
1. Fly Fish in Norton Creek
There are quite a few trout that can be found in Norton Creek that flows through the Treehouse Grove property. If you are into fly fishing, be sure to bring your gear. Or if you are a newbie, like we were, you can look into finding a guide that will show you the ropes.
This was one of our favorite things to do. I'm pretty sure we could fly fish all day. And despite our newness, we each caught a rainbow trout, which was super cool!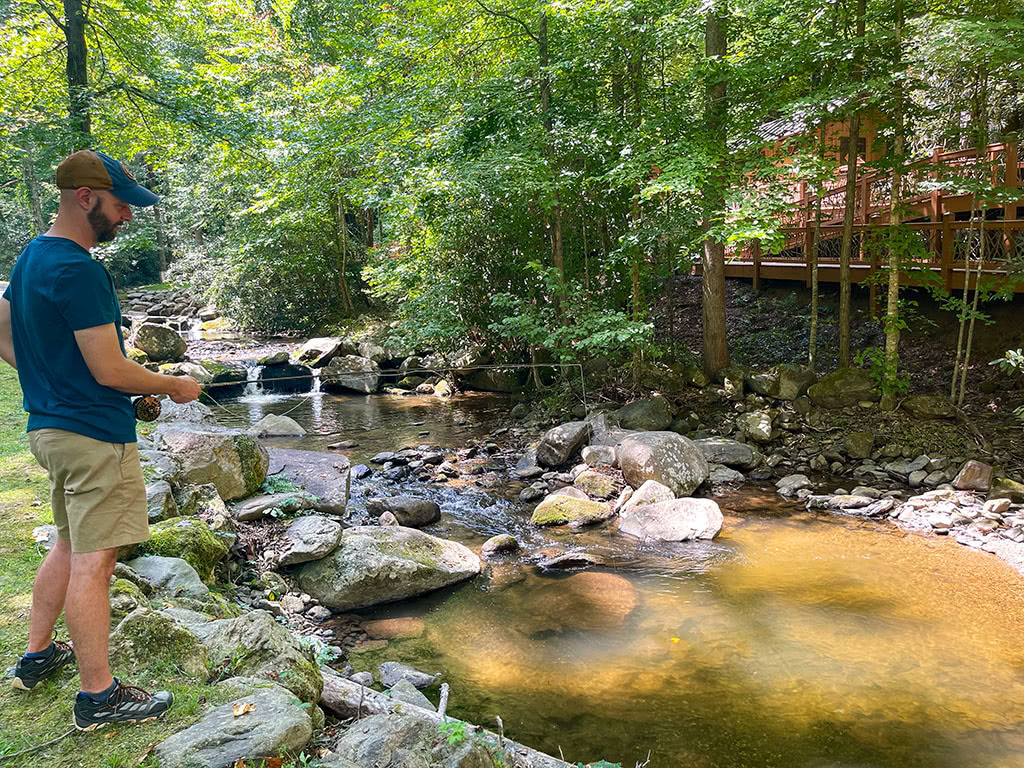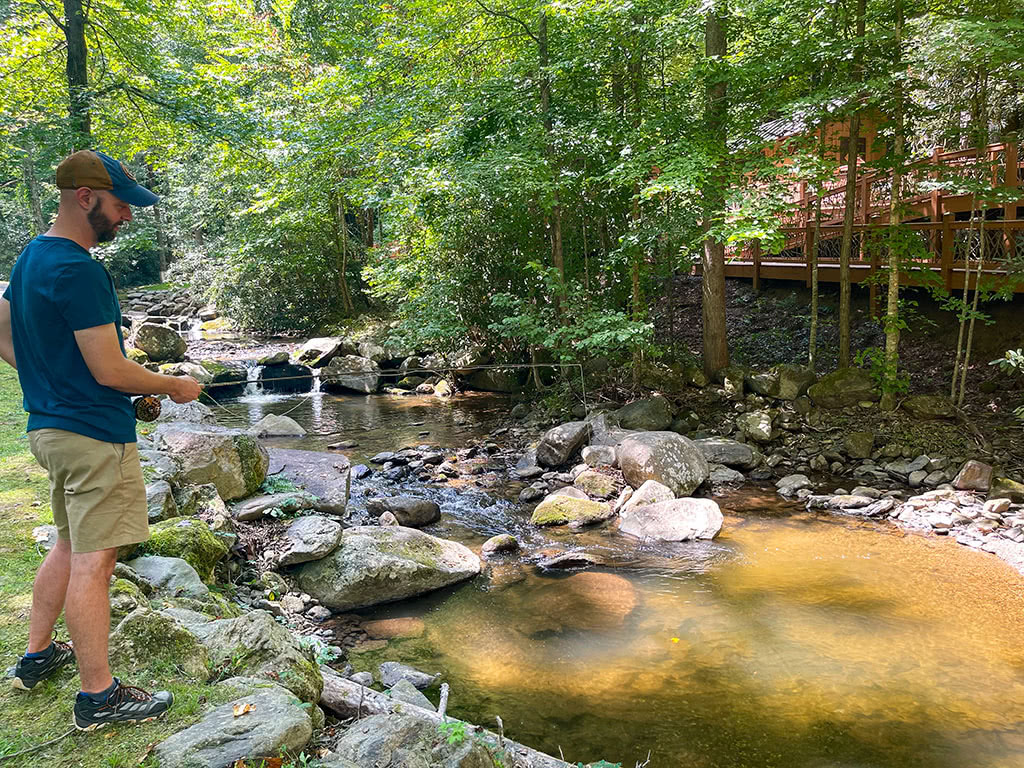 2. Relax on Your Porch
Get up in the morning and drink your coffee and relax on your porch, while listening to the babbling brook in the treehouses by the creek or taking in the beautiful scenery from the Mountain view treehouses.
These porches were made with relaxation in mind. You won't regret experiencing peace and tranquility while you drink that delicious cup of joe first thing in the morning.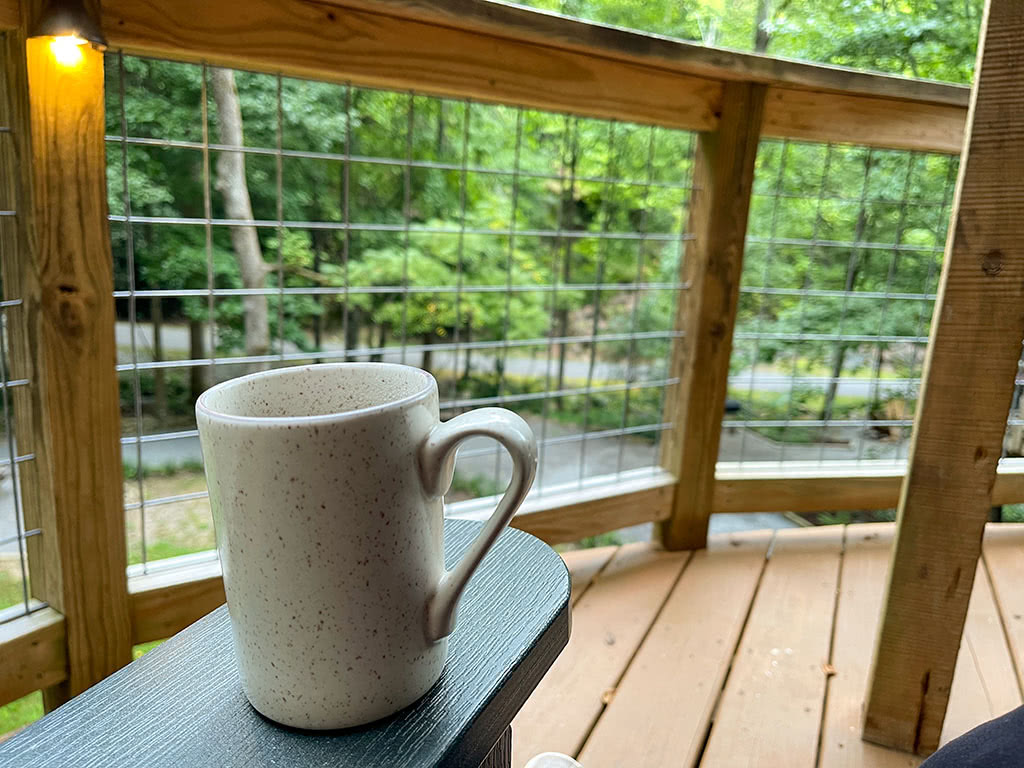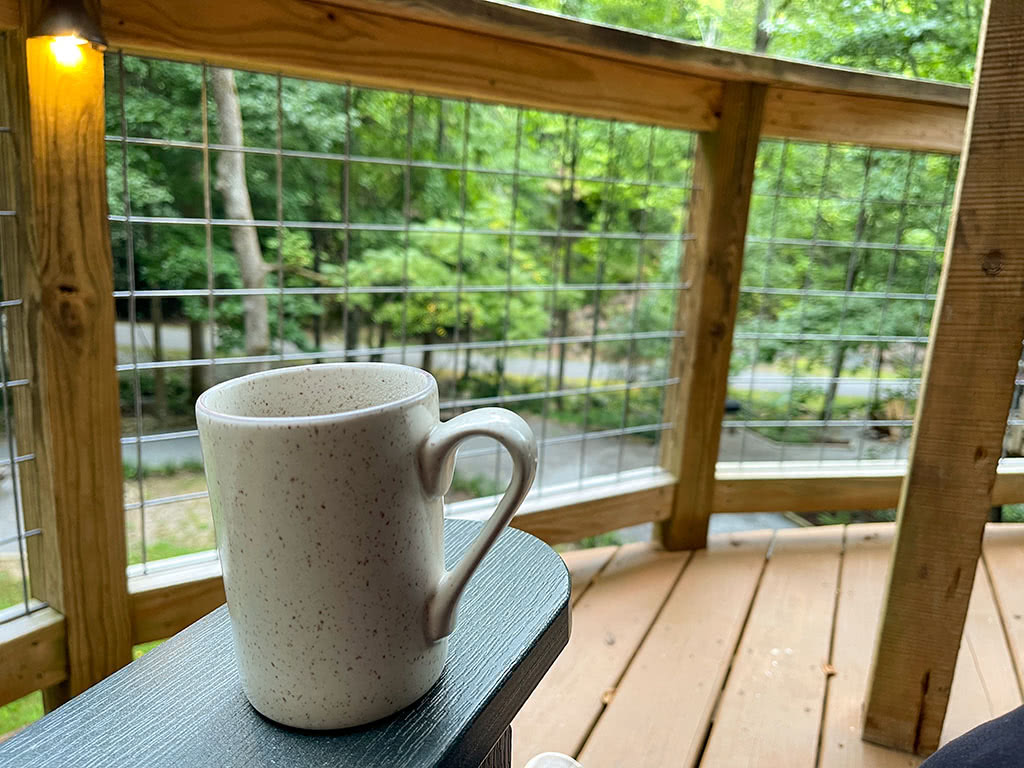 3. Build a Fire and Make S'mores
Whether out on your own personal deck or at the communal fire pit, you have to build at least one fire during your stay and roast marshmallows. No stay at Treehouse Grove is complete without s'mores around the fire.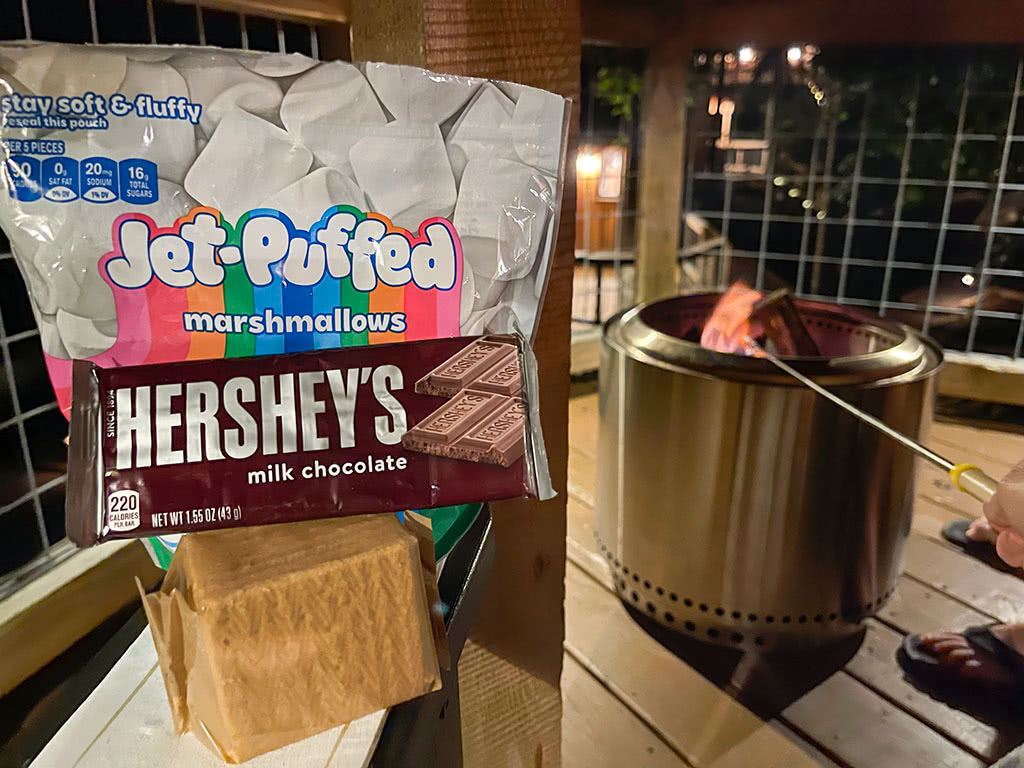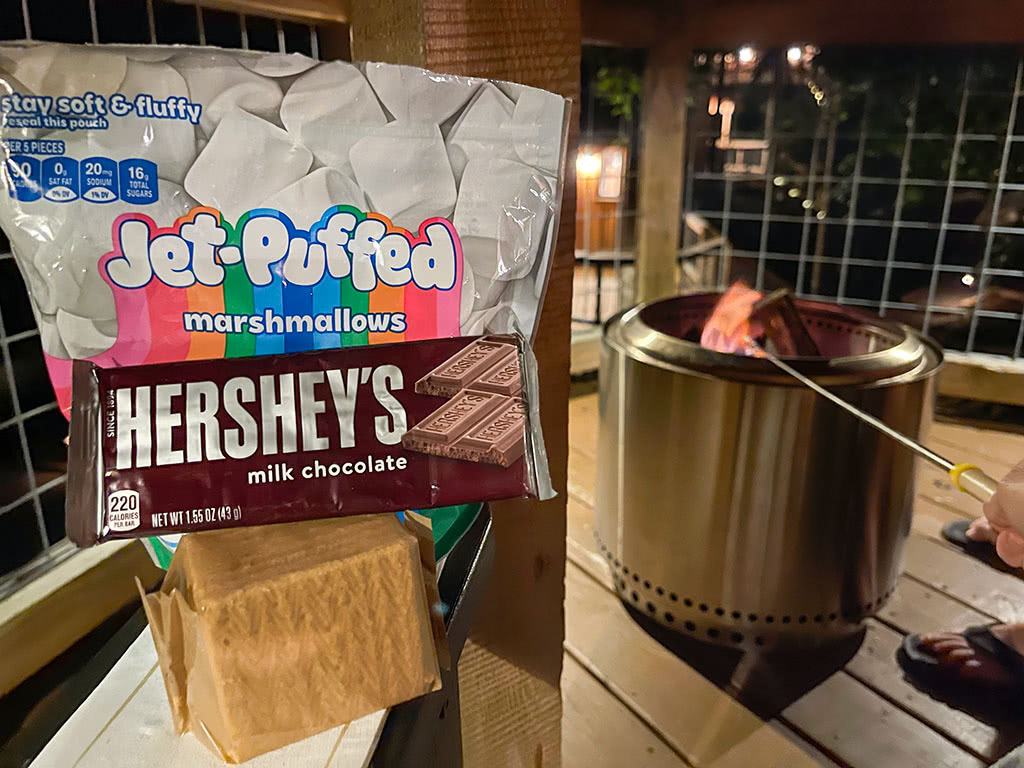 Things to Do Nearby
While definitely tucked away out of the busyness of the more touristy areas of the Smokies, Treehouse Grove has a pretty optimal location, being smack dab in the middle between Pigeon Forge and Gatlinburg.
It's only a hop, skip and jump over to some of the most popular family-friendly attractions, as well as the entrance to the Great Smoky Mountain Park. Most of these are about 10-20 minutes away, depending on traffic.
Here are some of our favorite things to do near Treehouse Grove:
Staying at Treehouse Grove
So if you are still wondering…should I stay at Treehouse Grove?
Let me help you out… Yes! Treehouse Grove is such a special and unique experience. If you are looking for a memorable place to stay when visiting the Great Smoky Mountains, this definitely needs to be on your bucket list to visit.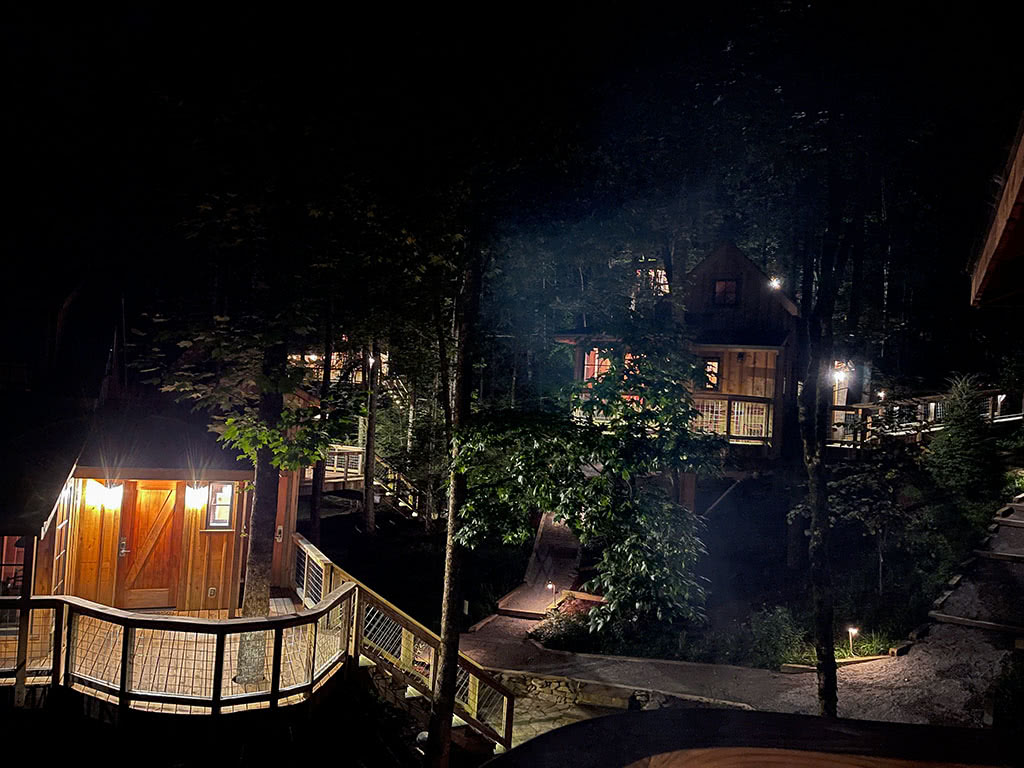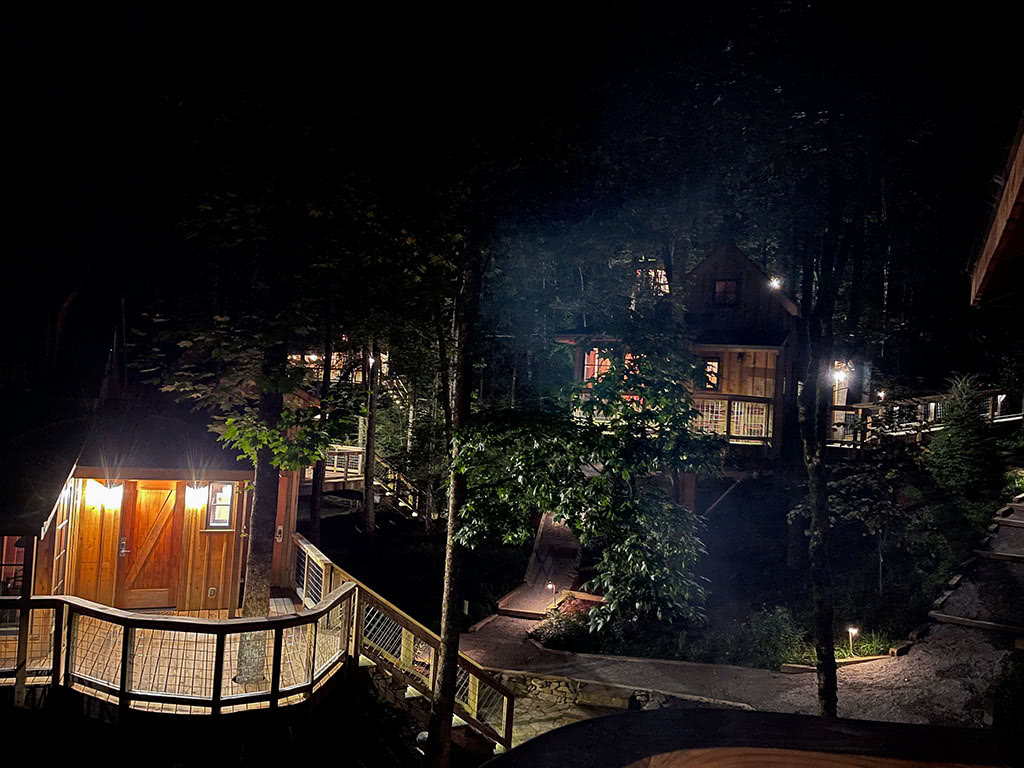 Family Get Togethers
Treehouse Grove will make a perfect getaway that your family will fondly remember as the time when you "stayed in a treehouse." Where you cooked some pizza outside in the pizza oven, roasted marshmallows out on the treehouse porch…all those unforgettable memories are just waiting to be made.
Looking to plan a family reunion or go on a little weekend getaway with some friends and family? The layout of some of these treehouses is simply perfect for gathering together with those you love.
Celebrate a Special Occasion
And if you are looking to celebrate an anniversary or to have a couple's getaway with your spouse, this unique experience will be a great place to get away from the hustle and bustle of life. This would be the perfect spot to commemorate that special occasion.
By the way, if you are celebrating a special occasion, be sure to contact the office, and the Treehouse Grove team would be happy to help you pick the perfect treehouse, as well as share with you the special add-ons that they offer for anniversaries, birthdays, and more.
Final Thoughts on Treehouse Grove
Staying at Treehouse Grove was a fun and memorable experience and we definitely look forward to going back soon. (Maybe we will take the kids next time…)
We are so glad we got the opportunity to visit Treehouse Grove and take a peek into the ins and outs of the treehouses.
If you are ready to book a stay, go ahead and give Treehouse Grove a call today!
Related Articles