Looking for fun things to do in the Chattanooga area? Read on to find out more about our adventure to Chattanooga where we took a ride on the Lookout Mountain Incline Railway!
For a little over 10 years, our family called the Chattanooga region home. We have so many fun memories of the Chattanooga area, that we just love to go back any chance we get! It's such a fun place to visit as it really is a family-friendly city and offers so much to do!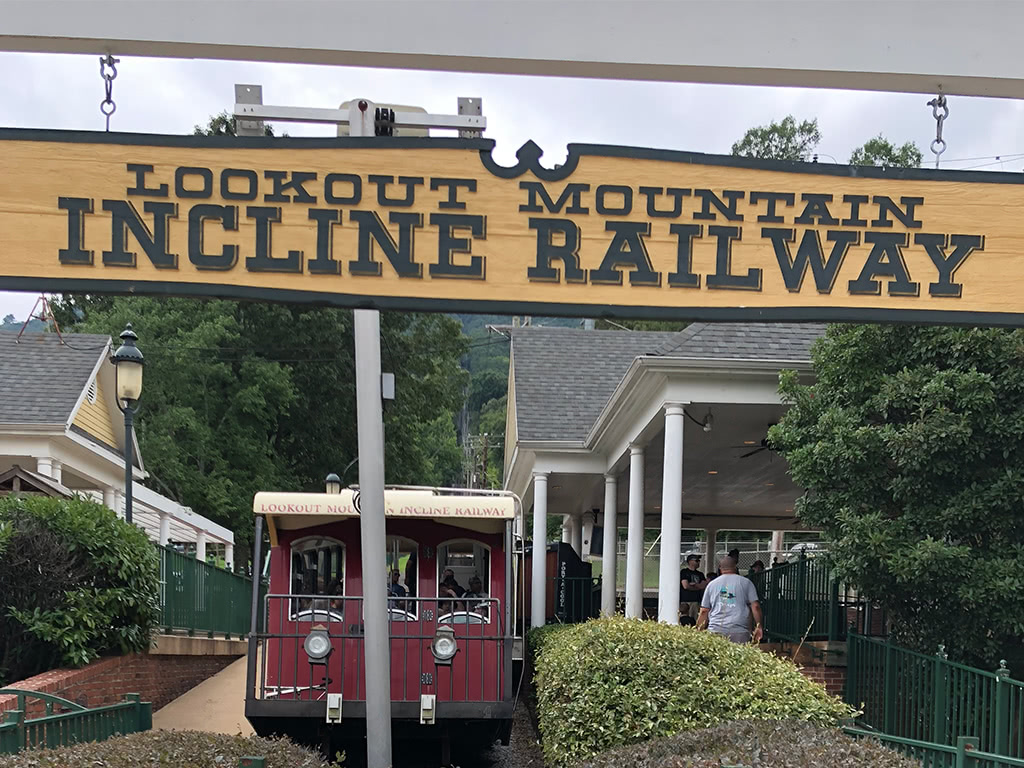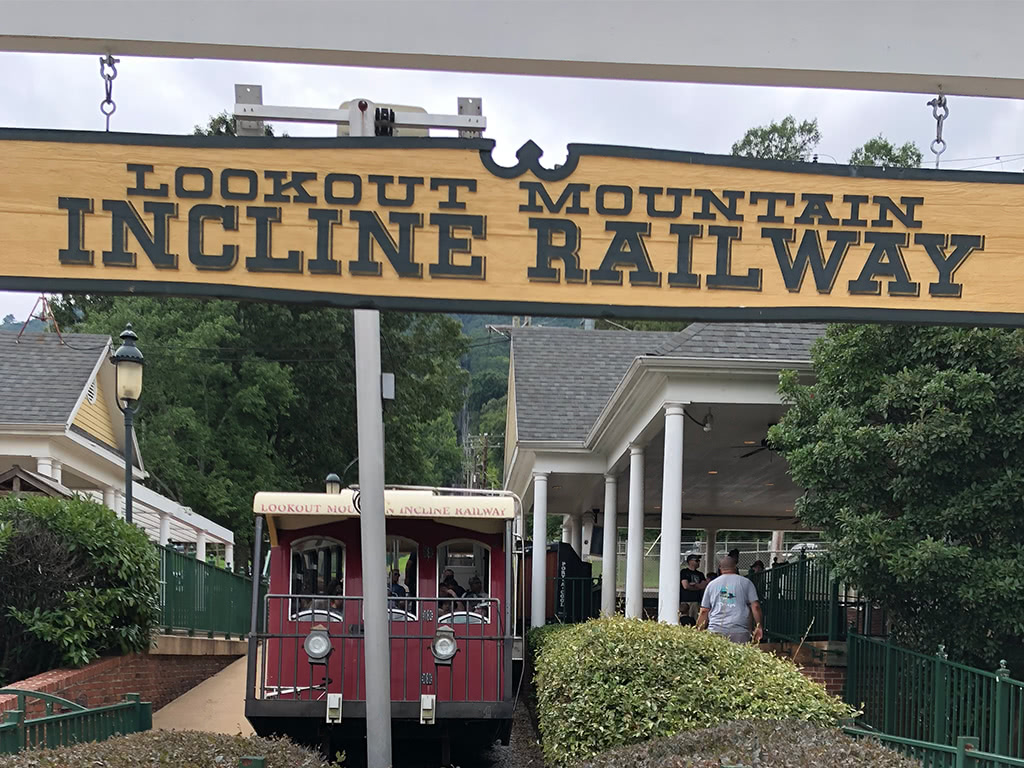 *This post may contain affiliate links which help support this site, but won't cost you anything extra. Read our full disclaimer.
How Do I Get to the Lookout Mountain Incline Railway?
It is actually relatively easy to find the Lookout Mountain Incline Railway station. If you want to go from the bottom to the top, you will make your way to 3917 St Elmo Ave, Chattanooga, TN 37409
And if you want to start at the top, you would head over to 827 E Brow Rd, Lookout Mountain, TN 37350.
A Little History About Lookout Mountain
The Lookout Mountain area in Chattanooga has plenty of rich history to learn about! From the Battle Above the Clouds in 1863, to Ruby Falls and Rock City, and of course the Incline Railway, there is so much to see and do!
If you are looking for more resources, here are few recommended suggestions for reading before you head that way!
First Things First- Get Ice Cream at Clumpies!
On this particular visit back to Chattanooga, we went with absolutely no plan and just decided to see where the day would take us.
We knew we wanted to go towards the Lookout Mountain area, so we headed that way to see what adventure we could find along the way!
Once we got to the bottom of Lookout Mountain, we saw Clumpies Ice Cream right next to the Incline Railway.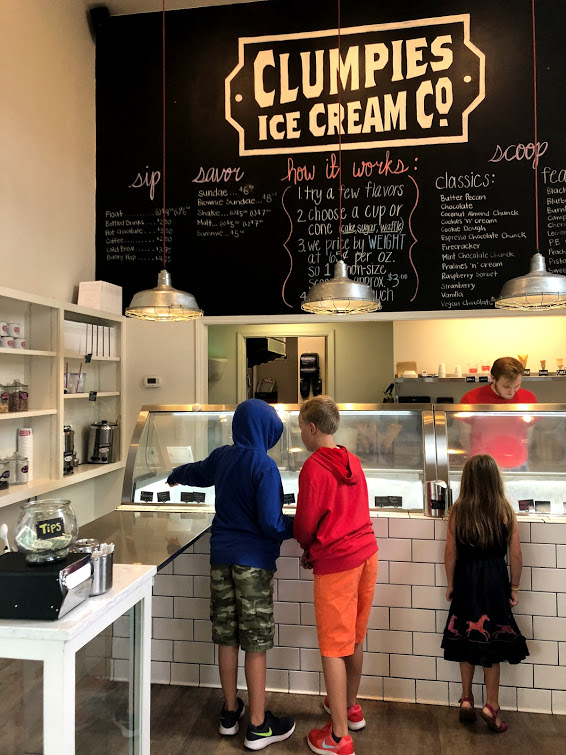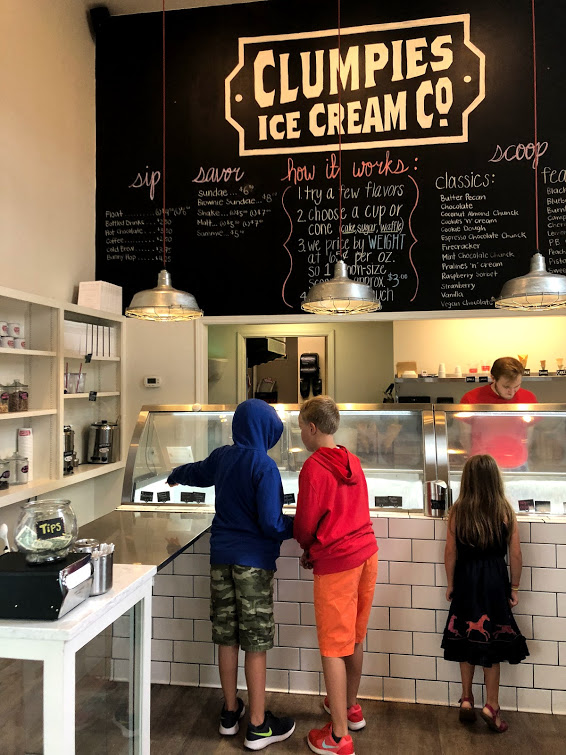 It didn't take much for us to decide that Clumpies would definitely be our first stop. And while we were there, we could check out the Incline Railway.
The kids absolutely loved Clumpies. It took them a while to decide on which flavor they would go with because they all looked SO delicious!
After several samples, we all finally made our choices and were in hog heaven!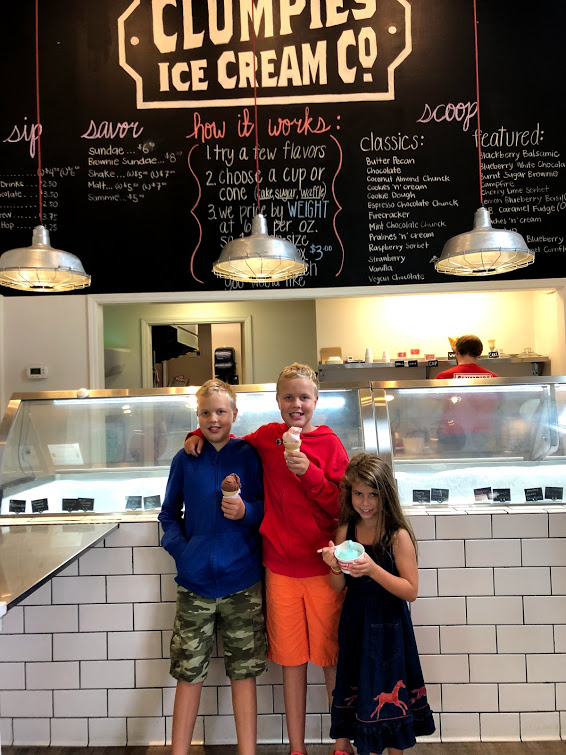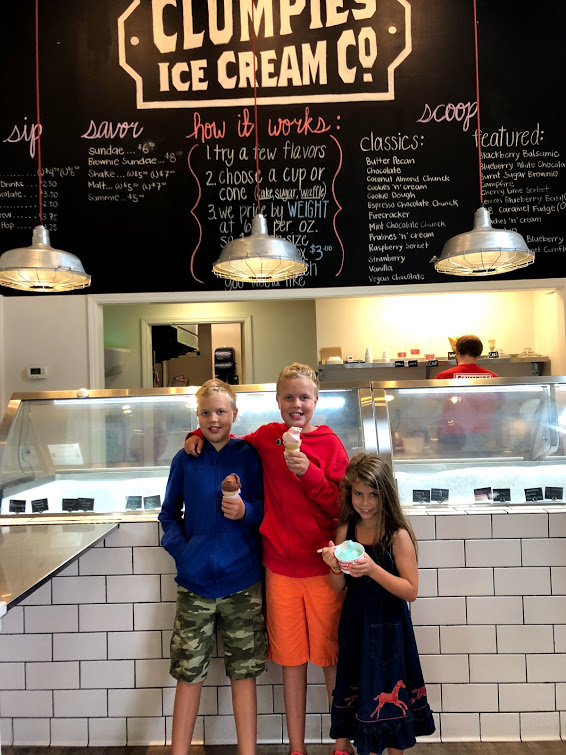 We took it outside and sat next to the bench where we could watch the Incline Railway come and go. It wasn't long before we decided since we were right there…we might as well ride the Lookout Mountain Incline Railway!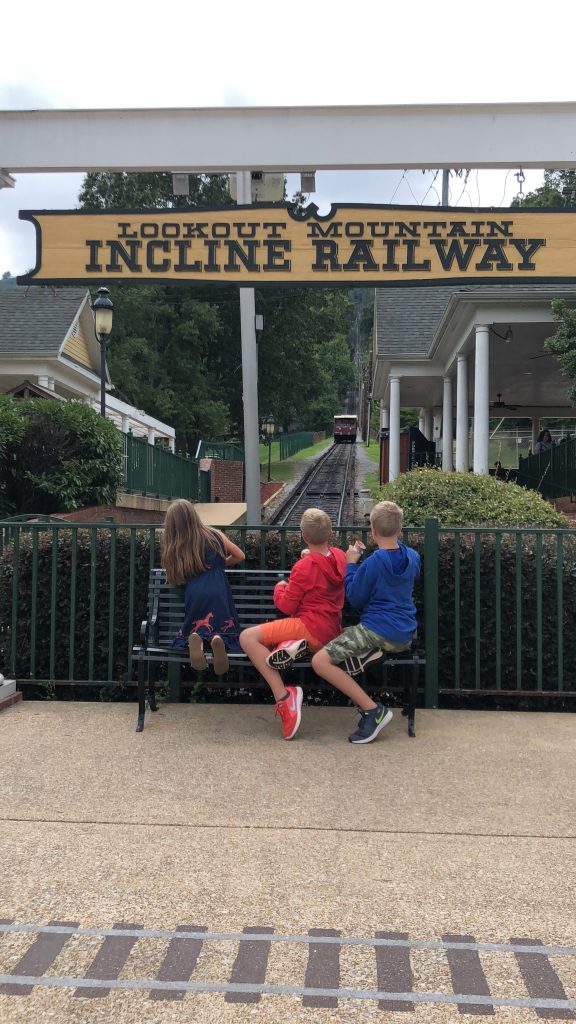 Lookout Mountain Incline Railway
We finished up our Clumpies ice cream, got our tickets for the Lookout Mountain Incline Railway and hopped aboard!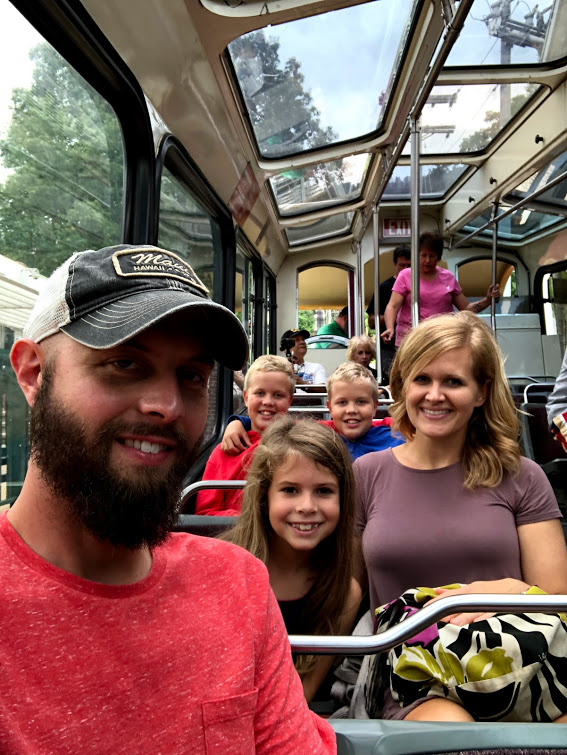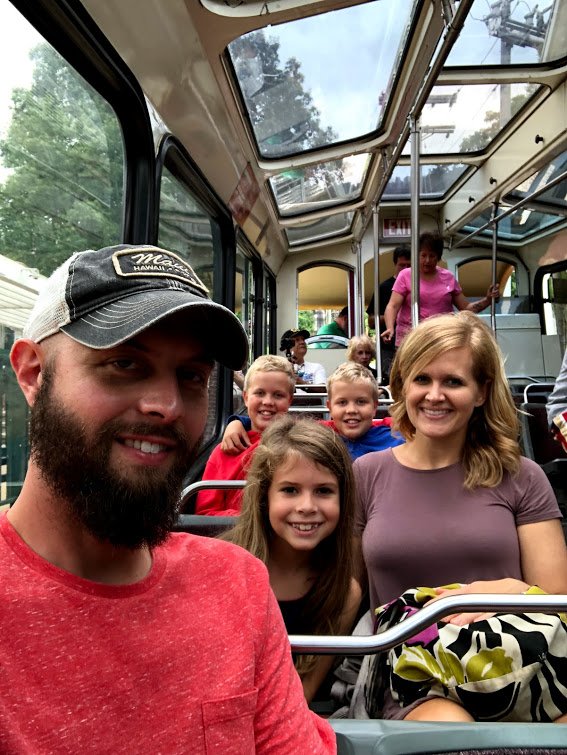 I'm not going to lie, I really didn't think the Incline Railway situation through completely. The first part going up was not that bad. It was very scenic and really neat to look out over the city of Chattanooga.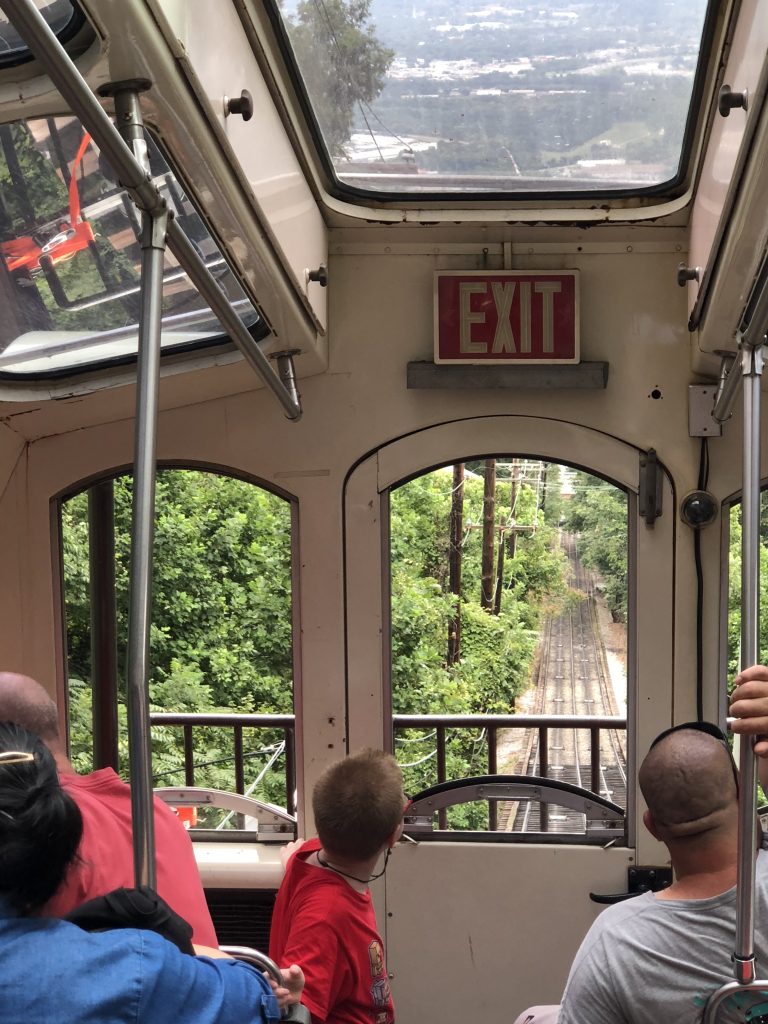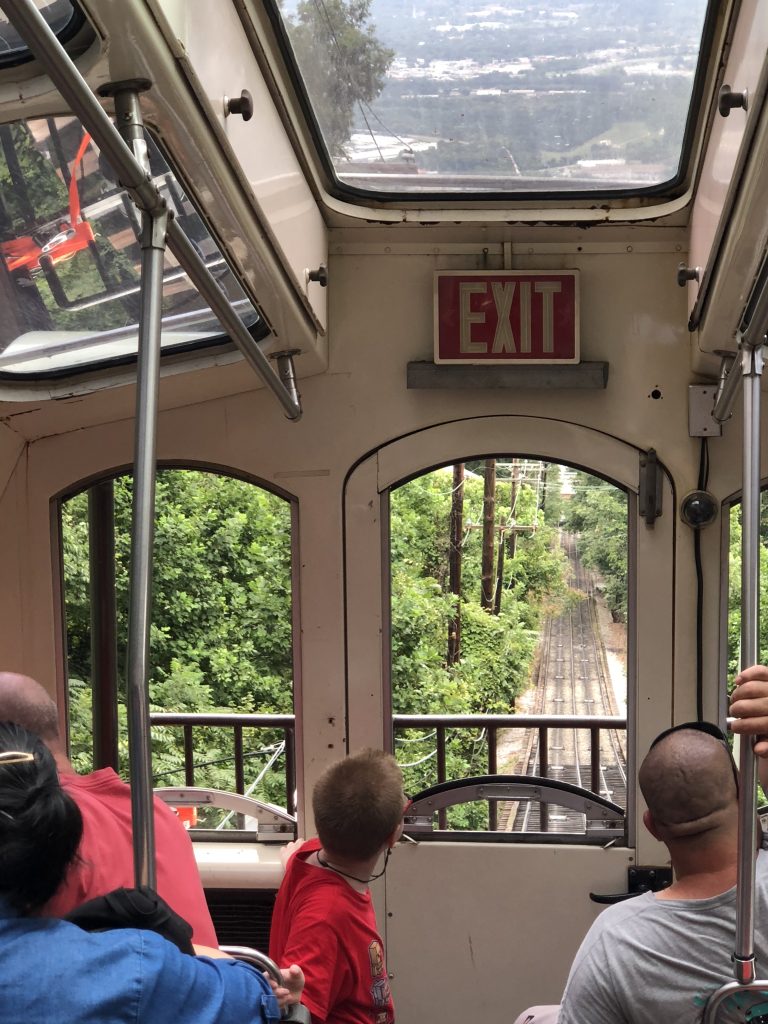 However, the closer we got to the top, the more the train car became vertical….my hands definitely started sweating. The driver told us it was one of the steepest railways in the world, with a maximum grade of 72.7% at the top!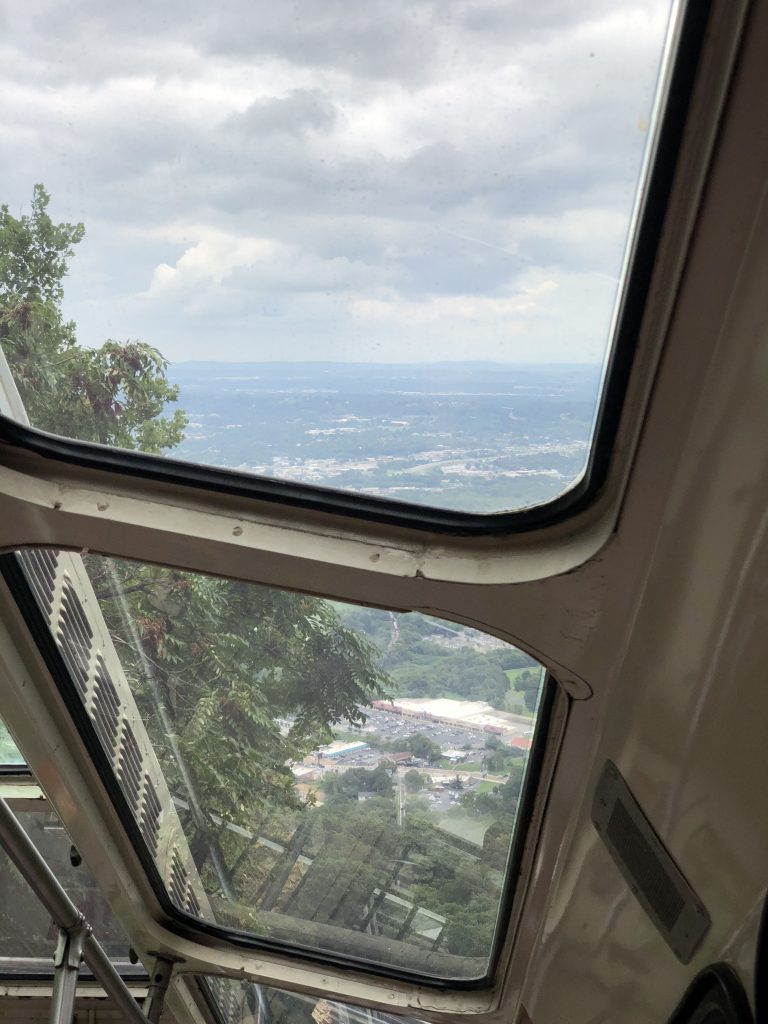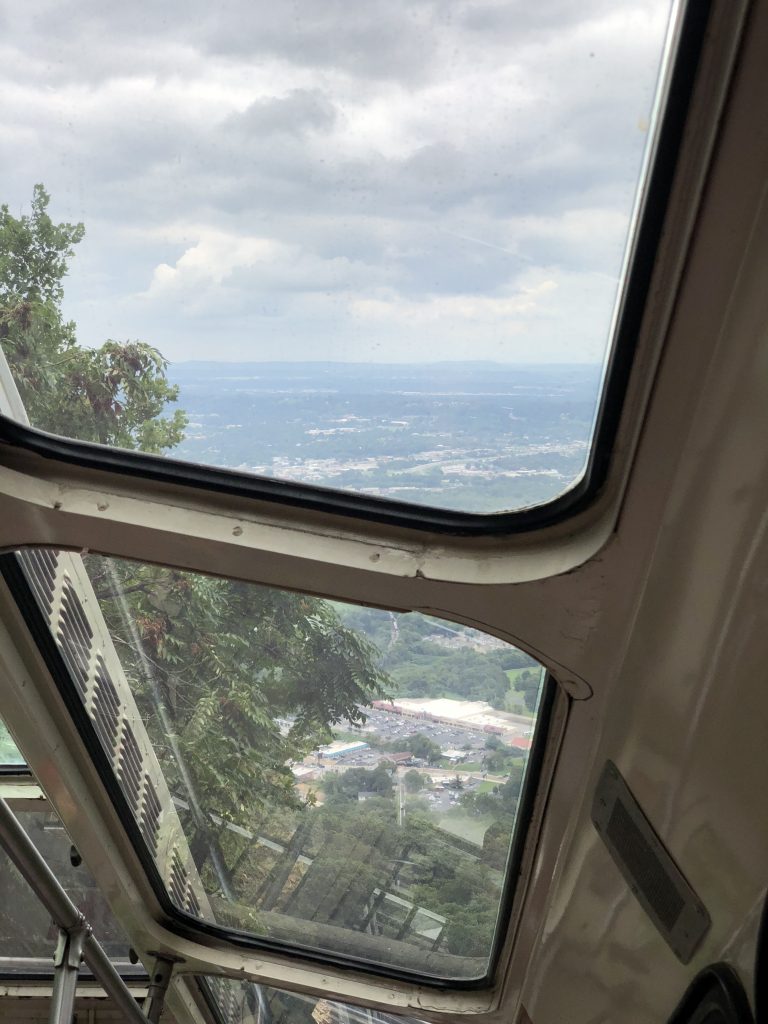 As we hopped off the Incline at the top, I was glad that I had my feet back on the ground.
We walked up to the top of the Incline building and took a few pictures of the view. It was a pretty clear day so we could see a quite far off into the distance.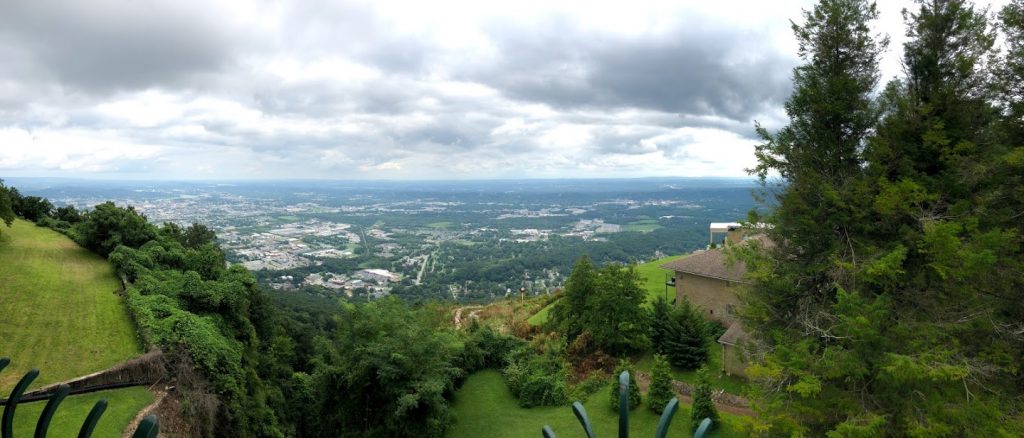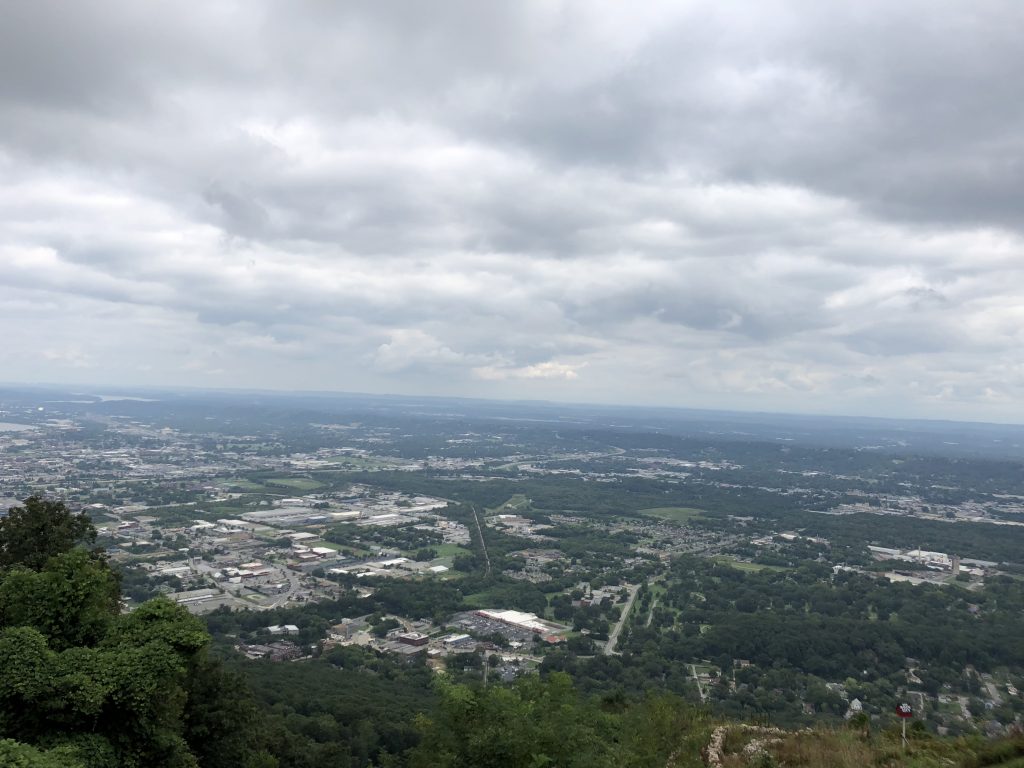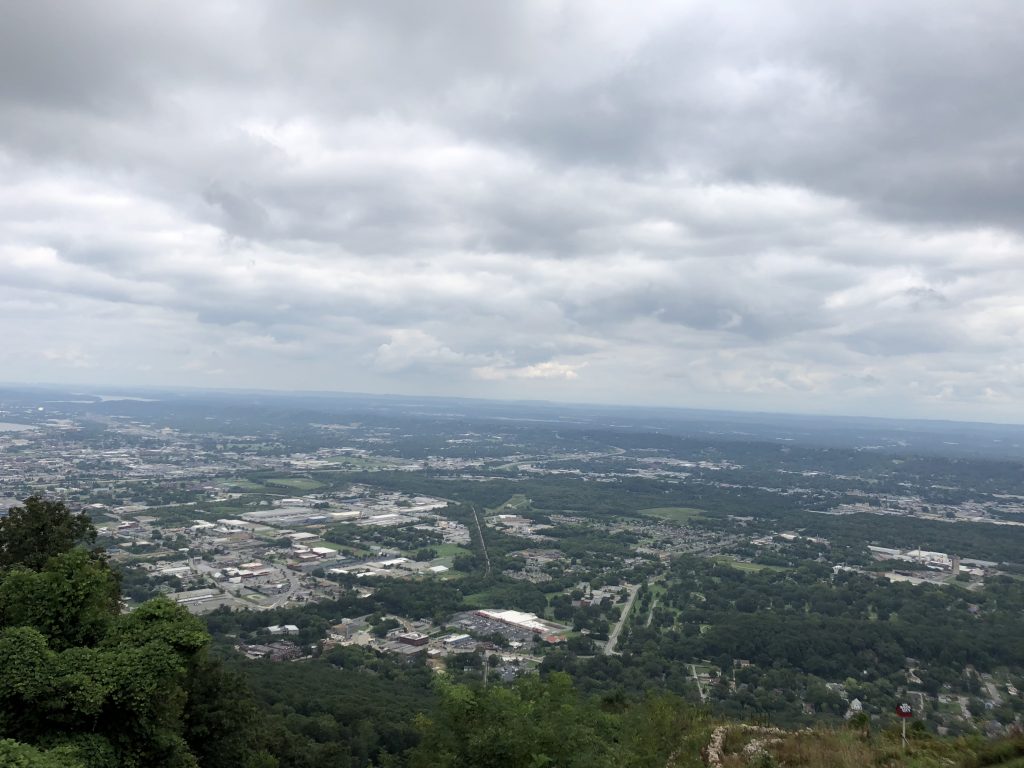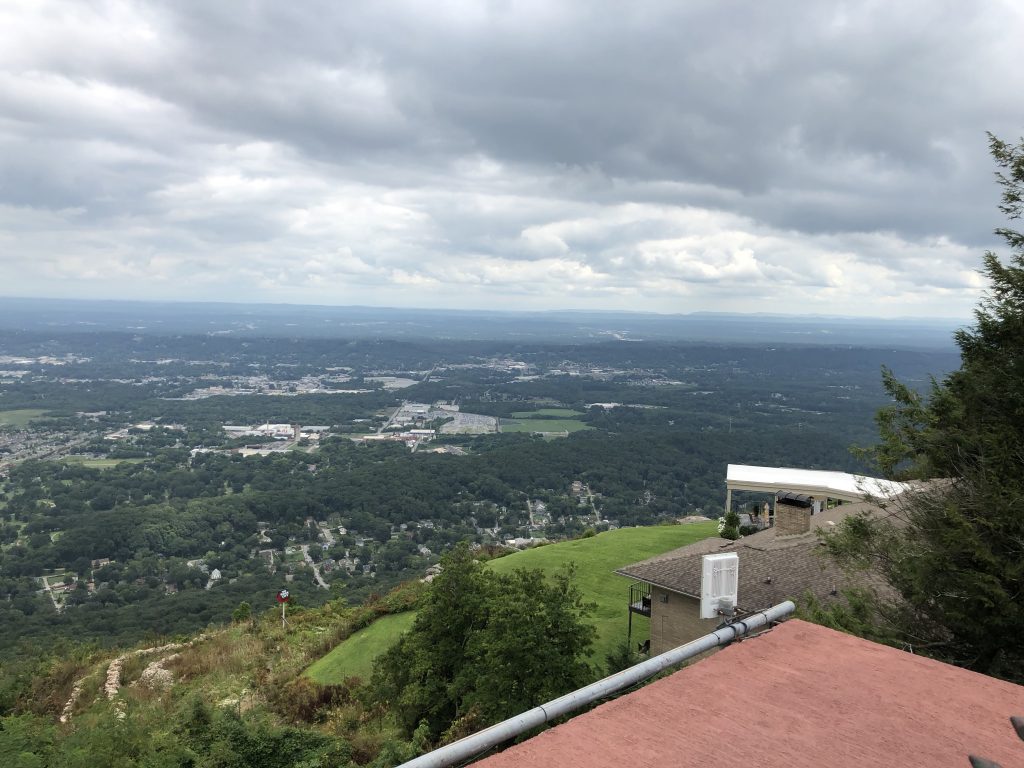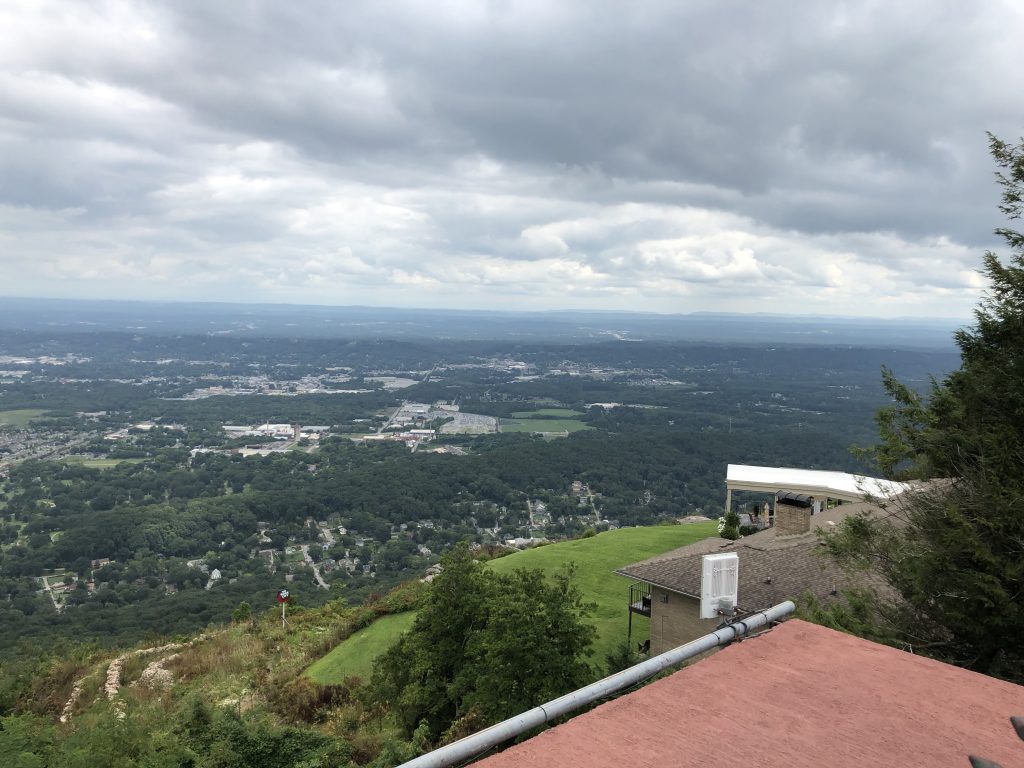 What is There to Do When You Get Off of the Lookout Mountain Incline Railway?
This is a good question. Like I said, we went with no plan whatsoever, so after we snapped a few pictures, and then headed out the front of the building.
From there we took a right and followed the sidewalk up towards Point Park.
Point Park and the Visitor's Center
The boys had just been studying the Civil War, so it was perfect timing for us to pop in the Visitor's Center at Point Park and look around at the relics and to learn more about the battle that took place in the area.
The kids really got into it (including Maggie!) and we all enjoyed sitting and watching part of the documentary about that particular battle.
The huge mural depicted the battle that happened there during the Civil War. It was called The Battle Above the Clouds (or The Battle of Lookout Mountain).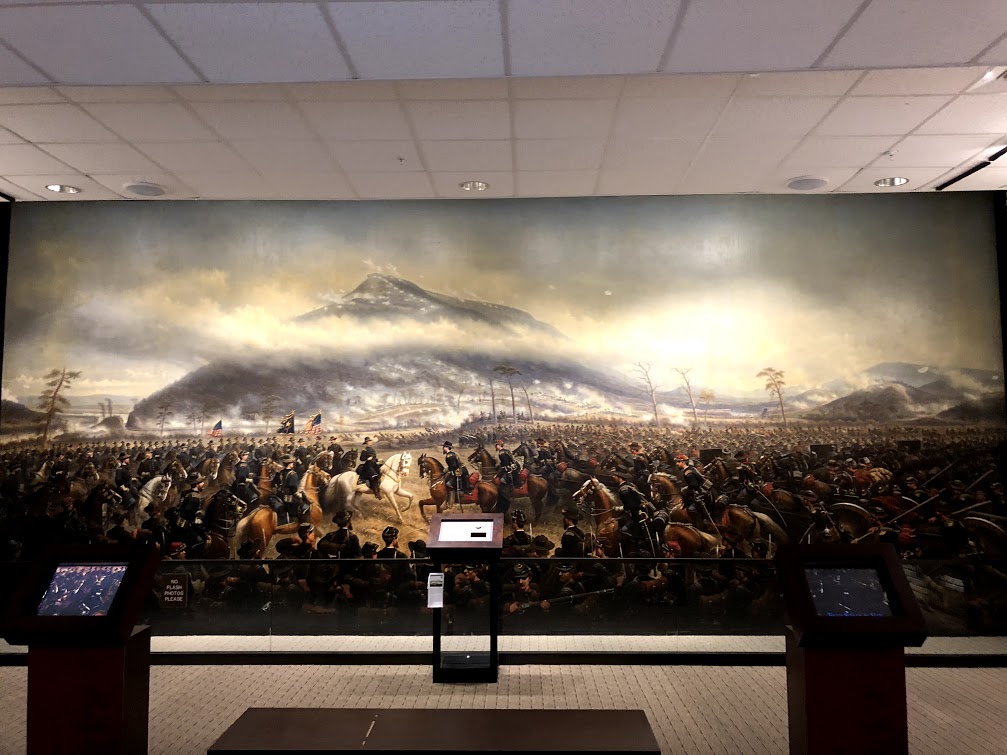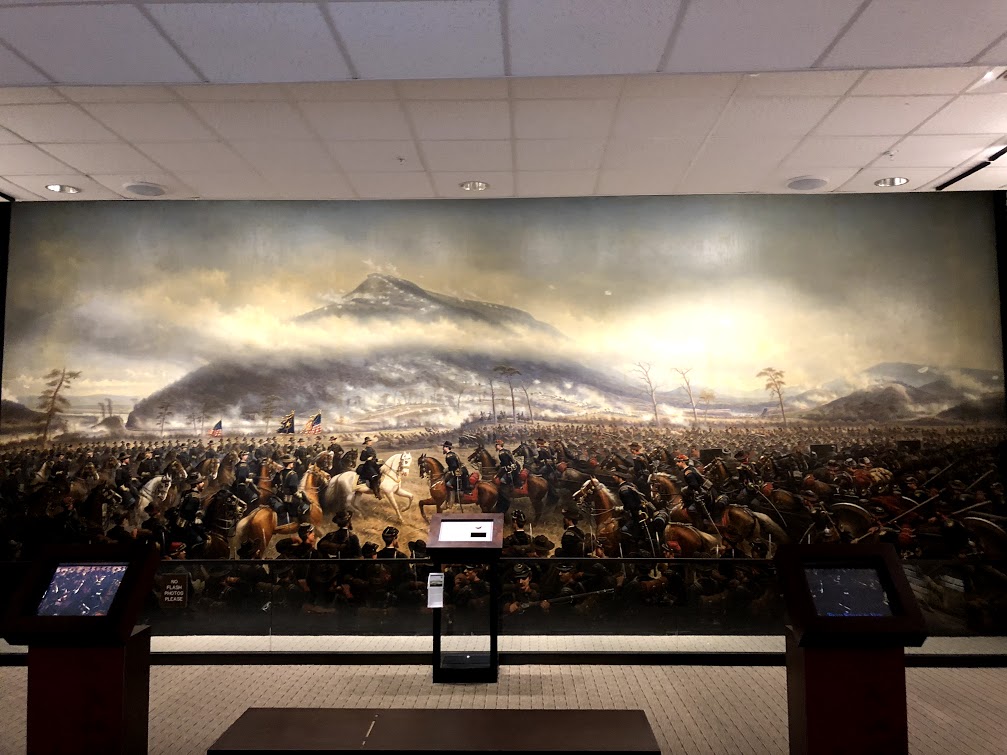 We grabbed a few brochures and headed on our way to check out Point Park. This is also a location for the Passport to Your National Parks Program.
We actually ended up not going into Point Park as we were running out of time before we had to be at a friend's birthday party. So we took a picture and made a note to visit when we had more time to explore. (Maybe we will hit up Rock City along the way next time!)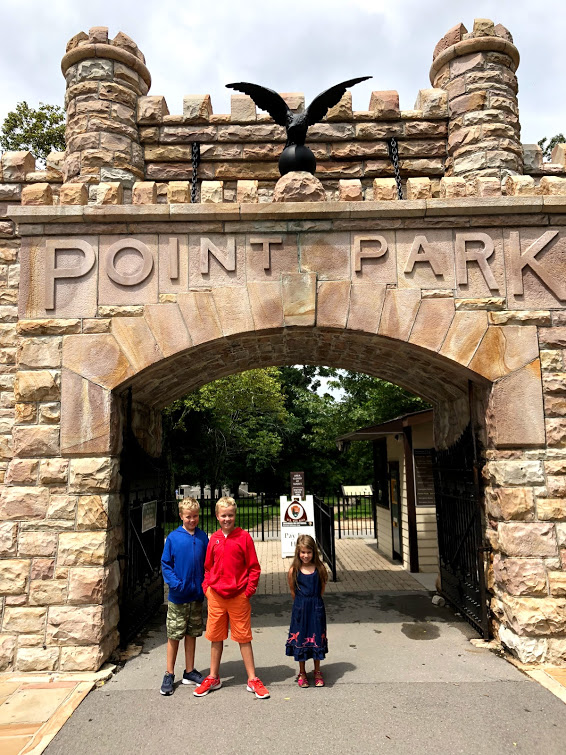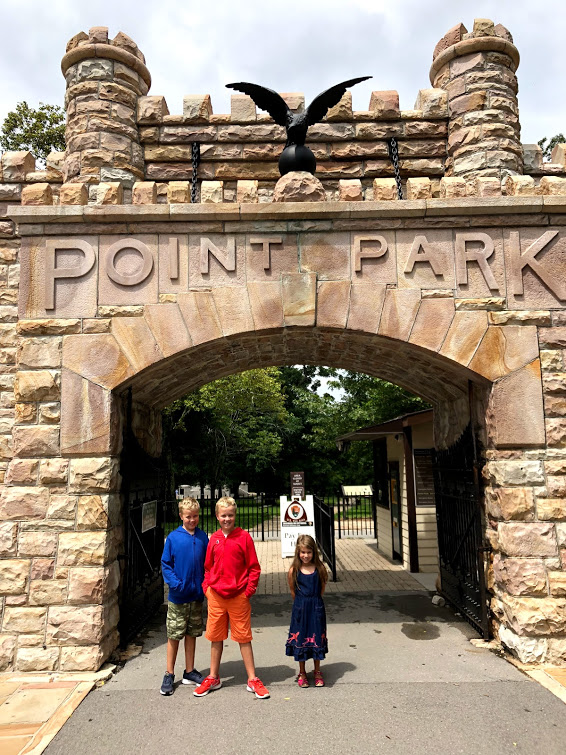 We returned to the Incline Railway building to hop on the incline car. We rode down (with sweaty hands and all), and landed safely back at the bottom. This was definitely a fun experience!
A Few Things to Consider When Visiting the Lookout Mountain Incline Railway
While this was a very last minute unplanned trip to the Lookout Mountain Incline Railway, we definitely still had fun and made some great memories! Here are a few tips that we noted for the next time we head that way!
If you have any interest in history at all, be sure to allot plenty of time to explore Point Park. We barely scratched the service at the Visitor's Center & there are even more amazing views and history actually inside Point Park.
Be mindful if you have a phobia of heights. The Incline does get a little nerve racking when you get to the very top. Still definitely worth the experience though!
Take some pictures in front of the Lookout Mountain Incline Railway sign before you board. There is also a photographer taking pictures while you stand in line as well. We didn't price it out, but if you wanted a souvenir photograph, that would be the way to go!
Final Thoughts
We all had a great time and had so much fun on such a random little getaway to the Lookout Mountain Incline Railway!
Sometimes its fun to just explore and see where the day leads you! This day was a success and we can't wait to get back and explore more of the Lookout Mountain and Chattanooga region!
If you ever have a chance to visit Lookout Mountain, be sure to check out the Incline Railway! It was definitely a fun experience that provides some unique views of the the Chattanooga Valley and the surrounding areas!
---
Have you ever visited the Lookout Mountain Incline Railway in Chattanooga? Be sure to comment below on any tips you have! We would love to hear from you!
---
More Related Articles: