Has LEGOLAND Florida been on your list of places to visit? Ours too! Read on to find out more about our visit and plenty of LEGOLAND Florida tips that we learned along the way to help you in planning an upcoming trip!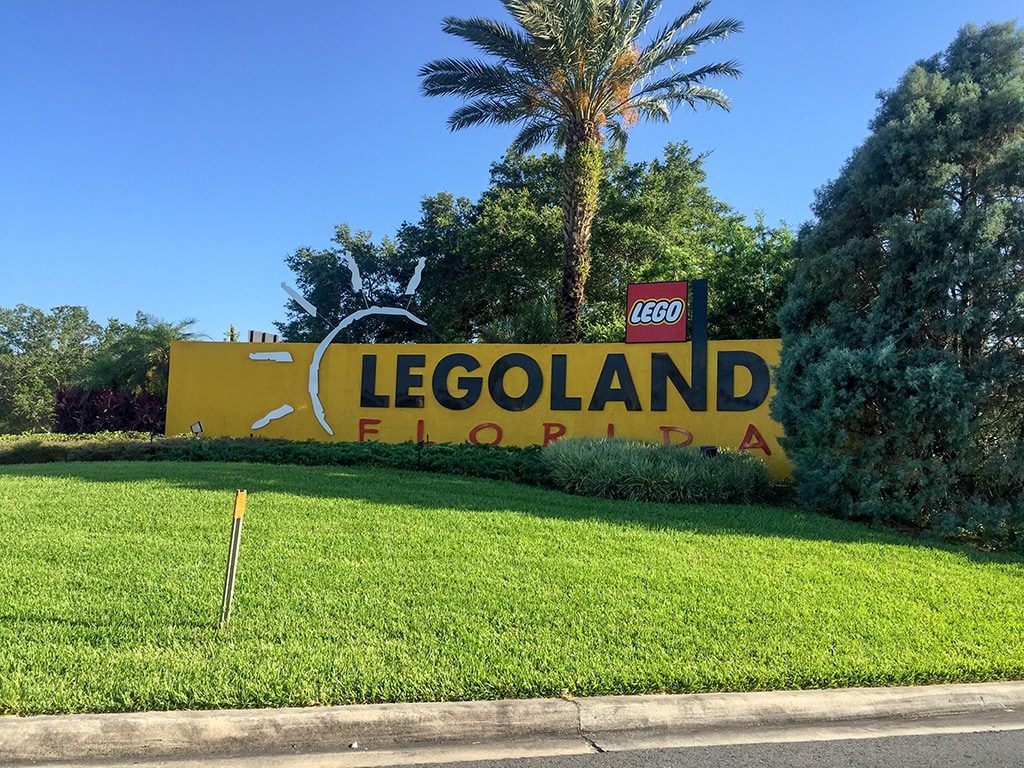 *This post may contain affiliate links. Read our full disclaimer.
LEGOLAND Florida Tips for Planning
I'm honestly not sure who was more excited about this trip, Matt or the kids! Matt was an avid LEGO'er (I think I just made up a word) growing up.
In fact, I'm almost certain that I bought him a LEGO Stars Wars ship when were dating in college (Matt: it was an X-Wing).
And as much as I love walking into one of the kids' bedrooms and stepping on pieces of LEGOs barefoot…(anyone else?!?) I have always had a high tolerance for the mess of LEGOs because it instills such creativity!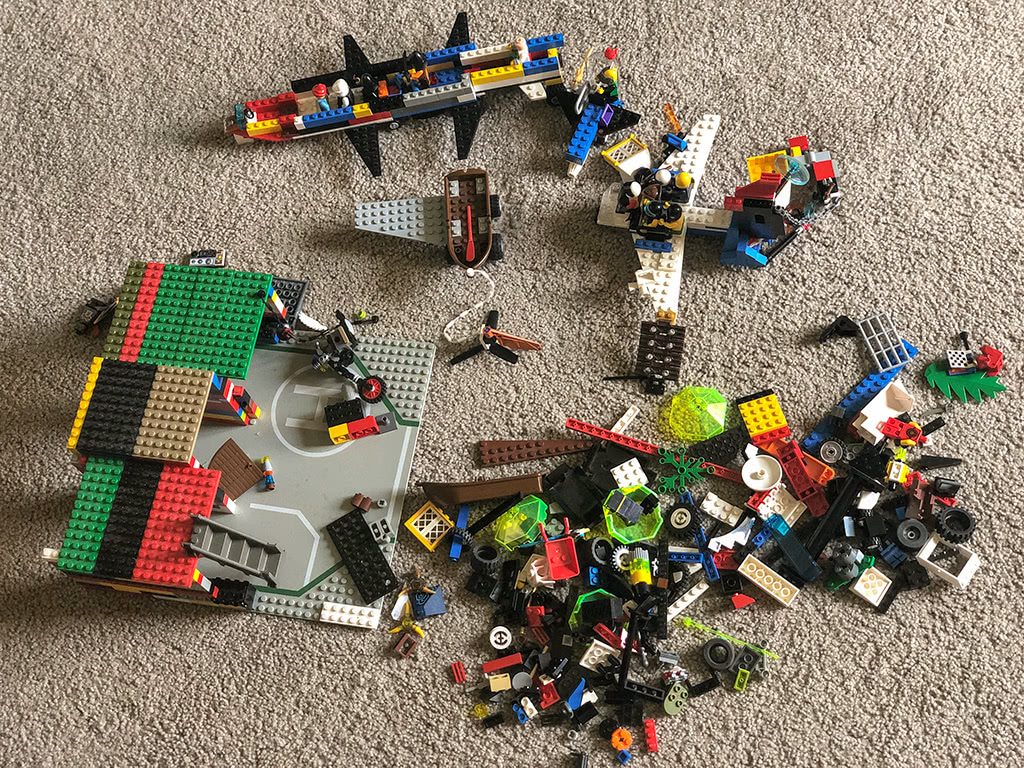 Plus I know there will be a day when I will miss my little people playing and making messes throughout my house.
To say the LEGO excitement runs deep in our family is an understatement. So when we started planning a trip to LEGOLAND, our planning and researching was very thorough to say the least!
We watched a few videos & read up on all we could so that we could make the most of our time there.
Since LEGOLAND is actually in Winter Haven, FL, we did our research and carefully planned out our drive time to make sure we were there when they opened!
A Little LEGOLAND Excitement for Home!
Any time of year you want to harness that LEGOLAND experience at home, be sure to checkout the fun LEGOLAND sets that are on Amazon! How fun is that?!?
Arriving at LEGOLAND Florida Tips
The minute we pulled onto the property and saw the LEGOLAND sign, the excitement level went through the roof!
After grabbing a parking spot, we headed on in the front gate. It was just one of those moments I wanted to soak in as I watched my littles and their Daddy walking up to the gate.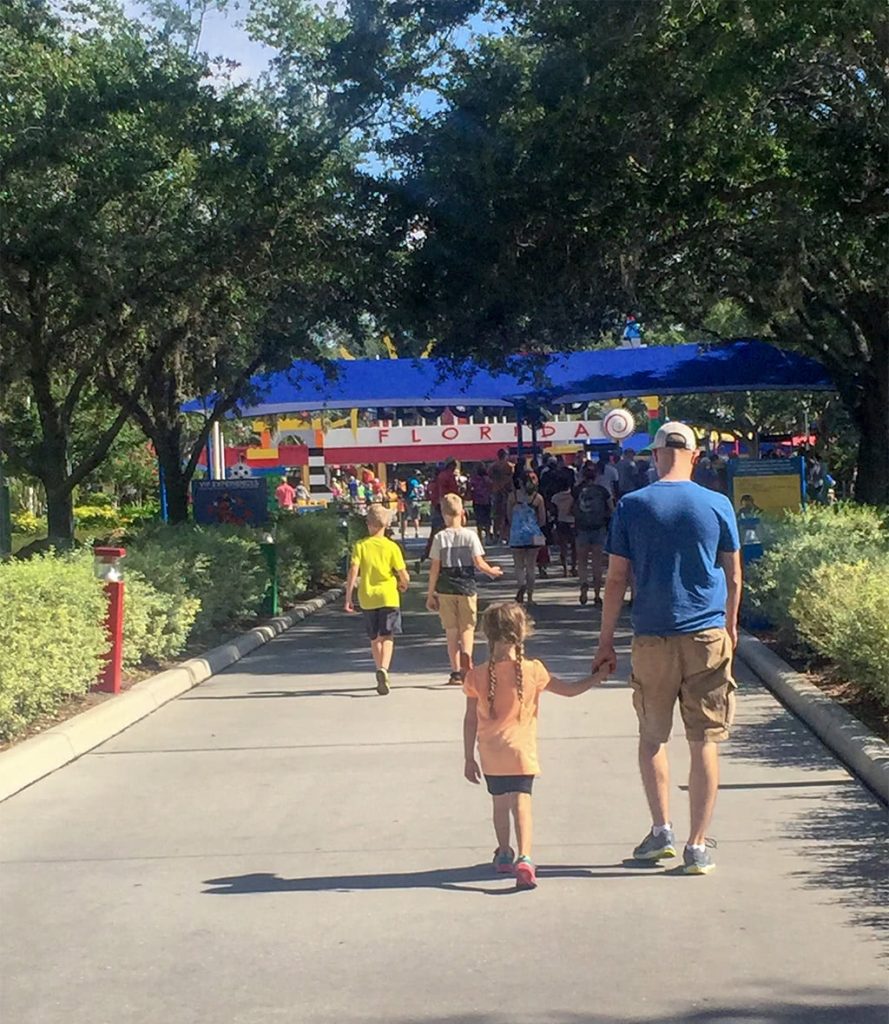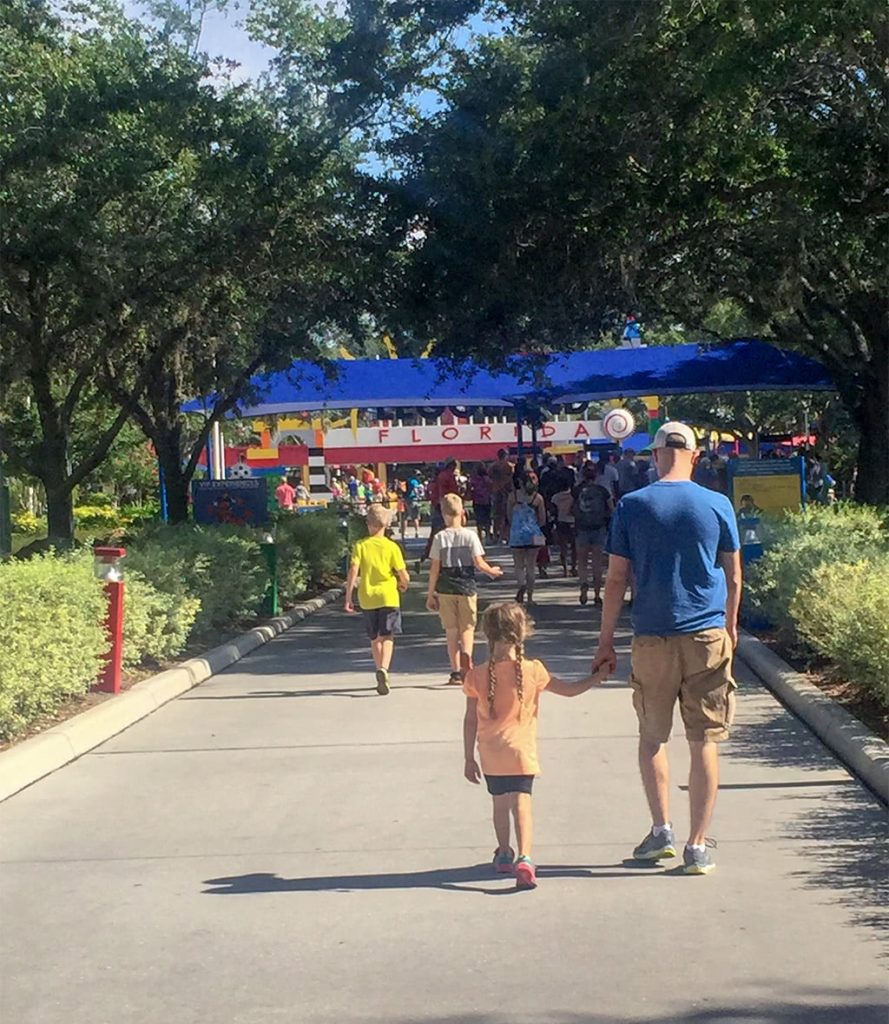 We stopped for a family picture in front of the LEGOLAND sign. The sun was a bit bright…but at least we have it documented!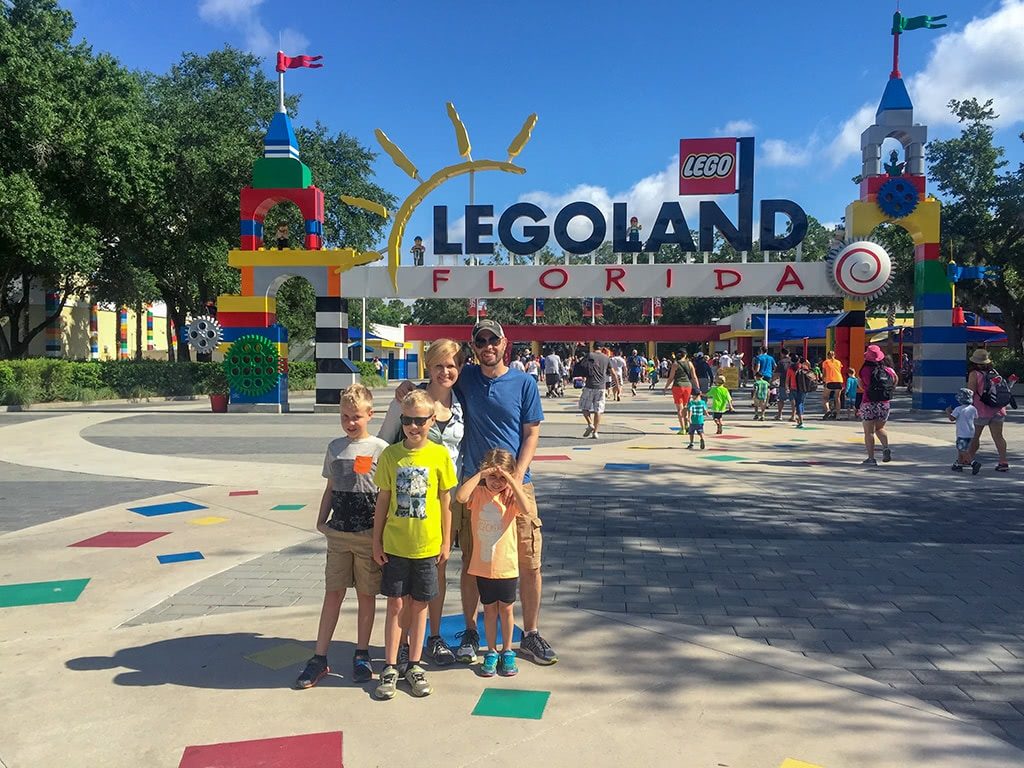 LEGOLAND Florida Tips for the Coasters
Since our crew has become quite the coaster fanatics, our plan of attack was to hit all of the main coasters first thing before it got too busy.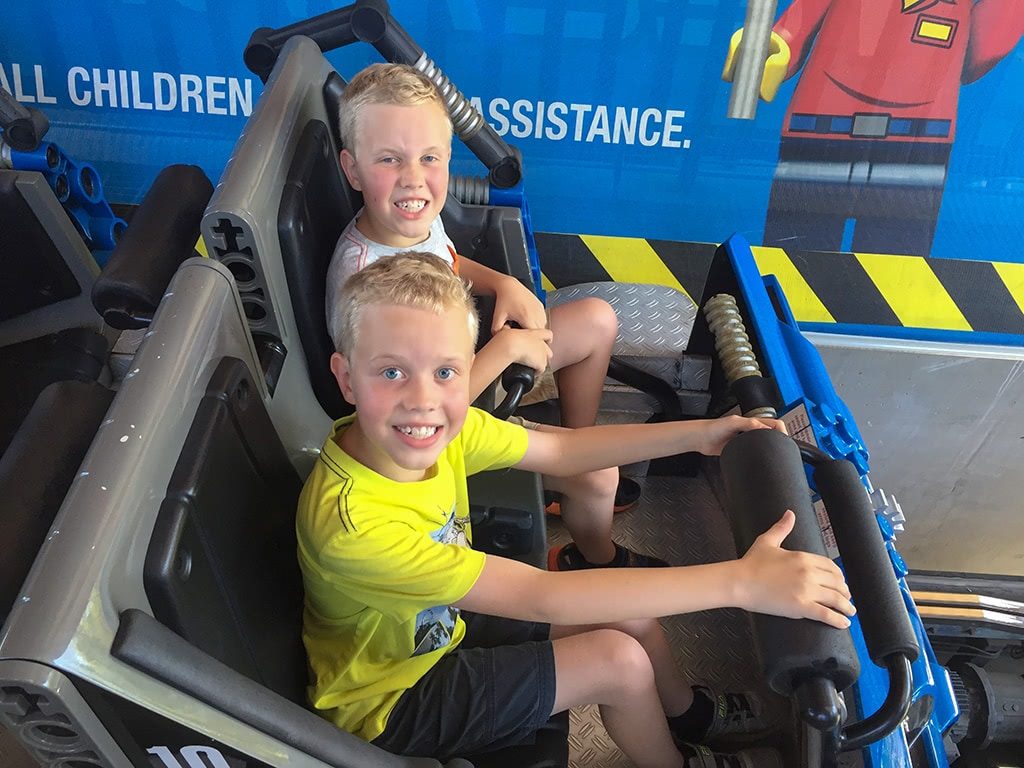 We headed straight in and took a right at the carousel and headed on over to the Dragon in the LEGO Kingdoms Land. After riding it a couple of times, we then made our way up to the "Land of Adventure" and rode the Coastersaurus a few times.
LEGO NINJAGO World
Next we headed into the world of LEGO NINJAGO! The boys have always loved the NINJAGO series, so we were all super excited to explore here!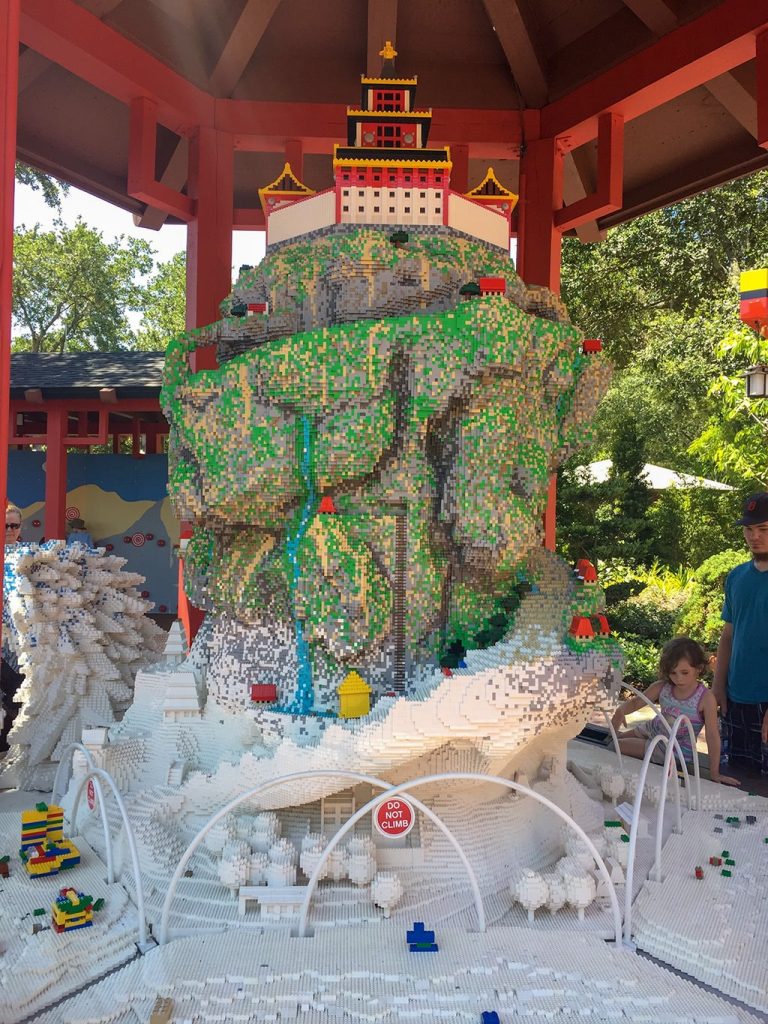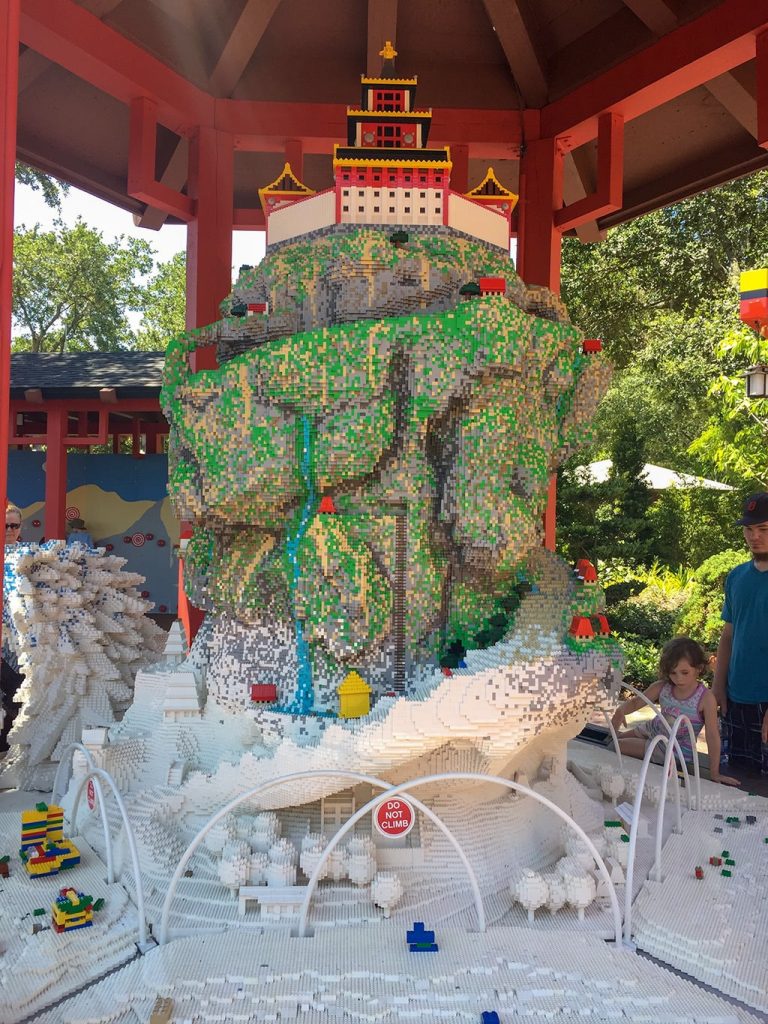 We rode LEGO NINJAGO The Ride and then took some time to explore all of the life size LEGO character creations.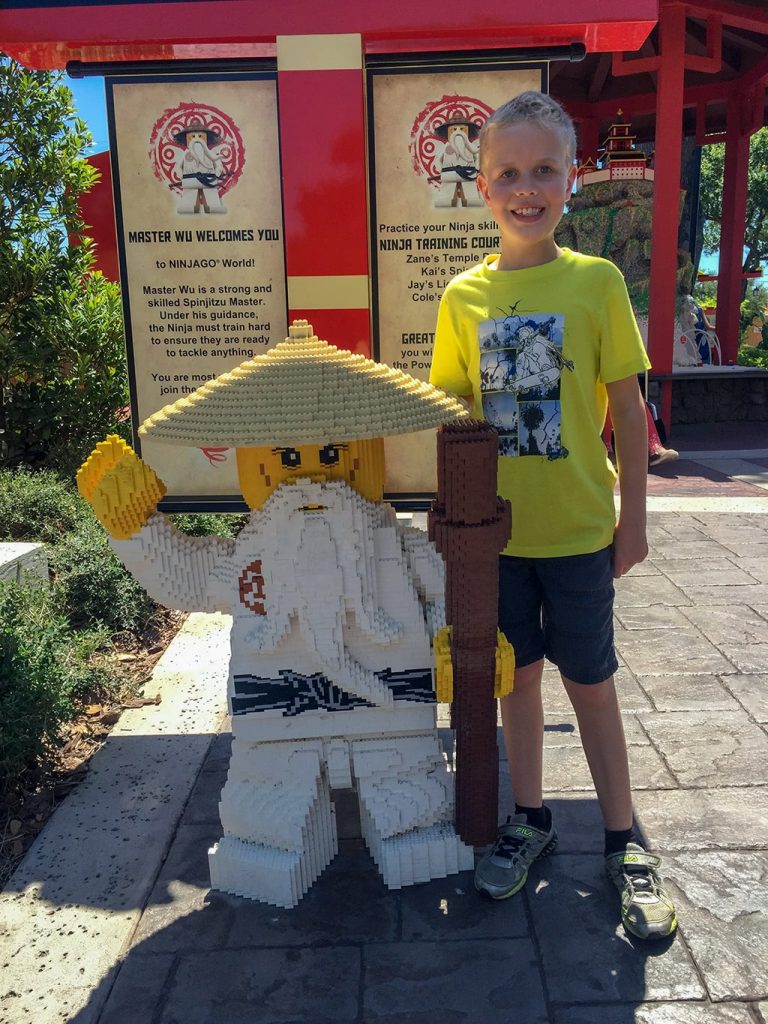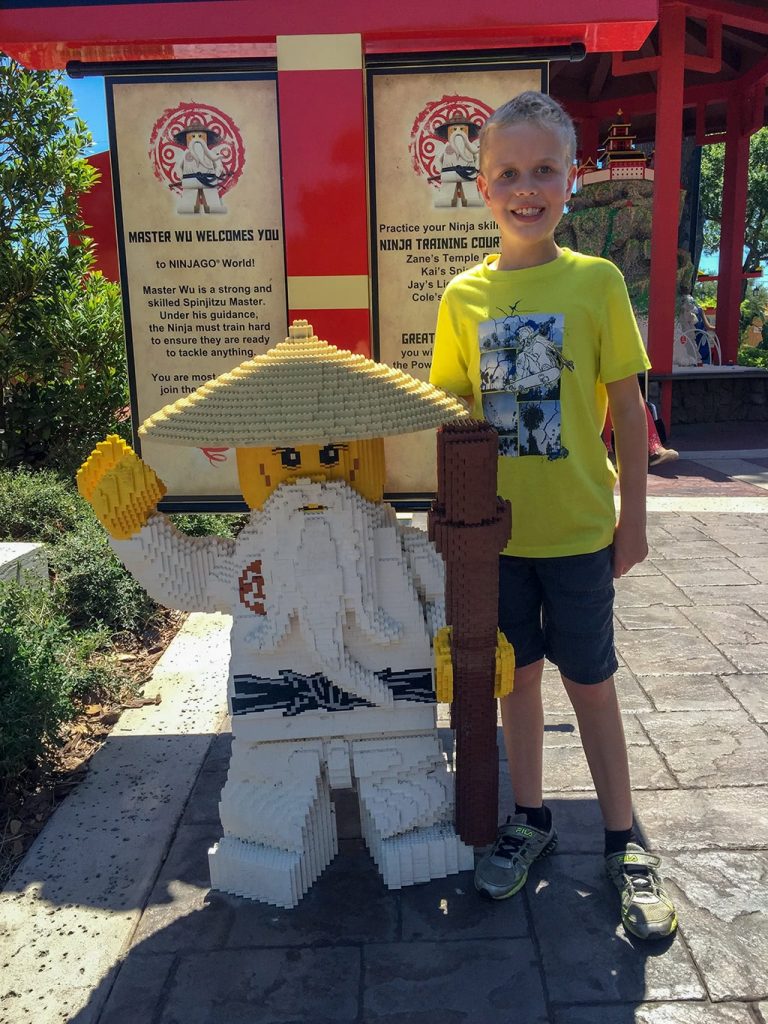 Matt even had a good time posing with the characters!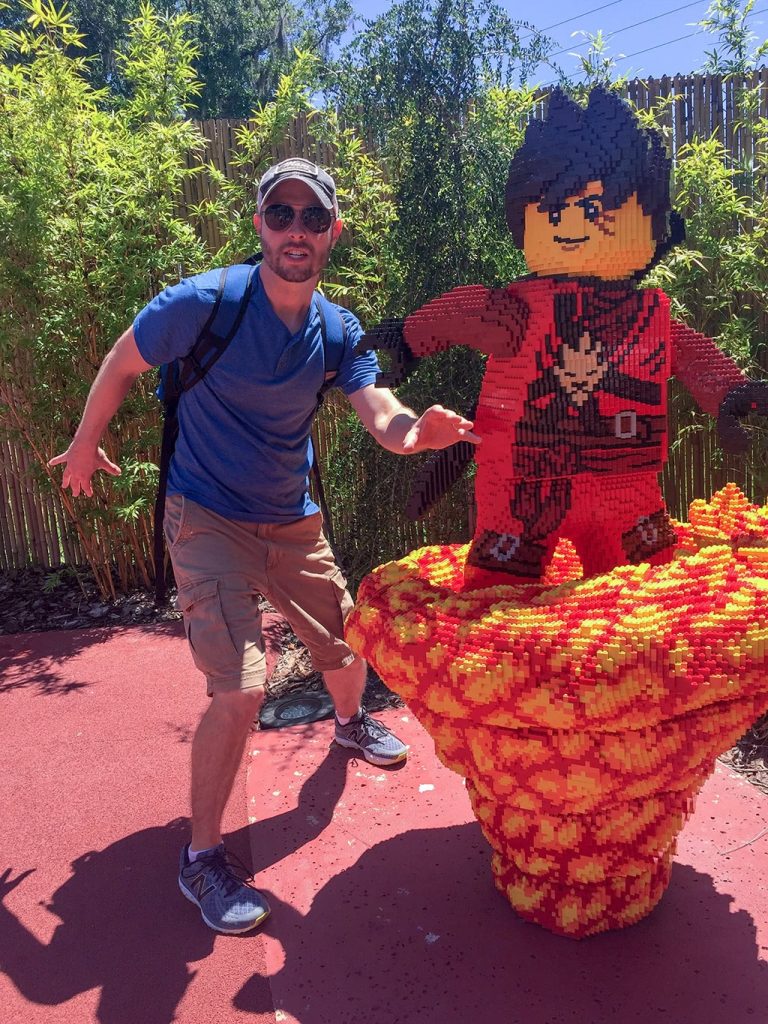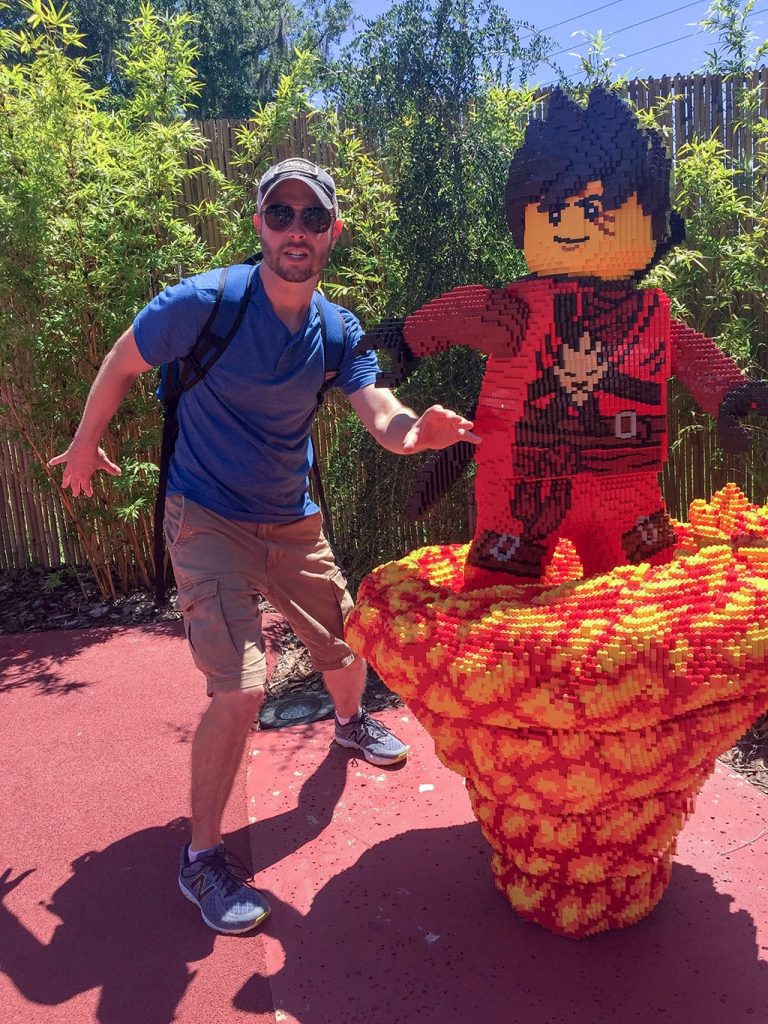 Maggie enjoyed doing "Cole's Rock Climb".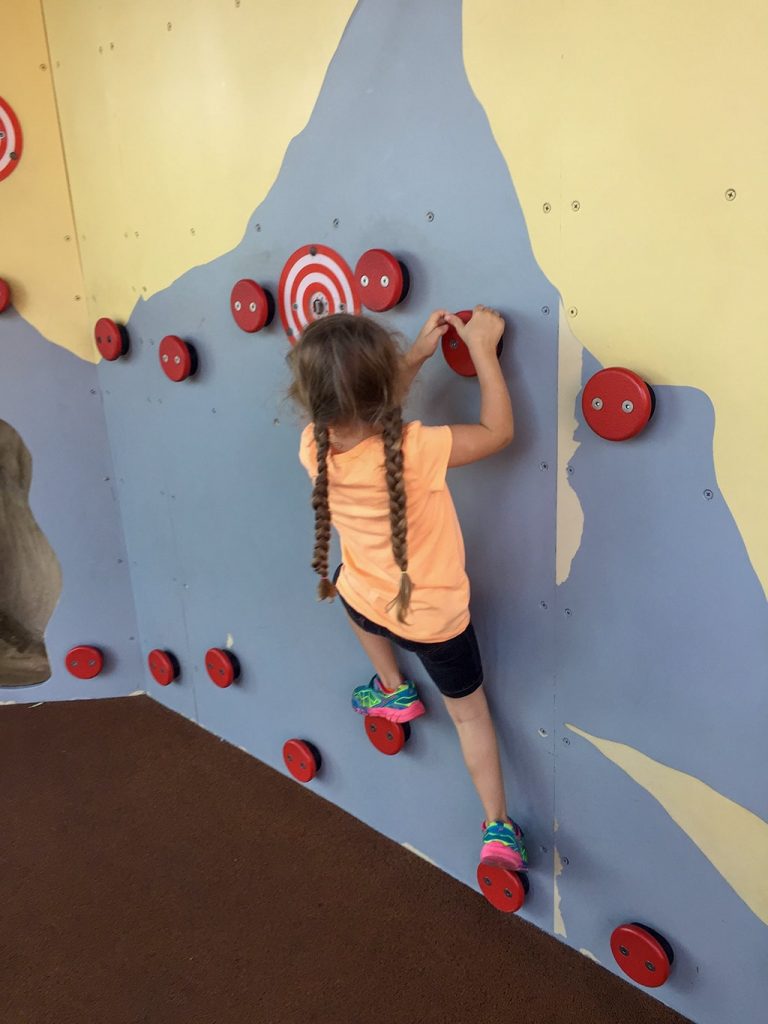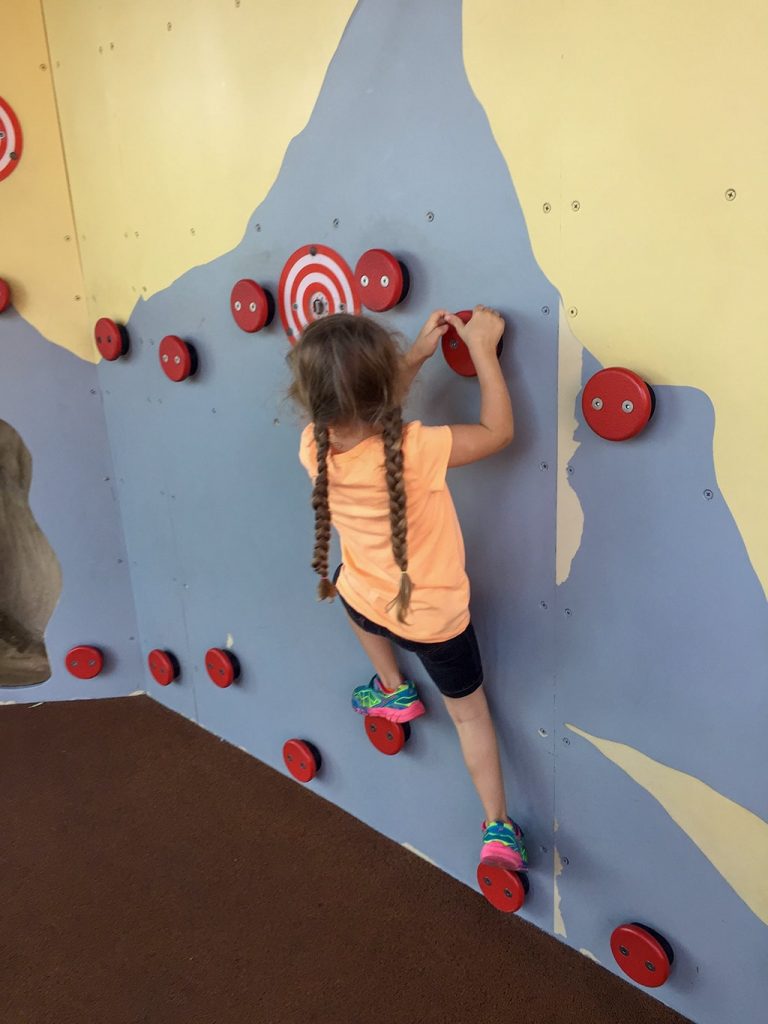 There was also "Jay's Lightning Drill" and "Kai's Spinners". But I think we had just as much fun visiting with each of the giant LEGO NINJAGO characters.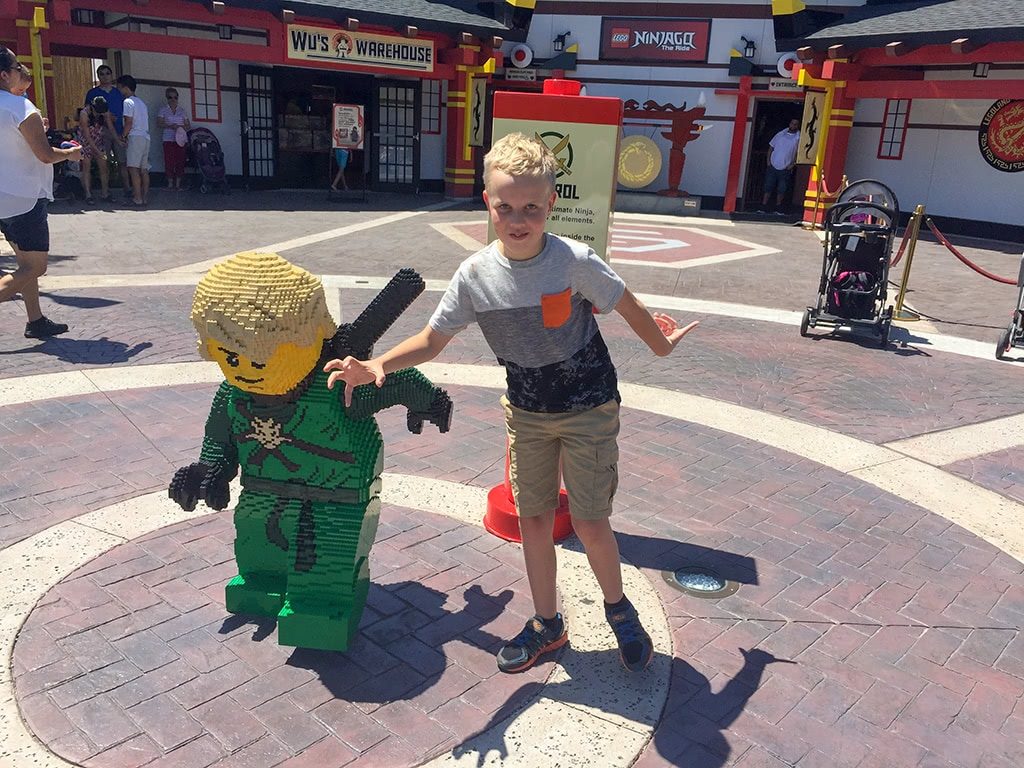 After exploring LEGO NINJAGO World for a bit, we decided to head on and check out the rest of LEGOLAND!
LEGOLAND Imagination Zone & Lunch
Next we headed over to the Imagination Zone to grab some lunch at the Panini Grill. There are some fun LEGO creations in this area.
Like a giant Albert Einstein head…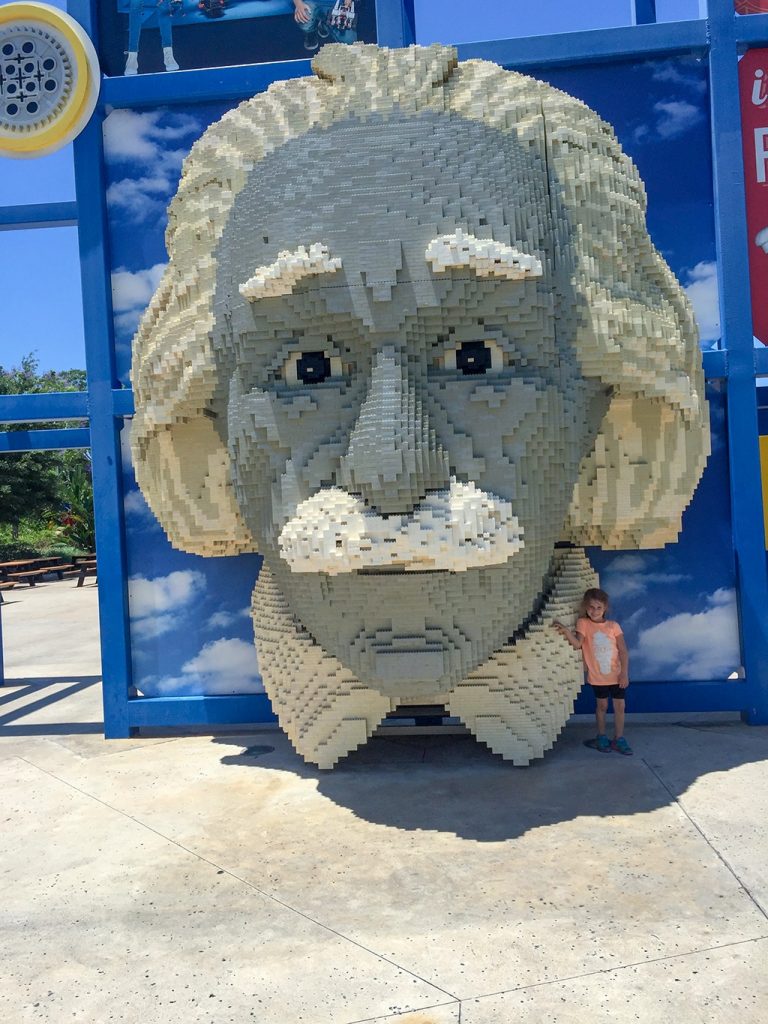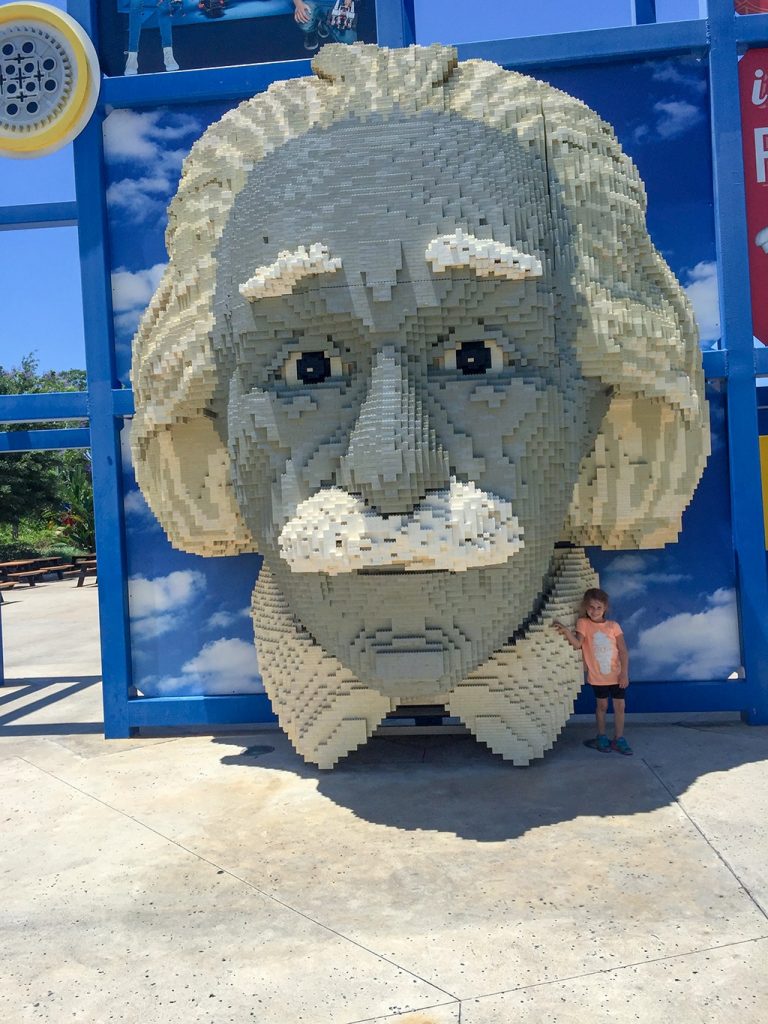 And a random chainsaw rabbit…?!?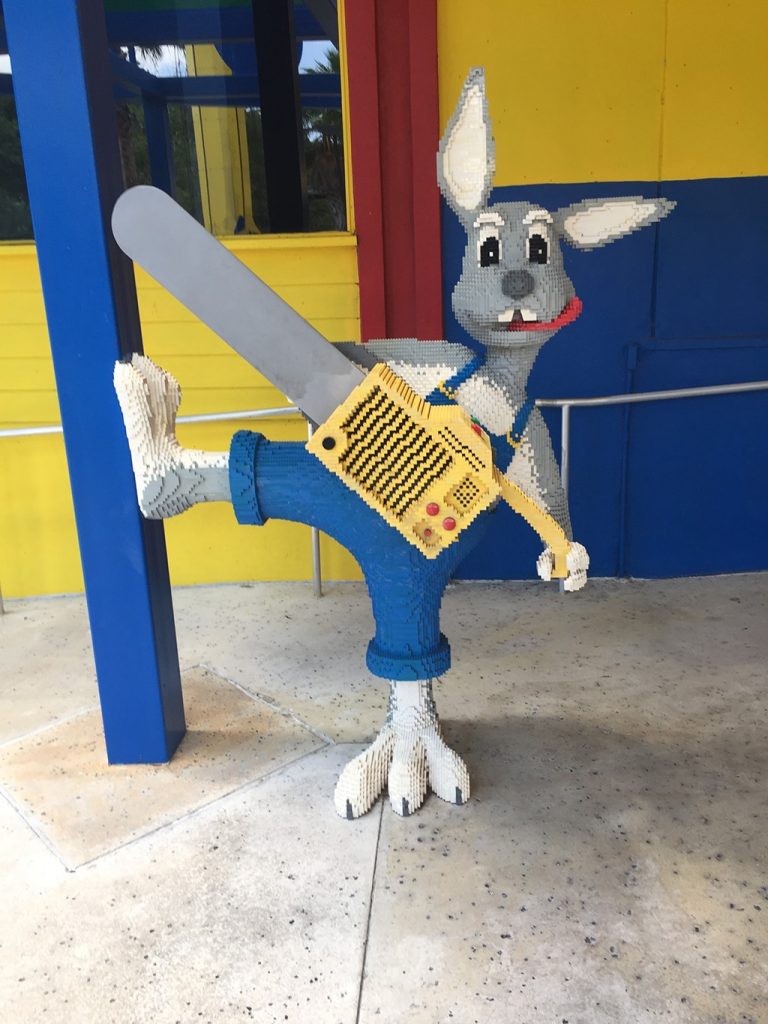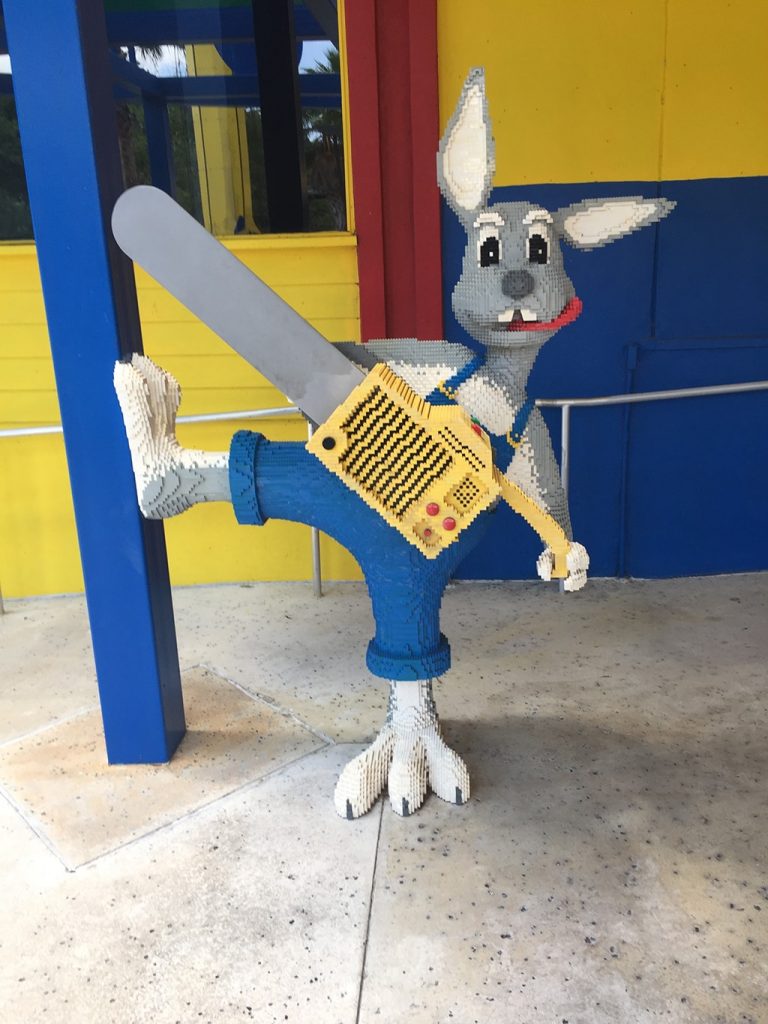 I don't know why, but that chainsaw rabbit made us laugh. He just looks like he's up to no good. Also…who is that guy? Should we know this character?
LEGOLAND Florida Tips for LEGO City
After getting our bellies full, we headed to the upper end of the park and hit LEGO City! This section has Boating School, Driving School, Flying School & so much more!
Maggie absolutely LOVED getting to do the Ford Jr. Driving School.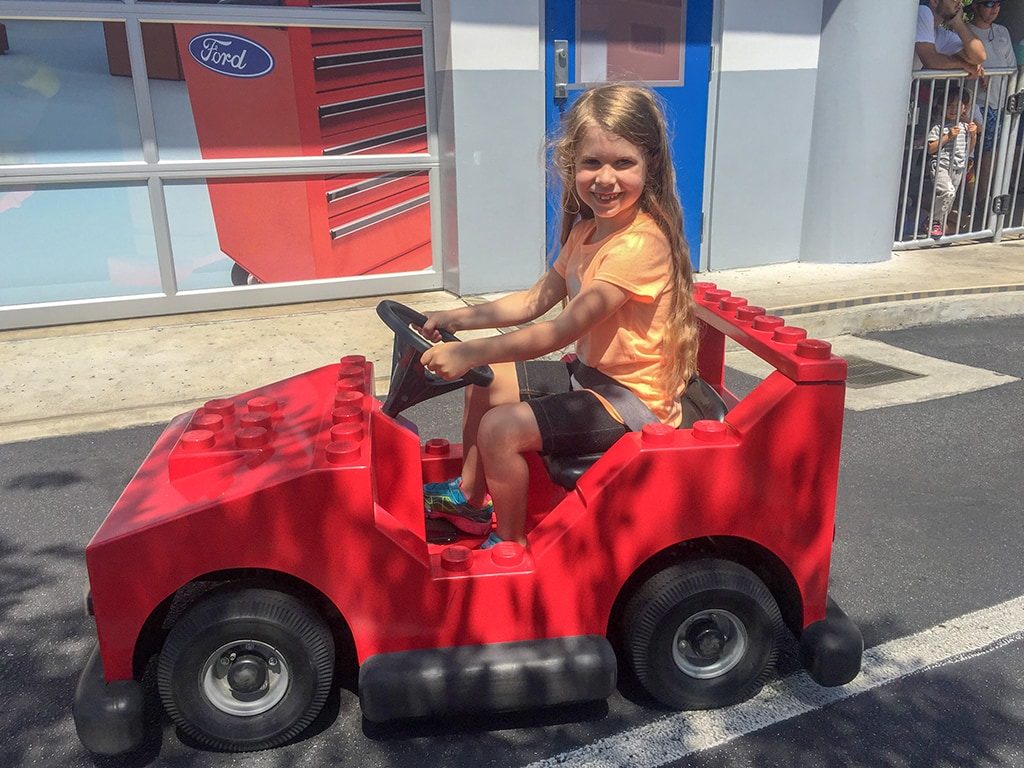 She even got her very own driver's license at the end.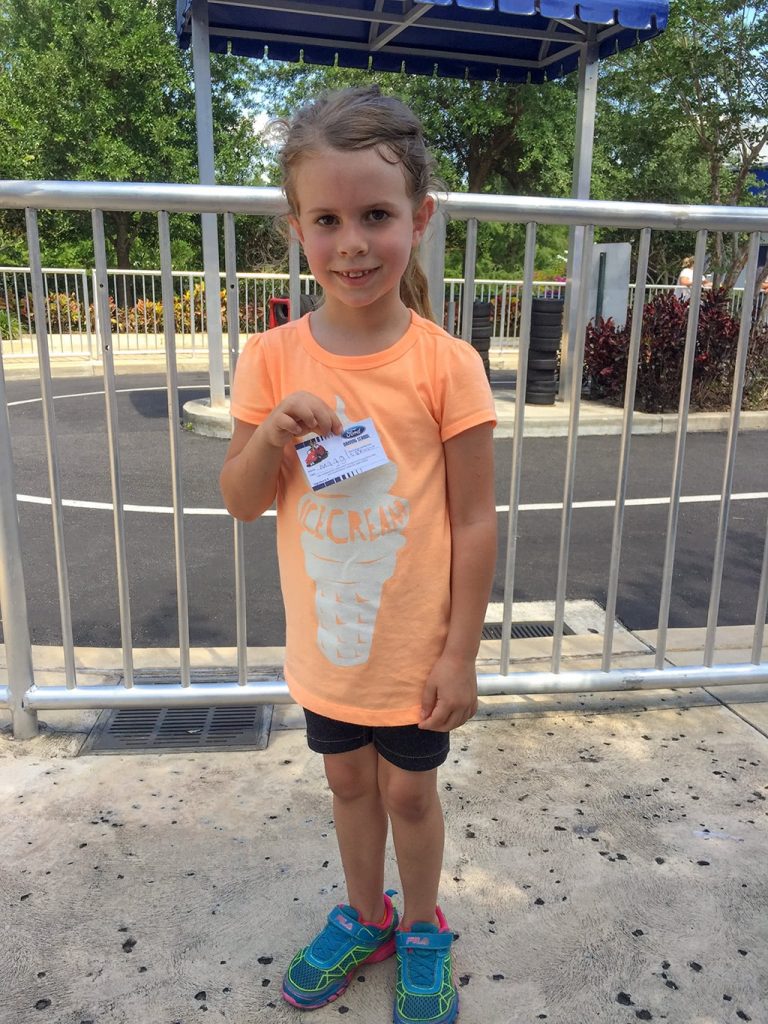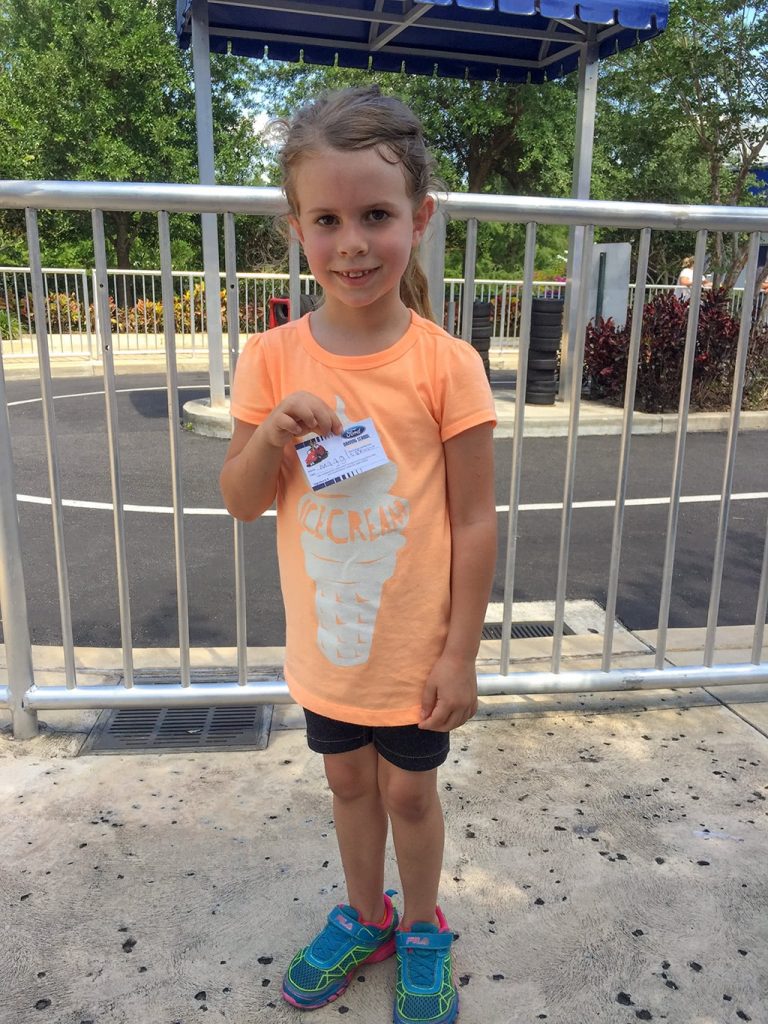 LEGOLAND Pirates' Cove
After getting a good taste of the Lego City area, we decided to make our way over to Pirate's Cove to check out the show.
The Pirates' Cove Live Water Ski Show was actually really good! The pirate ship, Brickbeard's Bounty was captured and safely residing in Pirates' Cove. We had to help Miranda Valentine and her guards keep it safe from the pirates!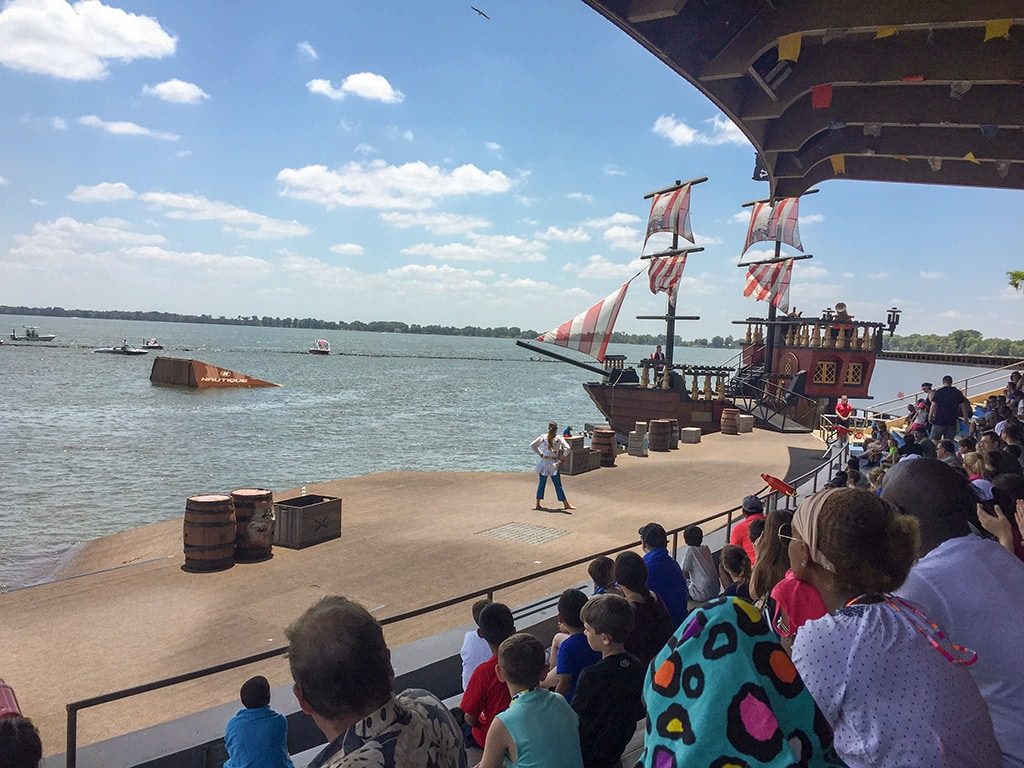 The show itself was about 20 minutes long which was about the perfect length to get off your feet for a bit and be entertained!
Besides, how often do you get to see life size LEGO men skiing on the water?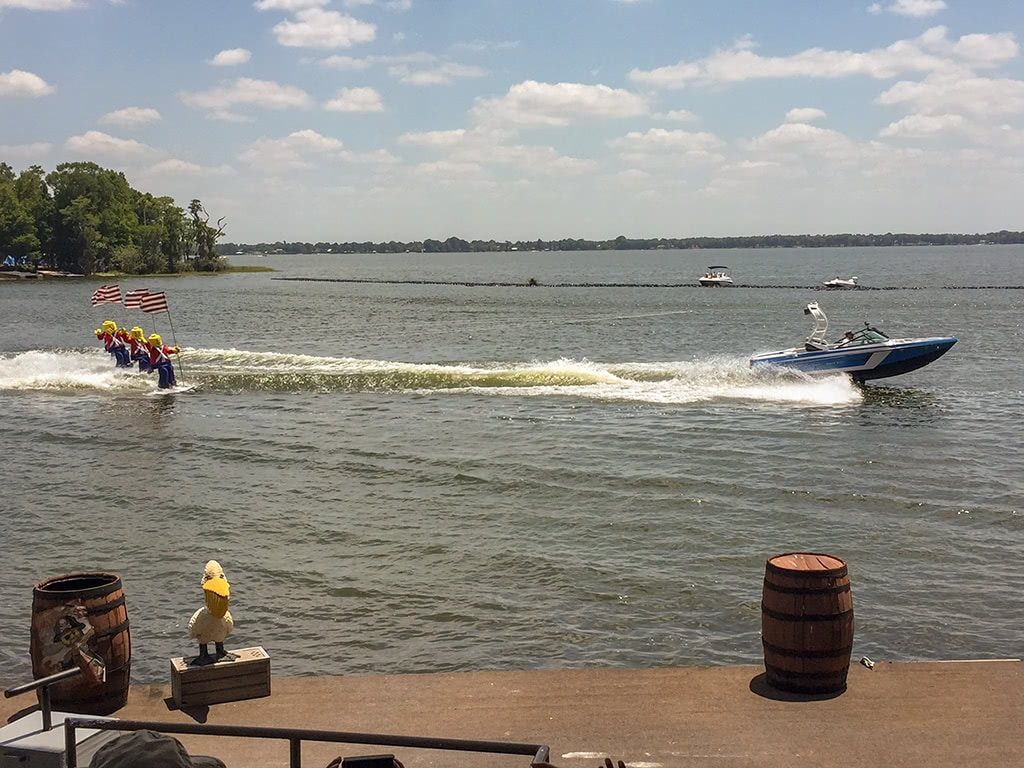 MINILAND USA
Next we decided to make our way to see the incredible LEGO displays in MINILAND USA, as we had heard it was pretty amazing!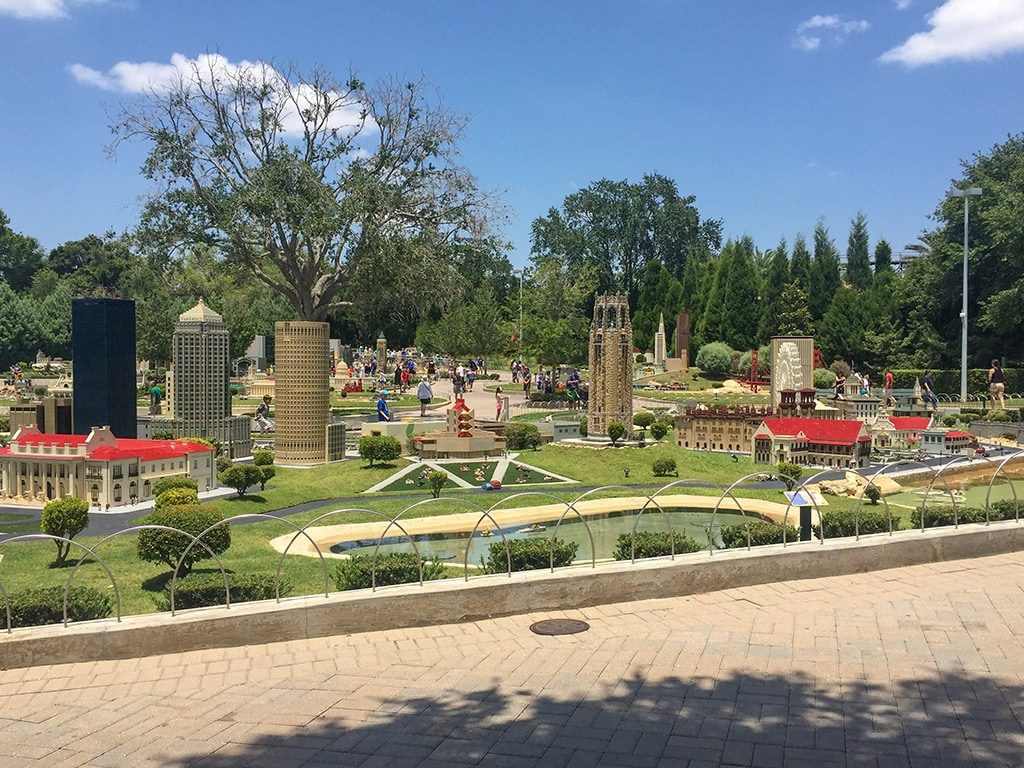 Along the way, we crossed a bridge and discovered a beautiful waterfall area!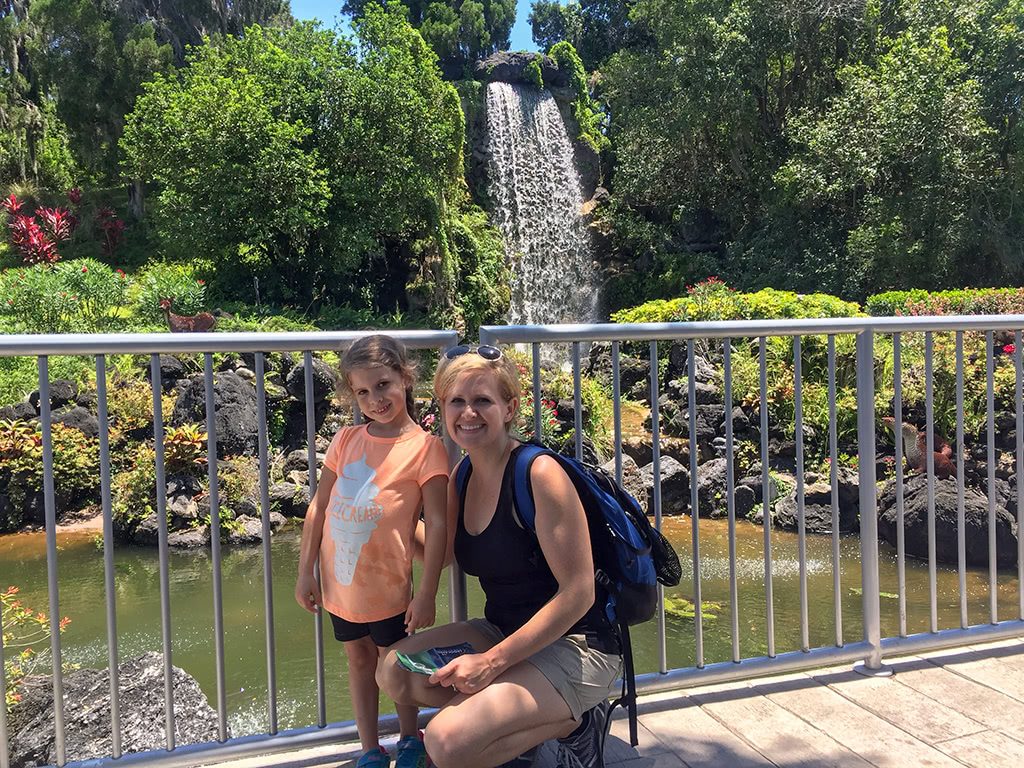 MINILAND definitely did not disappoint. It was so impressive to see all of the detail work that went into each of these creations!
We visited the Golden Gate Bridge in California.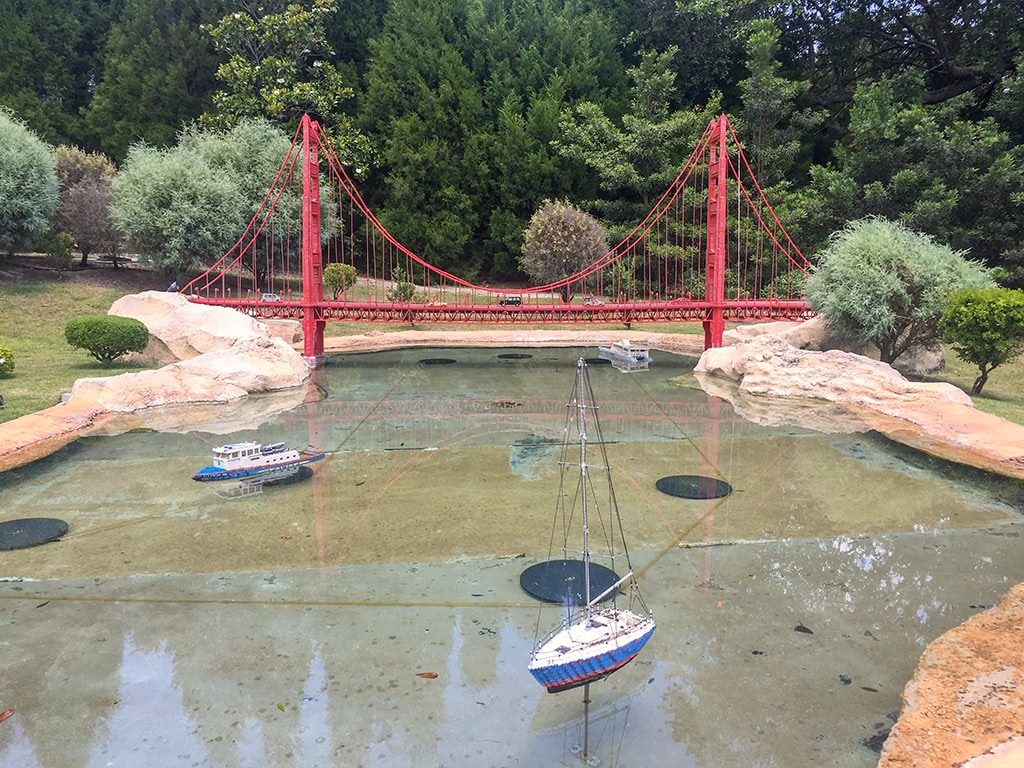 The Statue of Liberty in New York City.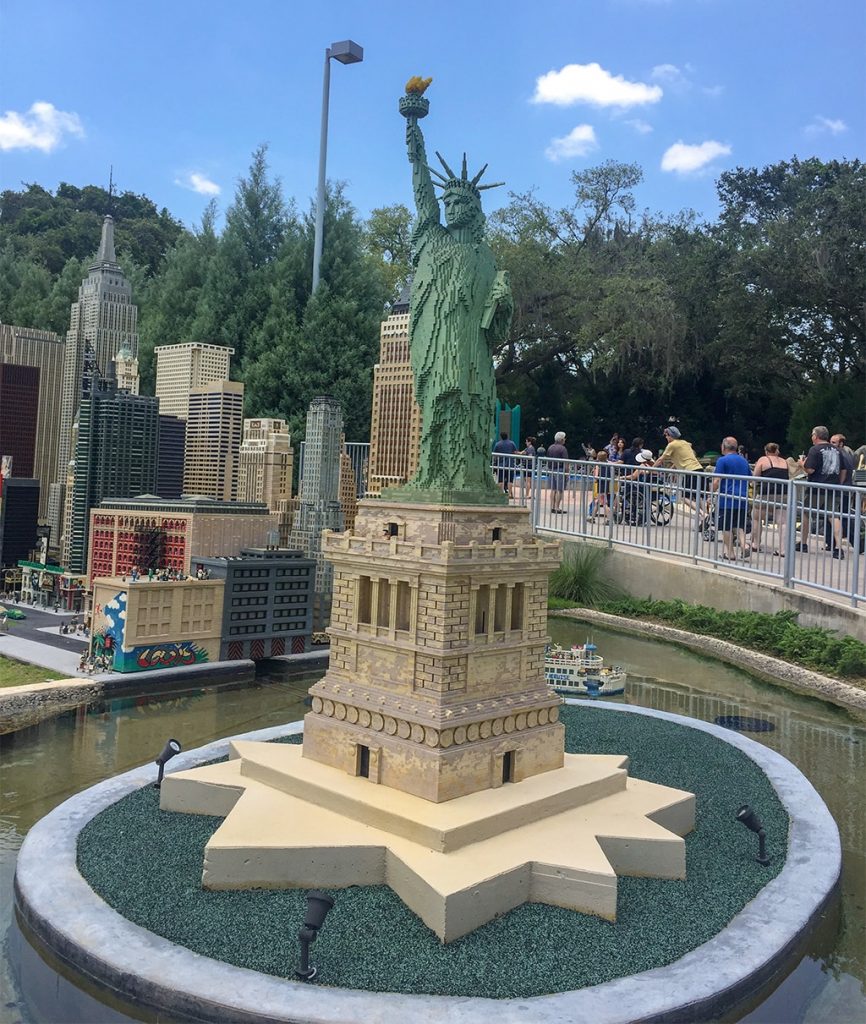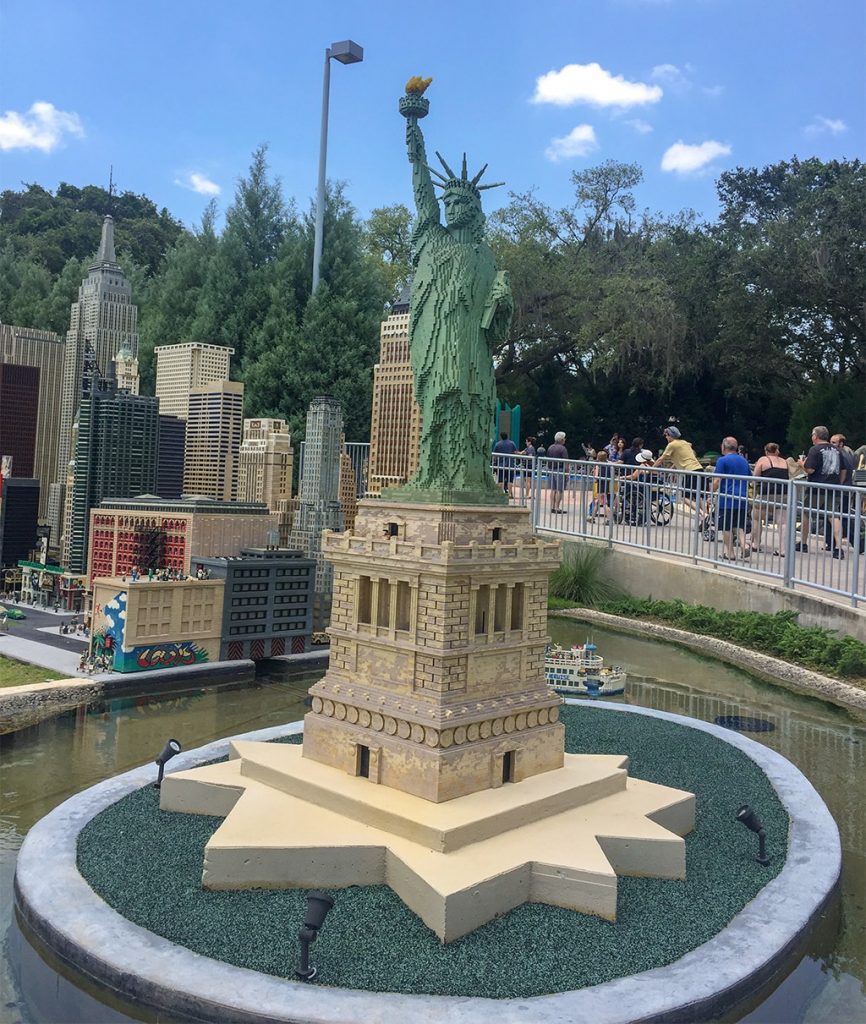 And we took a tour in Washington, DC.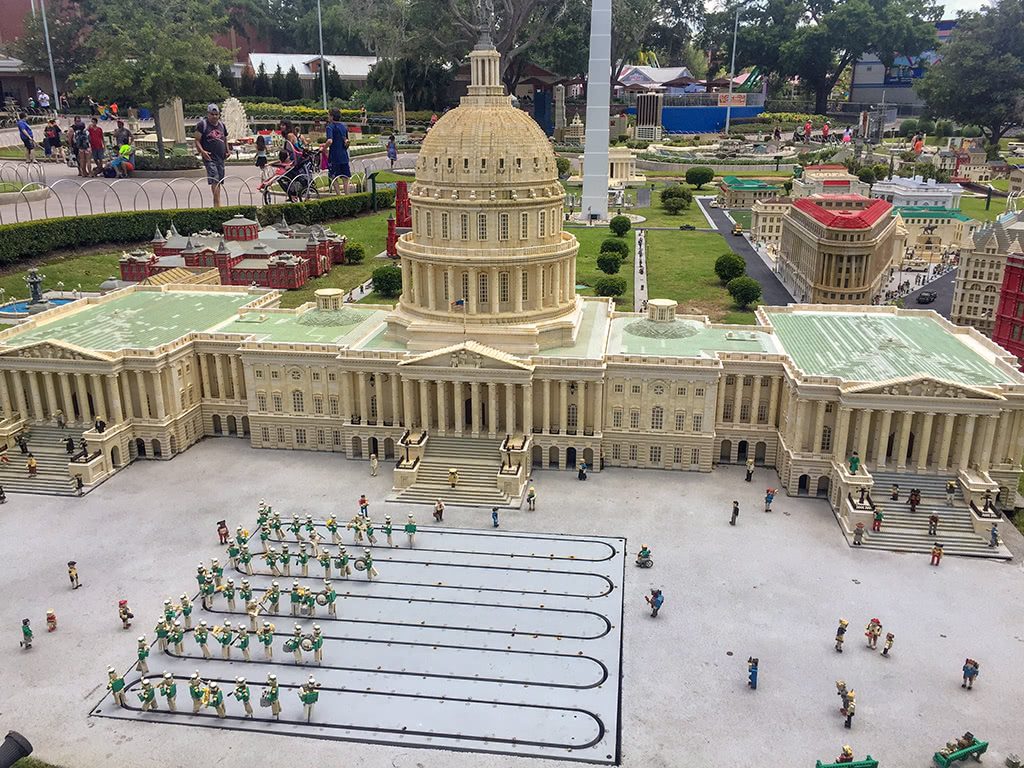 MINILAND was definitely one of our favorite things to explore! With over 32 million bricks, there are so many things to see. Daytona International Speedway, Kennedy Space Center, Las Vegas, LEGO Star Wars, just to name a few more! It was SO neat!
LEGOLAND Florida Tips for Heartlake City!
The part that Maggie had been most excited about was Heartlake City! She has always loved the LEGO Friends series – both the shows and the LEGO sets.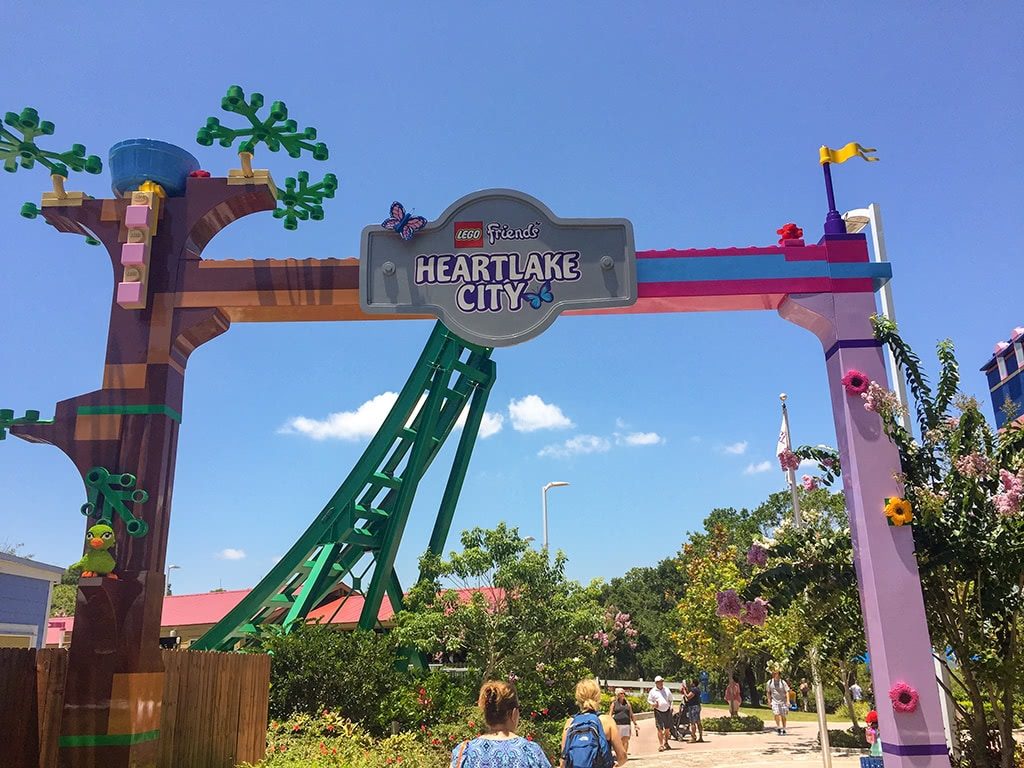 She knew all of the characters' names – so when we saw the life size characters made out of LEGOS, she had to have a picture with each one!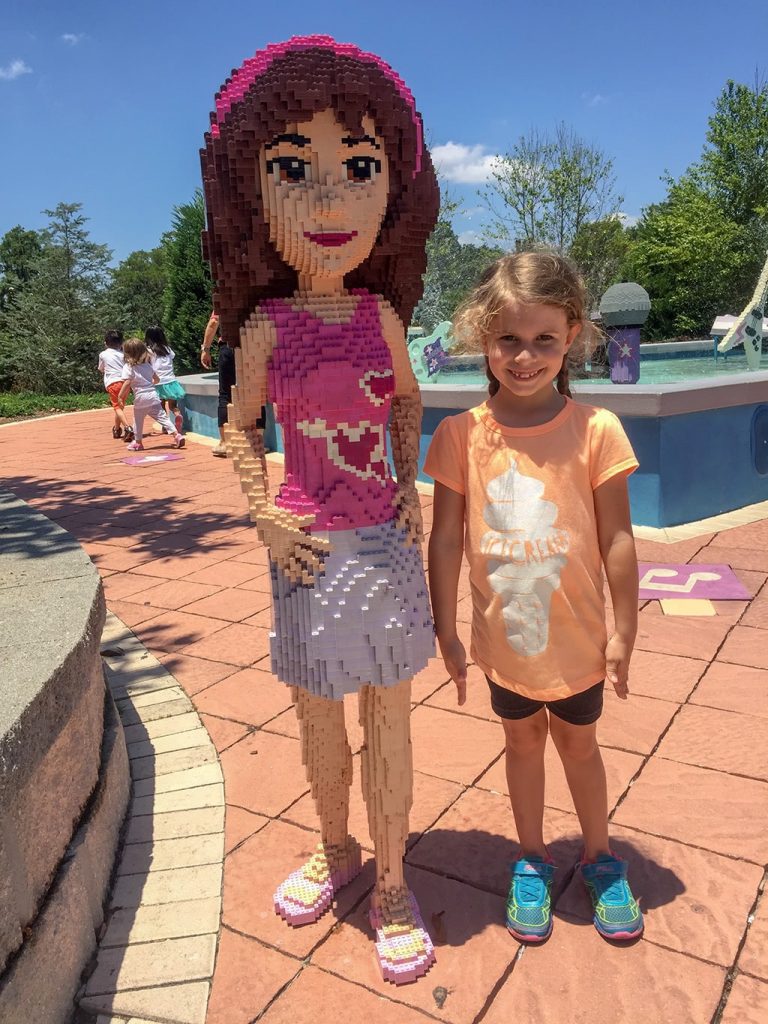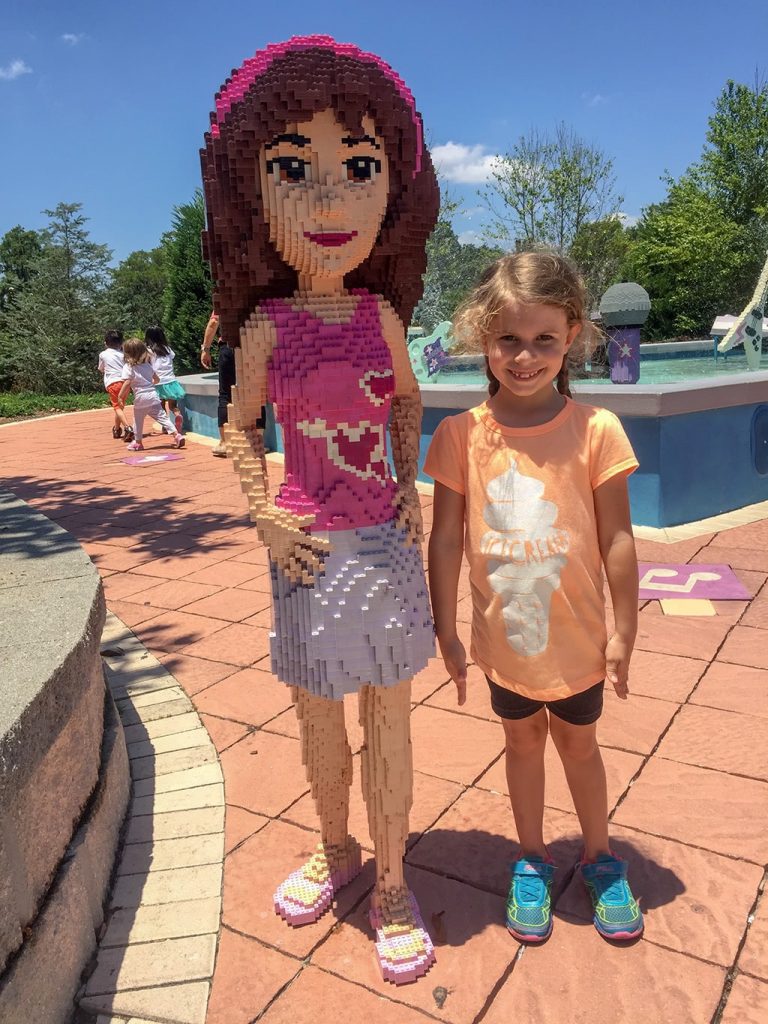 She even took Matt for a little drive in the LEGO Friends car.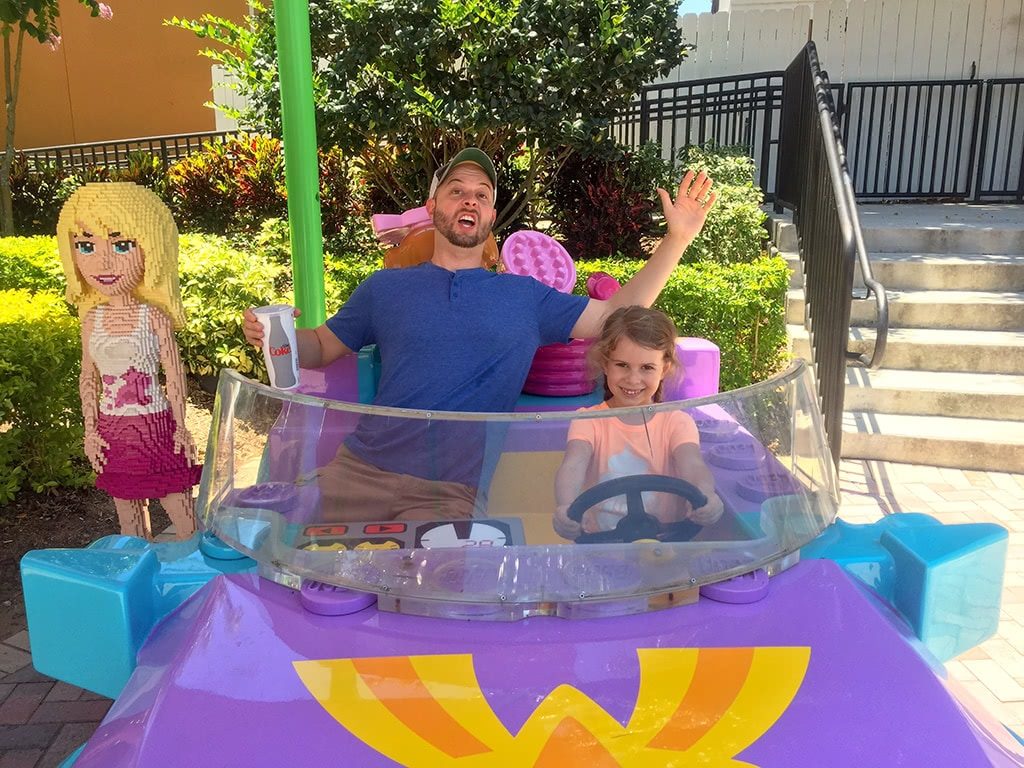 We also dropped by into the Heartlake Mall & found the entire LEGO Friends crew!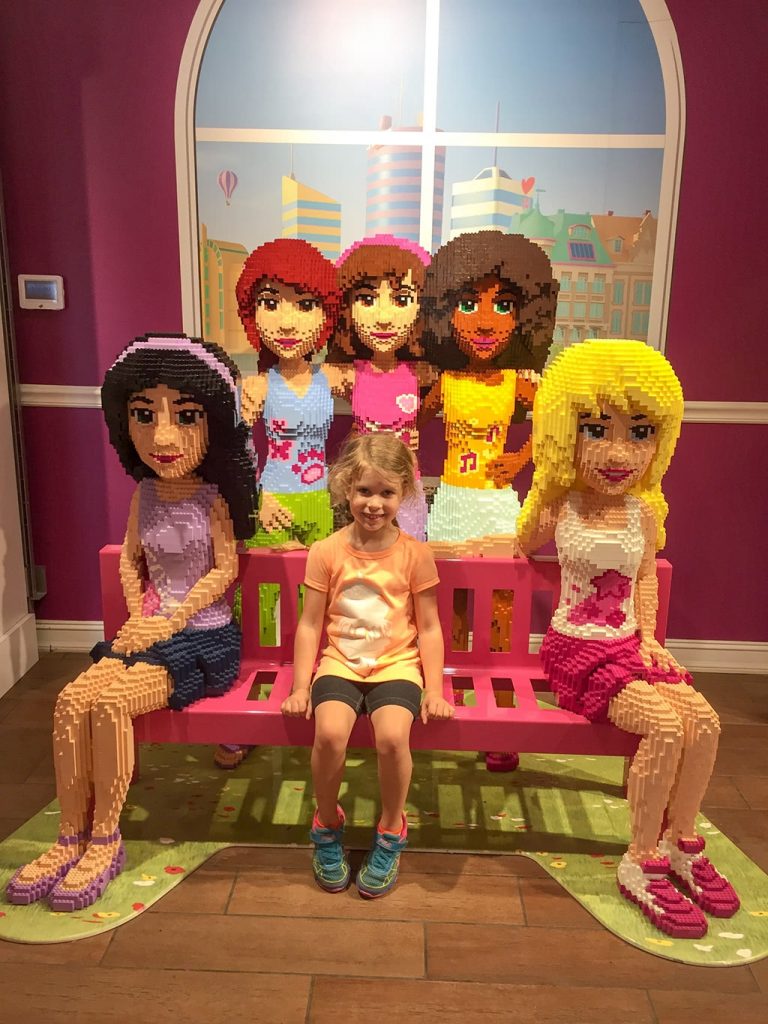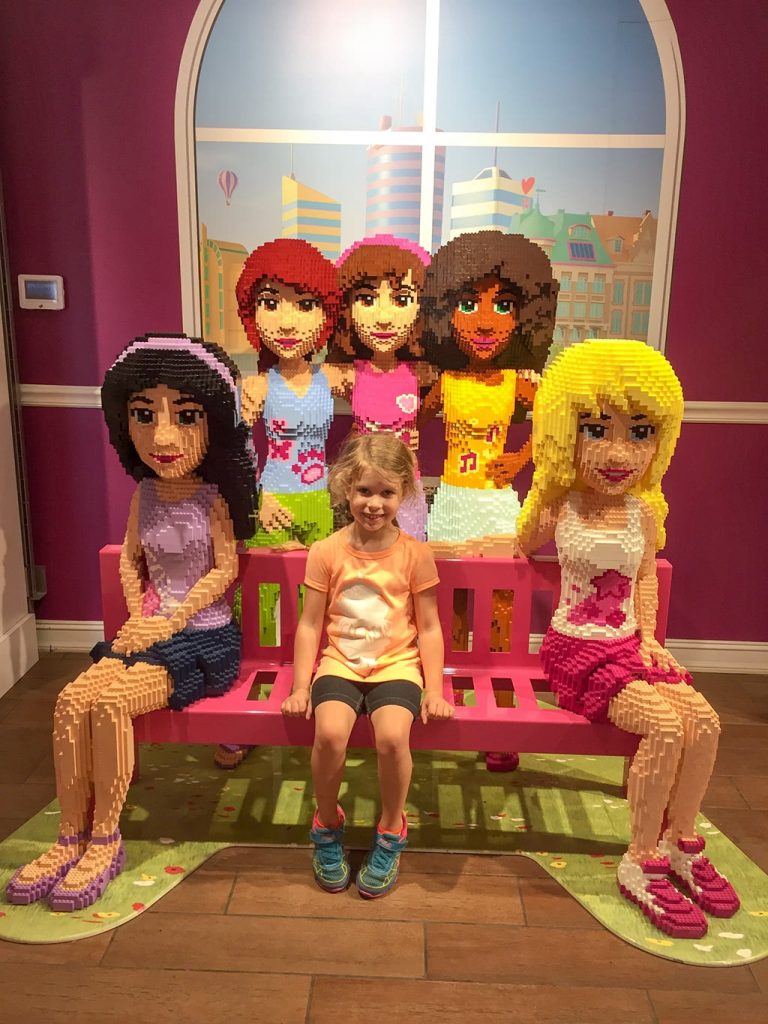 The only ride in Heartlake City is Mia's Riding Adventure which you have to be 48" tall to ride. She wasn't quite tall enough to do it yet, so we opted to grab some ice cream over at Heartlake Ice Cream Parlor instead.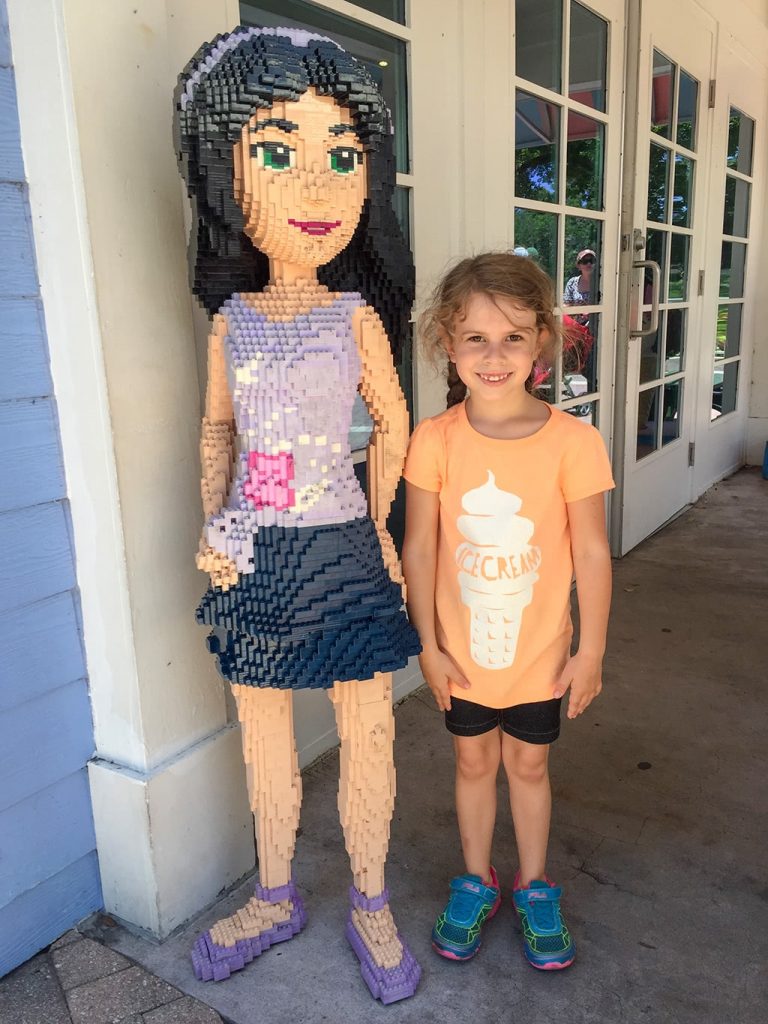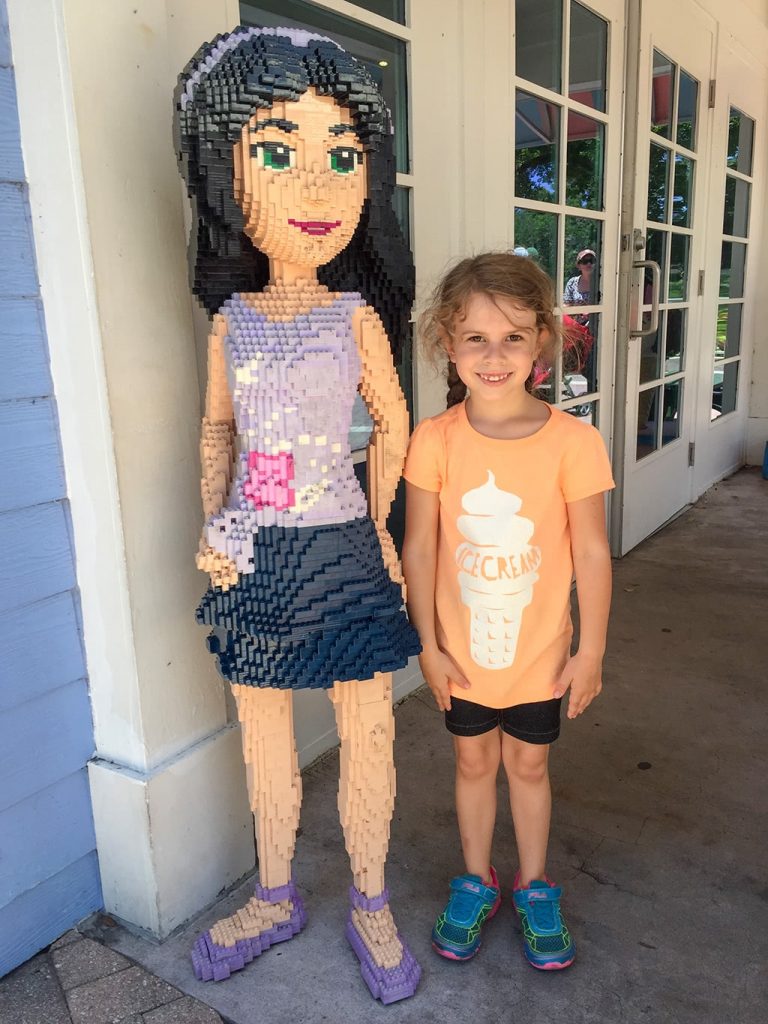 LEGOLAND Fun Town
Right outside of Heartlake City in the heart of Fun Town, you will find a double-decker carousel, "The Grand Carousel!" How fun is that?!?
We were super excited to ride it! On the top level of course!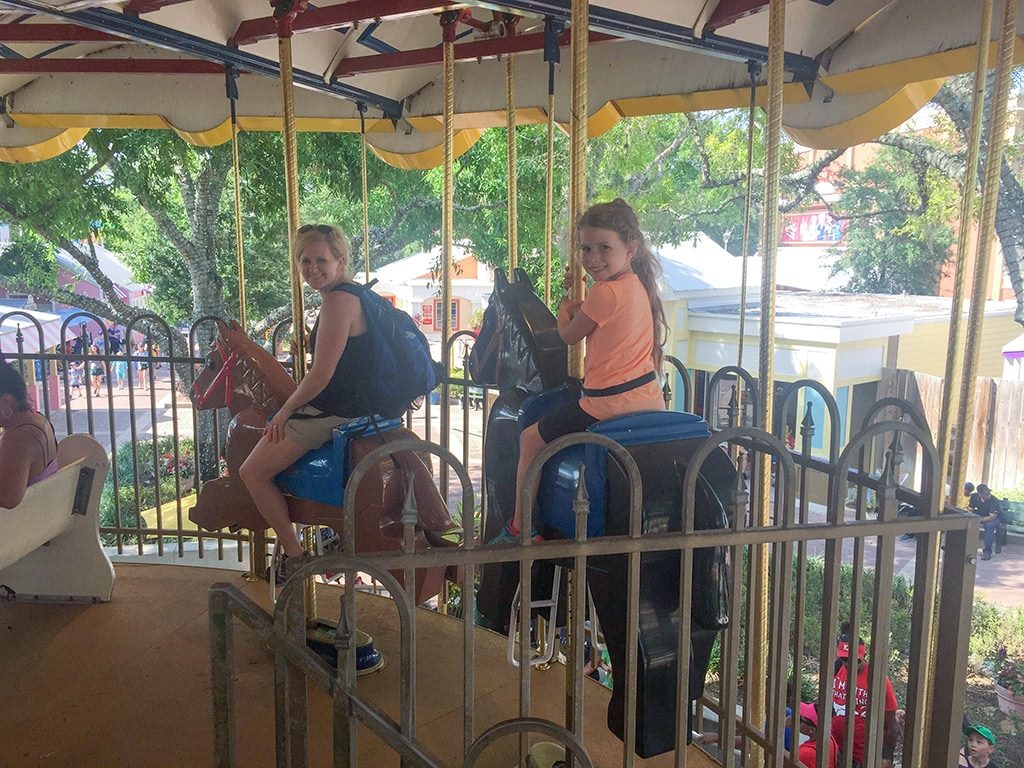 There are also some really neat stores in this area to check out as well! From the LEGO Factory Experience, LEGO Studio Store & Minifigure Market, you will definitely be able to find something for everyone here!
Fun Town is also where you will find the 4D Theater. They played a movie called The Lego Move: 4D – A New Adventure, which details the characters from the original Lego Movie as they try to visit LEGOLAND, but are invited to a fake theme park called Brick World by Lord Business' older brother Risky Business. It was hilarious and incorporates various effects such as wind, water and fog.
Things To Consider
Be sure to do a little research for food options. We picked the Panini Grill in the Imagination Zone because it had an indoor seating option. We were more than ready to get out of the Florida heat for a little bit. There are several other great options as well!
Stay hydrated! Depending on the time of year you visit, it can get REALLY hot! Be prepared and drink lots of water! And take breaks from time to time to get out of the heat as needed.
Take time to map out your plan of attack. There are so many things to do at LEGOLAND that it is nearly impossible to do them all in one day. Make a list of your family's priorities and make sure everyone gets to do something they want to do!
Check ride height requirements beforehand! Maggie was still a few inches shy of getting to do a few of the rides but we had researched beforehand and knew to steer clear of some of those rides. And a handful of times we split up and the taller ones went to do other rides while Maggie & I did some of the younger rides. Remember to be flexible!
Final Thoughts
What a fun day at LEGOLAND Florida! On our way out, we took a few more pictures with Emmett & Wild Style.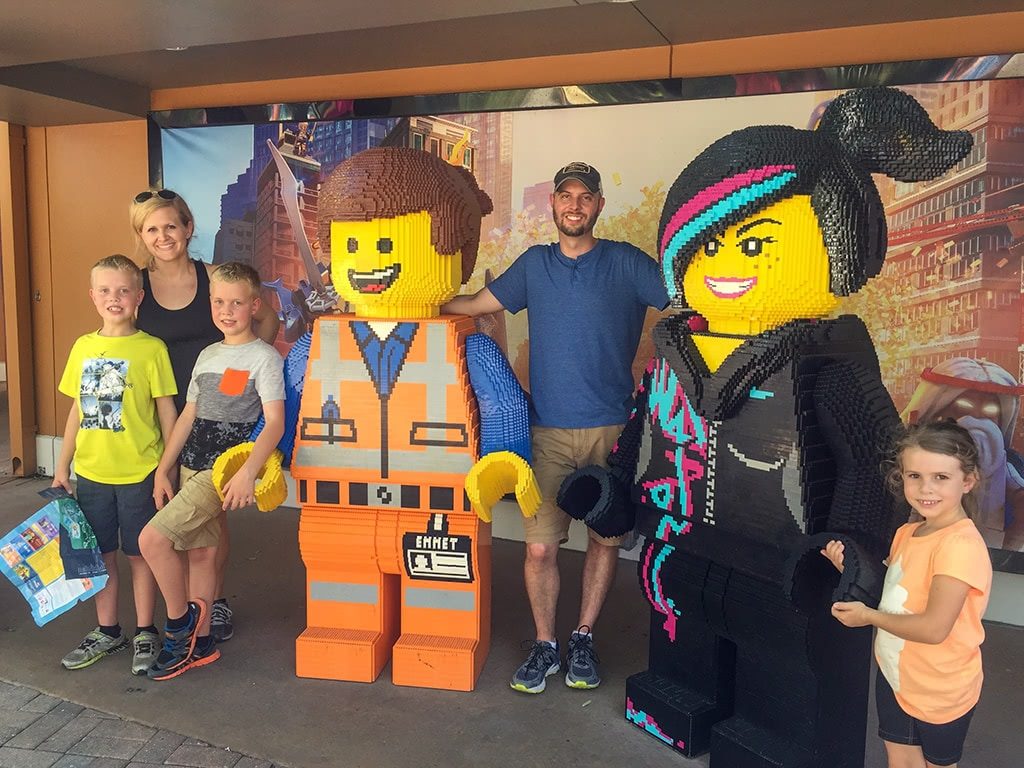 And we made plenty of notes of things we wanted to do next go around, like mini-figure trading and maybe even hit up the water park portion of LEGOLAND!
And now that they have an ENTIRE new land "The LEGO MOVIE World," we are really excited to head back and explore some more!
LEGOLAND Florida is a perfect place to make family fun memories! We absolutely loved our visit and can't wait to get back one day!
---
So what about you and your family? Have you been to LEGOLAND Florida before? What was your favorite thing to do there? Be sure to share your tips below! We would love to hear your thoughts!
---
More Related Articles: