Has Hawaii always been on your family's bucket list of places to visit? If you are looking to plan a family vacation in Hawaii, be sure to check out the island of Maui!
From volcanoes, to waterfalls, to luaus and SO much more…you will definitely find plenty of things to do in Maui Hawaii!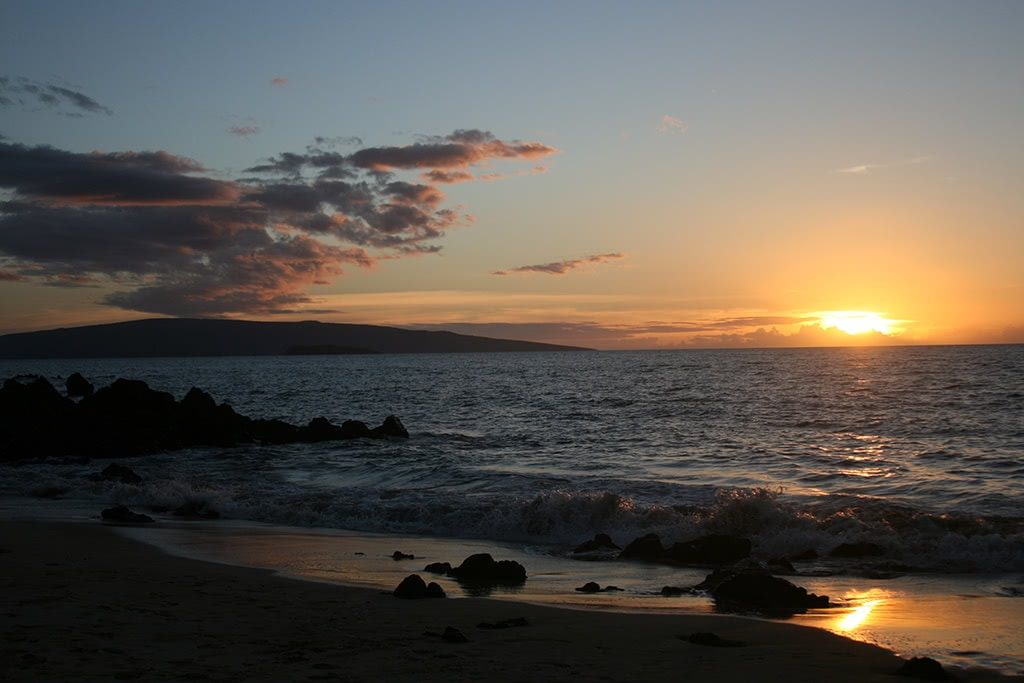 *This post may contain affiliate links (which means if you make a purchase after clicking a link we may earn a small commission but it won't cost you a dime)! Read our full disclaimer.
A Little Background with Maui
One of our favorite places that we have ever visited (thus far!) has been Maui, Hawaii. Maybe it's because we went on our honeymoon there and have great memories there.
Or maybe it really is just one of those places that really is incredible to visit.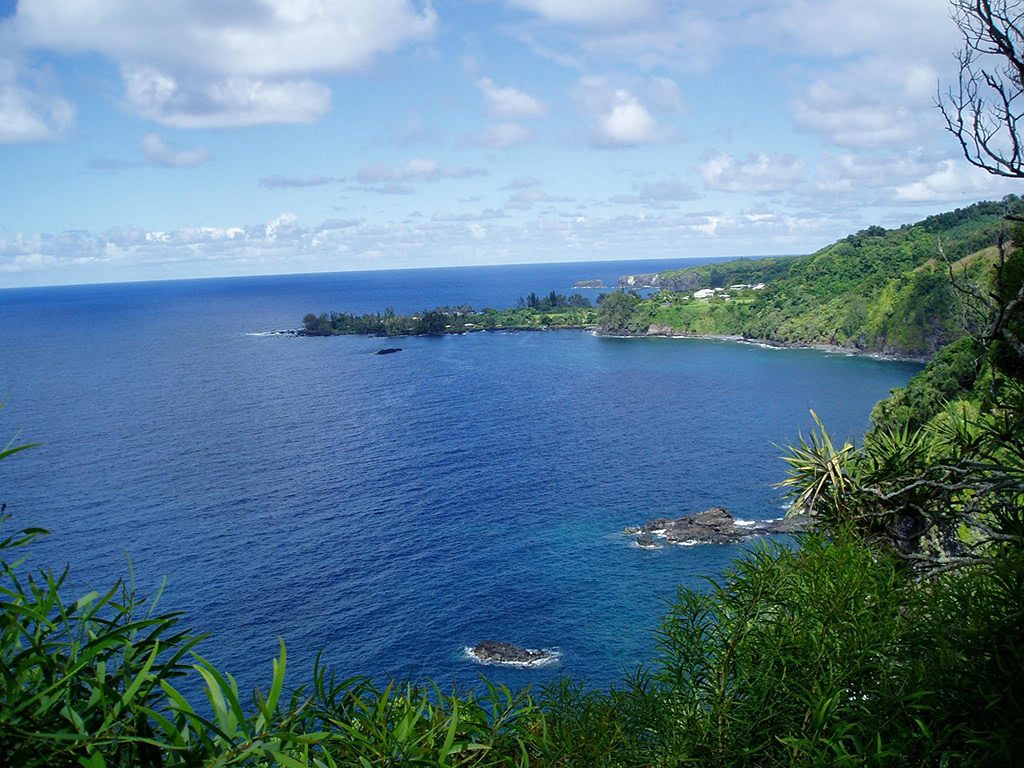 Either way, when my sister and her hubby decided to get married in Maui, we were more than thrilled to have a reason to visit again and take the kids to explore one of our favorite places!
Planning for a Trip to Maui with Kids
As with any family trip, be sure to do your research beforehand and have at least a general idea of what you want to do when you get there!
Here are some of our favorite resources that we found to be helpful as we mapped out our itinerary:
10 Things to Do in Maui Hawaii with Kids
1. Visit the Haleakalā National Park and Volcano!
The Haleakalā National Park contains the highest point on the island of Maui at 10,023 feet. The Haleakalā Crater is located in the southeastern part of the island. Depending on where you are staying, travel time can take anywhere from 1-2 hours to get to the Visitor's Center at the top of the Volcano.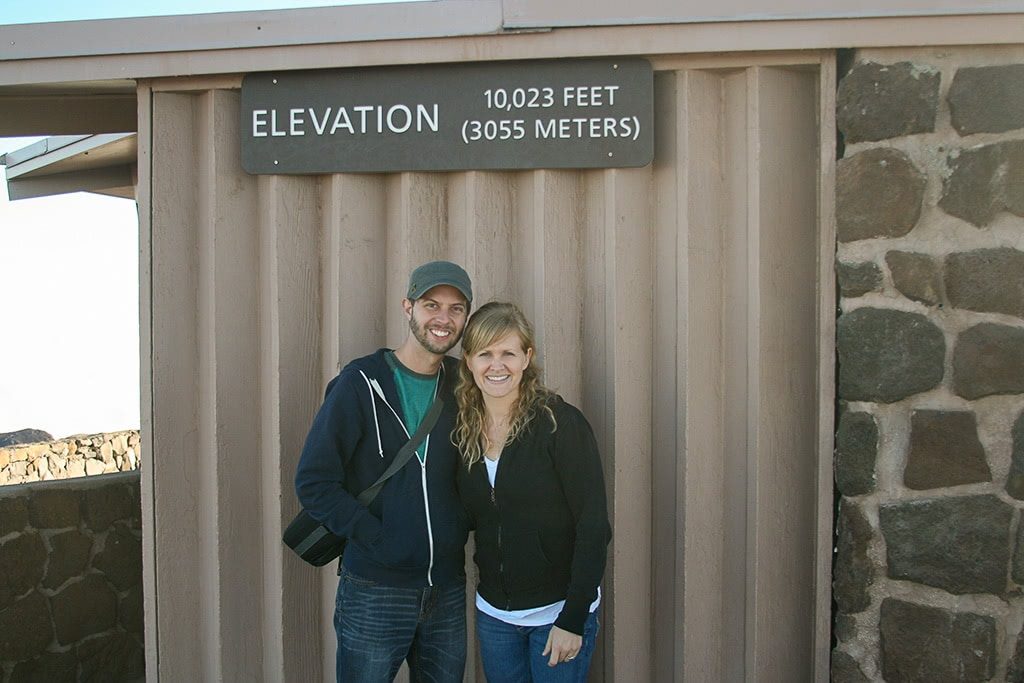 There are so many things to do in Haleakalā National Park. From horseback riding, to hiking, to riding a bike from the top, you should be able to find something that your family will love!
On our last visit, we wanted to experience the Haleakalā sunrise as we had heard it was a pretty incredible experience. The best sunrise viewing is between the hours of 3:00am – 7:00am. Early, right?
Since we were already jet-lagged from traveling from the East coast of the US, we decided we would go ahead and do this on our first couple of days. And I have to say, it was well worth the trek up there.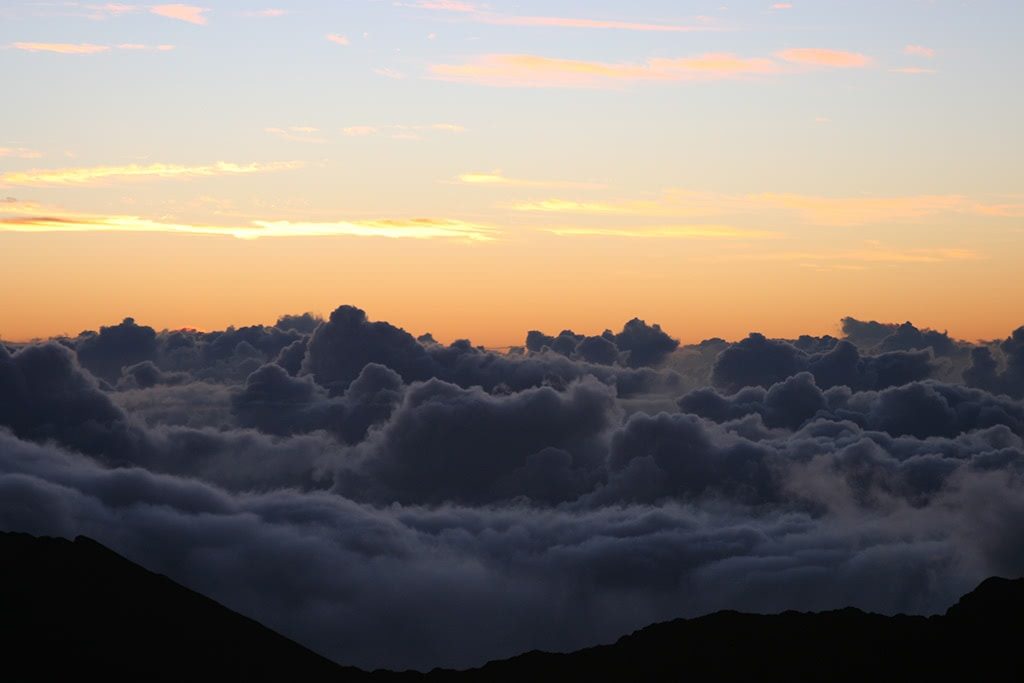 The National Park Service now requires reservations for this incredible viewing, so be sure to plan accordingly. (Go to the nps website to make reservations!)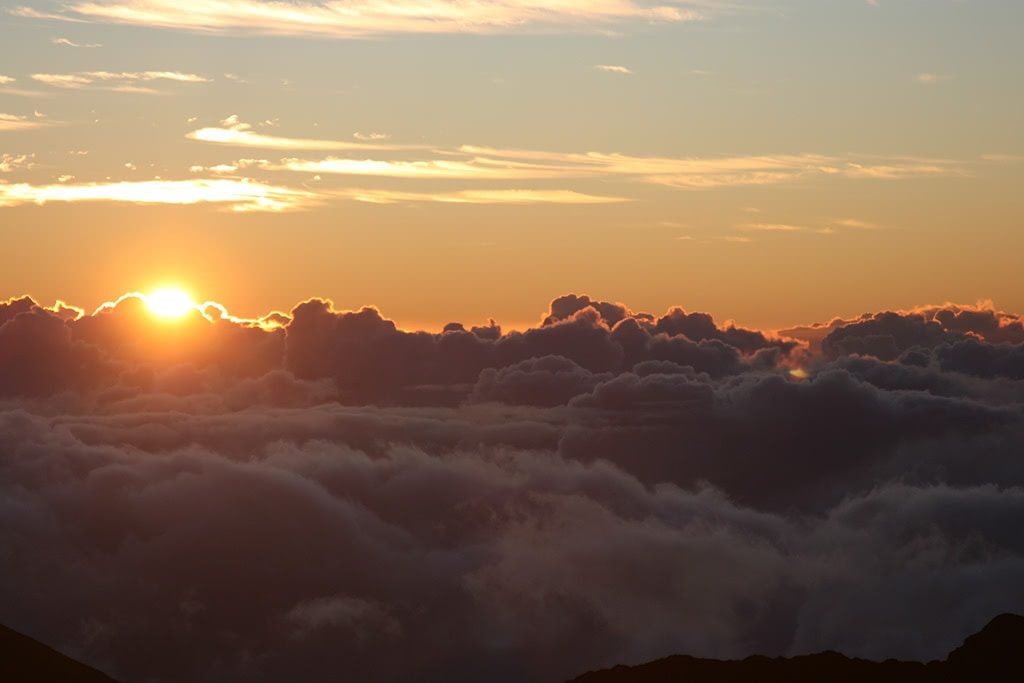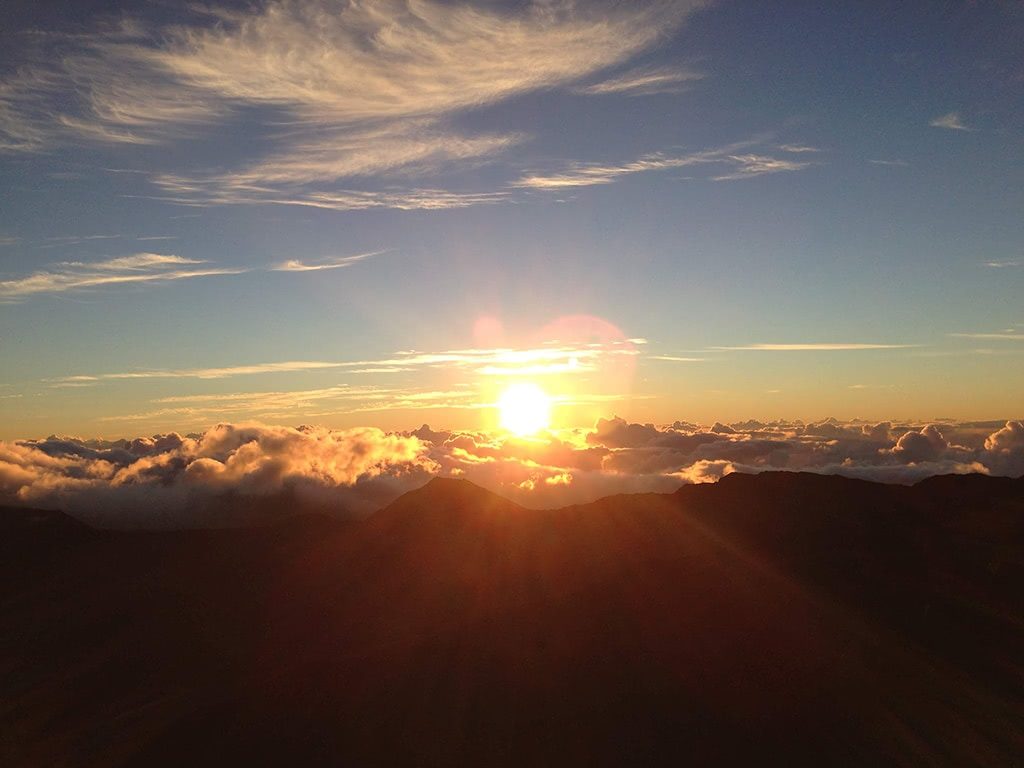 Also, you will want to be prepared for the elevation change as it makes for a much colder experience. We had planned ahead and brought jackets and pants, but heavier items would have also helped tremendously.
We also saw lots of bathrobes and hotel blankets draped around people as well- which is always hilarious.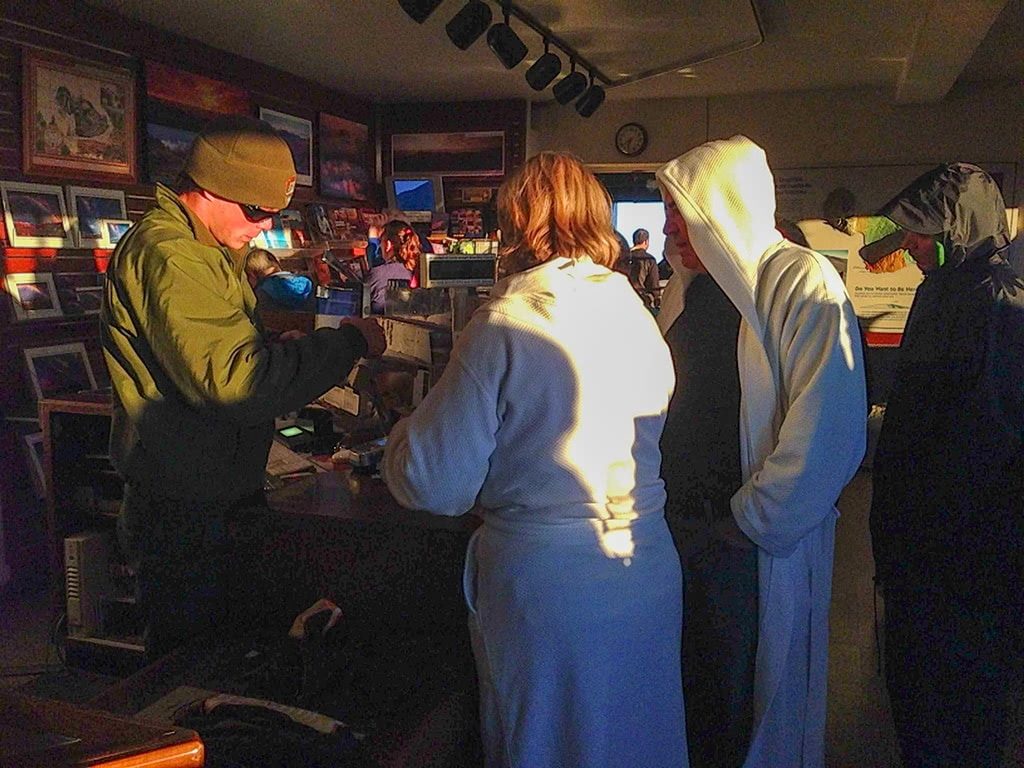 It was definitely one of our favorite experiences and the kids still talk about driving up to the volcano on this trip.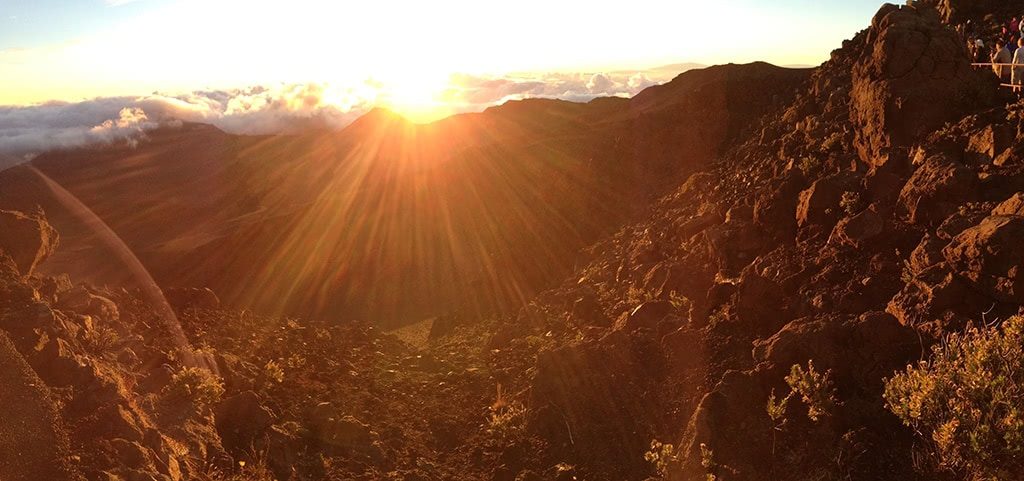 Which leads us to one of our CaddyWampus Moments…
Our CaddyWampus Moment
As I already mentioned, the drive time is between 1-2 hours to get to the peak for optimal viewing. We threw the kids in the rental van and gave them some muffins and milk for the car ride since we would be traveling during breakfast time.
Not thinking much about it, the road that you actually travel on is…well, quite curvy.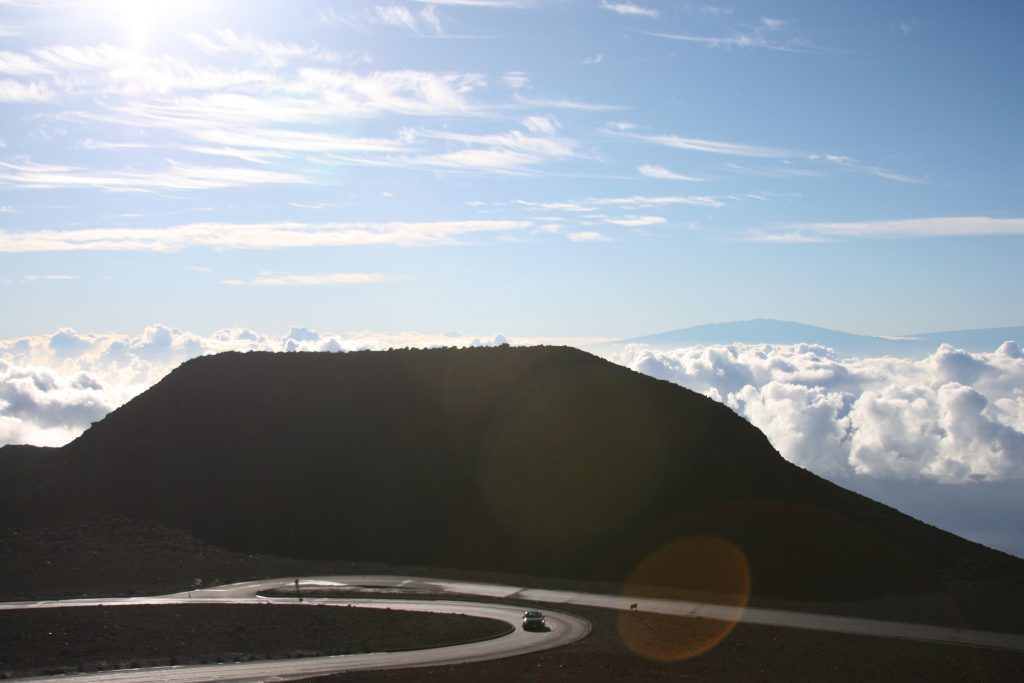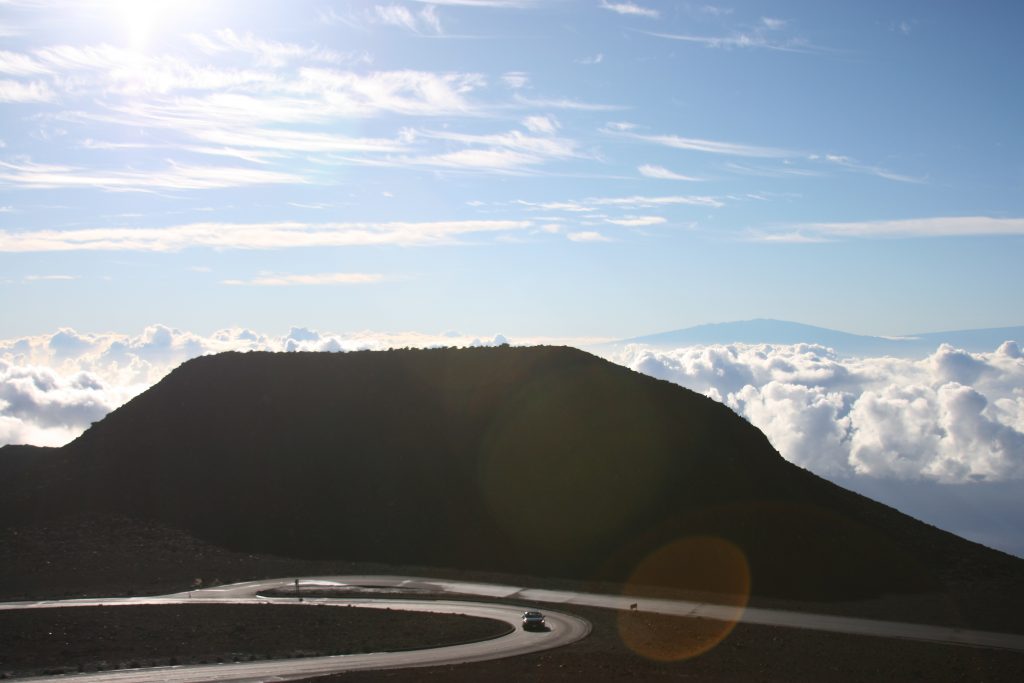 So…if you have anyone that gets a bit car sick, what better thing to give them than a belly full of milk and muffins? Right?!?
Let's just say that when we finally made it to the top and pulled in, one of ours left a little present in the parking lot. A quick wipe of the mouth, a sip of water, and a pat on the back, we headed on our way to view the incredible sunrise.
Thankfully, they were able to bounce back rather quickly and we still had a great experience viewing the sunrise. We just decided to take it a little slower on the way back down.
Makes for a great story & family memory though, that's for sure!
2. Take a Boat Ride and See Some Native Sea Creatures!
Another one of our favorite things to do in Hawaii is to snorkel and see the native sea creatures in Maui. On our first trip, Matt and I took a boat ride out to Molokini and Turtle Town and had an incredible experience snorkeling. If you and your crew are into snorkeling, this would be an awesome thing to do as a family!
The kiddos were not quite up for snorkeling on this particular Maui adventure, but we wanted to plant the seeds for them to hopefully fall in love with it in the future. What better way to expose them to the underwater realm than a glass bottom boat?!?
While there are lots of options out there, we decided to go with the Reef Dancer– an underwater semi-sub.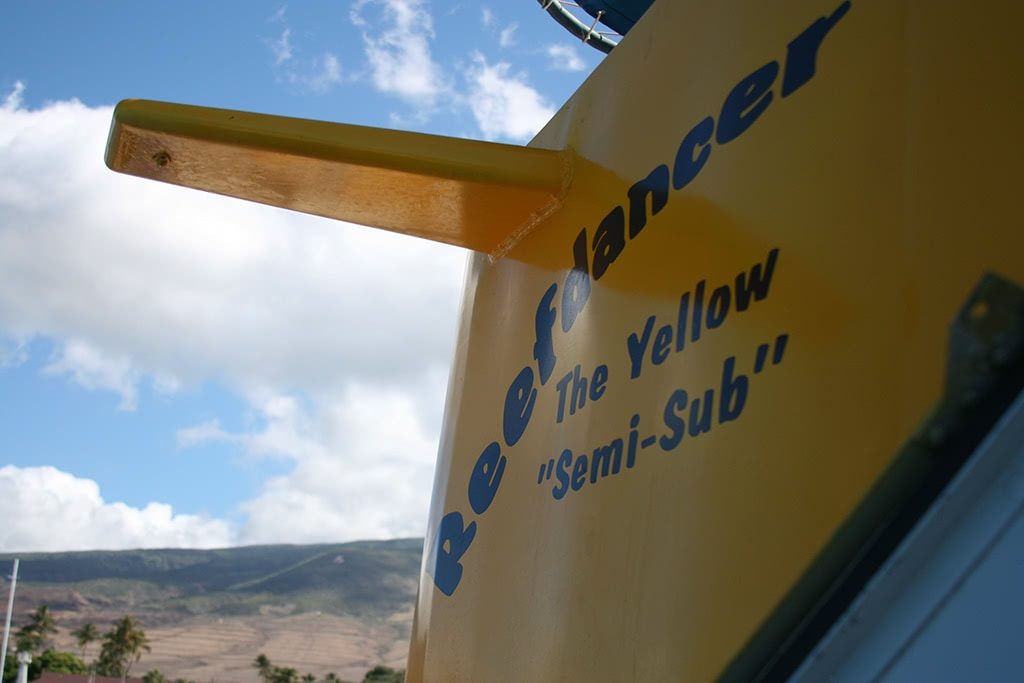 We got to ride out on top of the boat as they took us a little ways out into the ocean.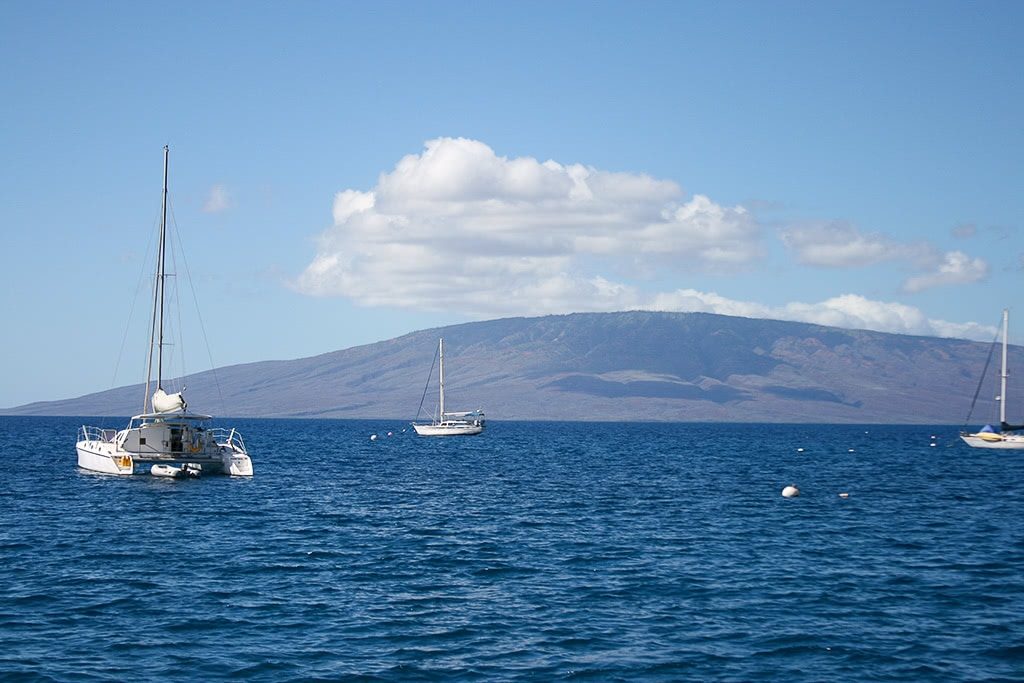 We then went down into the sub for the underwater viewing.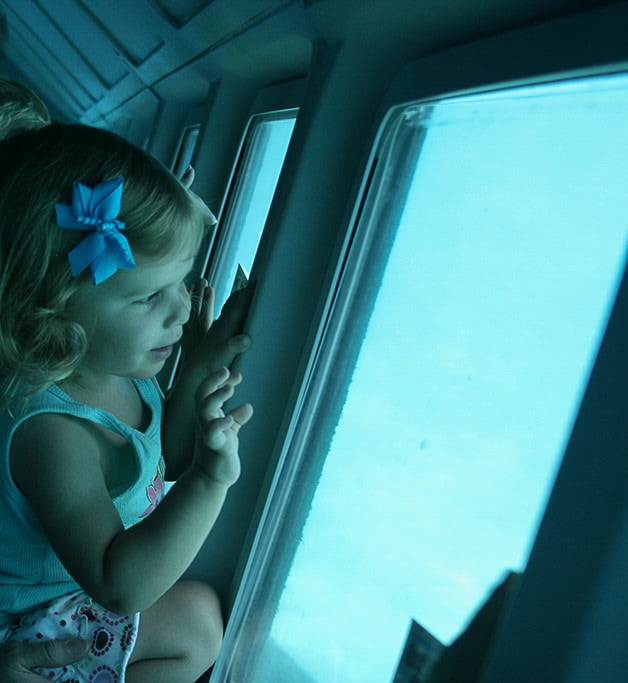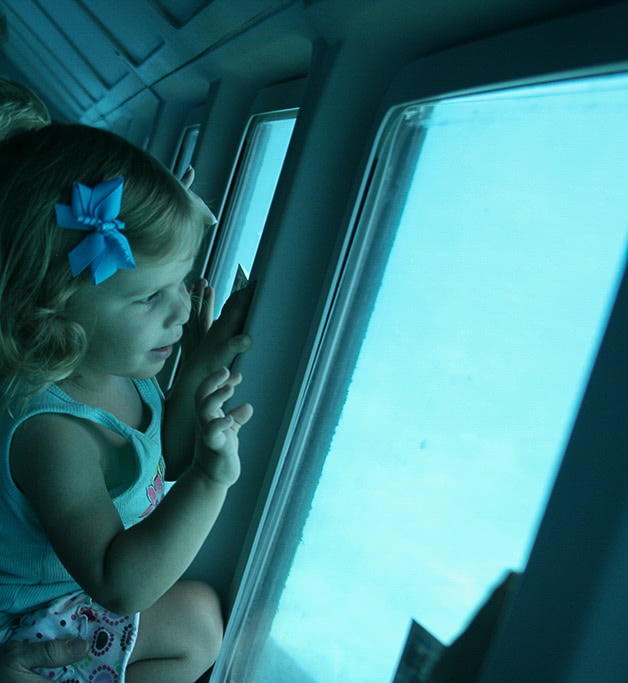 A diver actually goes into the water and brings some of the sea animals to the window for an up close encounter.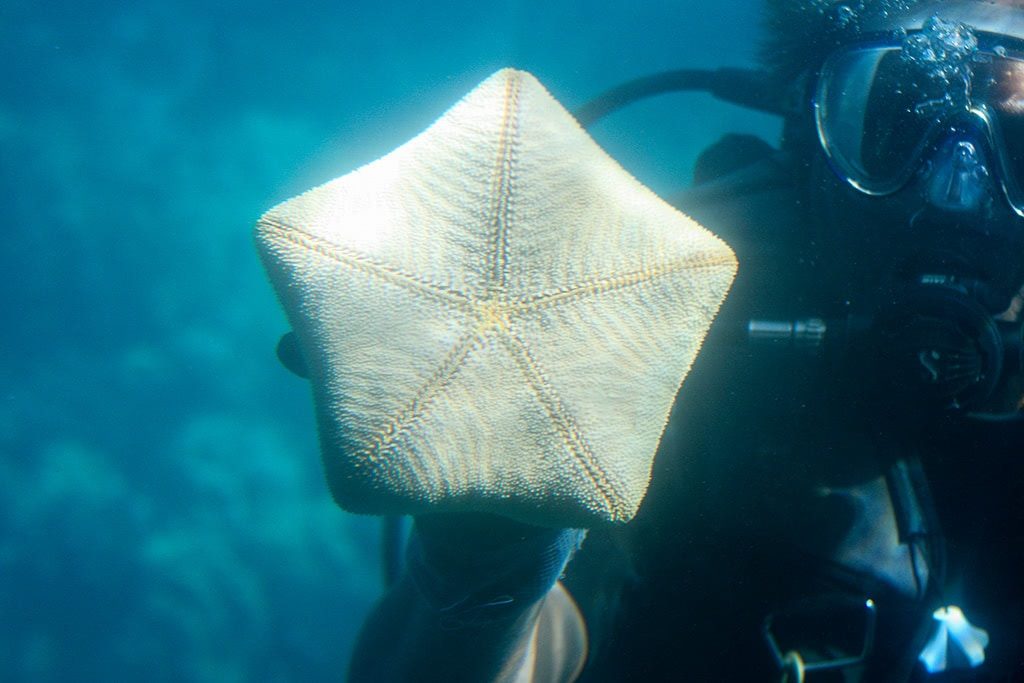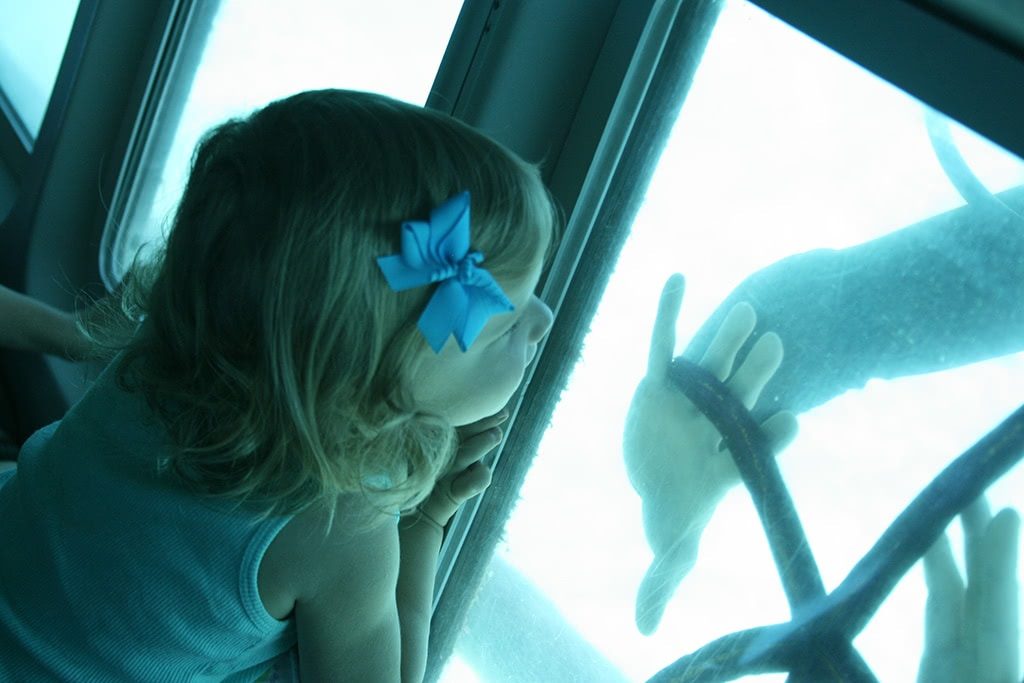 How amazing is that?!?
Our kids absolutely loved this experience and it was as close to snorkeling as we could get this go around.
3. Drive Hana Highway and See a Waterfall!
Another thing we love to do as a family is to find a good waterfall! Maui definitely will not disappoint in its wide variety of waterfalls to visit.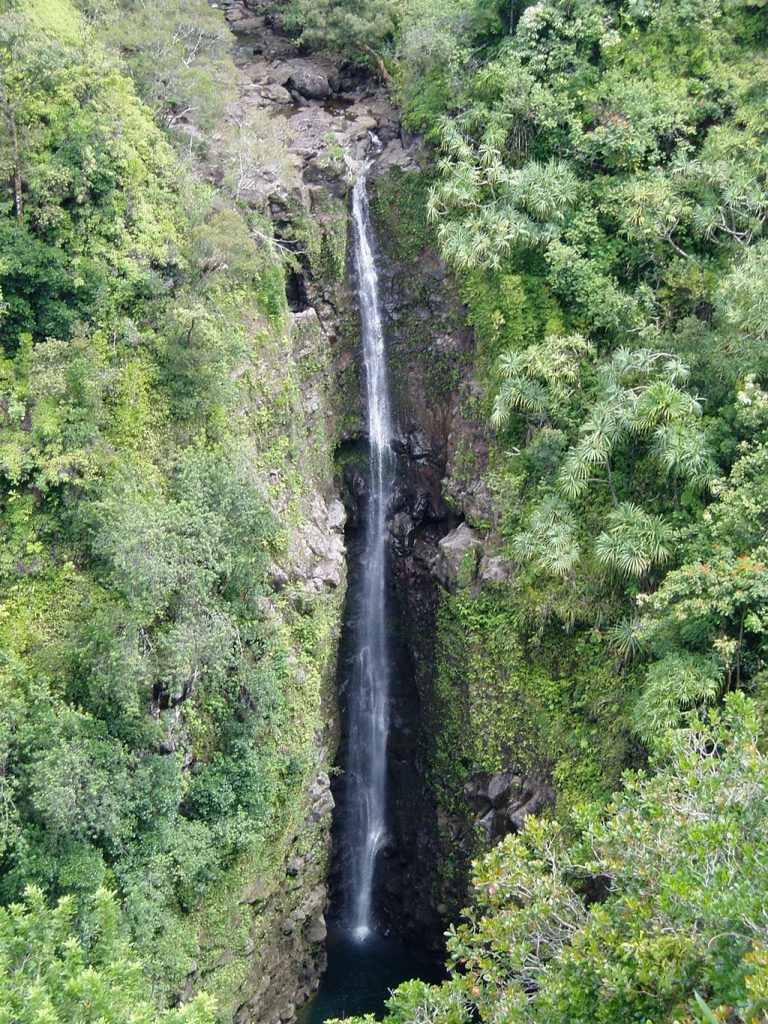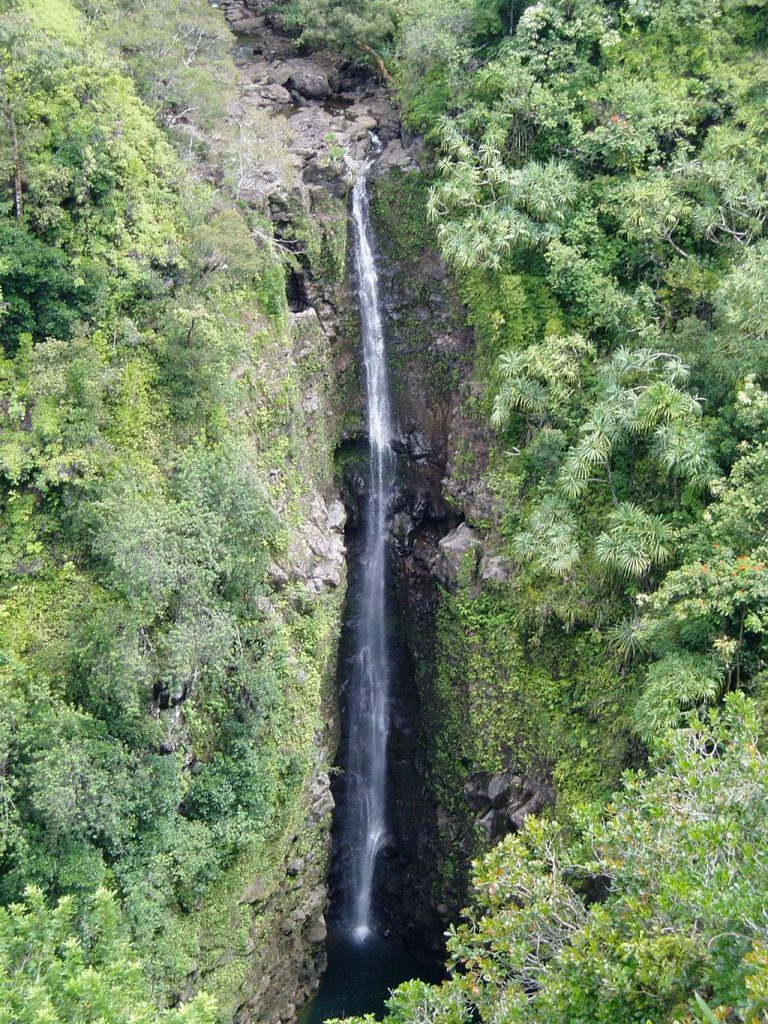 During our first trip, Matt and I picked up a book called "Maui Revealed", that tells all about the hidden gems in Maui. We absolutely loved exploring and finding waterfalls off the beaten path.
This go around with the kids, we decided to go drive around Hana Highway, and pick a few of our favorites that were easily accessible for the kiddos.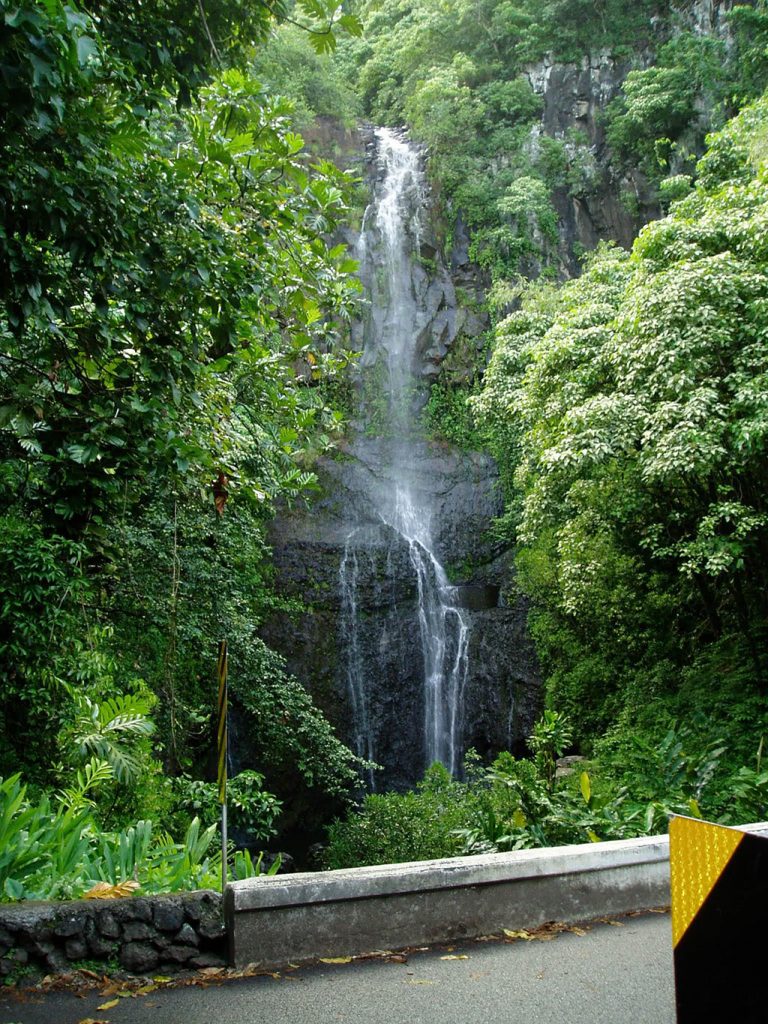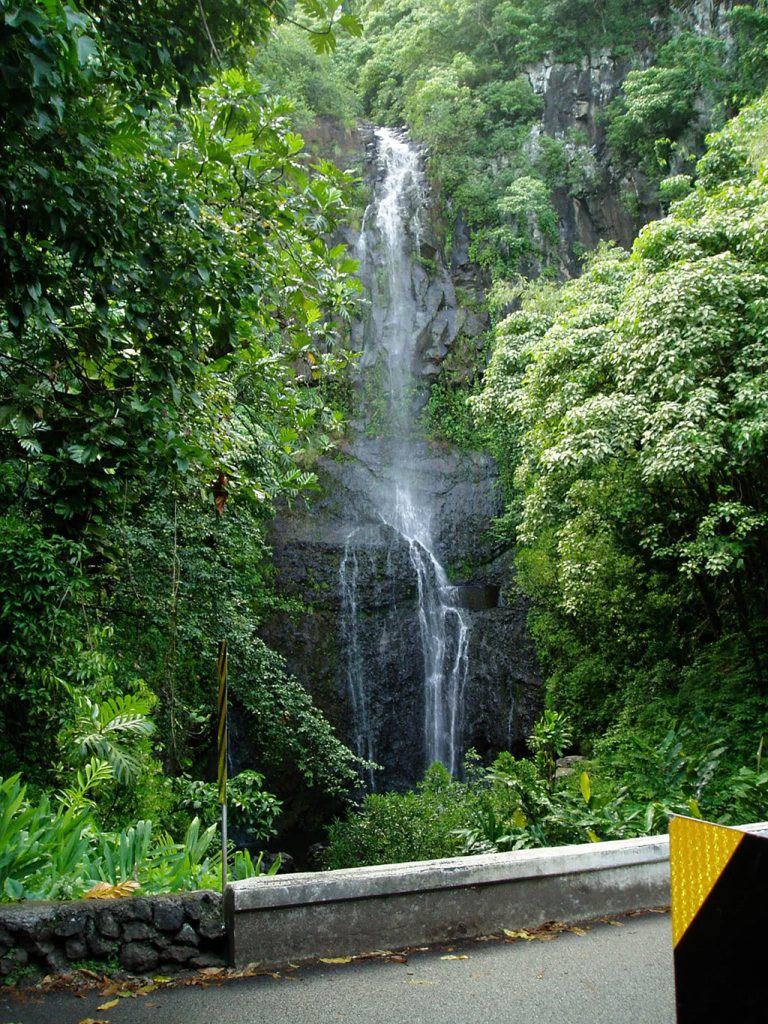 One of our favorites is the Upper Waikani Falls, also known as the "Three Bears". Even if you aren't the hiking type, you can easily pull off the road and take some pictures.
We loved parking and hiking over to it and letting the kids explore. It is so beautiful!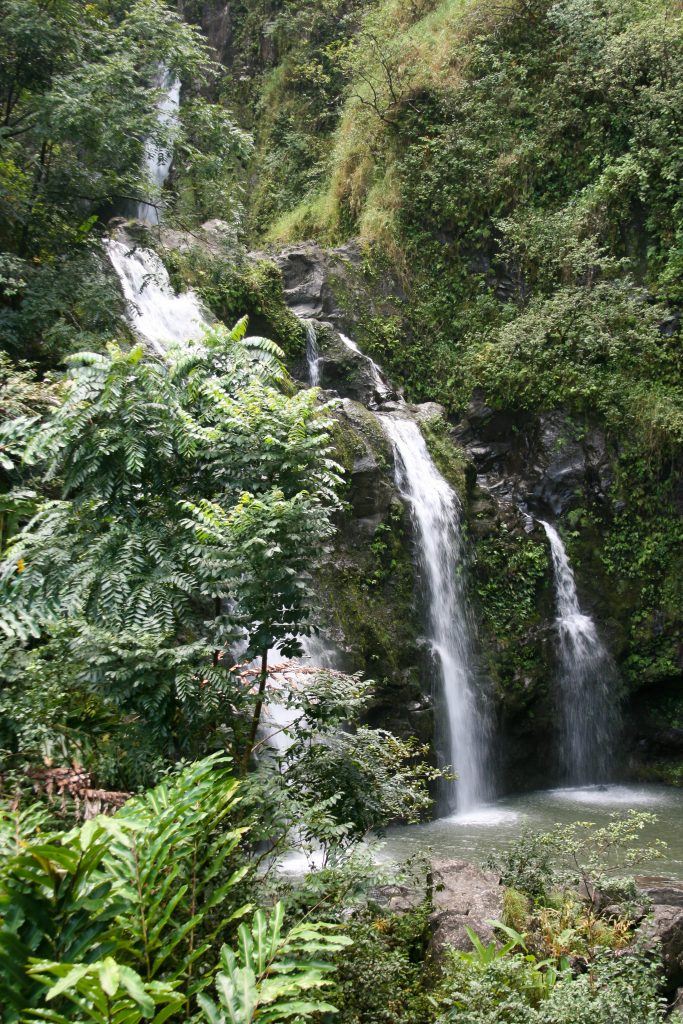 Be sure to pick a few waterfalls and take some time exploring! You won't regret it!
4. Explore Wai'anapanapa State Park and See Volcanic Rock Formations and a Blow Hole!
As you drive along Hana Highway, be sure to stop by the Waiʻanapanapa State Park. There is so much to explore at this park that you can easily spend half a day here.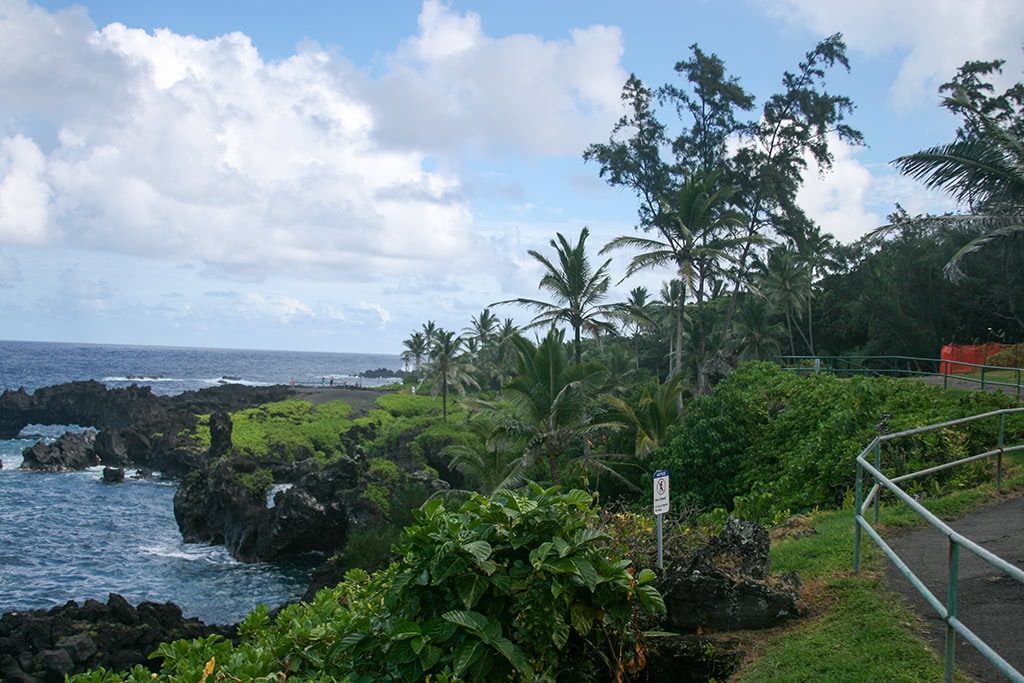 The rock formations in this area were created by lava flow from Haleakalā years ago. It is so amazing to watch the waves crash into the rock formations.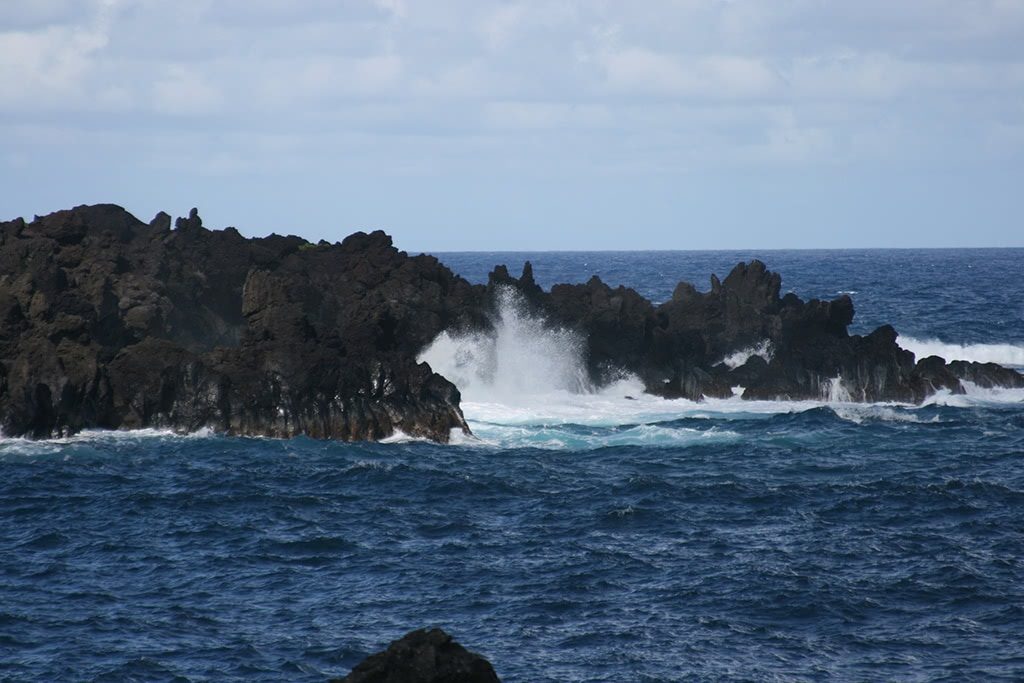 There are also a group of "Blow Holes" that you can experience. The waves actually crash into a group of rock formations that force water up through some holes creating a "Blow Hole" effect. When the tide is particularly high, you can see this best!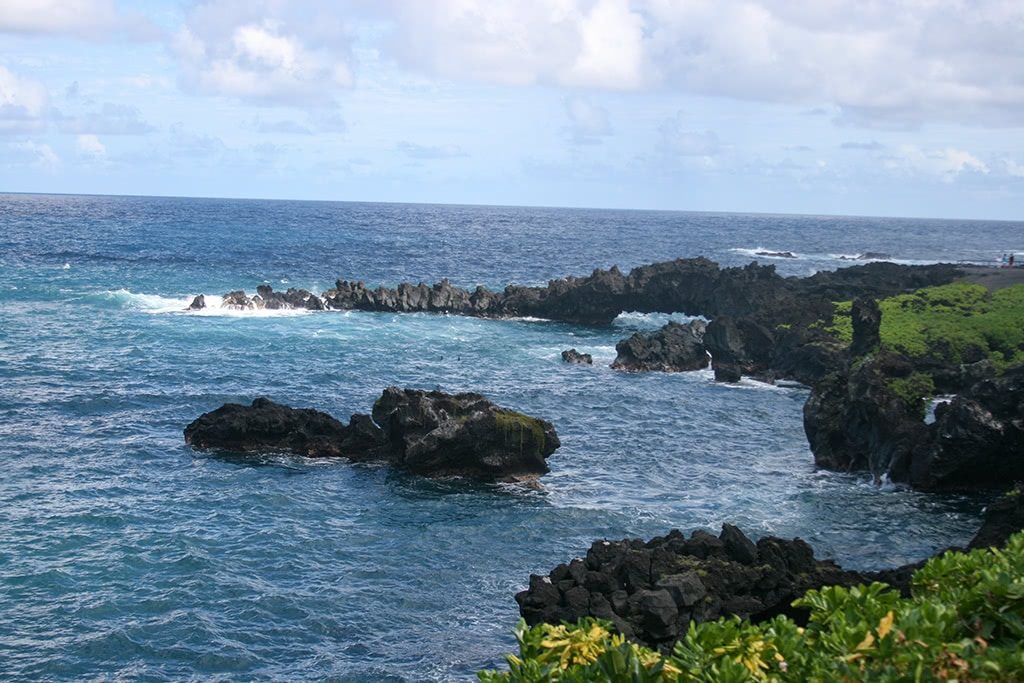 The Waiʻanapanapa State Park also has some picnic tables, so be sure to throw a picnic in the car as this is a great place to stop for lunch along Hana Highway!
5. Visit a Black Sand Beach and Lava Tube!
The Waiʻanapanapa State Park is also home to Maui's Black Sand Beach, Pailoa.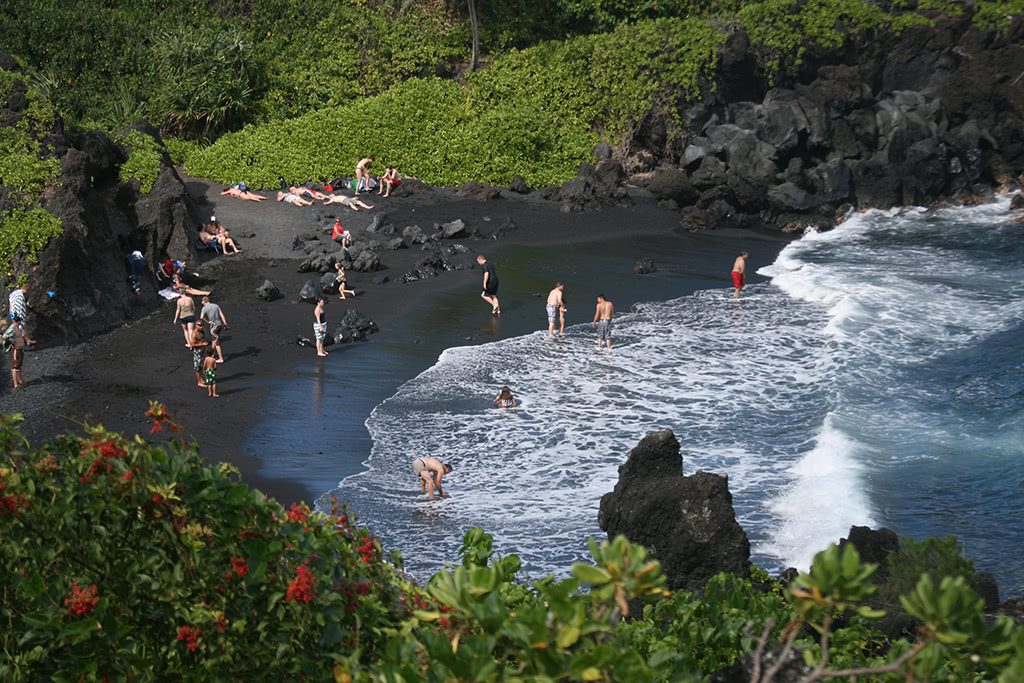 This beach is so unique because it was formed from lava flow from Haleakalā years ago. The kids absolutely loved playing in the black sand and finding black lava stones that had been formed over the years.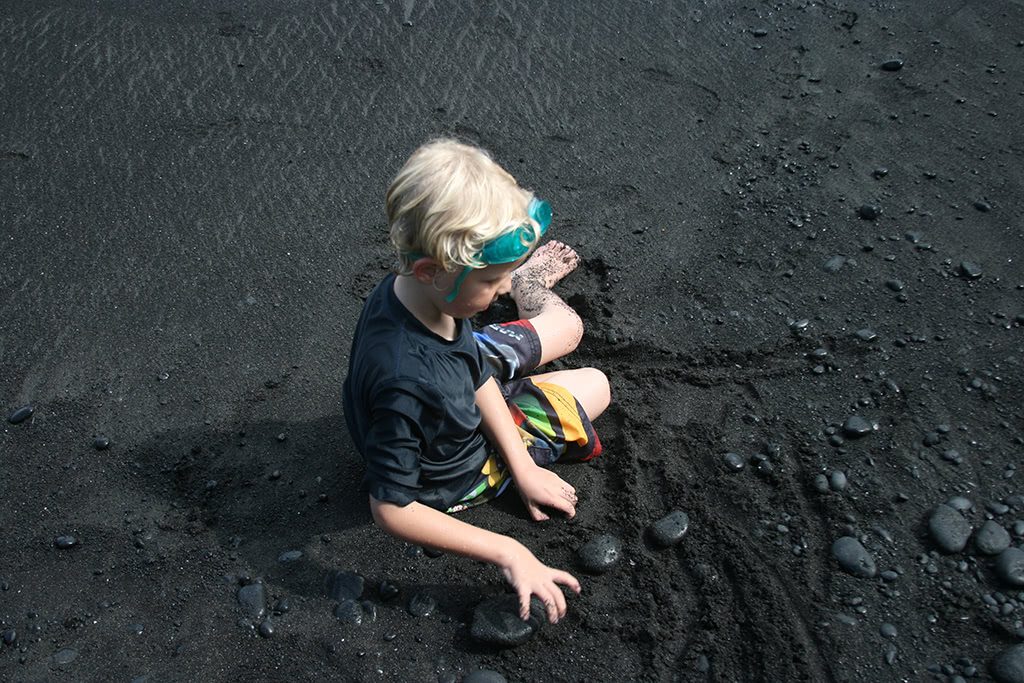 There is plenty to explore while at the Black Sand Beach. One of the most interesting things to do is explore the lava tube and walk through it.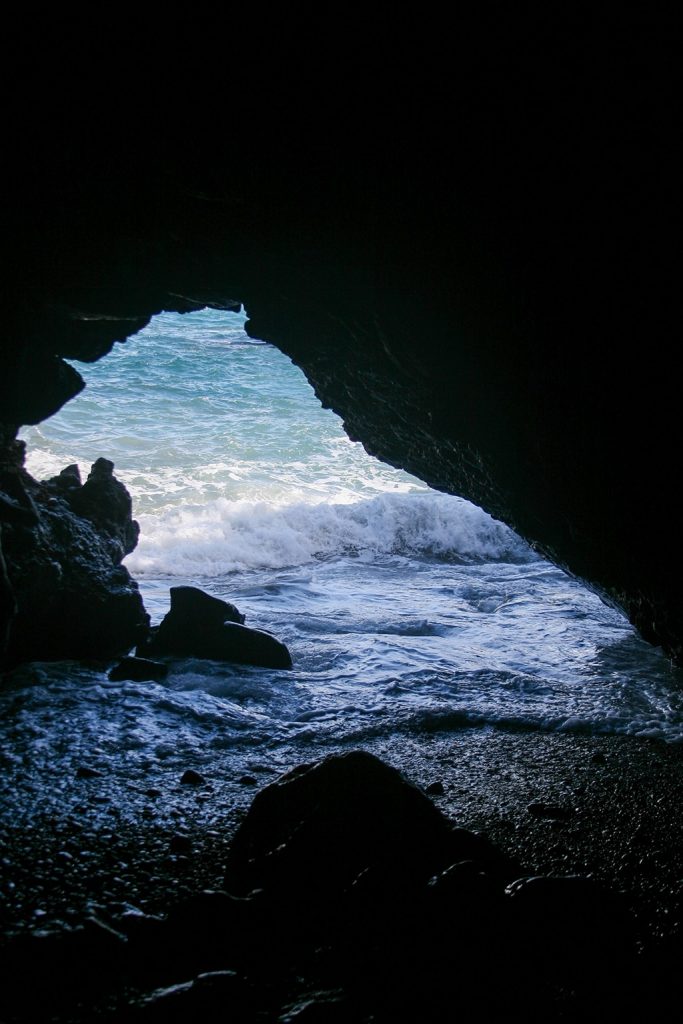 Just keep in mind that the sand is black…which means it can get REALLY hot on warmer days. We had more of an overcast day, so it wasn't too bad!
6. Go to a Luau!
What better way to experience the culture of Maui than with a traditional luau?!?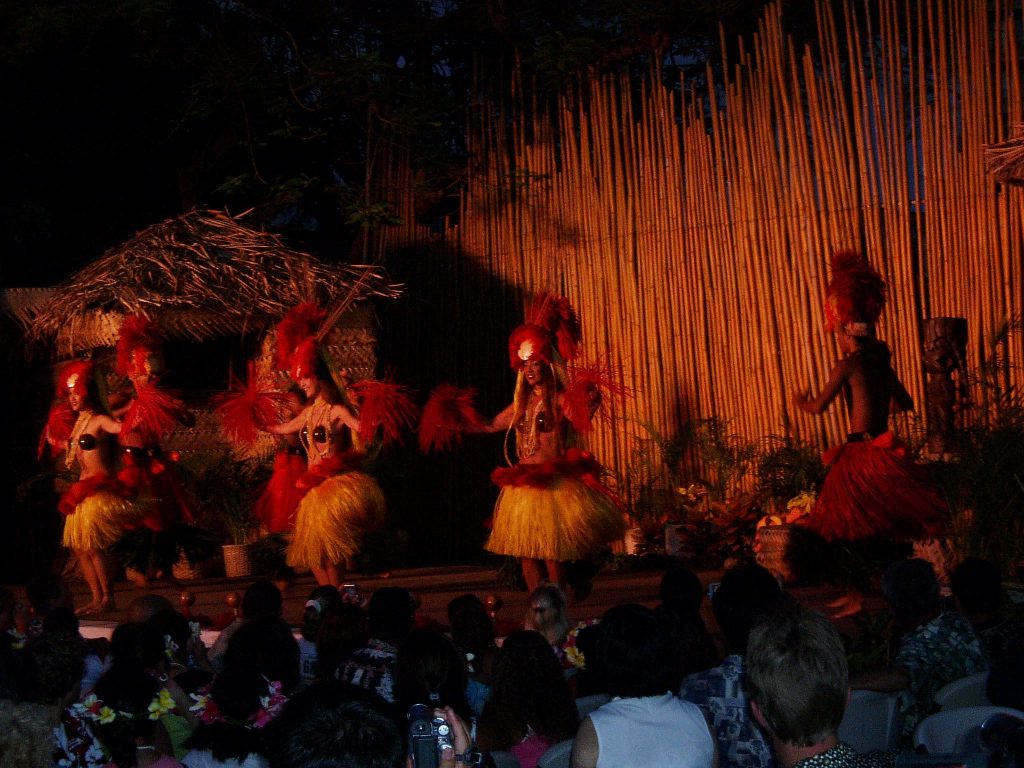 Be sure to check around and do your research. There are many to choose from. The food and the storytelling are usually lots of fun for all!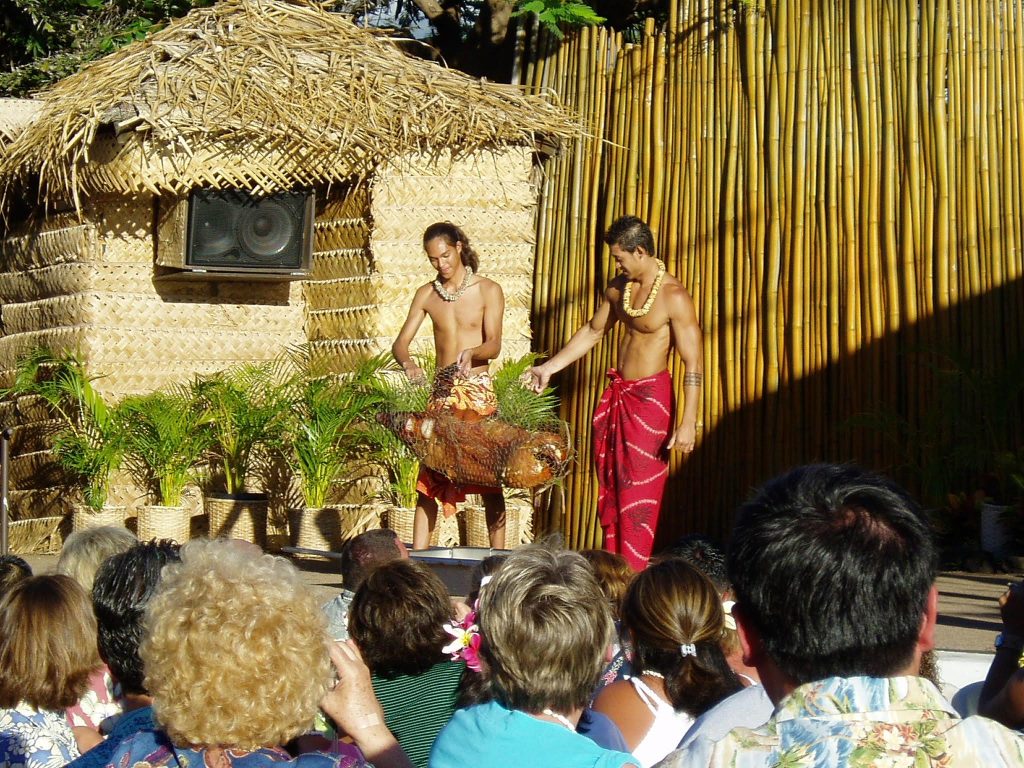 Depending on the age of your children, you may want to opt for a shorter, more kid-friendly luau. Many of the resorts offer luaus and I'm sure you can find one that would be enjoyable for your whole fam!
7. Play at the Beach!
Be sure to plan at least one morning or afternoon to just let the kids play at the beach. On this particular trip we stayed at a VRBO site and they had plenty of beach toys and boogie boards to keep our crew busy for hours!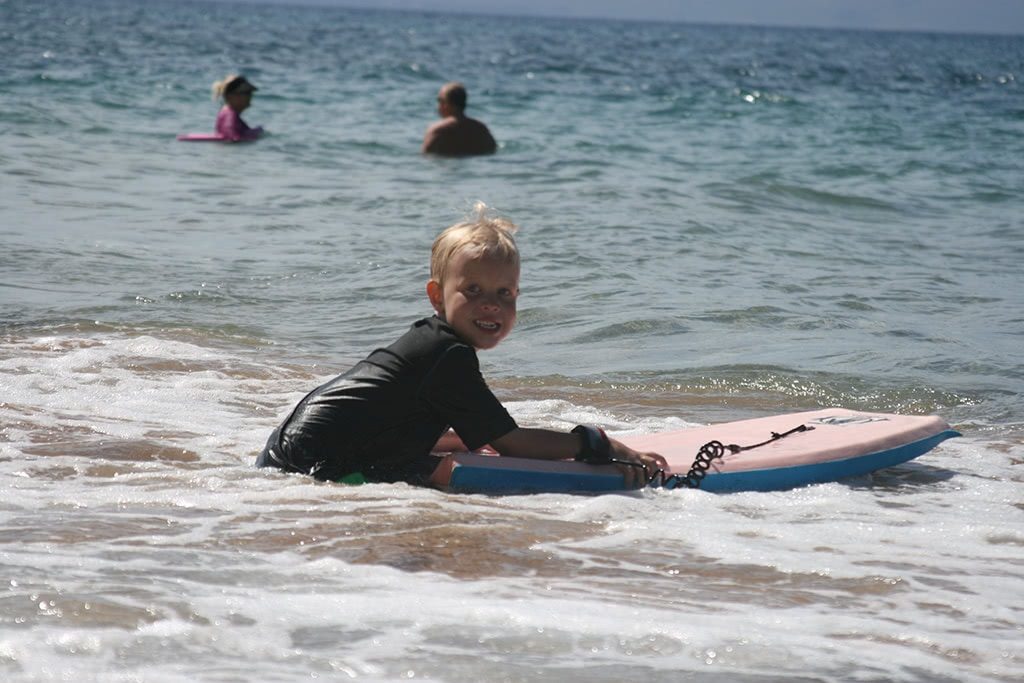 We stayed across from one of the Kamaole Beach Parks and it was the PERFECT place to play!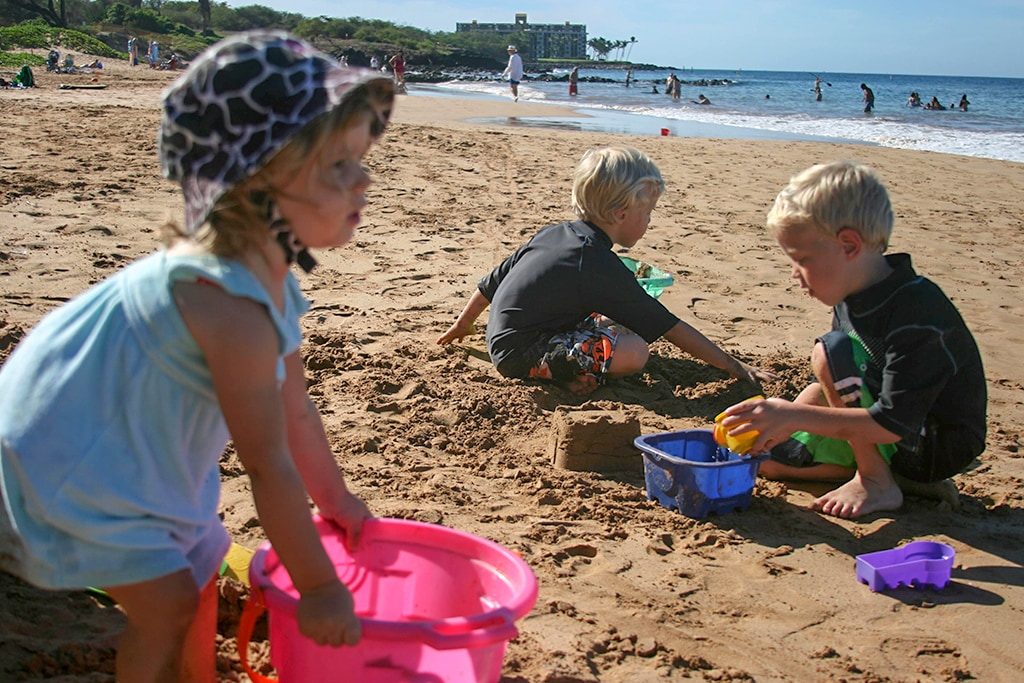 Not to mention the views weren't too bad either!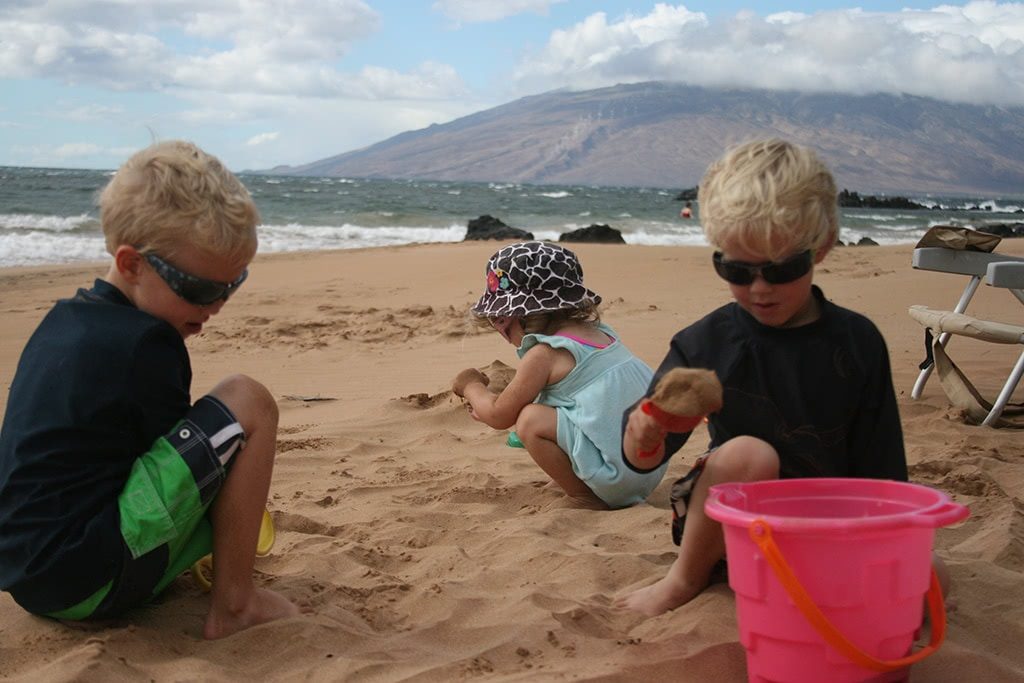 Kamaole Beach is also a GREAT place to snorkel as well! Matt and I were able to take turns going on some little snorkeling adventures which was fun! One day we even saw some sea turtles and an octopus not too far from shore. You never know what you might see!
8. Buy Some Locally Crafted Souvenirs
While there are definitely plenty of stores to visit in the different little towns in Maui, we came across an open air market called the "Maui Swap Meet." It was a neat place to walk around and visit different booths to see lots of different locally crafted souvenirs. Some of the items are imported, so just keep in mind that not everything is made locally. However, it's still a great place to snag any kind of souvenir you could possibly think of.
The boys bought some unique sea turtles carved out of wood and they even engraved their names on them!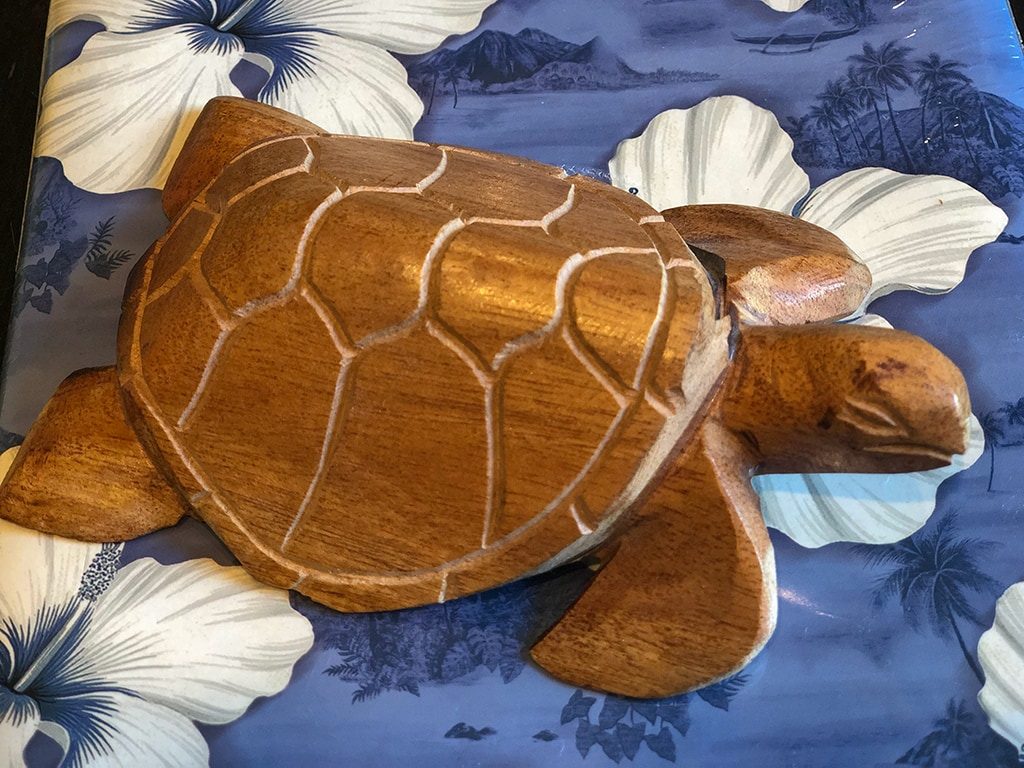 There was also a guy that made Coconut Pets. I think we got suckered into that purchase a little, but the boys LOVED them! It's still one of their favorite souvenirs from Maui.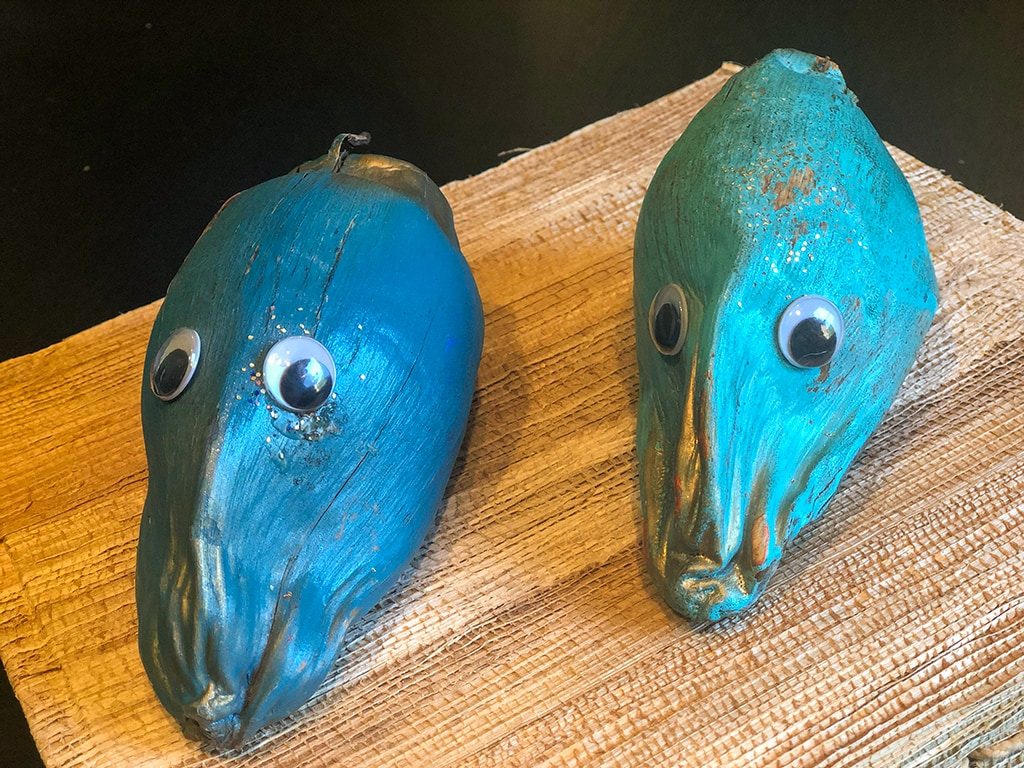 There were also fruit and vegetable vendors, shaved ice, lemonade, snacks, etc. You name it, you can probably find it there!
You could seriously spend all day walking around that place. Also, it can get REALLY hot quickly, so be sure to take some water to drink.
The market is only open on Saturdays from 7am-1pm. Its located behind the University of Hawaii in Maui at 310 Kaahumanu Avenue in Kahului. Admission is .50 and kids 12 and under are free! So be sure to pencil that in one Saturday morning if you want to check it out!
9. Visit Iao Valley State Park to see the Iao Needle!
The Iao Valley State Park is home to one of Maui's most unique landmarks, the Iao Needle.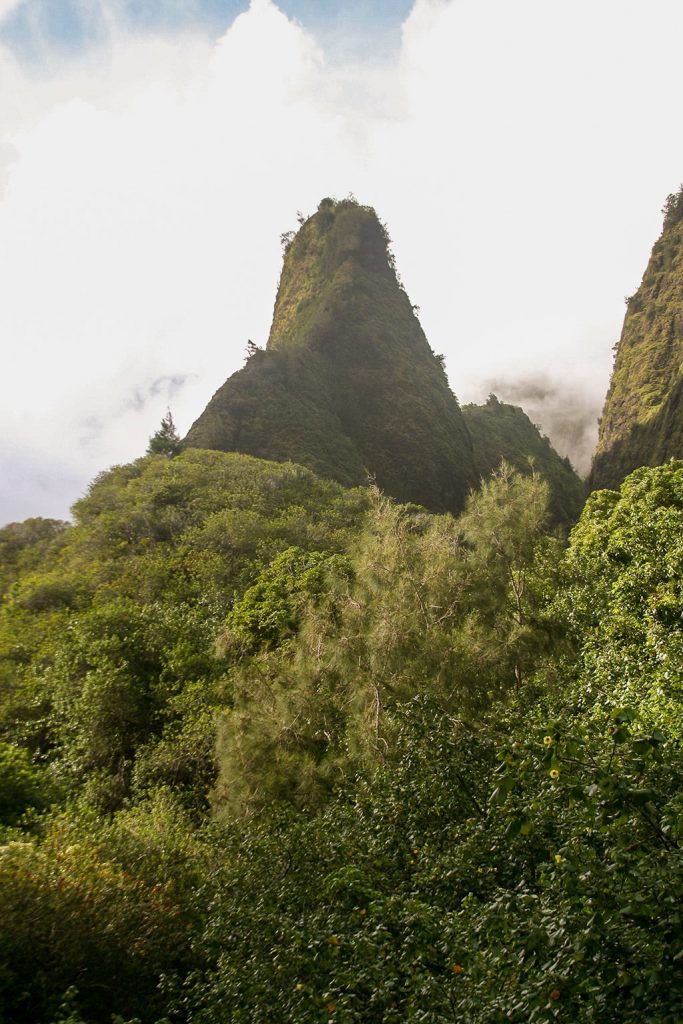 Located in Central Maui, the Iao Valley State Park has a great paved path you can use to get to the best viewing points of the Iao Needle.

Take some time to explore and walk around the beautiful rainforest. Between the flowing water and lush vegetation, it is a very peaceful experience and a great place to take in more sights of Maui.
10. Experience a Maui Beach Sunset
To wrap up your Maui trip, you need to take at least one evening, head to the beach and experience a sunset.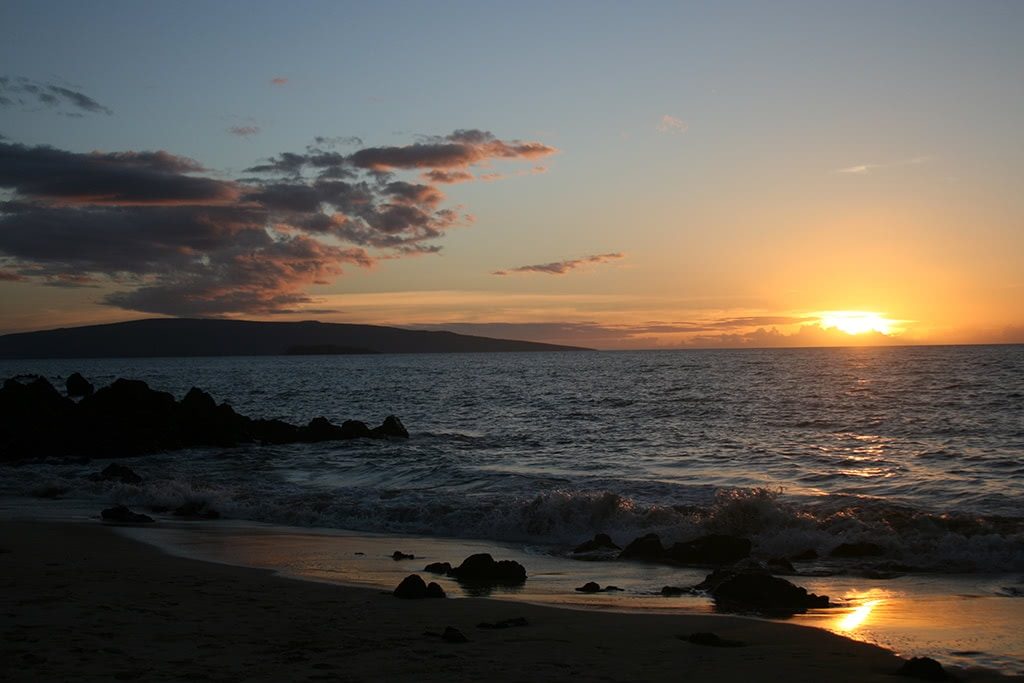 The colors in the sky are absolutely breathtaking. There are many great areas to go view a sunset. I can't imagine that there would be a bad sunset view on Maui.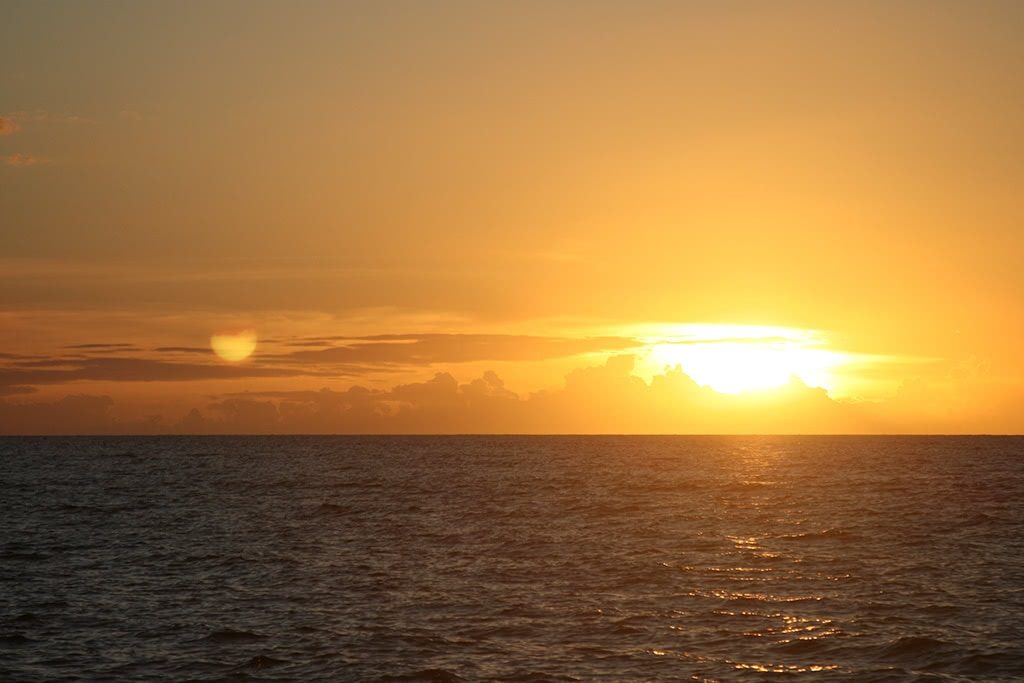 On this particular trip, we were at Po'olenalena Beach Park, also known as Chang's Beach.
The kids had fun playing in the sand.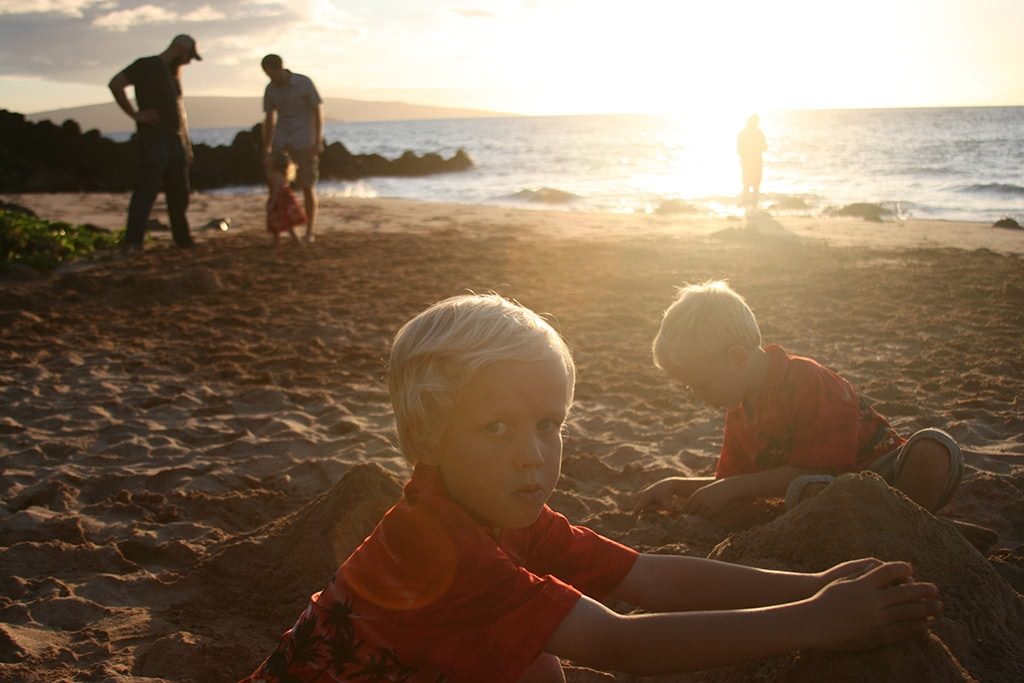 And we even got a few family pictures as well.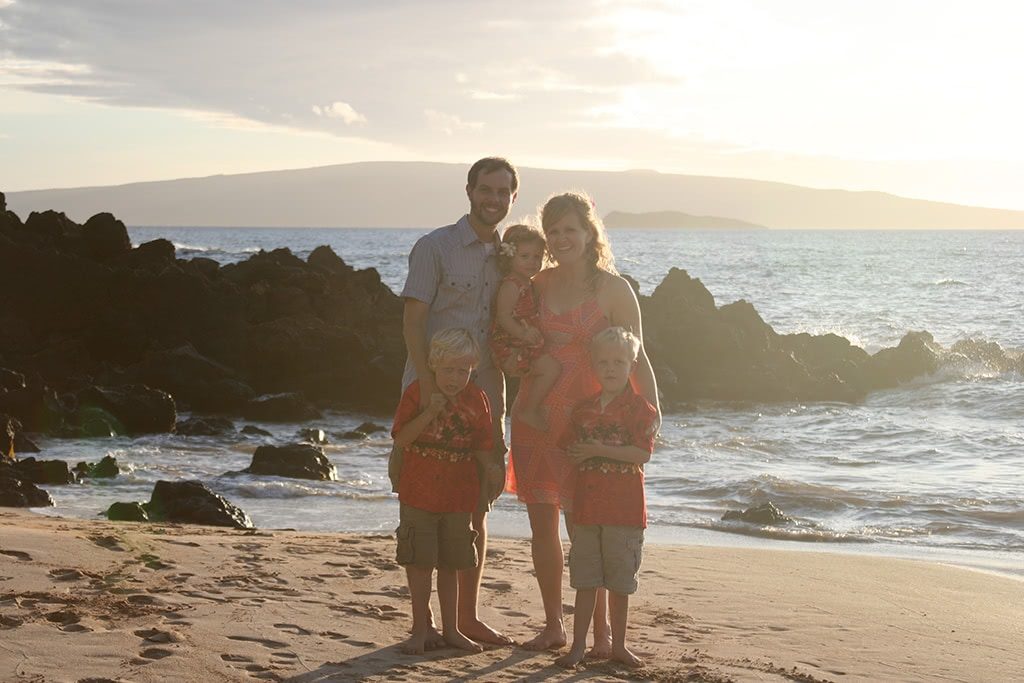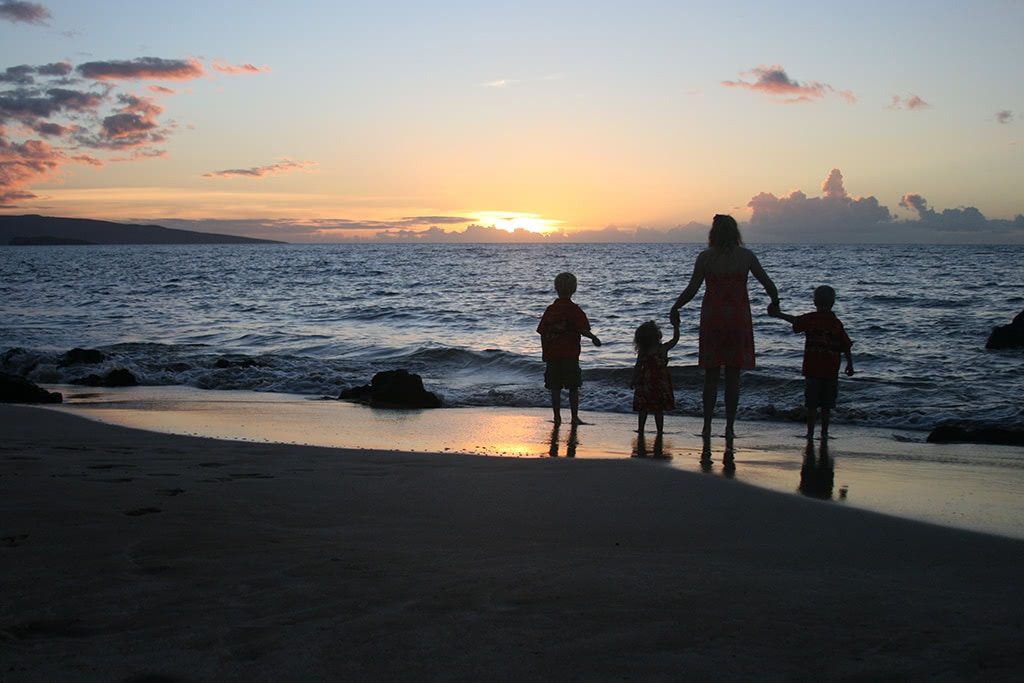 It was an incredible experience creating family memories that will last a lifetime!
What are your favorite things to do in Maui Hawaii?
So have you been to Maui on a family vacation before? What are your favorite things to do in Maui Hawaii while you are there? Do you have a favorite place to go? Leave your comment below! We would love to hear from you!
---
More Related Articles: