Looking for some waterfall adventures in the Great Smoky Mountains? How about ONE short hike that takes you to THREE different waterfalls? The Deep Creek area offers some of the most beautiful waterfalls within a short distance that the whole family will enjoy!
Read on to learn more about our experience in the Deep Creek area, that may possibly be one of our new favorite waterfall adventures in the Great Smoky Mountains!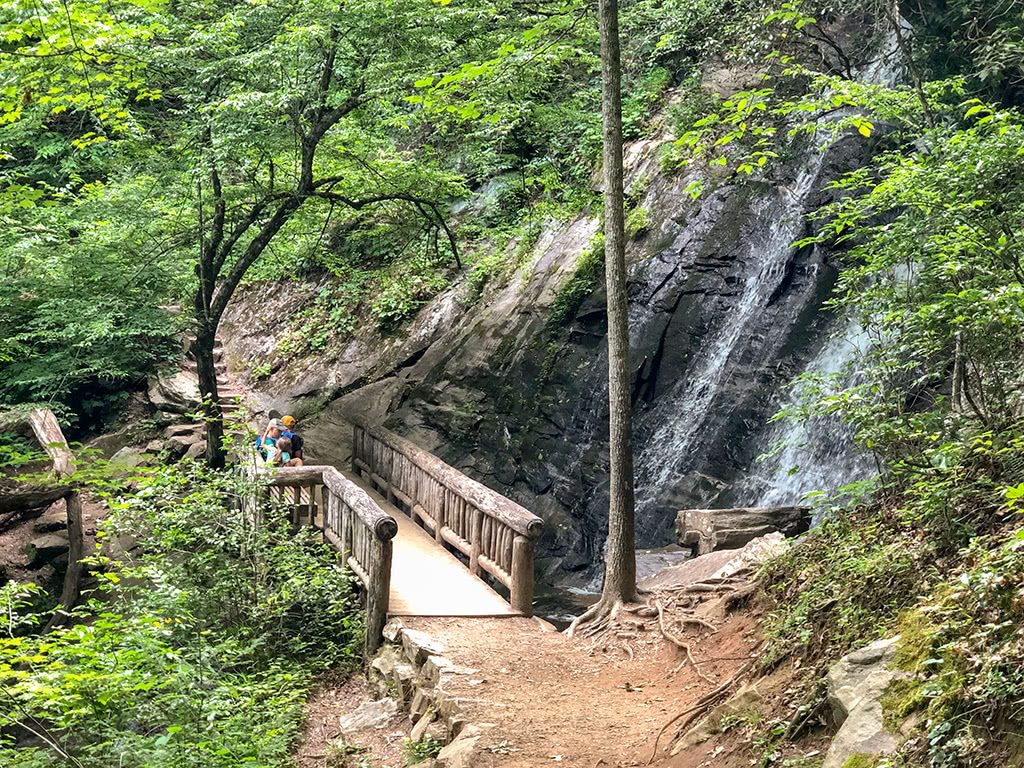 *This post may contain affiliate links which help support this site, but won't cost you anything extra. Read our full disclaimer.
Hiking in the Smoky Mountains
As with any National Park, before you head out to explore, it never hurts to have on-hand some reliable and trustworthy resources for easy reference.
Here are a few of our favorite pocket guides that we recommend for hiking in the Great Smoky Mountains:
For more history and information about the Smokies, be sure to check out more Great Smoky Mountains Books and Guides here!
Deep Creek Waterfalls Hike – Trail Information
Round Trip Length: 2.2 miles
Trail Location: Deep Creek Campground and Picnic Area (near Bryson City, NC)
Directions: Deep Creek Trail Trailhead
Trail Features: Waterfalls
Round Trip Hours: 1 – 2 hours
Difficulty: Easy
The Deep Creek Waterfall Hike includes three beautiful waterfalls within a short walking distance: Tom Branch Falls, Indian Creek Falls and Juney Whank Falls.
Each waterfall is completely unique and captivating in their own ways! This waterfall hike will not disappoint!
How Do I Get To Deep Creek?
No matter where you are traveling from, you can put into your GPS "Deep Creek Trail Trailhead" and it should pull up the exact location on W Deep Creek Rd, Bryson City, NC 28713.
For us, we were coming from the Gatlinburg area. From the Sugarlands Visitor Center in Gatlinburg, it is approximately 1 hour and 15 minutes to get to Deep Creek.
The drive is so beautiful between the Visitor Center and the Deep Creek area.
Some of the pull-offs are just gorgeous along the way. So if you have extra time, be sure to check some of these out if you are traveling from the Gatlinburg direction!
Between the Sugarlands Visitor Center and Deep Creek
In addition to the many picturesque pull-off opportunities, you will find several other unique places to stop and visit in the Great Smoky Mountains area along this stretch as well.
Here are some of our favorites if you have time (or to just note for another day!):
Chimneys Picnic Area, one of several picnic areas in the Great Smoky Mountains. We love to have a picnic & play in the water!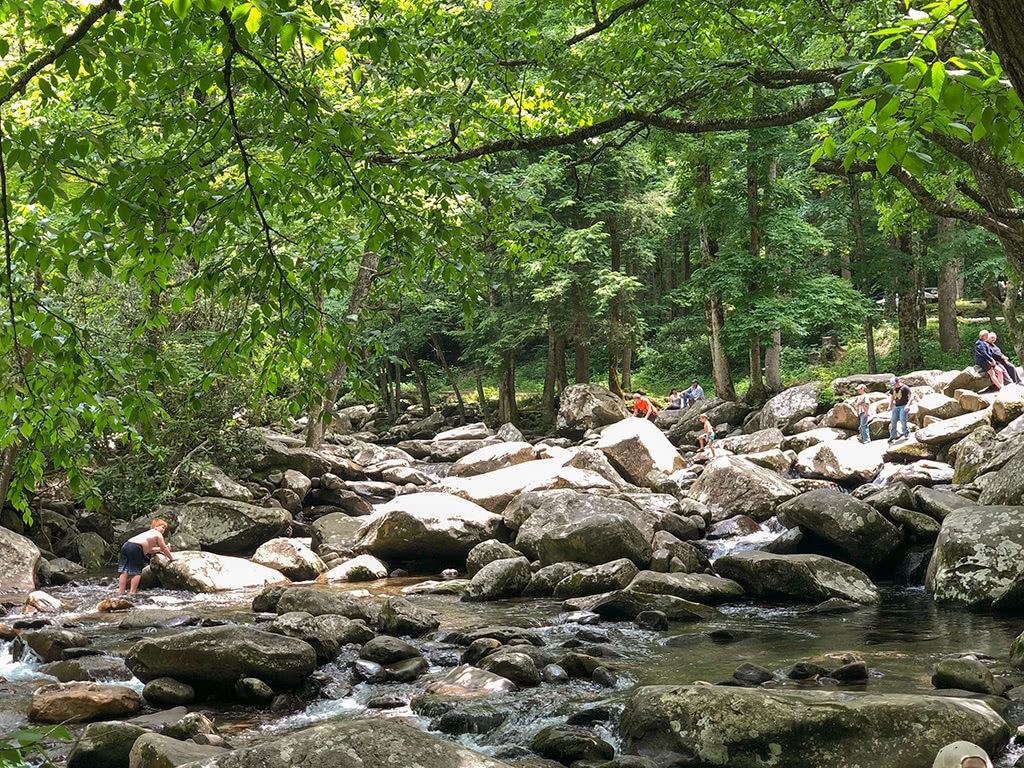 Rockefeller Memorial, President Franklin D. Roosevelt dedicated the Great Smoky Mountains here. You will also find the North Carolina/Tennessee line as well as a great panoramic view of the mountains!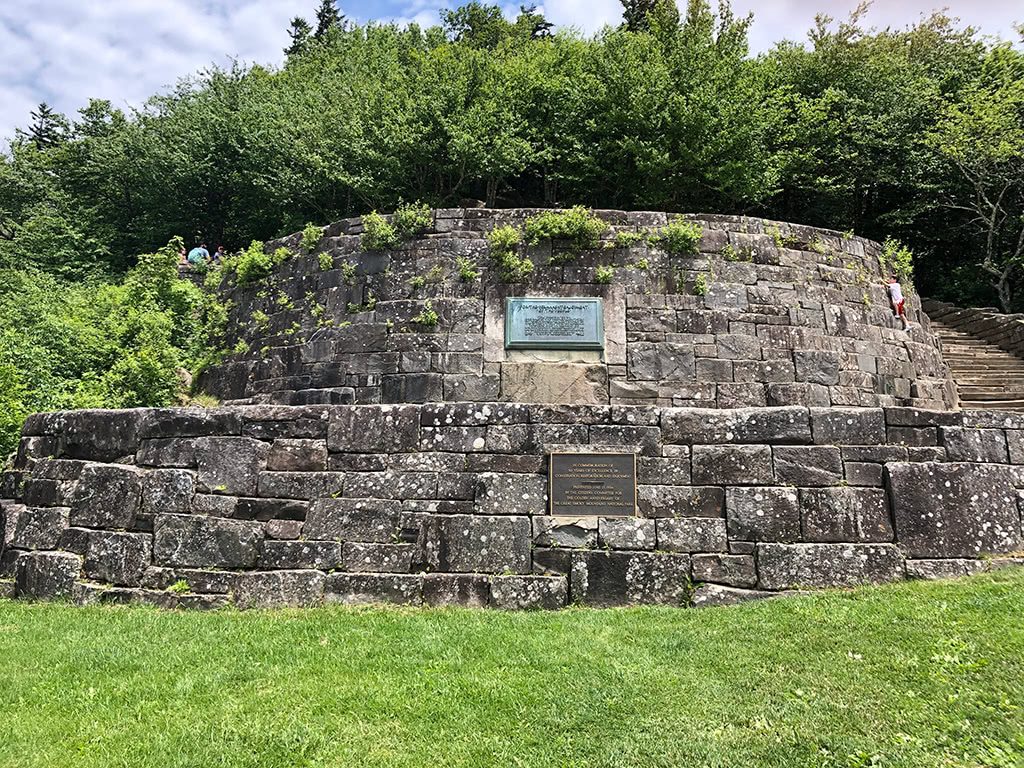 Clingman's Dome, the highest point in the Great Smoky Mountains at 6,685 ft. It also has some of the most amazing views of the Great Smoky Mountains if you are willing to take a 0.5 mile (uphill) hike.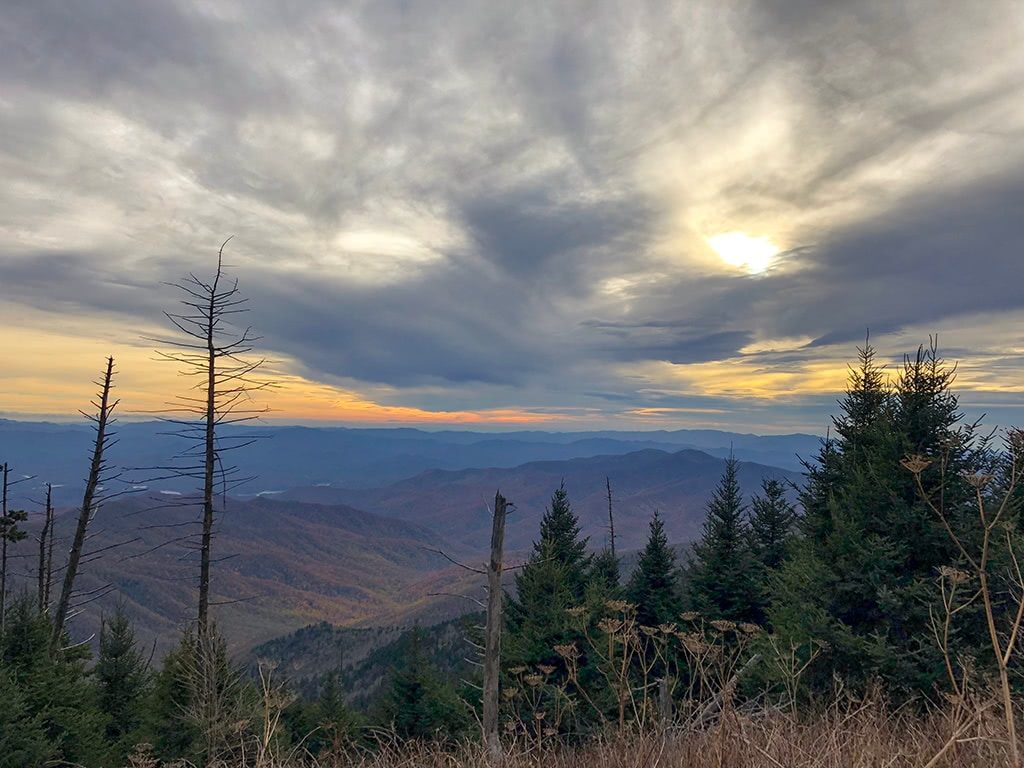 The Oconaluftee Visitor Center is where you can stop by and ask Park Rangers about the Great Smoky Mountain Park and learn more about the history in the area. The Visitor Center also neighbors the Mountain Farm Museum, which is also worth exploring at some point!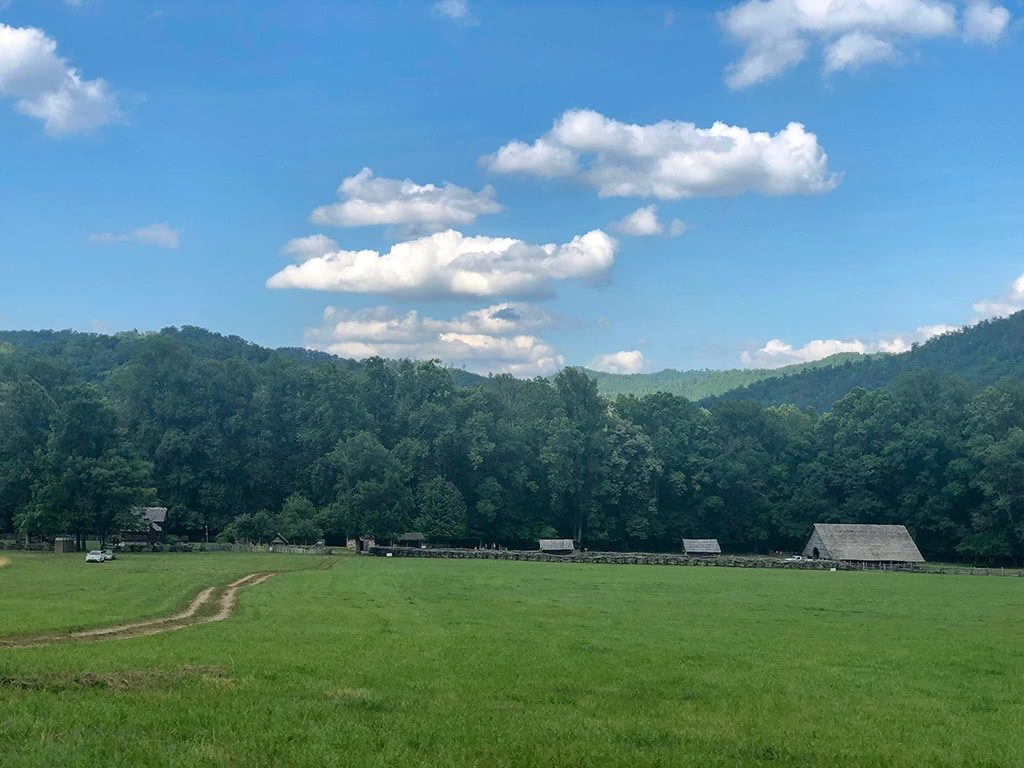 Once you get into the Ocanuluftee area, there are often Elk roaming. We saw some on the way there and also on our way back, but couldn't snap a picture quick enough. So be sure to keep your eyes peeled and your camera out! (Unless you are the one driving that is…and in that case, be a responsible driver and let your co-pilot take pictures!)
Cherokee and Bryson City – We also drove through some of the town of Cherokee and Bryson City. We plan to explore those a little more thoroughly another day when we have more time!
Navigating the Deep Creek Area
Once you enter the Deep Creek part of the Great Smoky Mountains National Park, some of the first things you will see are the campground and picnic areas.
After passing the entrance to the picnic area, we found a great pavilion on the left with some bathrooms that we could stop at right off of the main road (W Deep Creek Road).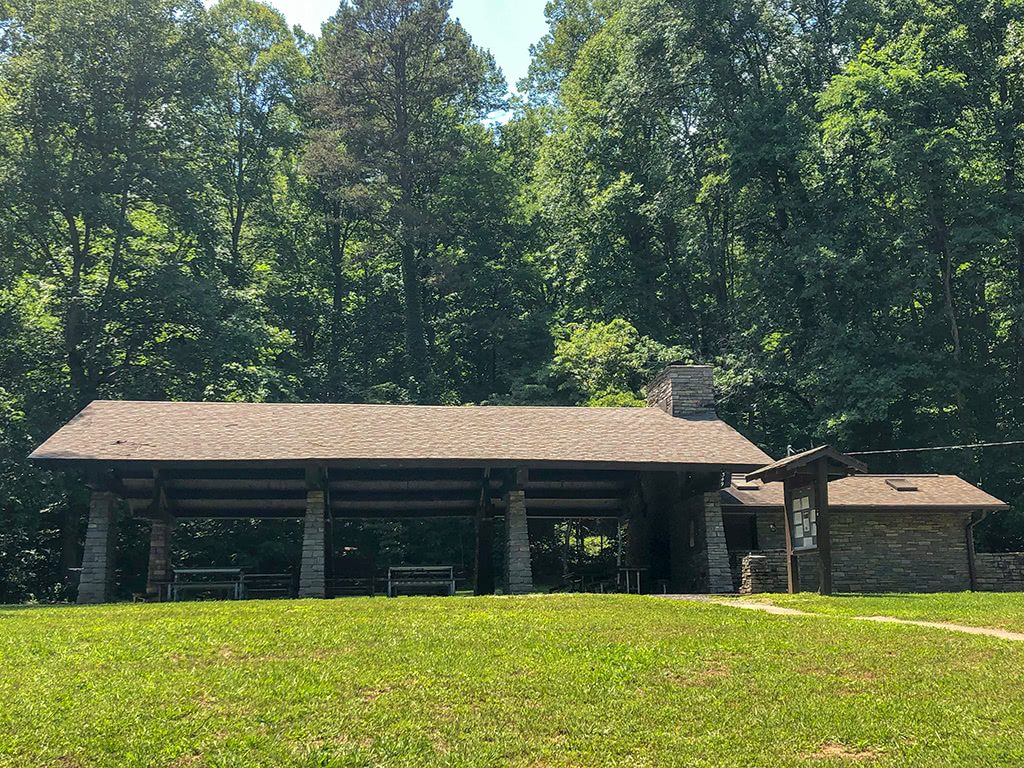 There were also some signs with some great information about the surrounding areas, so be sure to stop by and check those out!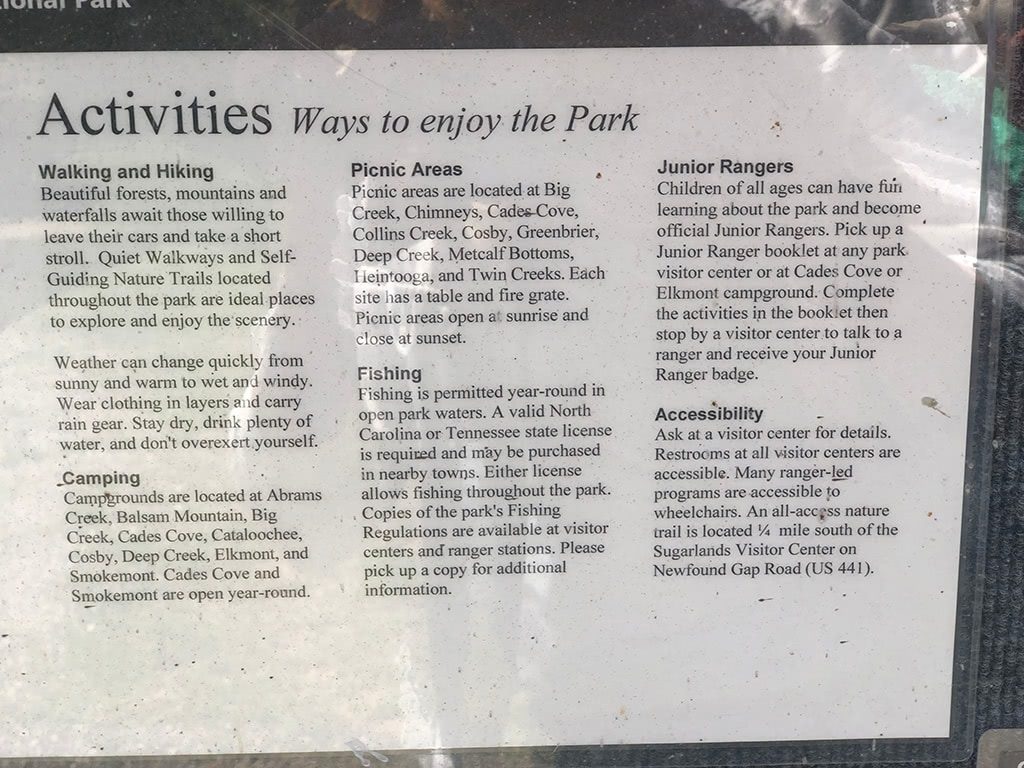 We then loaded back up and headed on our way to the Deep Creek Trail Parking area. During the summer months, this little parking lot is a popular spot!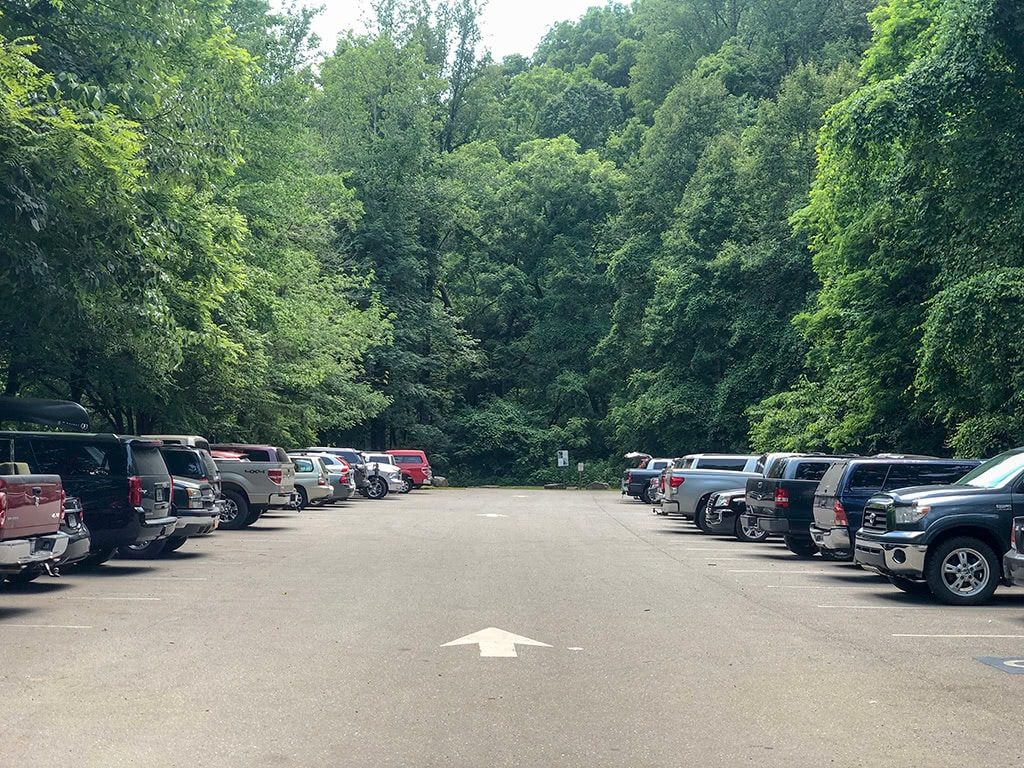 We finally found some hikers that were on their way out and we quickly snatched their spot. If you have trouble finding any parking, you can always head back over towards the picnic area and park there.
Locating the Deep Creek Trailhead
Right next to the parking lot, there is a nice area with a little bench and some signs that you can read before you take off on your trek.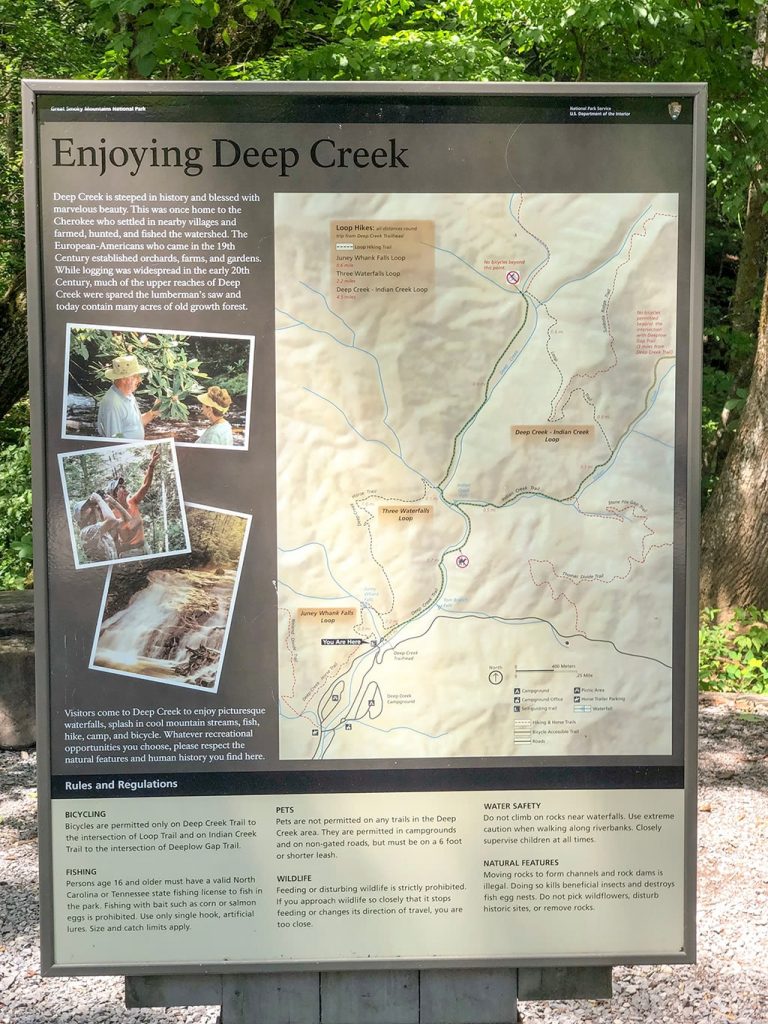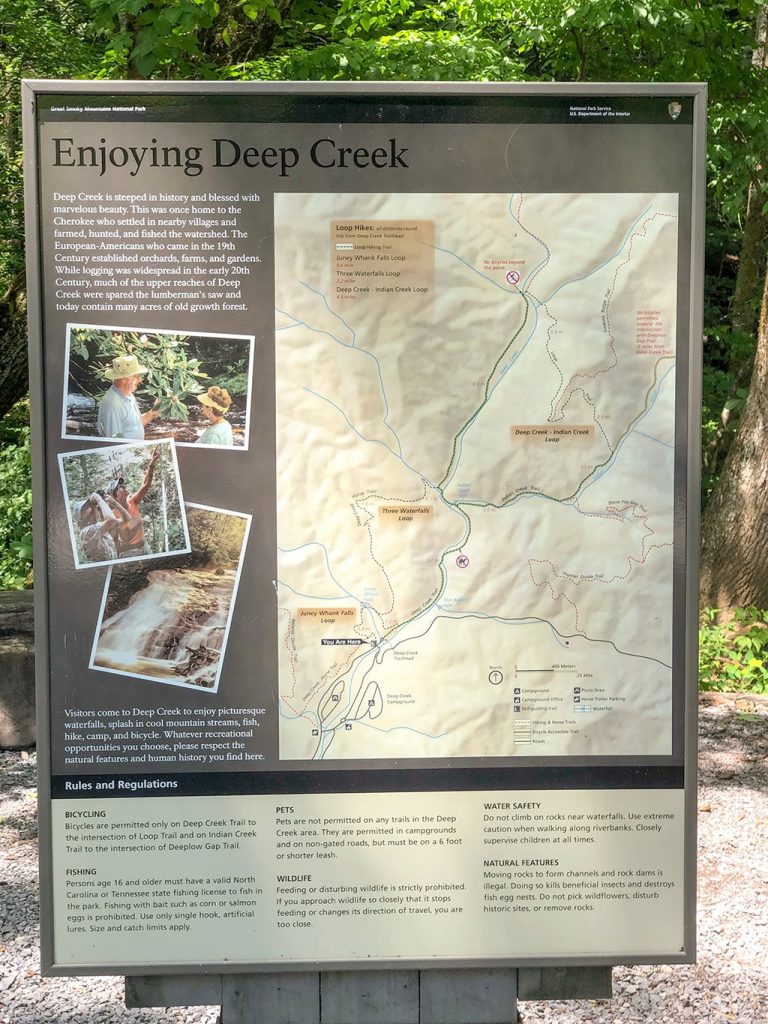 There is also a pretty bridge to cross over.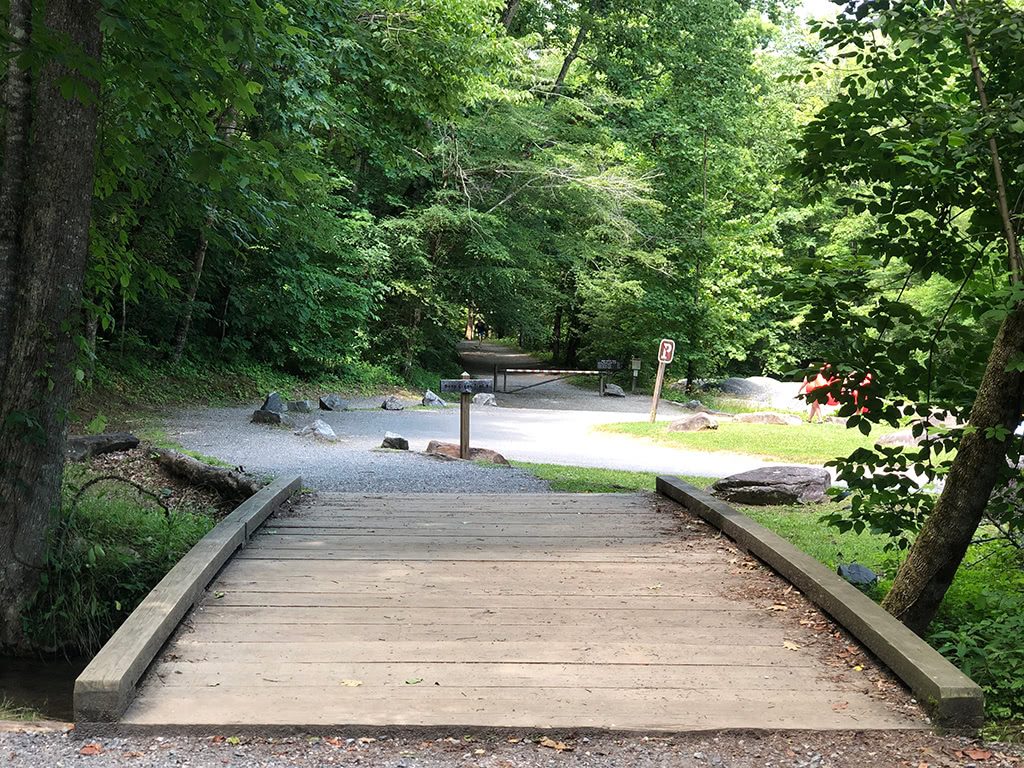 And this is also a busy area where tubers are being dropped off to tube in the river.
Which Way Do You Go?
From the Deep Creek Waterfalls trailhead area, you have 2 options:
Option 1: Start with Juney Whank Falls
You can take an immediate left and start at the Juney Whank Falls trailhead, which will actually loop around and put you back on the Deep Creek Trail. You would then take a left on the Deep Creek Trail to see Tom Branch Falls and then wrap it up at Indian Creek Falls as your last waterfall before you head back.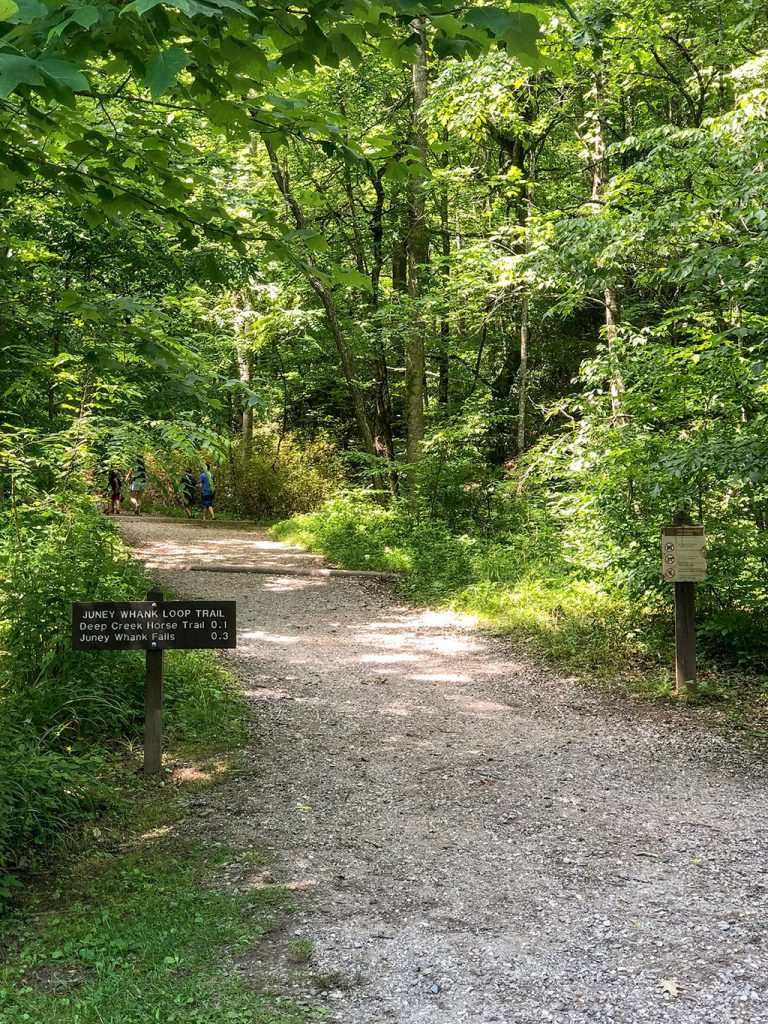 Option 2: Start with the Deep Creek Trail
Start at the Deep Creek Trailhead and see Tom Branch Falls first, then trek on to Indian Creek Falls. You would then head back and take a right onto Juney Whank Loop Trail, which leads you to Juney Whank Falls. Then you would follow that trail that loops around putting you right back out at the parking lot.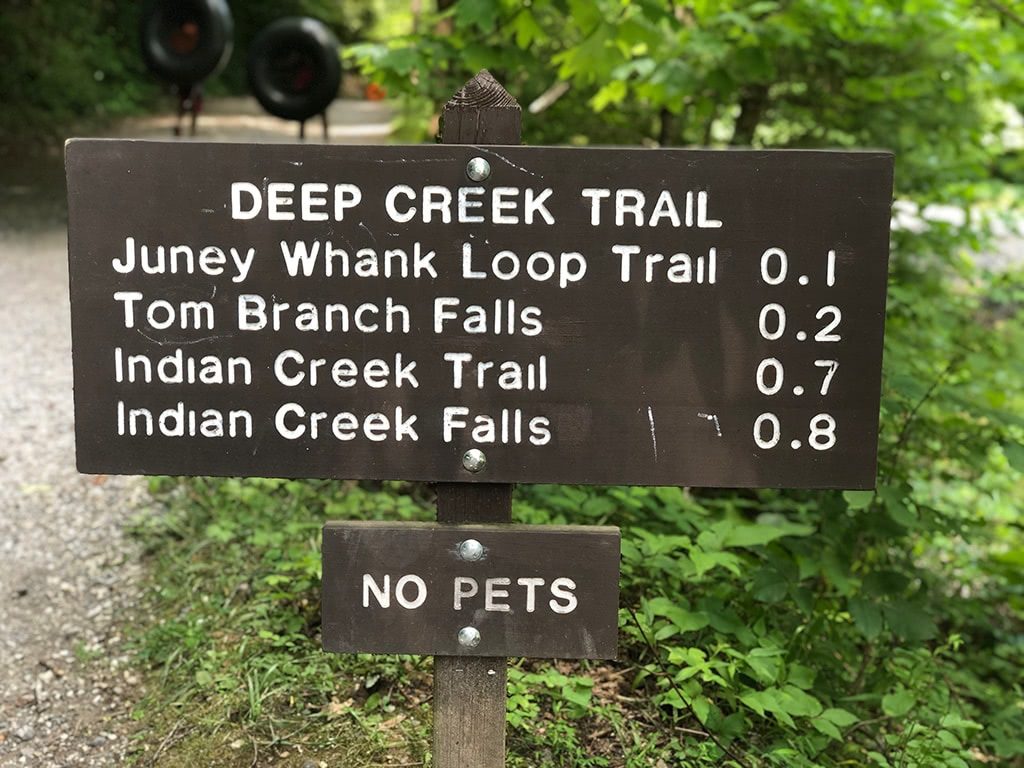 For us, we decided to do the Deep Creek Trail first and then loop back around and see Juney Whank Falls on our way out. I don't think there is any right or wrong way to do it, so just pick one and go with it!
Take a quick picture next to the trailhead sign to document your journey, and head on your way!
On the Trail
Tom Branch Falls
If you are visiting during the summer months, this trail may have TONS of tubers walking up to go tubing. I don't know if the timing of it was a busy part of the day or what, but at one point Matt looked at me and said he felt like he was at a busy water park. Ha!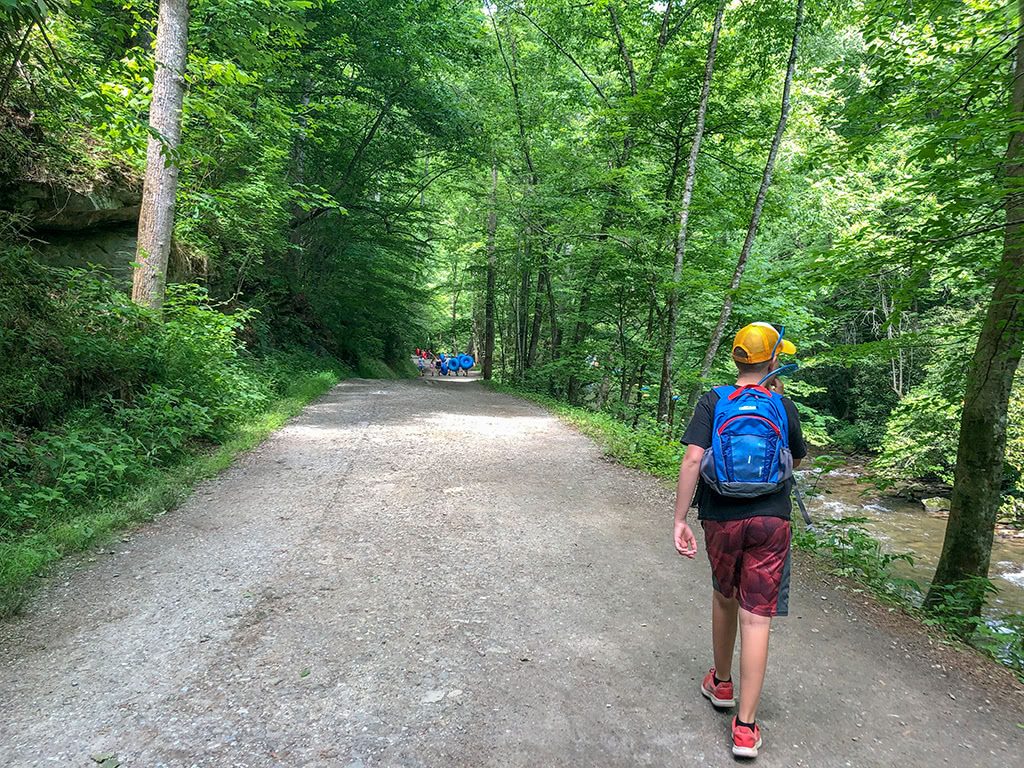 Just a short walk and you will surprisingly come to Tom Branch Falls rather quickly!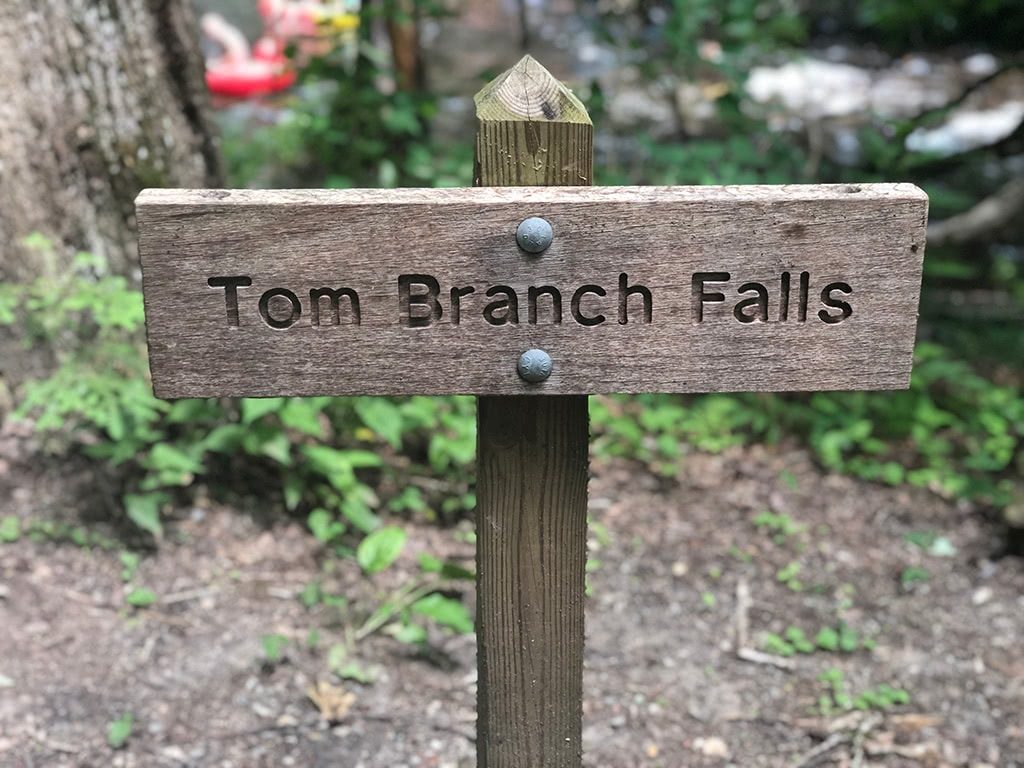 This is such a beautiful waterfall! It is also a very popular place for tubers to get in the river. So it took a few minutes for the river to clear to get a pretty shot of the waterfall!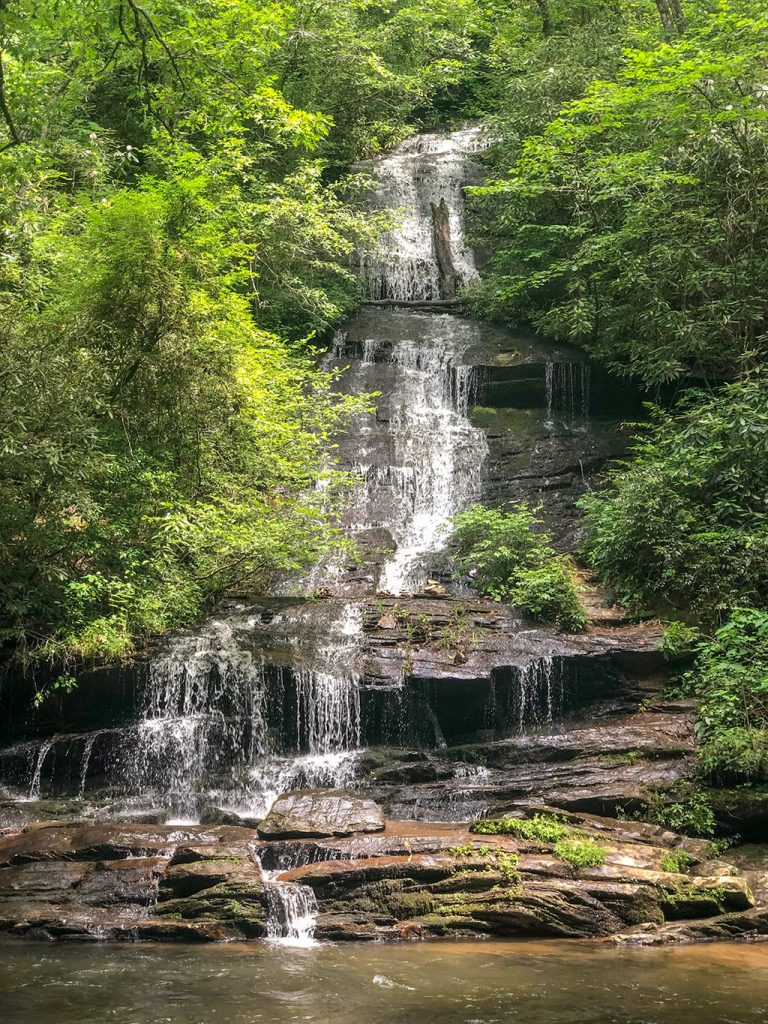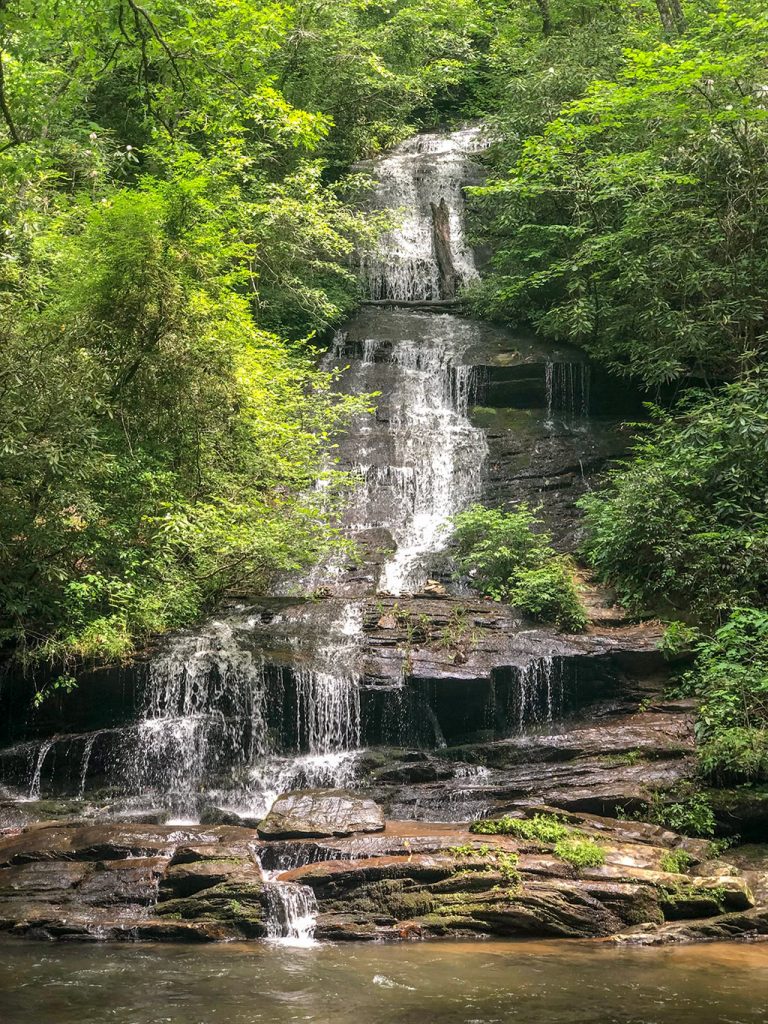 So be patient…it's worth the wait!
Indian Creek Falls
As you head on up the trail, you will find a sign that is directing you to Indian Creek Falls.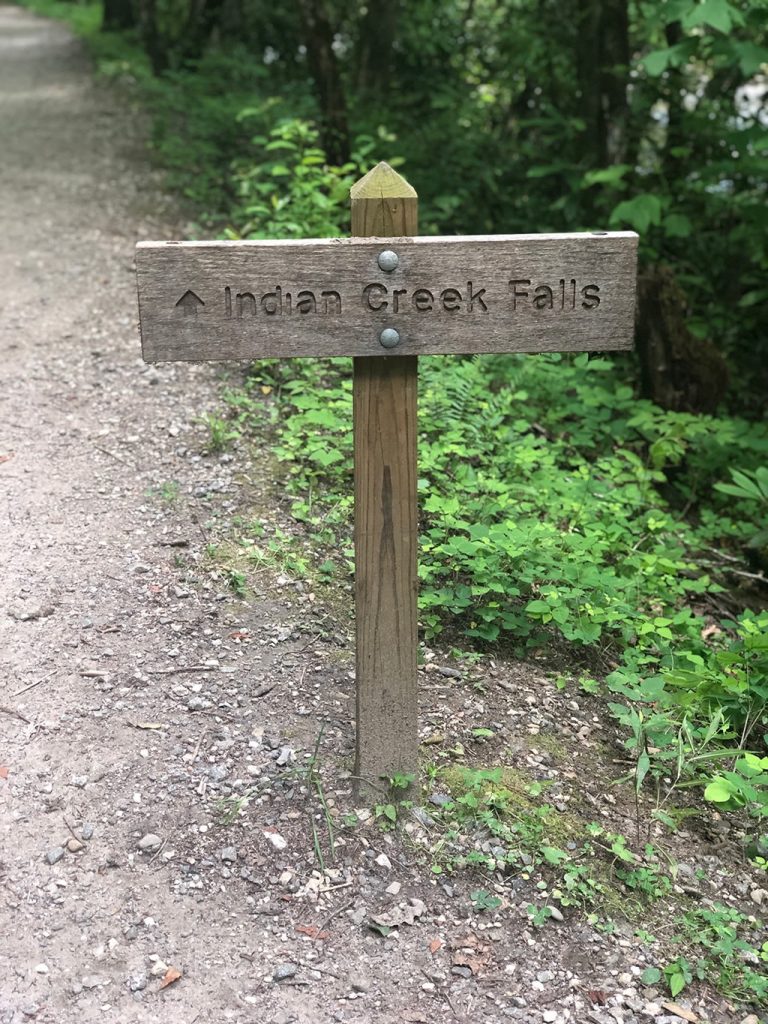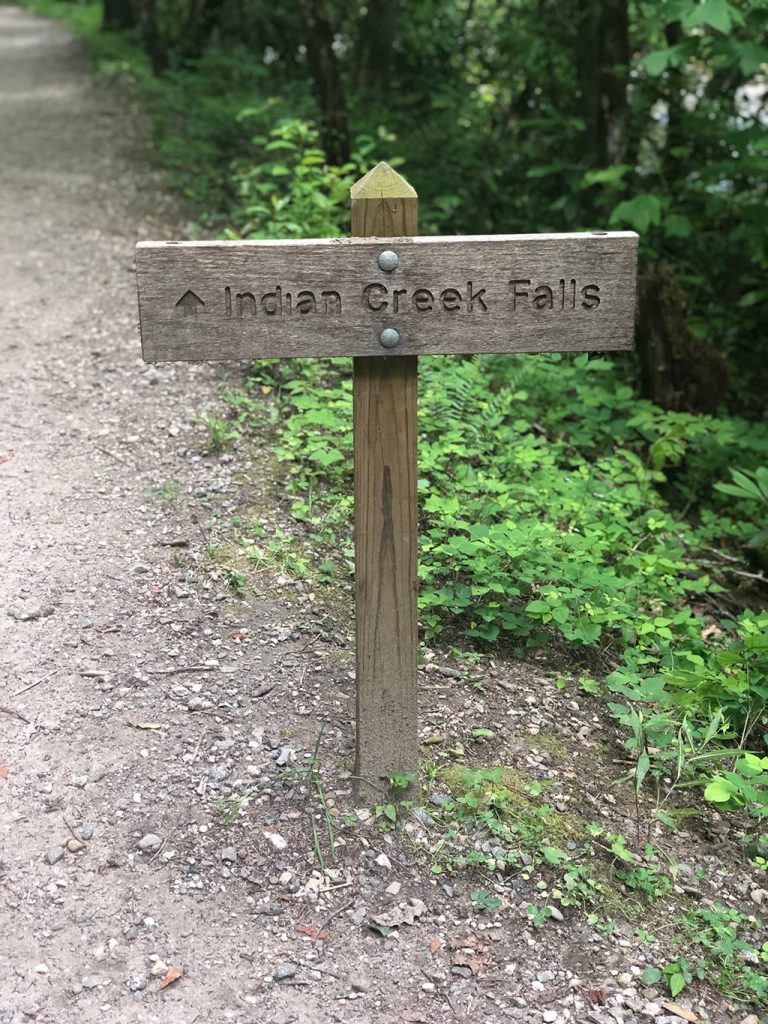 Along the way there are several benches that you can stop at and take in the relaxing sounds of the river.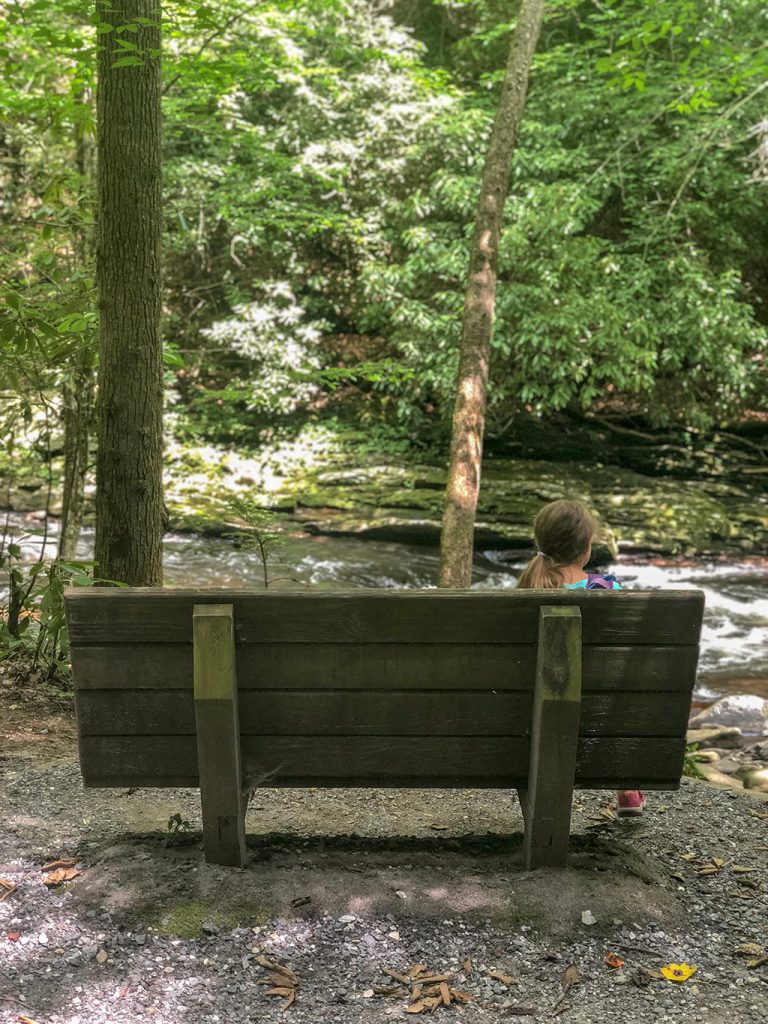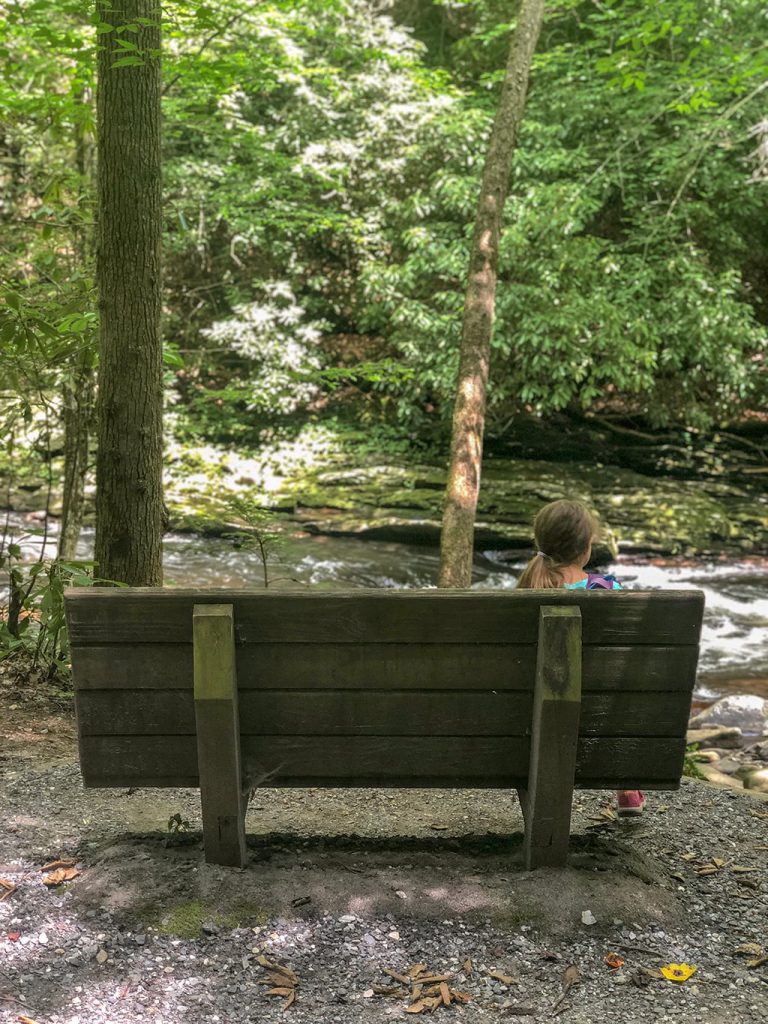 After a little more walking, you will come to a bridge to cross over. (Did I mention there were A TON of tubers there that day?!?)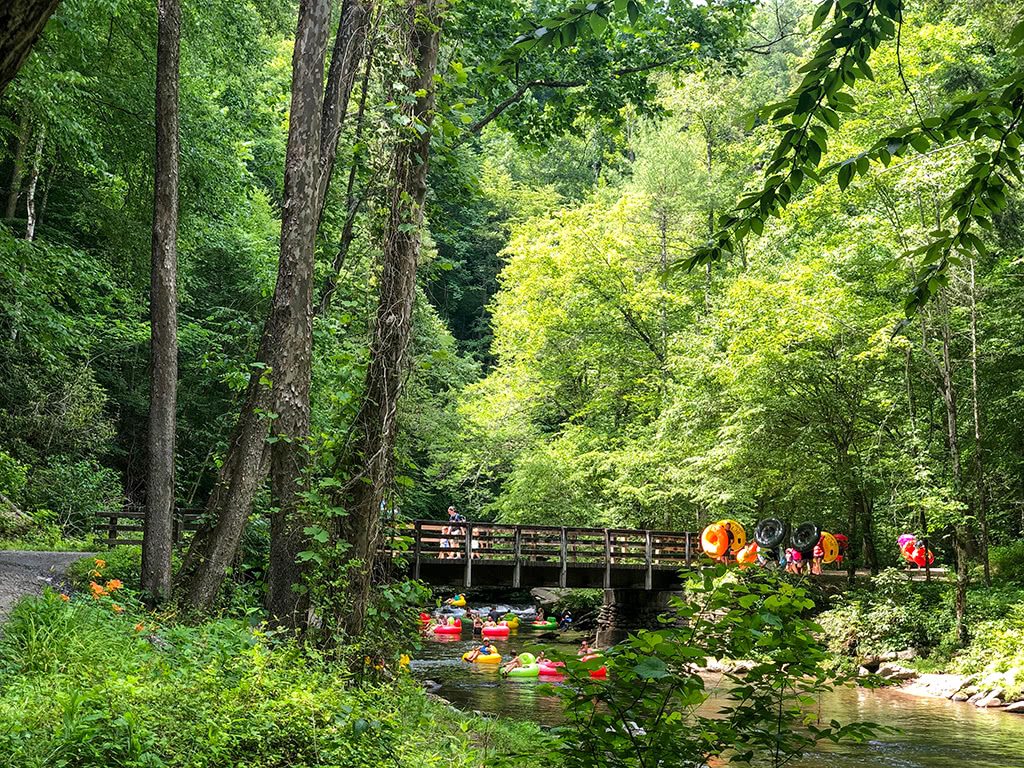 Right after you get across the bridge, there are some more benches next to some small cascades.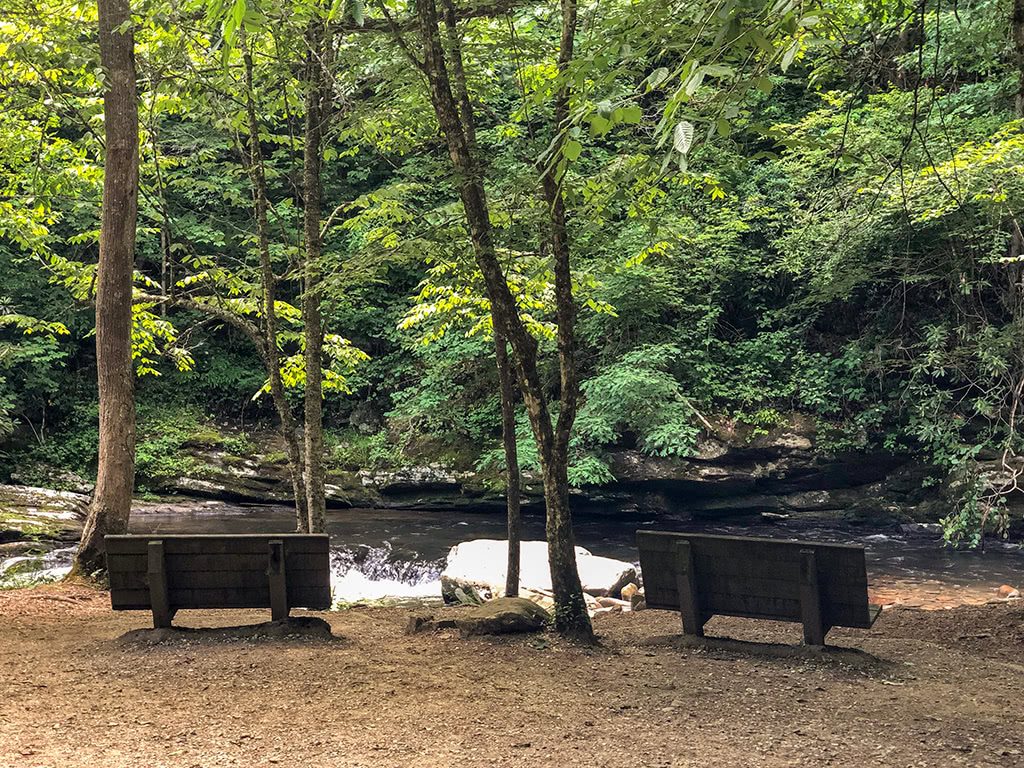 Head on up the trail until you come to a crossroad where you will take a right. Don't worry…there is a great sign marking the trails and pointing you in the right direction for Indian Creek Falls.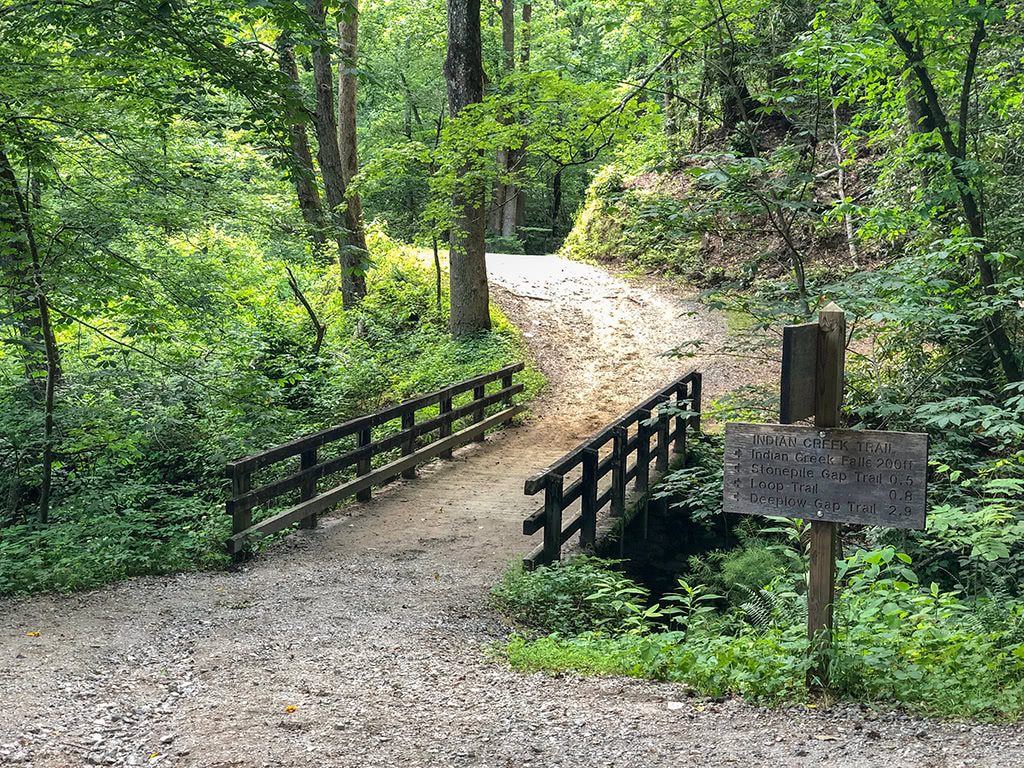 Only 200 more feet up the hill, and you will come to the stairs that will take you on down to the falls.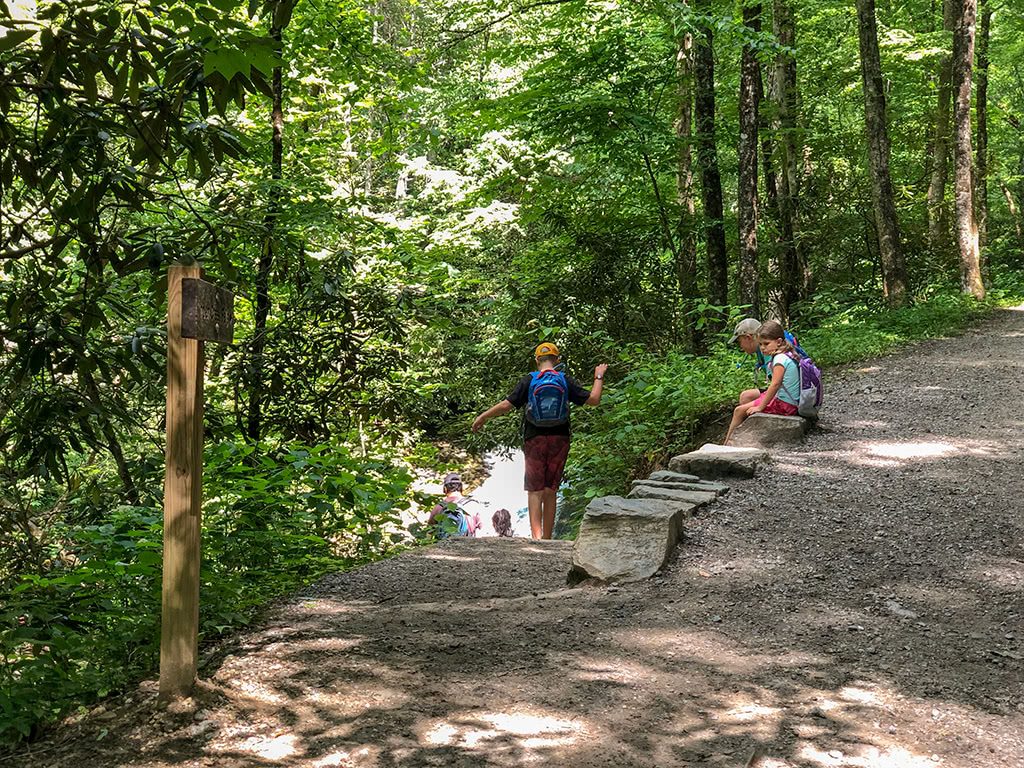 Once at the bottom, take a few pictures of the falls.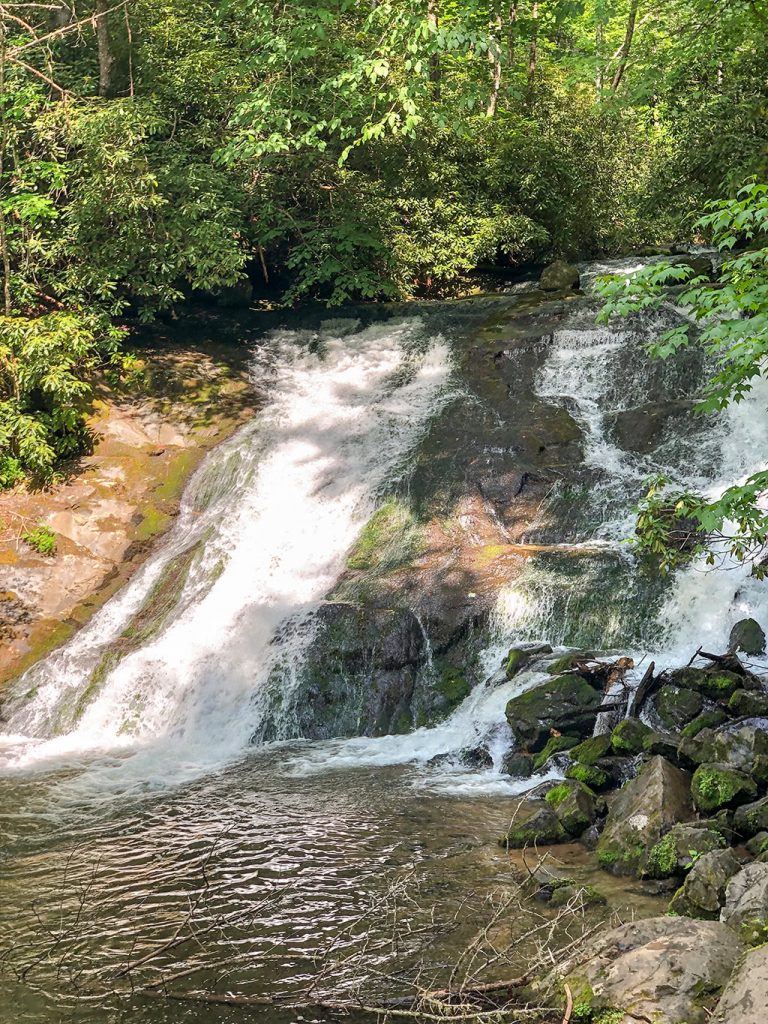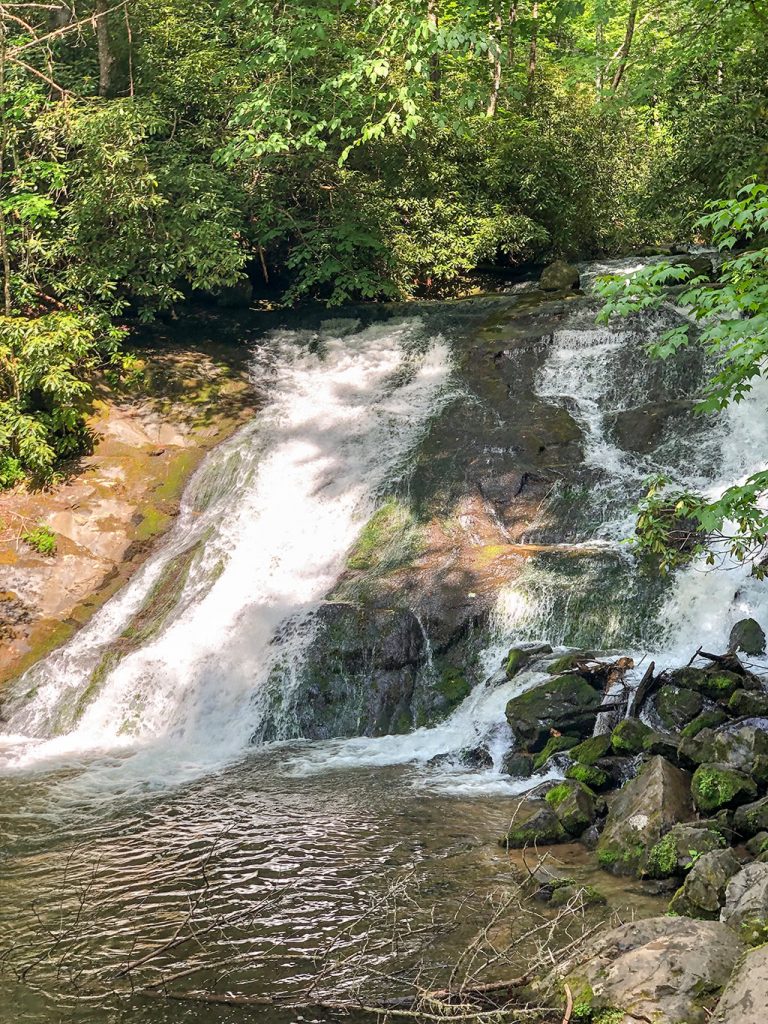 And if you are lucky enough to strike up a conversation with another couple or family, you can even ask them to take a quick family picture for you. (And be sure to return the favor and offer to take a picture for them as well!)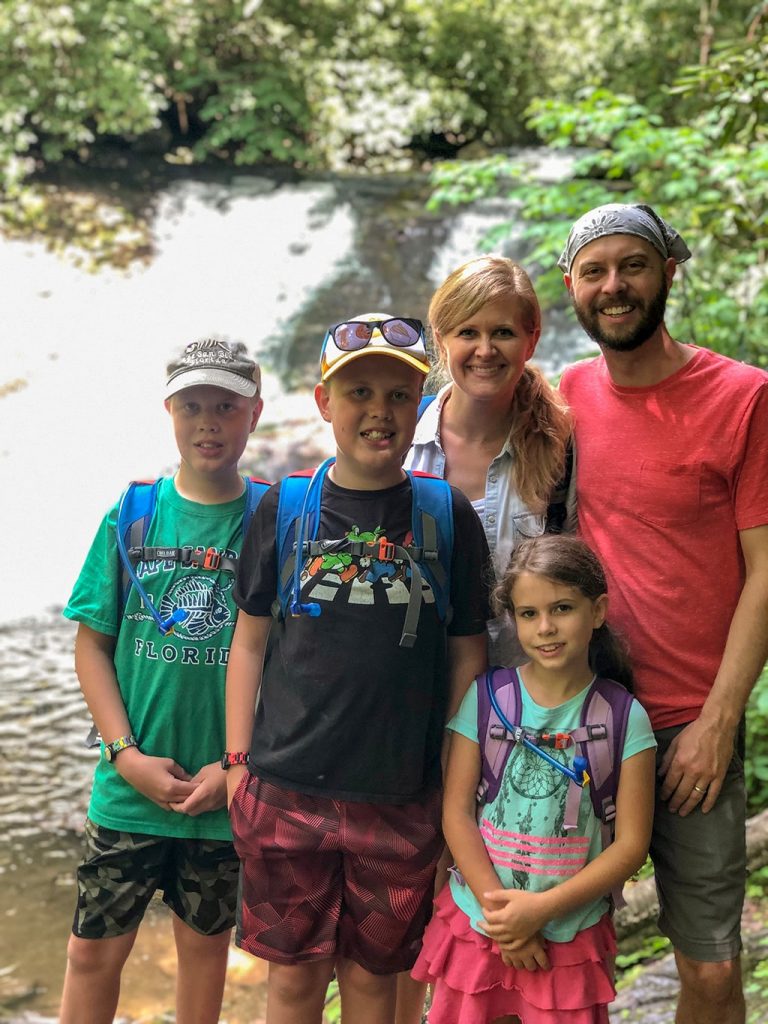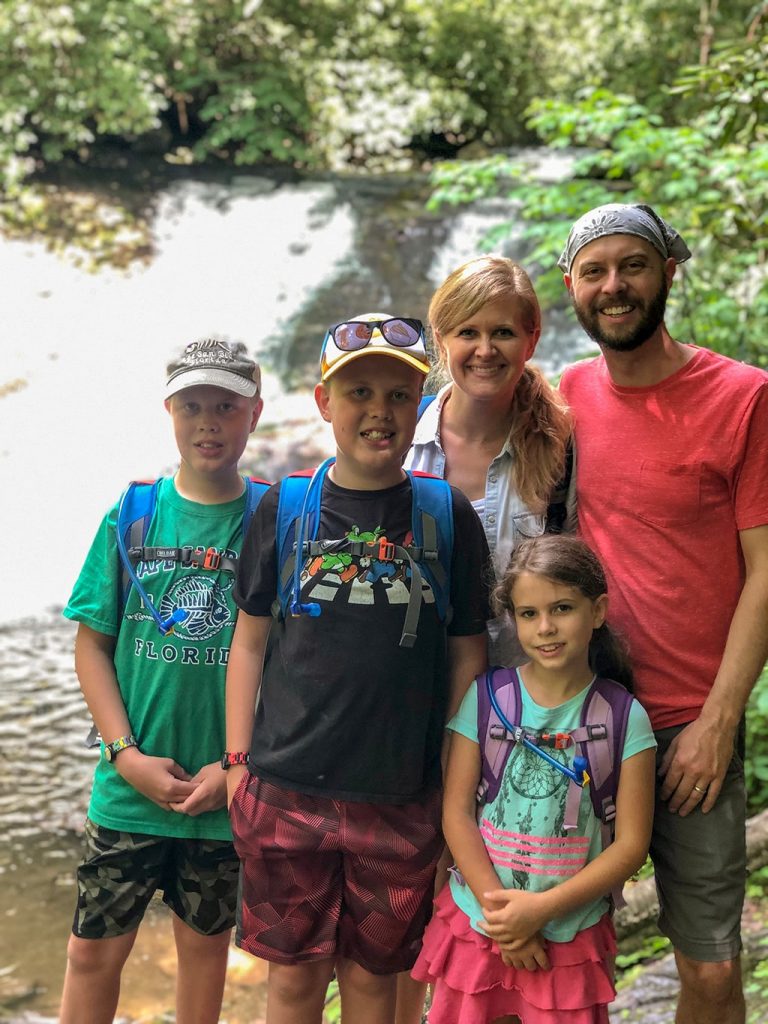 When you are ready, head on up the steps to make your way out.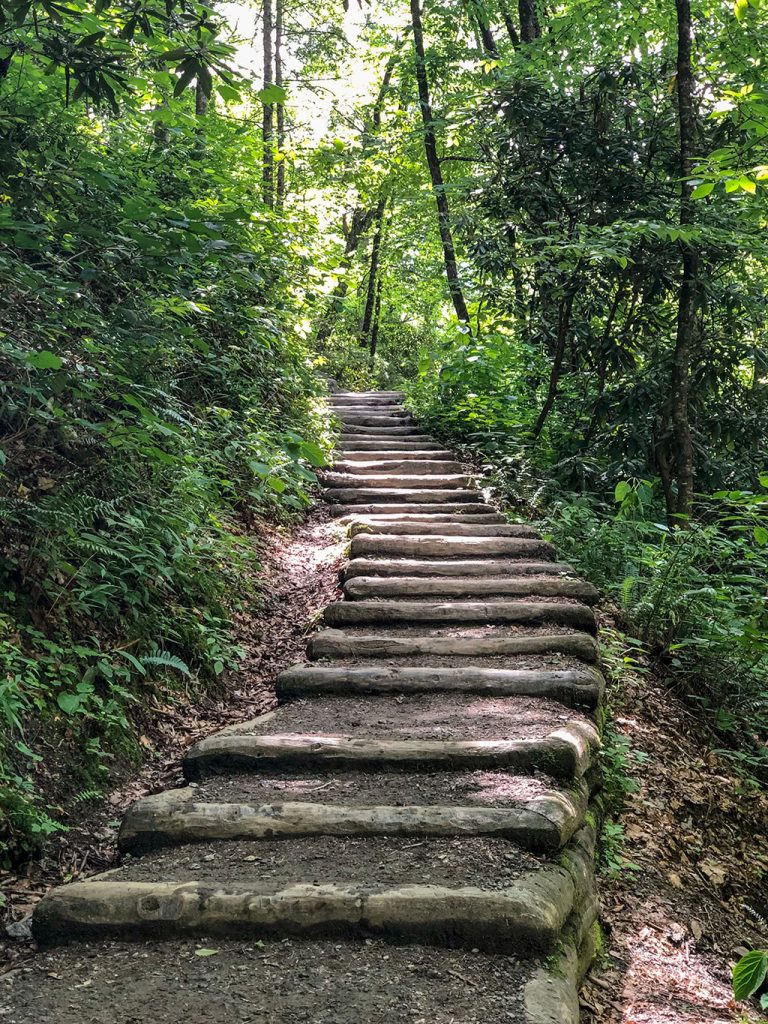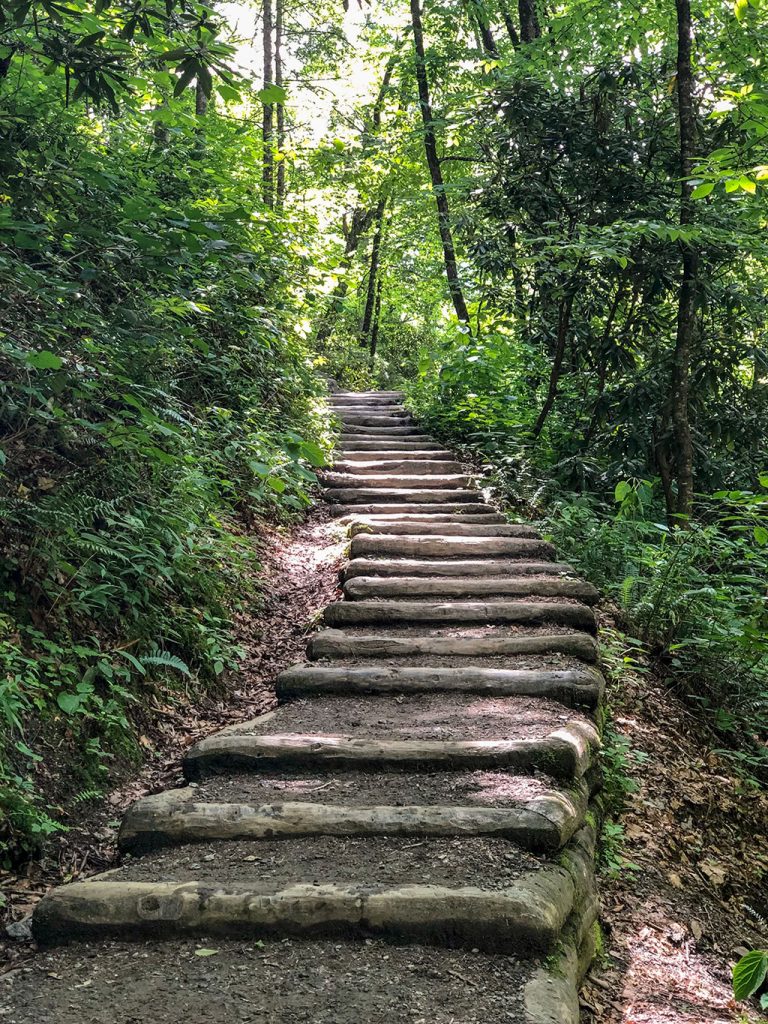 Head back the way you came, across the bridge.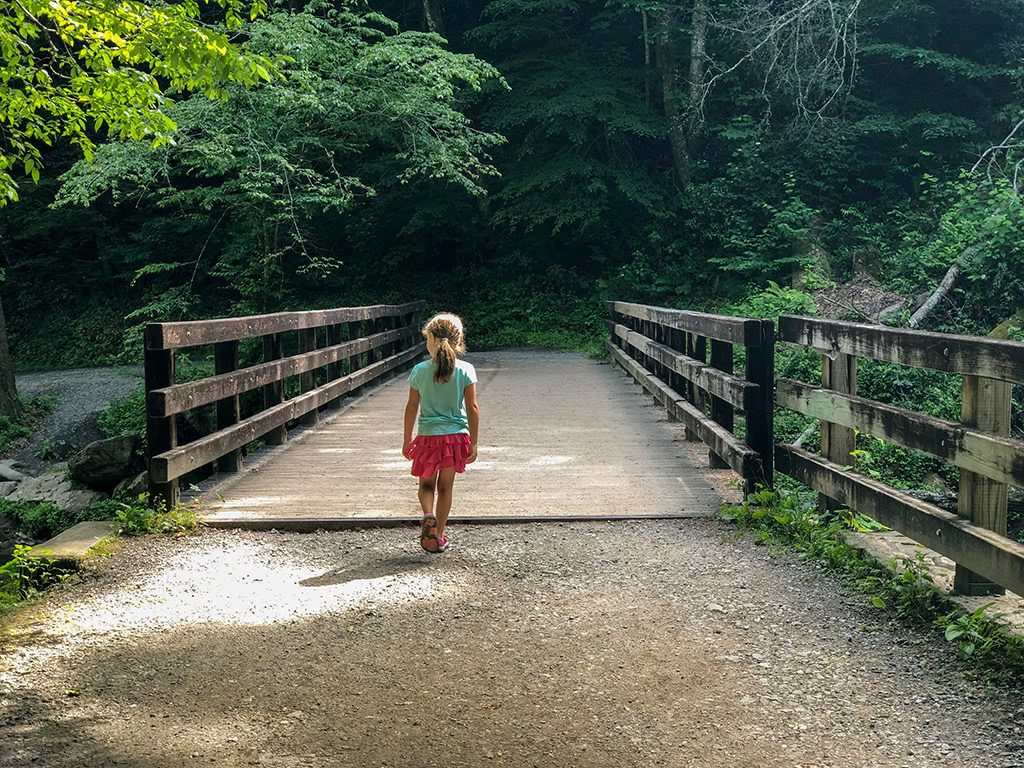 And this time we got to enjoy the view of the river without tubers as most of them seemed to be gone for the day.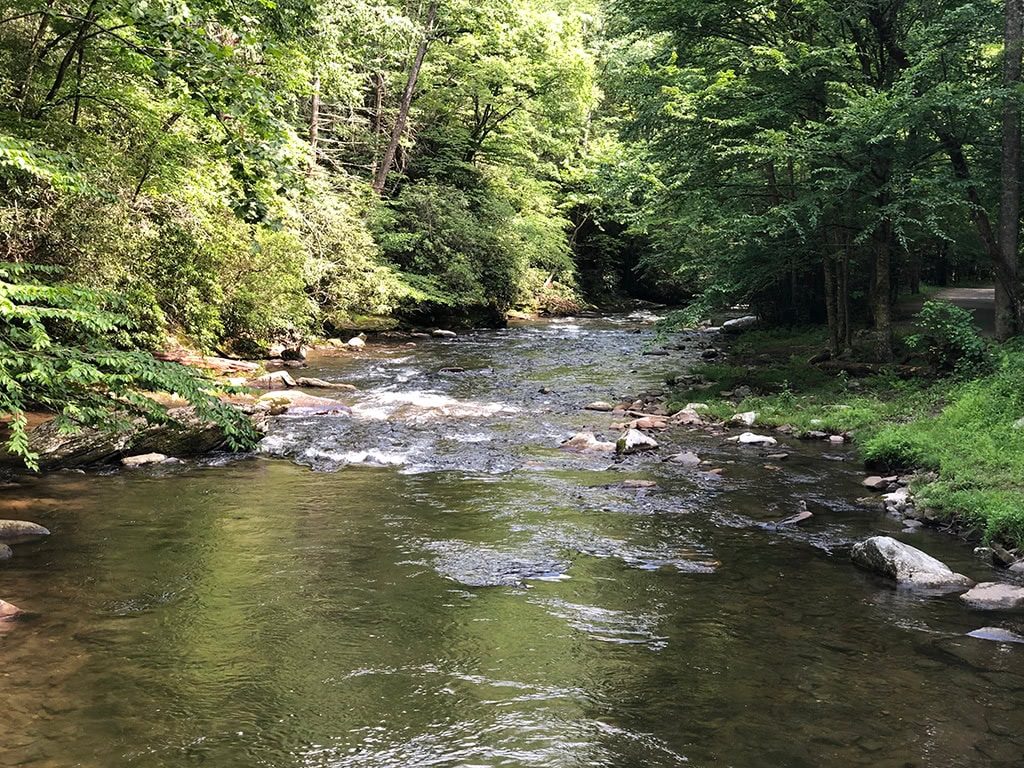 We also got to enjoy having the trail to ourselves for a little bit too!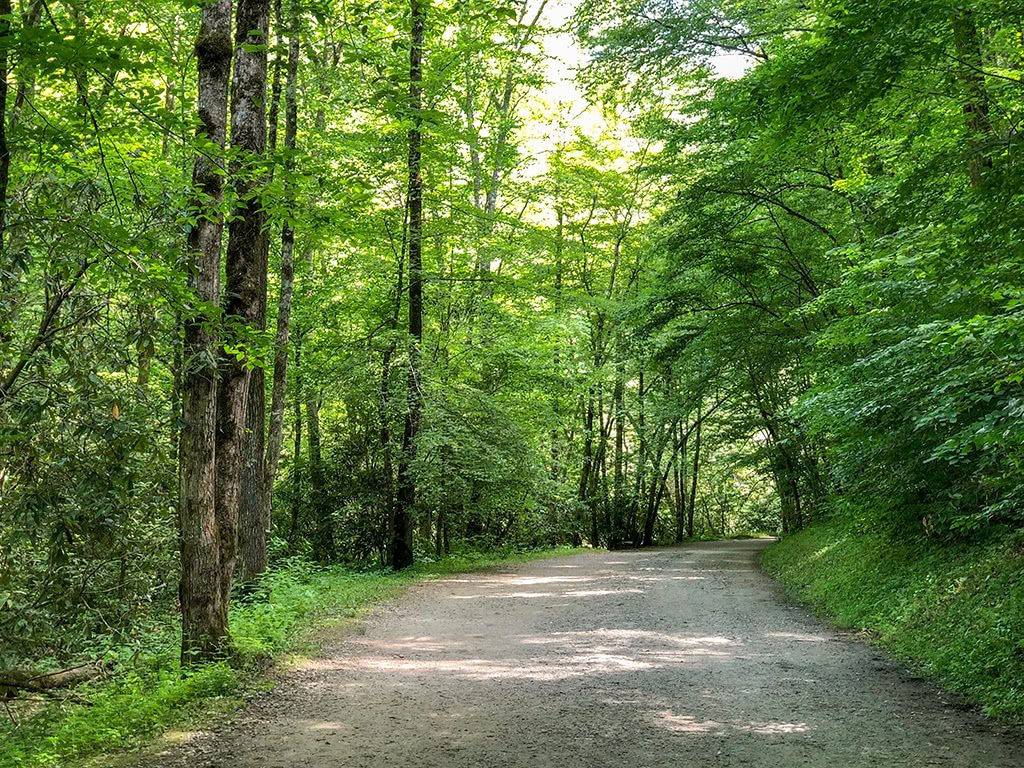 Juney Whank Falls
On the way back down the Deep Creek Trail, you will start looking for the sign on your right that will direct you towards Juney Whank Falls. The sign is actually facing the other direction, so you will see something more like this…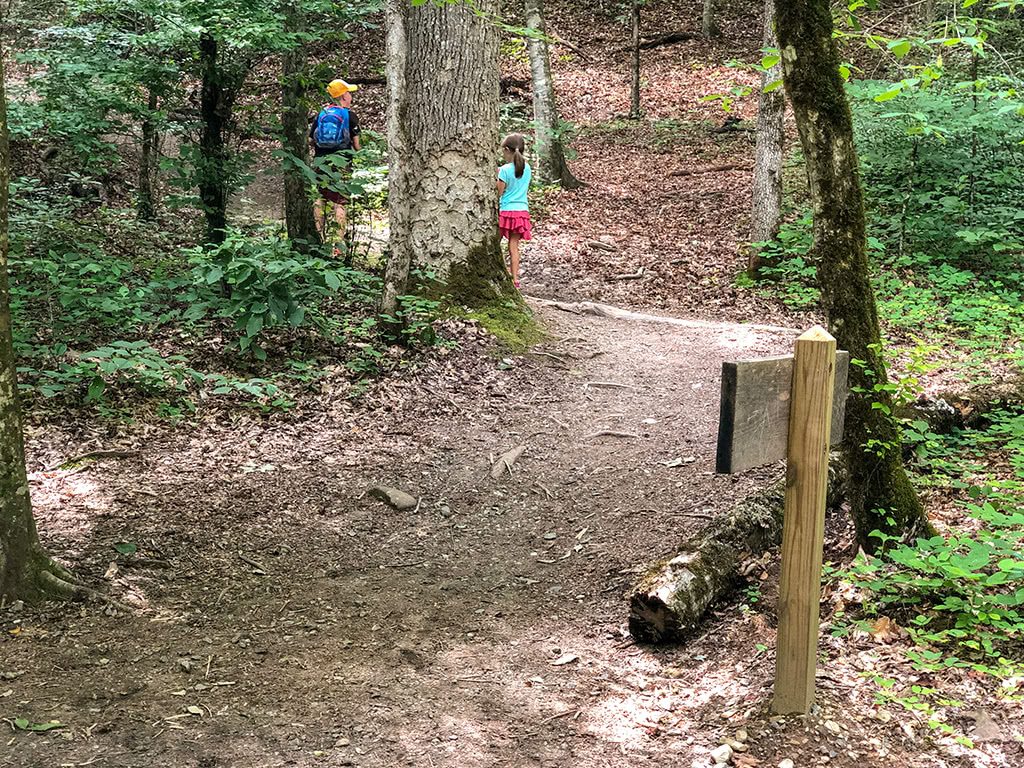 Once you turn, you will see that it is pointing you up the hill and you should arrive at the falls in around 0.2 miles.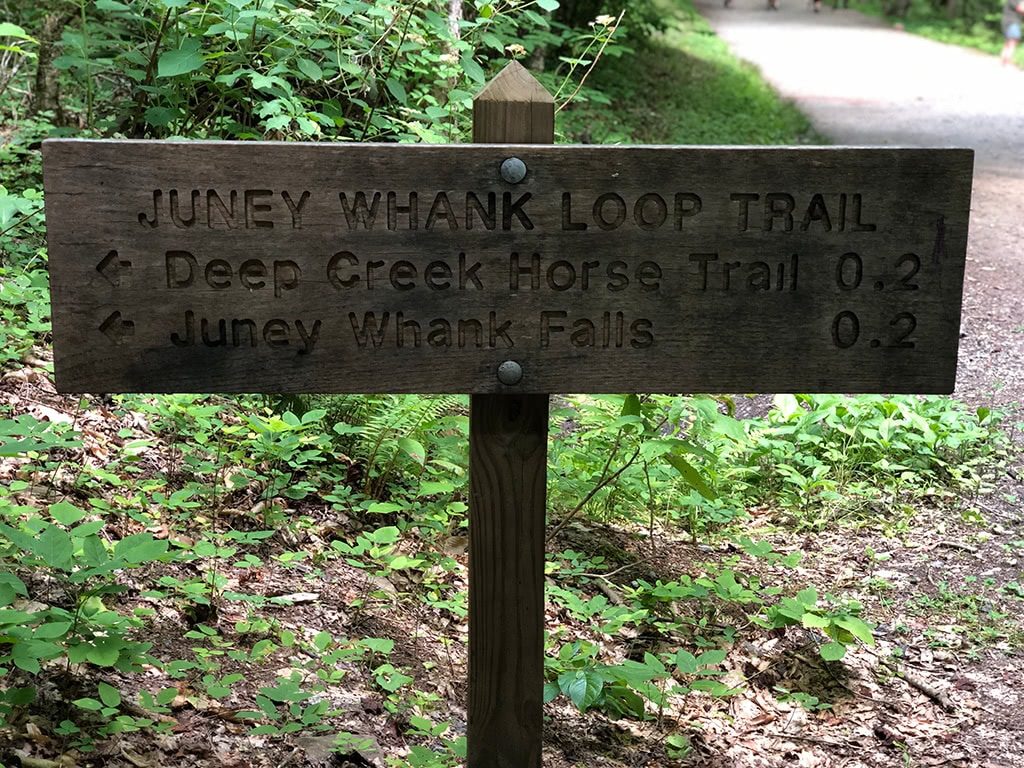 This is the part that was a little challenging. It was literally straight up.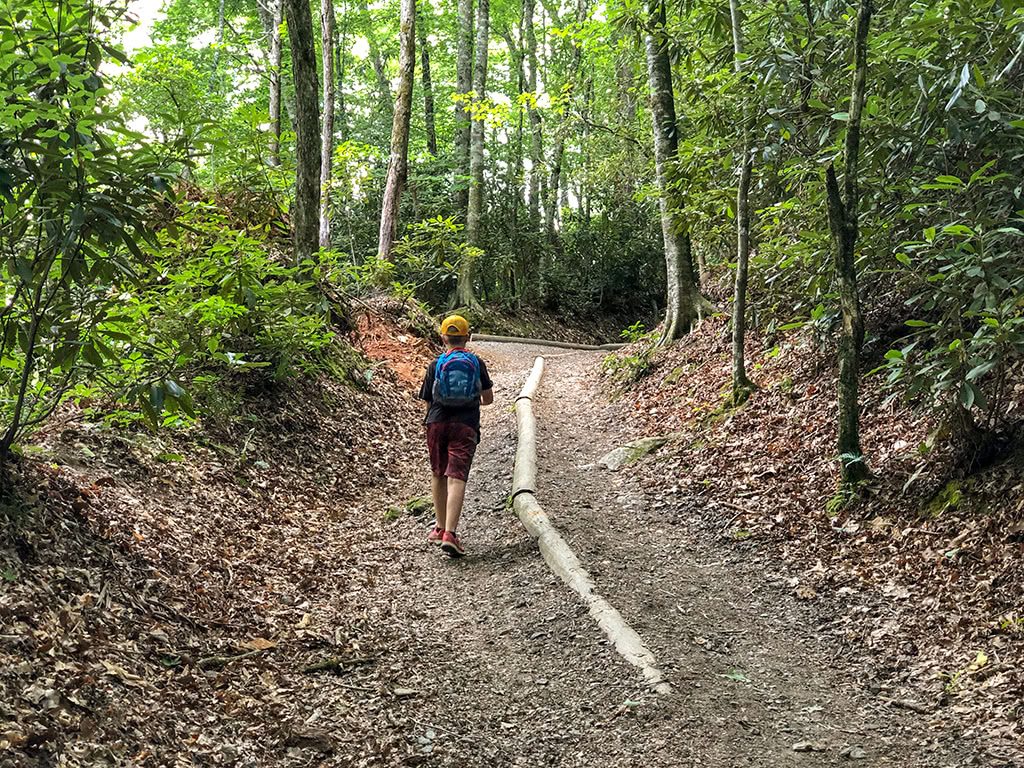 This is actually a part of a horse trail, so you may find a few surprises that the horses left along their way!
Once you get to the top, you will see a sign where you will take a left and begin descending down to the waterfall.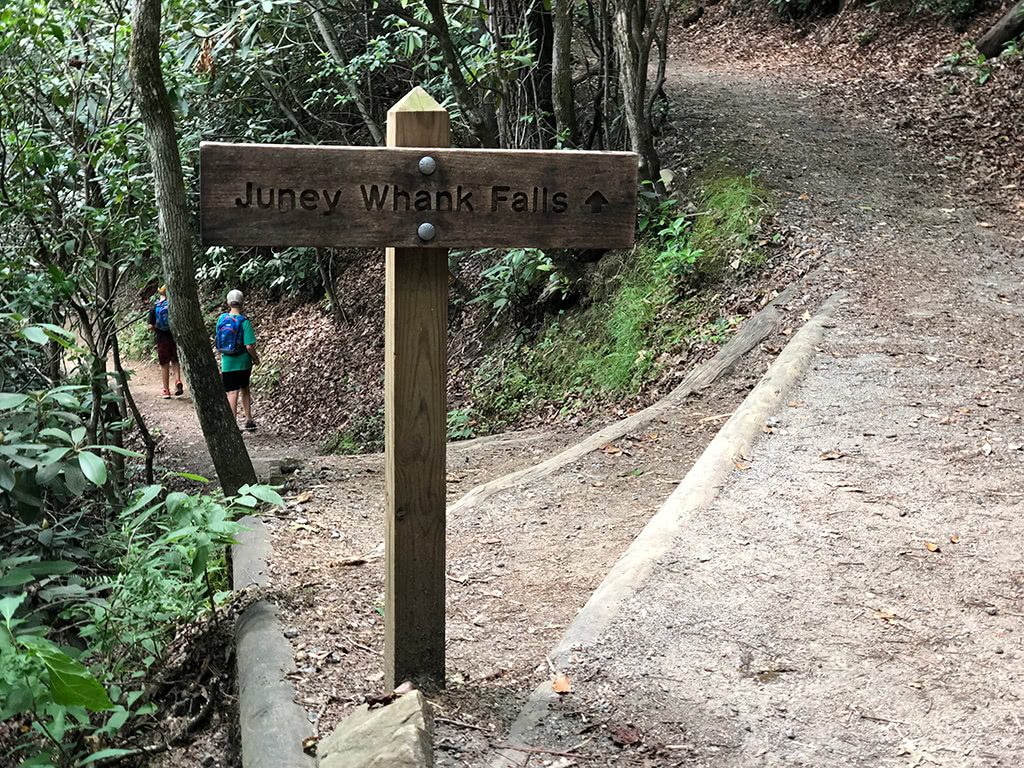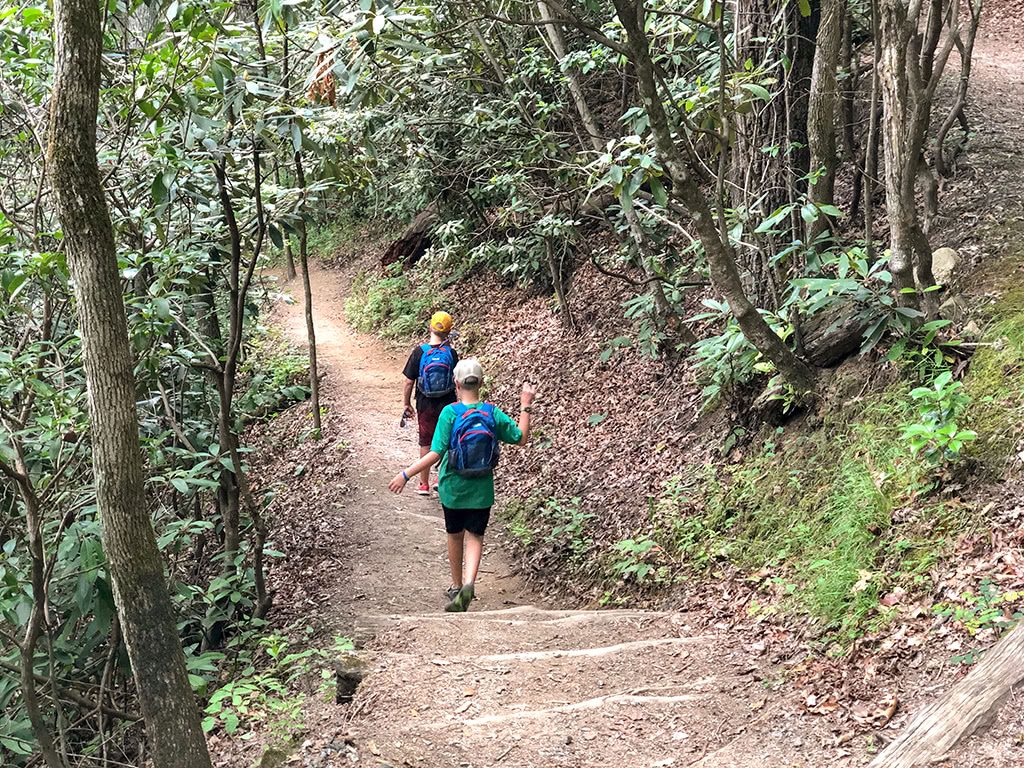 As you walk down, it feels like you are in a different place completely. The bridge in front of the falls is so beautiful and just adds to the serenity of the waterfall.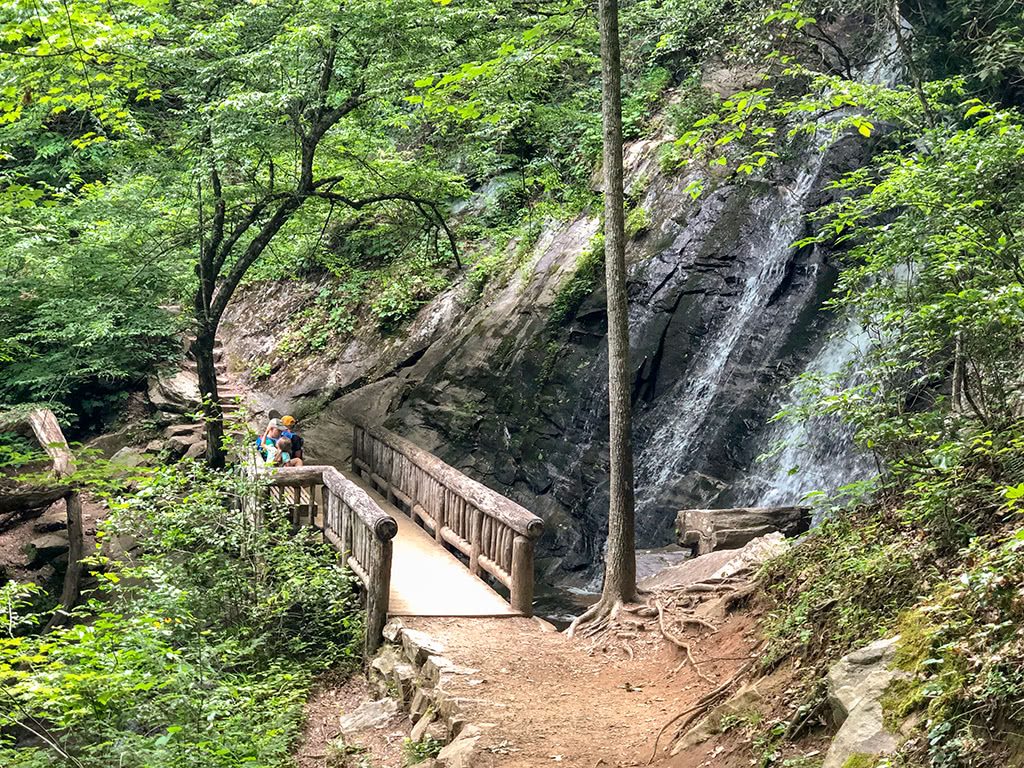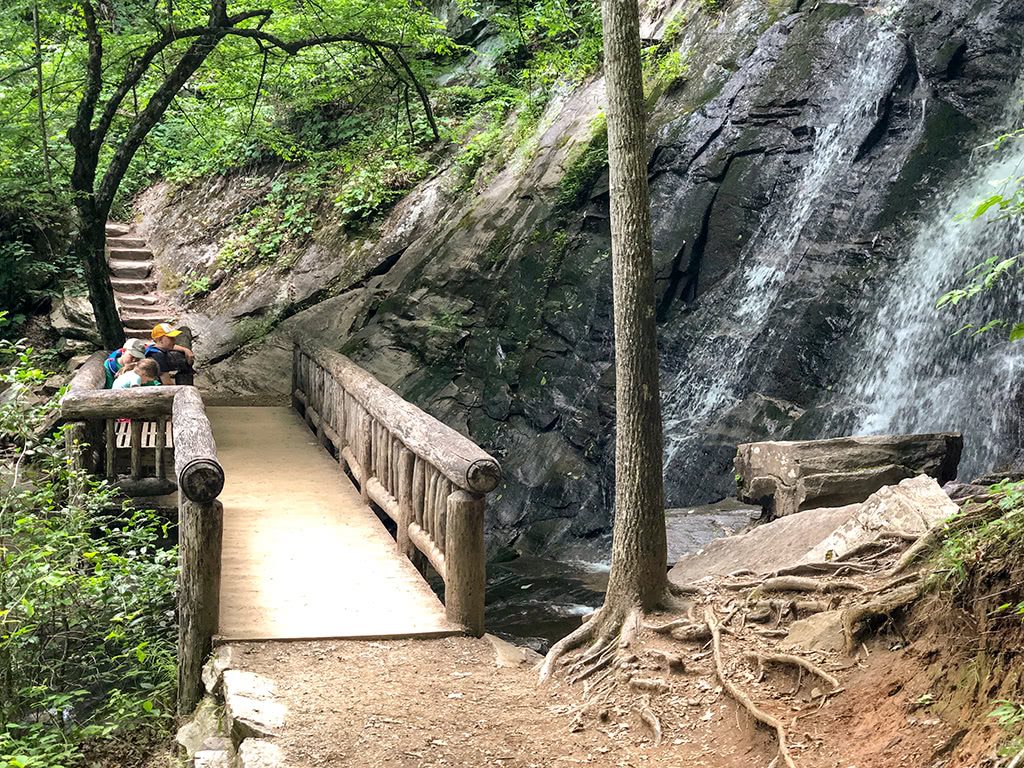 Once there, we definitely took our time and sat on the bench and enjoyed the peacefulness that the Deep Creek area provides.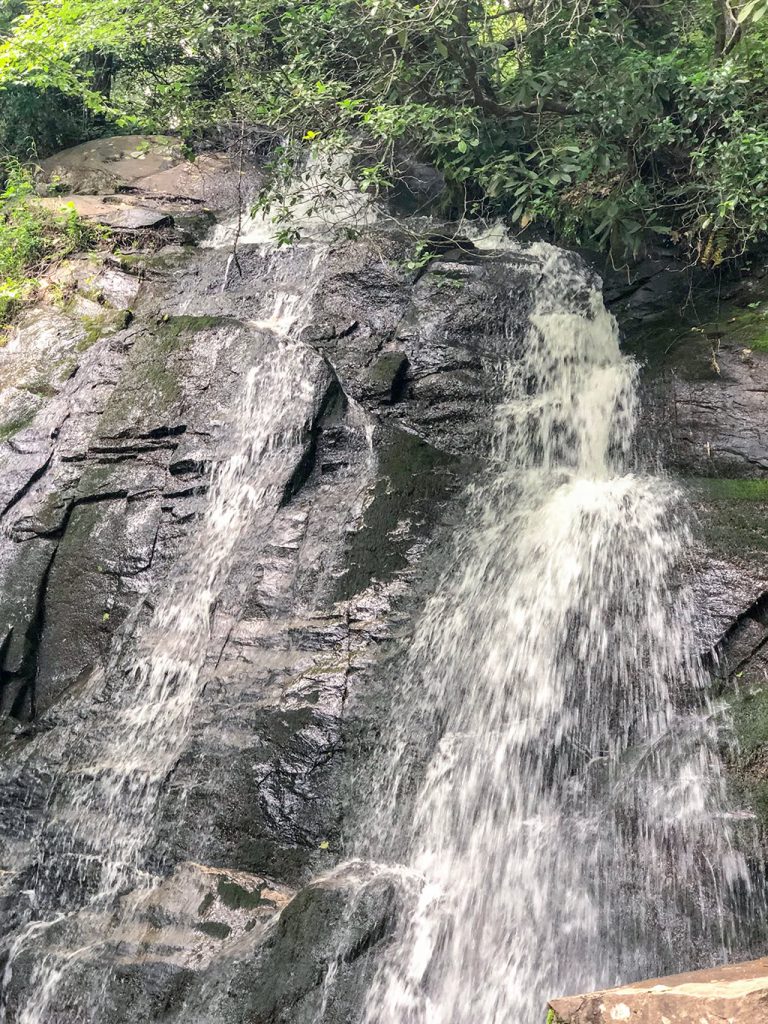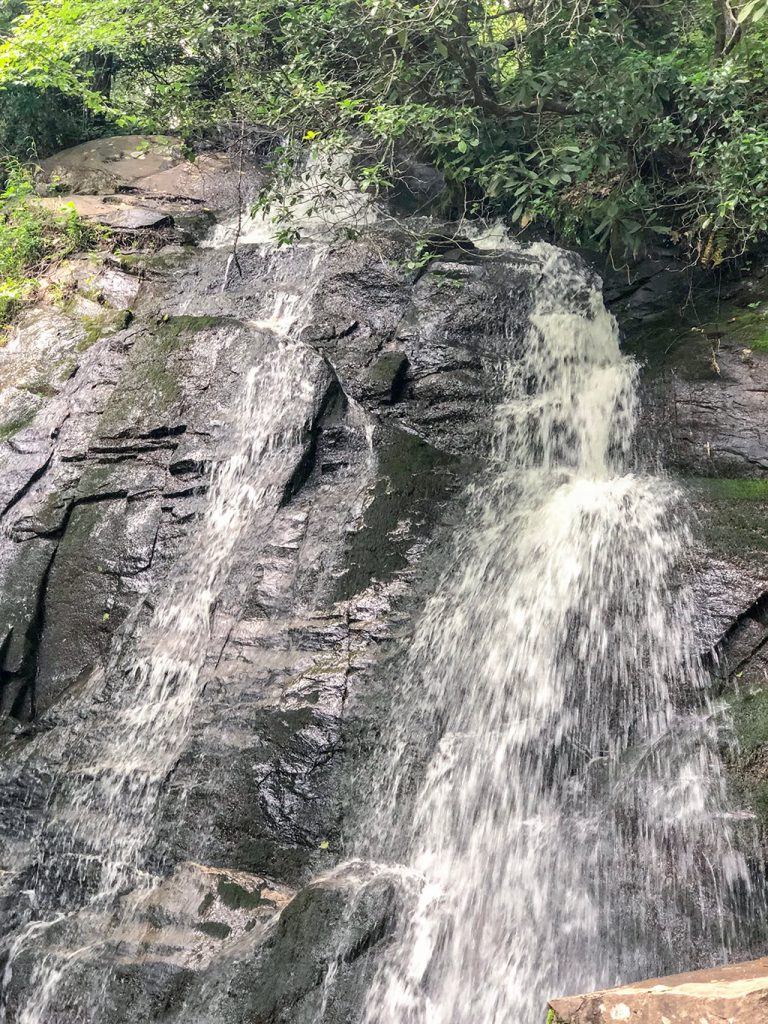 After relaxing a little while on the benches, it was time to head home. Up the steps and back down the trail, we headed to the parking lot.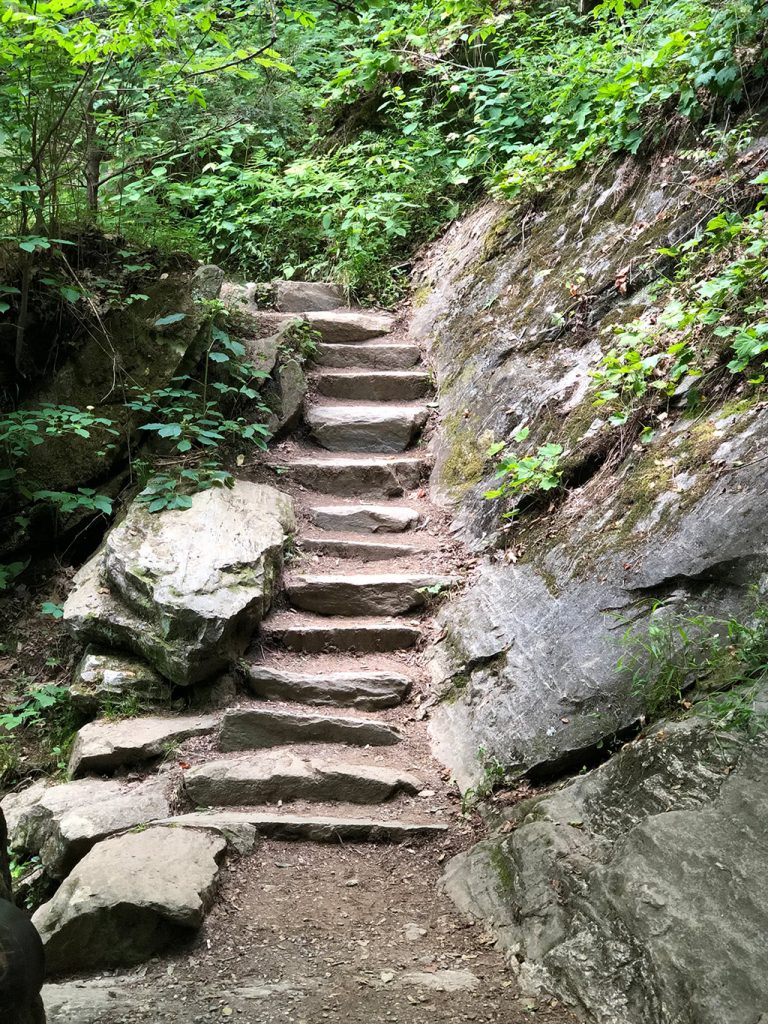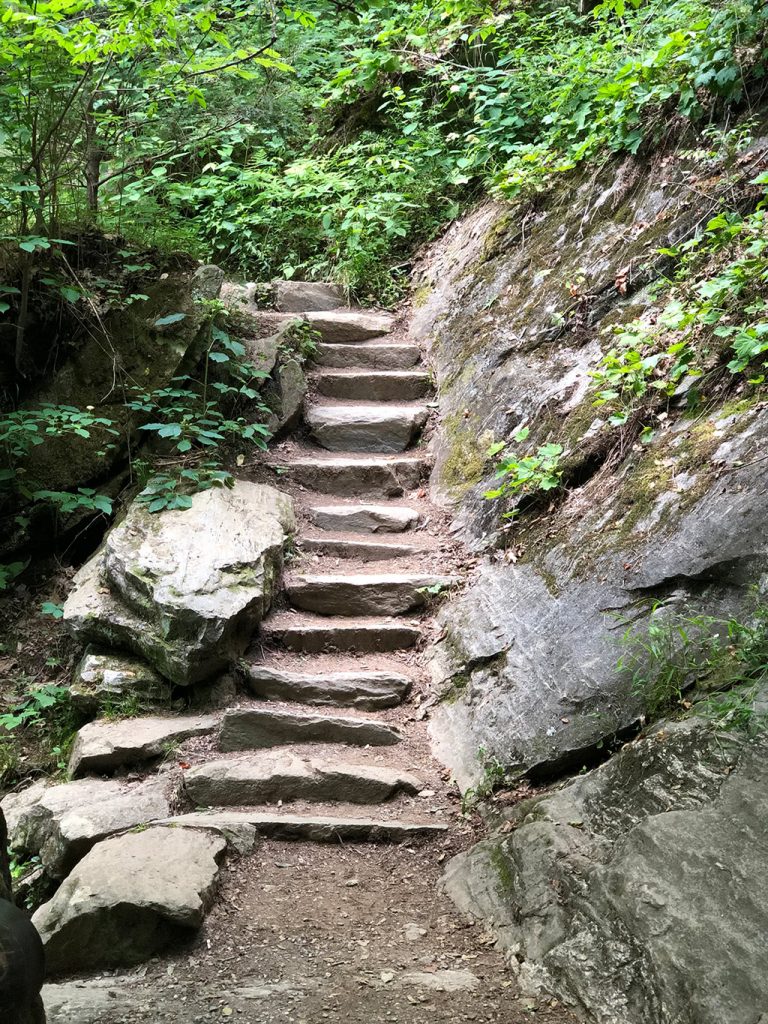 A Few Things to Consider
If your family loves to have a good picnic, plan your hike before or after a meal time and take advantage of the Deep Creek Picnic area!
Be sure to take a good look at a trail map of the Deep Creek area before you go that way so you are familiar with the area!
If you have extra time, be sure to check out the town of Bryson City or Cherokee while you are in the area! Such a fun little place to explore!
Make sure to take time to laugh and create memories exploring together as a family! And don't forget to take plenty of pictures along the way!
Final Thoughts
All in all, our fun three waterfall adventure was a success! We had an amazing time exploring the Deep Creek area.
Each of the waterfalls were completely different and the views of each one offered its own beauty in its own way. We absolutely loved visiting the waterfalls and can't wait to get back over there to give it a try during the fall or spring when the crowds (or tubers?!?) aren't as plenty! If you get a chance to head that way, be sure to check out the Deep Creek waterfalls!
---
So what about you, have you been to the Deep Creek area before? Have you hiked to the Deep Creek waterfalls? Which one is your favorite? And if you go try this adventure, be sure to let us know what you think!
---
More Related Articles: