Looking for things to do in the Great Smoky Mountain area? Visiting the Missing Link on the Foothills Parkway in the Great Smoky Mountains is definitely a must do!
Come join us as we share our tips to visiting one of the most beautiful drives in America!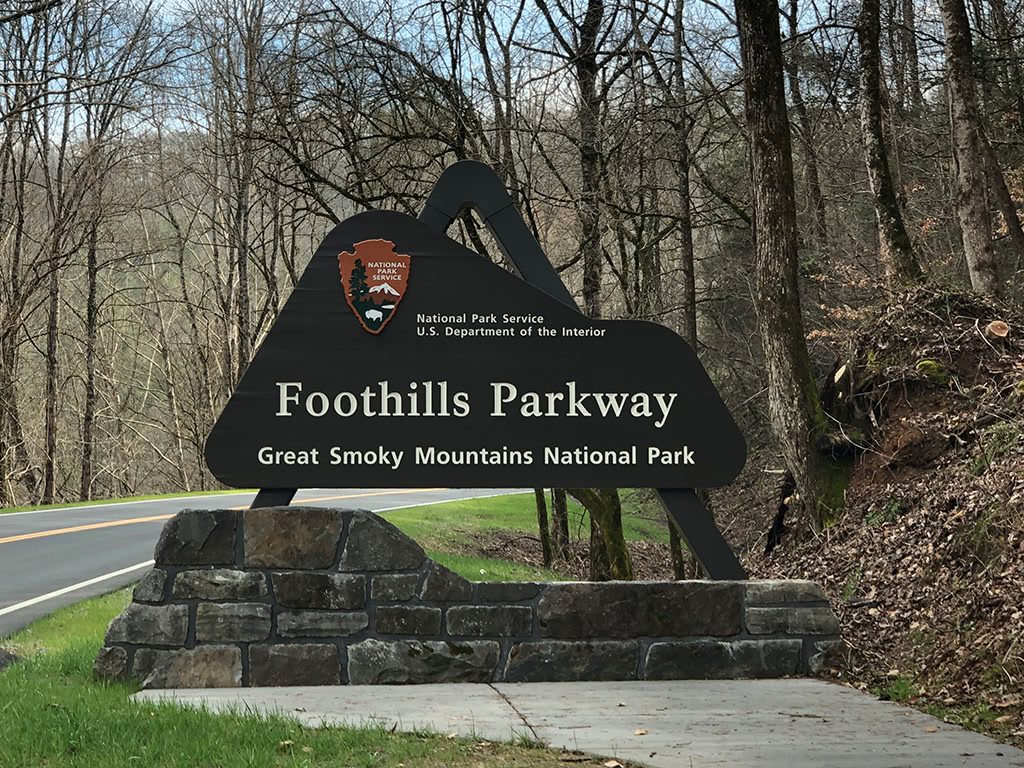 What is the Foothills Parkway?
According to nps.gov, the original plans for the Foothills Parkway consisted of several phases spanning from Chilhowee Lake to I-40 and was approved by Congress in 1944. The Parkway would offer spectacular views of the Great Smoky Mountains.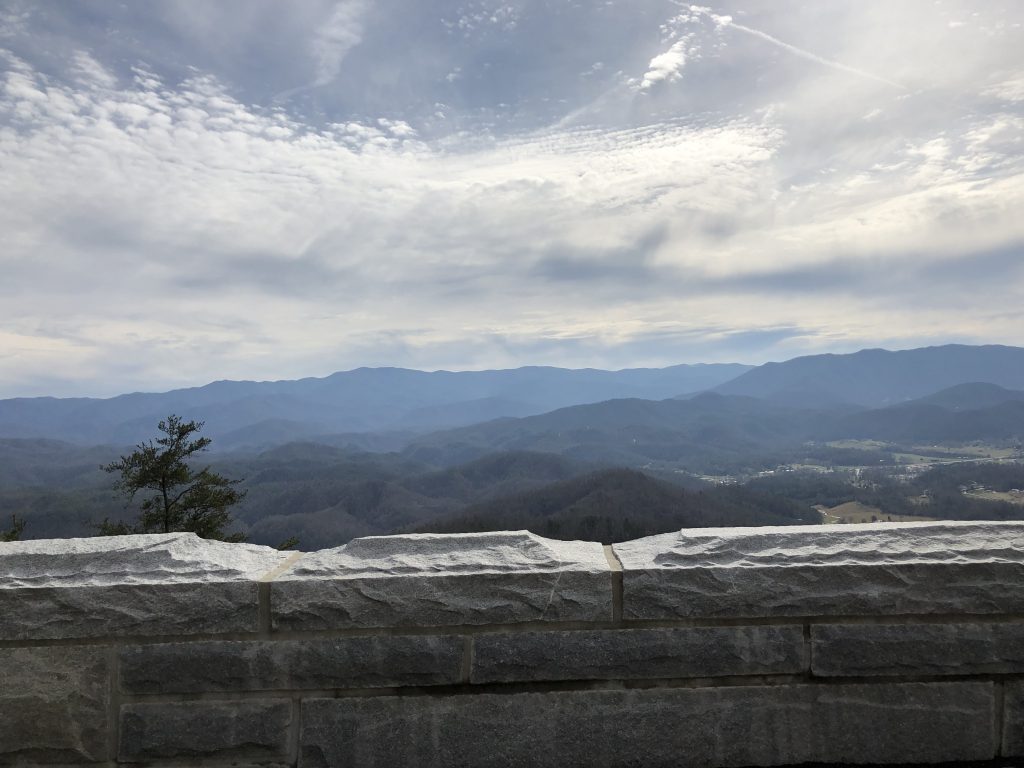 Construction was completed on the portion that spans from Cosby, TN to I-40 on the far end of the Foothills Parkway for a total of 6 miles.
Also completed was the portion on the other end of the Foothills Parkway from Chilhowee Lake to Walland, TN for a total of 17 miles.
The construction started on the portion between Walland, TN & Wears Valley, TN in the late 1960's. After running into some complications that part of the Foothills Parkway was not completed for over 50 years.
Why is it called the 'Missing Link' of the Foothills Parkway?
Due to some unforeseen circumstances, the 16 mile construction project (which was to span from Walland, TN to Wears Valley, TN) came to a halt when they were unable to finish a 1.65 mile stretch in the middle. This unfinished portion of the parkway became known as the "Missing Link".
In late 2018, the long awaited 16 mile stretch of the Foothills Parkway from Walland, TN to Wears Valley, TN was officially completed and open to the public.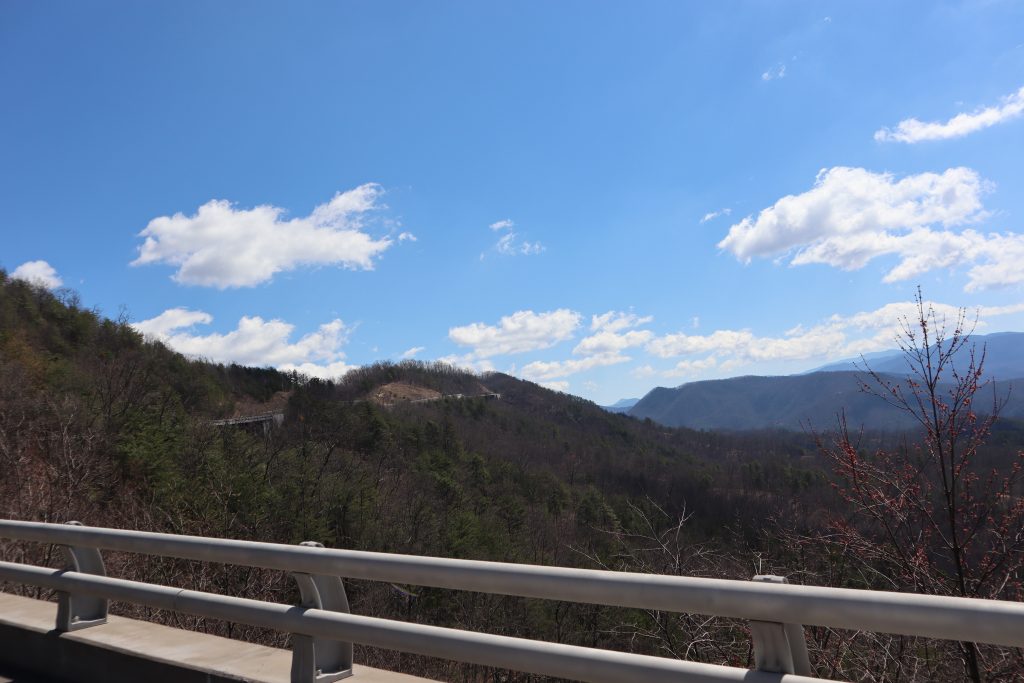 The completed "Missing Link" gives the Foothills Parkway a grand total of 33 miles from Chilhowee Lake to Wears Valley, TN.
For us locals that have watched the Foothills Parkway progression over the years, we couldn't be more excited about it FINALLY being open!
How Do I Get to the Foothills Parkway?
From the Walland, TN side, you will enter the Parkway from Highway 321 (also called E. Lamar Alexander Pkwy). There is plenty of signage up. Just make sure to follow the signs that are directing you towards the Pigeon Forge area.
The other direction will take you on the 17 mile stretch of the Foothills Parkway that leads to Chilhowee Lake (which is also a must-do at some point!).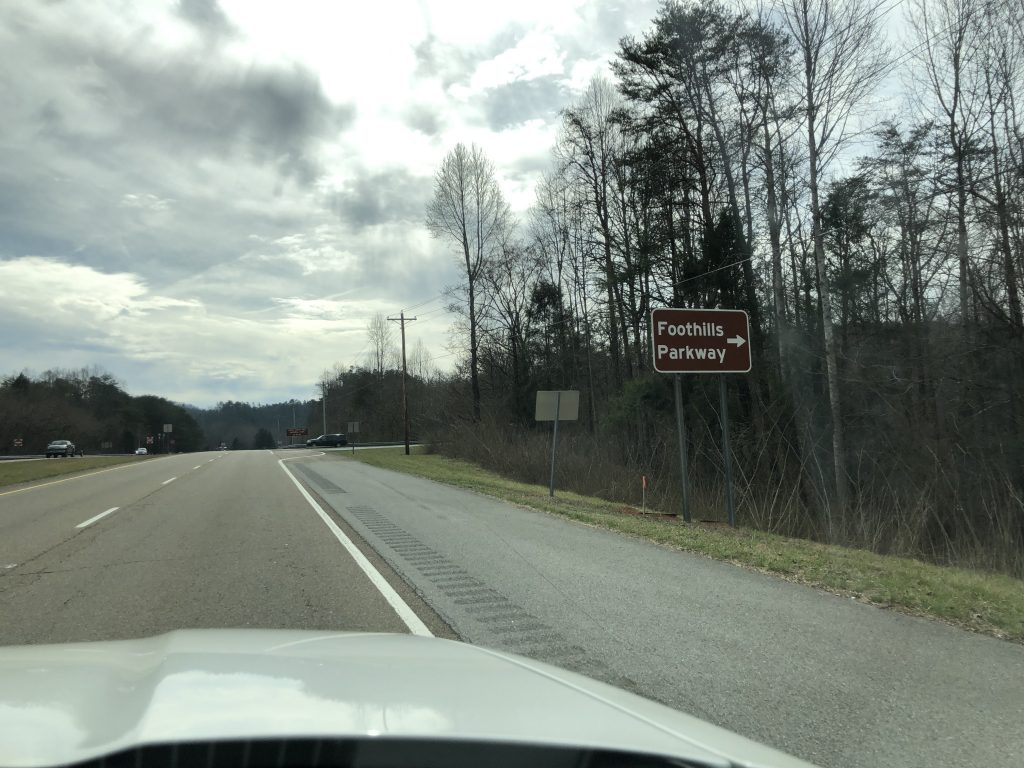 From the Wears Valley, TN side, you will turn onto the Foothills Parkway from Highway 321 (also called Wears Valley Rd.) There are plenty of signs posted to direct you onto the Parkway from this side as well.
What is There to Do on the Foothills Parkway?
Photo Opportunities
The first thing our family did was stop at the official National Parks Service "Foothills Parkway" sign and take a quick family picture.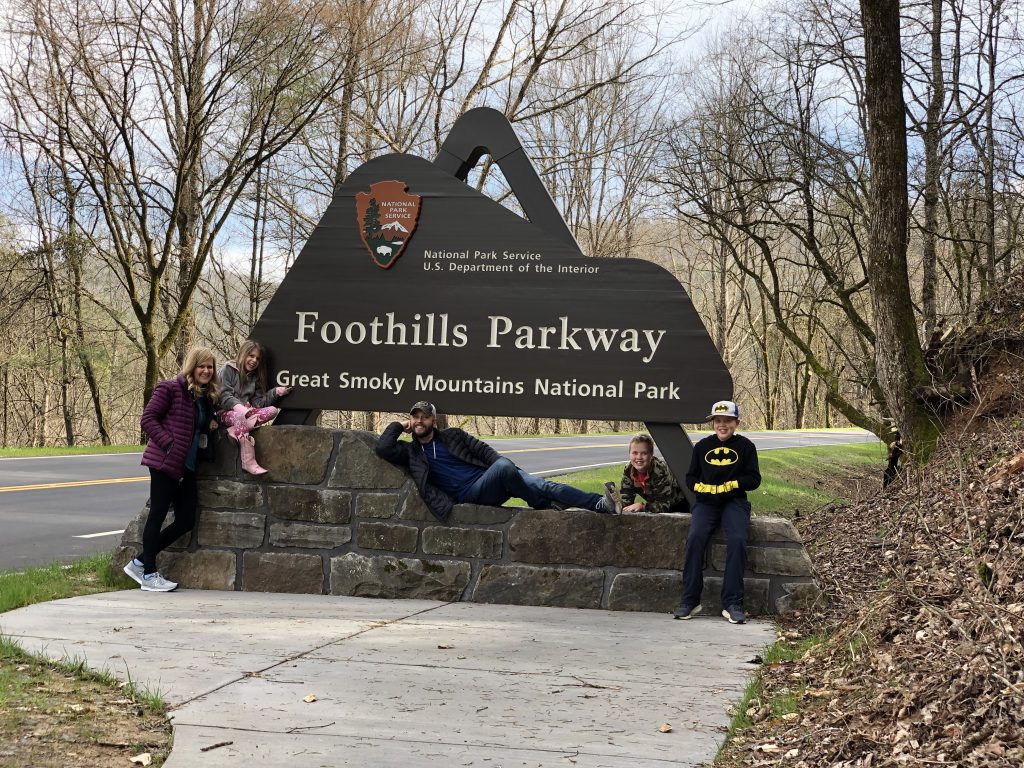 We were so surprised to see that they had even included a handy little camera stand for your photo-taking ease!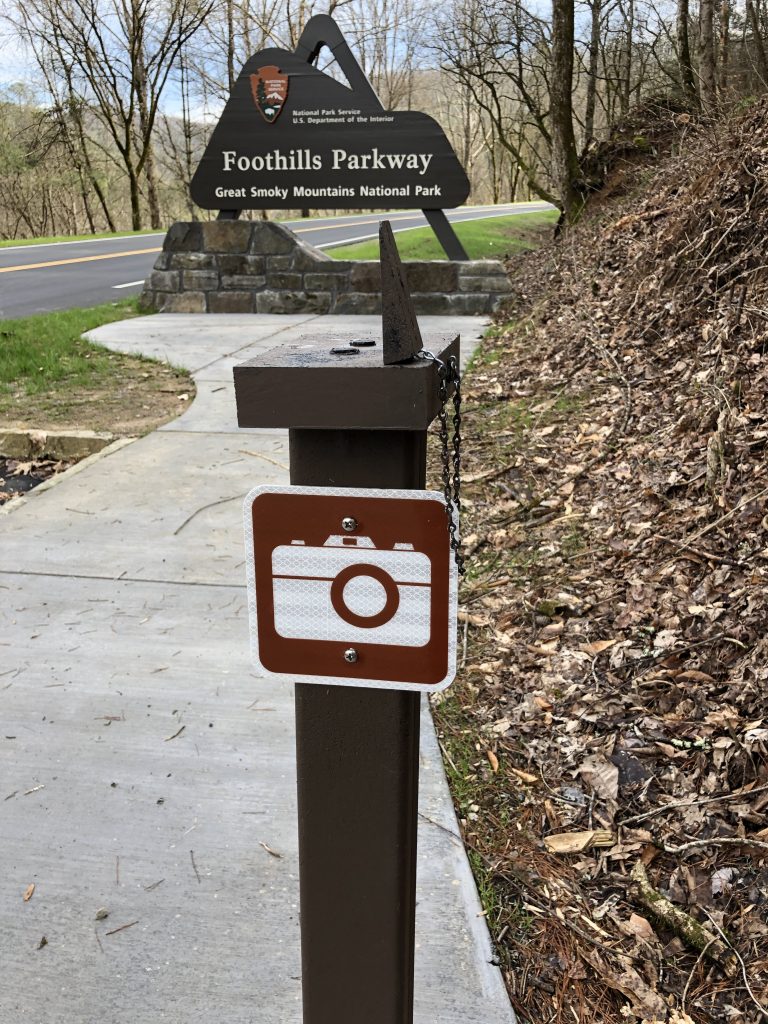 Although, I'm not gonna lie. It took a little strategy to use a cell phone with it. I think a camera with a flat base is probably what they had in mind. BUT…we made it work with Matt's "MacGyver" skills.
You definitely could just drive the Foothills Parkway and enjoy the sights from your vehicle. However, I would highly recommend stopping at some of the many designated pull-offs for the innumerable photo opportunities.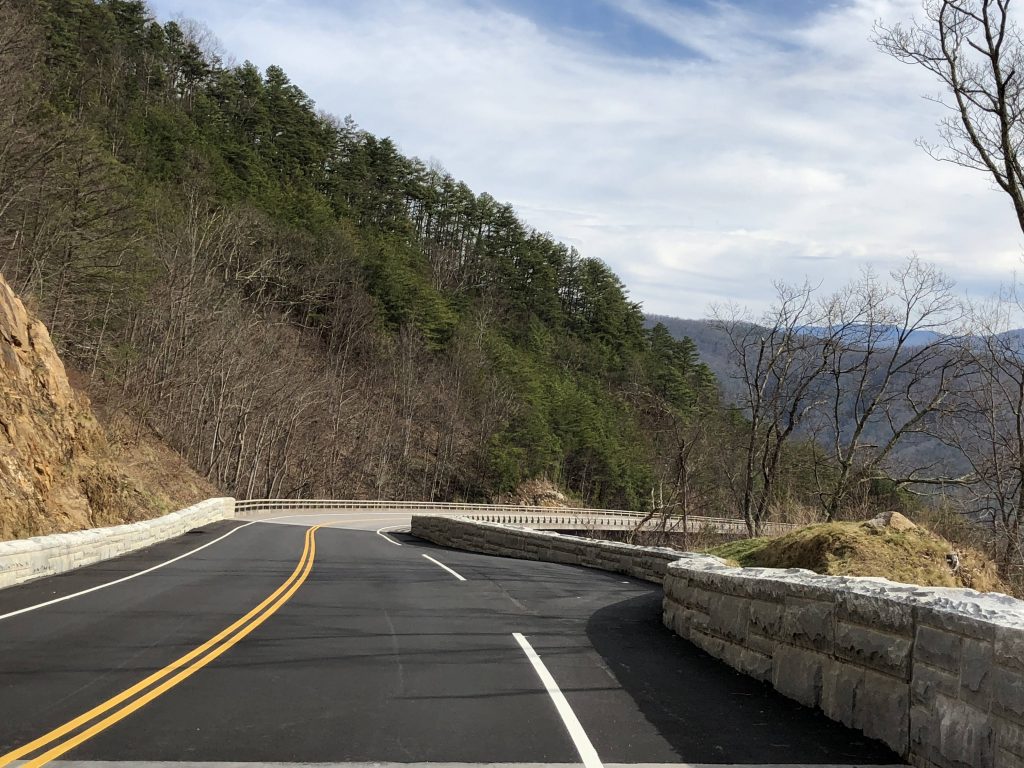 There are so many breathtaking views of the Great Smoky Mountains and the surrounding areas!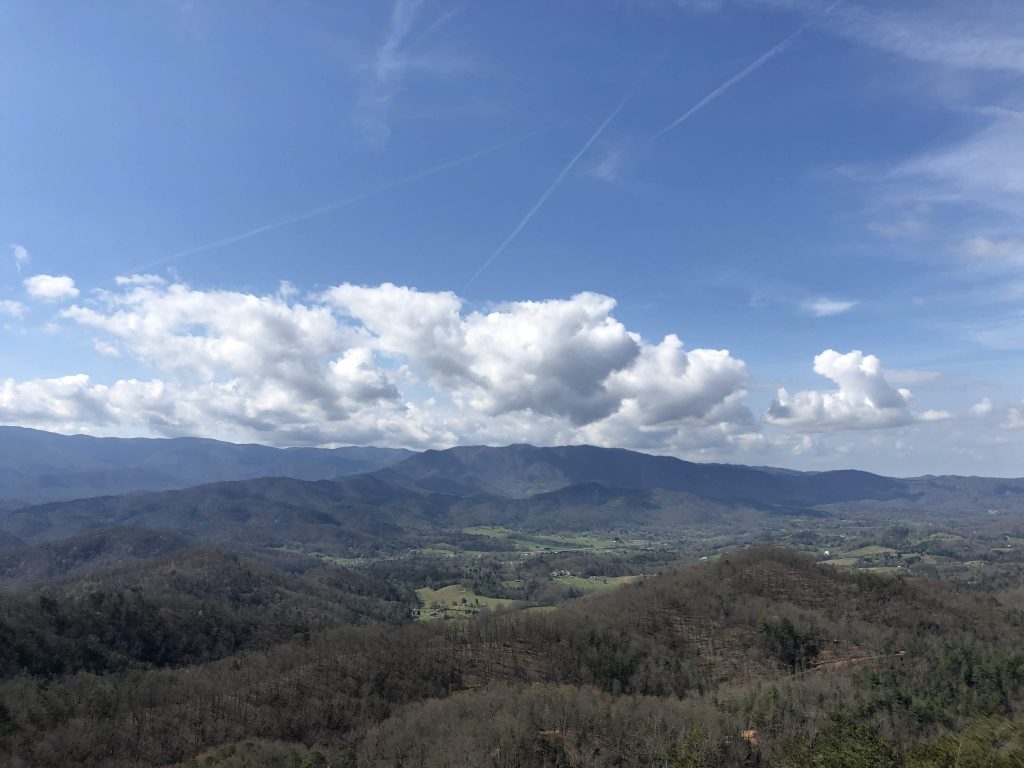 Be sure to take a few pictures of yourself and your family while you are there too!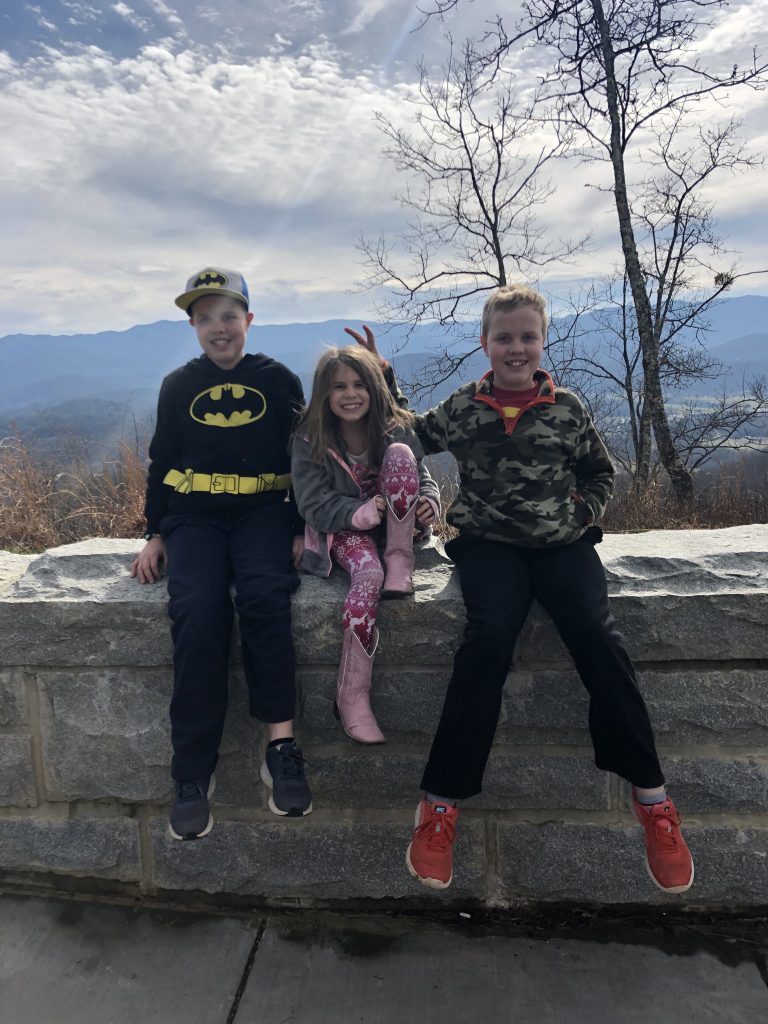 At one of the pull-offs, one of the boys yelled at me and said "Hey Mom!" and I turned around to see this.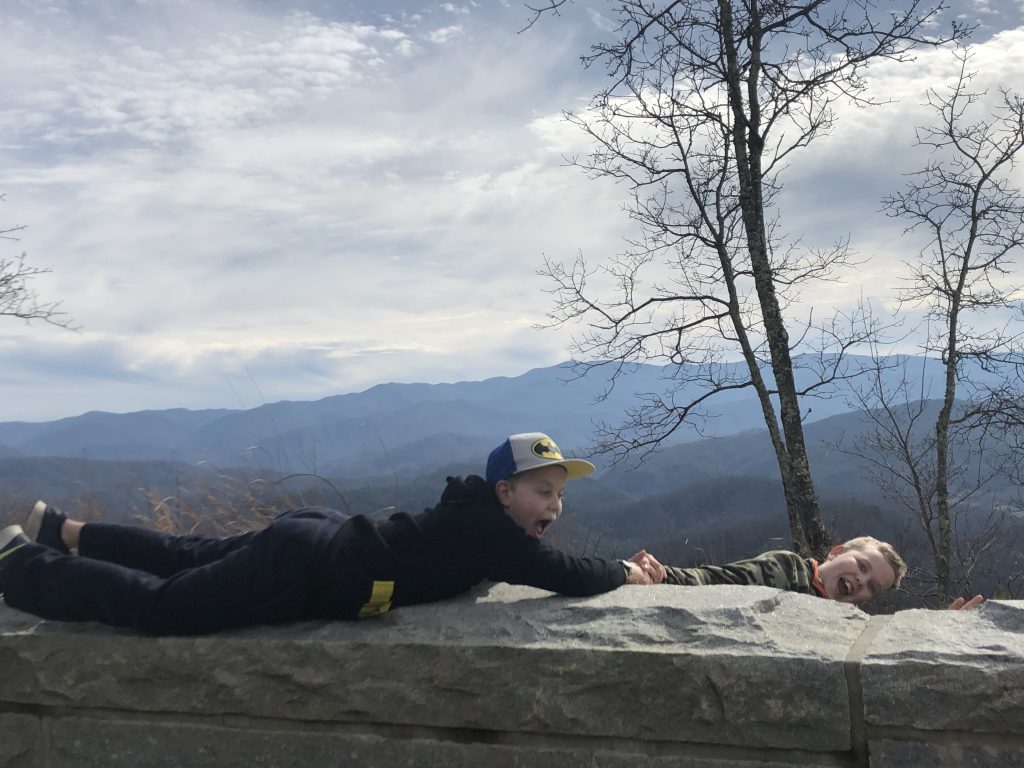 And this…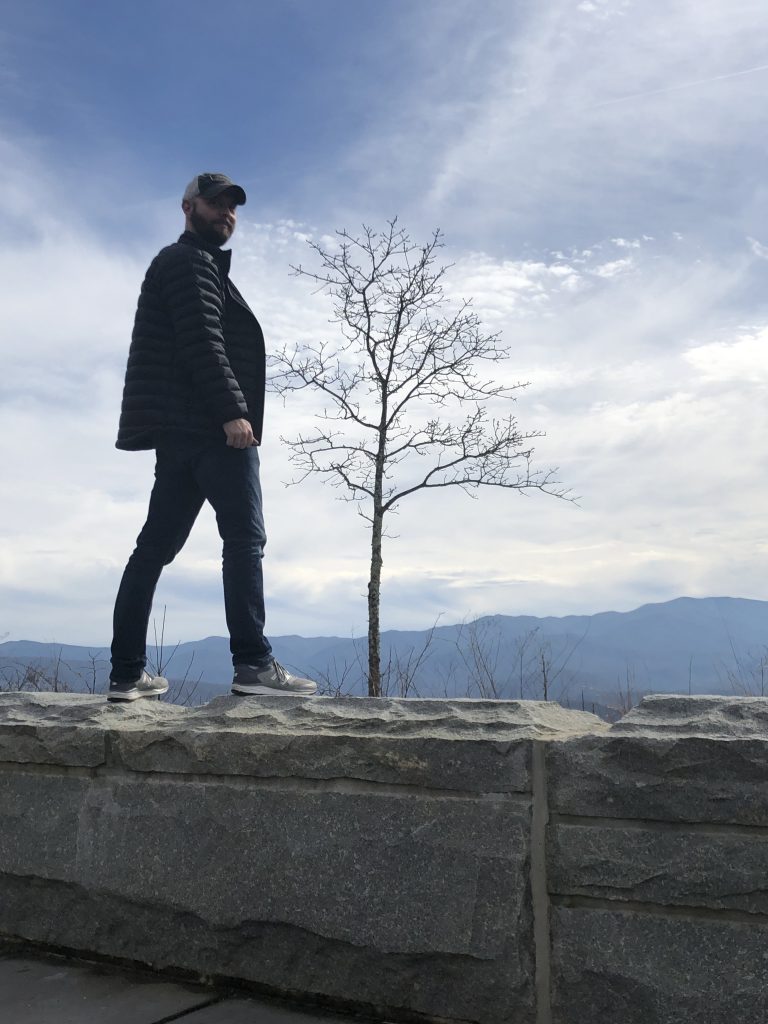 My heart skipped a beat and I went right into Mama Bear mode and yelled at everyone to get down and "What are you thinking?!?"
After much laughter, they showed me that it was just a small drop-off behind the stone wall.
Nice job terrifying your poor mother.
But as a side note…for real, be careful and don't put you or anyone in your party in danger for a picture.
Waterfall
About half way through, we passed a waterfall off to the left side of the road (we were traveling from Walland to Wears Valley).
We missed the pull-off and there weren't any more pull-offs for quite a while or we would have turned around. So we decided to finish the Foothills Parkway drive and try to stop at the waterfall on the way back.
Also, just for future reference…if you are traveling from Walland to Wears Valley, it is around 6.6 miles on your left. There is a little pull-off next to it.
Our family's love of waterfalls runs deep! (No pun intended.)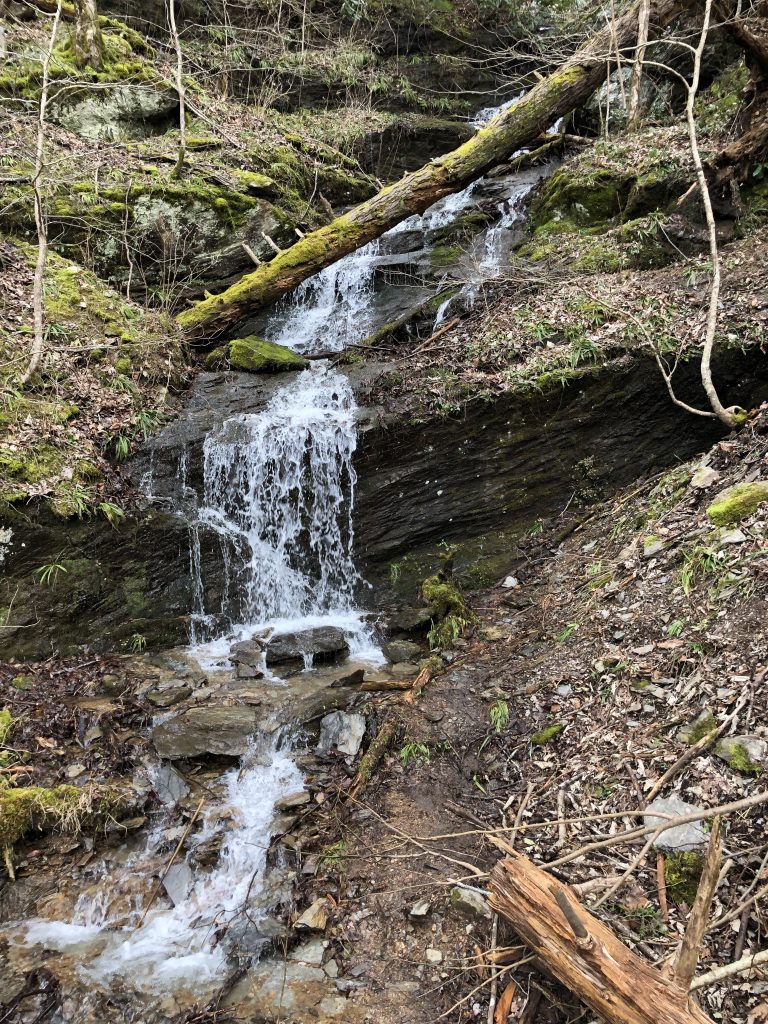 Also, we were there just a day or so after a good rain, so there was a decent amount of water flowing. The second time we went by, it was merely a trickle. So, if you don't see it…there's probably just not been enough rain recently.
A Few Things to Consider
Take care of business beforehand!
There are not any restroom facilities on this 16 mile stretch of the Foothills Parkway, so be sure to take care of any business beforehand (or come prepared for emergency situations).
You definitely don't want to have to ask to use this guy's facilities.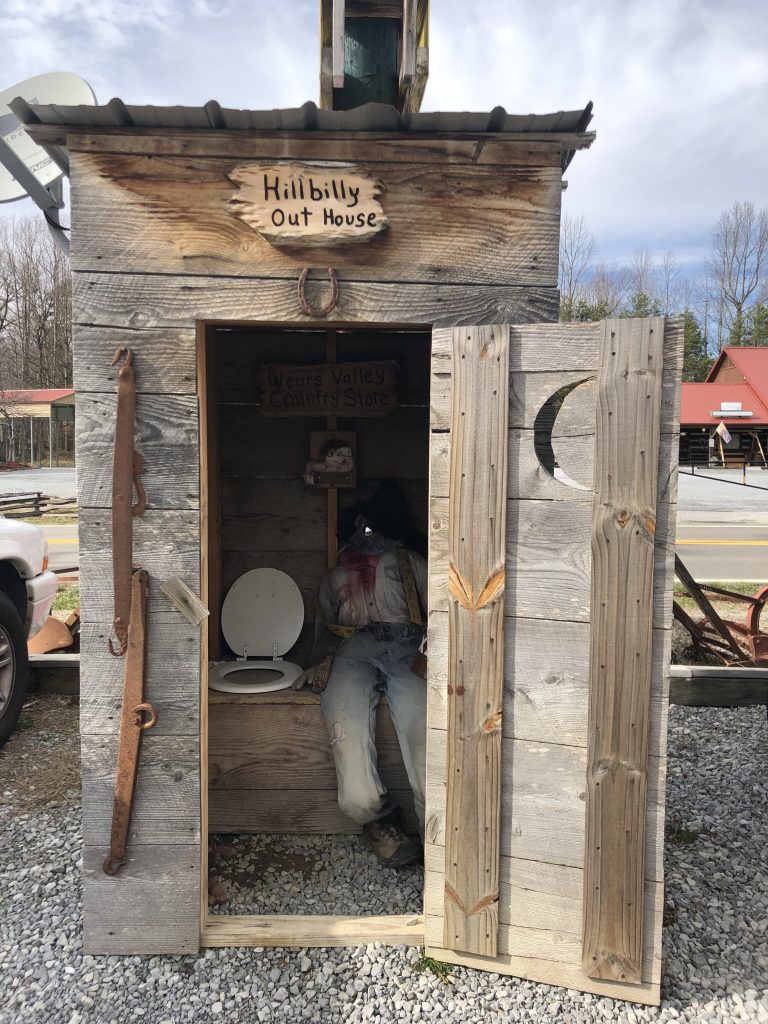 Check for road closures!
One last thing to double check before you head to the Foothills Parkway is to look at road closures on the National Park Service website to make sure that the Parkway is open.
We did drive up one day in January after we had a little bit of snow and they had the gate closed. While I don't suspect this part of the road to be closed very often, there are times when unforeseen weather issues cause road closures in the Great Smoky Mountains National Park.
The National Park service website should list any temporary road closures.
Final Thoughts
The Missing Link of the Foothills Parkway will be a very memorable experience for many visitors and locals over the coming years.
If you only have a day or so to take in the views of the Great Smoky Mountains, the Foothills Parkway is a must see. It will give you some of the best views of the Smokies without having to take a long trek or step too far from your car!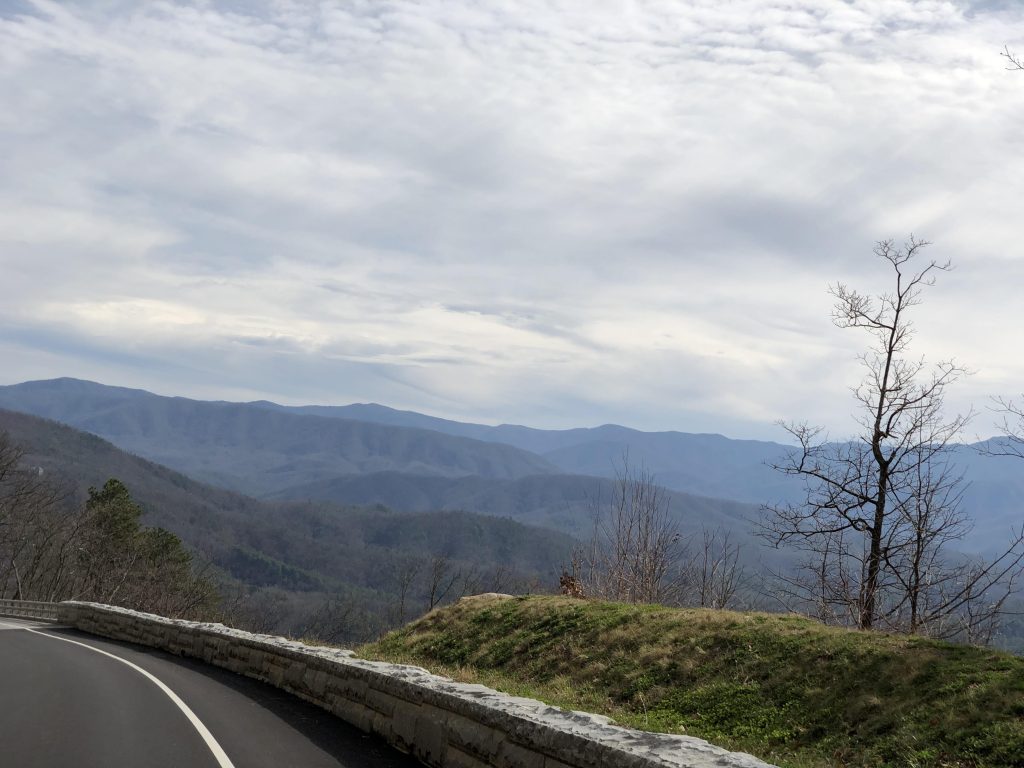 Our first visit was in the middle of winter and the sights were still beautiful! I can't wait to see the breathtaking views that the Foothills Parkway will offer in the spring, summer and fall!
Check back for more updates in the coming seasons! We will be sure to add more updates as we spend more time visiting the Missing Link of the Foothills Parkway!
---
So, what about you? Have you been to the Missing Link of The Foothills Parkway? Do you have any tips to share? Be sure to leave a comment below! We love hearing new ideas and suggestions!
---