"Bermuda, Bahama, come on pretty mama. To Key Largo…" (Beach Boys/Kokomo anyone?)
Are you planning a family trip and are looking for fun things to do in the Florida Keys with kids?
This tiny stretch of land in the southern part of the United States offers plenty of fun and unique things to do on your next family vacation.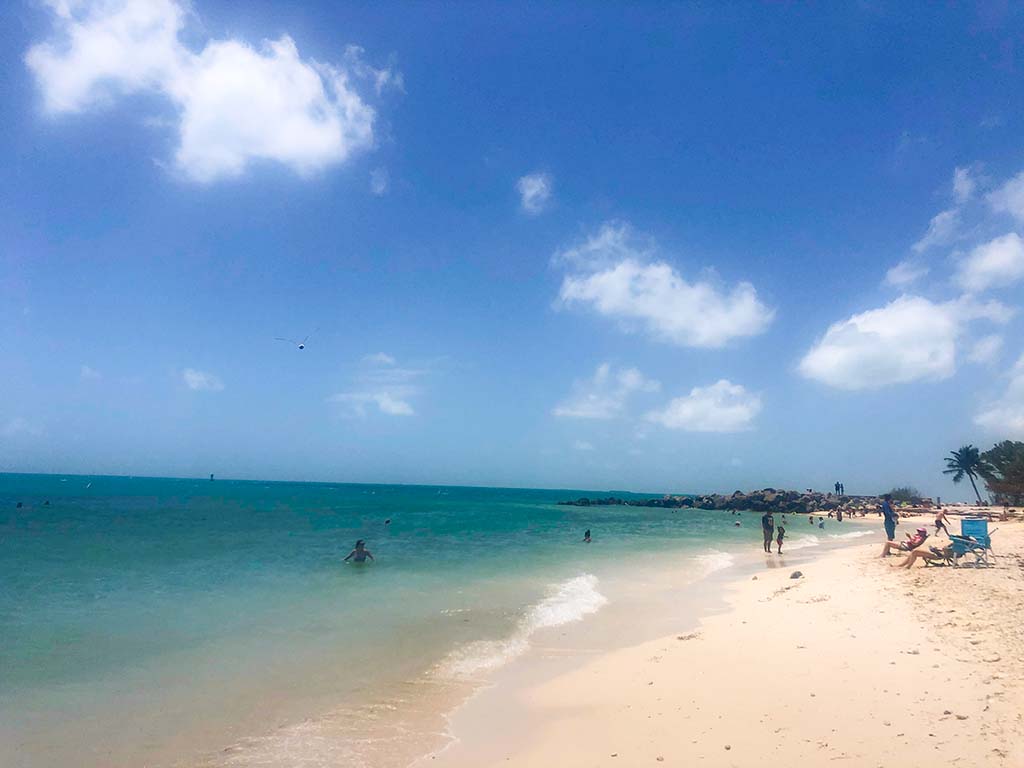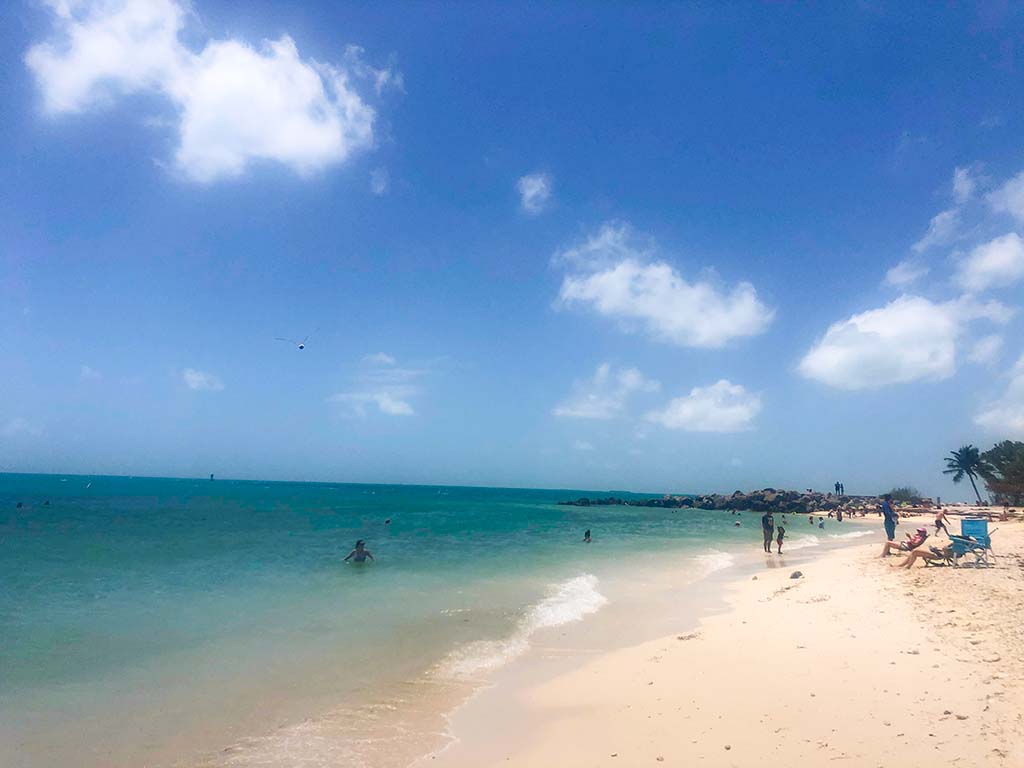 *This post may contain affiliate links which help support this site, but won't cost you anything extra. Read our full disclaimer.
Travel Guides for the Florida Keys
Whether you buy it or check it out from your local library, a good travel guide is always helpful when visiting a new area. Here are a few great resources before you head to the Keys:
Things to Do in the Florida Keys on a Family Vacation
From forts to animal encounters and everything in between, you will find more than enough things to do in the Florida Keys with kids.
There are so many things to do that you have to make a bucket list and strategically plan out your days.
After a week-long visit to this beautiful 125-mile stretch of islands in southern Florida, here are our top favorite family-friendly activities (starting in Key West, working your way in-land) to check out on your next trip to the Florida Keys.
1. Visit Key West Butterfly and Nature Conservatory — Key West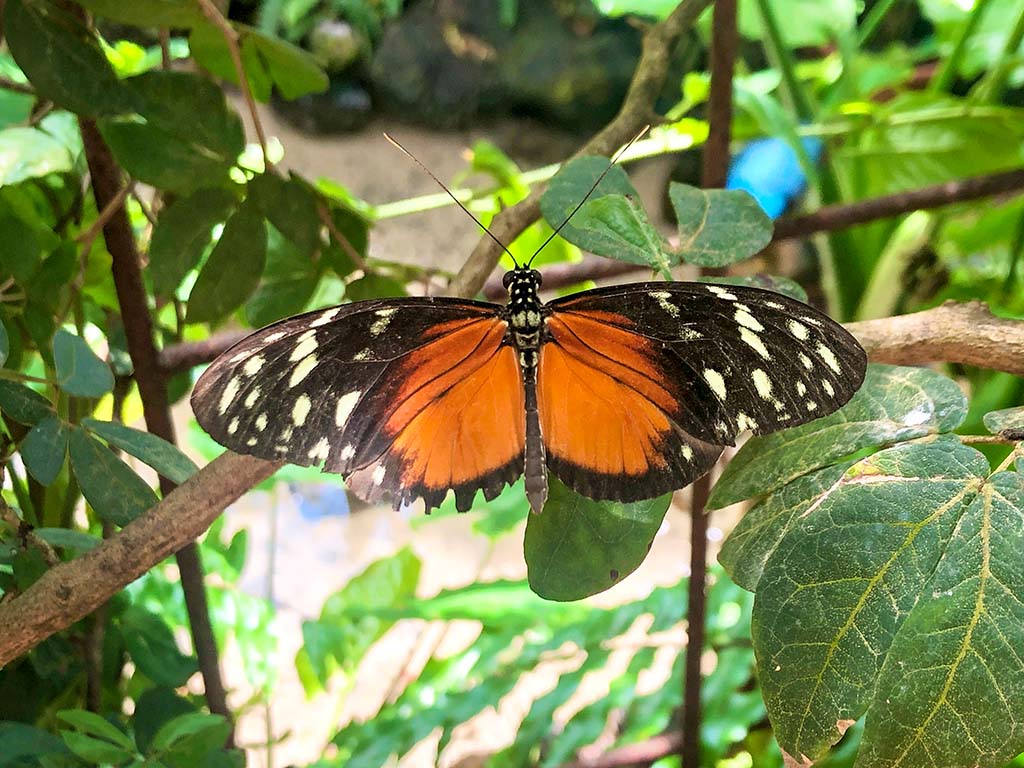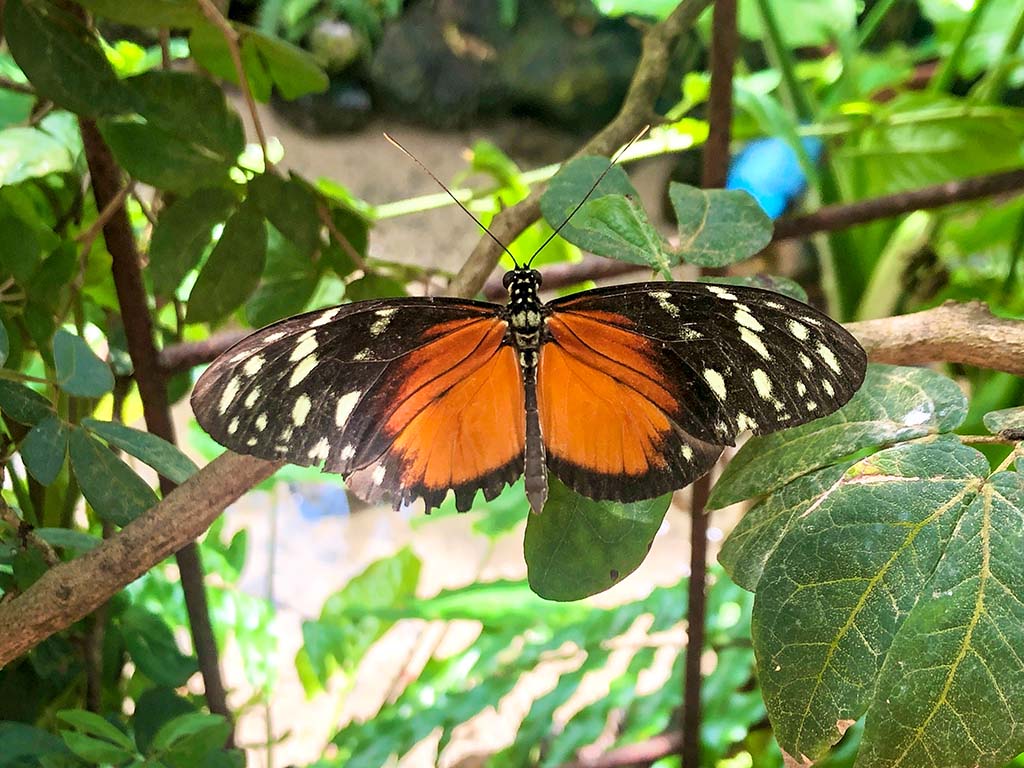 If you head to Key West, be sure to make a stop at the Key West Butterfly Nature Conservatory. 🦋
This was definitely one of our highlights. There were TONS of butterflies flying around as well as birds. A few butterflies landed on us and we got to watch some hatch from their chrysalis and then get released which was really fun!
And of course we loved seeing the resident flamingos – Rhett and Scarlett 🦩🦩They were extra vocal that day…apparently it was mating season. 😳💕
We loved our experience at the Key West Butterfly Nature Conservatory.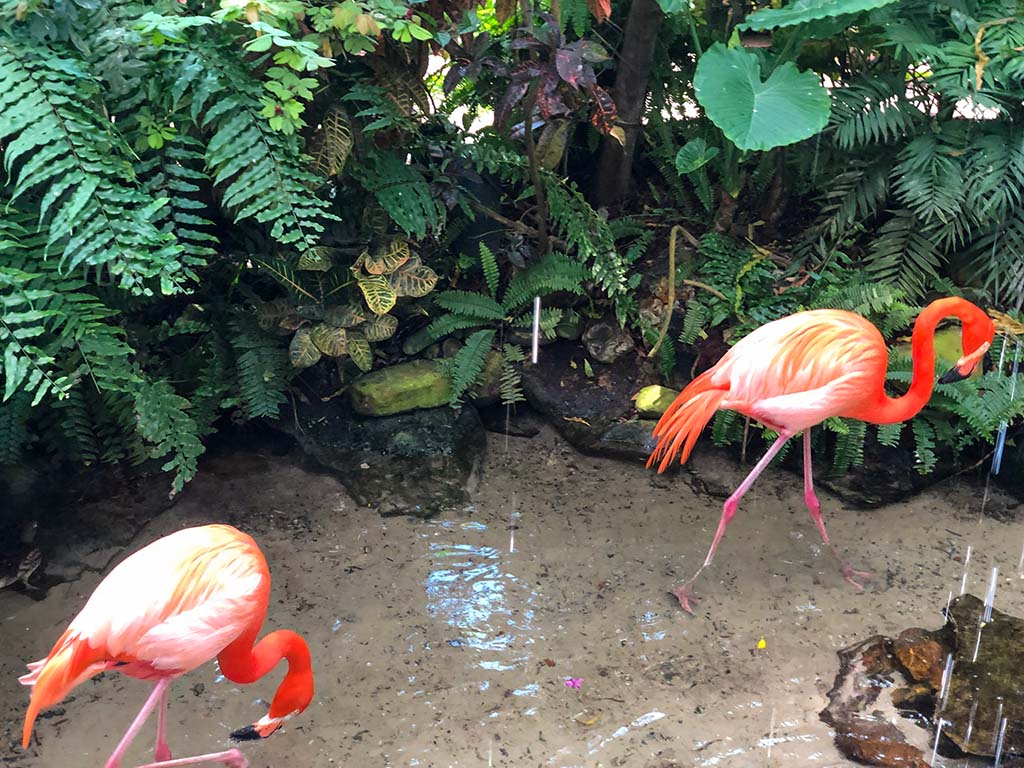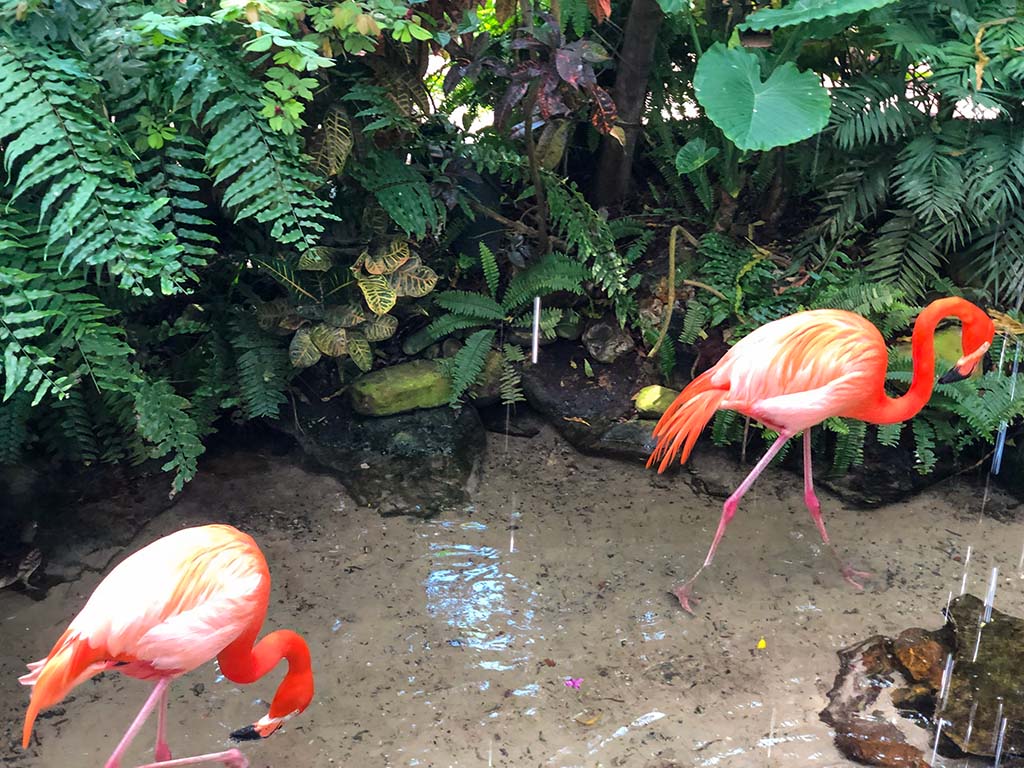 (P.S.- Check out the coupon books beforehand- you can usually find a coupon to save a little💰 on the admission!)
For ticket prices, hours and location, visit the Key West Butterfly and Nature Conservatory website here.
2. Explore Fort Zachary Taylor State Park — Key West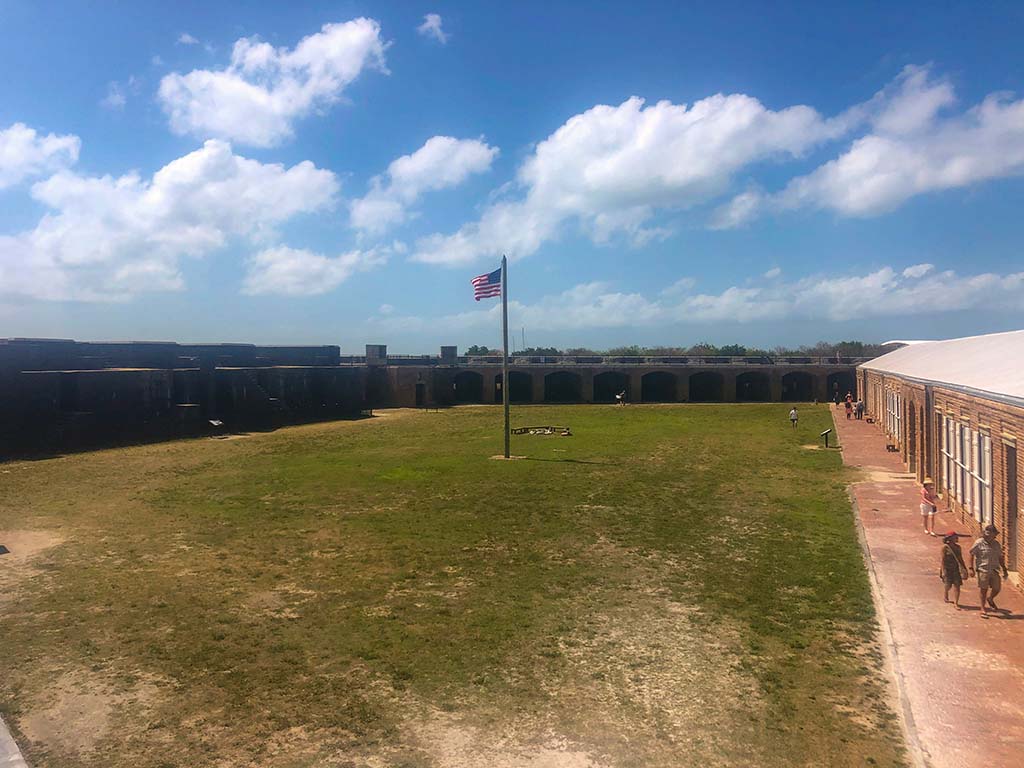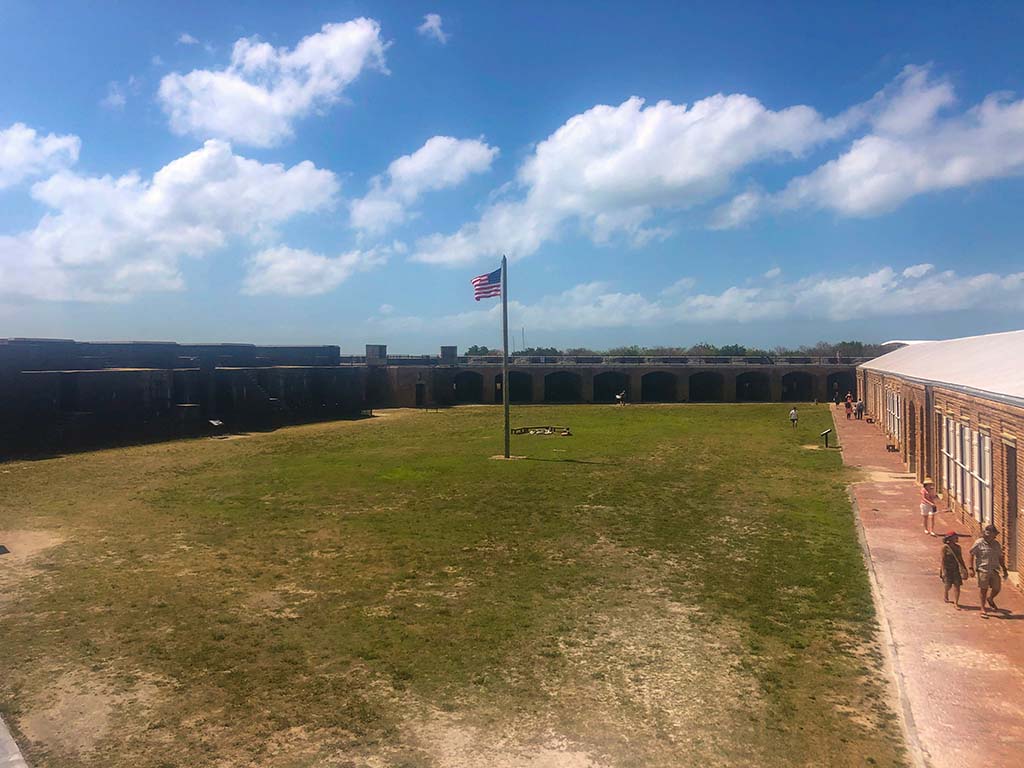 Do you like visiting historical forts?
Every time we find ourselves visiting a new area, we somehow manage to find a Fort nearby. AND….we always manage to drag our crew there. 😂
We sure did love exploring and running through the historical remains of Fort Zachary Taylor. And there is a pretty amazing view at the top of the surrounding area. 🏝
Best of all, there is an amazing beach inside the park to hop in the ocean and cool off for a bit with some great picnic areas and snorkeling opportunities! 🤿
The most interesting fact that we learned about the Fort? The fort temporarily housed in their jail cells, Dr Samuel Mudd and other Abraham Lincoln conspirators in 1865 before they sent them to Dry Tortugas.
You can read more about Fort Zachary Taylor Historic Park over here.
3. Southernmost Point of the Continental USA – Key West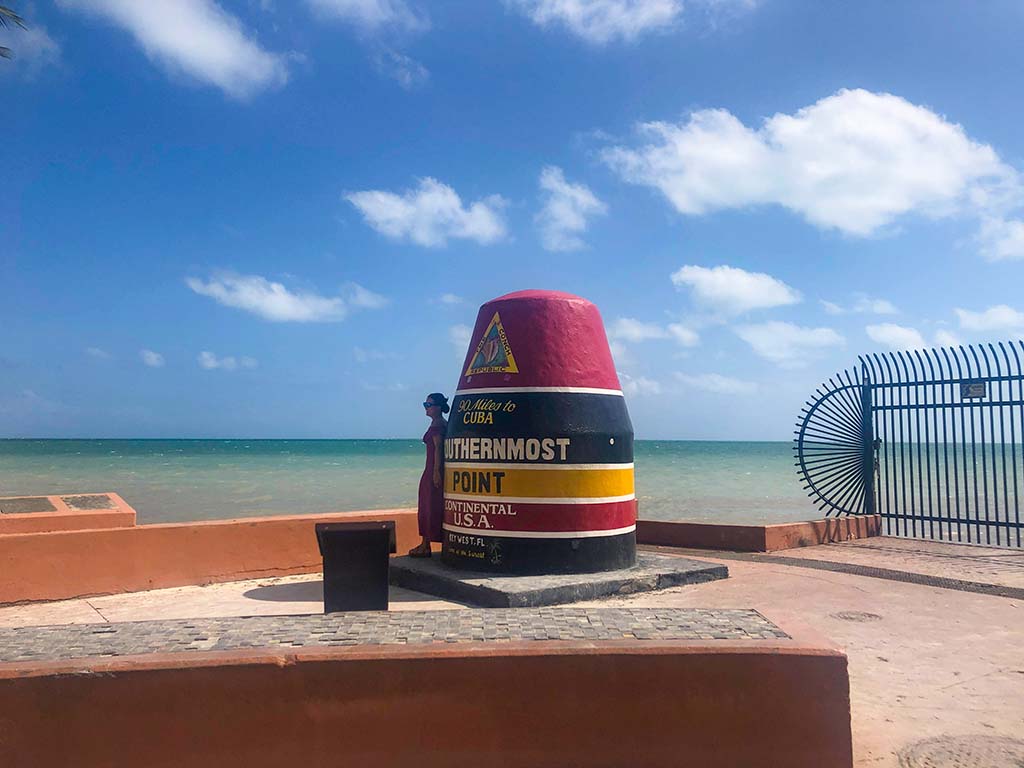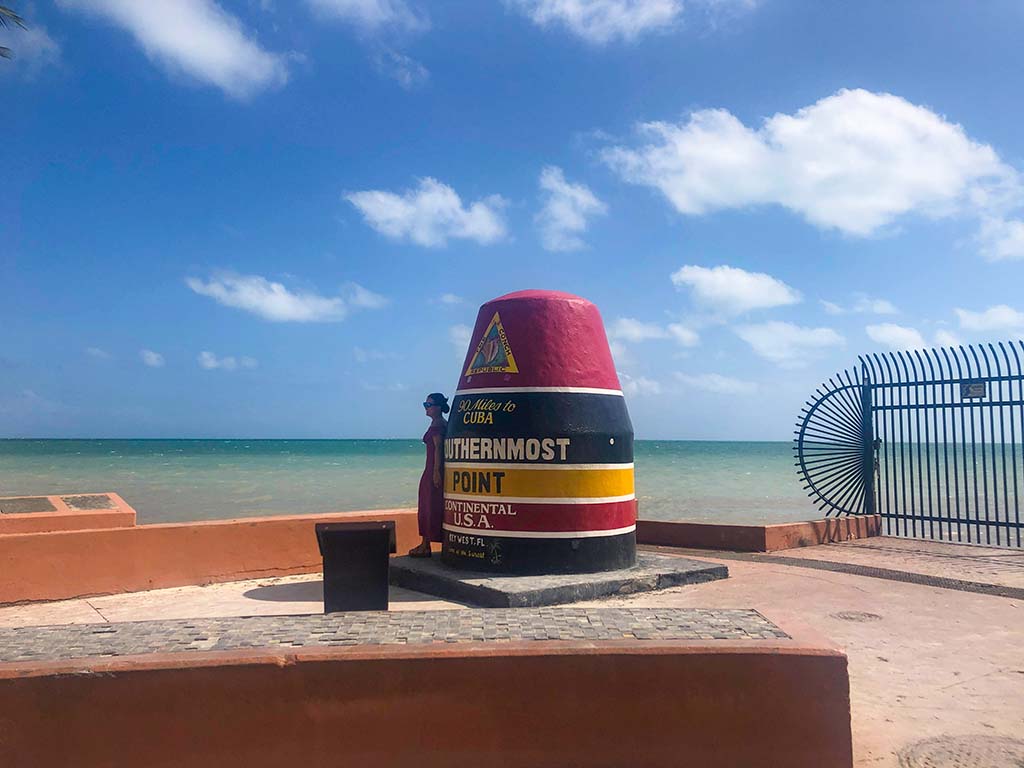 Besides the Fort and the Butterfly museum, there are plenty of unique sights to see in Key West, including roosters! Here are a few more ideas of places to check out if you have extra time in Key West:
Take a photo at the Southernmost point of the US
See the Roaming Roosters and do some window shopping in Mallory Square
Visit Hemingway's House
Ride the Conch Train
Key West Aquarium
The southernmost point is cool and all…but we chose not to stand in the LONG line for the iconic picture. Instead we snapped a quick picture while another family was standing there 😬🤷🏼‍♀️😂 and grabbed snow cones at the street vendor. 👍🏻 At least we can say we've been there.
And window shopping in Mallory Square was pretty cool because we got to hang out with roosters and a cool pirate guy. ‍☠️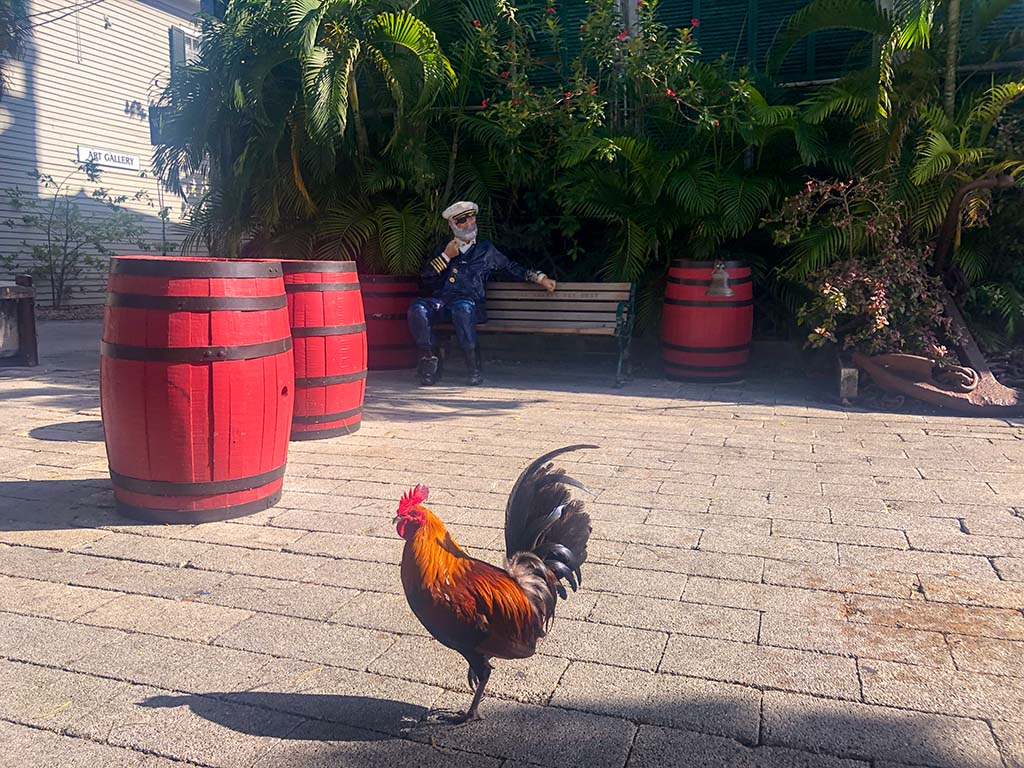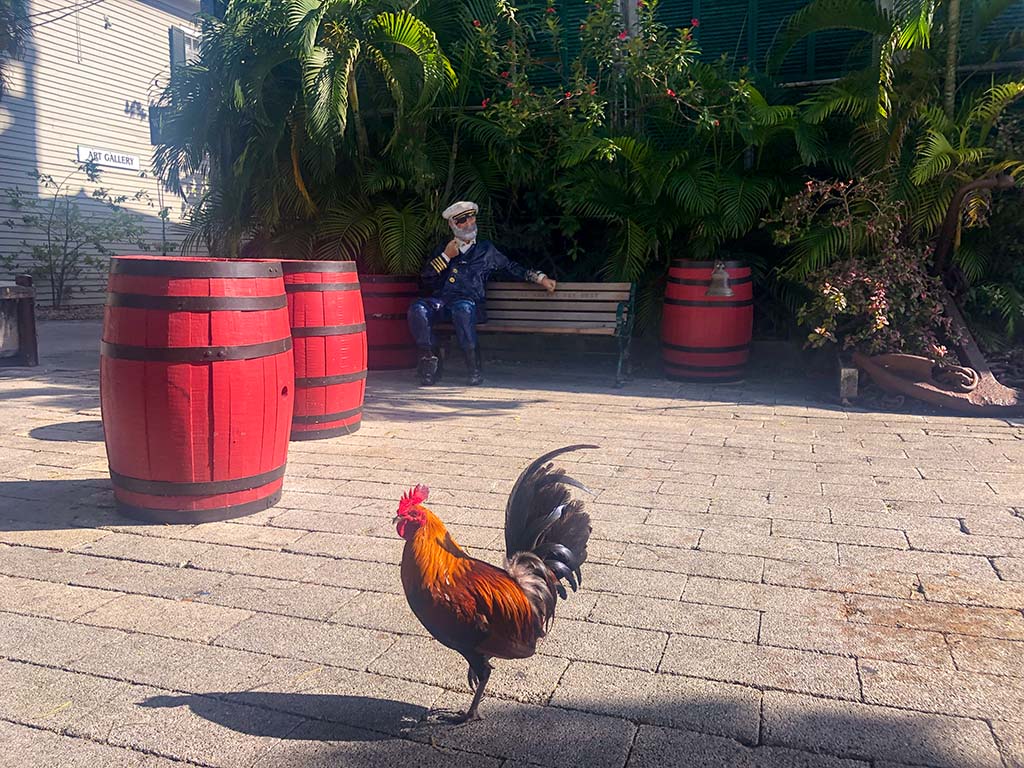 We also drove by the Key West lighthouse and Ernest Hemingway's house. I hear there are cats with 6 toes there. Maybe next time we can check that out a little more. ‍
Key West has more than enough to do. For more ideas, be sure to check out the Key West Chamber's article on Things to Do in Key West. Our family enjoyed exploring and spending a day at Key West.
*Bonus Dining Tip near Key West
Hurricane Hole in Key West – Family friendly waterfront atmosphere, delicious Key Lime Pie and a fun ship play area for the kiddos!
4. Tour the Turtle Hospital — Marathon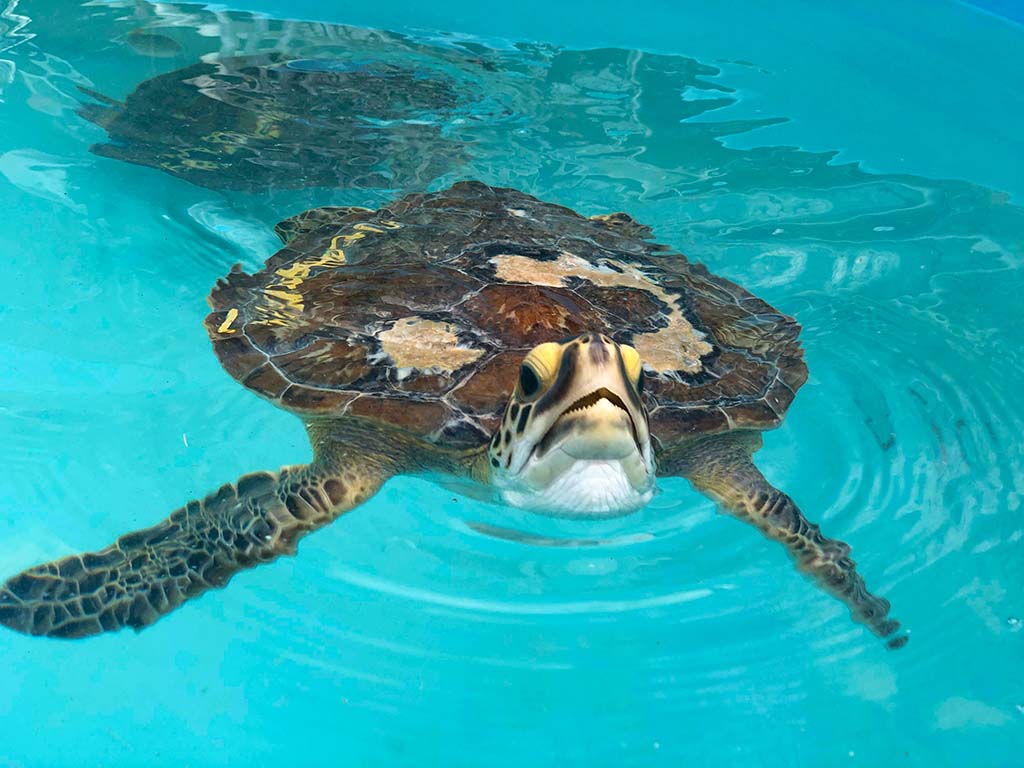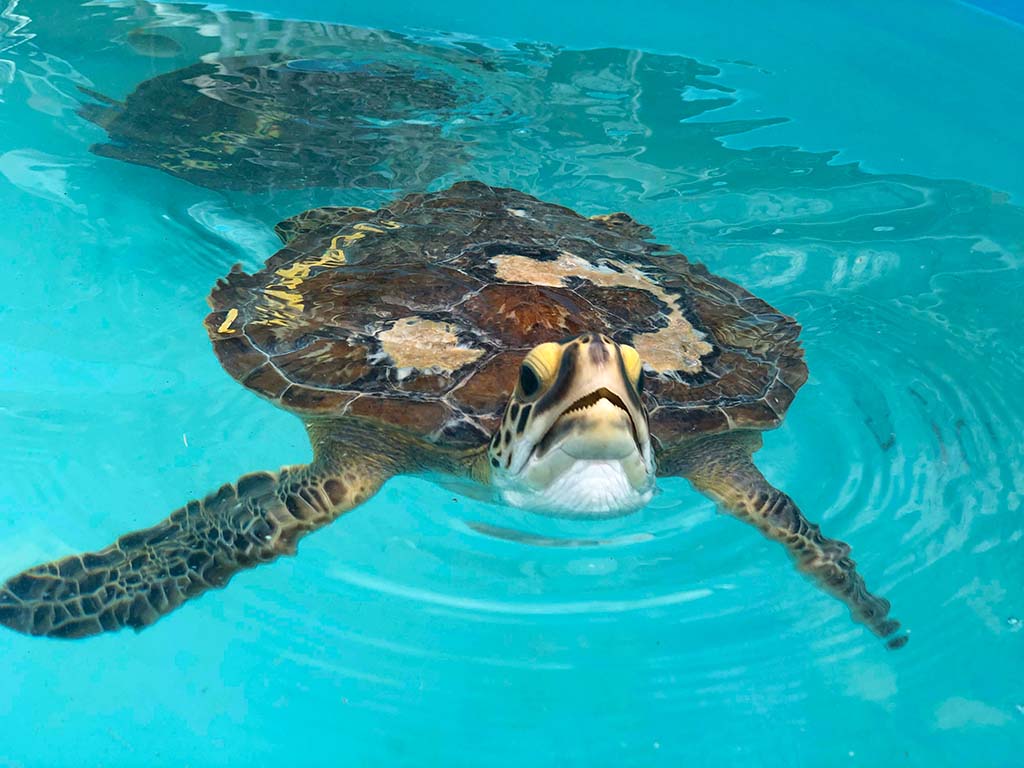 One of our absolute favorite things we did in the Florida Keys was visiting the Turtle Hospital in Marathon.
We loved learning all about the sea turtles and the conservation initiatives for protecting them as well as the rehabilitation efforts. From the little museum area to the informative tour, it was very educational and our whole family loved the entire experience.
Of course feeding the turtles at the end was pretty fun but overall it was just amazing to be up close to such incredible creatures and learn more about ways we can help.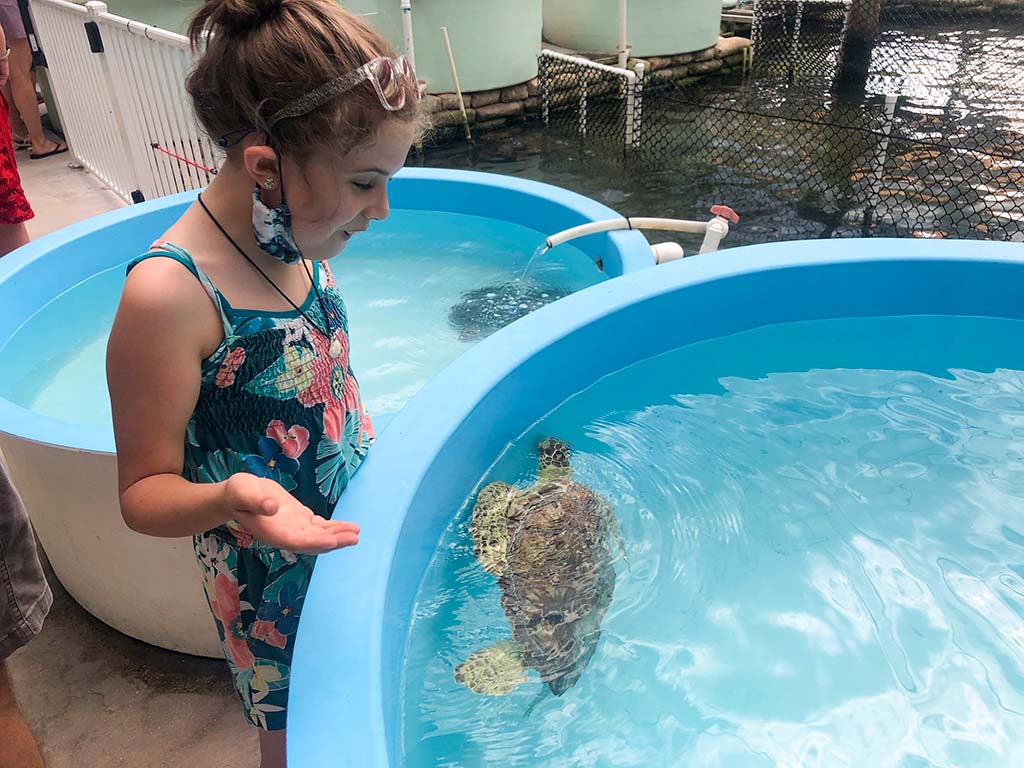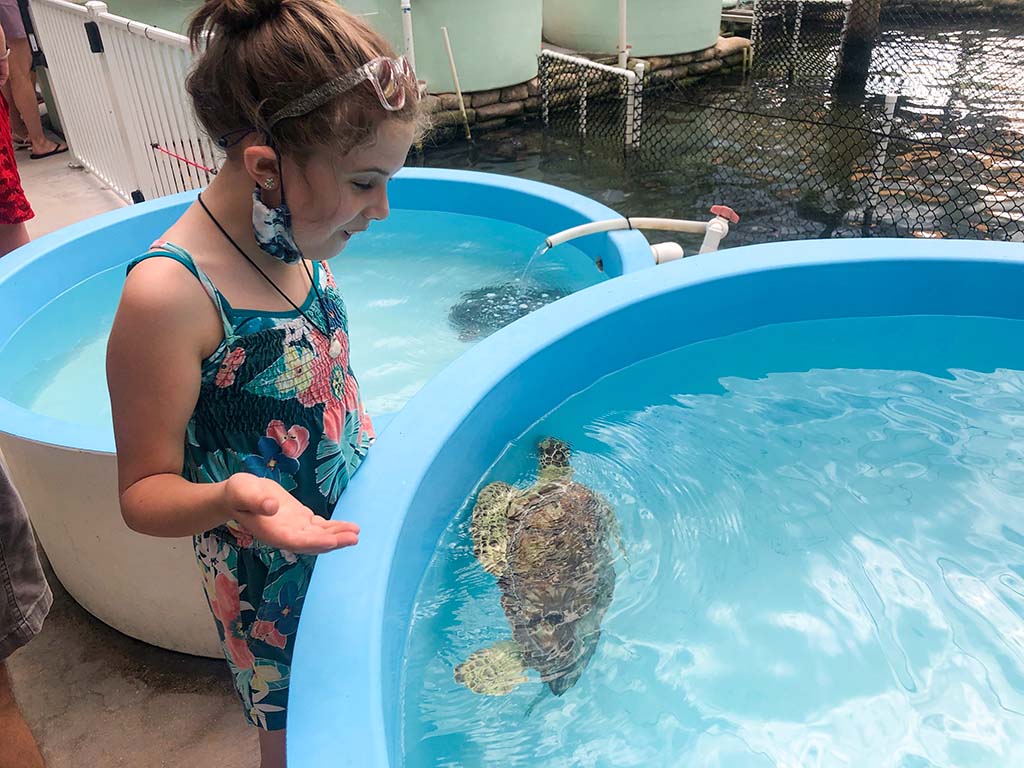 If you have sea turtle lovers in your family, this is one thing you cannot miss!
For hours, tickets and location, head over to the Turtle Hospital website to learn more.
*Extra Tip – Nearby Coffee!
Right down the road (literally 1 minute away!) we found the coolest little coffee shop, Keys News and Coffee. ☕️
We even got to meet one of their cat residents, Mr Beans! 🐈‍⬛ Which of course the kiddos loved! 🥰 And, the coffee was delicious!
5. Take a Picture with Betsy the Lobster – Islamadora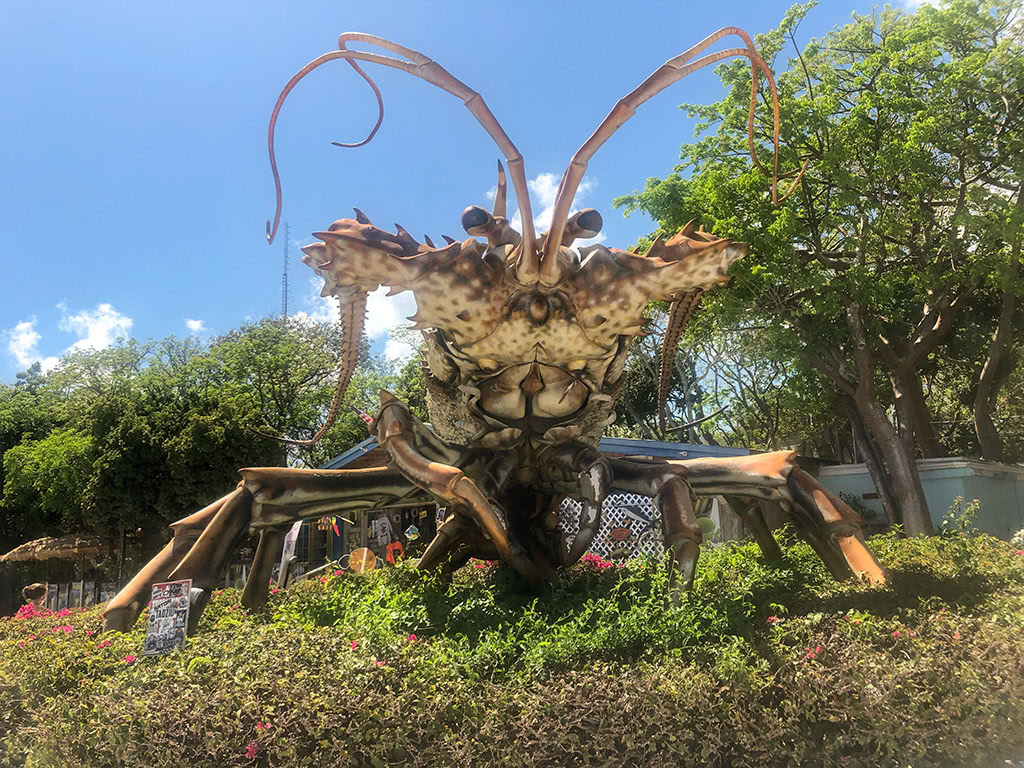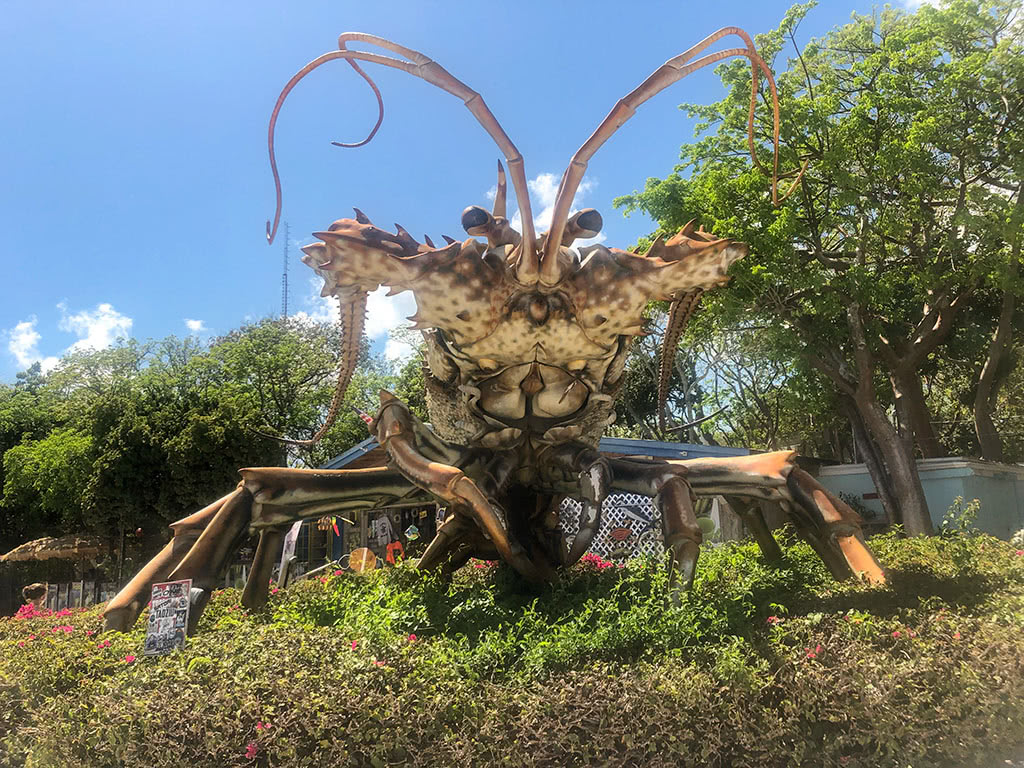 Well hello, Betsy!
Be sure to stop by for an up close look and to say hello to Big Betsy the Lobster at the Rain Barrel Village in Islamadora. Betsy is a 30-foot-tall, 40-foot-long sculpture that stands at the entrance of the Rain Barrel and is fun for kids of all ages to see.
Betsy is a great opportunity to take a fun photo to remember your time in the Florida Keys. Be sure to do a little shopping at the Rain Barrel area while you're there!
6. Feed the Tarpons at Robbie's Marina – Islamorada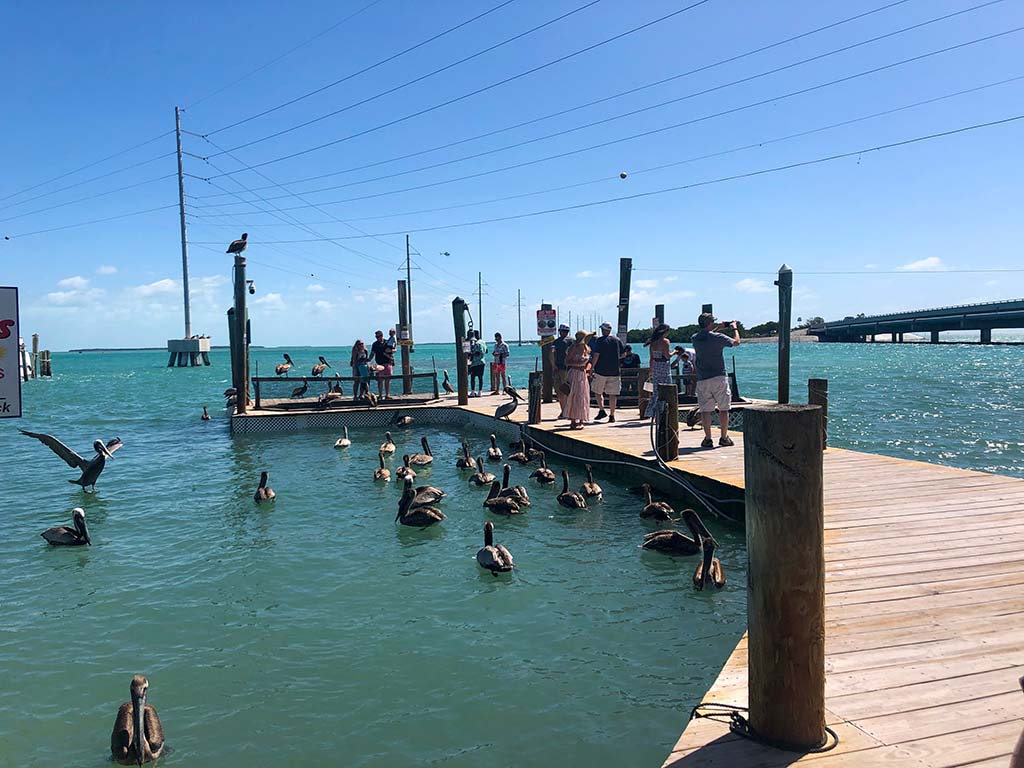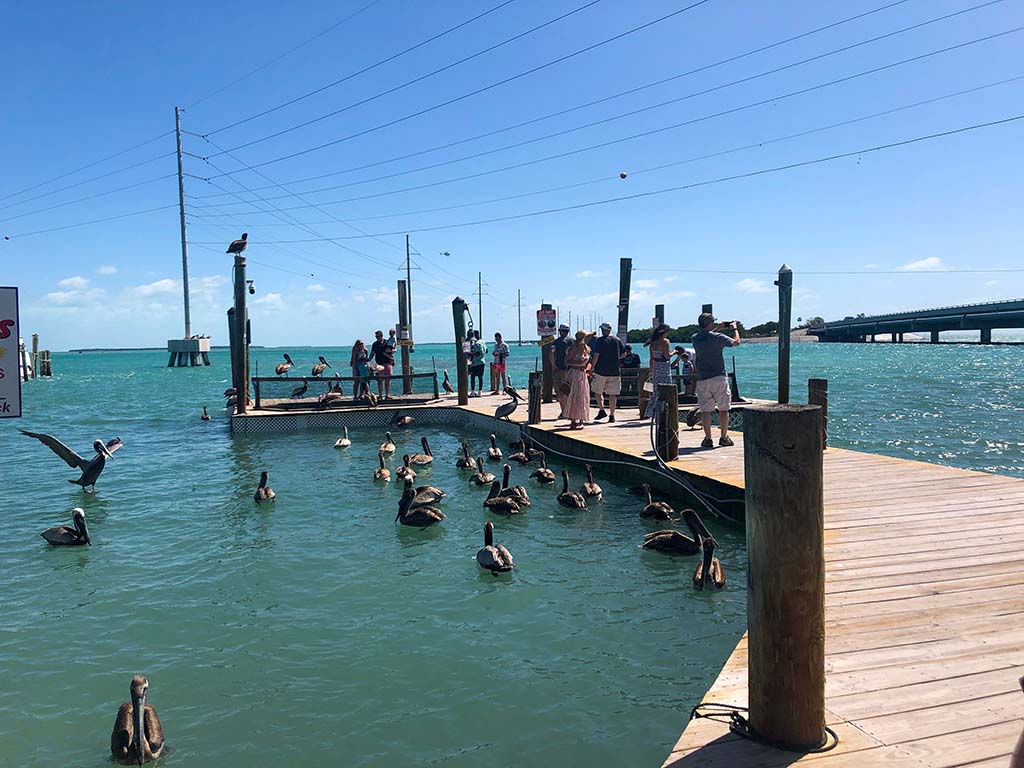 One of our favorite stops was at Robbie's Marina where you can feed the tarpons while also experiencing up close encounters with the pelicans (which makes for some hilarious memories!)
Buy a bucket o' fish 🪣 and head out to feed the tarpons while strategically avoiding the hungry pelicans (sounds like a great video game idea… 💡🤔)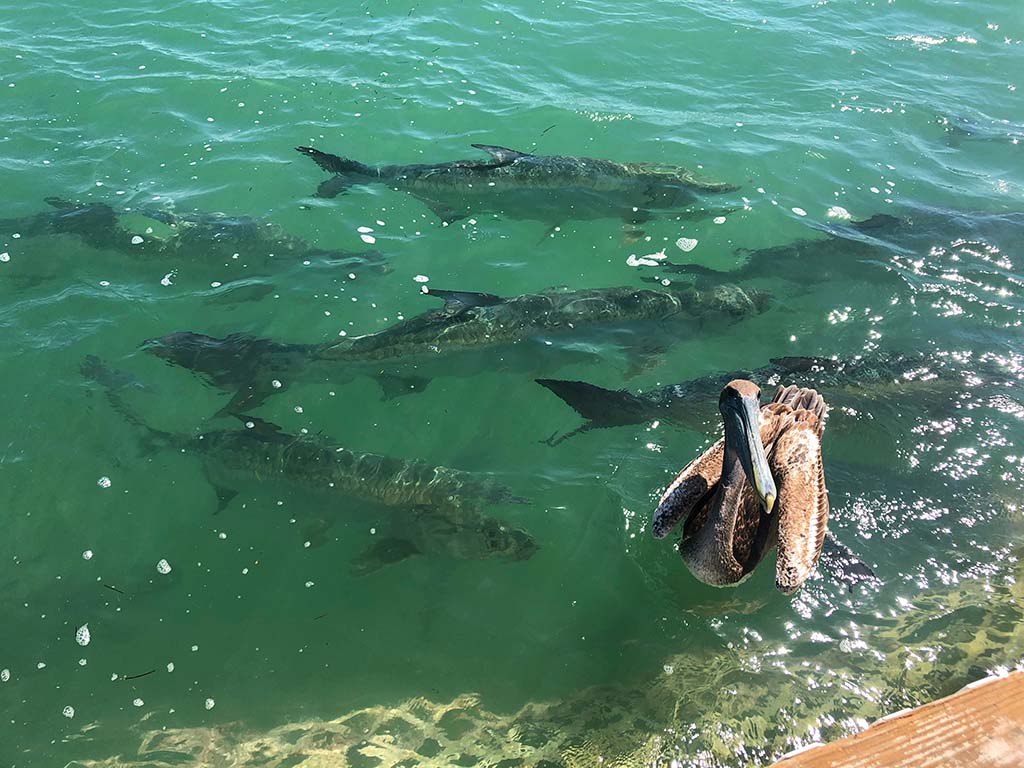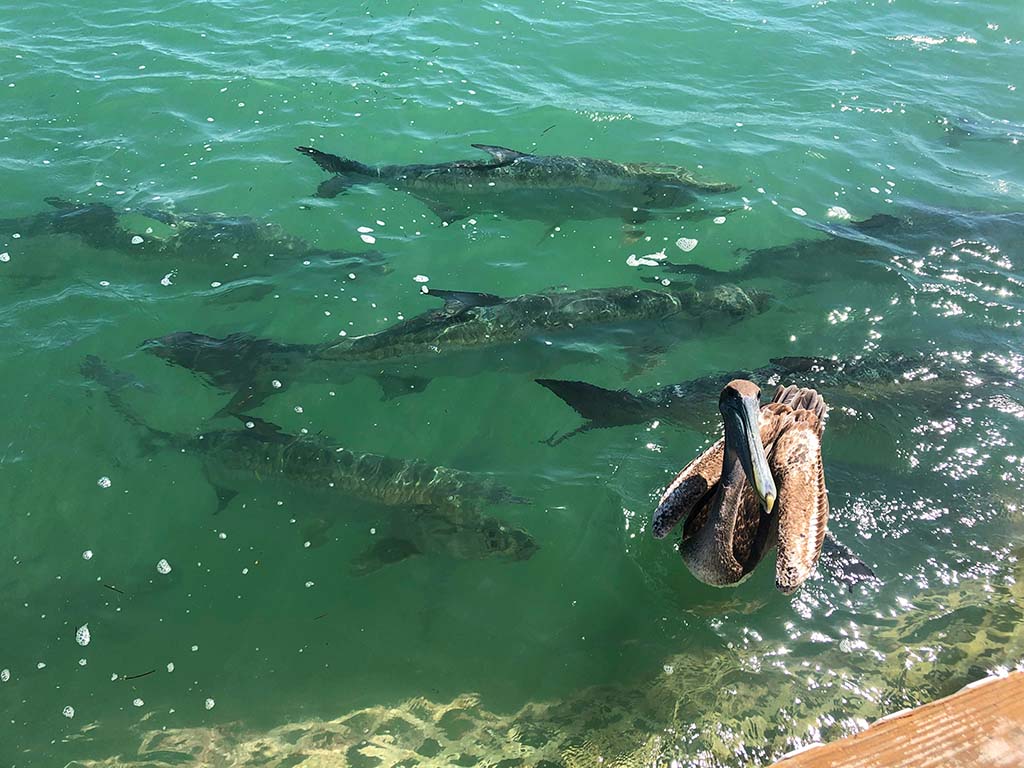 It was also a fun area to walk around and do a little souvenir shopping as well.
Robbie's Marina also offers plenty of other activities like jet ski adventures, parasailing, snorkeling, sunset cruises, kayak rentals and so much more!
For hours, location and more information, head over to Robbie's website to learn more.
7. Visit the Theater of the Sea — Islamorada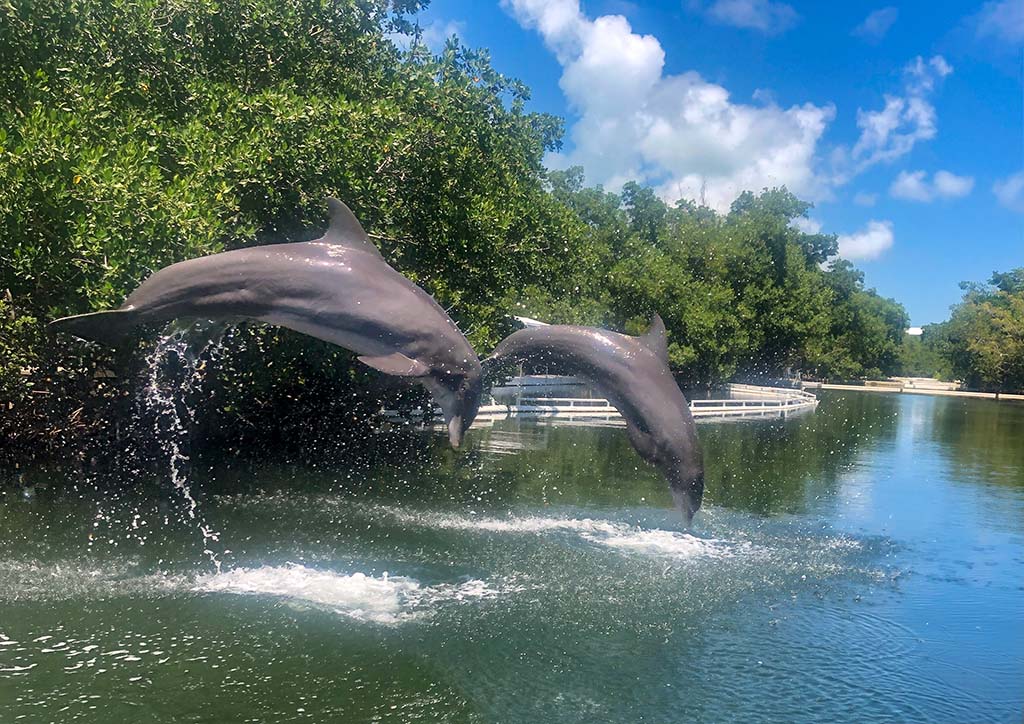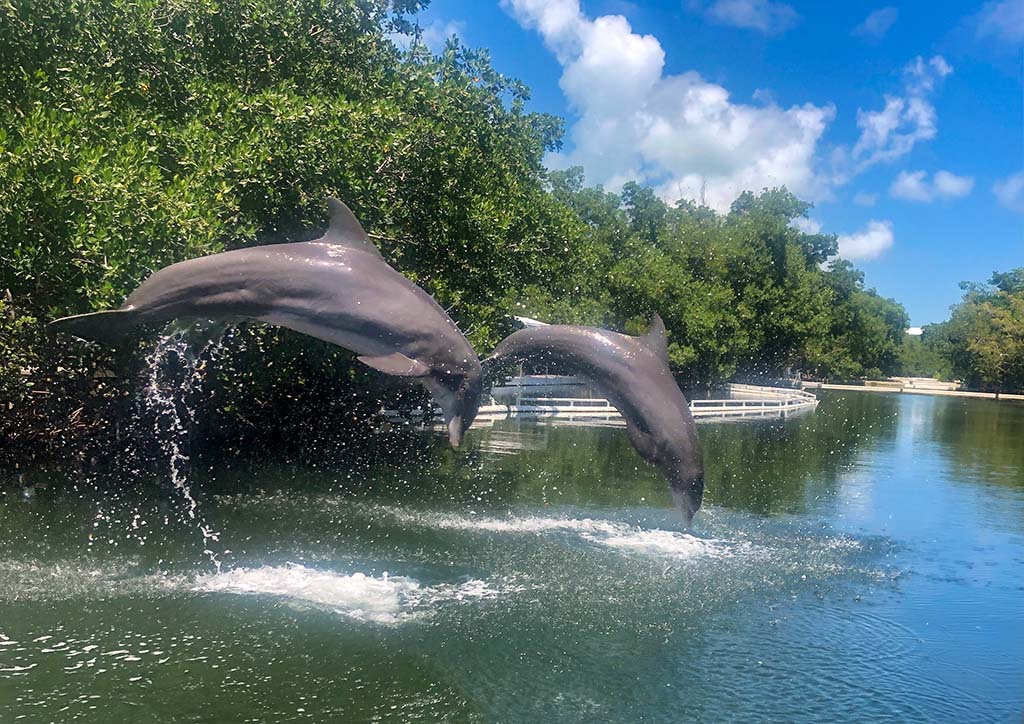 While not originally in the plans to visit, a last minute roll of the dice landed us at Theater of the Sea for one of our days in the Keys…and boy are we glad we went!
The minute we walked into the garden area, it felt like a tropical oasis. 🌺 🌴
This place was super interesting in how they have their show schedule on a rotating basis- so you just go from one show to the next and it is super easy to see all the shows without trying to figure out logistics and bouncing back and forth.
Included in the admission:
Bottomless Boat ride
Parrot show
Dolphin show
Sea Lion show
Fish and Reptile walking tour
Beach/Lagoon area- to snorkel, swim or just wade in the water
When we showed up, we went straight to the Parrot show and then followed the show schedule, ending our day at the little beach area where the kids could snorkel and swim with the parrot fish. 🐠
The shows were very entertaining and educational and we loved learning about all of the animals, as well as talking with some of the trainers. It was pretty obvious how much the trainers love the animals and that just made it all the more amazing! 💕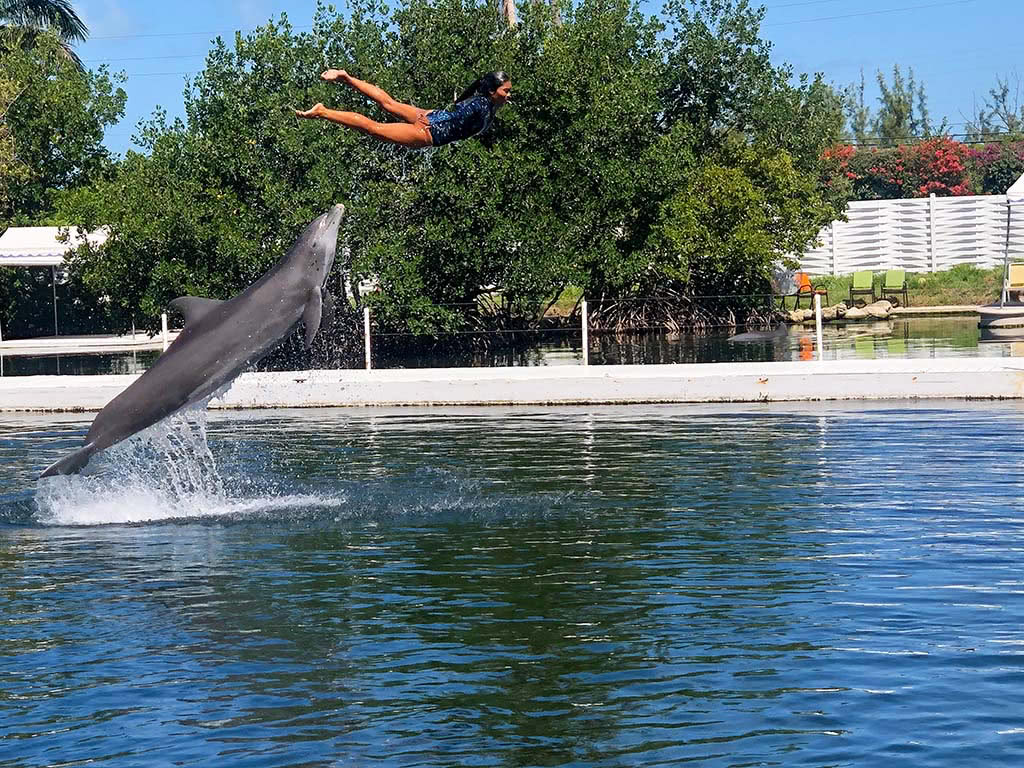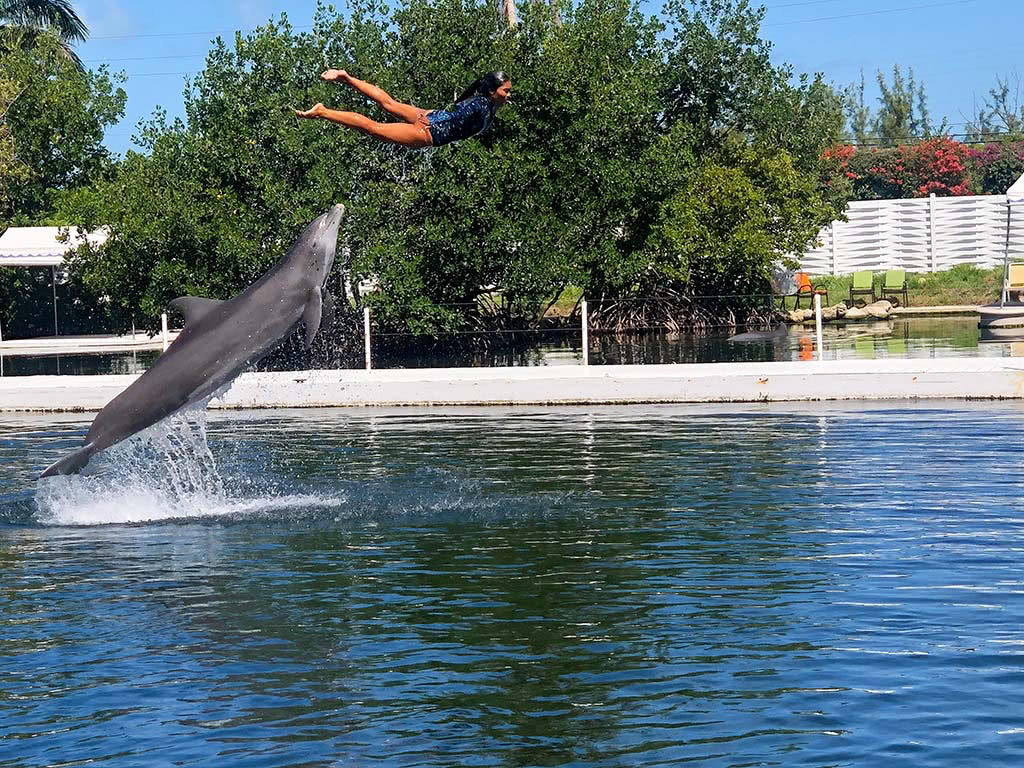 And although we didn't do it, they also offer several options of swimming with the dolphins/animal encounters for an extra cost. Which would also be pretty cool! 🐬
For hours, location and ticket prices, head over to Theater of the Sea to learn more.
8. Eat Chocolate Covered Key Lime Pie at the Blond Giraffe Key Lime Pie Factory – Tavernier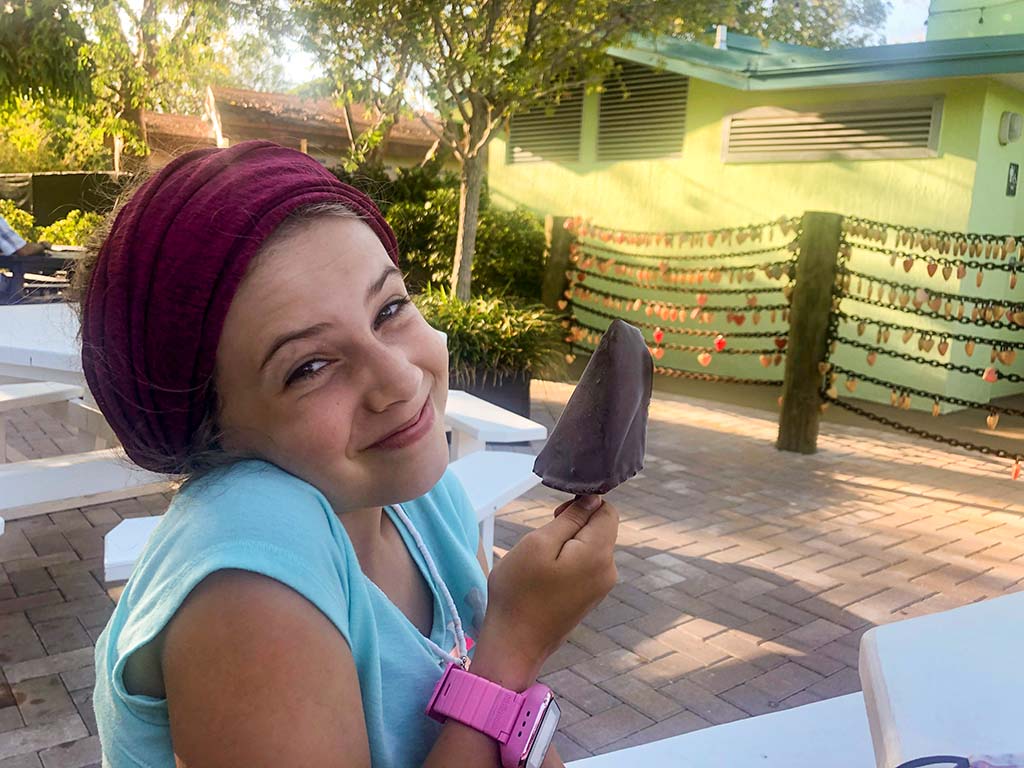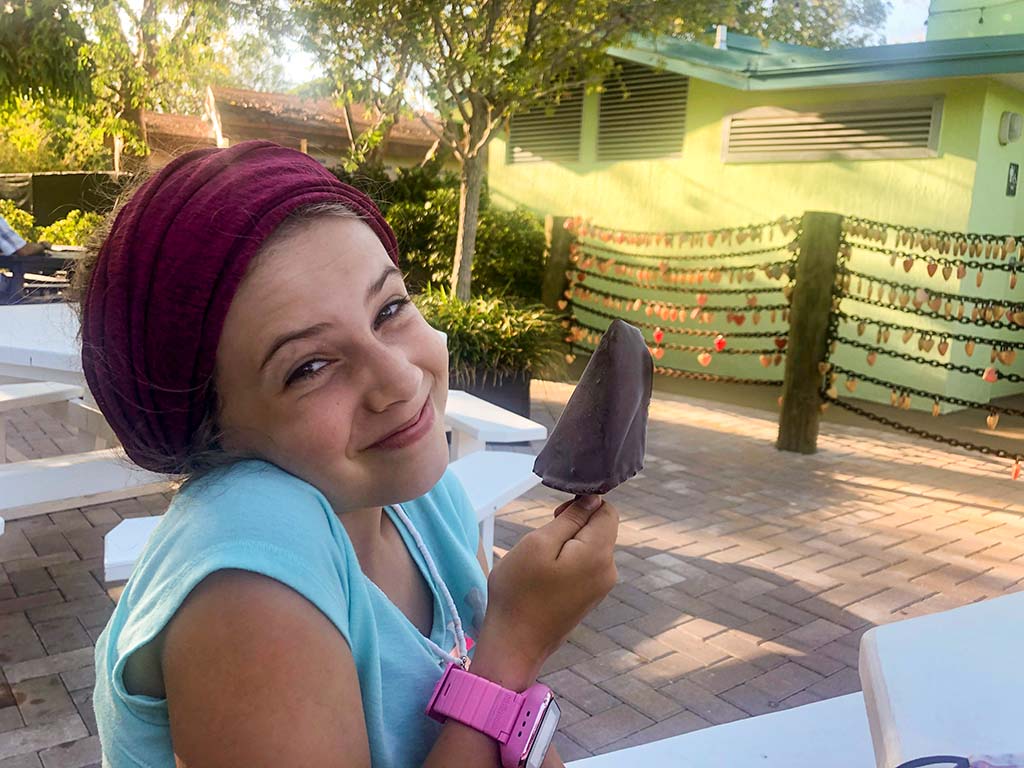 And of course no visit to the Florida Keys is complete without a taste of some authentic Key Lime Pie!
While there are plenty of opportunities to grab a pie, one local eatery that we found that was really unique (and amazingly scrumptious!) was the Blond Giraffe Key Lime Pie Factory in Tavernier.
Chocolate covered frozen key lime pie on a stick…need I say more?
For location and hours, head over to the Blond Giraffe's to learn more.
9. Snorkel at John Pennekamp Coral Reef State Park – Key Largo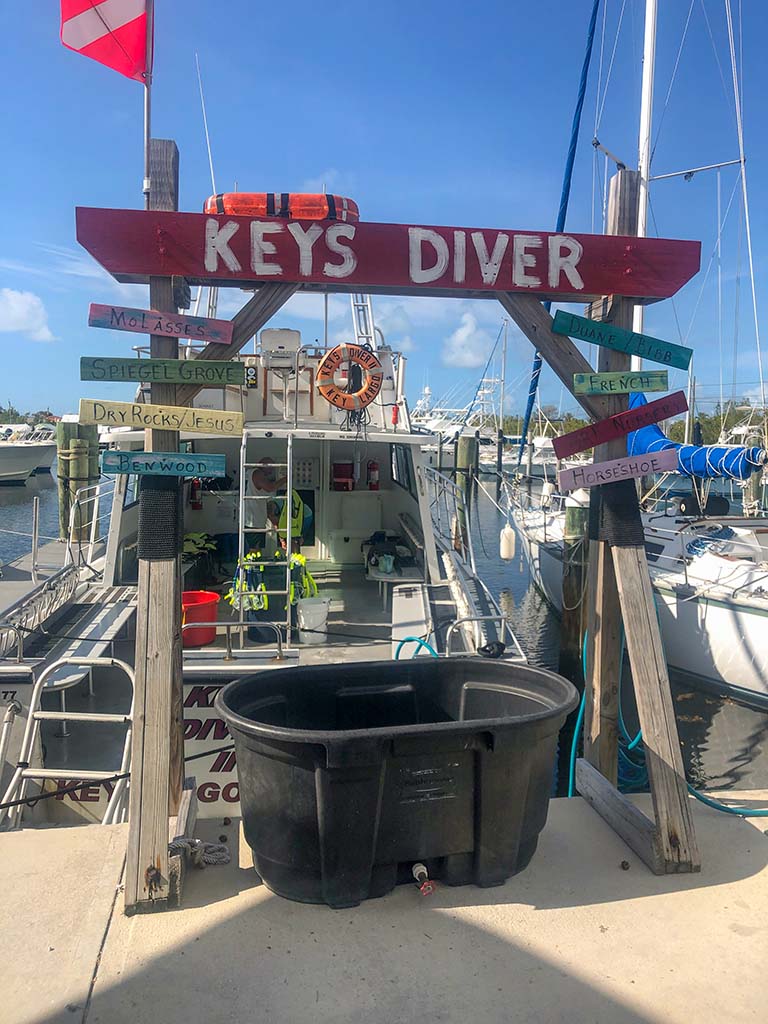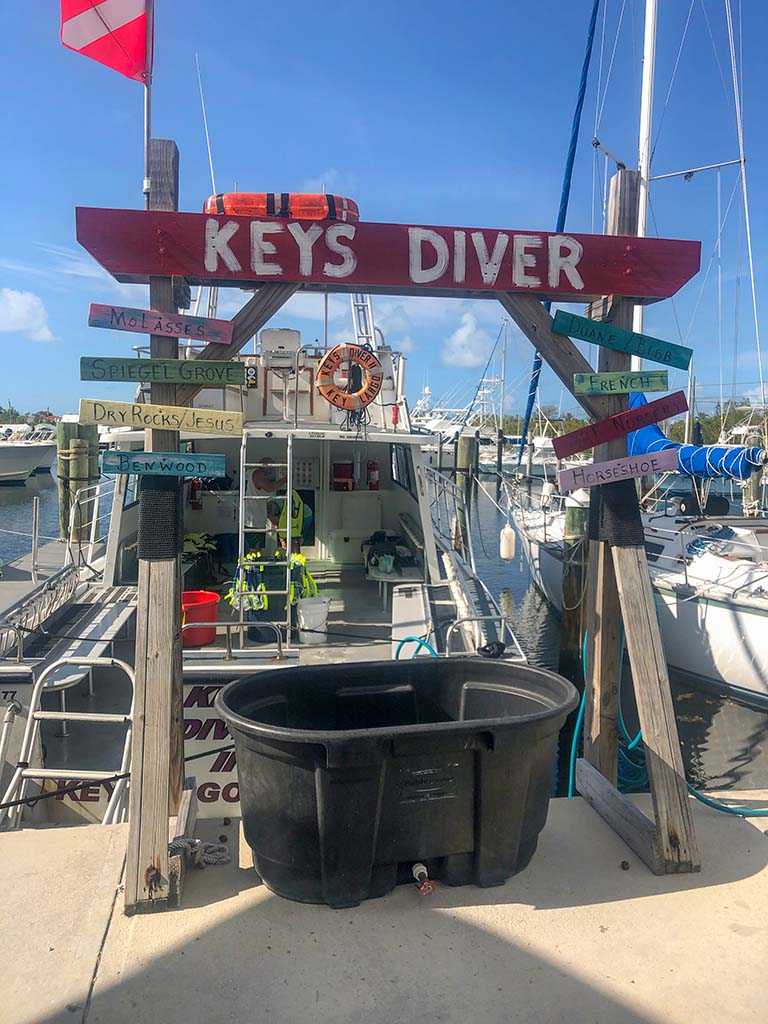 While it almost didn't happen because of some unexpected wind and weather that came through, on our last day in the Florida Keys we managed to go snorkeling at the John Pennekamp coral reef! 🤿 🐠
We had been wrapping up a Marine Biology unit in our homeschool curriculum at the time and our main goal for this trip was to take a closer look at marine life and what better way than to snorkel up close in a real coral reef?
We went on a snorkel tour with the Keys Diver and it was an excellent experience! The one we did includes a 45 min boat ride out to the reef, 1 hour snorkeling, and then the boat ride back.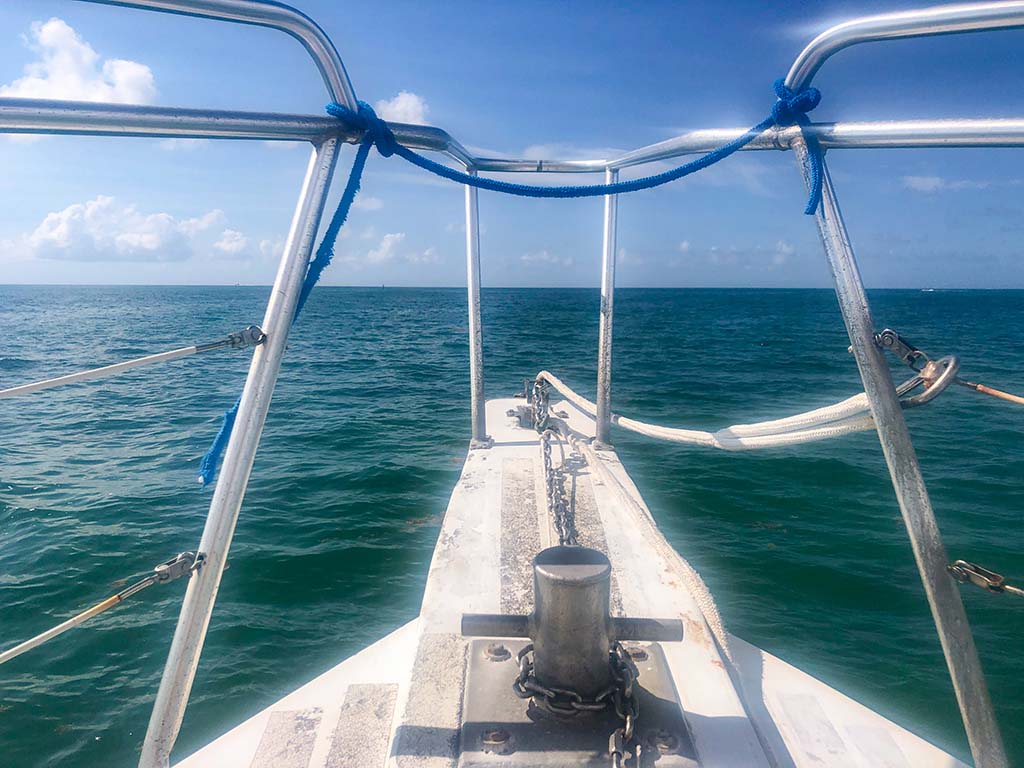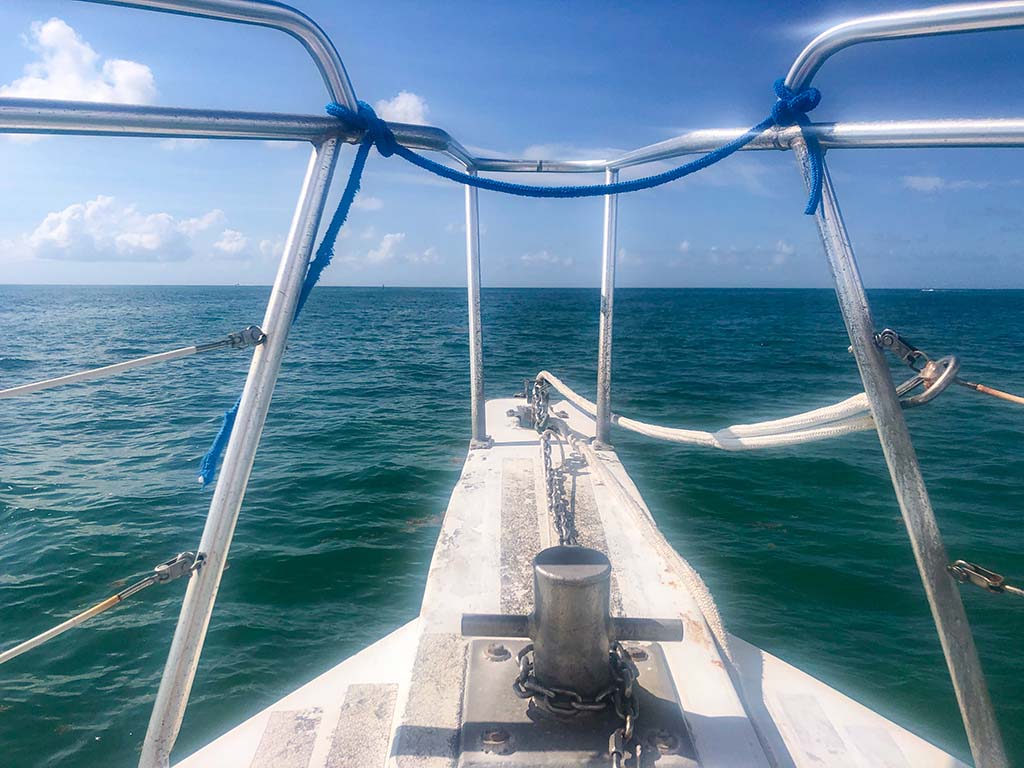 We highly recommend them and would definitely use them again in the future.
Some of our favorite things we saw:
Sand dollar
Barracuda
Parrot fish
Puffer fish
Lost of fish that we didn't identify but were equally cool 😂🤷🏼‍♀️
Lots of different shapes and colors of coral
For tour packages and pricing, head over to the Keys Diver to learn more.
*Snorkeling Alternative – Glass Bottom Boat
*If your crew isn't up for snorkeling quite yet, another great option is a glass bottom boat at John Pennekamp.
*Bonus Dining Tip in Key Largo
Mrs. Mac's Kitchen in Key Largo – Family friendly, fresh seafood, quick service, and according to my daughter, the best Mac and cheese she has ever had in her life.
10. Everglades National Park – Homestead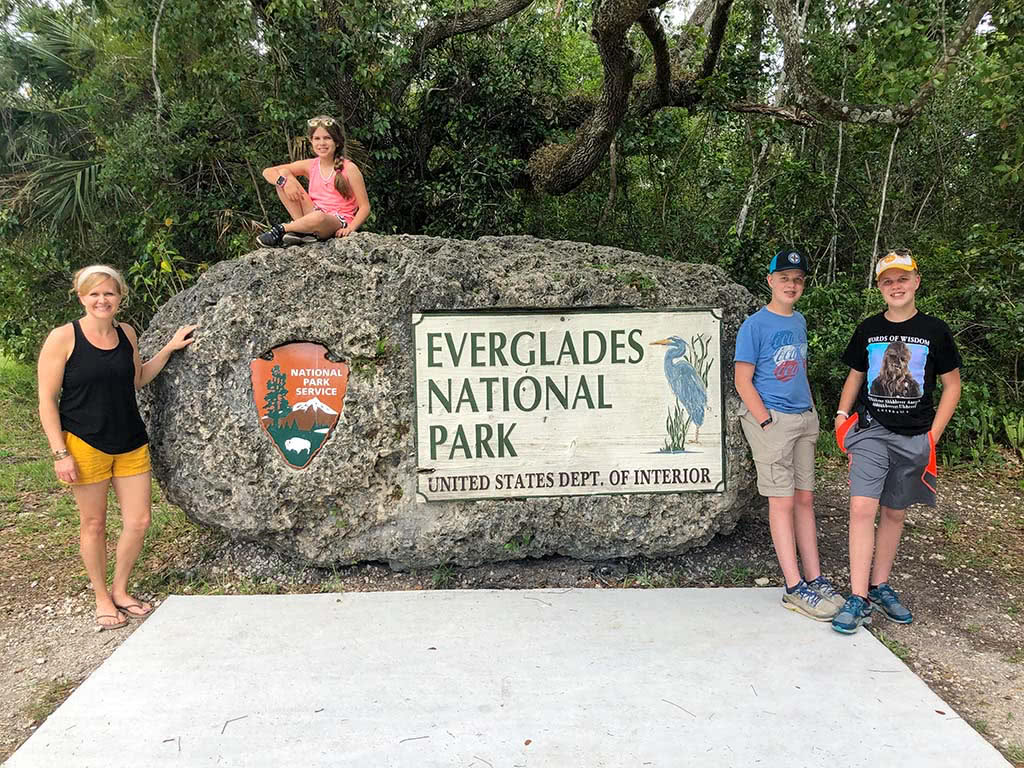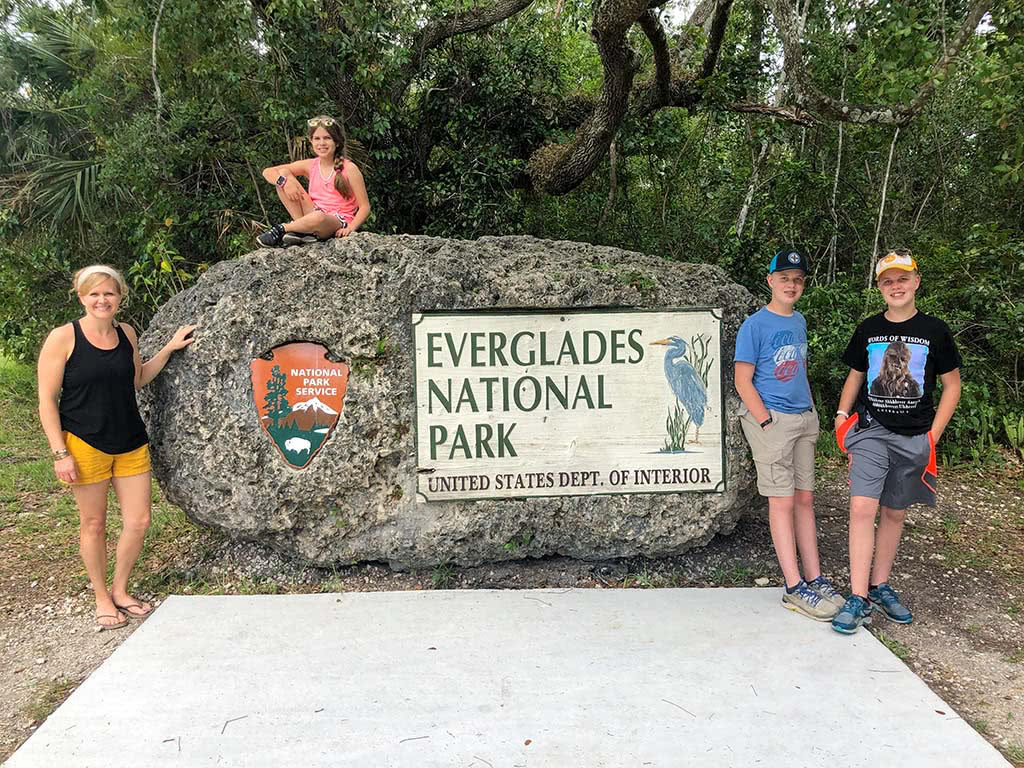 Although not technically in the Florida Keys, the Everglades National Park was literally right around the corner and we just couldn't pass up making a visit while in the area.
We started at the Ernest Coe Visitor Center where we got our Passport stamps, Junior ranger books, and a map of the area.
Our next stop was at the Royal Palm Visitor Center. This is where you can hike the short Anhinga Trail where you can see not only anhingas (birds that swim underwater like a snake), fish, alligators, birds and so much more…BUT you can also experience the heckling Turkey vultures.
These guys were waiting on people to park their cars so they could jump on top and mess with your car. (Which quickly explained the complimentary blue tarps you can tie on your car. 😳)
After that, we headed on to the Flamingo Visitor Center, where we saw ospreys, manatees and a crocodile! 🐊
It was so fun to watch the manatees come up to the surface. And we even spotted a baby!
We made several other stops along the way at the many pullover/walkways – spotted lots more wildlife, some old growth mahogany trees, and so much more.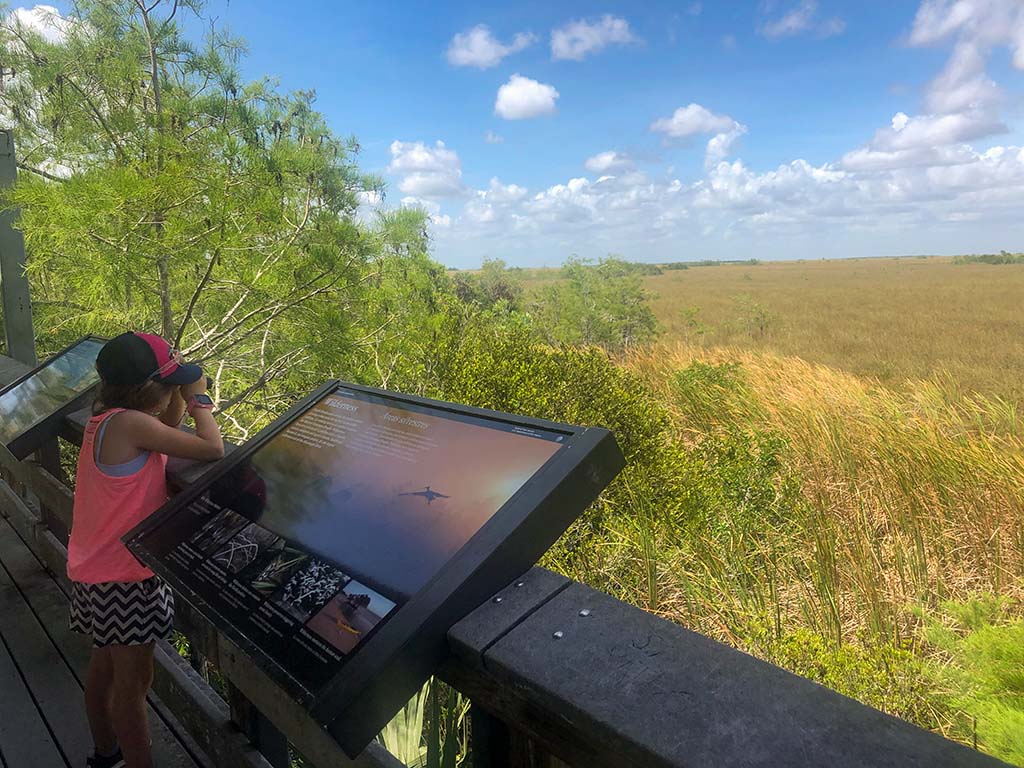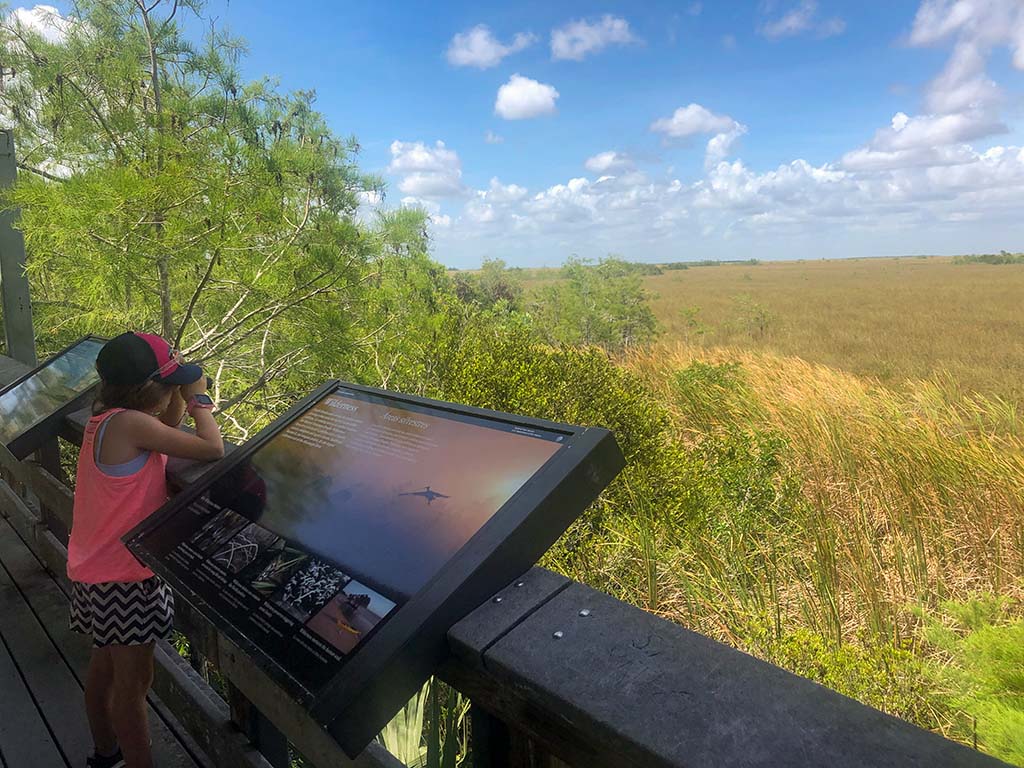 The Junior ranger booklets were perfect because they had a scavenger hunt- and the kids found almost everything!
We loved our day exploring the Everglades and think that it is a great opportunity to visit with kids while in the Florida Keys.
For more information about visiting the Everglades National Park, check out nps.gov's website here.
Final Thoughts on Visiting the Florida Keys
We absolutely loved our time in the Florida Keys. While this is only a taste of what the Florida Keys have to offer, make sure you create a list of your family's priorities and take time to map it out and plan accordingly to make the most of your time there.
Things to Do in the Florida Keys with Kids
---
More Related Articles: