Heading towards Kentucky anytime soon? If you are, be sure to make a stop at the Abraham Lincoln Birthplace National Historic Site!
If you love exploring the rich heritage of our nation, then the Abraham Lincoln Birthplace will definitely inspire you by taking a peek into the early life of Abraham Lincoln and his humble beginnings. (Plus its one of the few places in Kentucky to get a Passport to Your National Parks Cancellation or Stamp!)
Read on to learn more about our visit to the Abraham Lincoln Birthplace and all that we learned along the way!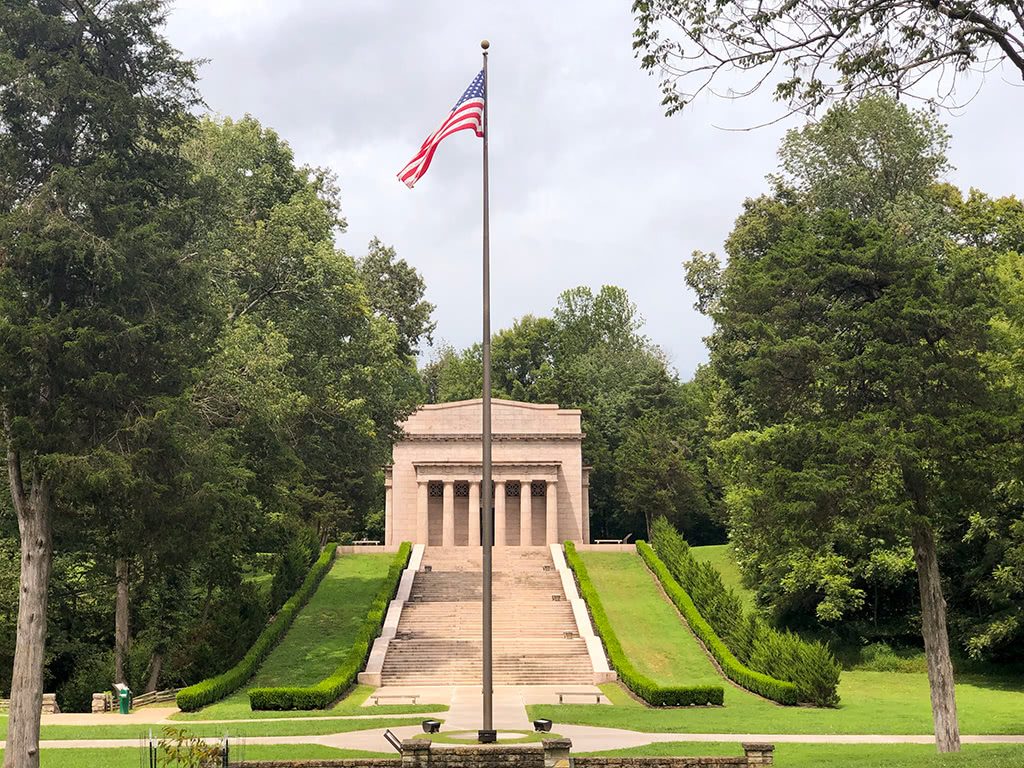 *This post may contain affiliate links (which means if you make a purchase after clicking a link we may earn a small commission but it won't cost you a dime)! Read our full disclaimer.
Abraham Lincoln Resources for Kids!
If you are looking for some family friendly books and movies to get your kids excited about visiting the Abraham Lincoln Birthplace, these were some great resources that we found at our local library!
---
How Do I Get to the Abraham Lincoln Birthplace National Historic Park?
Located in Hodgenville, Kentucky, the Abraham Lincoln Birthplace National Historic Park is out in the middle of beautiful Kentucky hillsides.
If you search in your GPS, the address should pop right up: 2995 Lincoln Farm Road, Hodgenville, KY 42748. We had no problems finding it and our GPS took us right there! (Also, be sure to check Visitor Center Hours at the national park website).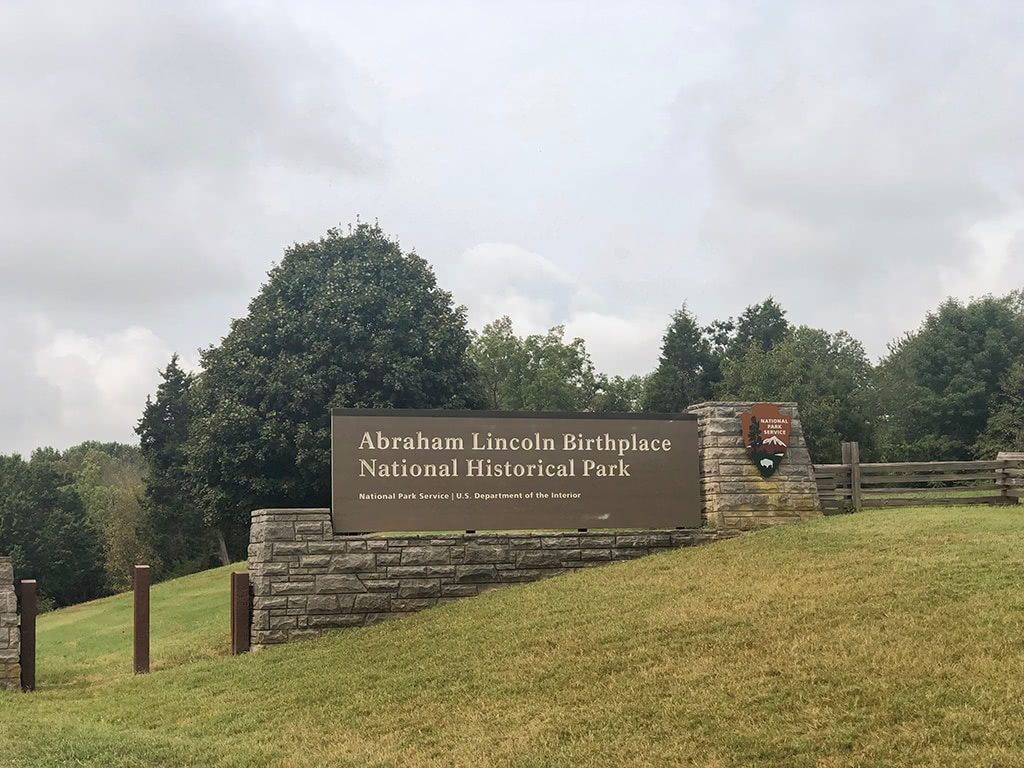 Exploring the Abraham Lincoln Birthplace Visitor Center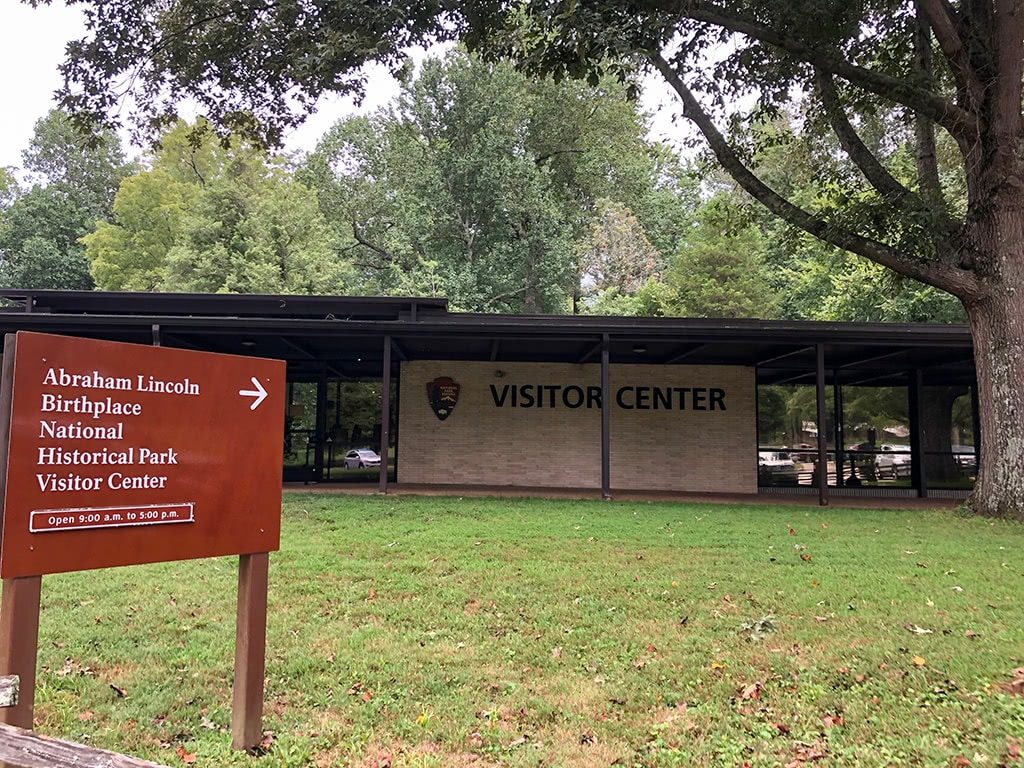 The Visitor Center
The first thing we usually do when we visit a new National Park site is to locate the Visitor Center.
Once inside, the first thing our family was drawn to was the face billboard they have in the lobby. I think Matt makes a pretty good park ranger…don't you?!?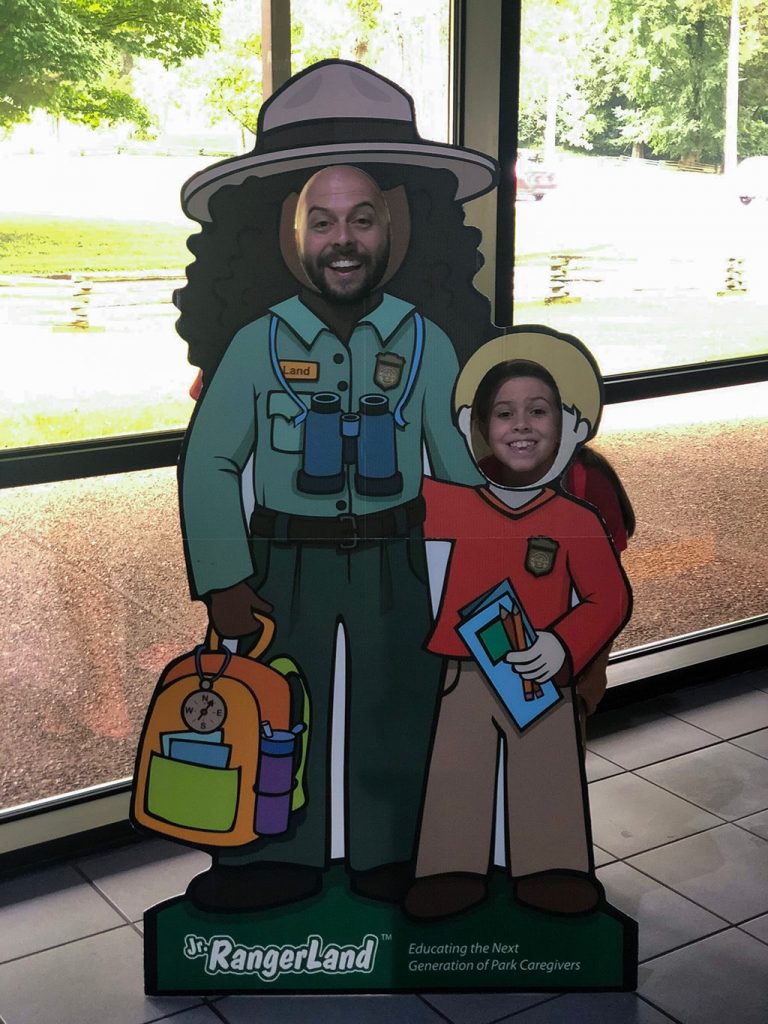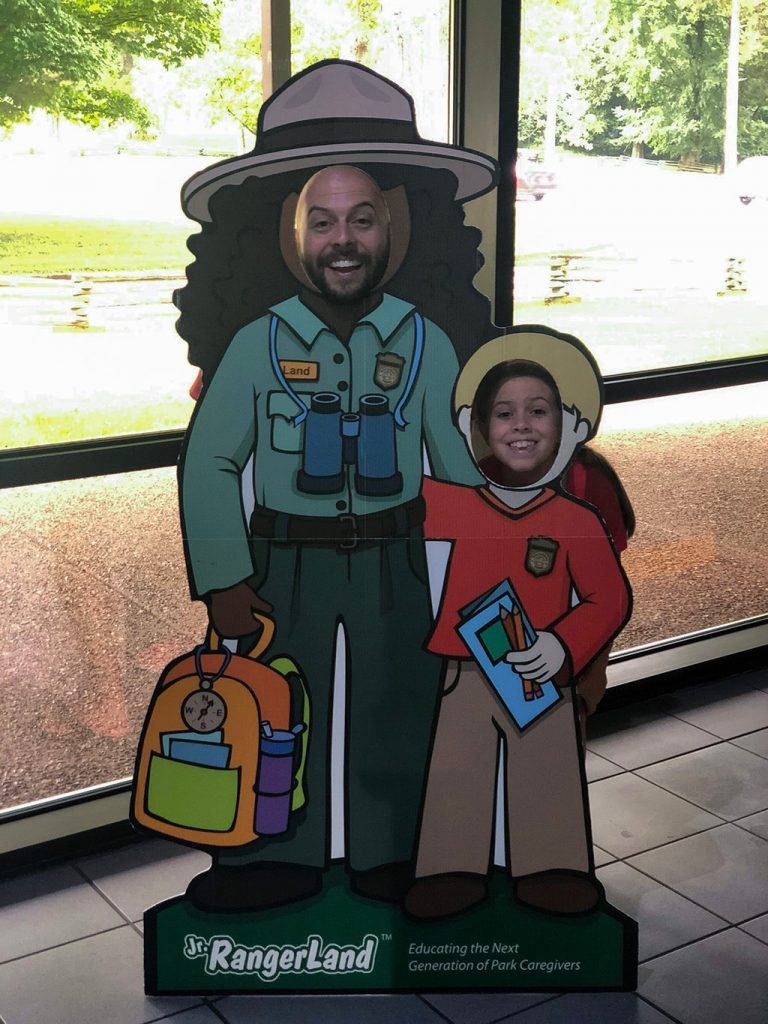 After having a little fun with that, we checked out the displays at the front that greet you right when you walk in the door.
From the "Memorializing a President" display that talks about the dedication of the first Lincoln Memorial…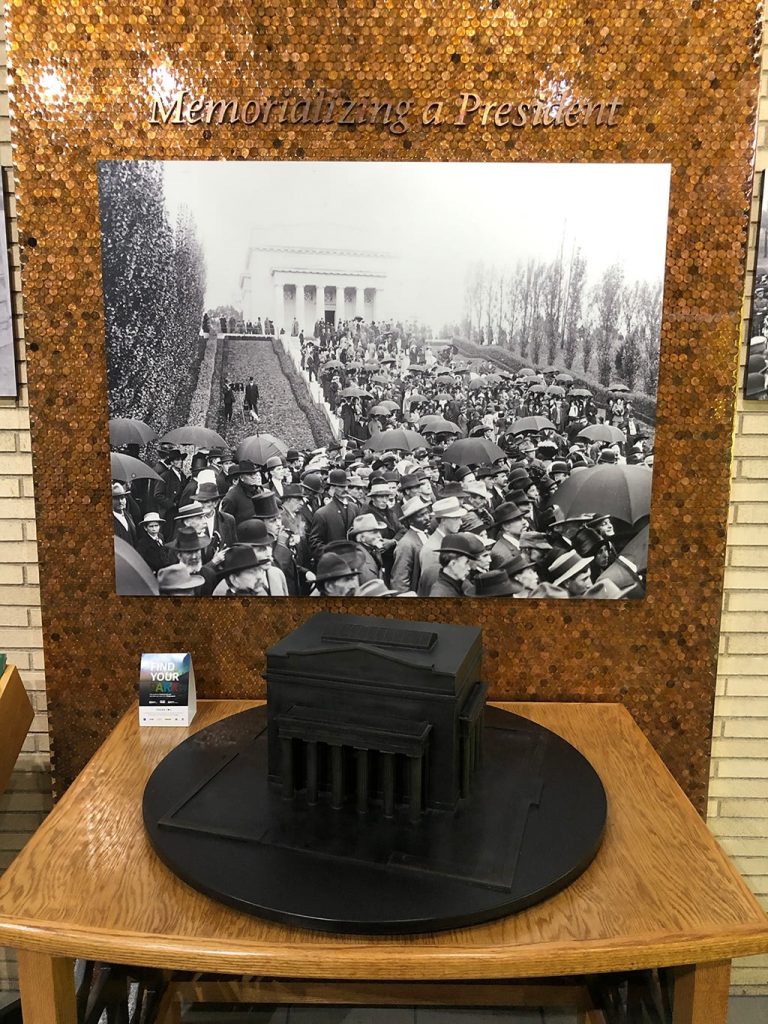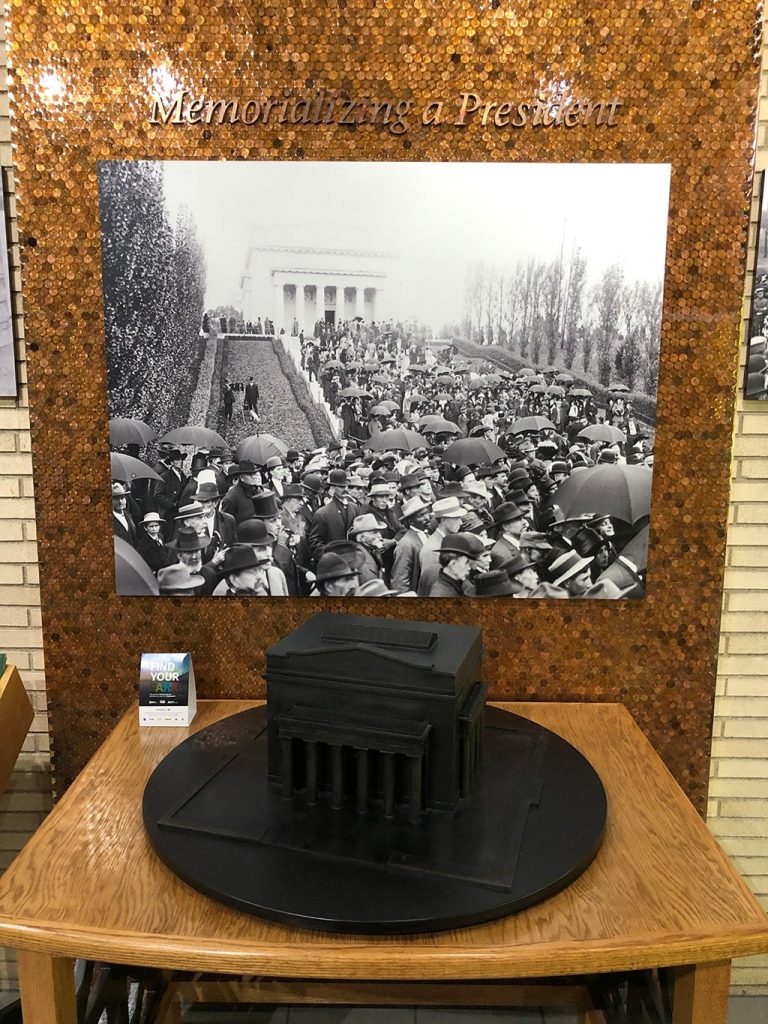 To the inspirational quote on the wall with a statue of the Lincoln family…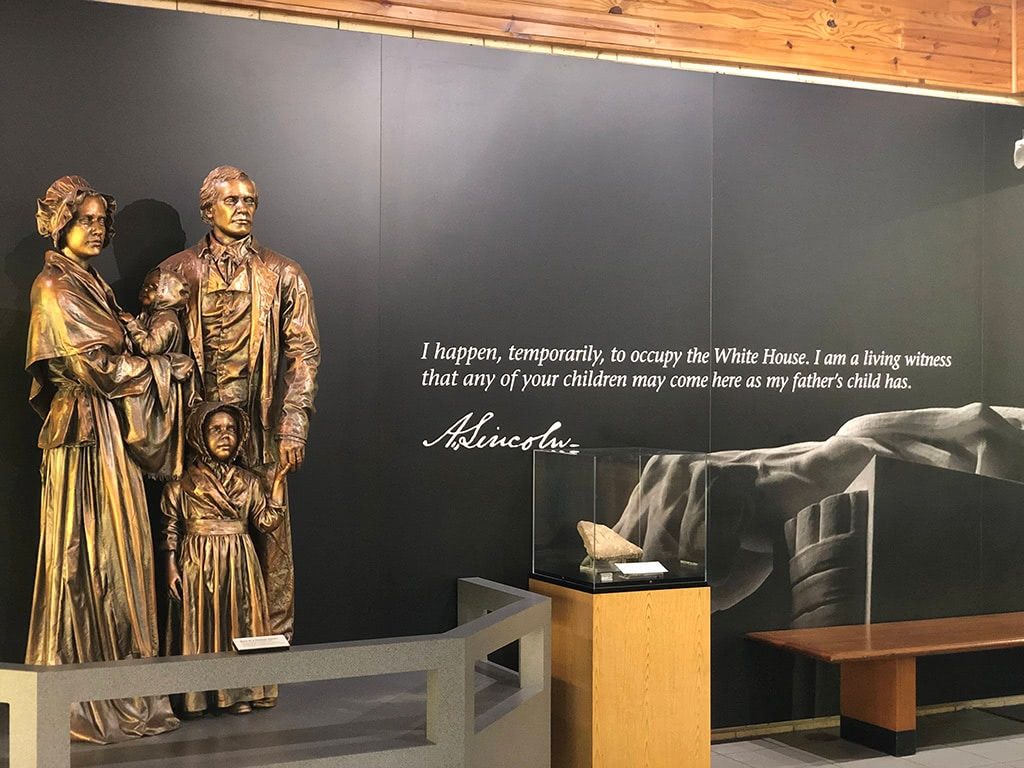 You are immediately reminded of the special part that Abraham Lincoln played in our country's history.
The Gift Shop & Passport Cancellations
We then made our way over into the actual gift store part where the Passport to Your National Parks station can be found.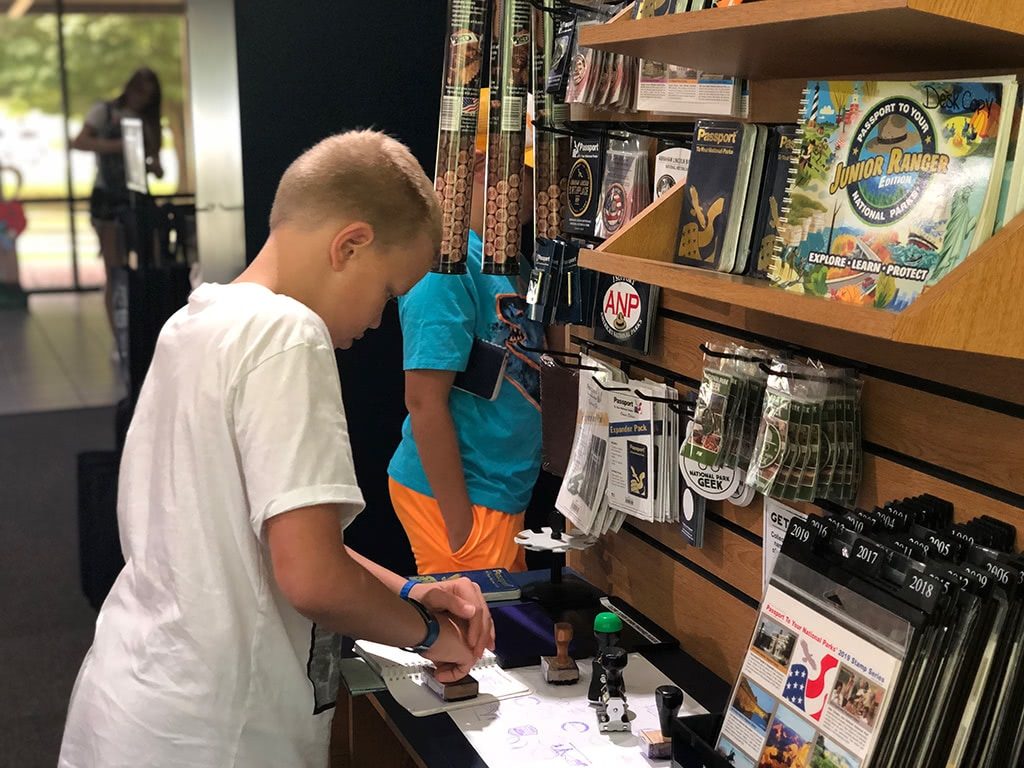 After getting our Passport cancellations, we browsed some of the unique Abraham Lincoln books and paraphernalia that you can purchase.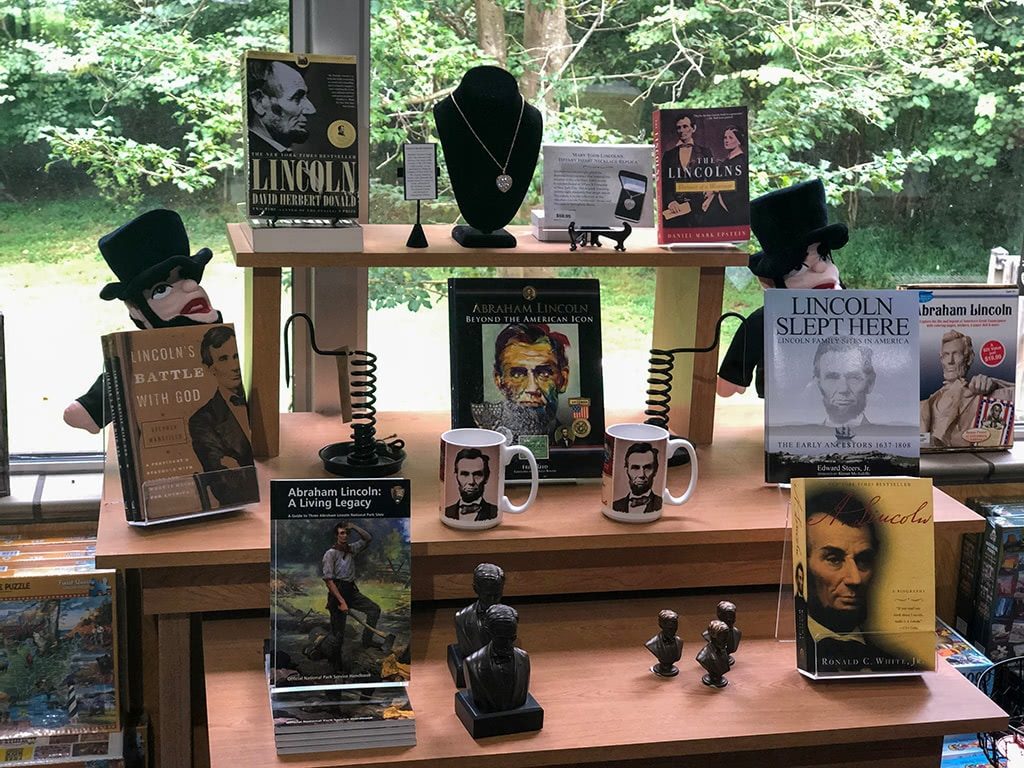 Of course, the Abraham Lincoln bobbleheads were really tempting. Everyone needs a good presidential bobblehead collection, right?!?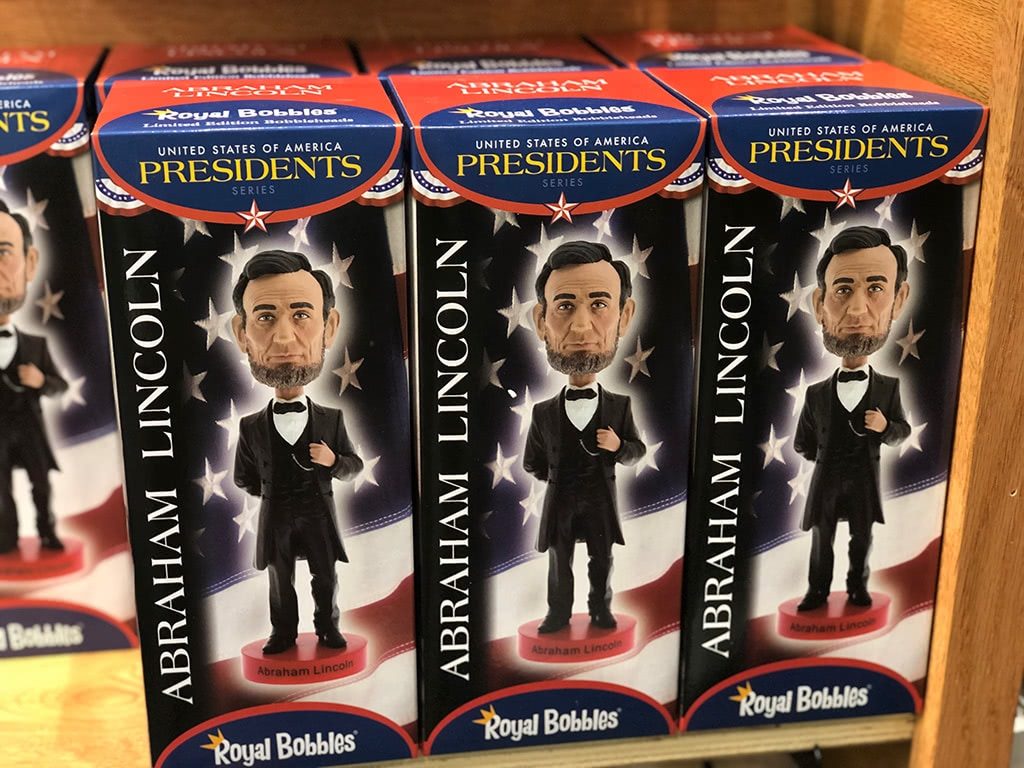 The Abraham Lincoln Early Years Documentary
After browsing the gift shop a bit, we headed into the theater area where they show a short film about the early life of Abraham Lincoln and his family in Hodgenville, Kentucky.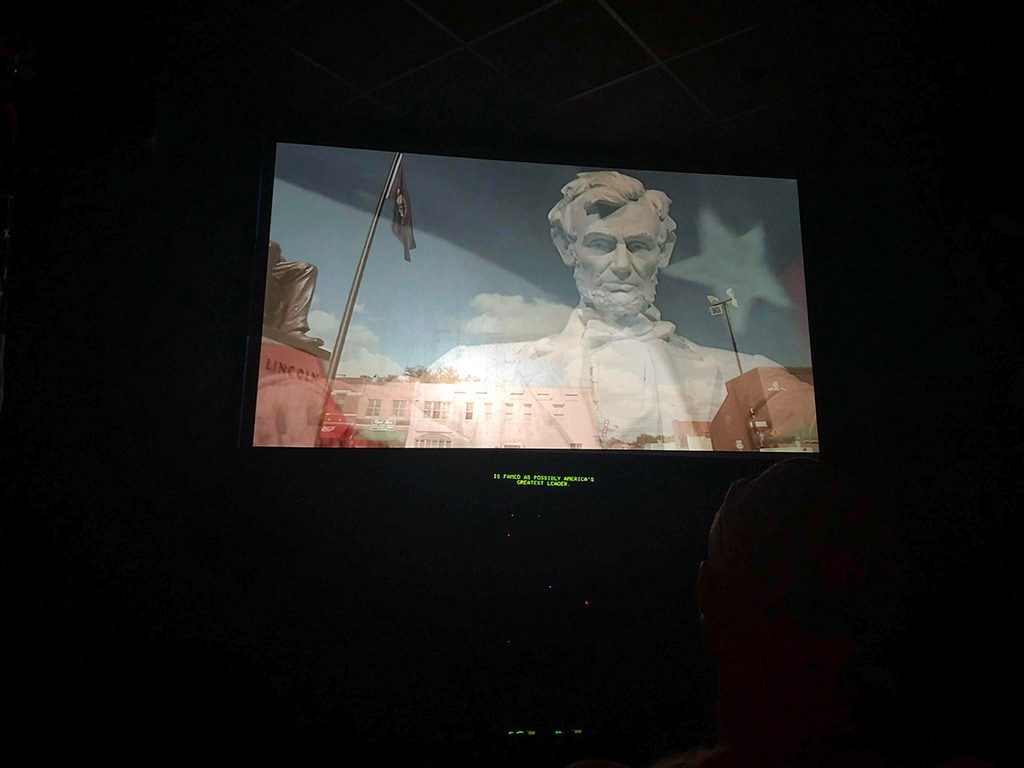 It was actually really interesting and the kids are still talking about some of the stuff we learned from it. It was a good reminder of how hard it was during this time period for Abraham Lincoln and his family. We have so much to be grateful for in this day and age.
The Cabin & Museum
After the film was over, you then exit out into the museum area where they have a wall of information about Abraham Lincoln's early days, particularly a little more about his parents.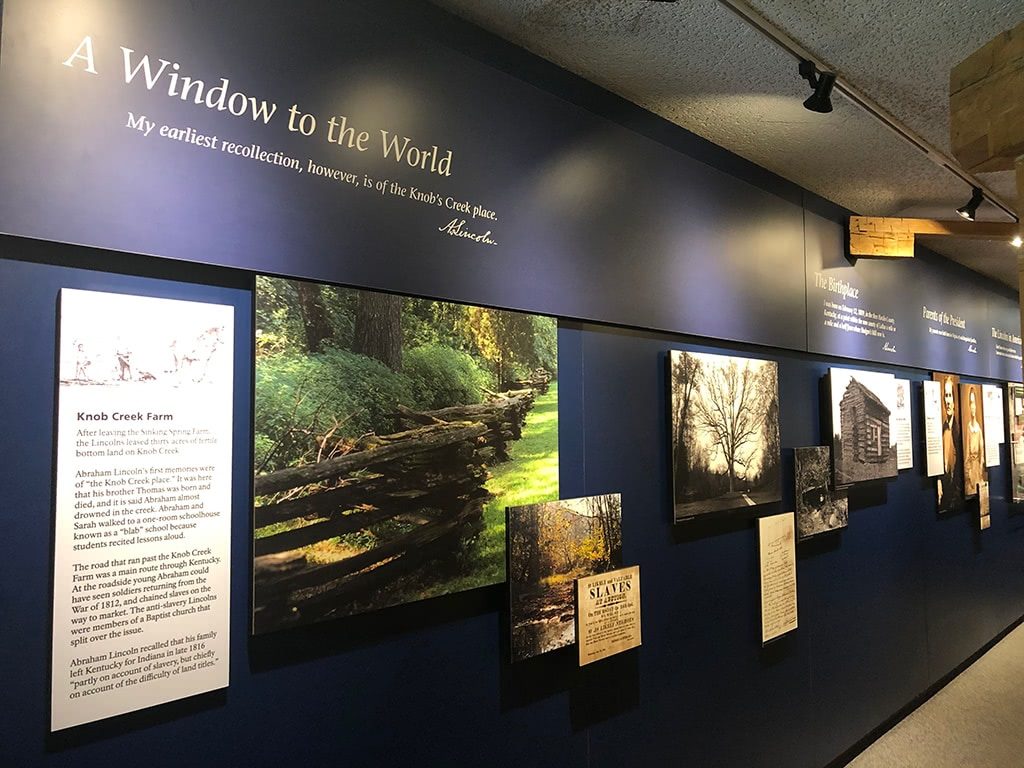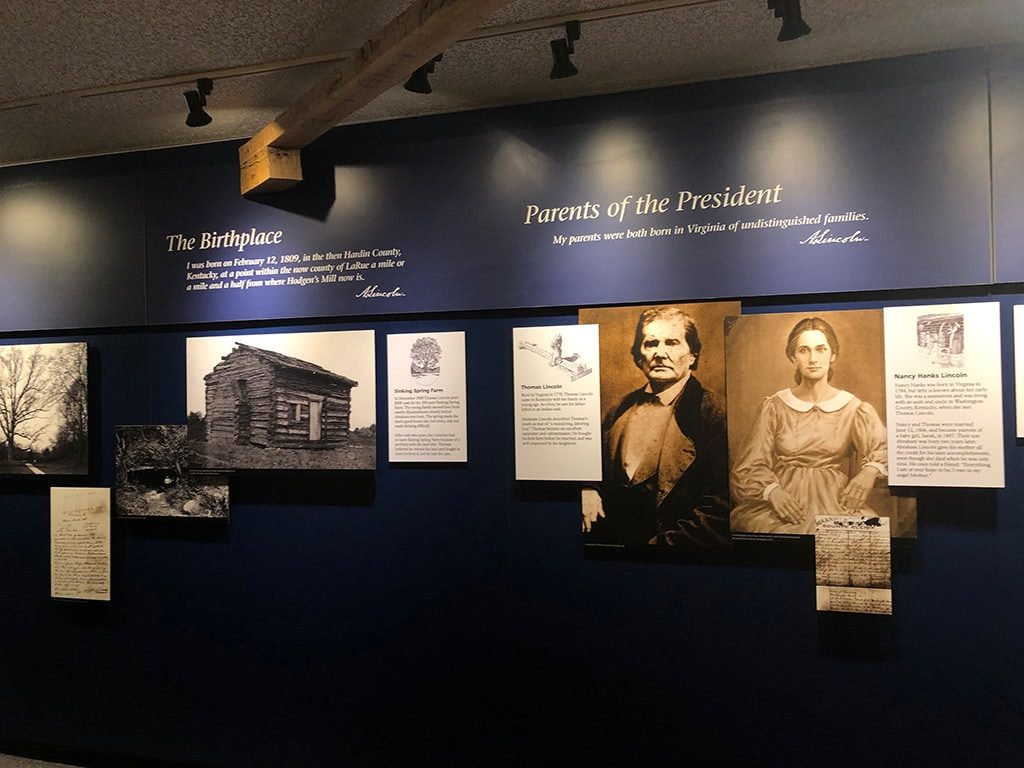 There is also the inside of a cabin setup that was really neat for the kids to explore.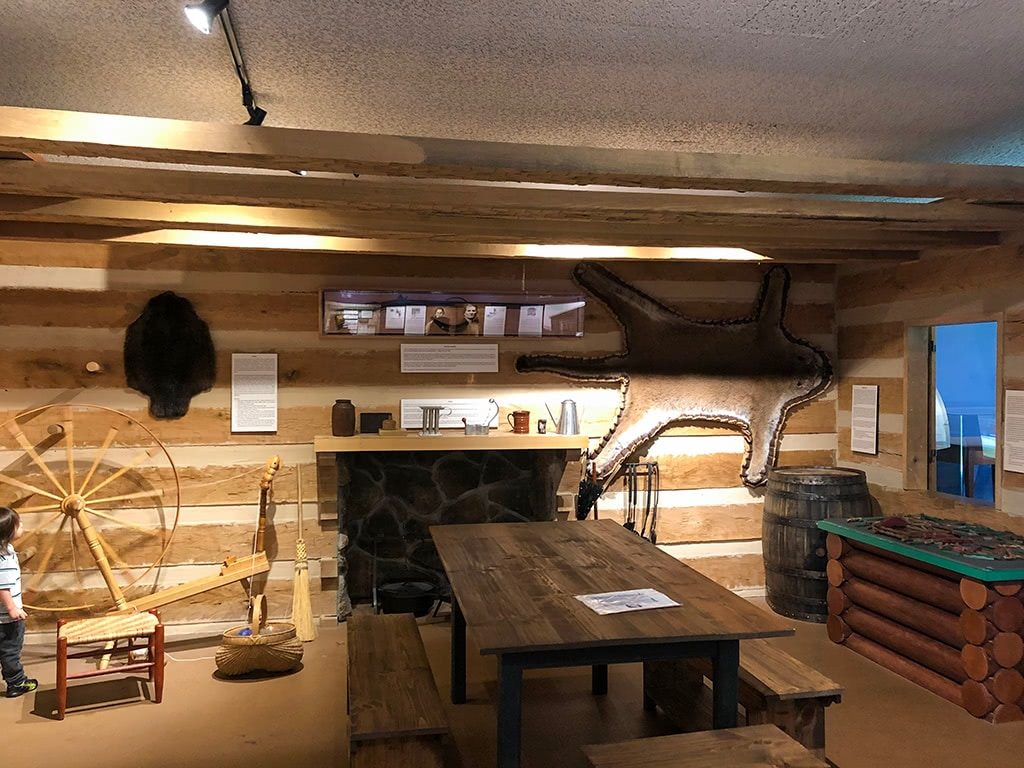 But perhaps one of my favorite things was the Lincoln Family Bible that was on display.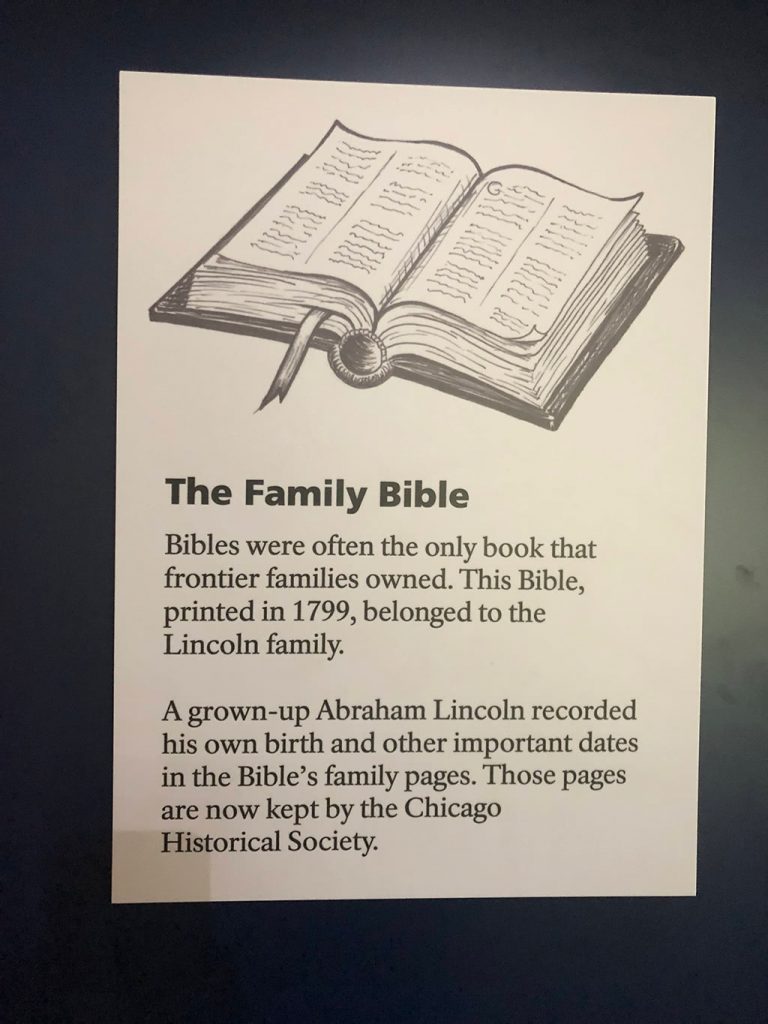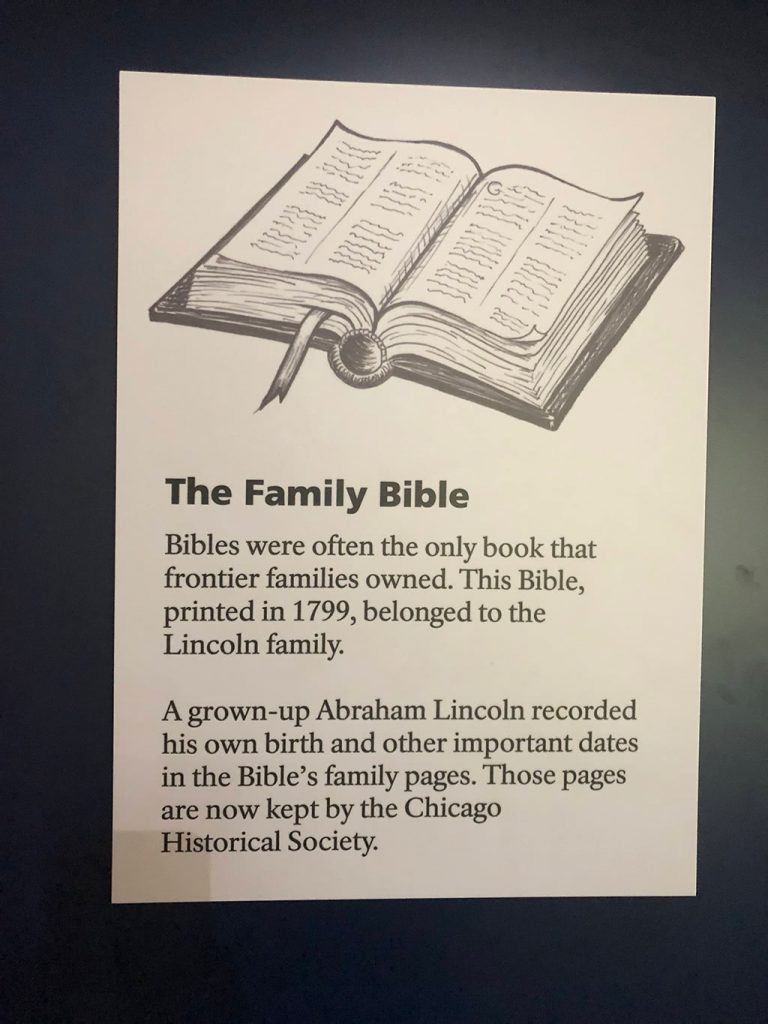 Clearly worn and used over time, this was obviously a treasure to Abraham Lincoln and his family.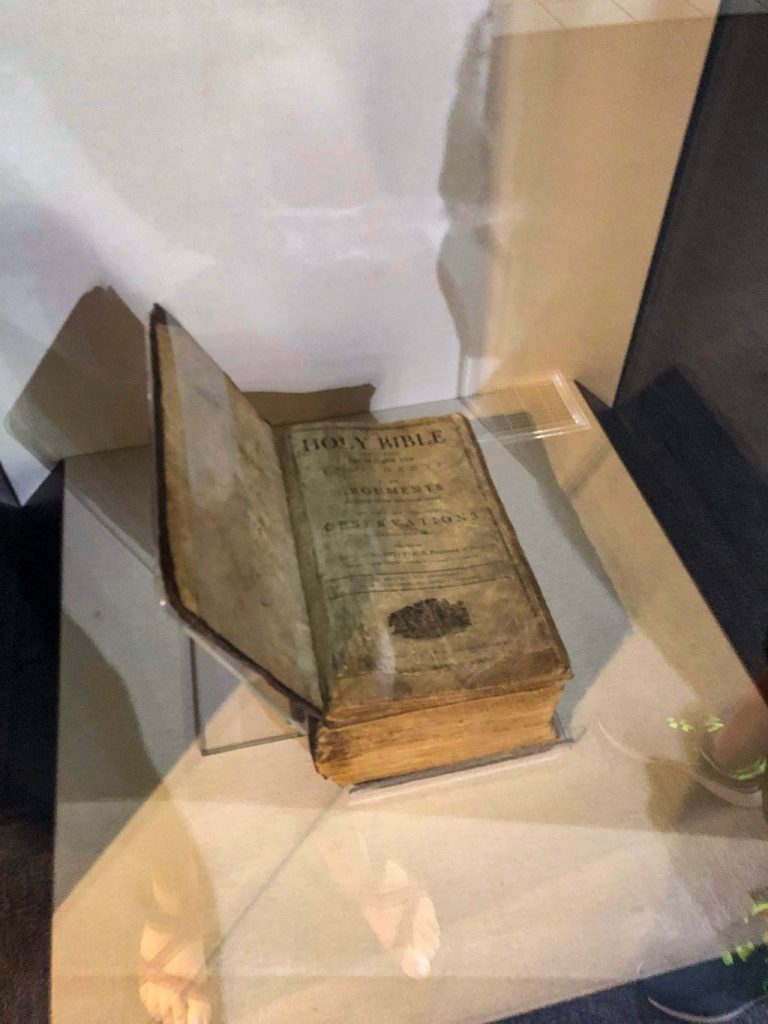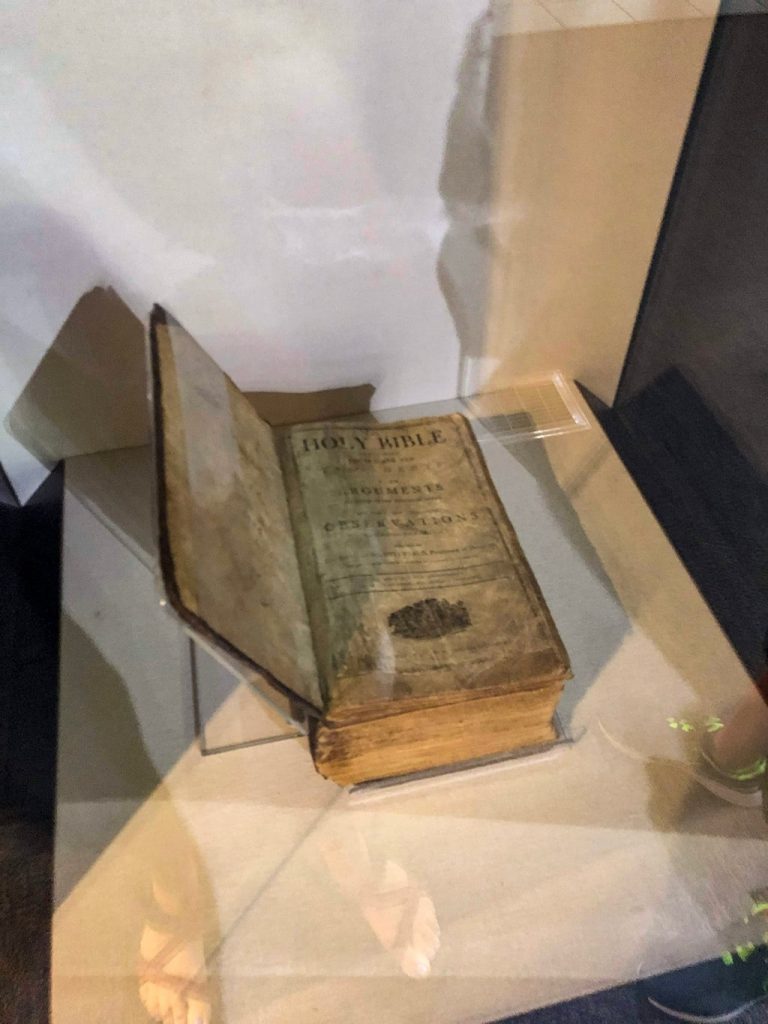 Junior Ranger Program
There is also a Junior Ranger Program that kids can participate in. We didn't quite have enough time to complete it, but we did grab the booklet and read through some of the information which was interesting.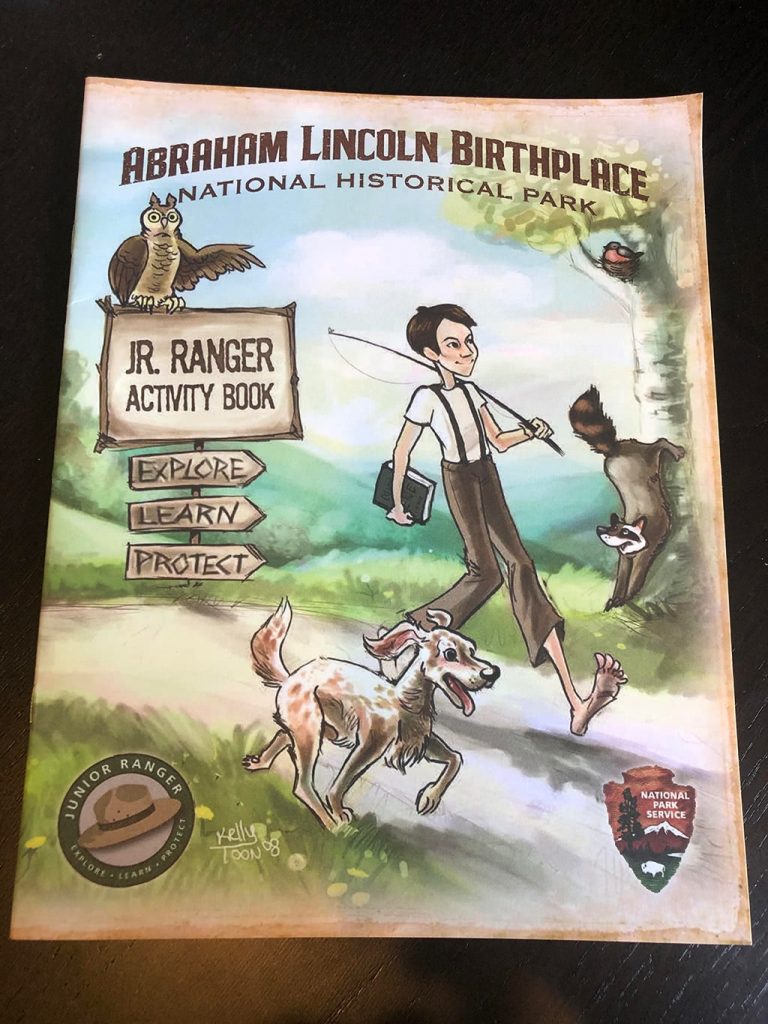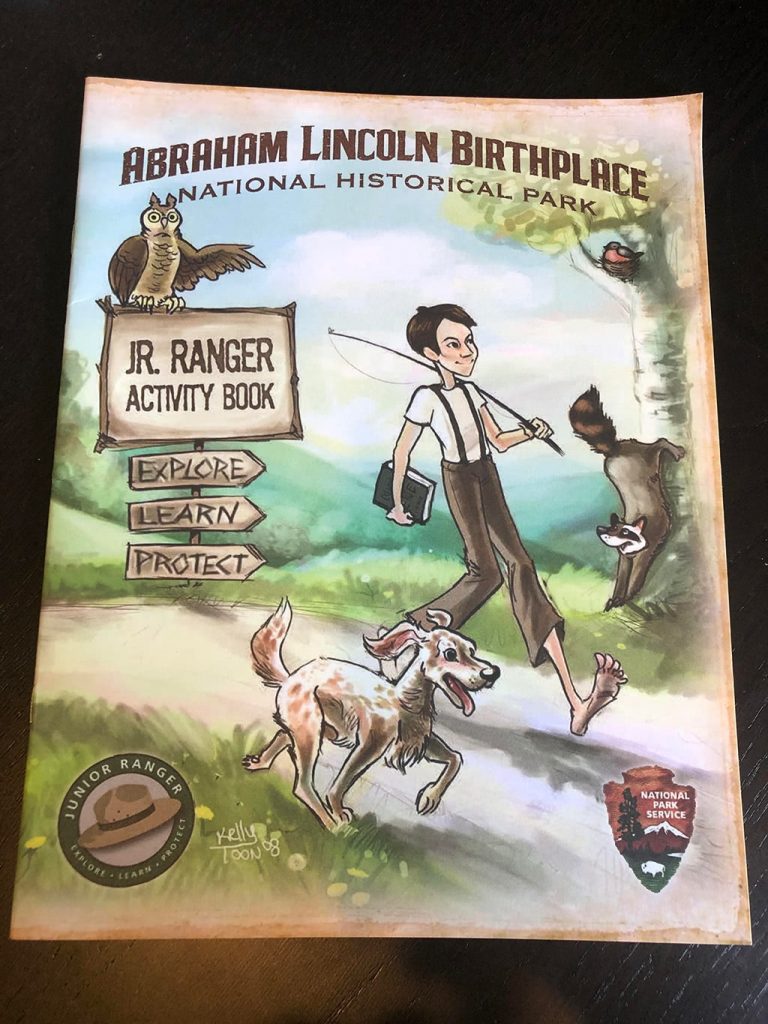 Our CaddyWampus Moment
After exploring the Visitor Center rather thoroughly, we sat outside on the benches and ate a little lunch. (There are also picnic tables available in a picnic area nearby…but it actually started raining, so we just made do!)
We had not been sitting there long before we heard a strange announcement over the loud speaker, "Attention, Maggie Elizabeth…Maggie Elizabeth, please come to the Visitor Center, we have found your Passport book."
We all cracked up and realized that Maggie had clearly left her Passport book at the Visitor Center. It felt like she was being called into the Principal's office or something.
They also weren't sure how to say our last name, so they just said her first and middle name. The kids are still laughing about this and it is probably one of our favorite memories of our visit to the Abraham Lincoln Birthplace.
*Note- Be sure to put your phone number in your Passport book in case this happens to you, they can contact you! Or just cross your fingers and hope that they will call your name over the loud speaker.
Explore the Outside Grounds of the Abraham Lincoln Birthplace National Historic Park
After collecting all of our Passport books and putting them in a safe spot, we set off to explore outside while the rain had eased up.
The First Lincoln Memorial
The first thing that we had to do was climb up the 56 steps to get to the FIRST Lincoln Memorial.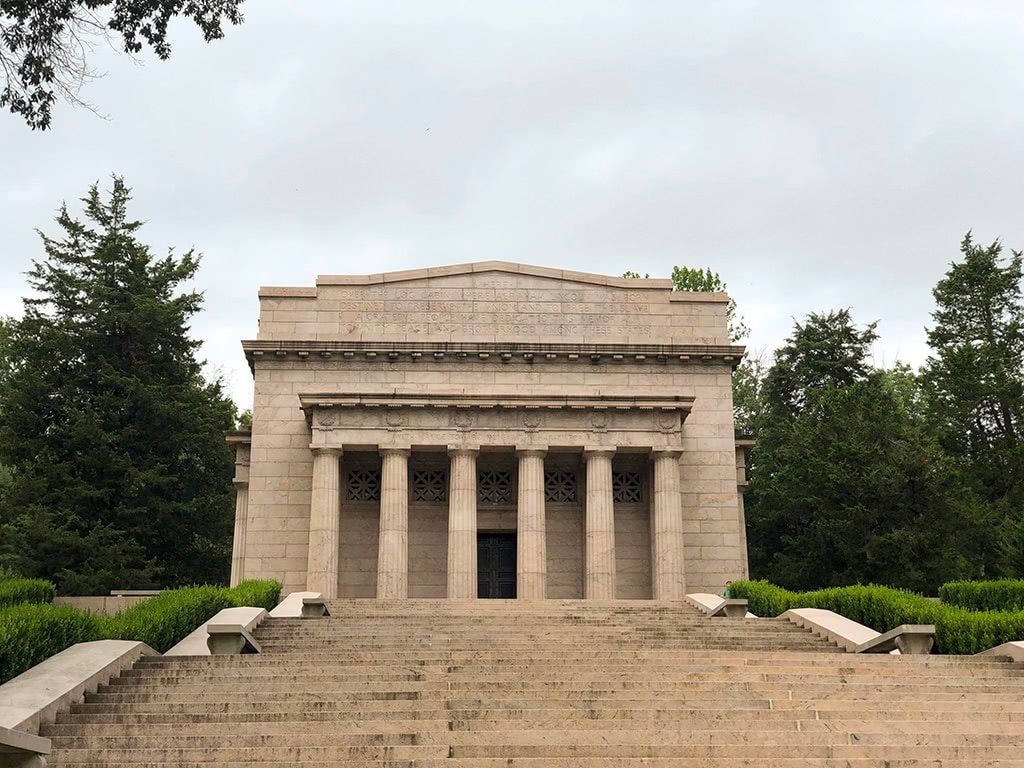 This Lincoln Memorial was actually constructed 11 years before the one in Washington, DC was built.
The 56 steps represent the 56 years of Abraham Lincoln's life. And yes, the kids had to count all 56 of them, just to make sure!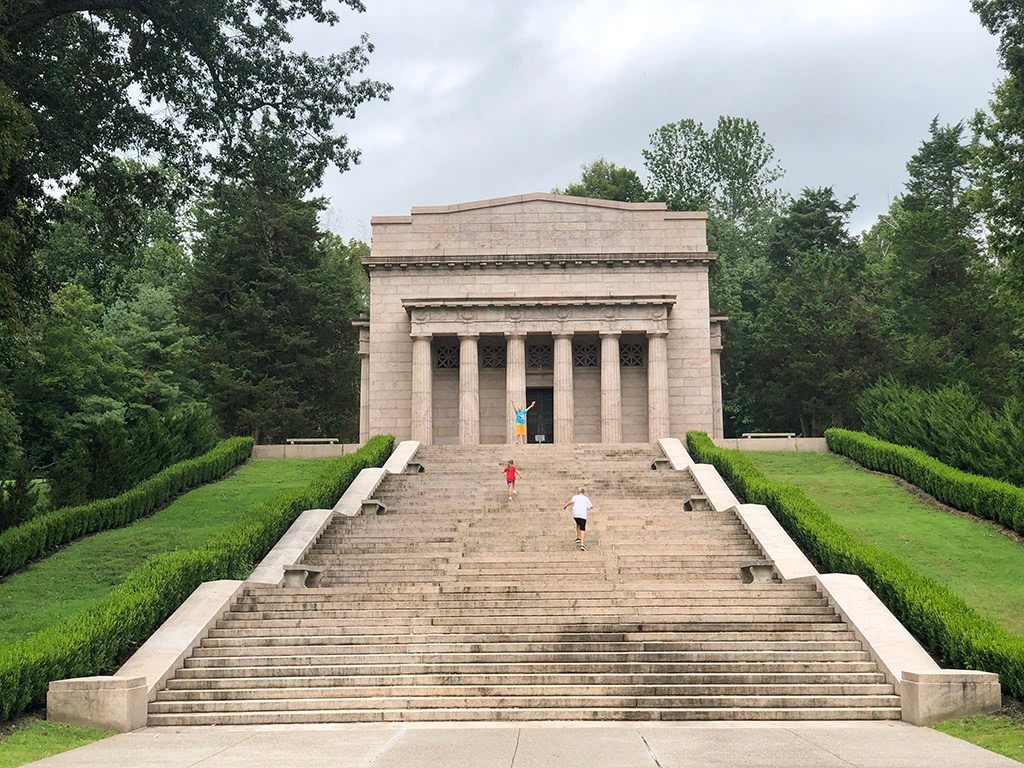 Around the back, you can actually go inside. There you will find a cabin that was constructed around the same time period that Abraham Lincoln was born. It is not the exact cabin that he was born in, but it would have been very similar (per the Park Ranger's explanation). There are some more interesting plaques to read in there as well about the history of the construction of the Memorial.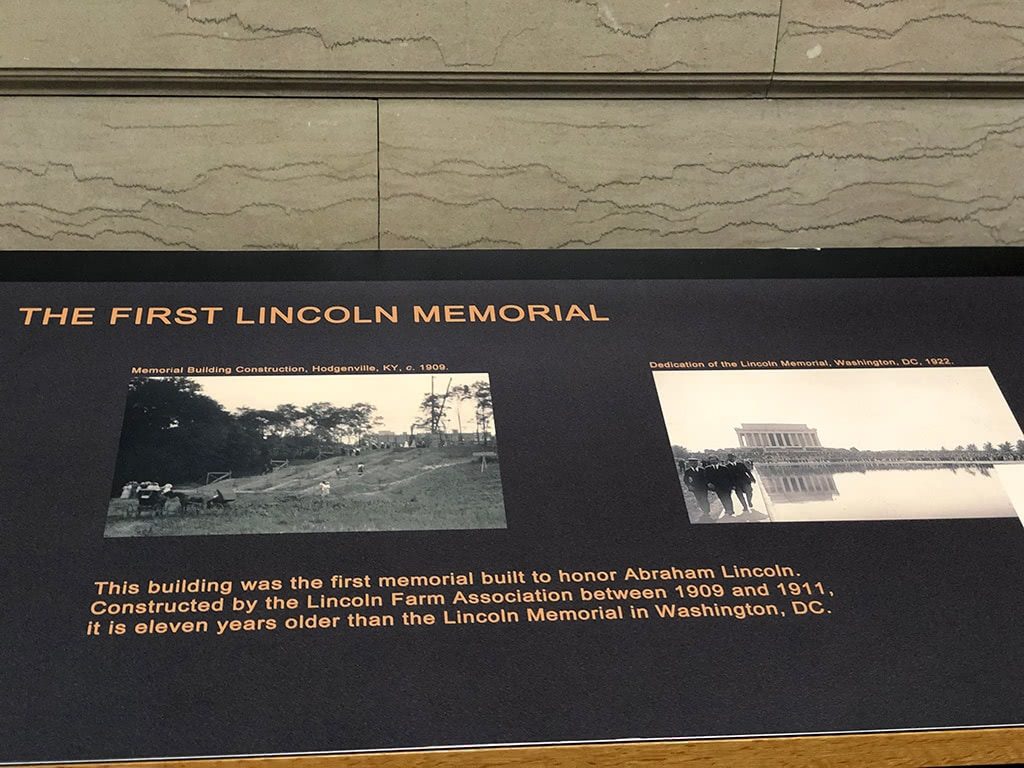 We took some pictures in front of the Memorial and then headed on down to explore some more!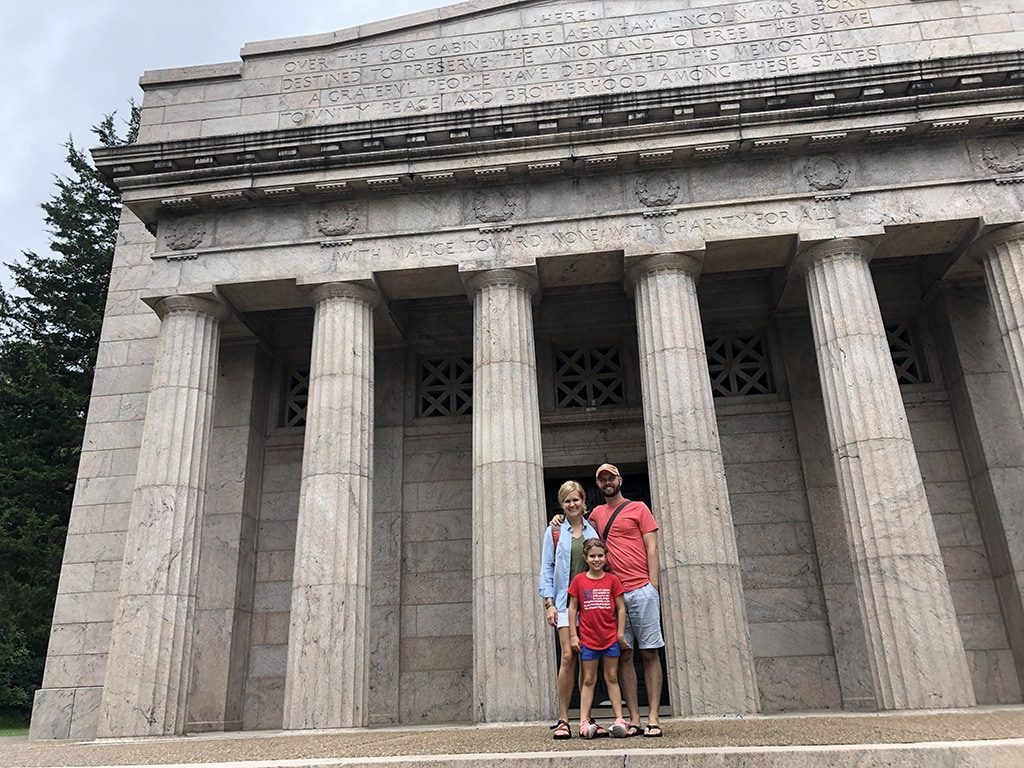 Sinking Springs
Right at the bottom of the steps of the Lincoln Memorial, you will find another area that was very important to the livelihood of Abraham Lincoln and his family, Sinking Spring.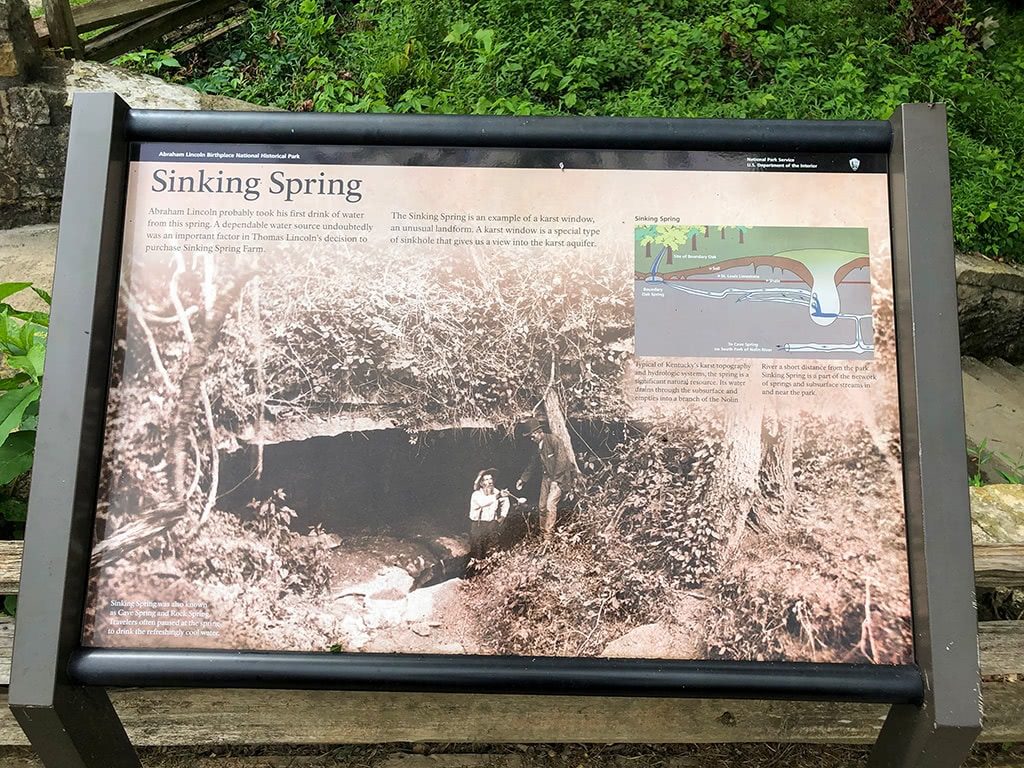 If you follow the steps down, you can see Sinking Spring which was their source of water.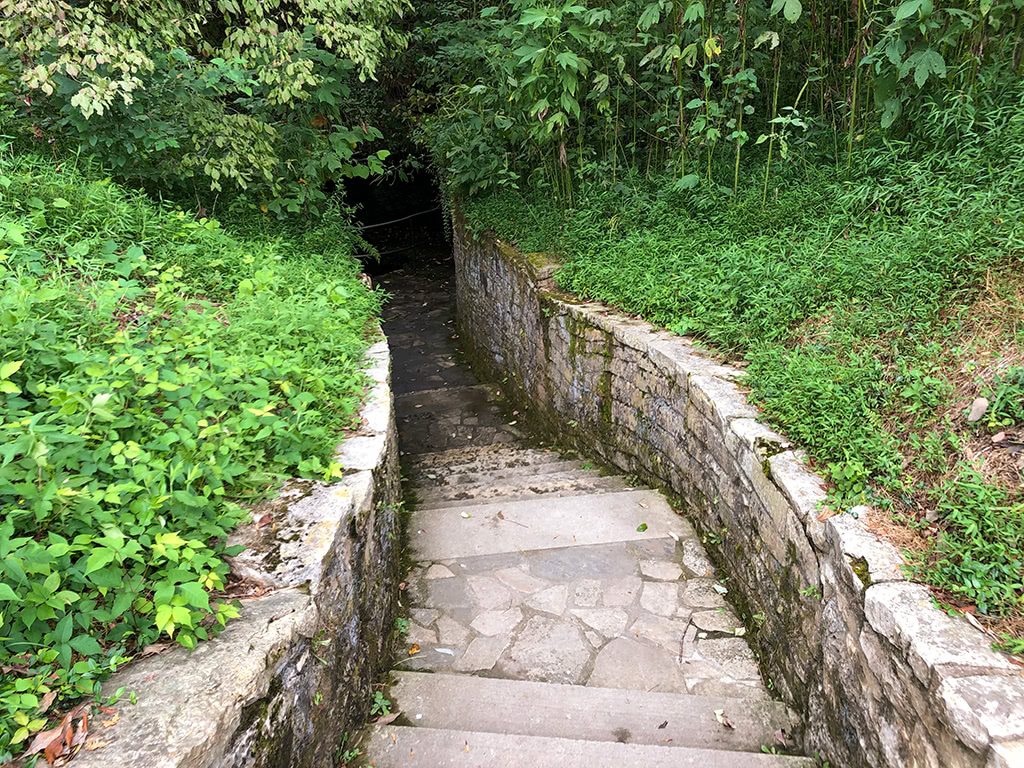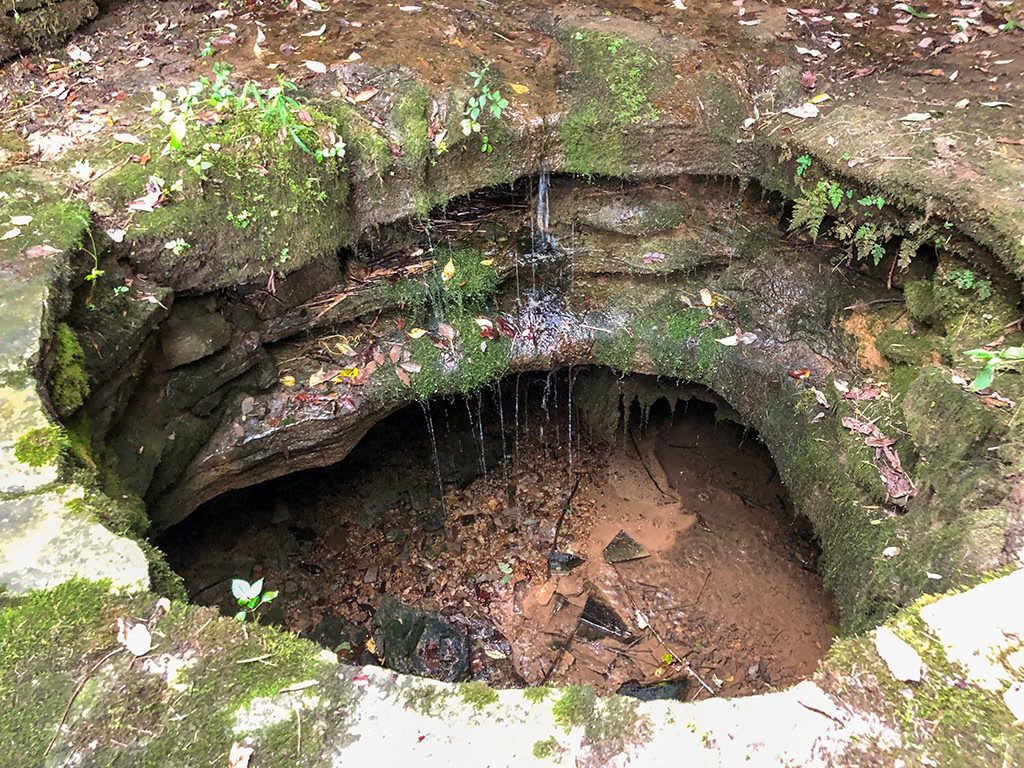 The spring is actually what they call a karst window which is a special type of sinkhole. It was very interesting to see.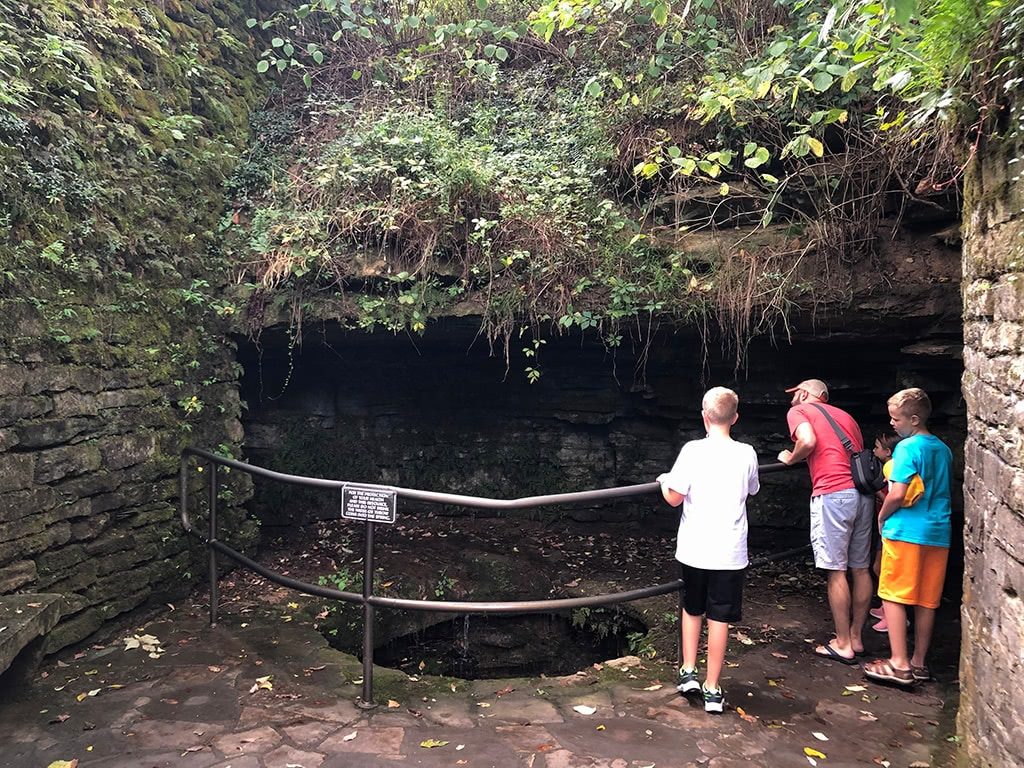 Nancy Lincoln Inn
After you head back up from Sinking Spring, you can always take a little time to explore some of the trails that are around the Abraham Lincoln Birthplace.
It was starting to rain again, so we decided to walk by and quickly see the Nancy Lincoln Inn.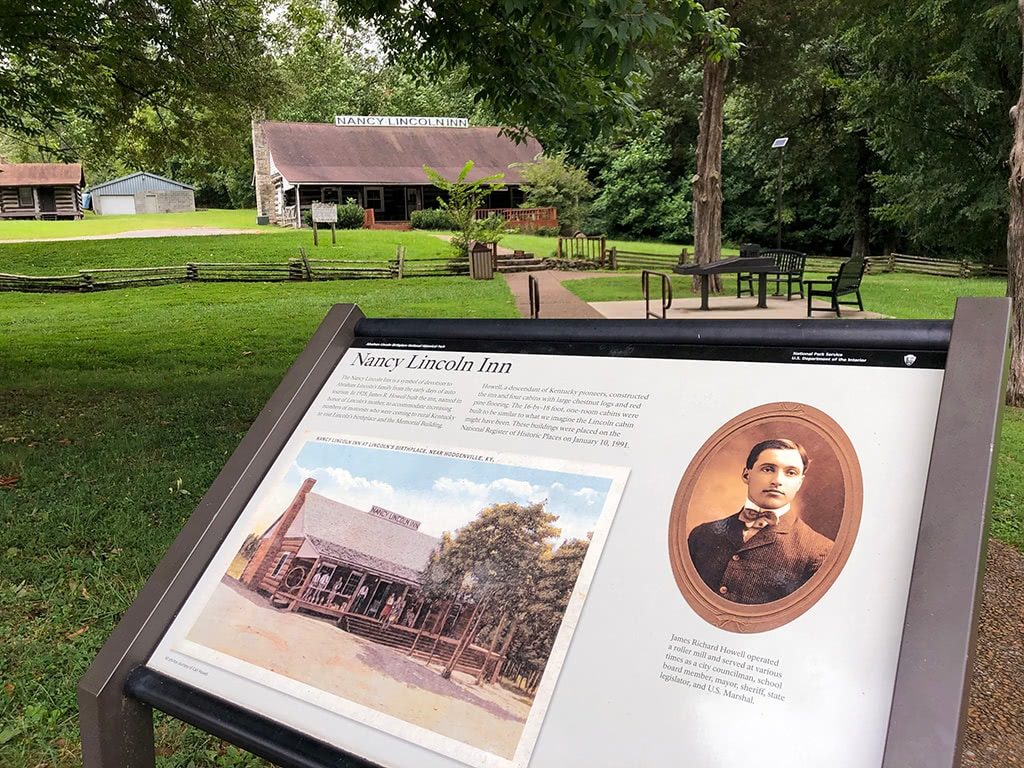 There was also a display with a plaque that has the words that are inscribed on the top of the Lincoln Memorial.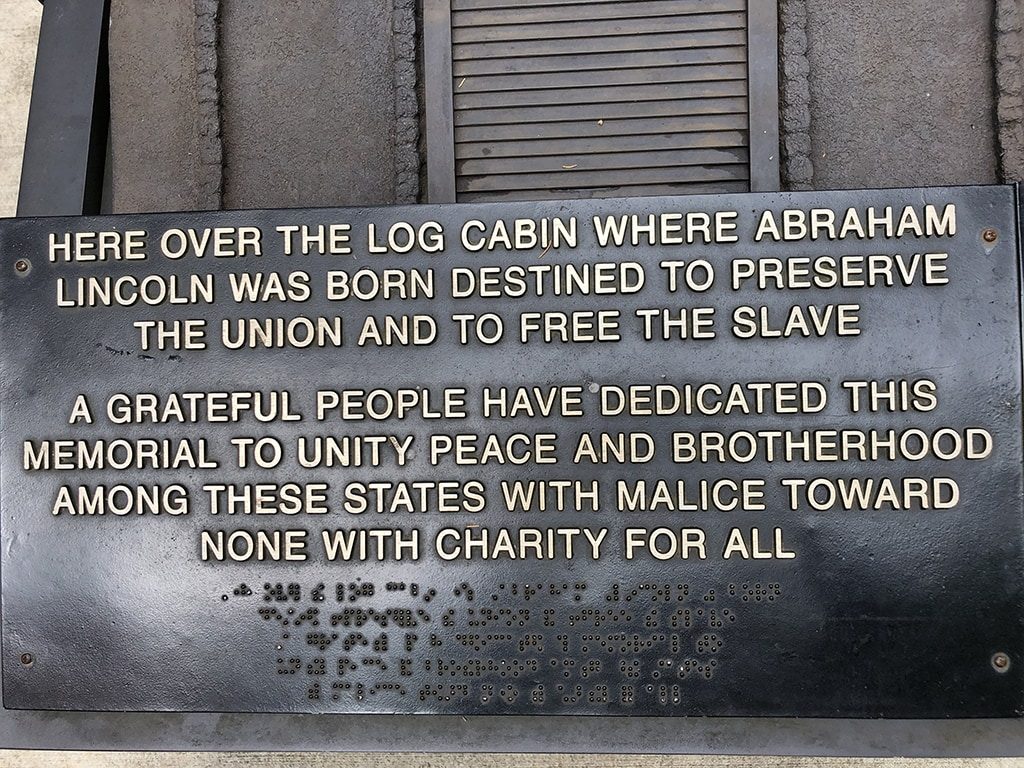 It was also a perfect place to take one last picture of the Lincoln Memorial as well!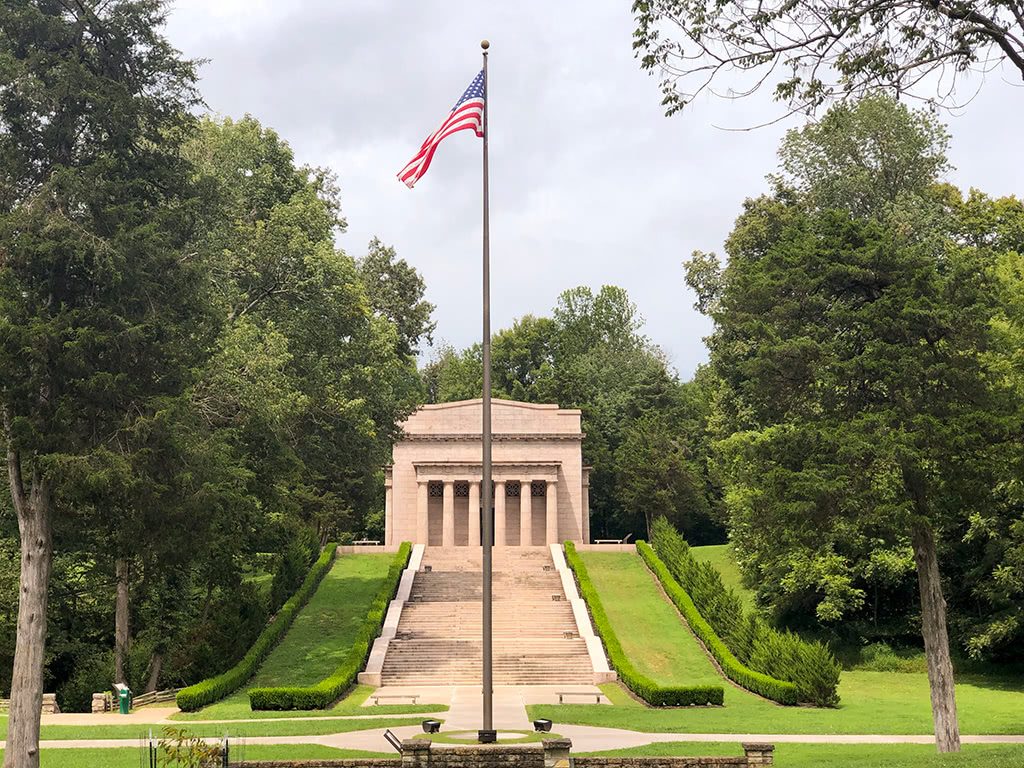 Final Thoughts
The life and legacy that Abraham Lincoln left in our country is so inspirational. After taking some time to study and learn about his early days and all of the hardships he encountered in his life, it really makes you appreciate all that he contributed to help our country become what it is today.
Although it's not a huge park and doesn't have a ton to do, it is still worth a stop if you are going to be in the area and if you enjoy learning more about our nation's incredible history. Abraham Lincoln definitely left a legacy and is still an inspiration to many!
And if you do venture into the hills of Kentucky, be sure to check out Mammoth Cave National Park which is just right around the corner!
---
More Related Articles: