Did you know that Kentucky is home to the LONGEST known cave system in the world? With over 400 miles explored, Mammoth Cave National Park is known for being a vast cave system.
If you love visiting unique National Parks, then Mammoth Cave should definitely make your list of places to visit! Read on to learn more about our trip to Mammoth Cave National Park and things that we learned along the way!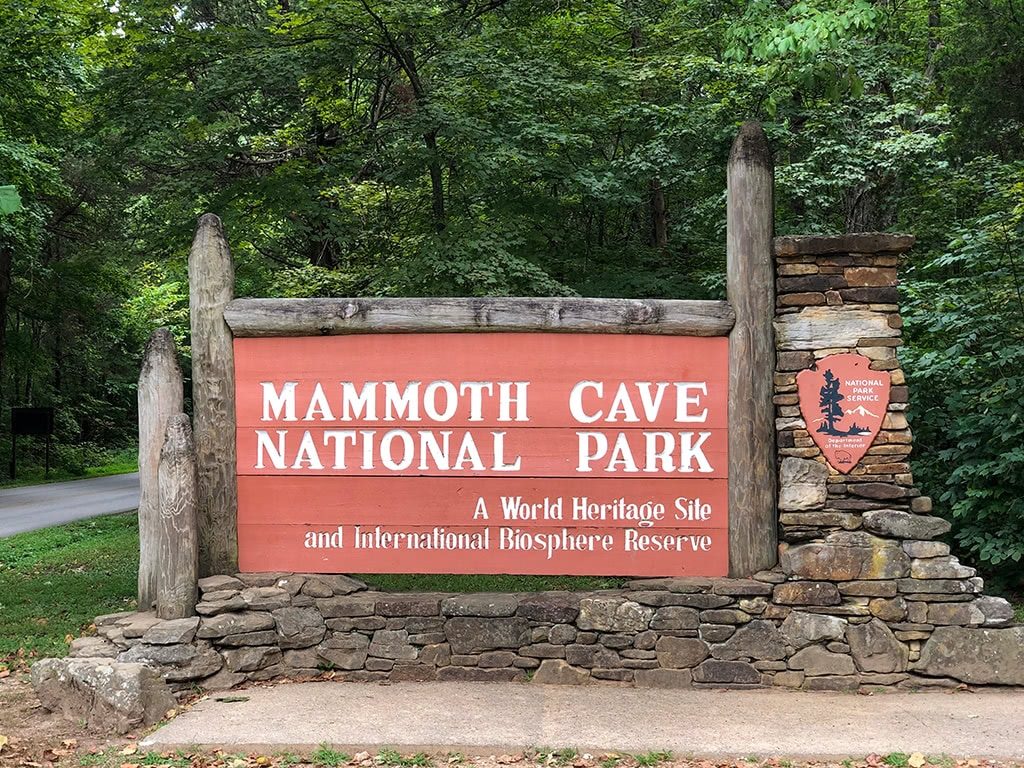 *This post may contain affiliate links which help support this site, but won't cost you anything extra. Read our full disclaimer.
How Do I Get to Mammoth Cave National Park?
We were staying right outside of Mammoth Cave in a neighboring town called Cave City, Kentucky. For us it was just a hop, skip and a jump before we were in the heart of Mammoth Cave.
No matter which direction you come from, the National Park Service's website advises that you not completely rely on your GPS, as it has been unreliable for many people.
The physical address for Mammoth Cave National Park is: 1 Mammoth Cave Parkway, Mammoth Cave, KY 42259. For us, we did use our GPS and it led us straight there!
However, if you have booked a Cave Tour and have to be there at a certain time, be sure to double check your directions beforehand and allow plenty of time to get there!
A Little History About Mammoth Cave National Park
The Mammoth Cave National Park area is full of history! From the first discovery of the cave to the various purposes it was used for over the years, there are so many interesting things to learn before you go!
If you are looking for more resources, here are few recommended suggestions we checked out prior to our trip!
Arriving at Mammoth Cave National Park
Take a Picture at the Park Sign!
Immediately upon arriving in the park, we hopped out and took some pictures next to the Mammoth Cave National Park Sign. This has become a tradition for us every time we visit a new National Park. It has always been fun to look back over the years at all of the places that we have visited!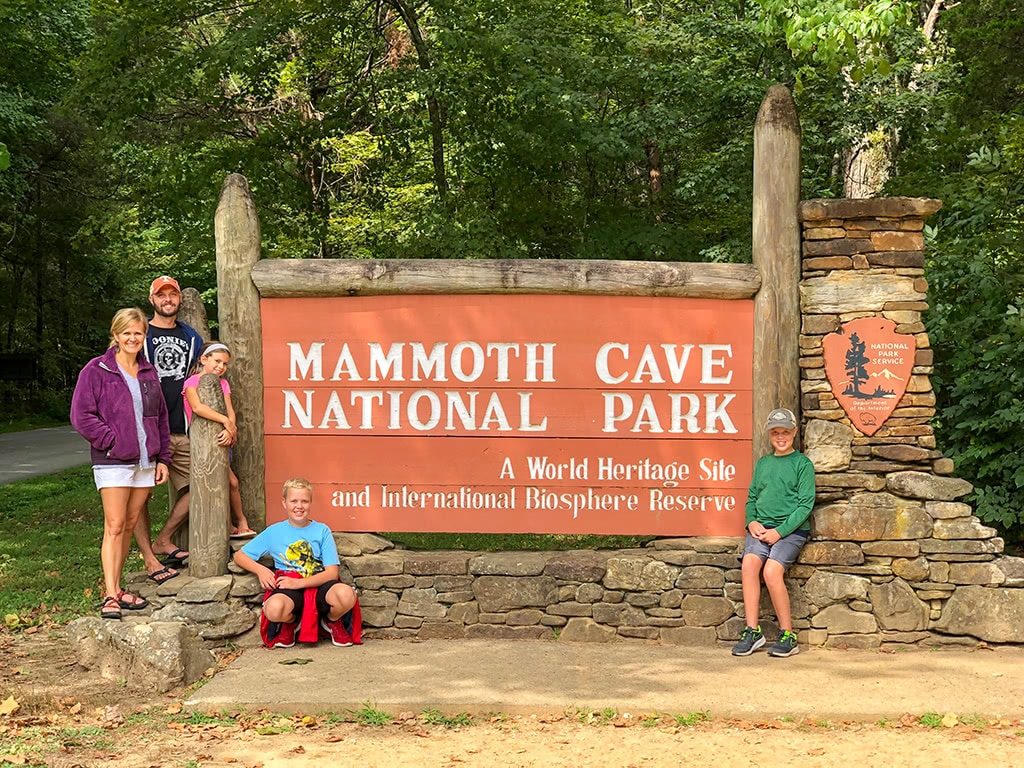 Take a Quick Hike on Sand Cave Trail
Right at the park sign is also a quick hiking opportunity on the Sand Cave Trail.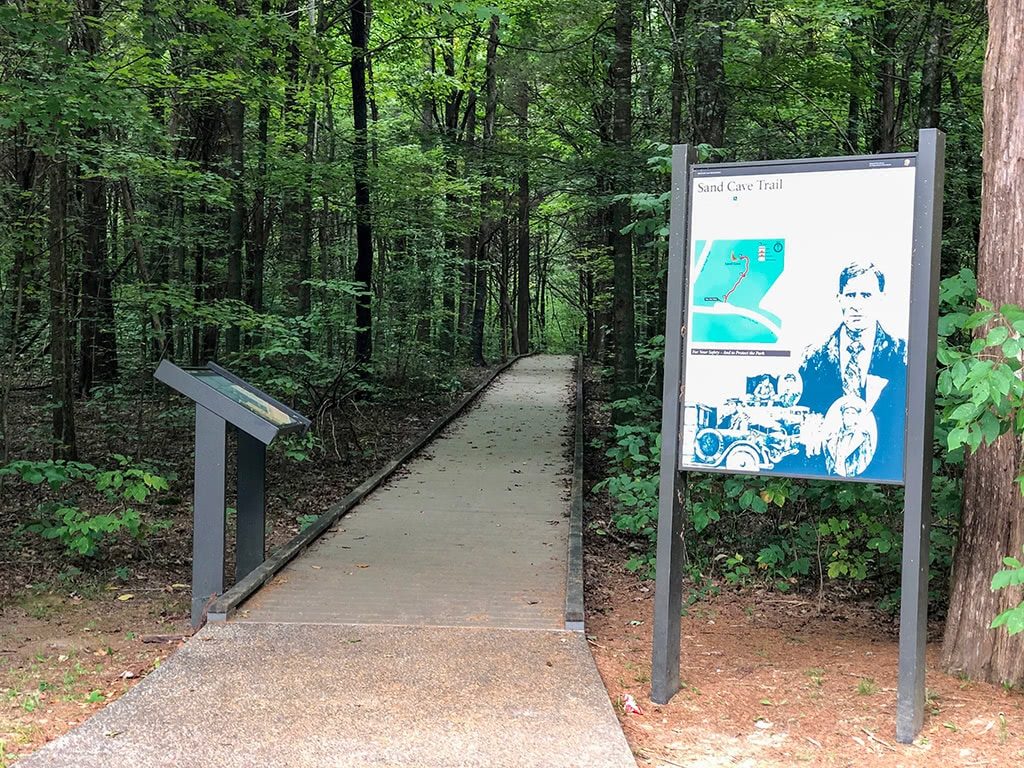 This is a quick 0.1 mile hike that walks back where you can look out over the famous Sand Cave.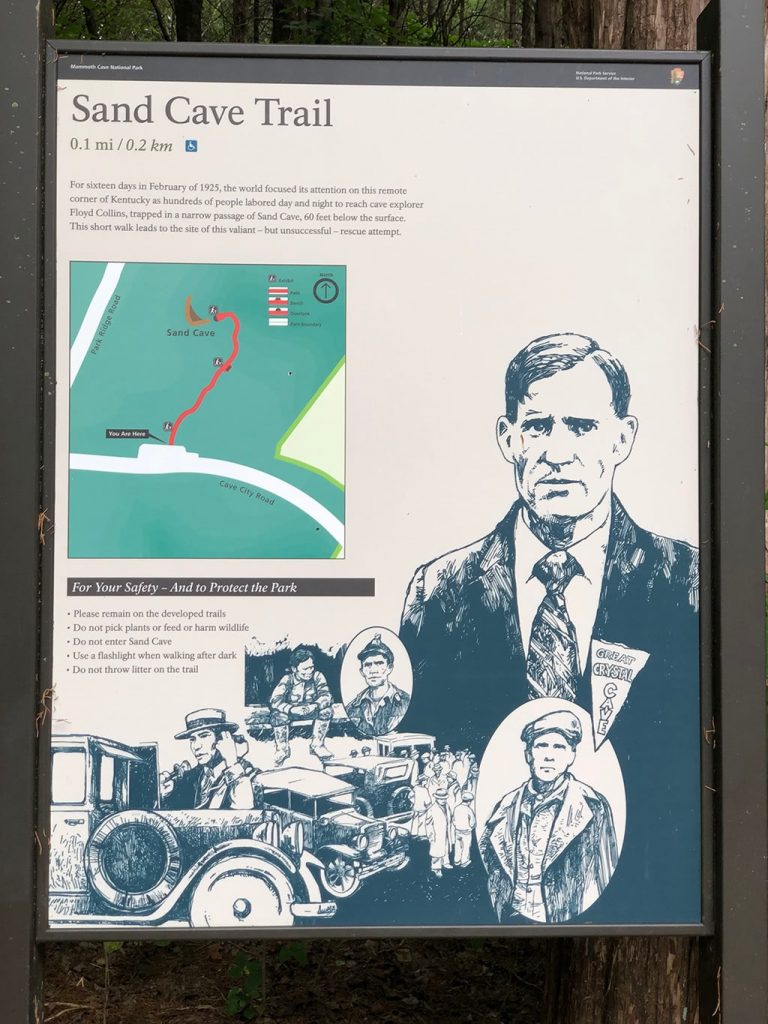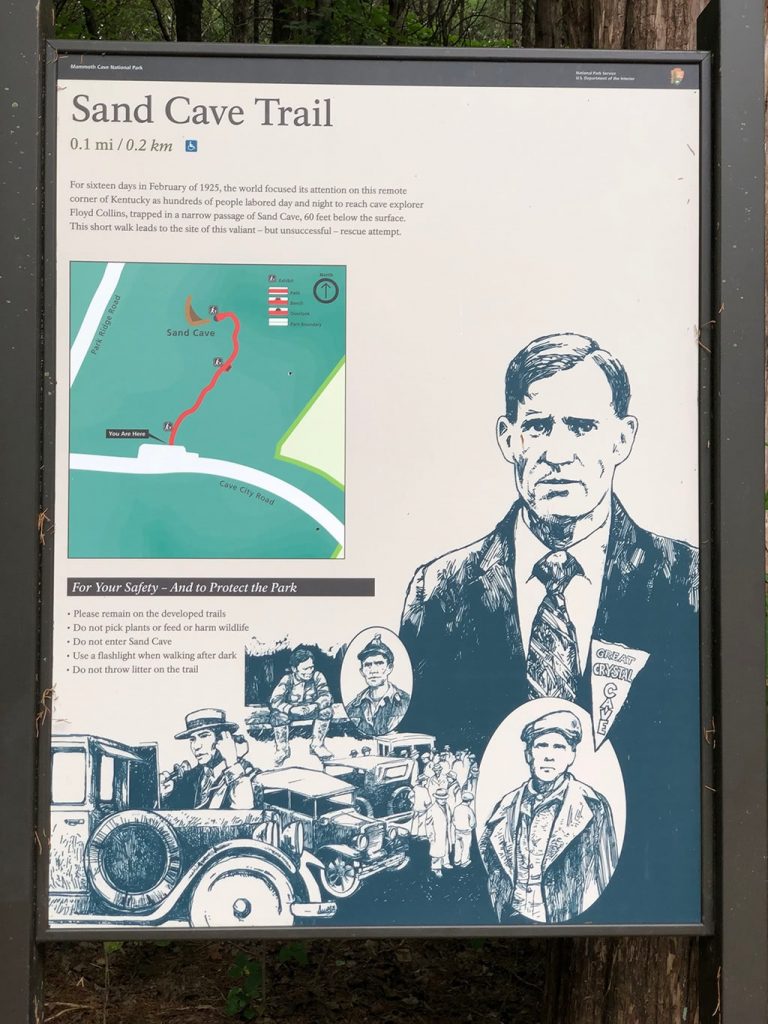 This is where Floyd Collins got trapped in 1925 while hundreds of people attempted rescue efforts for 16 days. Unfortunately, the rescue was unsuccessful, but the story circled the globe and was one of the reasons that Mammoth Cave National Park became so famous.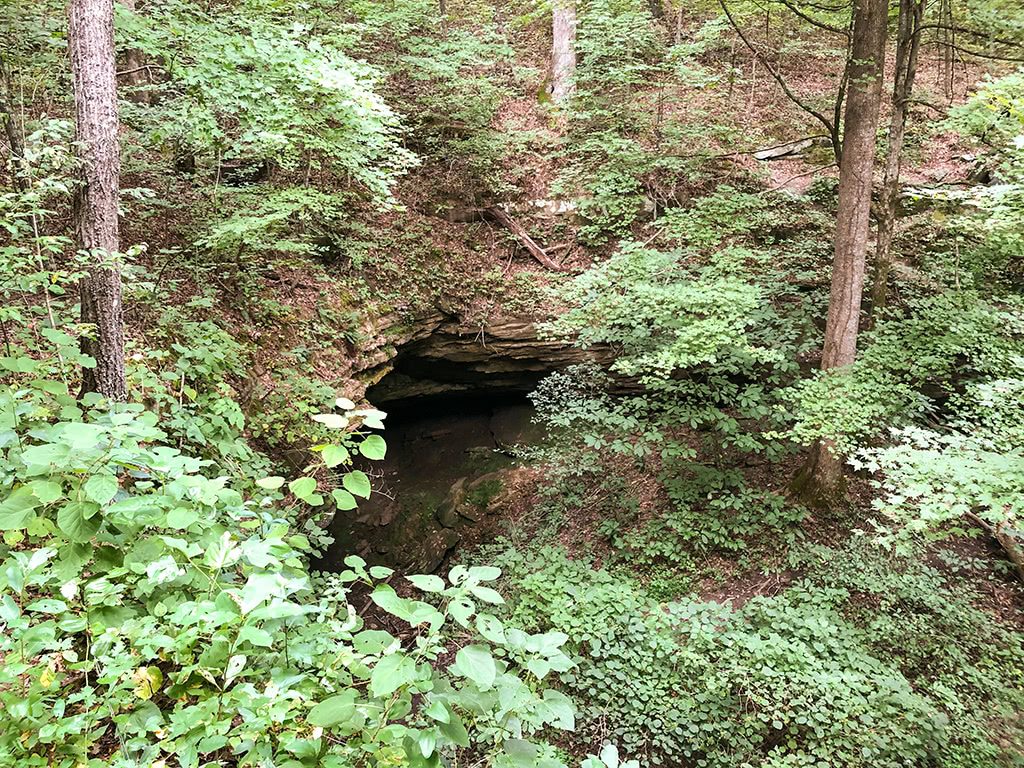 Mammoth Cave National Park Visitor Center
Allow Time for Parking!
After you get closer to the actual Visitor Center, you will start to see a little more congestion and cars! (This is how you know you are in the right place! Ha!)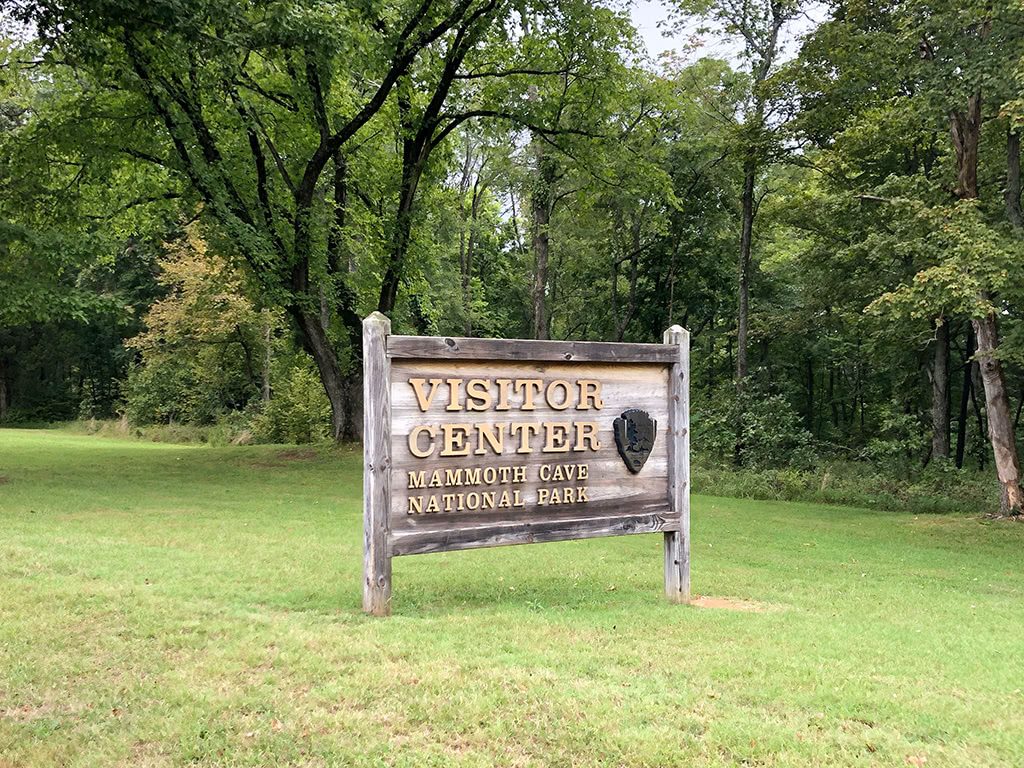 We went on a weekend day (Sunday) and it was pretty busy! After circling the parking lot a few times, we finally found a spot!
Purchase Cave Tour Tickets (or Pickup Tickets)
You will head towards the Mammoth Cave National Park Visitor Center which is also where you will check in for your tour or purchase tickets.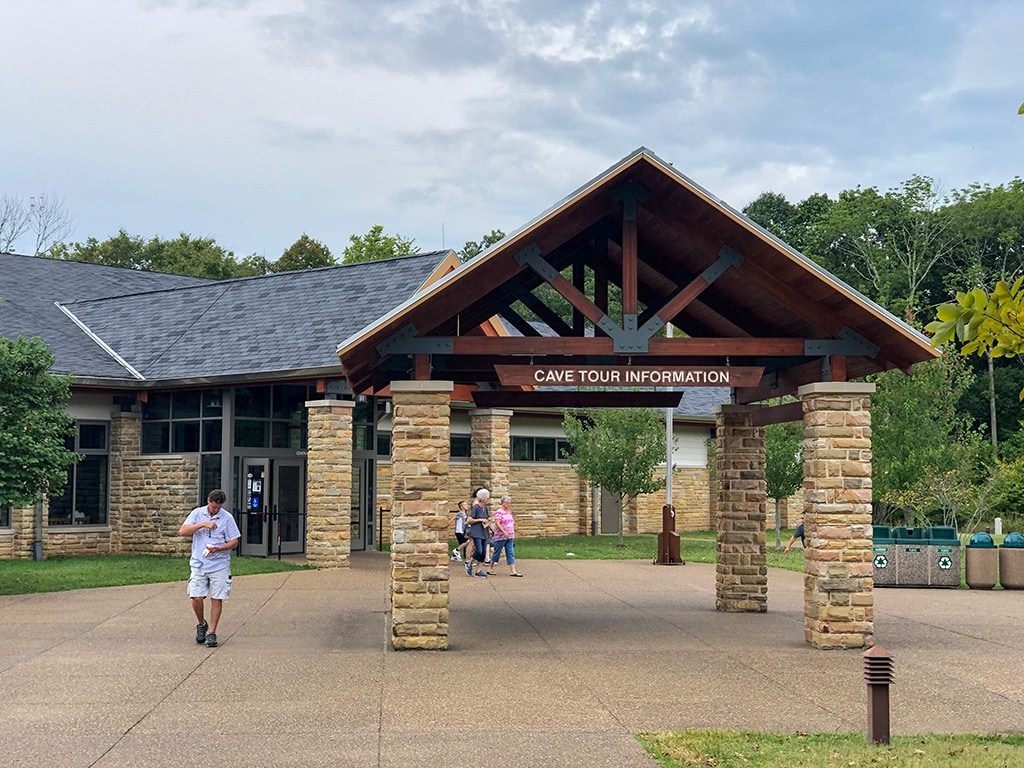 Right as you walk in you will see the info desk in the middle of the room and the ticket pickup area over to your left. (That is where you would go to pick-up your tickets if you purchased them online…which is HIGHLY recommended as they do sell out of many of the tours!)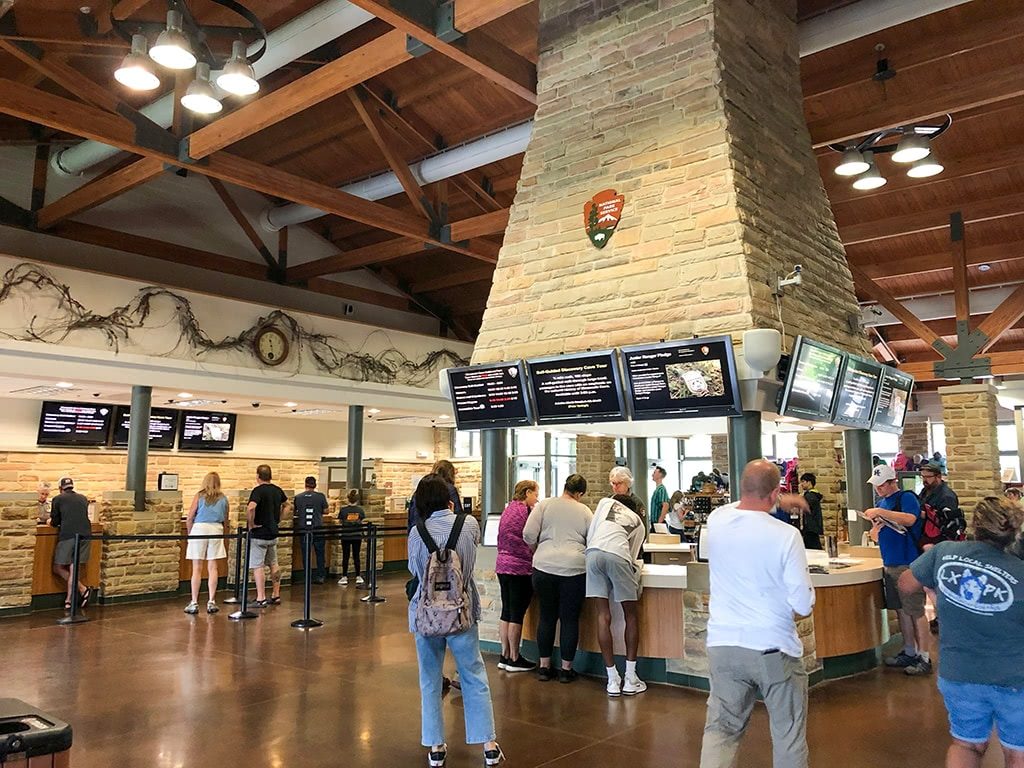 Gift Shops Galore!
To your immediate right you will find the first (of MANY!) Visitor Center gift shops. This is also where you can get your stamps or cancellations for your National Parks Passport Book!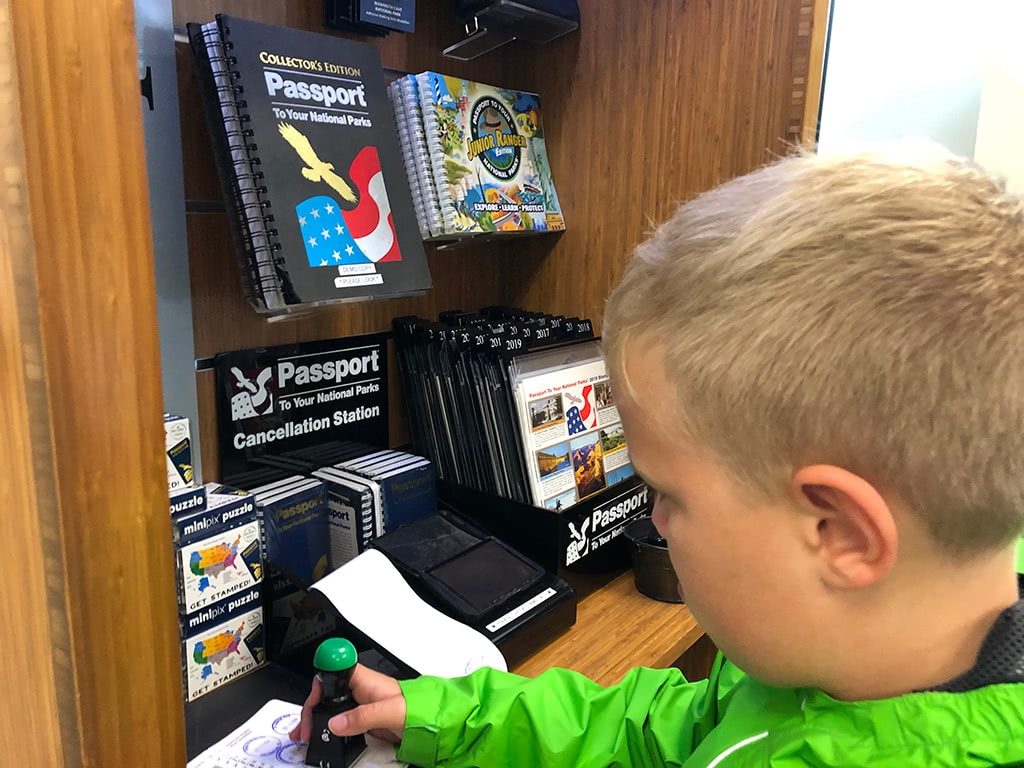 There is another gift shop in the back of the building as well. It also has a penny pressing machine if you're into that kind of thing!
If you head out the back door and across the bridge there are a couple more gift shops in that building as well.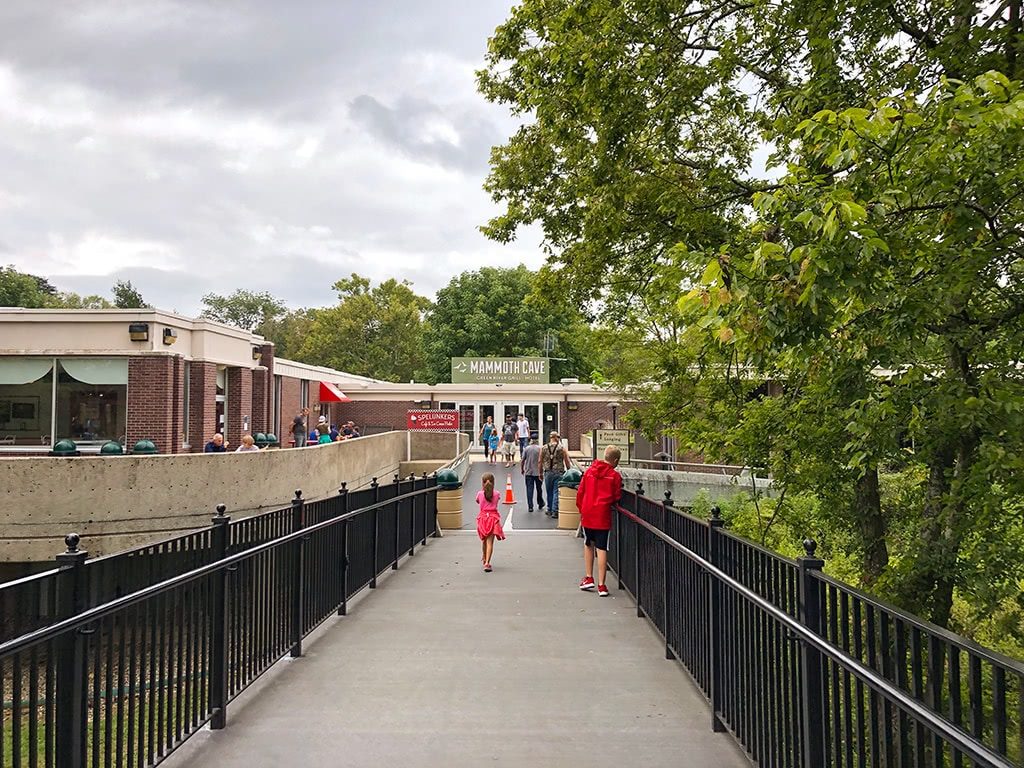 So there is no reason to head home from Mammoth Cave National Park without some kind of souvenir!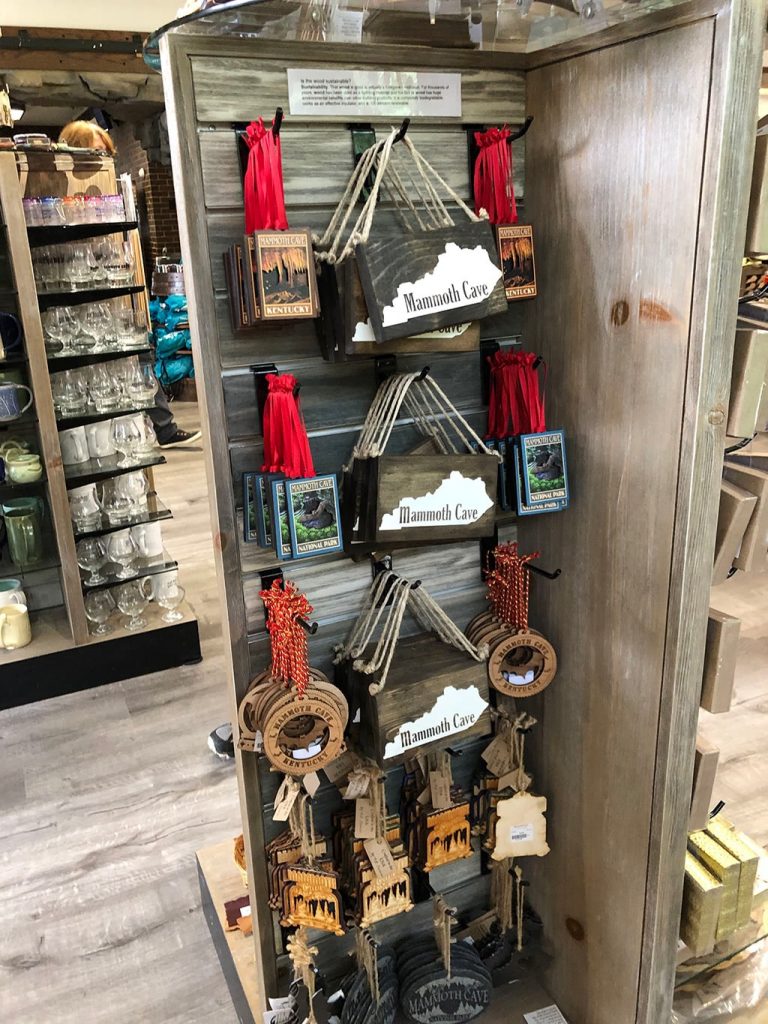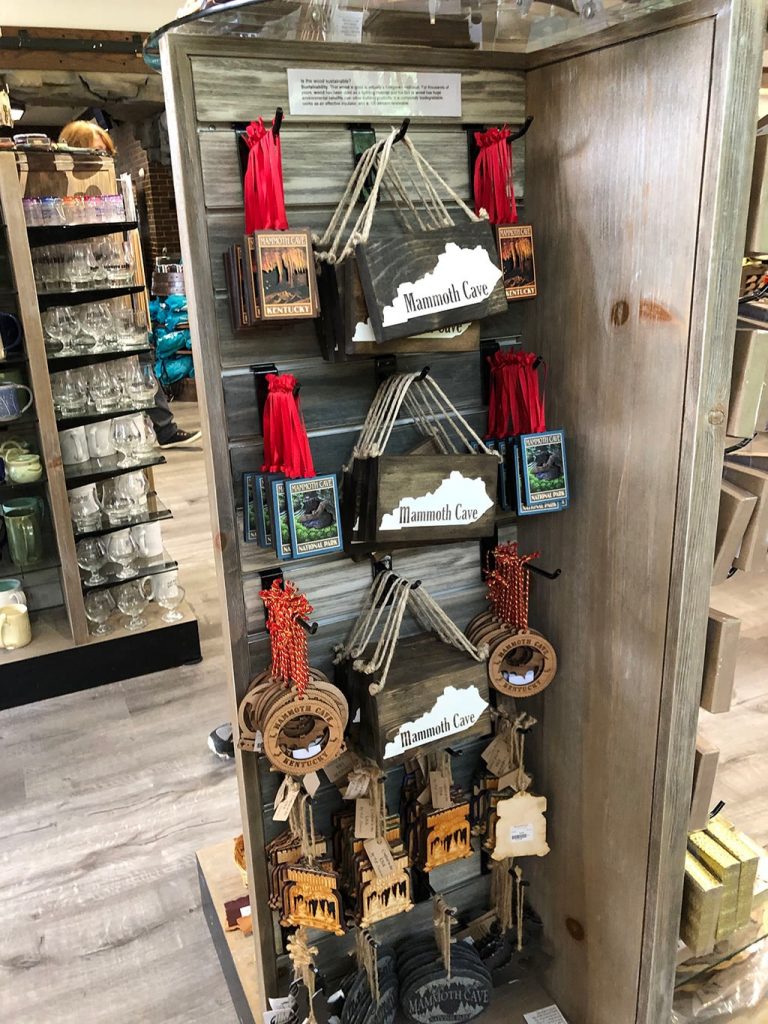 Take Time for the Museum!
The museum in the Visitor Center at Mammoth Cave is definitely one you will want to take time to explore!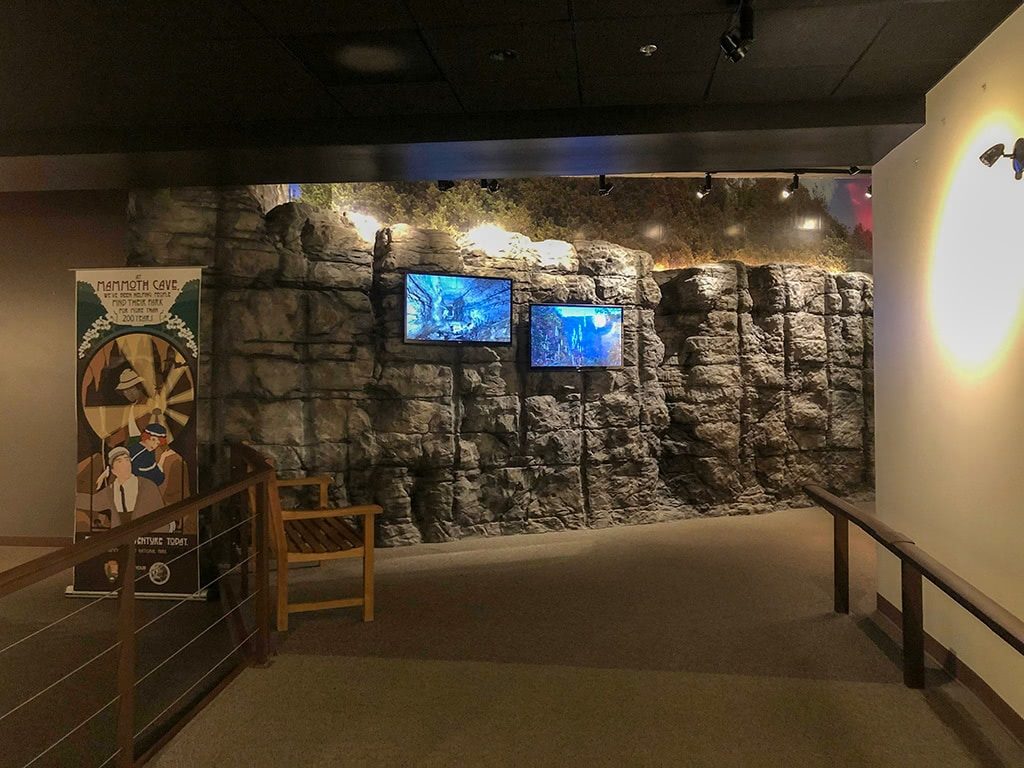 From the cave theming, to the many unique displays, you will have more than enough to delve deeper into Mammoth Cave history as well as information about caves.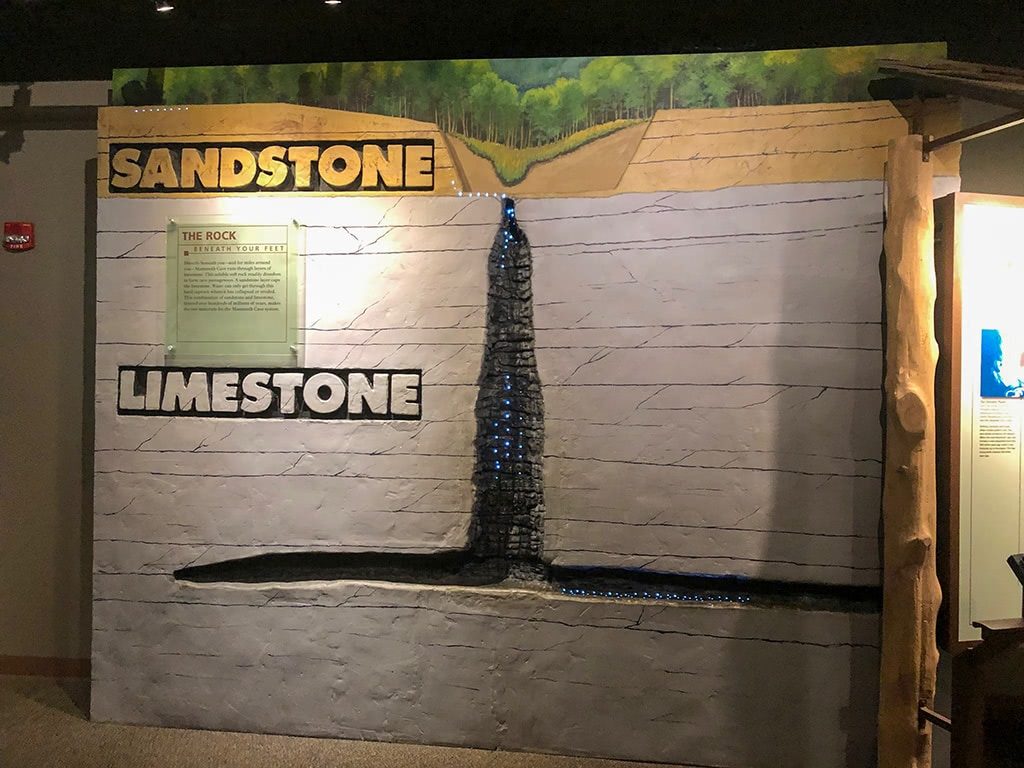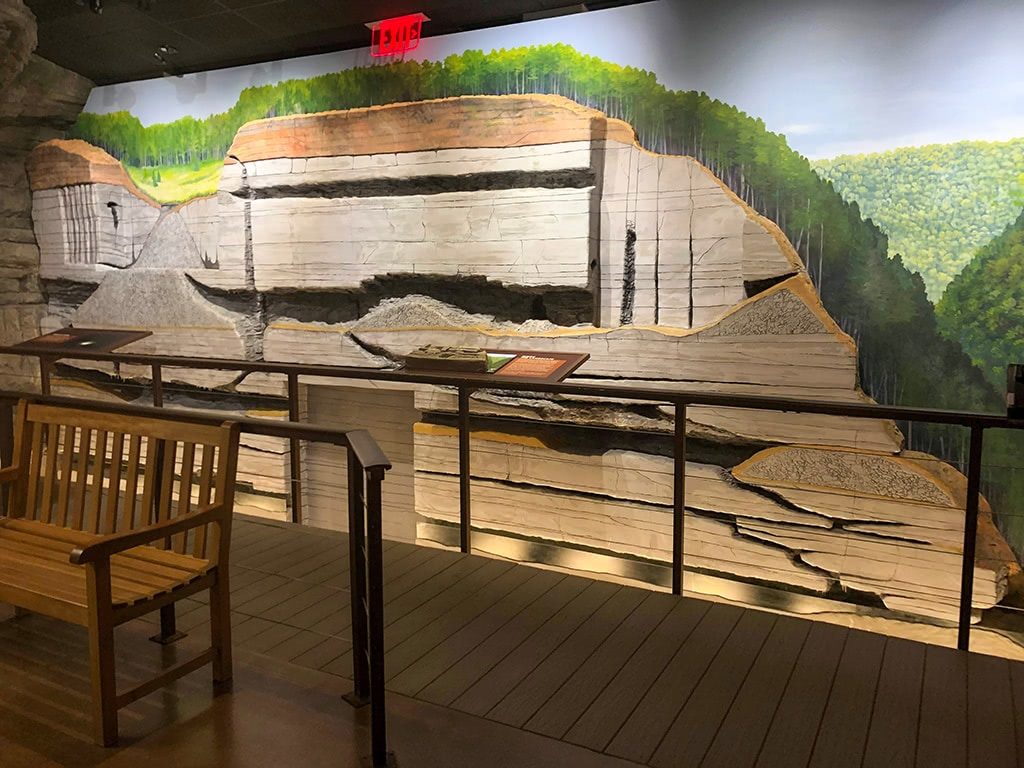 Be sure to take a few minutes to watch the documentary that is playing in the museum as well. The boys really found it interesting!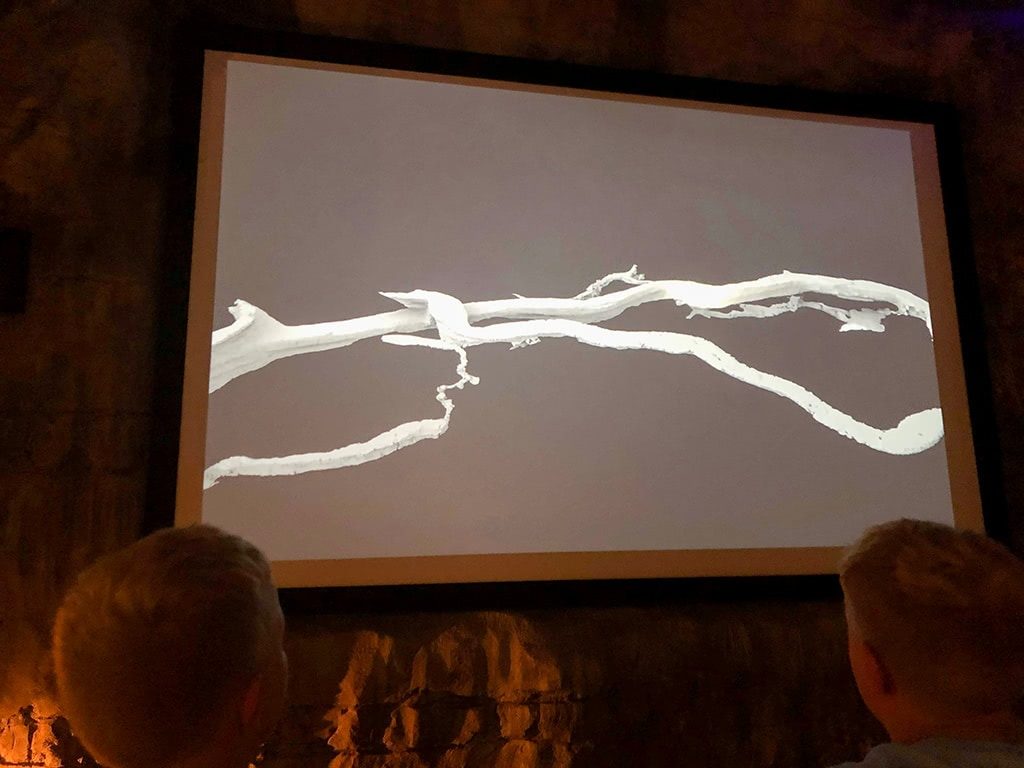 Get Some Ice Cream at Spelunkers Cafe & Ice Cream Parlor!
If you find yourself needing a little snack or sweet treat, be sure to check out the Spelunkers Cafe & Ice Cream Parlor while you are there! They offer a decent selection of ice cream treats and snacks so you will be ready for your spelunking adventures!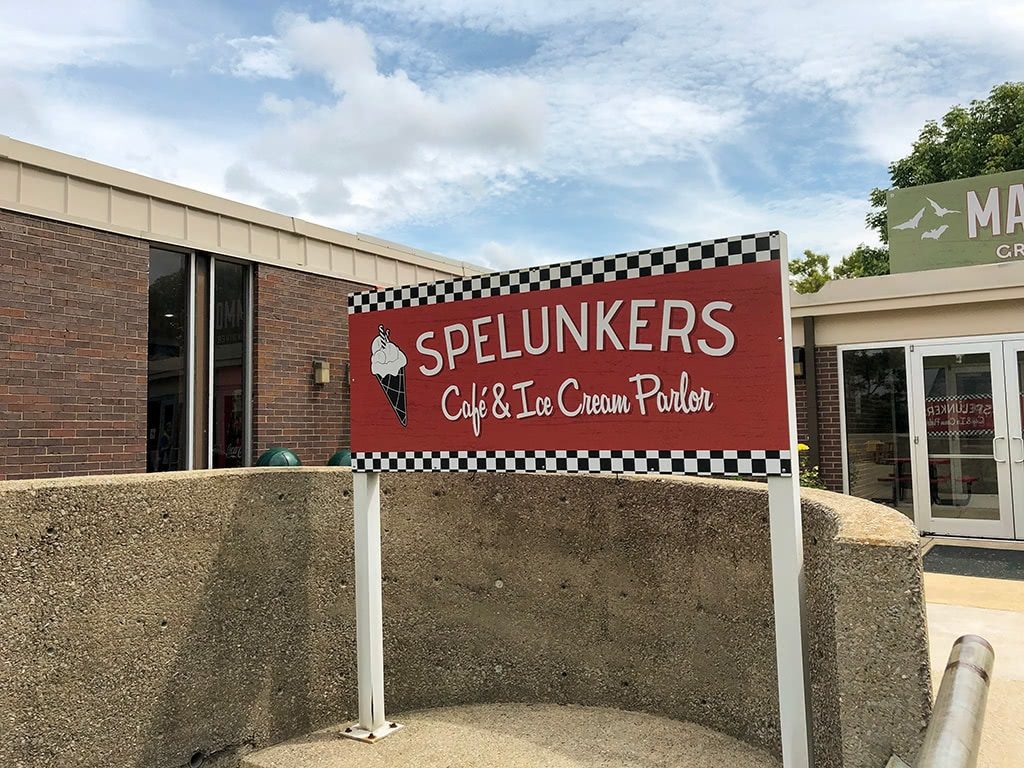 It's Mammoth Cave Tour Time!
Now this part was definitely a little overwhelming when we started researching which tours to do!
Tours For All Ages!
Depending on the time of year you go, there will be different tours available for that season. Be sure to check out Mammoth Cave National Park's Cave Tour Schedule for the time of year you are going.
There are short cave tours like the "Frozen Niagara Tour" which is .25 miles and easily accesses some of the most beautiful parts of Mammoth Cave on the "New Entrance" end of Mammoth Cave. And there are super long, strenuous cave tours like the "Wild Cave Tour" that is about 6 hours long!
Entrances Galore!
There are a few different cave tour entrances and it all depends on which tour you sign up for. Many people will recommend that you do a tour on each end of Mammoth Cave IF time allows and you are interested in seeing both ends of the cave system.
The two main entrances that tours begin are the "Historic Entrance" and the "New Entrance". The shorter Niagara Tour begins at the "Frozen Niagara Entrance" but the majority of the tours begin at either the "Historic" or "New Entrance."
Which Mammoth Cave Tour to Choose?!?
While it can seem daunting, be sure to thoroughly review each cave tour that is offered and start narrowing it down from there based off of your family and their abilities.
If you are up for it, like many suggest, pick one tour at each end. For the "Historic Entrance", some popular choices are the "Historic Tour" or "River Styx Tour".
Then on the other end, pick one like the "Frozen Niagara Tour" or the "Domes & Dripstones Tour."
When researching the tours, you can click on most of them and it will show you a map of the parts of the cave that the tour will cover. Many of the tours actually cover the exact same paths as the other tours, so be sure to read the descriptions as it will tell you what parts it covers on other tours.
Also, keep in mind that there is a self guided tour at the "Historic Entrance" which is pretty inexpensive if you just want to do something real low key.
While we ended up not doing a tour that started at the "Historic Entrance", we did walk down to see the front of it as we had heard the cold air coming up out of the cave is really noticeable.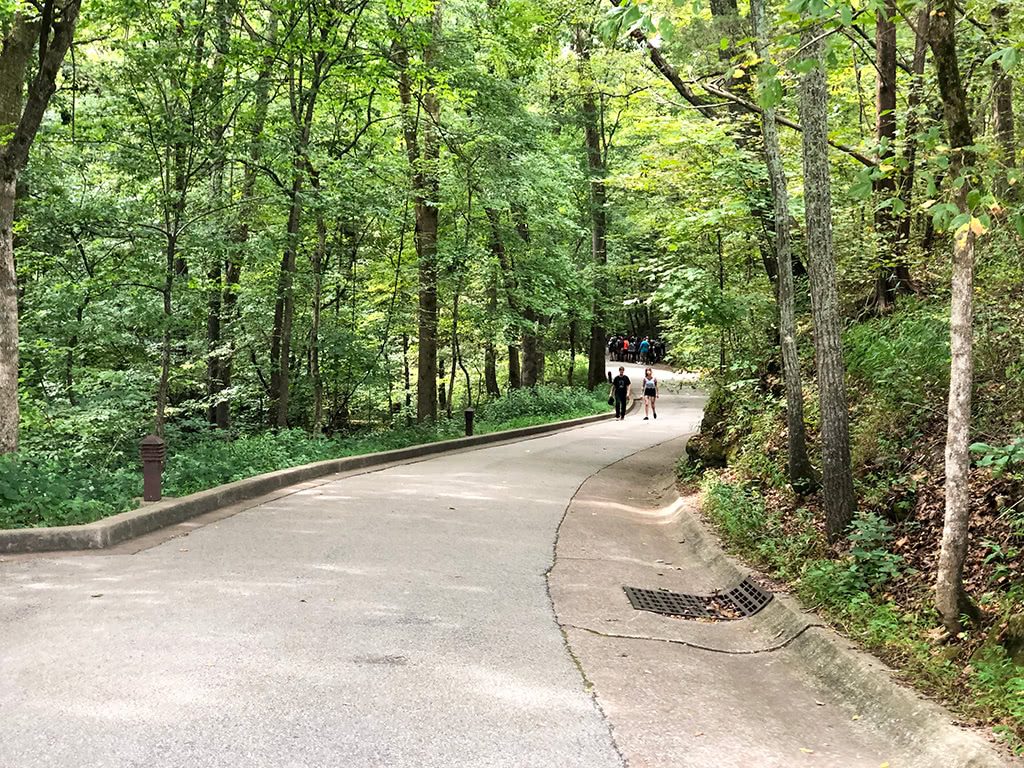 Also, the beauty of that entrance is just amazing! It's definitely worth a quick walk down there to just see it at least!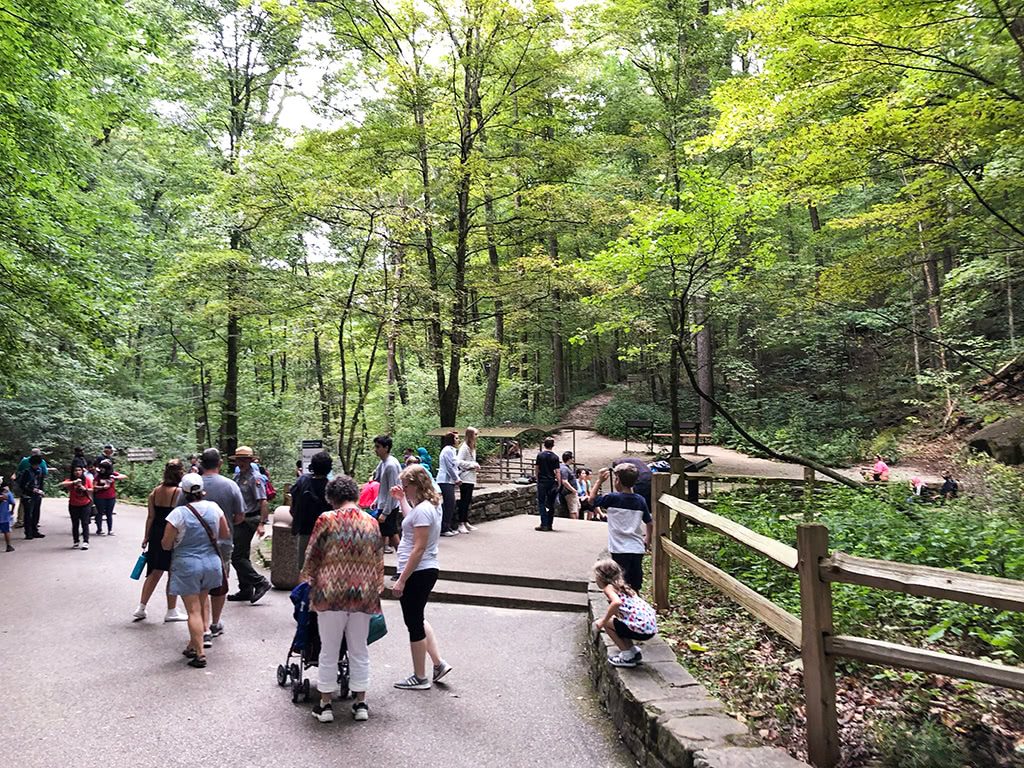 Plus there are some interesting plaques to read along the way.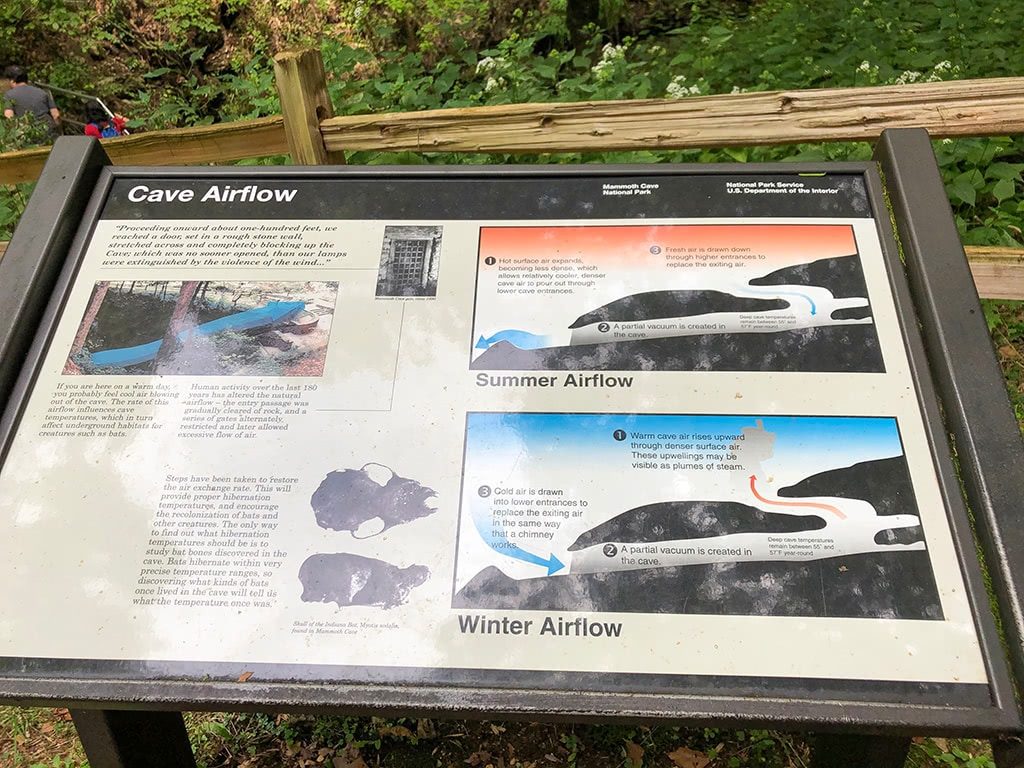 For this go around, we ended up choosing the Domes and Dripstones Tour. This tour is about 2 hours and covers about ¾ of a mile. It begins at the "New Entrance" and covers the entirety of the "Frozen Niagara" Tour as well.
Our Mammoth Cave National Park Tour
Since we chose a tour that started a the "New Entrance", we were instructed to meet at a designated shelter to board the bus to ride to that entrance.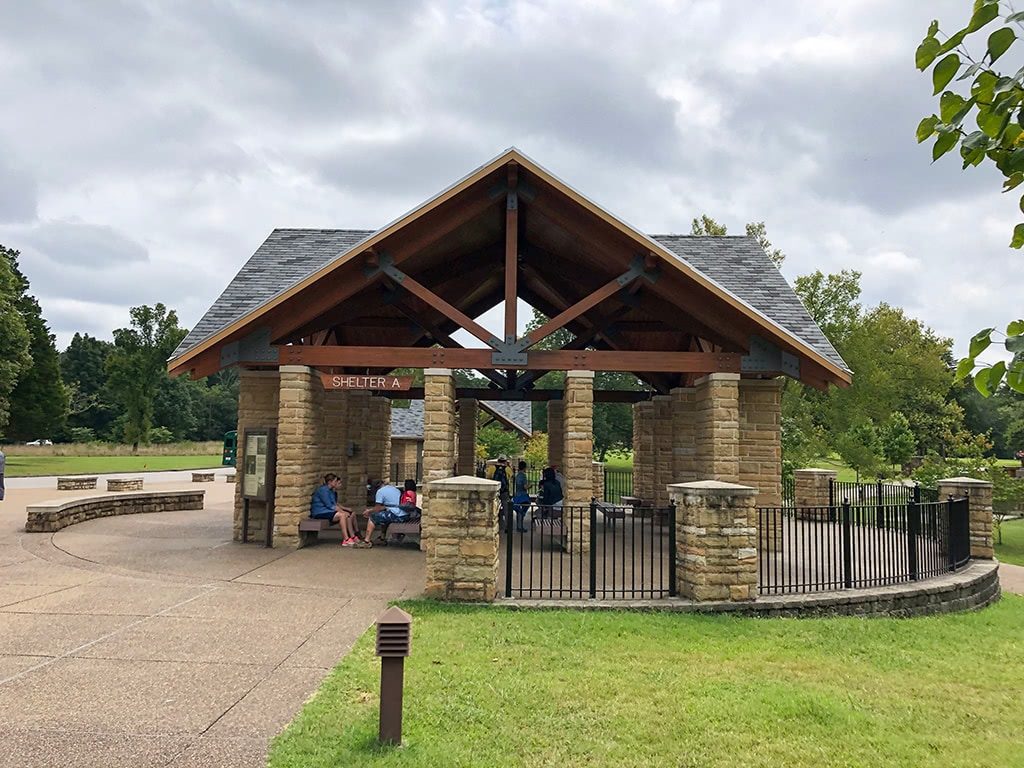 Once at the shelter, the Park Ranger came and went over a few housekeeping items before we boarded the fancy buses!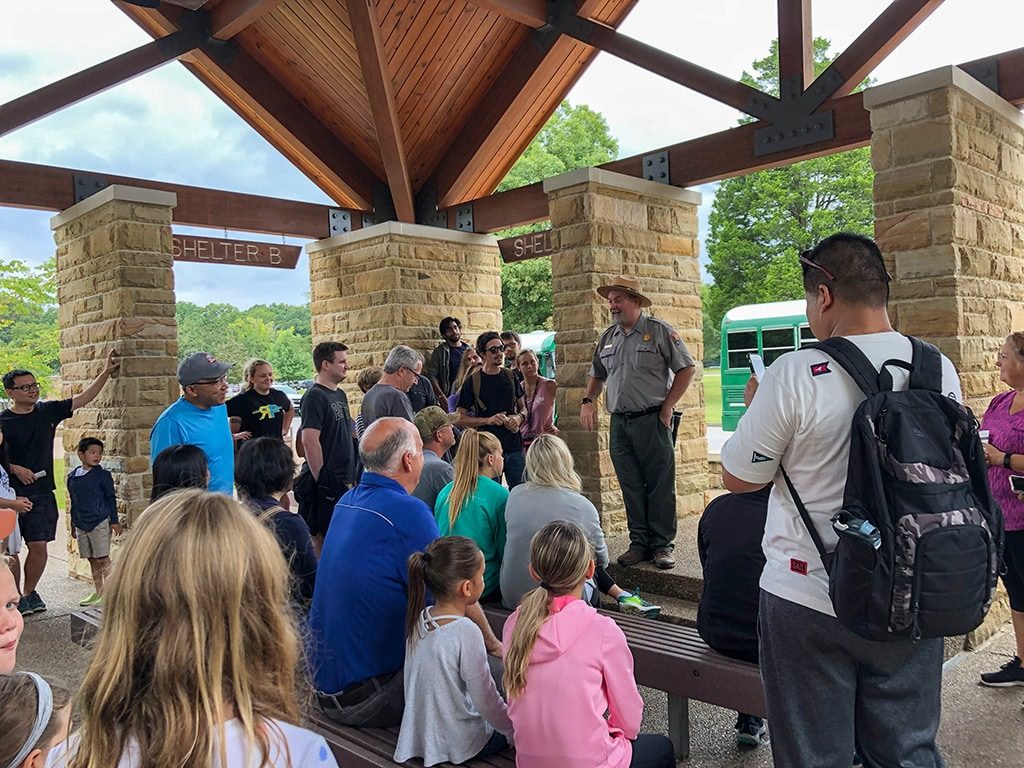 After he makes sure that you are WELL aware of what you signed up for, then he instructs you to hop aboard one of the buses.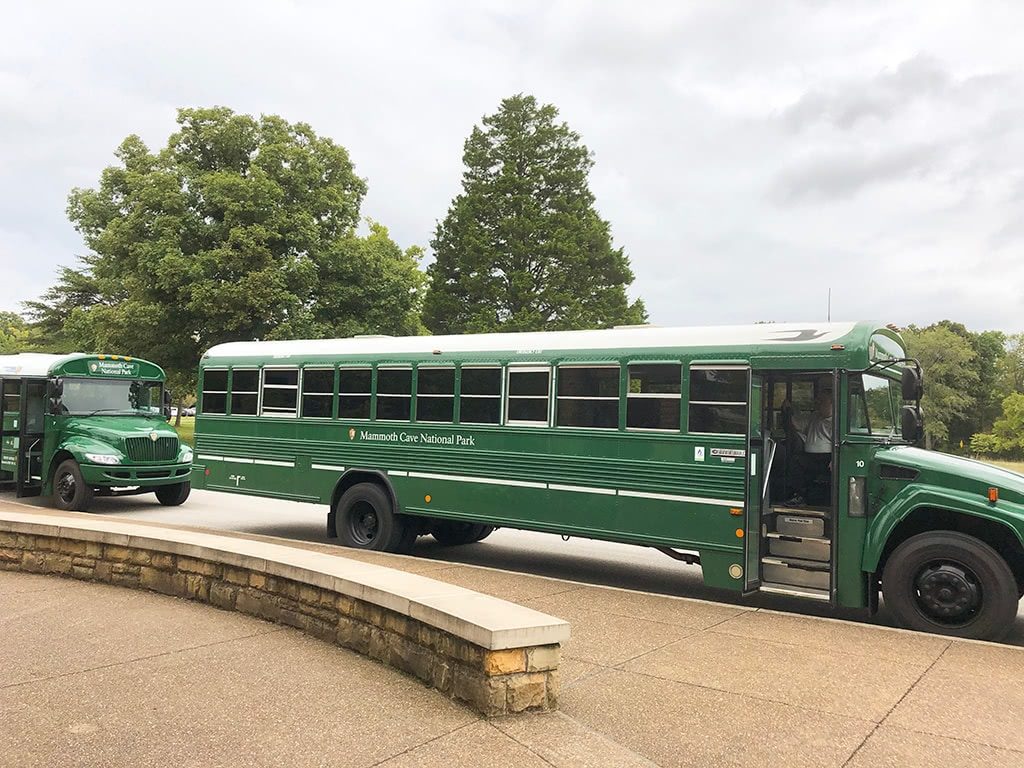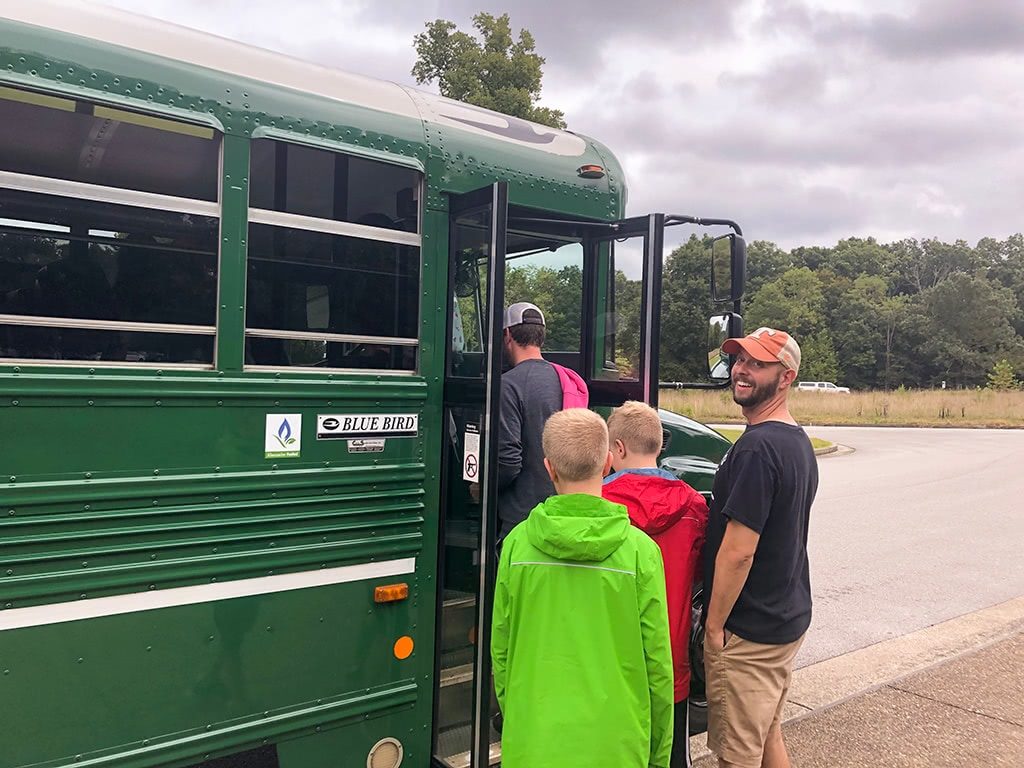 After a short drive, they escort you through the woods into the new entrance area.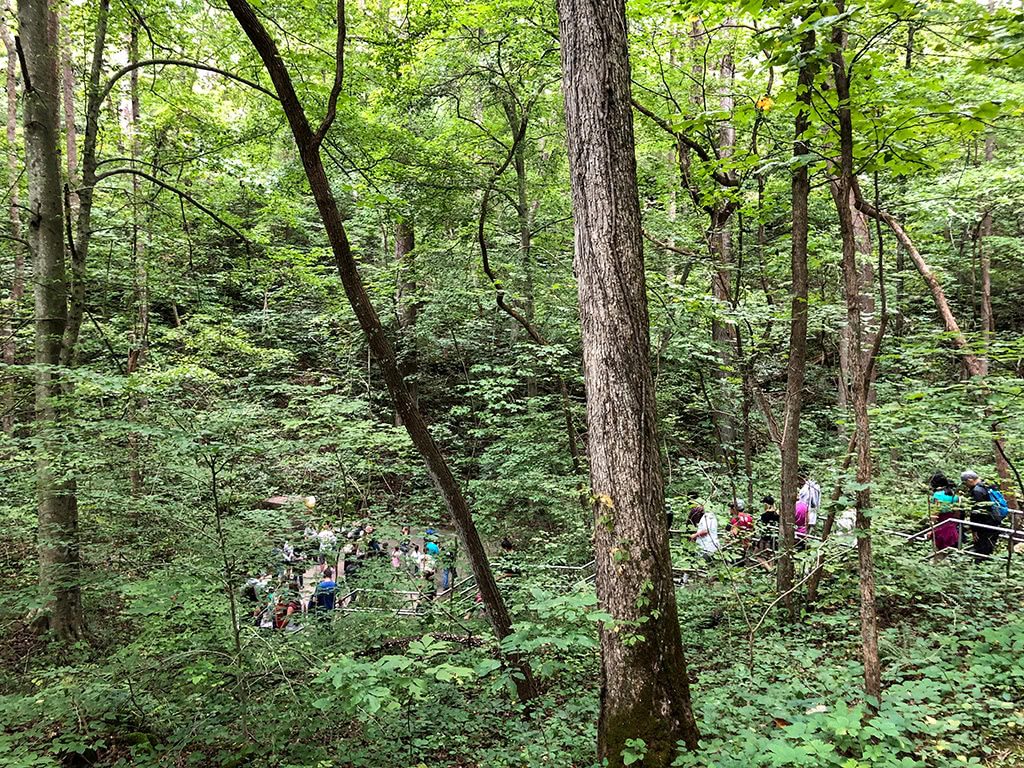 One more short pep talk with the Park Ranger, and we went on our way!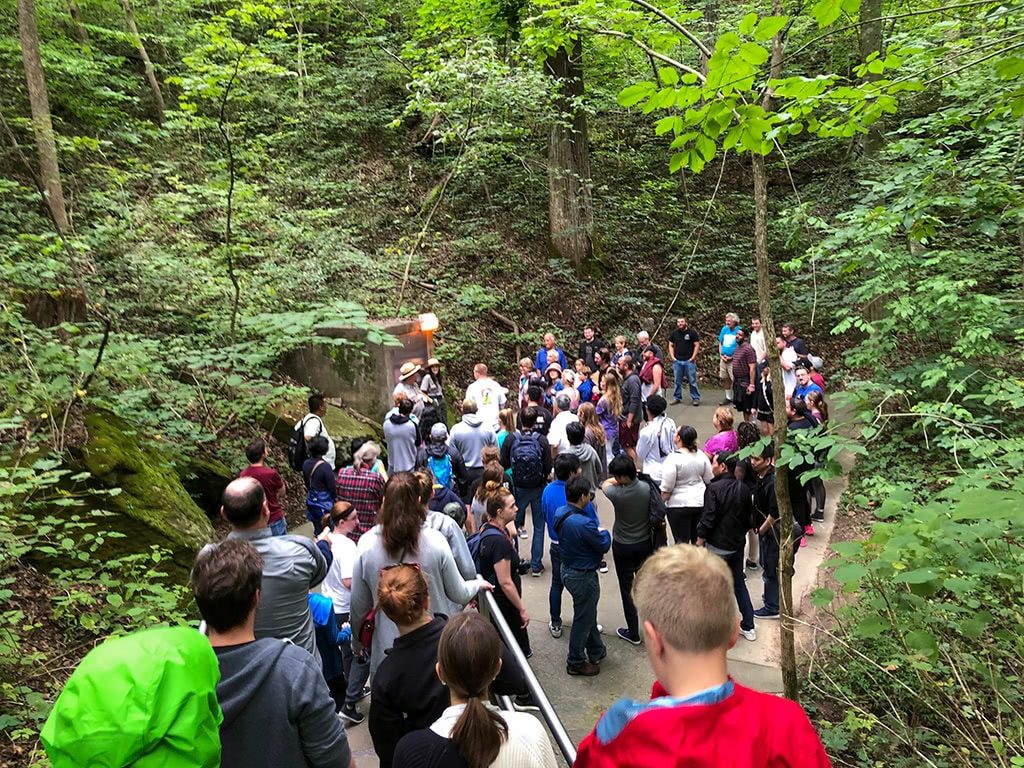 The stairs descending into the "New Entrance" part just kept going! The entire time though you will start seeing unique formations, not to mention some cave creatures like bats!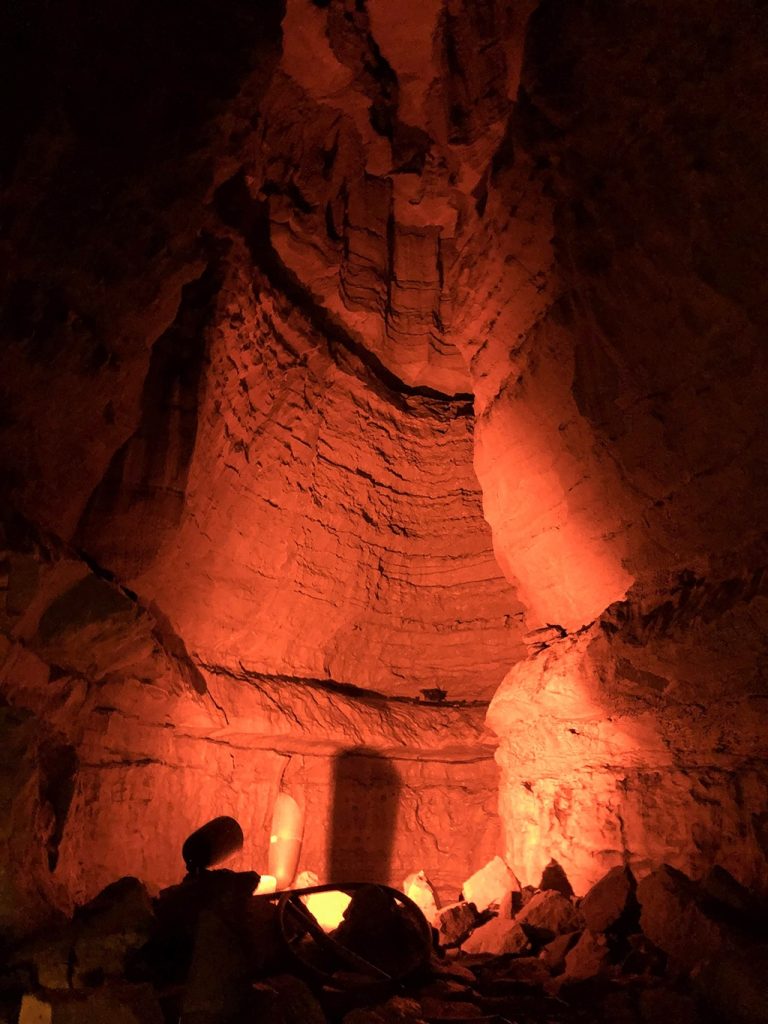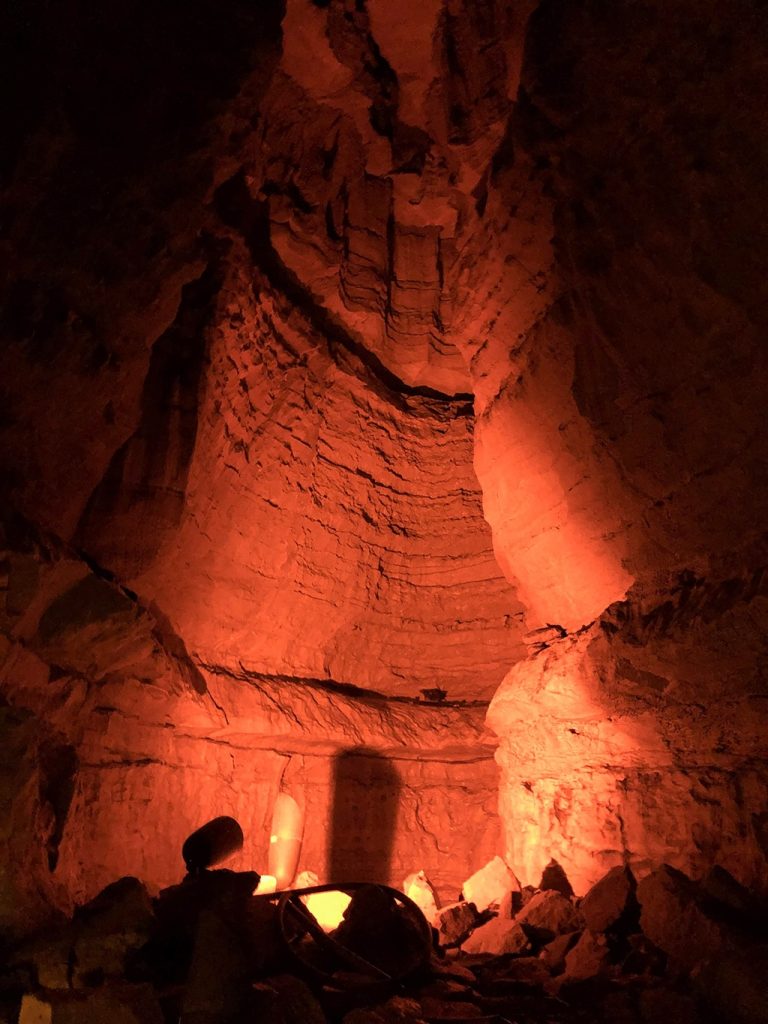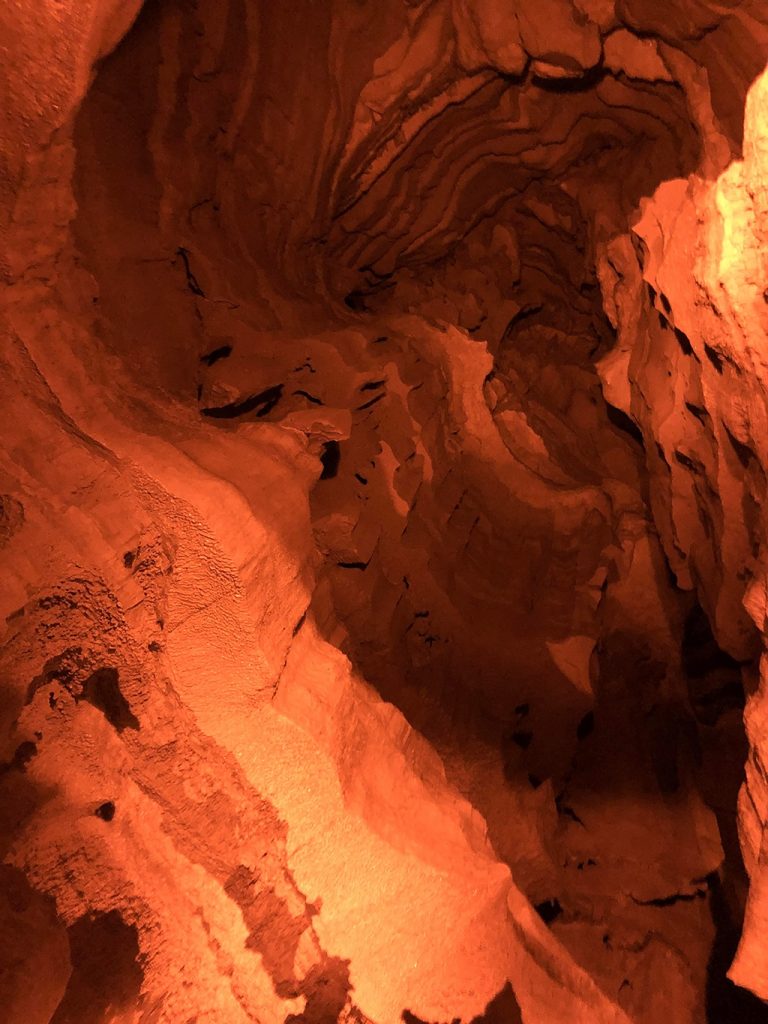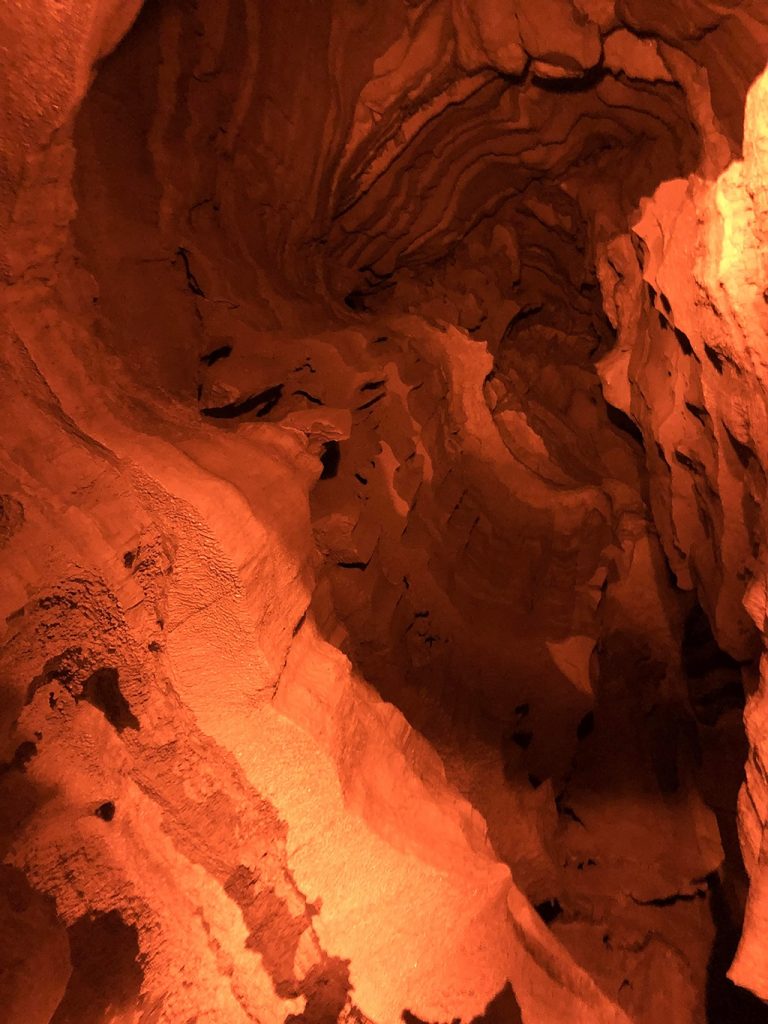 We went into several large rooms with benches, where we got to sit and listen to the Park Ranger share more information about that part of the cave.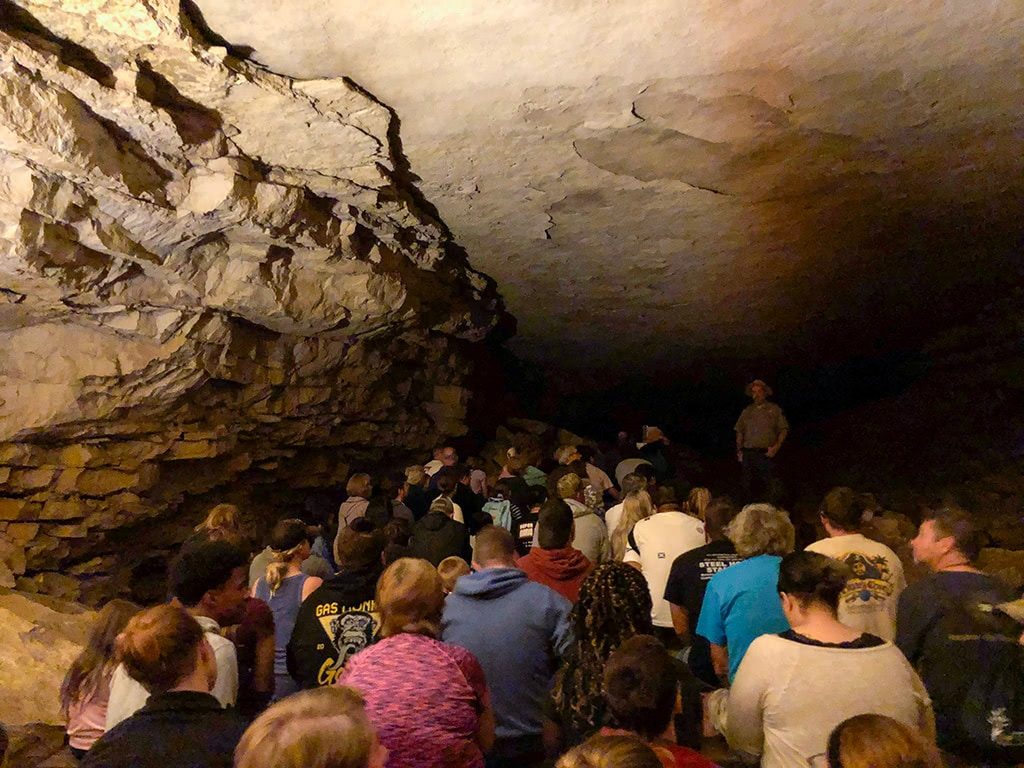 Then the rest of the time we just walked through and let the cave speak for itself. One area had names sketched into the cave wall from 1924.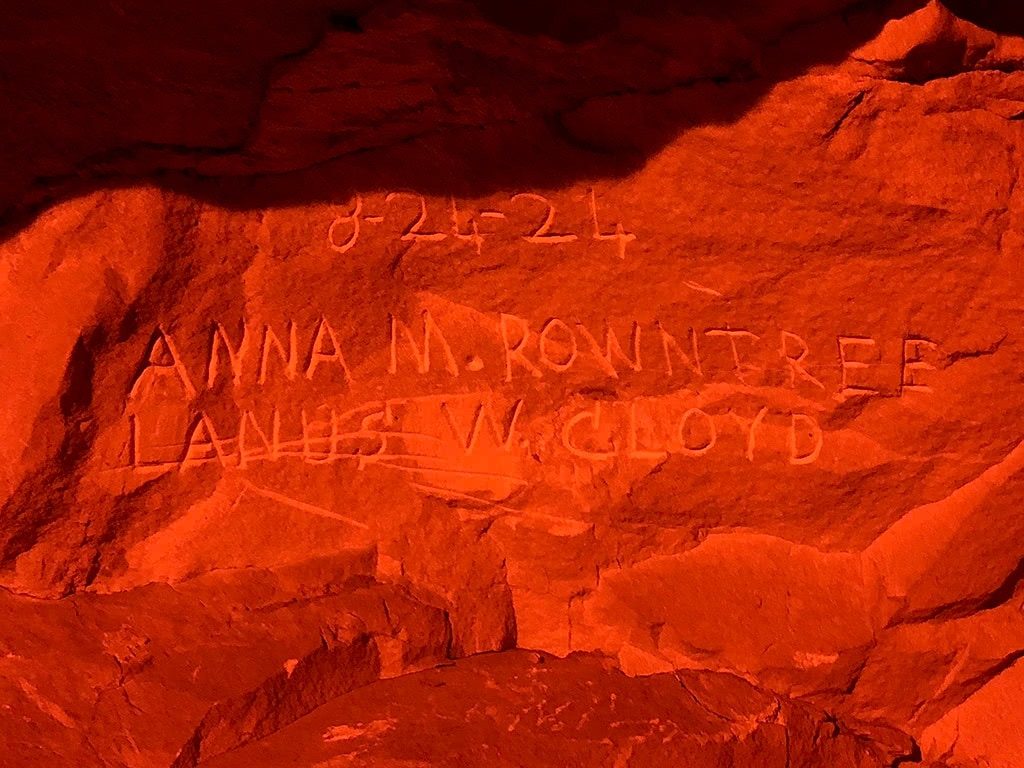 The pictures just don't do it justice, but trust me, Mammoth Cave is really beautiful. Our tour wrapped up in the final area where Frozen Niagara was.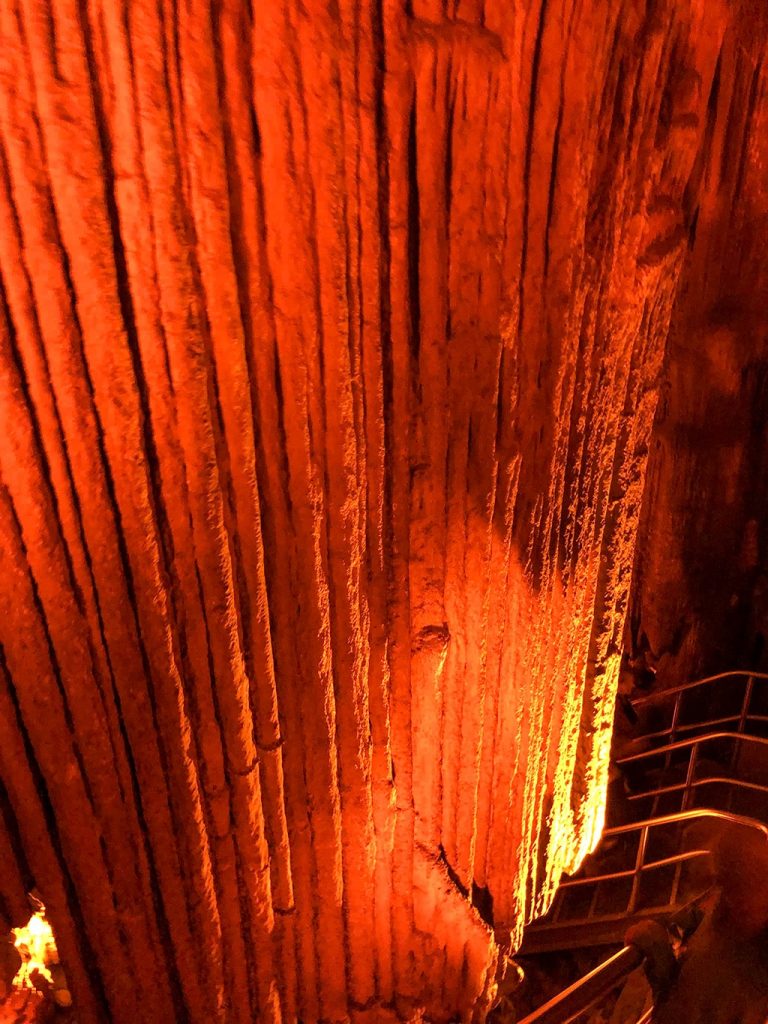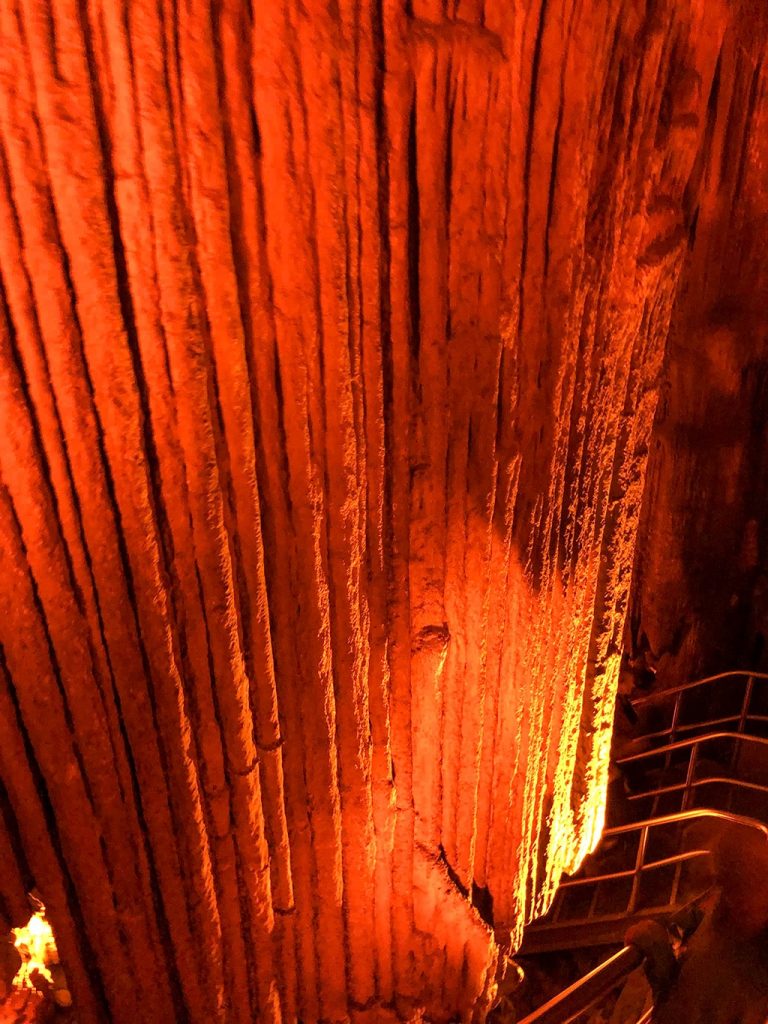 After descending the stairs to get a complete look at Frozen Niagara, we then headed out a small passage way and back out to the outside world.
All in all, the Domes & Dripstones Tour was pretty amazing! We learned quite a bit about Mammoth Cave and got to see some of the unique features that Mammoth Cave is known for!
We loaded up on the bus and headed back towards the Visitor Center!
A Few Things to Consider
Be sure to arrive on time (or even a little early) for the Tour. They will not wait, as the show must go on!
Some tours do sell out, so be sure to order your tickets online weeks in advance, if you have your heart set on a certain tour! We wanted to do the River Styx, but by the time we decided (about a week before), it was already sold out for the whole weekend!
Make sure you allot extra time for exploring the grounds around Mammoth Cave. There are plenty of places to walk around and explore. There are also ranger talks that are free that happen regularly throughout the day. Check the "Surface Activities" schedule on the Mammoth Cave NPS website.
Also, keep in mind…most of these tours are a couple hours long. Be sure to use the bathroom before you go on your tour. And also limit your fluid intake for your little ones. (Trust me on this one!)
Final Thoughts
We've been in a TON of caves throughout Tennessee, but Mammoth Cave was a really unique experience altogether! The Domes and Dripstones Tour was really good and we are glad we got to see that end of Mammoth Cave, especially Frozen Niagara.
Next time, we hope to do a cave tour from the "Historic Entrance" side. The kids also said they want to do one of the Lantern Tours one day! We may wait a few years before we go back for that one though!
All in all, we highly recommend visiting Mammoth Cave if you love nature and exploring the great outdoors! We had a great time and look forward to going back again one day!
---
So have you ever been to Mammoth Cave National Park before? What tour did you do? What was your favorite part of Mammoth Cave? Be sure to leave a comment below, we would love to hear from you!
And if you are looking for more things to do in Kentucky, be sure to check out our post on the Abraham Lincoln Birthplace.
---
More Related Articles: