Planning a trip to the Great Smoky Mountains area during the Christmas season? Be sure to check out one of our family favorites…A Smoky Mountain Christmas at Dollywood!
This is by far one of our favorite things to do during the holiday season! Read on to learn more about some tips and suggestions to make it a very memorable Dollywood Christmas for your family!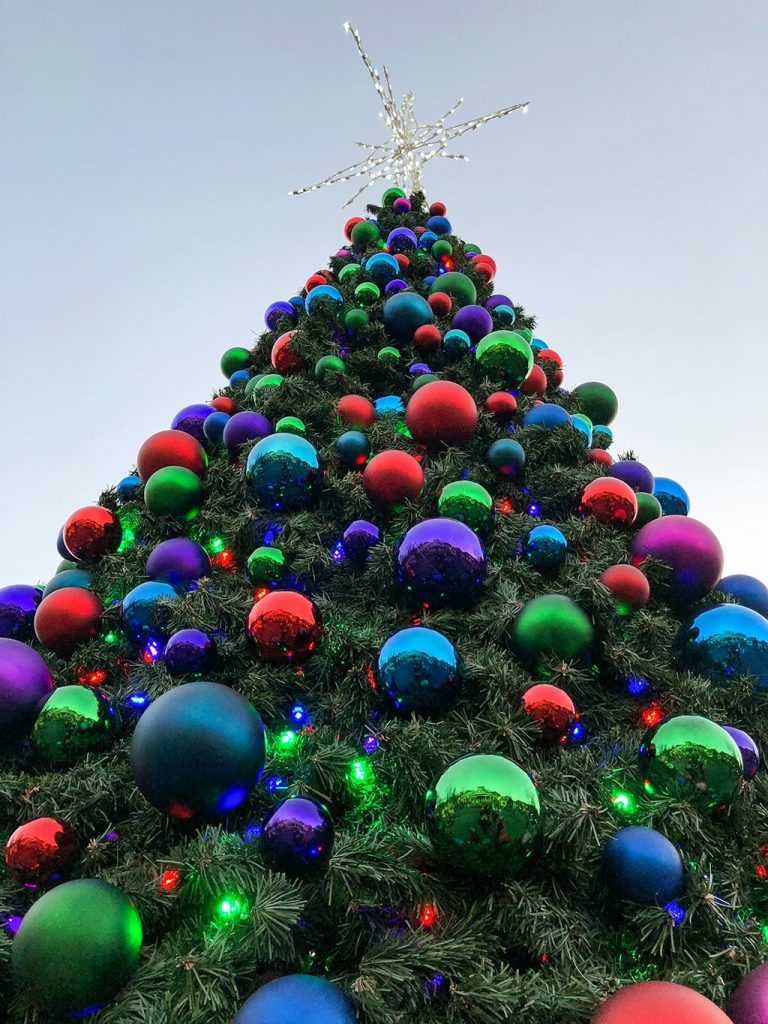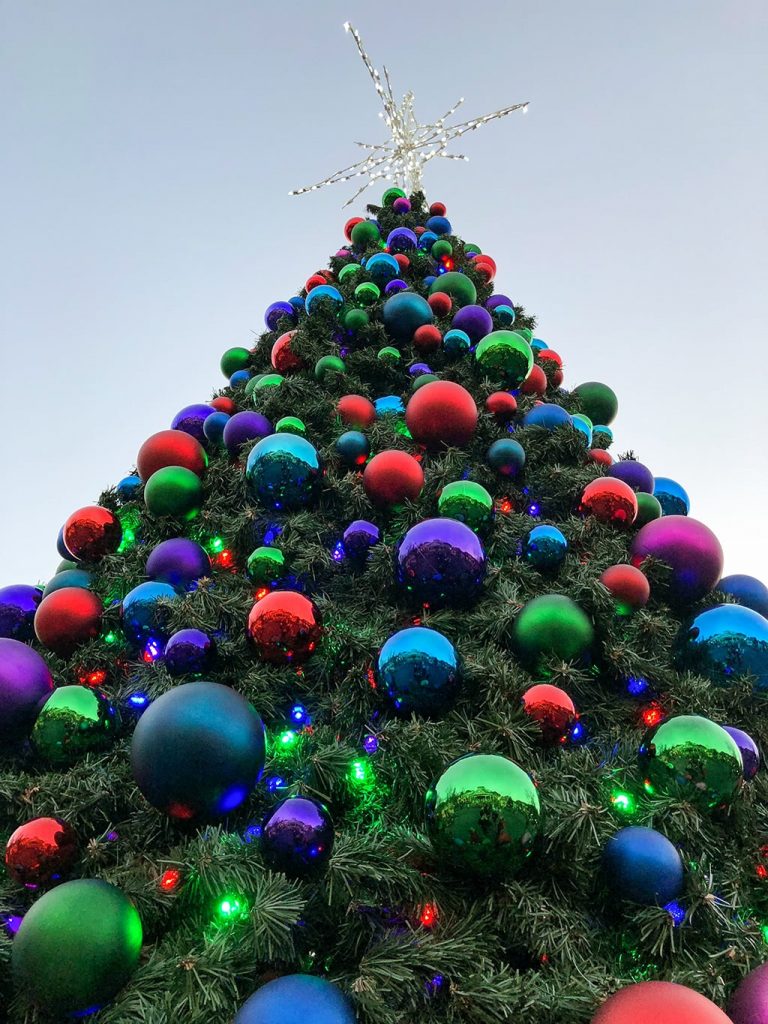 *This post may contain affiliate links which help support this site, but won't cost you anything extra. Read our full disclaimer.
Get a Little Dolly Parton Christmas Inspiration!
Growing up in East Tennessee, it's hard not to be a Dolly Parton fan! From her music, to movies, to the Imagination Library and so much more, she is such an inspiration to many!
In case you need a little extra Dolly Parton Christmas inspiration before heading to Dollywood, be sure to watch her Dolly Parton's Christmas of Many Colors: Circle of Love that is sure to get you in the holiday spirit!
Do Some Research and Have a Game Plan!
There is so much to do at Dollywood during the Christmas season that it's nearly impossible to squeeze it all in on one day, so you definitely need to go with a game plan!
First things first, be sure to check the Dollywood Calendar for the days and times that they are open. The Christmas season typically runs from mid-November through the first of January.
The weekends are usually busier, so if you can hit it on a weekday you will typically experience lower crowds.
Checkout the daily schedule for the show times and parade times beforehand, so you can plan accordingly!
Here is our list of priorities when we go:
Hit a couple of our favorite rides
Watch at least one holiday show
Try some of the other special Dollywood Christmas events and activities that are unique (or new)
Stay until dark to see the lights
Watch the Parade!
Check Out Dollywood Christmas in Wildwood Grove!
In 2019, Dollywood introduced their newest expansion Wildwood Grove! And they sure did a great job at making it a special place during the holidays as well!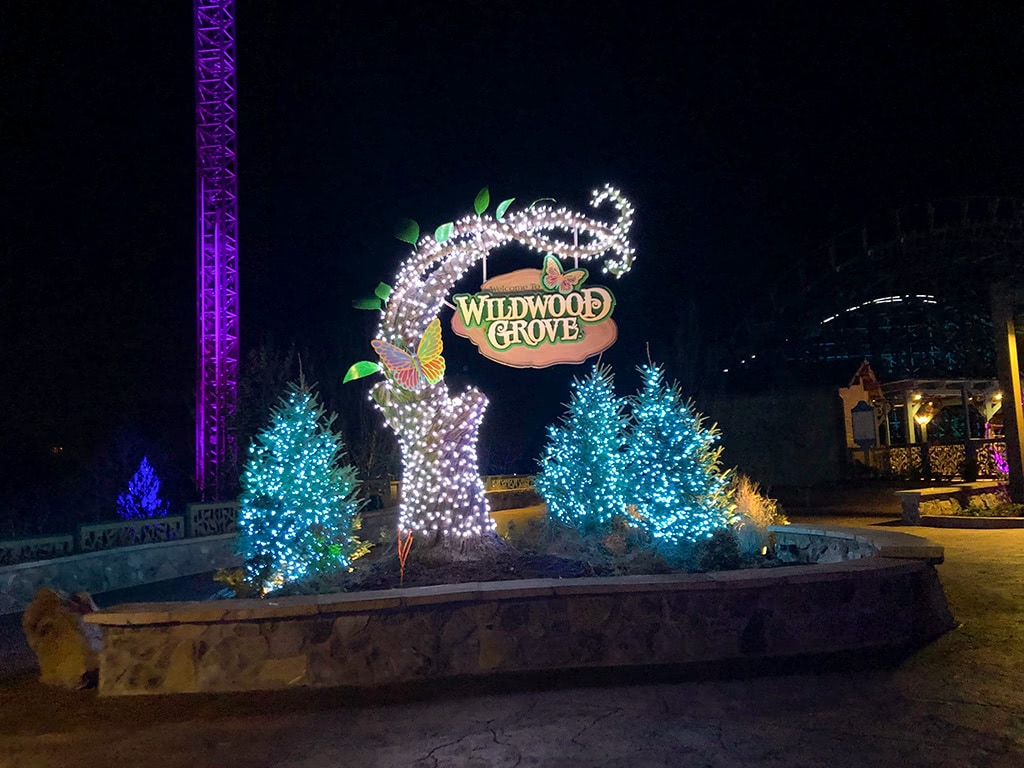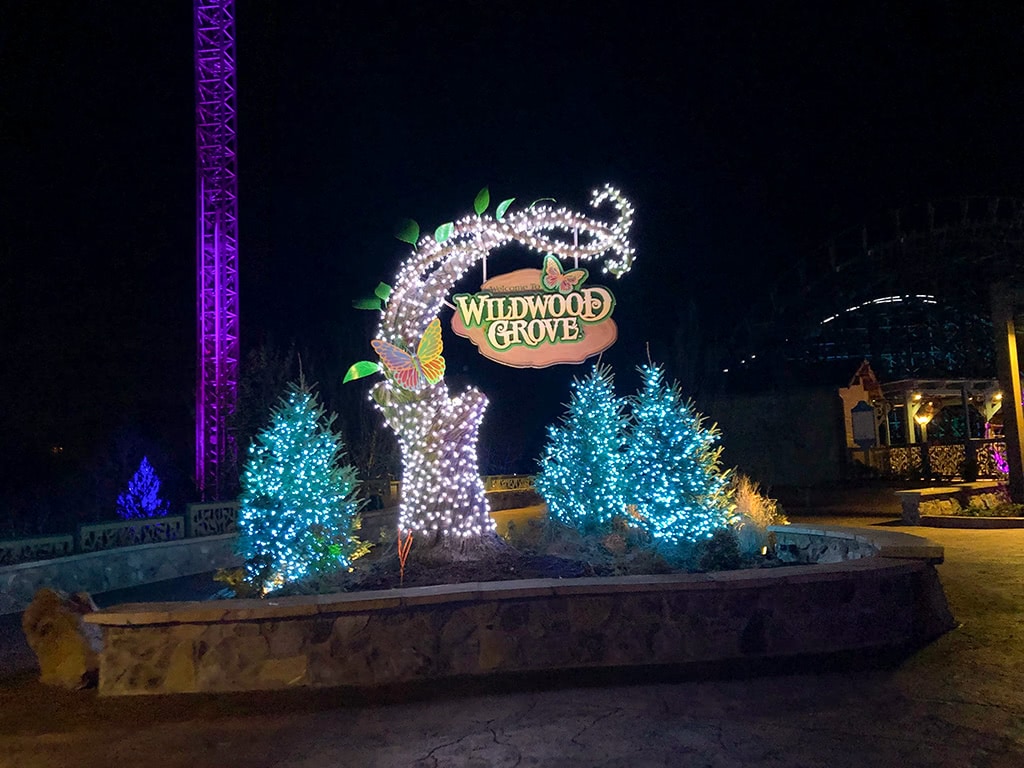 From the magical lights on the entrance tunnel, to the illuminated candles as you walk in, you feel like you are entering a pretty magical place!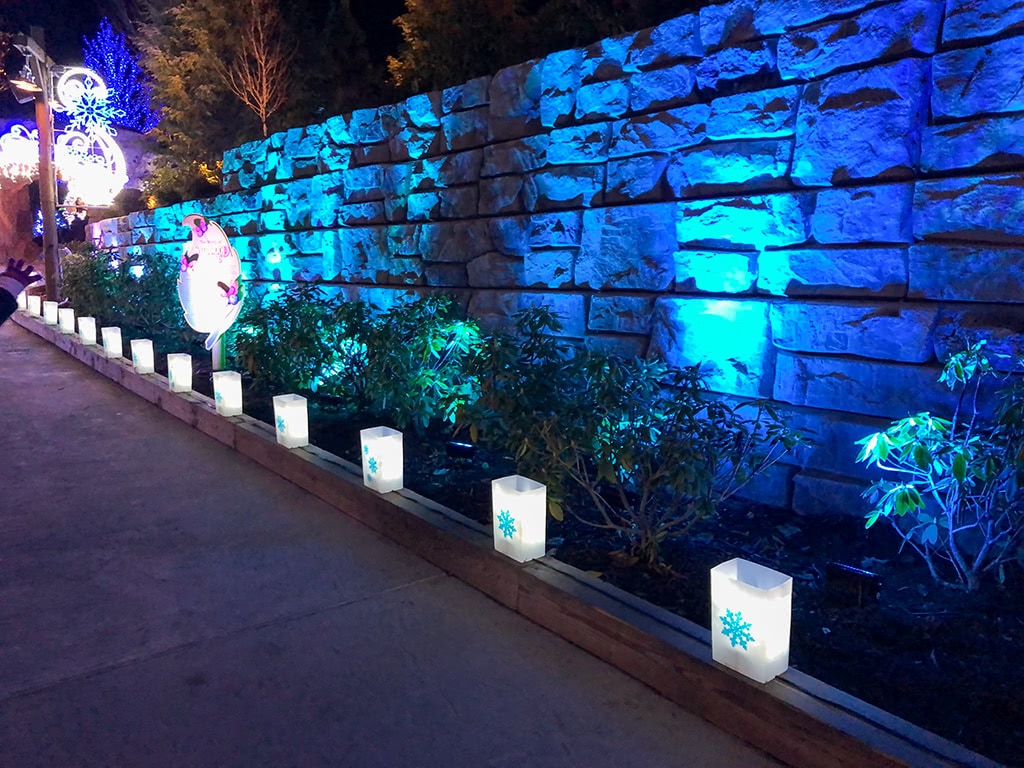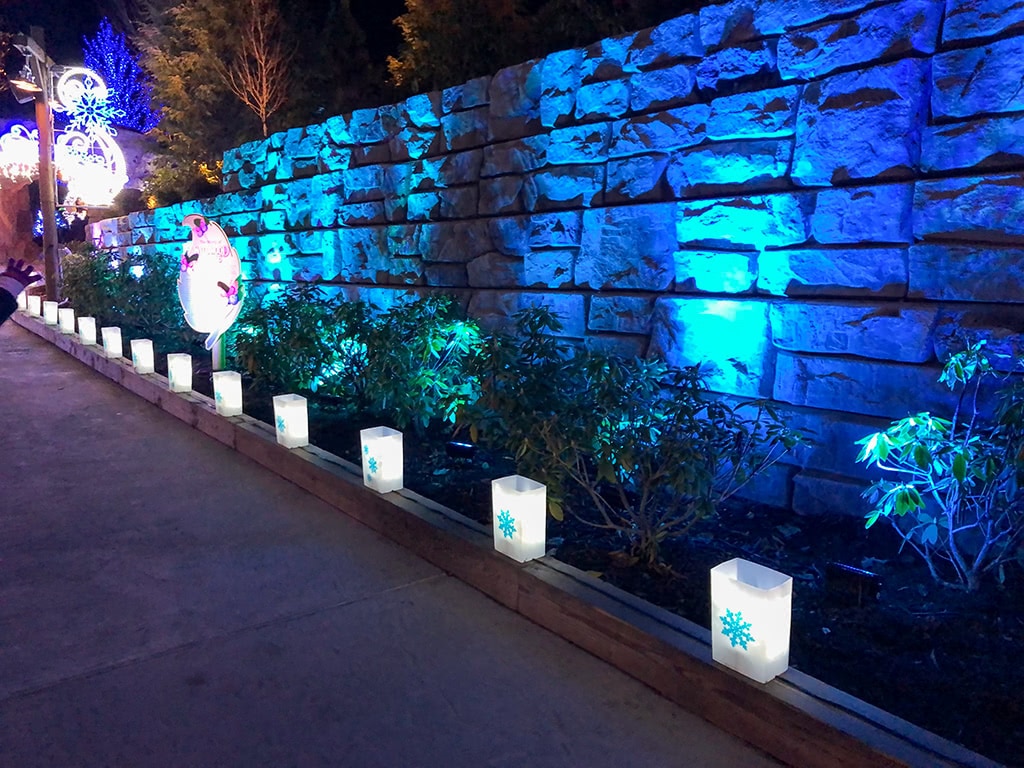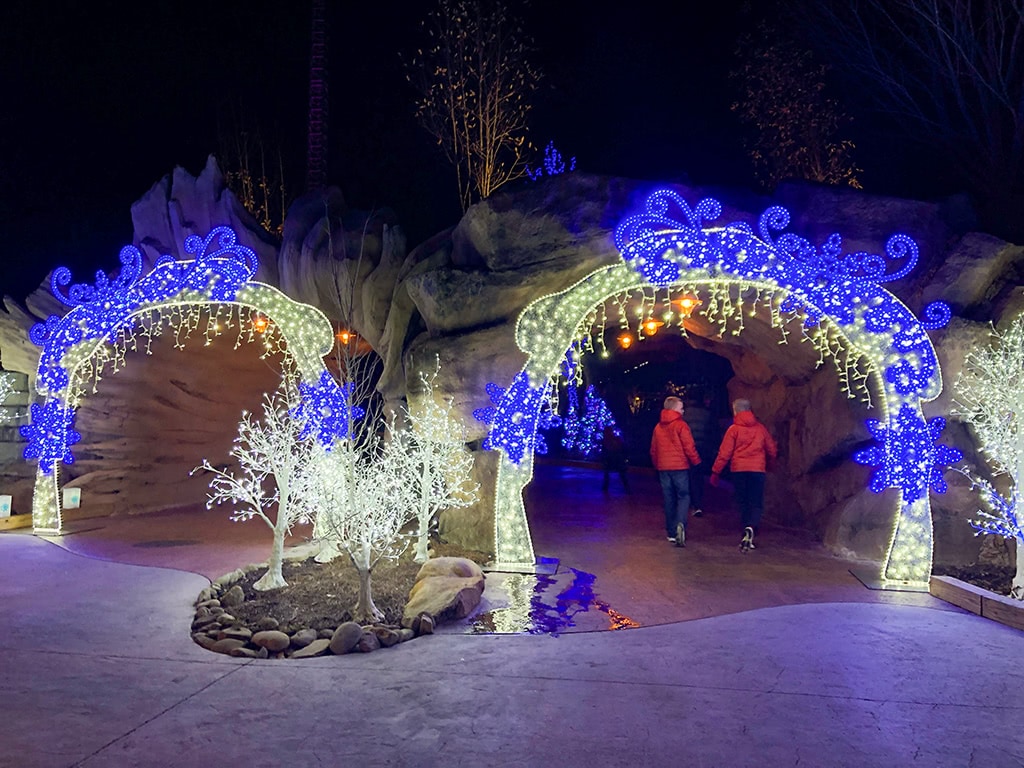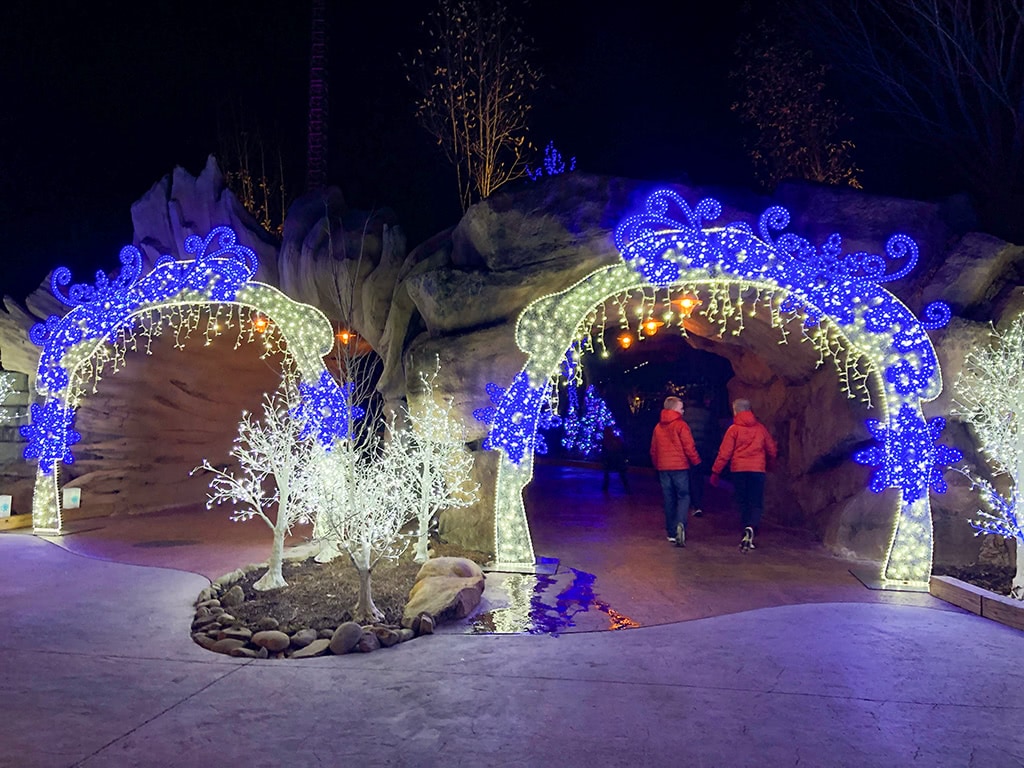 Over near Black Bear Trail ride, you will also find a fun photo opportunity!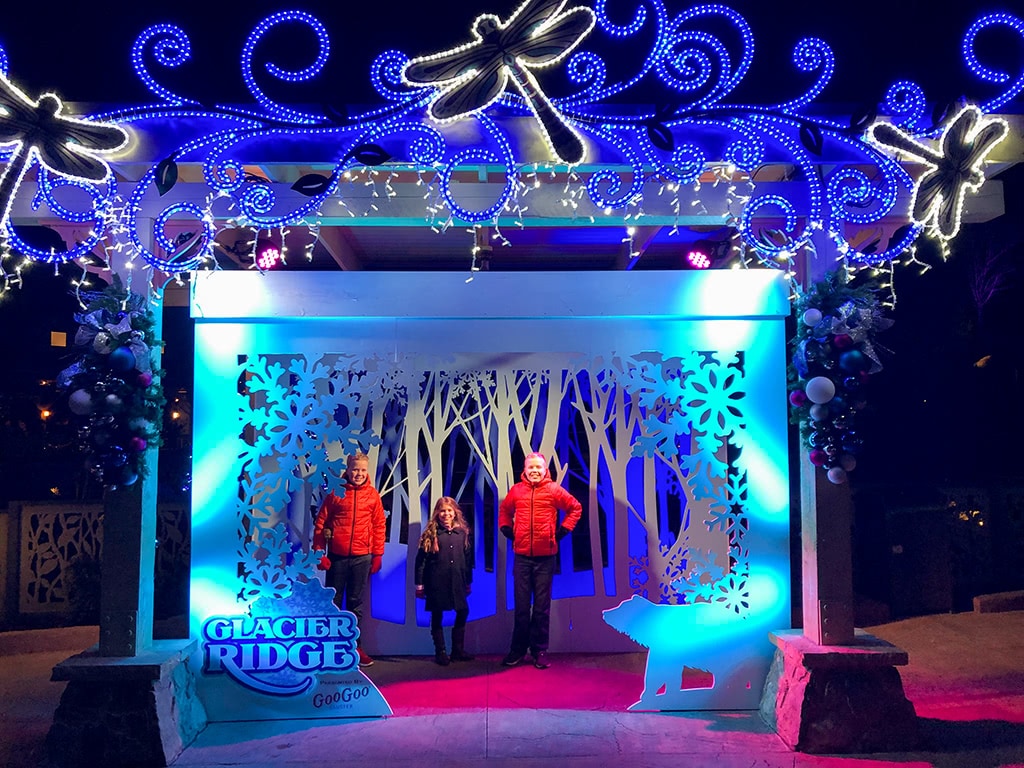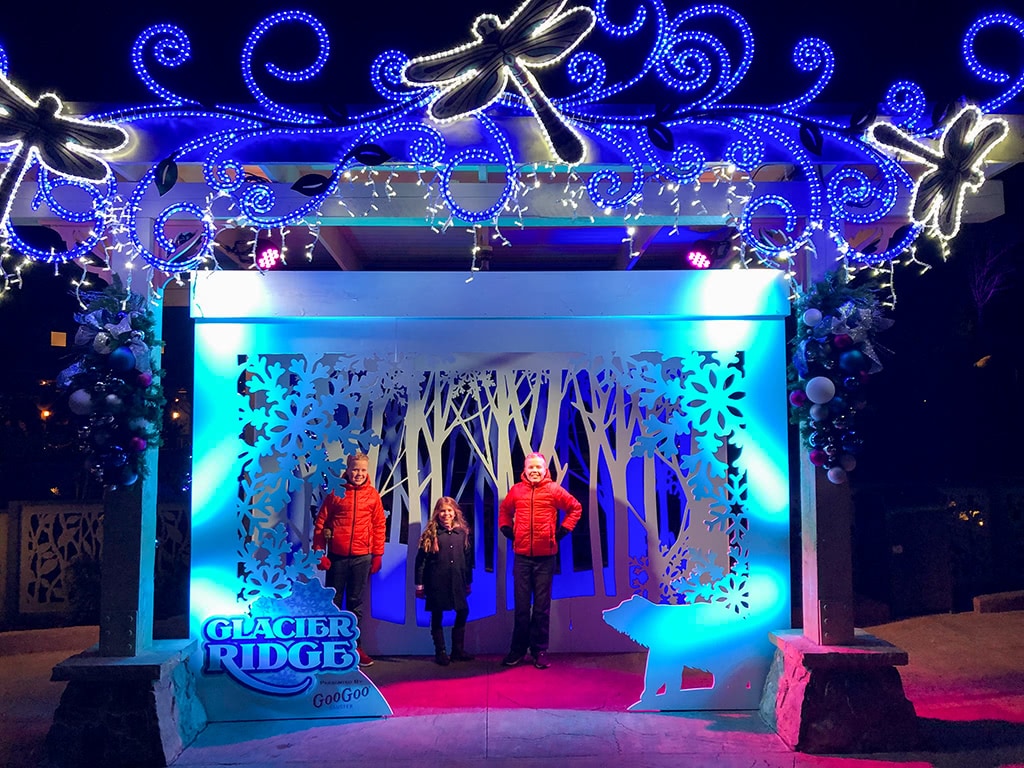 And last but not least, be sure to hang around Wildwood Grove long enough to see the special Christmas themed Wildwood Grove tree come to life!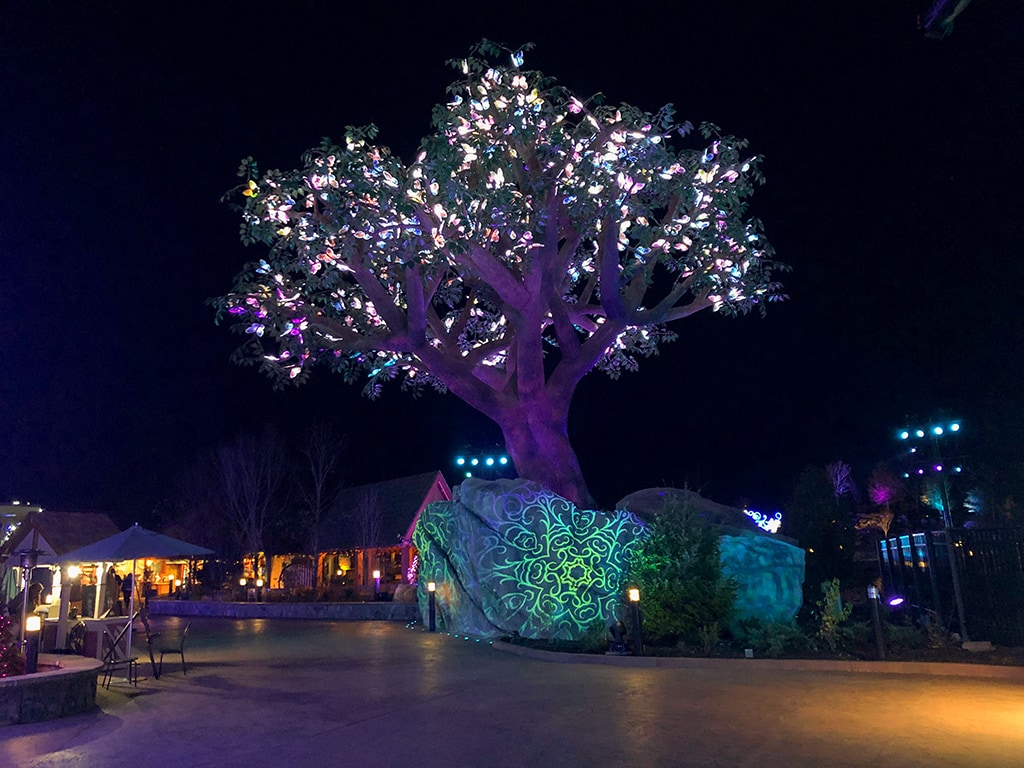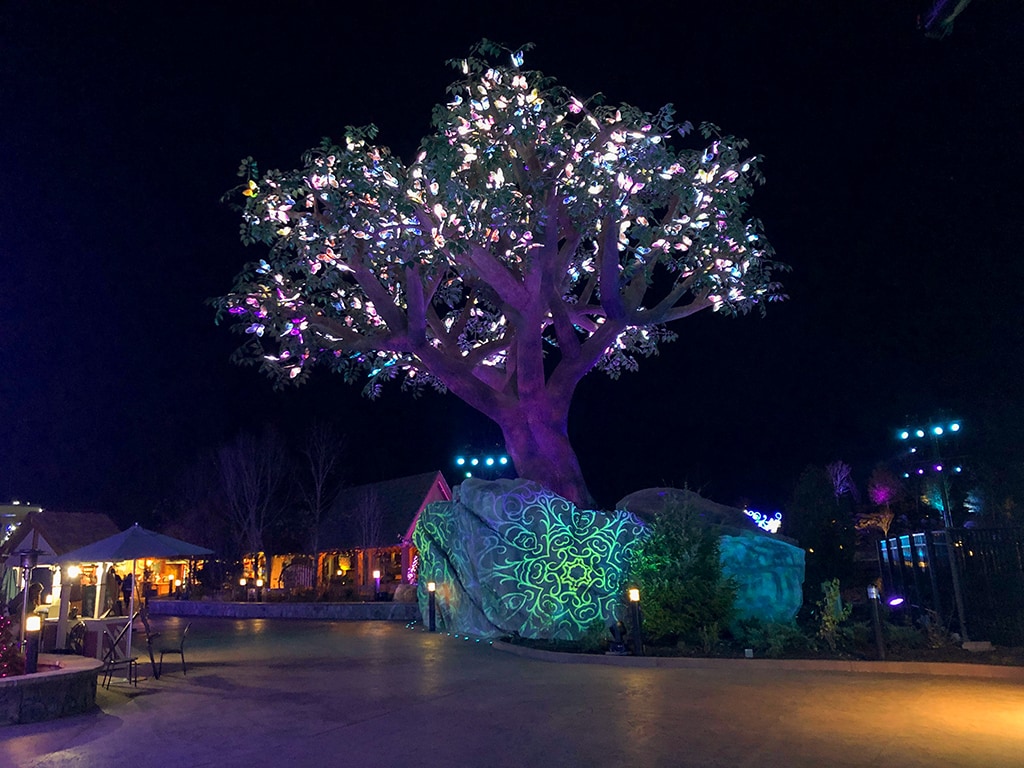 Check out the Unique Dollywood Christmas Decor!
Some of the Christmas decorations scattered throughout Dollywood totally bring back some nostalgic feelings from our childhood.
Vintage Christmas Decor
Over in Jukebox Junction, there is a vintage Snowman and Santa out next to Red's Diner. I'm pretty sure my Mamaw put these exact ones out on her front porch every year.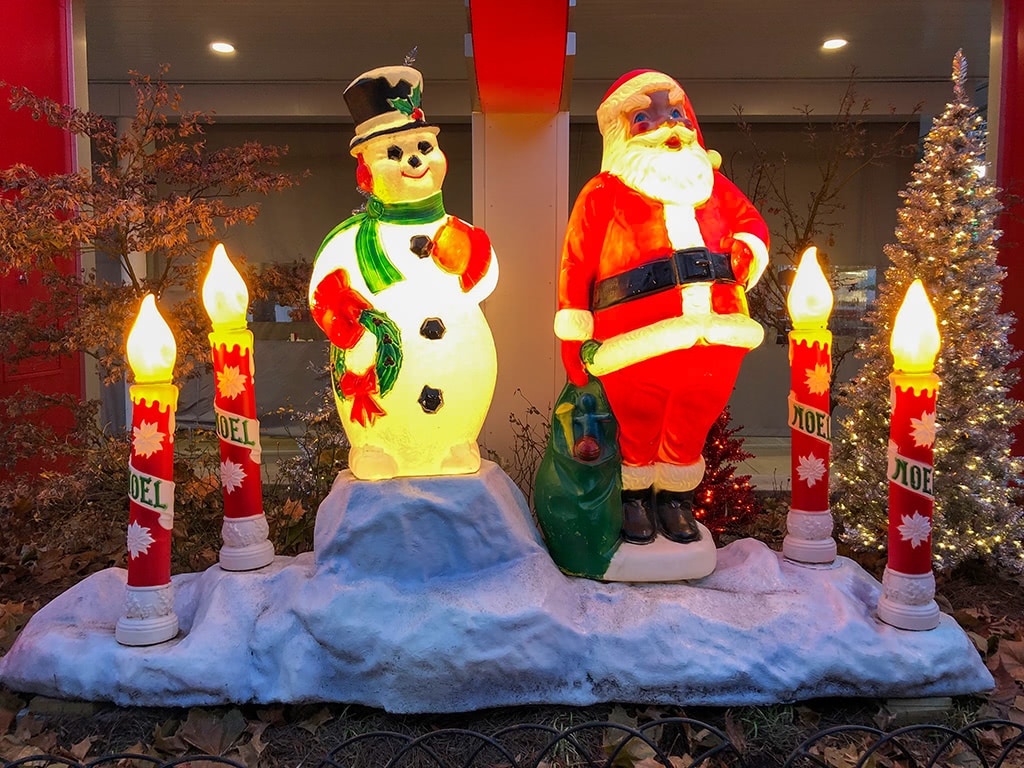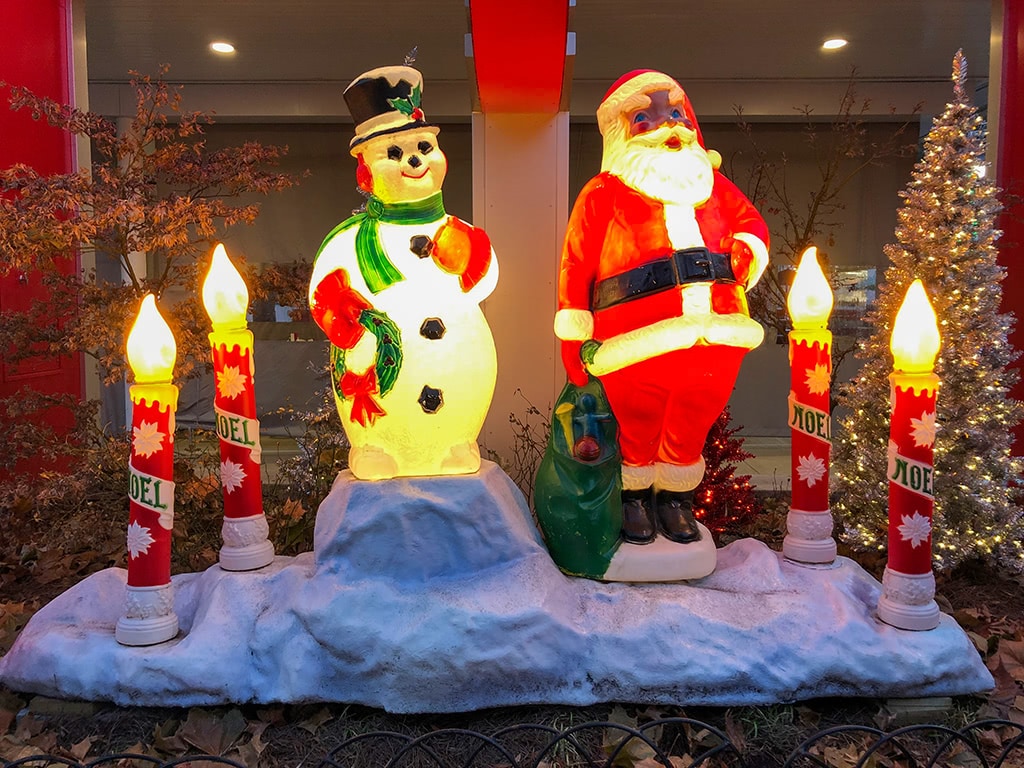 And then on the other side there are some elves busy helping Santa out with some packages!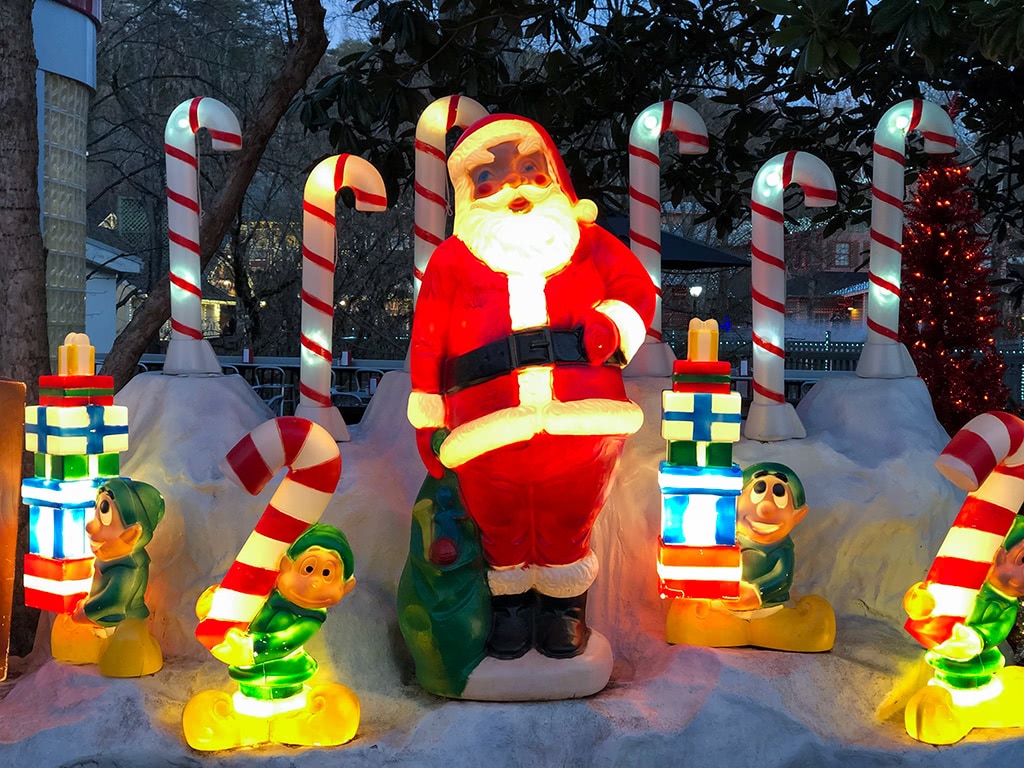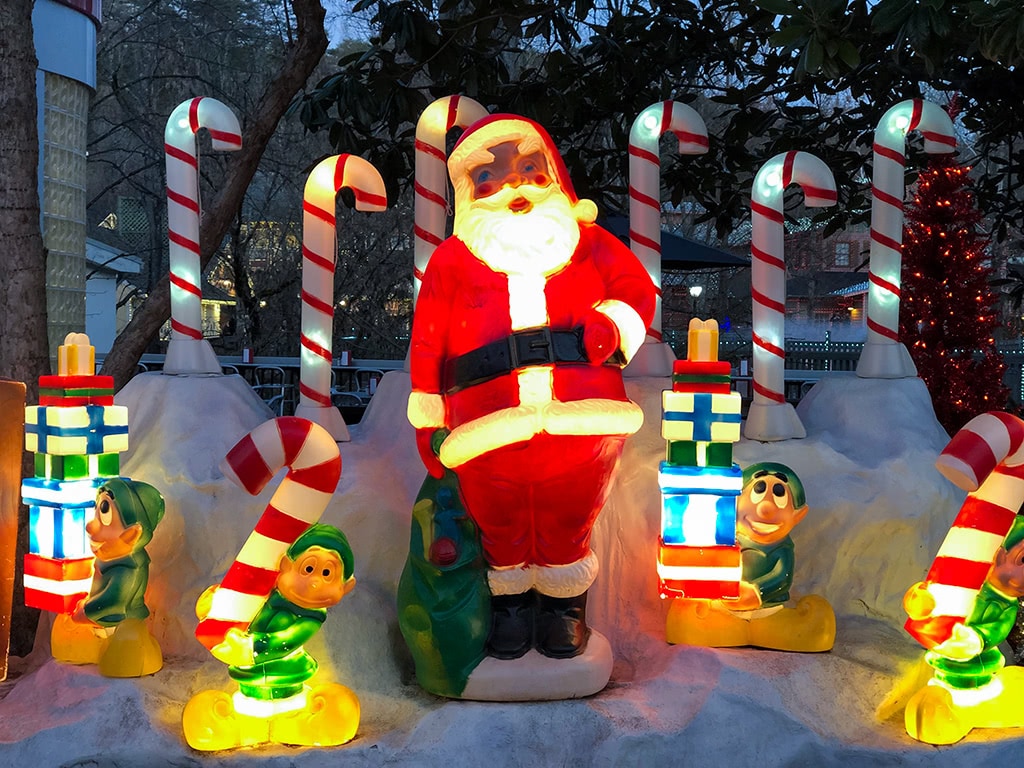 Giant Frosty the Snowman
After we left Jukebox Junction we headed towards Rivertown Junction, and to our surprise, we saw hanging out in the (currently closed) River Rampage…none other than the GIANT Frosty the Snowman himself!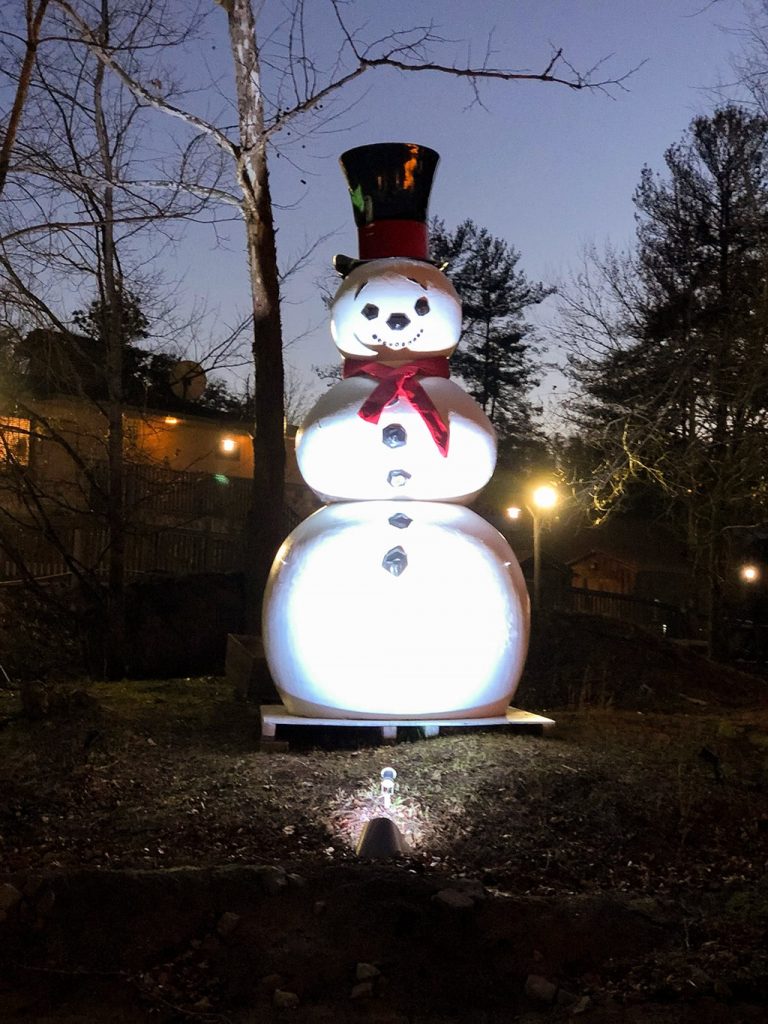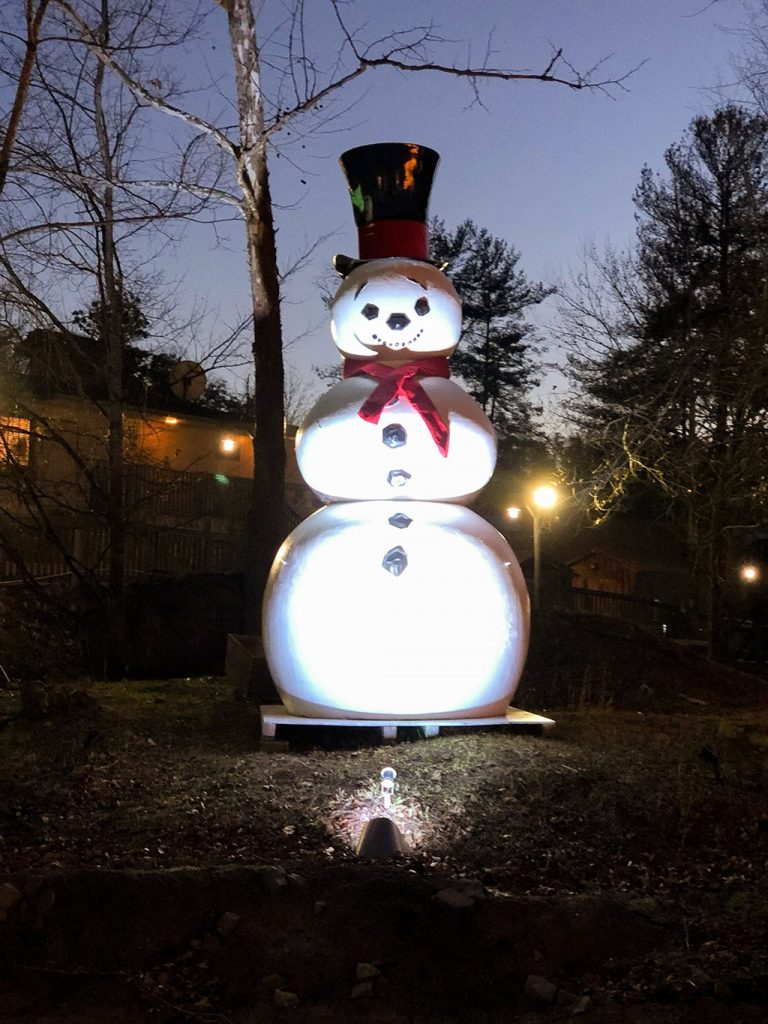 There are definitely plenty of unique Christmas decorations scattered throughout the park, so be sure to take time to enjoy all of the little details along the way!
Enjoy Dollywood Christmas Activities for Kids of ALL Ages!
Holly Jolly Junction
One of the best family activities you can do at Dollywood for Christmas is visit Holly Jolly Junction over near Craftsman's Valley.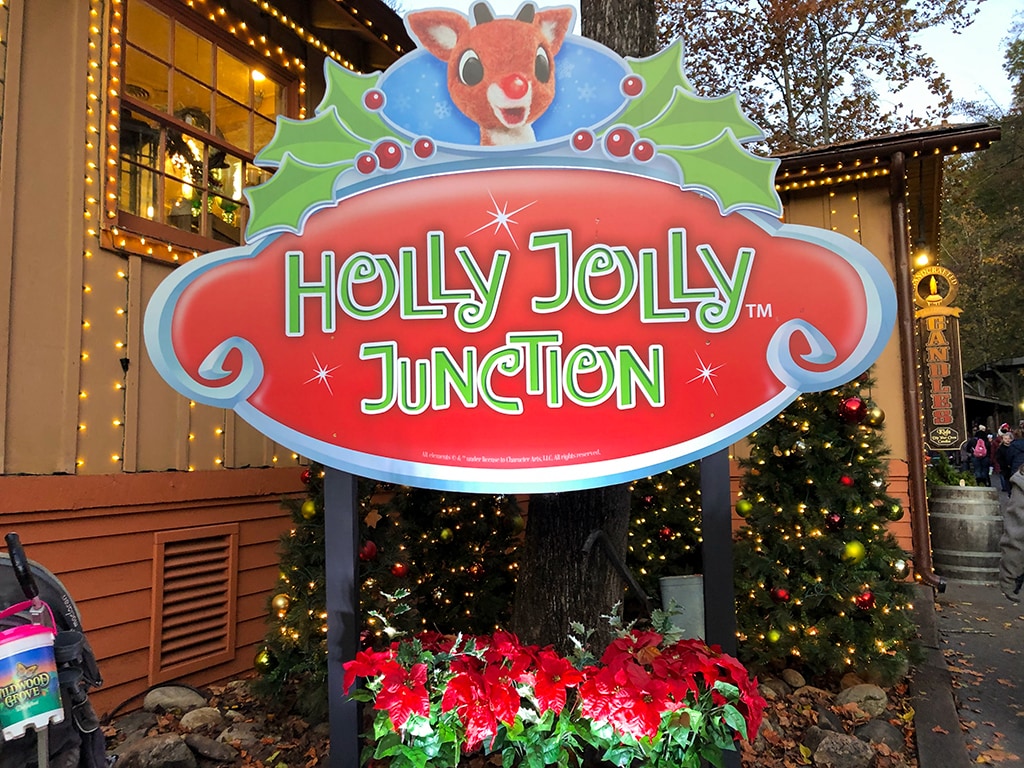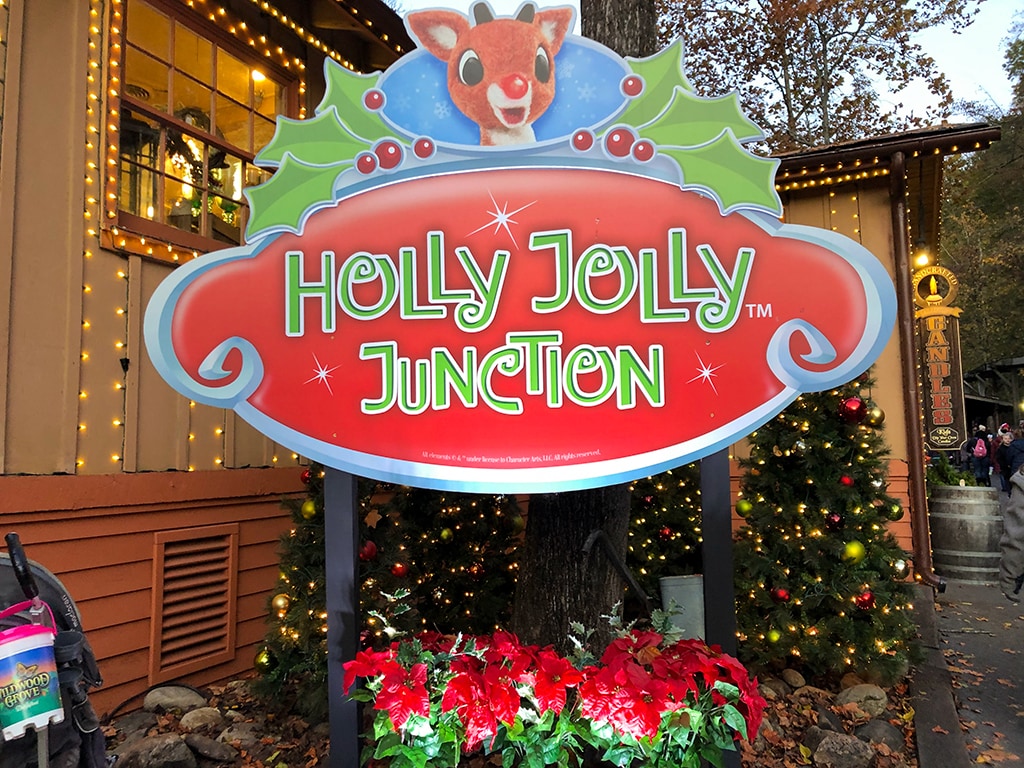 Characters from "Rudolph the Red-Nosed Reindeer"
Holly Jolly Junction is home to some of the characters from the classic "Rudolph the Red-Nosed Reindeer" movie and you can even have your pictures taken with them!
The characters switch out from time to time so be sure to stop by at different times if you want to see a certain character. You just never know who is going to be there!
Here is a list of the characters that you may get to meet!
Rudolph
Clarice
Bumble, The Abominable Snow Monster (did you know that was his name?!?)
Yukon Cornelius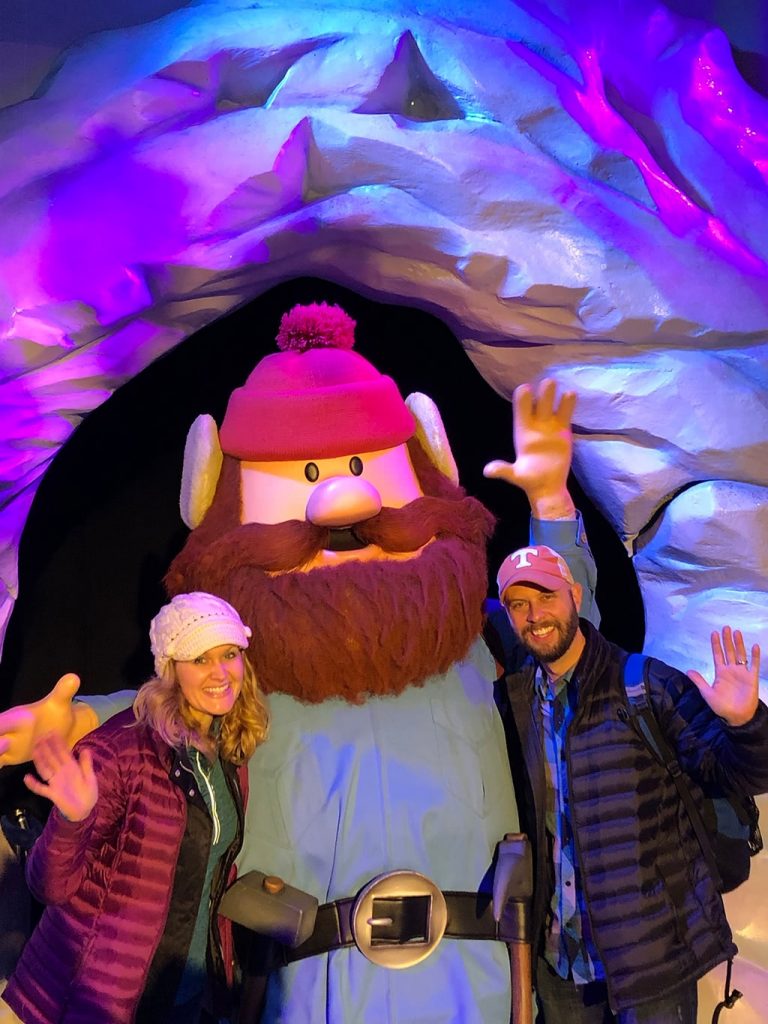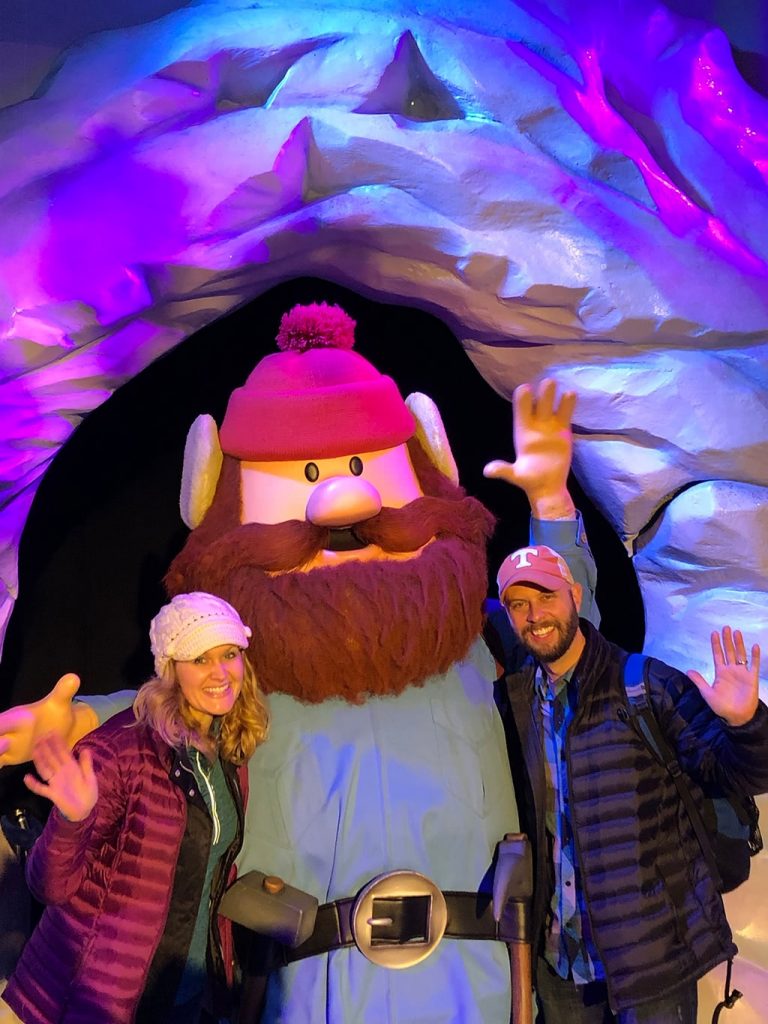 Cookie Decorating
In 2019 there was a fun new addition for cookie decorating at a station called "Clarice's Cookies!" The price is $3.00 for 1 cookie or $5.00 for 2.
Just look how fun it looks! Choose your cookie, choose your icing and choose your toppings!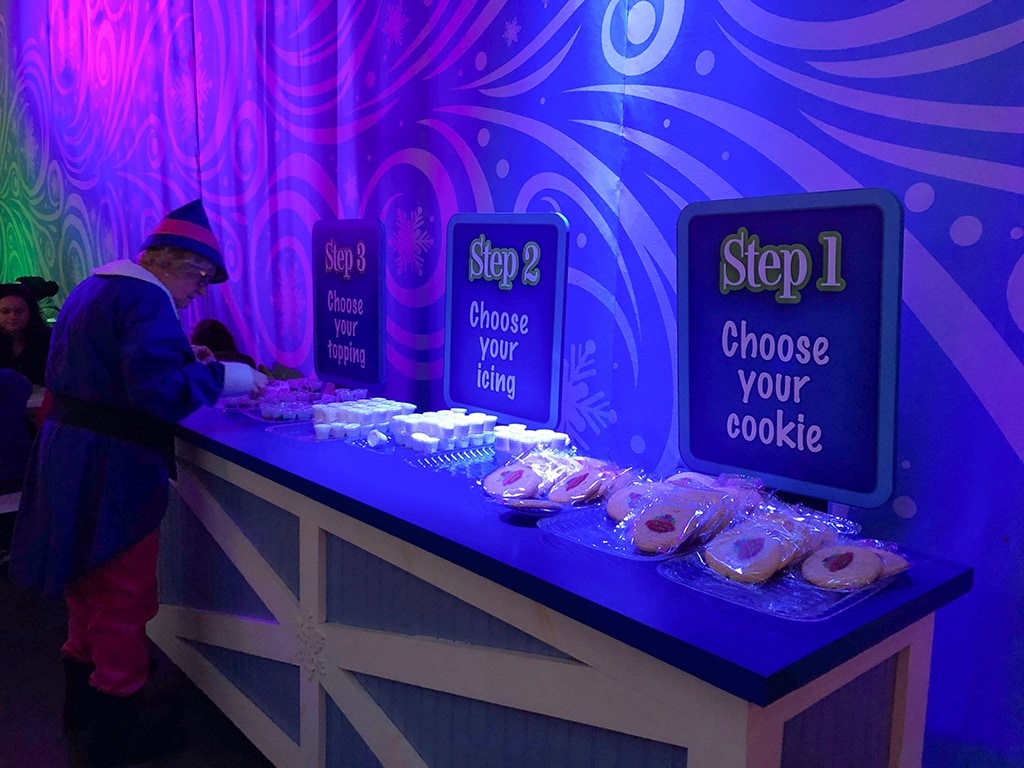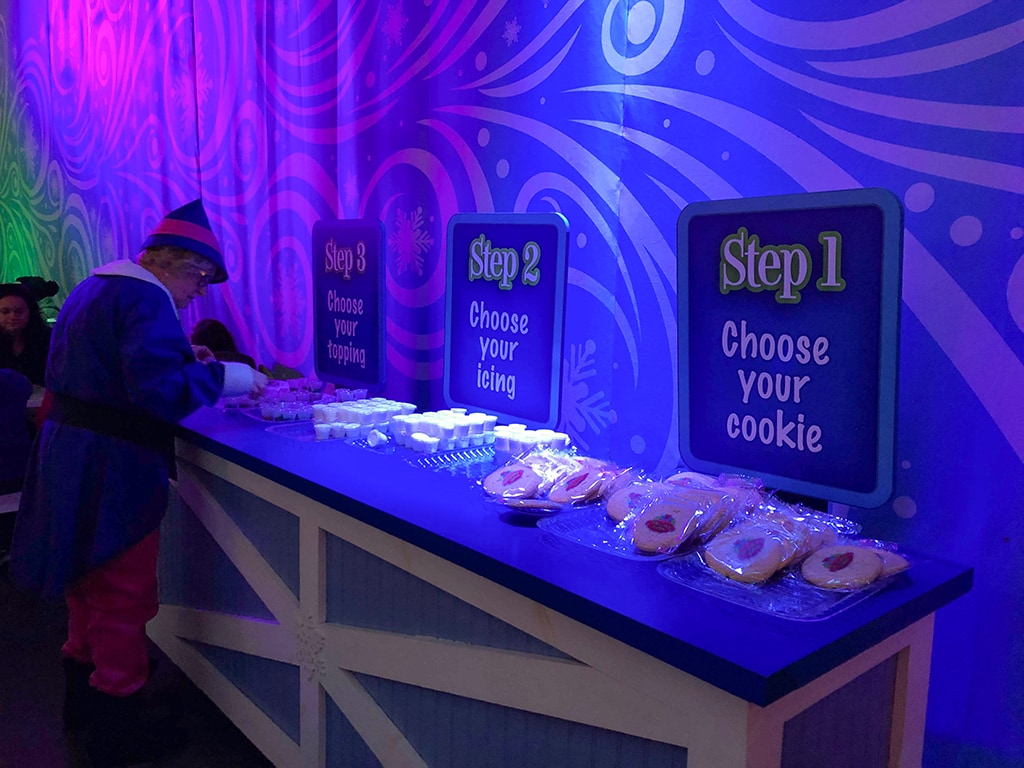 More Fun and Games!
They also have some Christmas kiddy games* setup to let your kiddos play. It's also a great place to warm up when it gets pretty chilly out! (*Note- they do cost extra!)
Santa Land in the Country Fair
If you are looking for more kid-friendly fun, head on over to the Country Fair where you will find "Santa Land" in Celebration Hall!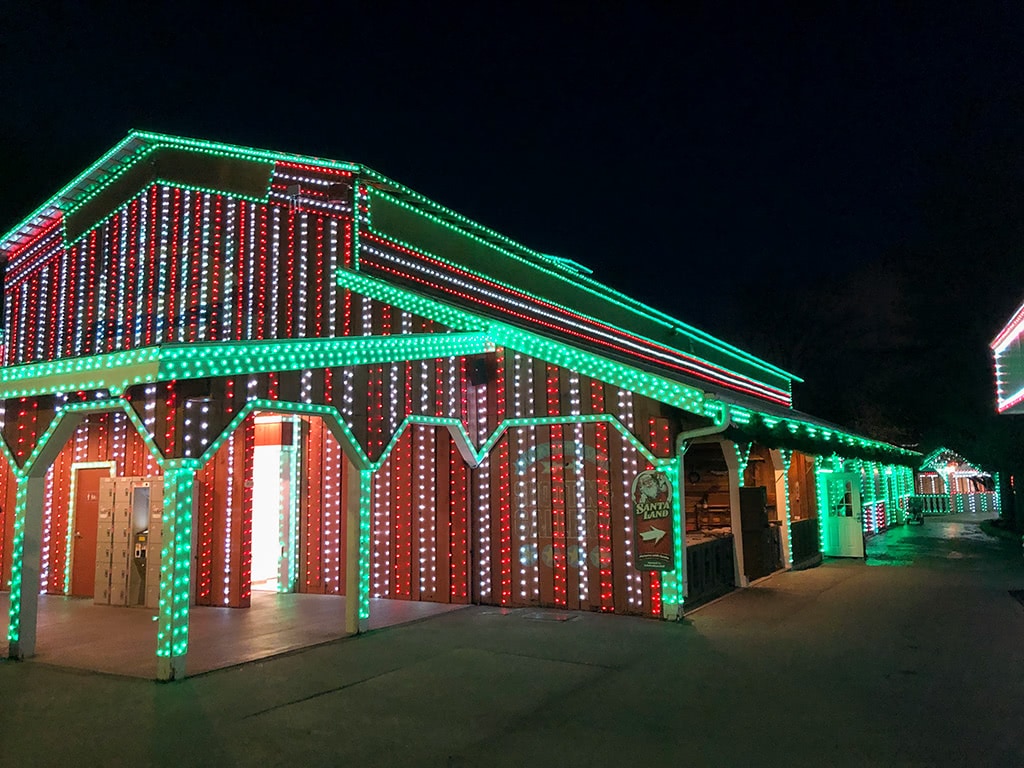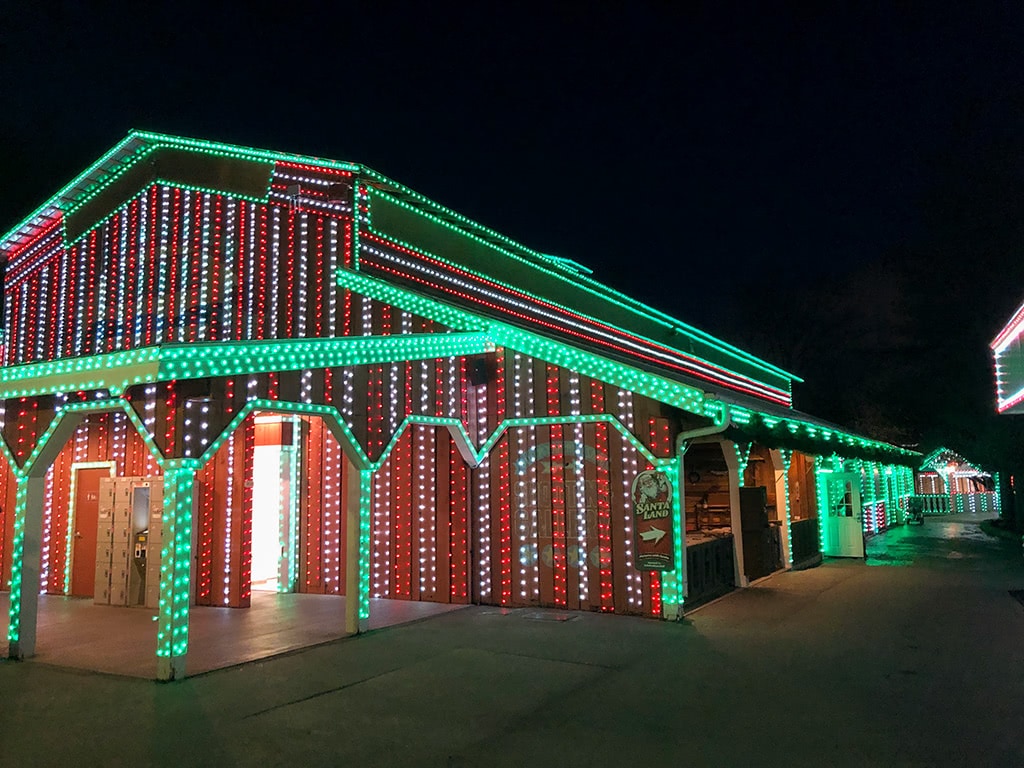 Here you can check out some of the fun decorations, get a picture of your family riding in a sleigh and even visit with the big guy himself, Ol' Saint Nick!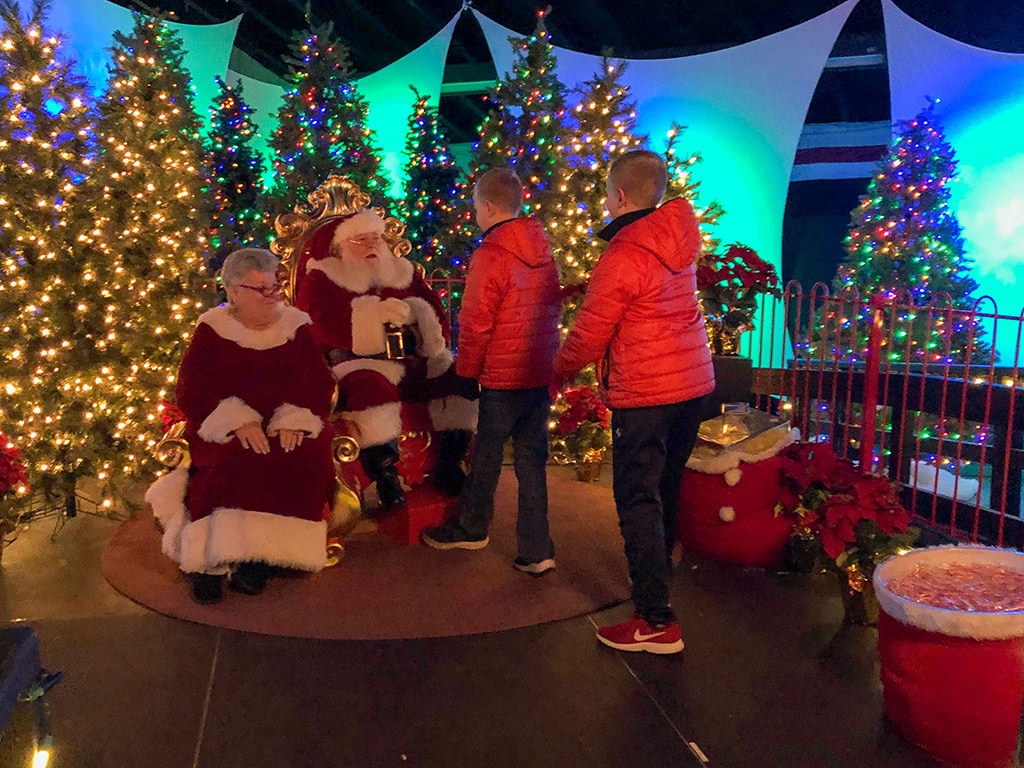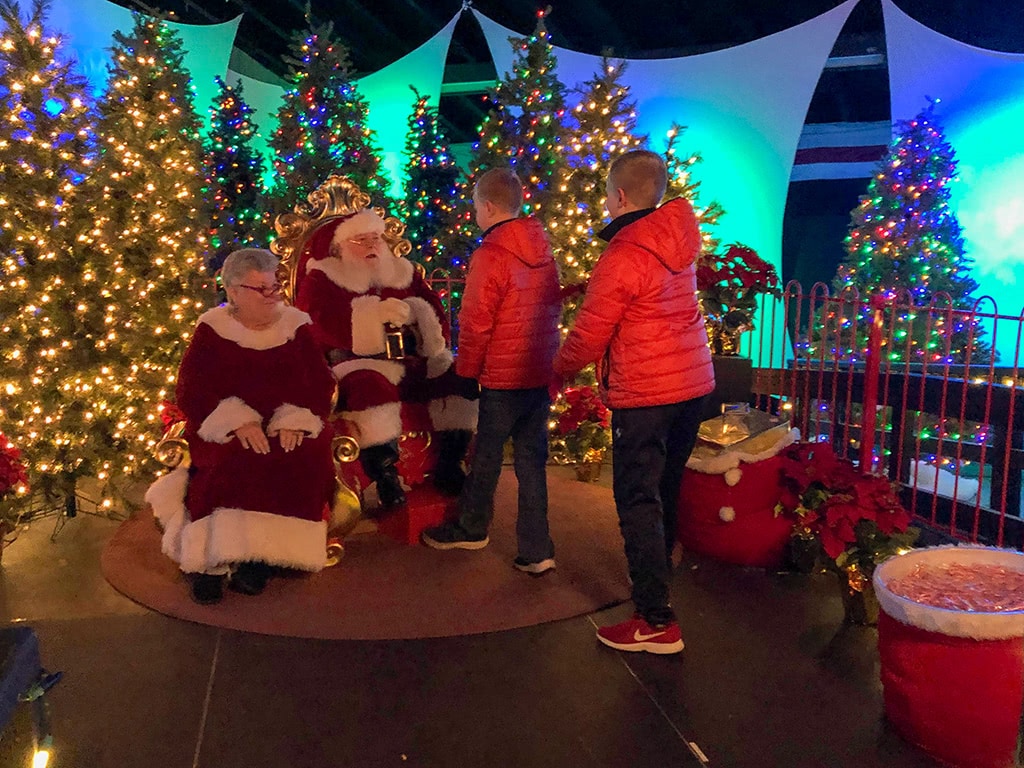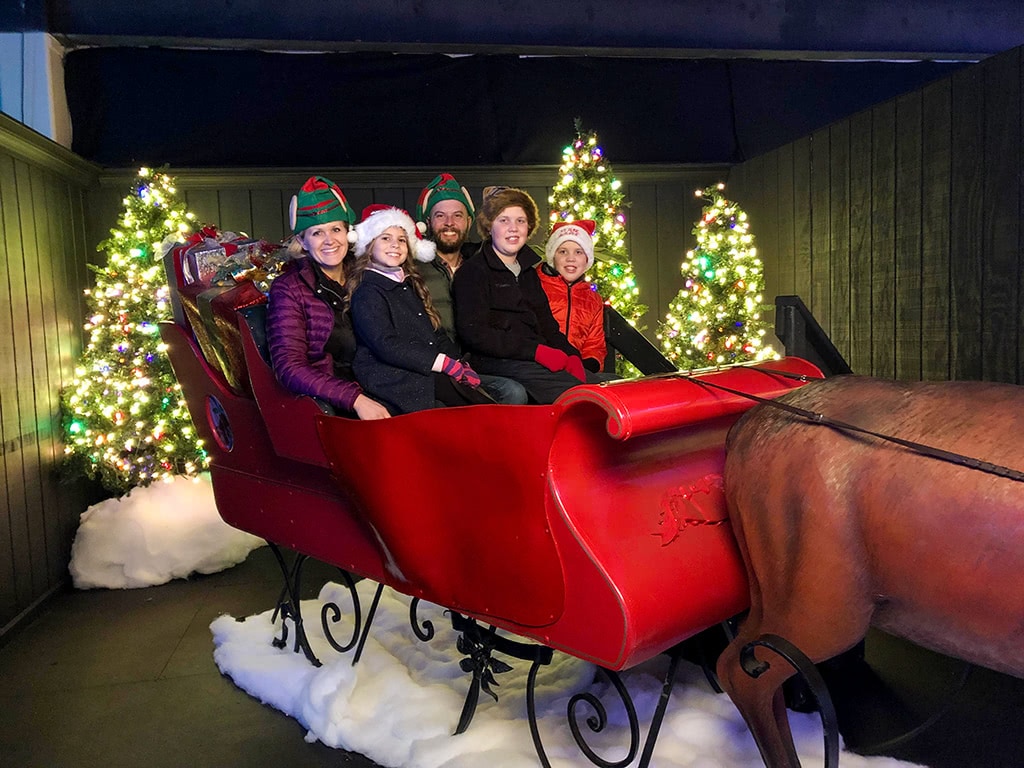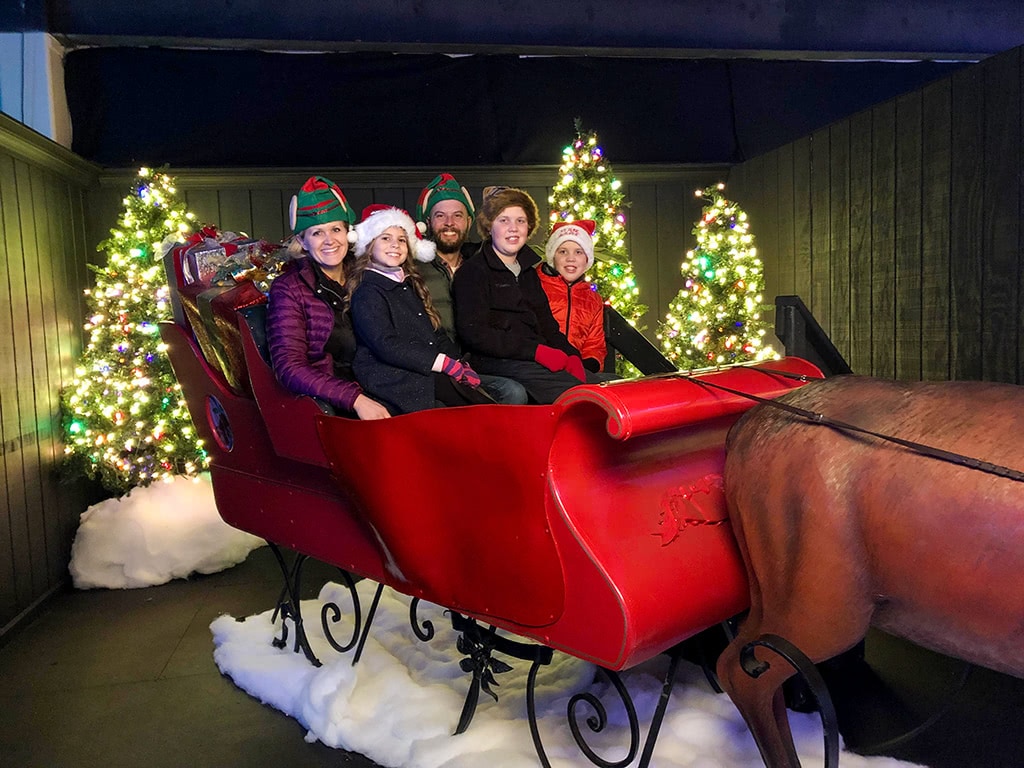 Make Time for an Award Winning Dollywood Christmas Show!
Christmas in the Smokies Show
We always make an effort to see one of our favorite shows at Dollywood, "Christmas in the Smokies!"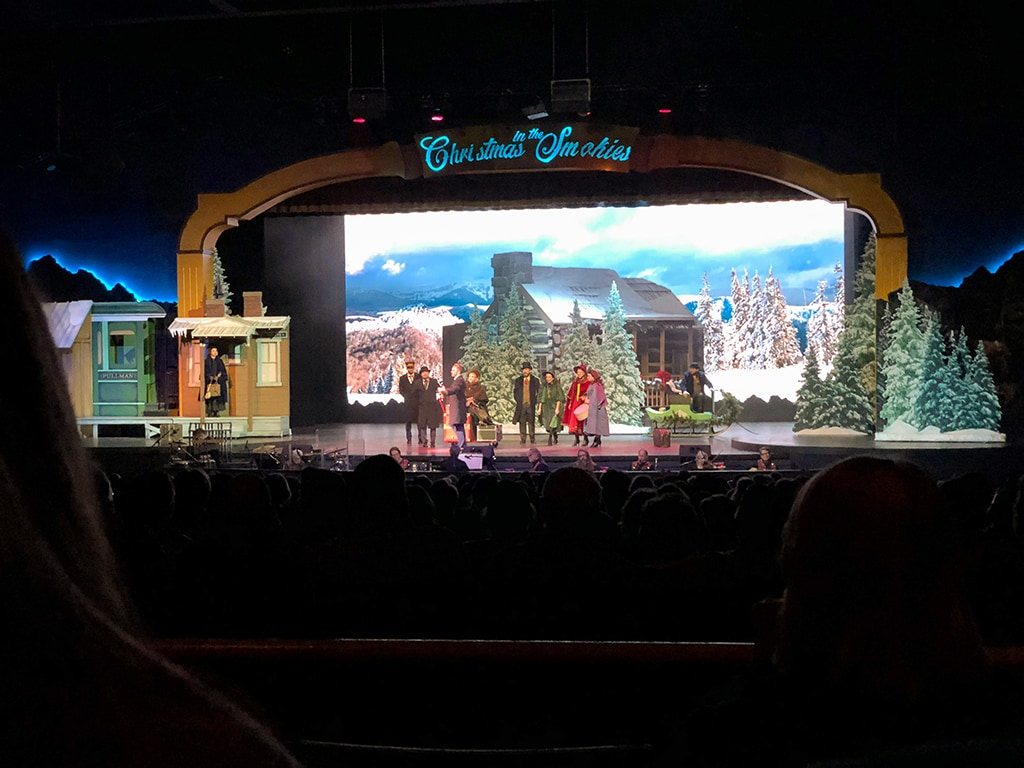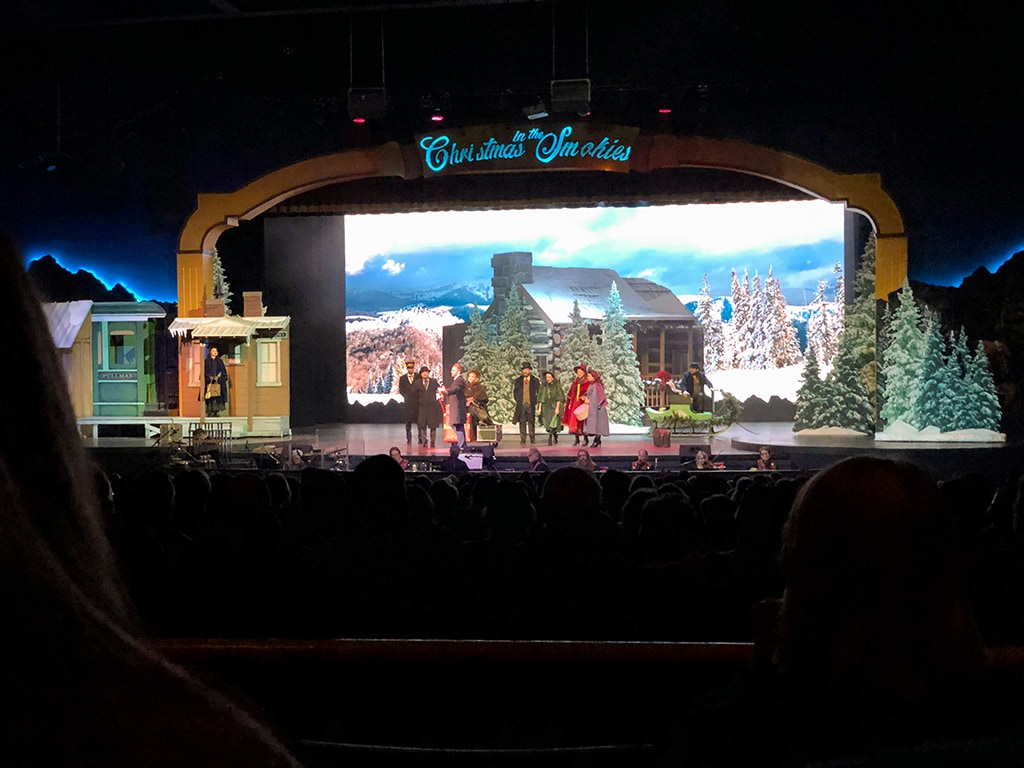 Matt and I also like to secretly go home and practice some of the dance moves. One day you might see us in a Dollywood production. (Life goals.)
O' Holy Night Show
Another excellent show is the O' Holy Night Show at the Valley Theater. This performance is a great reminder of what Christmas is truly about.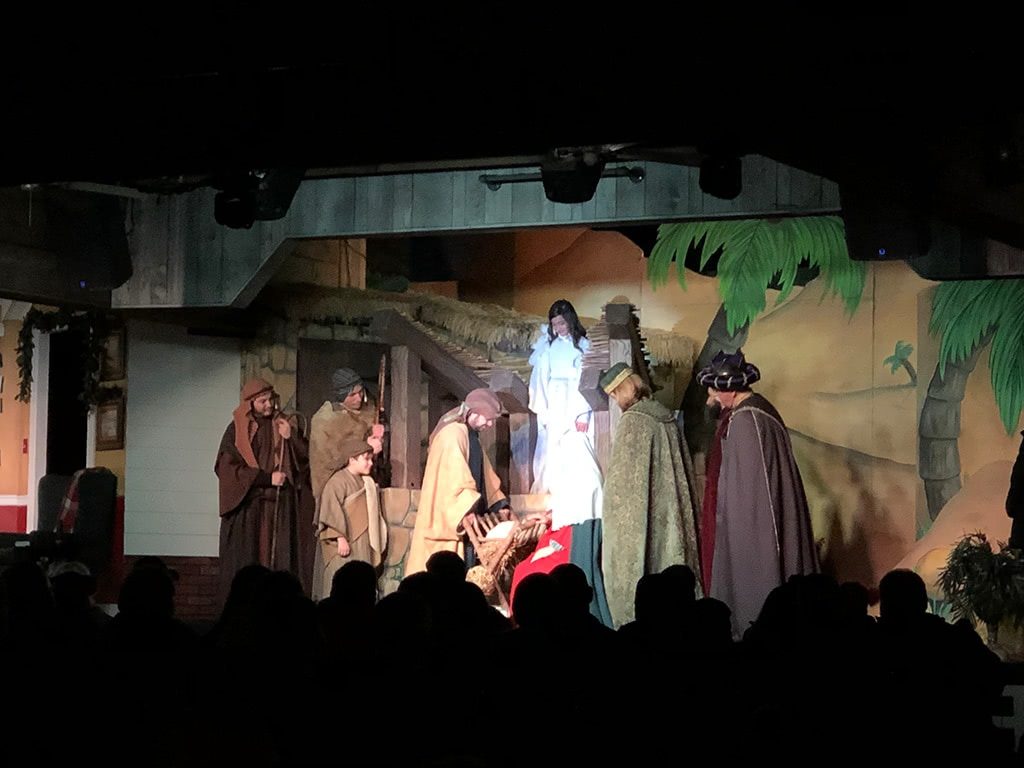 Other Shows
Be sure to check the show schedule for all of the other shows as well! There are plenty to tickle anyone's fancy!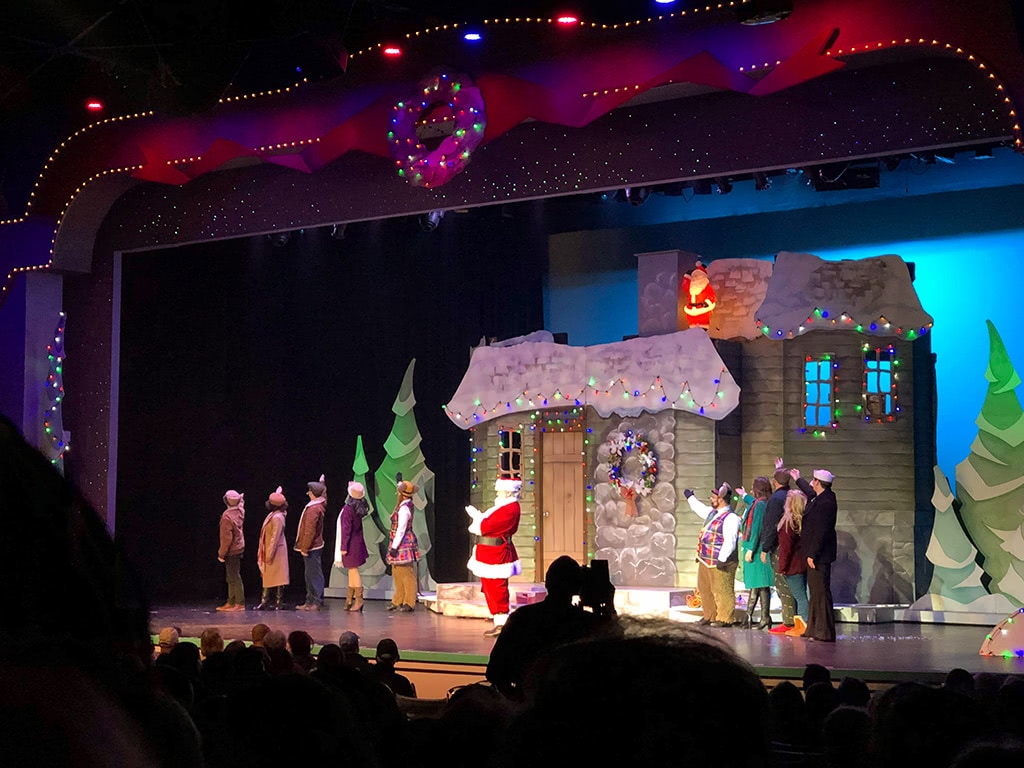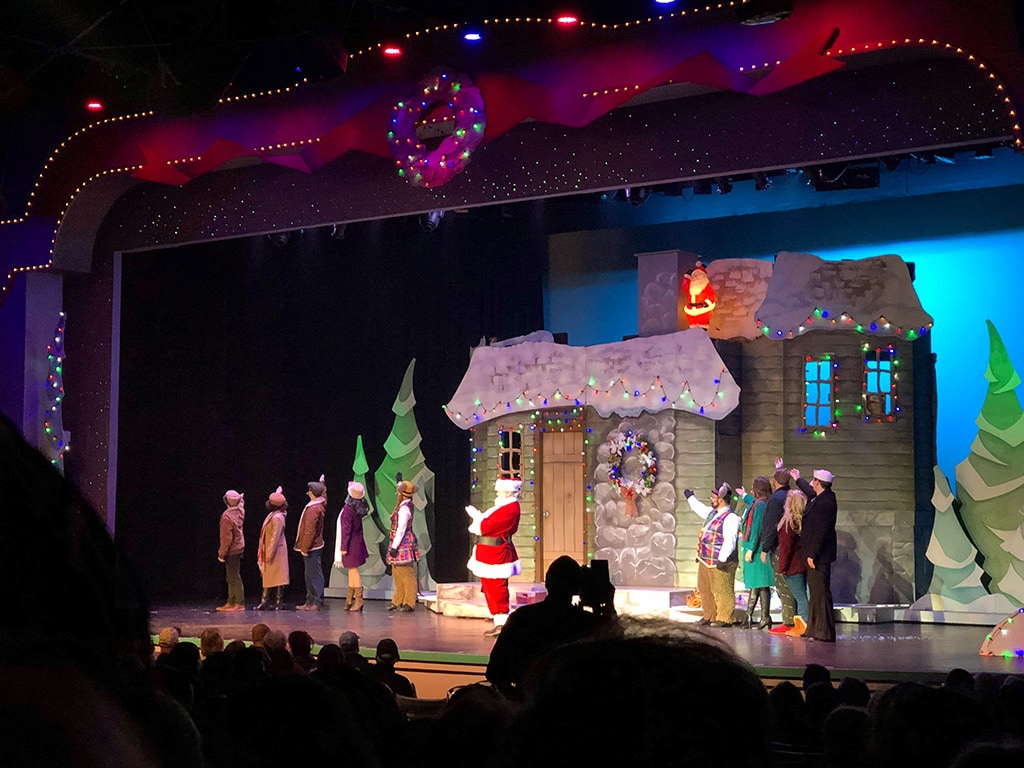 Here are a few more Christmas shows if you have time!
'Twas the Night Before Christmas
It's a Wonderful Life
Appalachian Christmas
Enjoy ALL of the Dollywood Christmas Lights!
If you came to Dollywood to see Christmas lights, you definitely will not be disappointed! With millions of lights all throughout the park, there will be plenty to see for sure! Once the sun starts setting, the park really starts lighting up!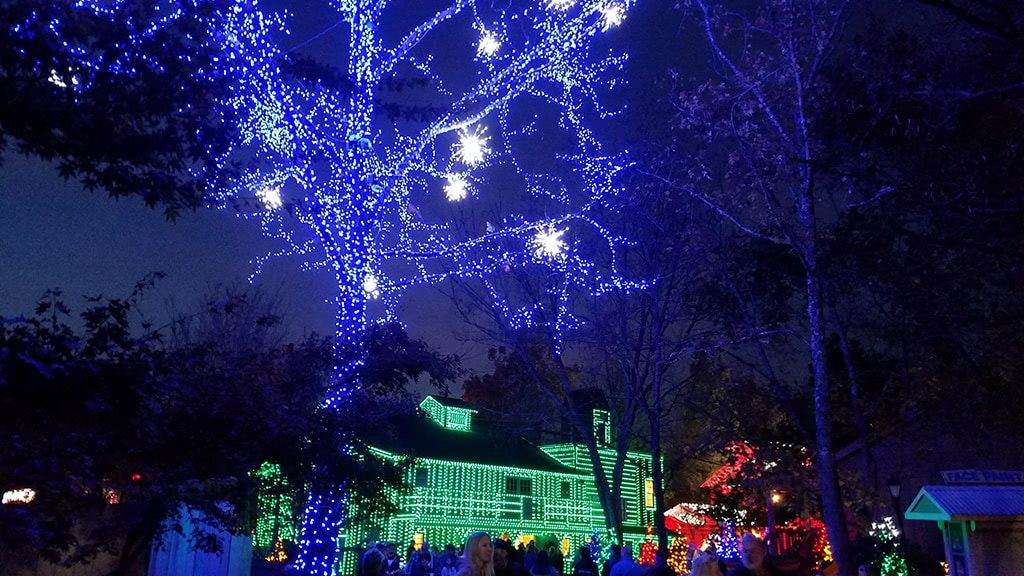 Christmas Lights in Glacier Ridge
Walking through Glacier Ridge is one of our favorite things! We usually start at the entrance in Craftsman's Valley and work our way around to the entrance of the park.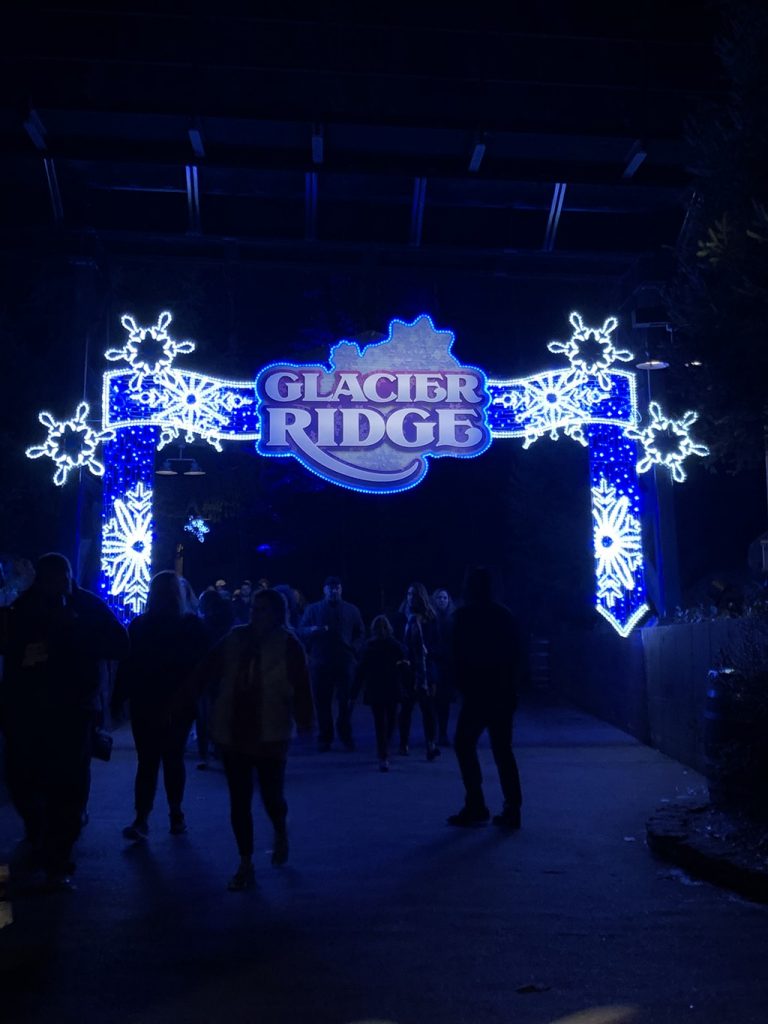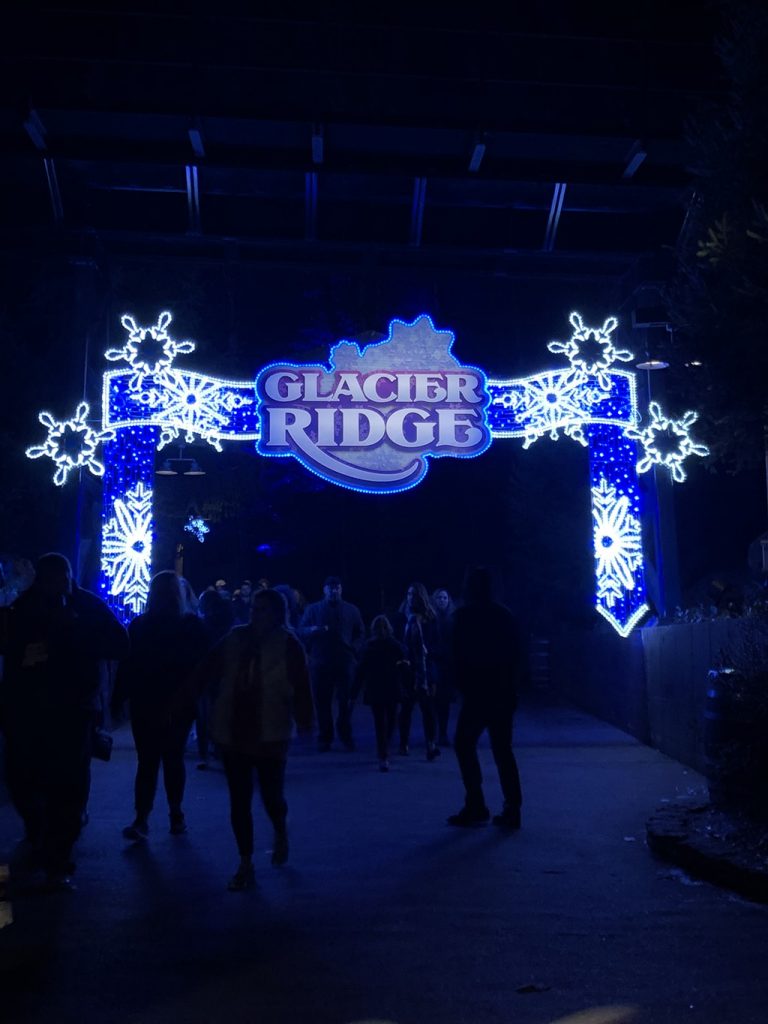 As you make your way past the Blazing Fury roller coaster, there is a magical wonderland of lights falling from the sky all set to whimsical music.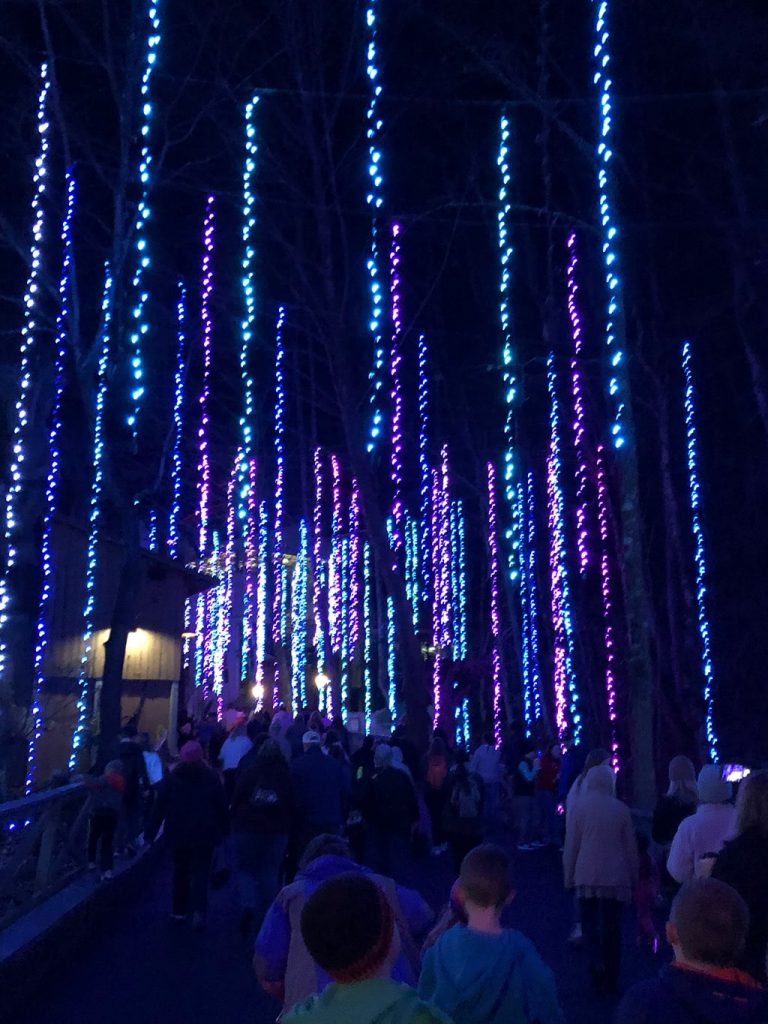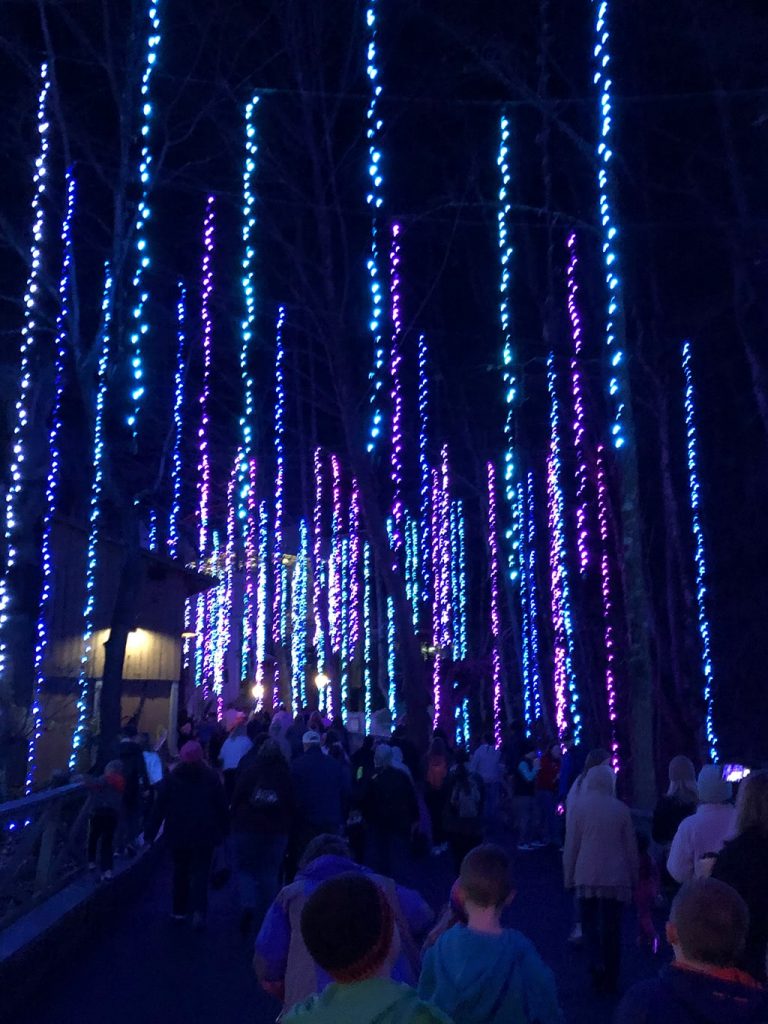 It will definitely make you feel like you are in a wintery wonderland!
"Wonderful Christmas" Light Show in Wilderness Pass
After you loop on around, past the Wild Eagle and the Fire Chaser, there is a giant Christmas tree at "The Plaza at Wilderness Pass" that comes to life with music and lights!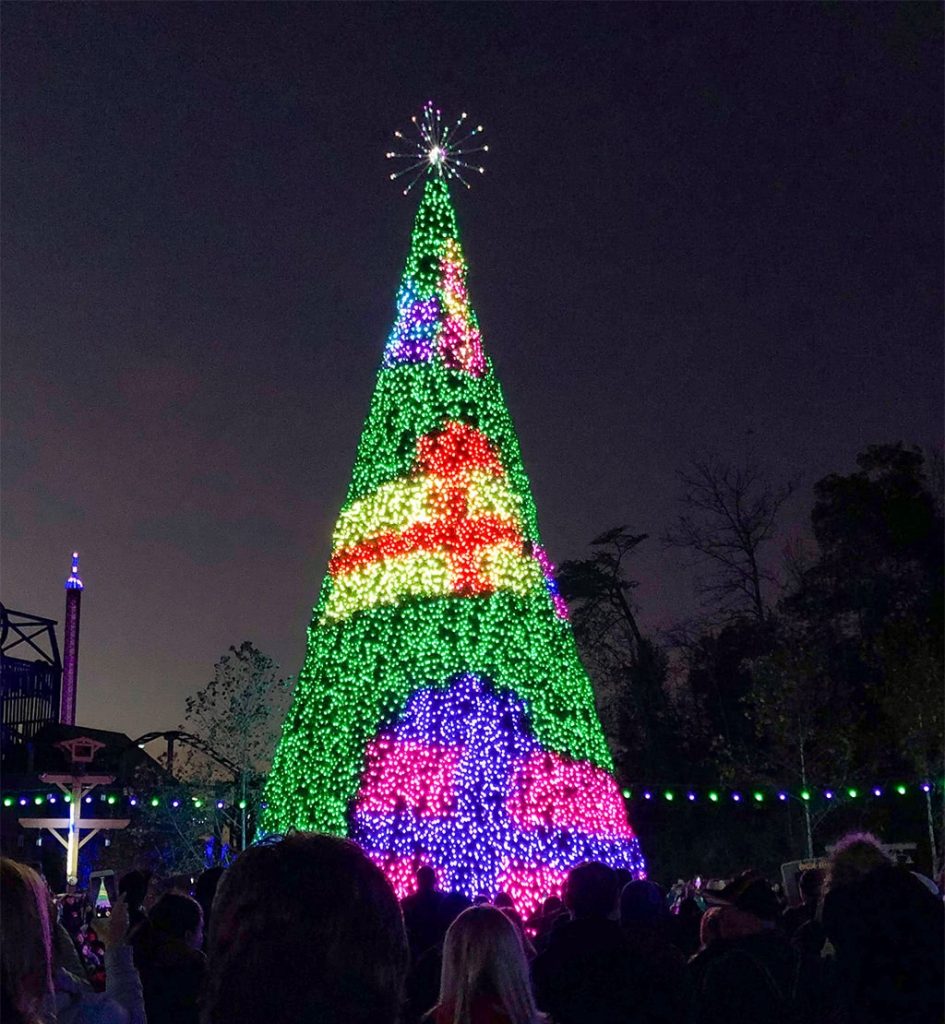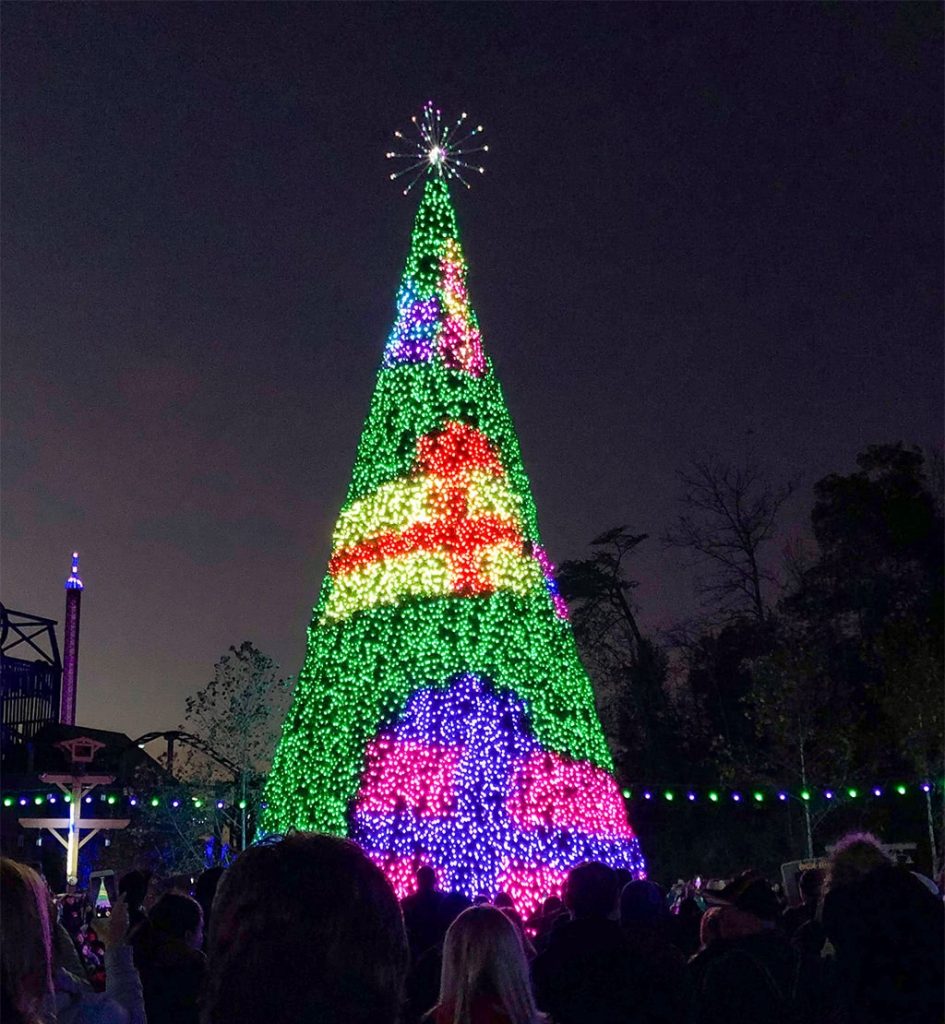 Be sure to check the Dollywood App or pick up a show schedule for the Christmas tree show times!
It is a short show, but tells a really sweet story displayed on the 50 foot Christmas tree with images that the lights bring to life! You will definitely want to make an effort to see it!
Christmas Lights in Timber Canyon
After you go through Wilderness Pass, you will begin entering the Timber Canyon area where you will find some pretty lights on the bridges of Mystery Mine.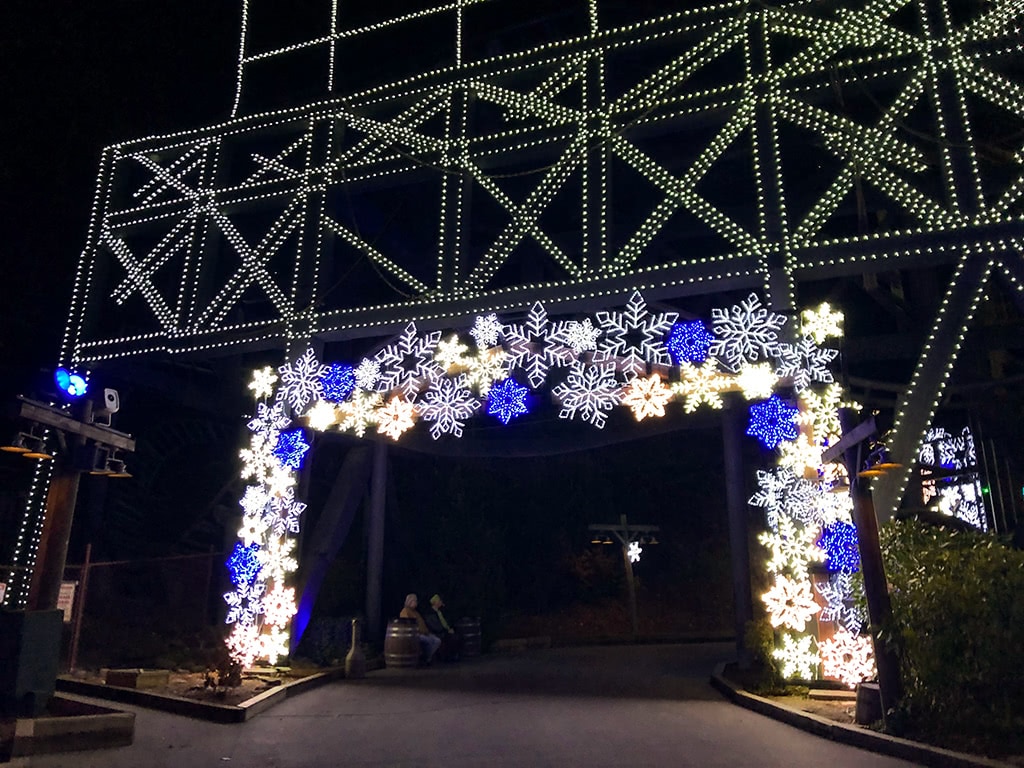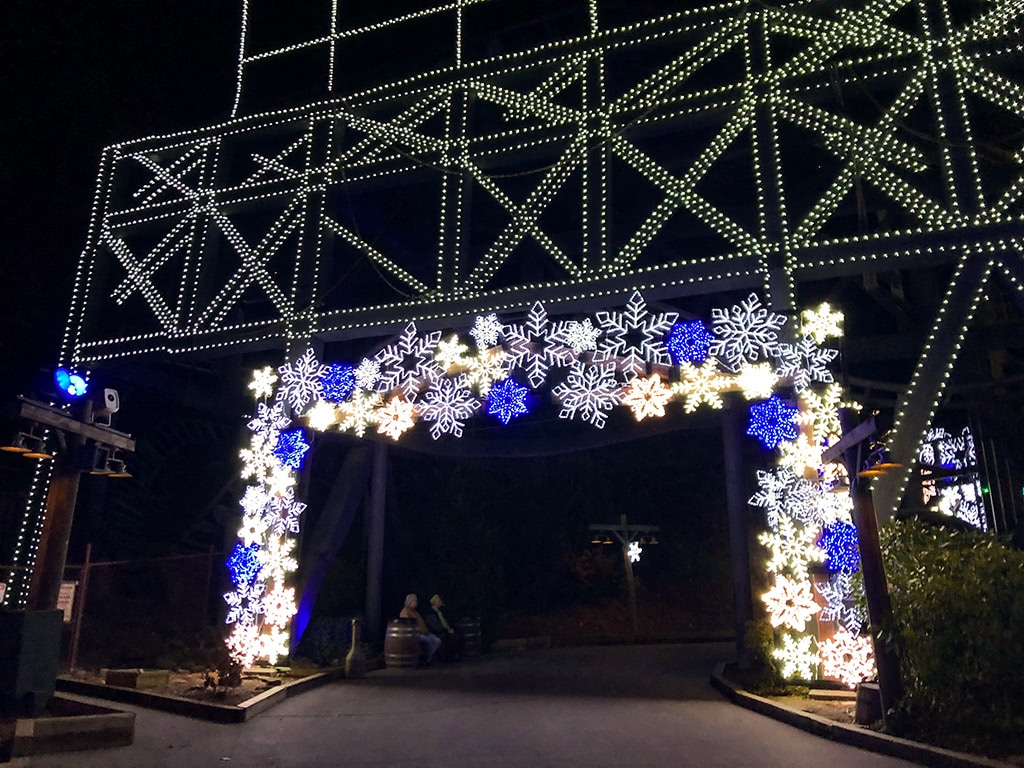 Once you pass the last few roller coasters, you start making your way back to the entrance of the park.
(Of course you will want to make a little detour to Wildwood Grove at this point if you haven't already!)
There is a really beautiful entrance to Glacier Ridge here as well as a long tunnel of lights as you are exiting Timber Canyon called "Arctic Passage." It's pretty magical!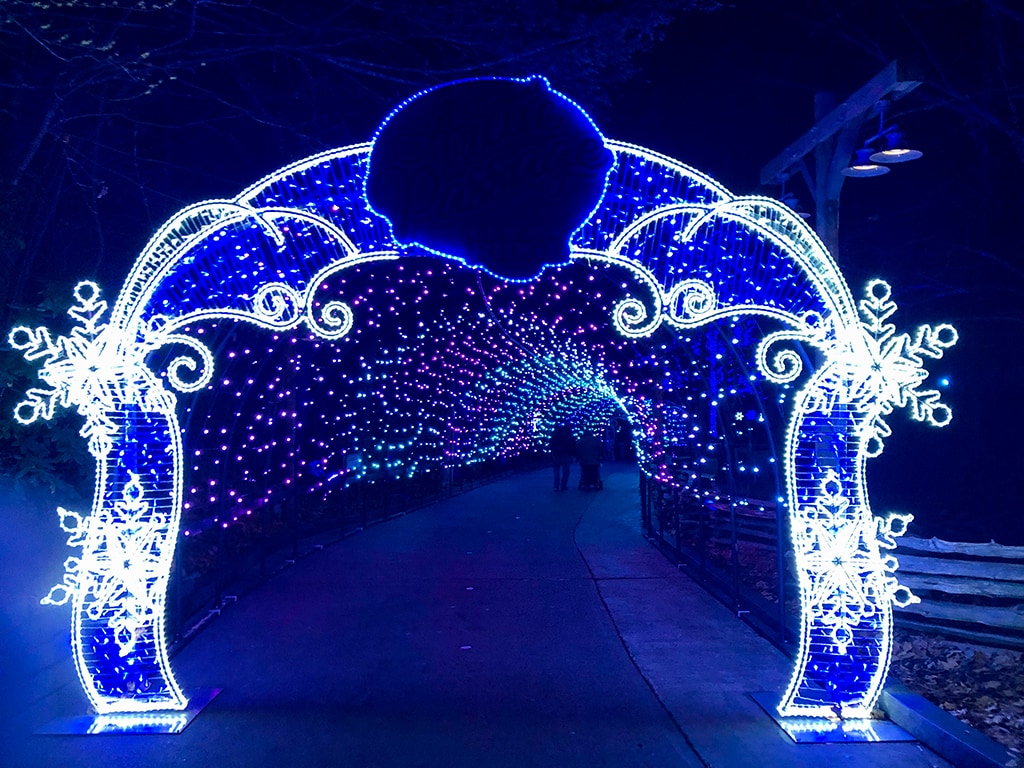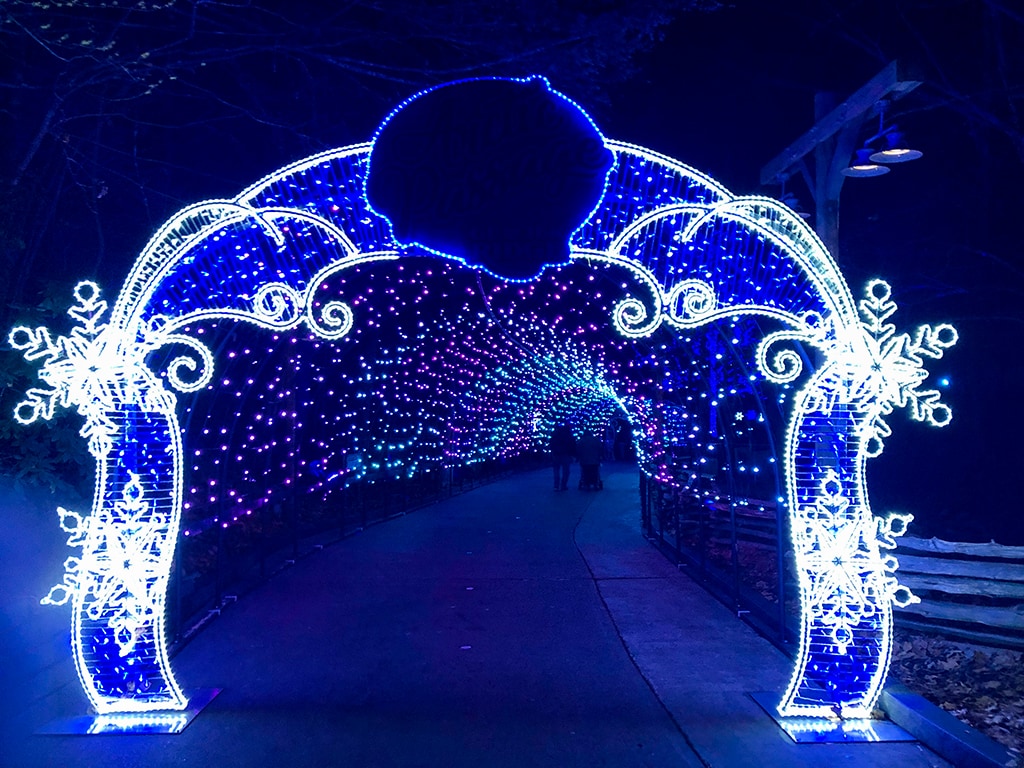 See the Dollywood Christmas Parade!
To top off your Dollywood Christmas, you should definitely plan to check out the "Parade of Many Colors!"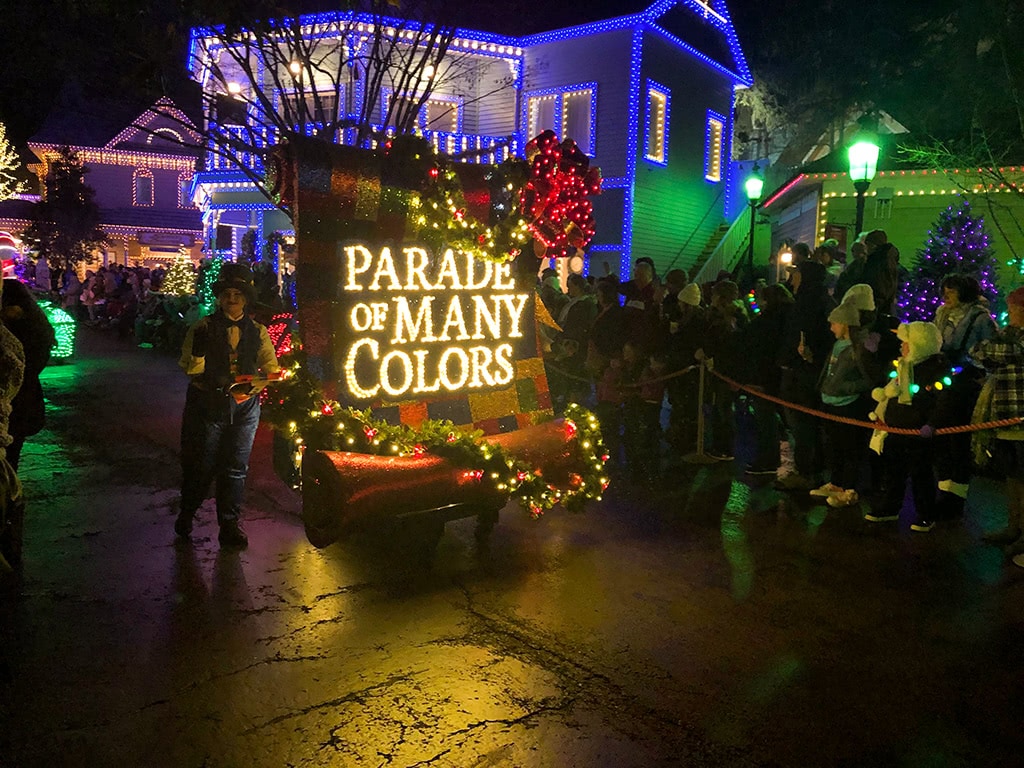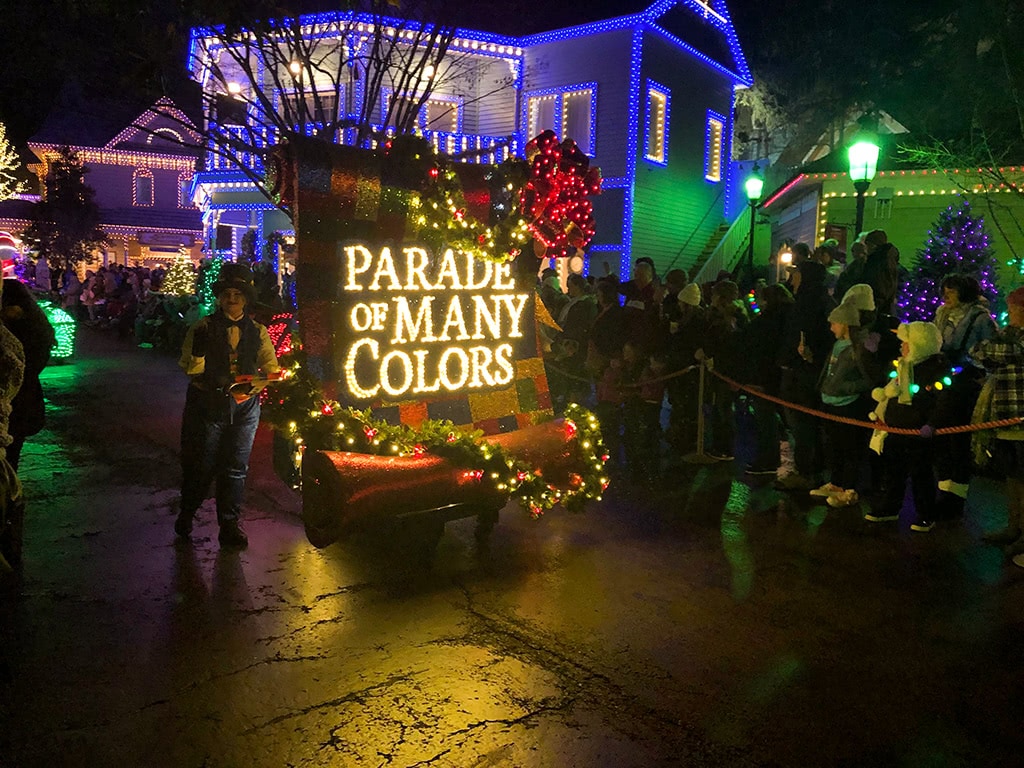 From all of the fun floats and Christmas-y music, to the giant elves and walking candy canes, it is sure to get you in the holiday spirit!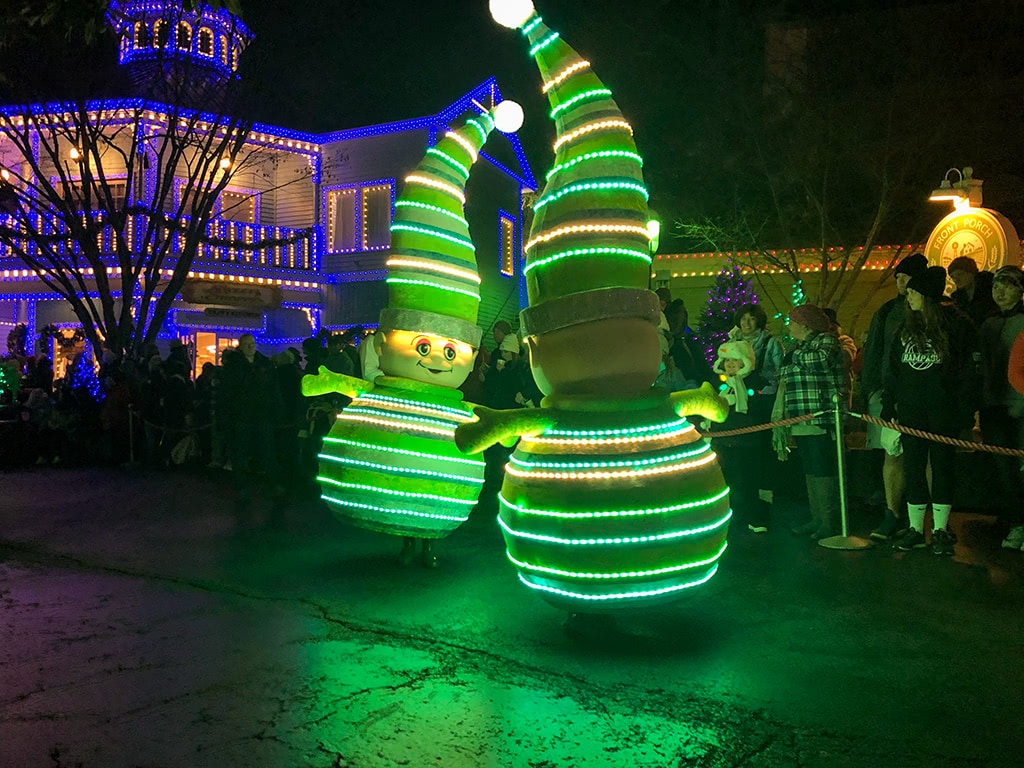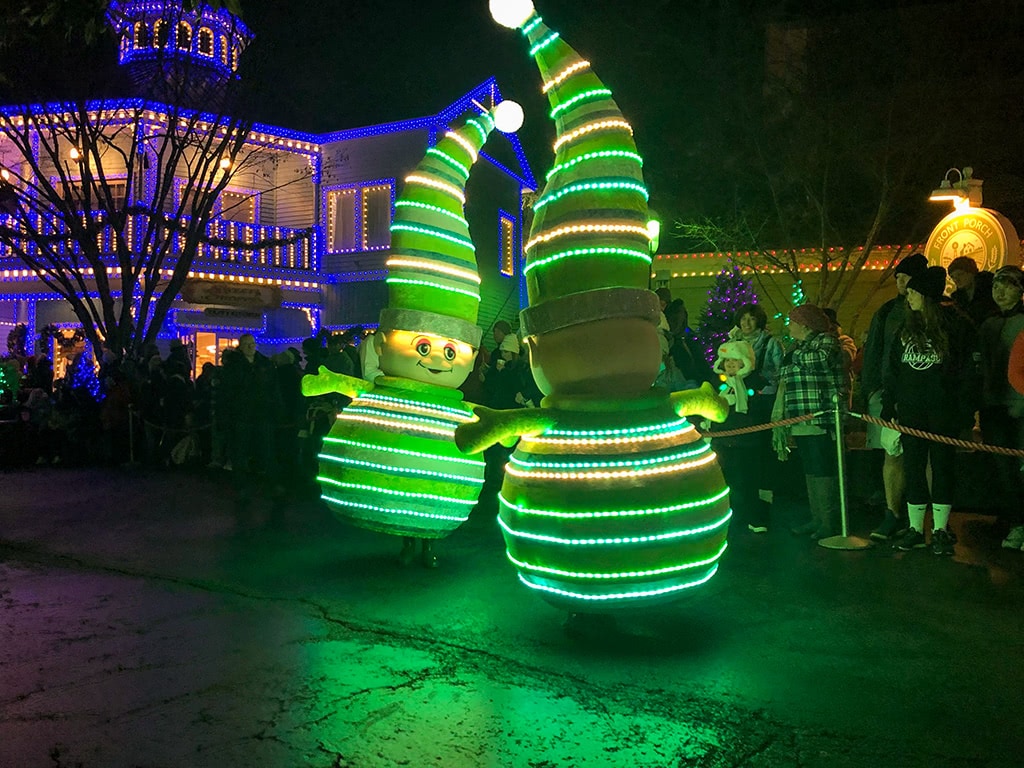 Not to mention, Santa himself usually makes an appearance riding the train!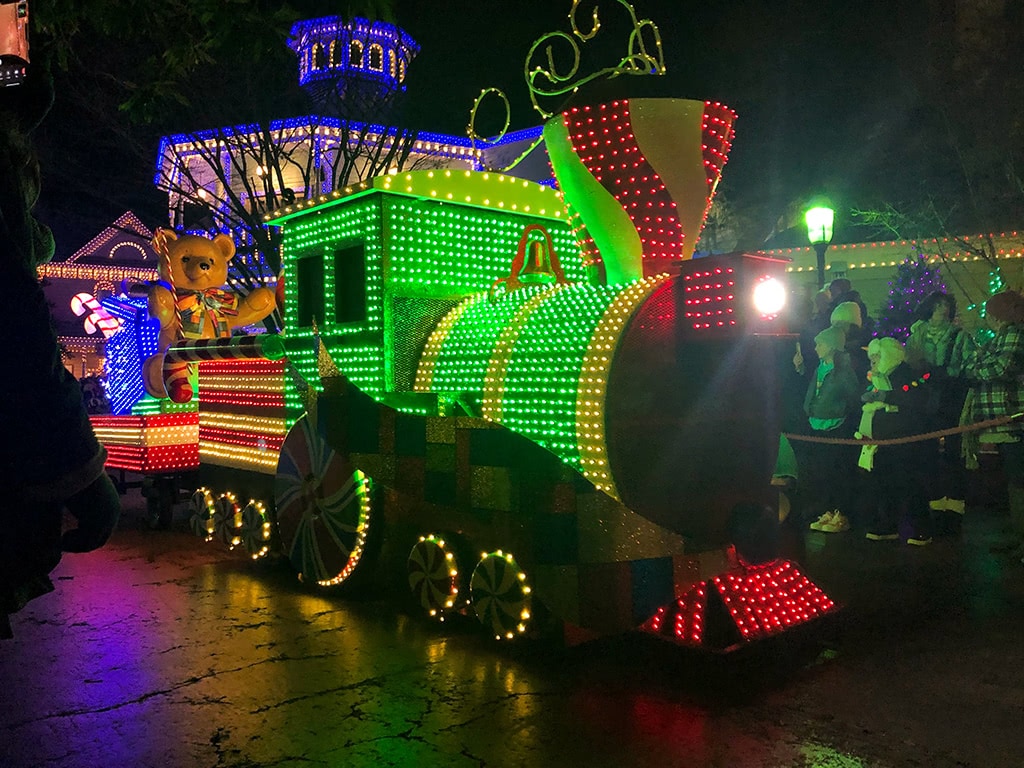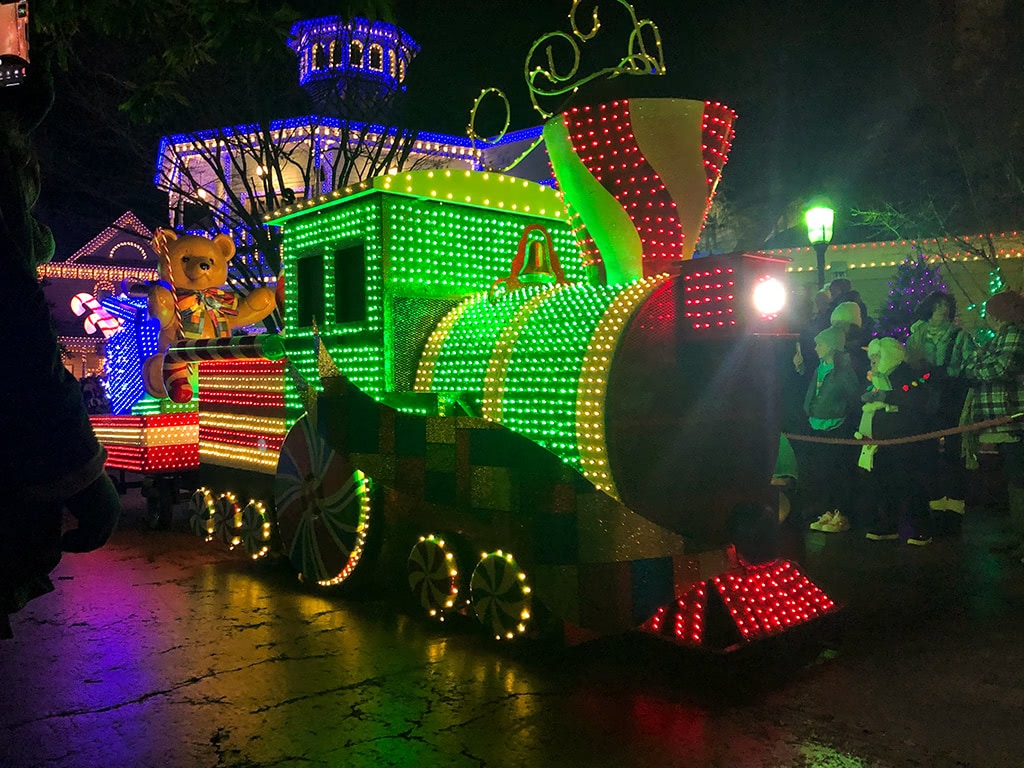 However, our favorite thing is probably the mice driving the cheese cars! I mean, where else in the world can you see a mouse driving a cheese car?!?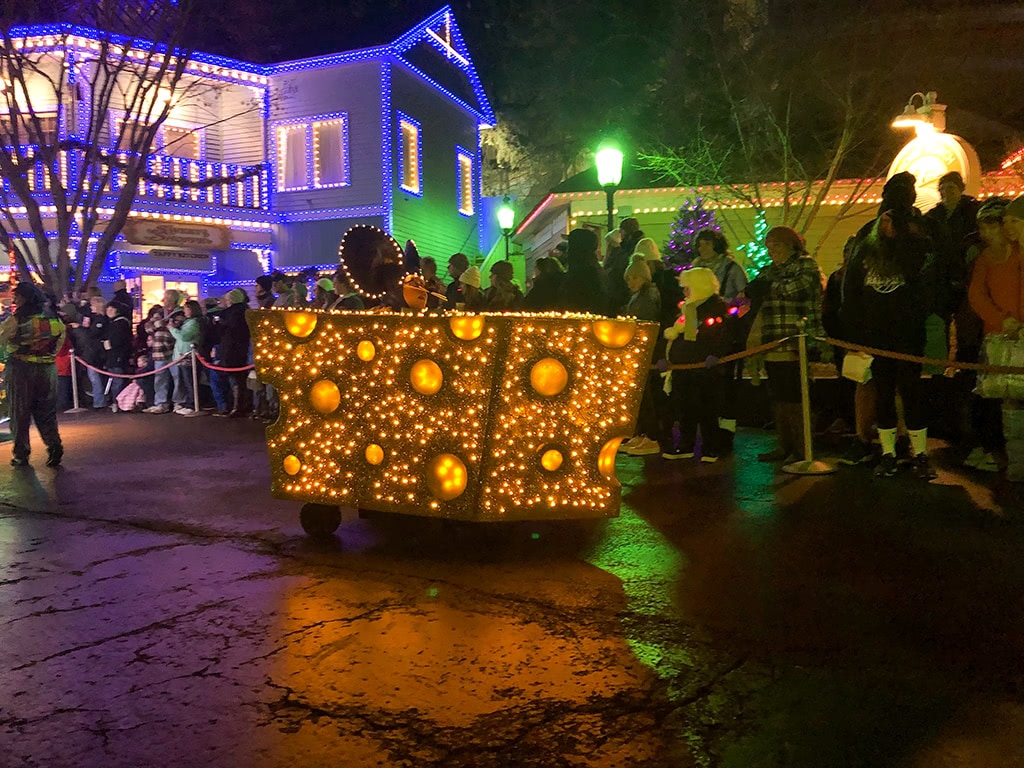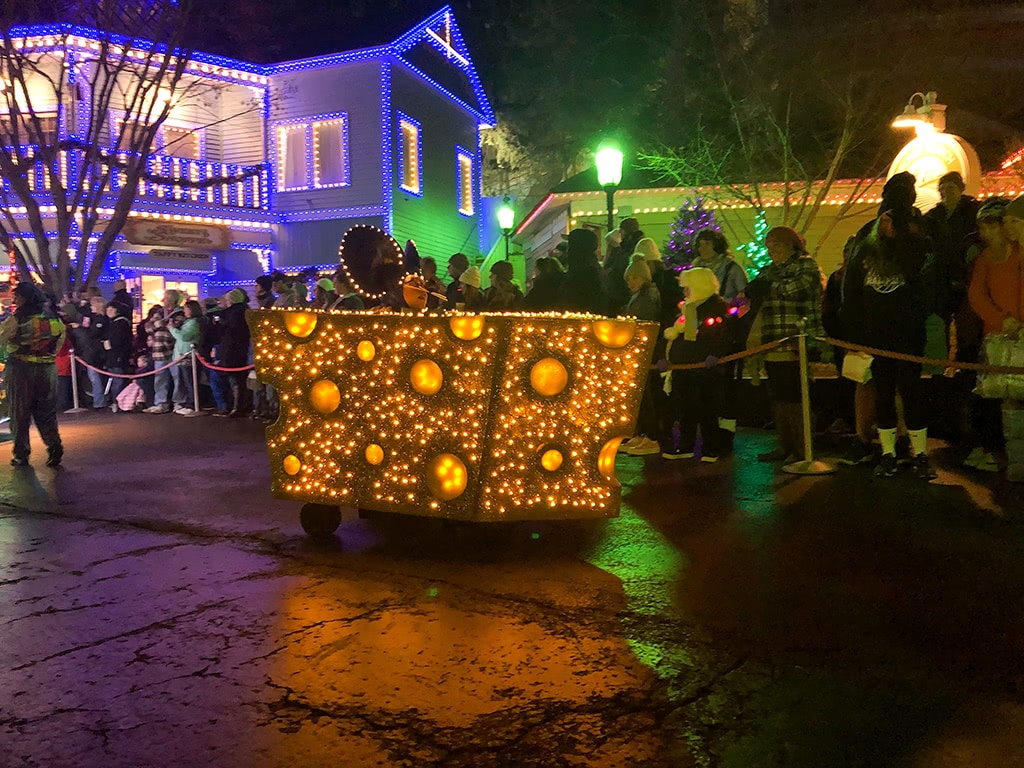 The parade is typically at 8:15pm but you will definitely want to get there a little early to find a good spot!
*Tip – The last time we watched the parade was near the Front Porch Cafe on Showstreet and it turned out to be a great place!
A Few Things To Consider
Here are a few tips to make your Dollywood Christmas memorable:
Pick at least one of the shows to attend. It's nice to have a scheduled break to get off your feet and rest a bit. If it's really cold outside and you want to warm up, be sure to pick one of the shows in an indoor theater.
Dollywood opens later and also stays open later during the Christmas season. So plan ahead and pack extra warm layers because it can get rather chilly as the sun goes down in the Great Smoky Mountains!
Take time to prioritize what your group wants to accomplish. We let each person in our family pick one thing that they really want to do and we try our best to make that happen so each person gets to do something they really want to do! (And the kids are not allowed to complain when I pick a show!)
The closer to Christmas, the more crowded it will be especially on the weekends and as families are out of school and traveling more. Try a weekday if at all possible in hopes to avoid larger crowds!
Final Thoughts
There is just so much to do at Dollywood's Smoky Mountain Christmas that it's hard to get it all in especially if you have kiddos that love the rides! Be sure to plan accordingly and make the most of it all and savor the moments you have with your family as you celebrate the Christmas season!
---
So what about you and your family? Have you been to Dollywood Smoky Mountain Christmas? What are your favorite things to do at Dollywood during the Christmas season? Share your favorites below! We would love to hear from you!
---
Love to get tips and tricks about things to do in and around the surrounding areas in the Great Smoky Mountains? Be sure to sign up for our email list so you can receive all of our updates, that way you won't miss any of our recommended adventures!
---
More related articles: