Have you been wanting to check out Dollywood's DreamMore Resort? Us too! We had been wanting to visit the resort since their opening in 2015 as it is ranked as a top resort in the Great Smoky Mountain region.
Read on to find out more about our recent stay at Dollywood's DreamMore Resort and our list of the fun things you can do with your family!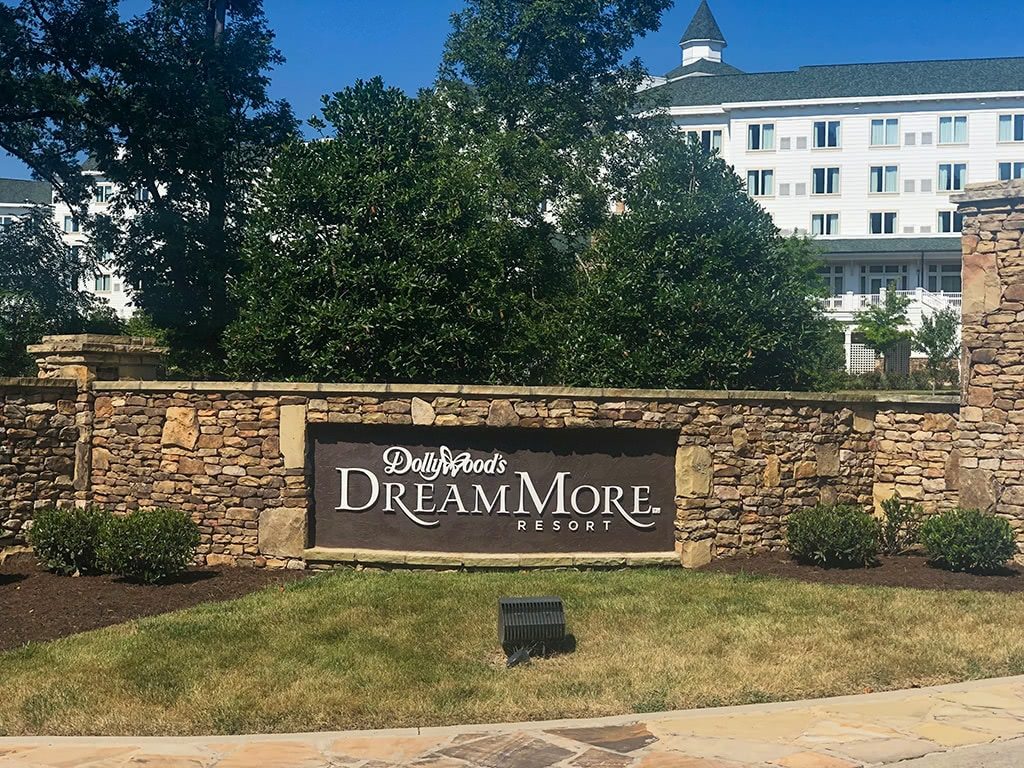 *This post may contain affiliate links which help support this site, but won't cost you anything extra. Read our full disclaimer.
Get a Little Dolly Parton Inspiration Before You Head to Dollywood's DreamMore Resort!
Growing up in East Tennessee, it's hard not to be a Dolly Parton fan! From her music, to movies, to the Imagination Library and so much more, she is such an inspiration to many!
In case you need a little extra Dolly Parton inspiration before heading to visit Dollywood's DreamMore Resort, be sure to check out some of our favorite Dolly Parton books!
Things to Do at Dollywood's DreamMore Resort!
1. Check Out all of the Special Interior Touches!
The first thing that our crew always loves to do is thoroughly check the resort out and take it all in! There is nothing like walking into a resort for the first time and seeing all of the unique architecture and decorations.
And Dollywood's DreamMore certainly does not disappoint! From the moment you walk in you are met by Dolly on the wall, welcoming you to come sit a spell and dream with her!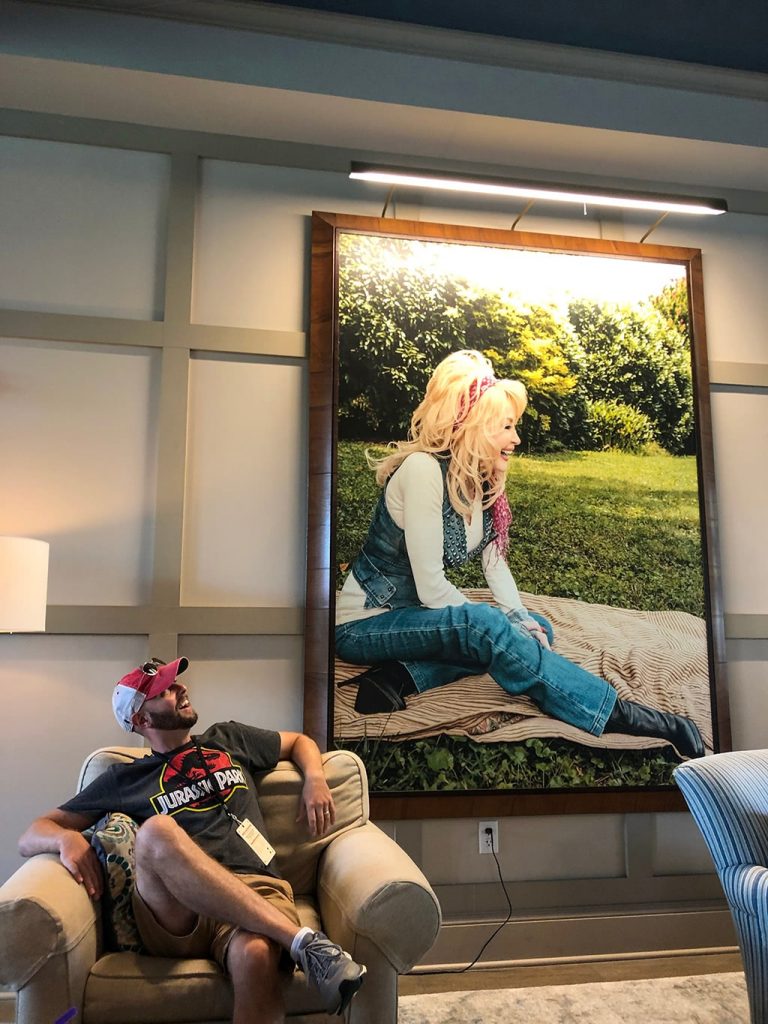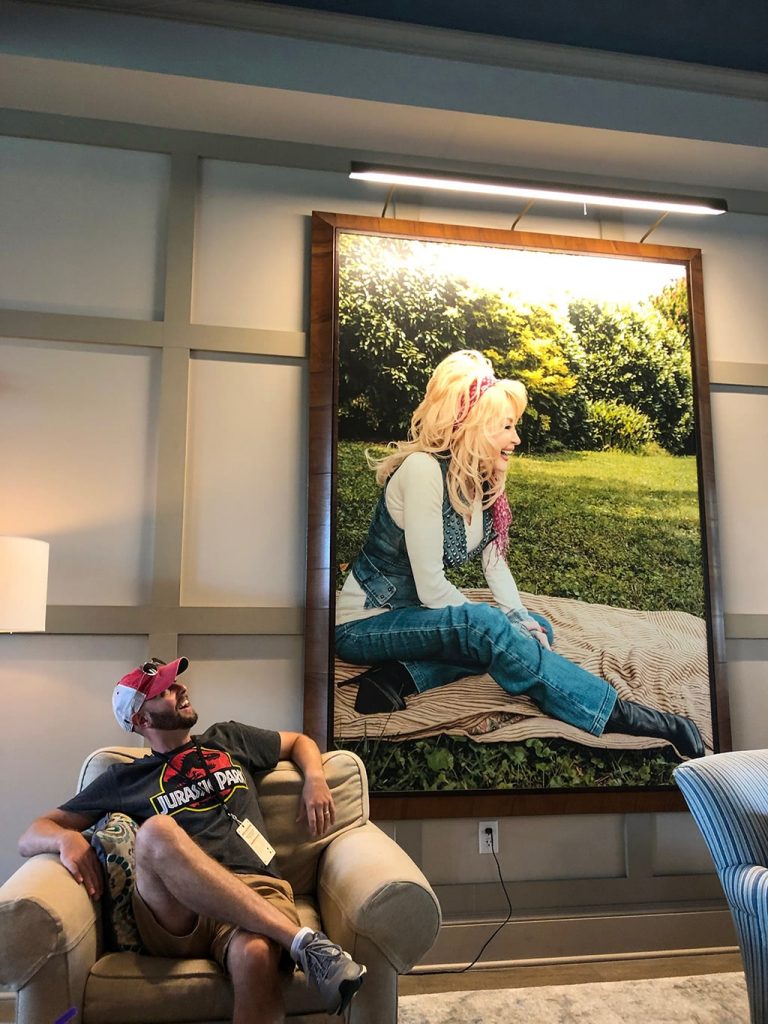 Matt enjoyed spending some good quality time with her.
On the left is the check-in counter that had the most amazing sign that changes from a beautiful scenic view of the mountains…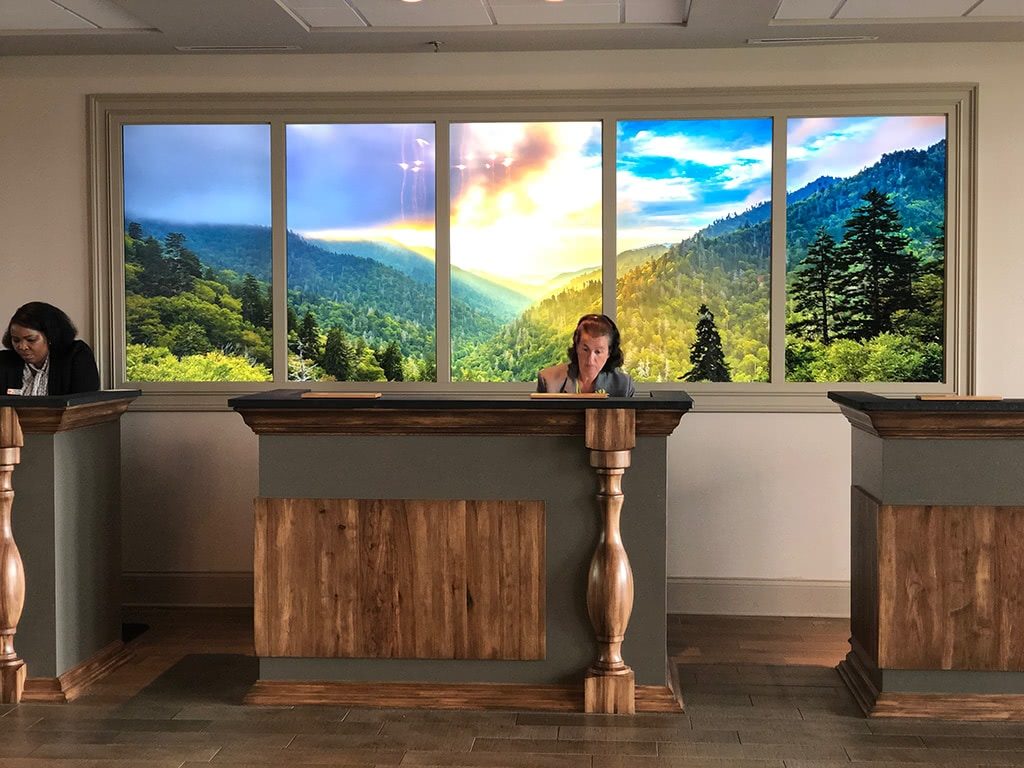 …to a beautiful picture of a mountain river stream.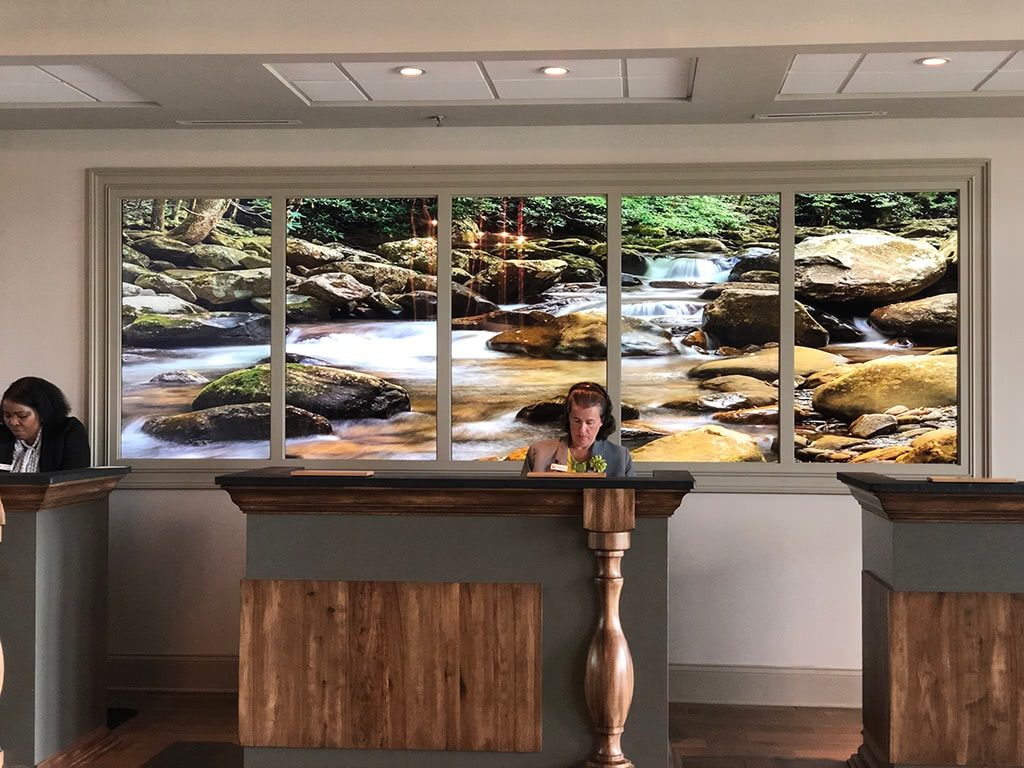 After exploring the lobby, we headed on down the staircase and discovered more Dolly!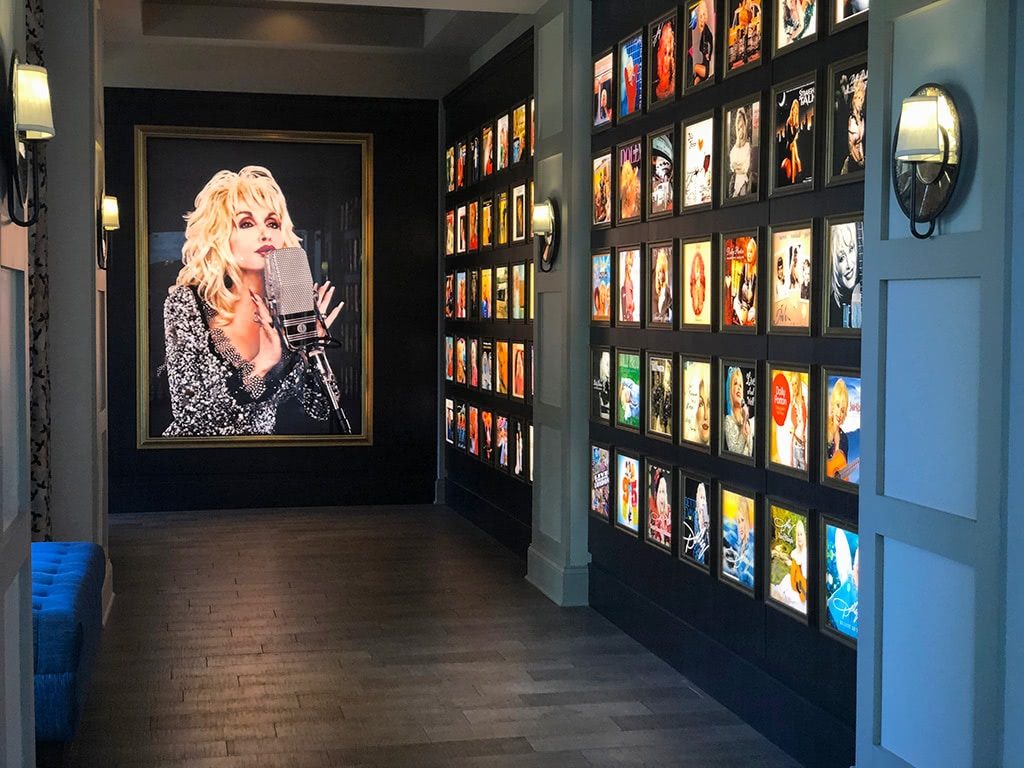 The kids had to count all of the albums on the wall. It was pretty neat!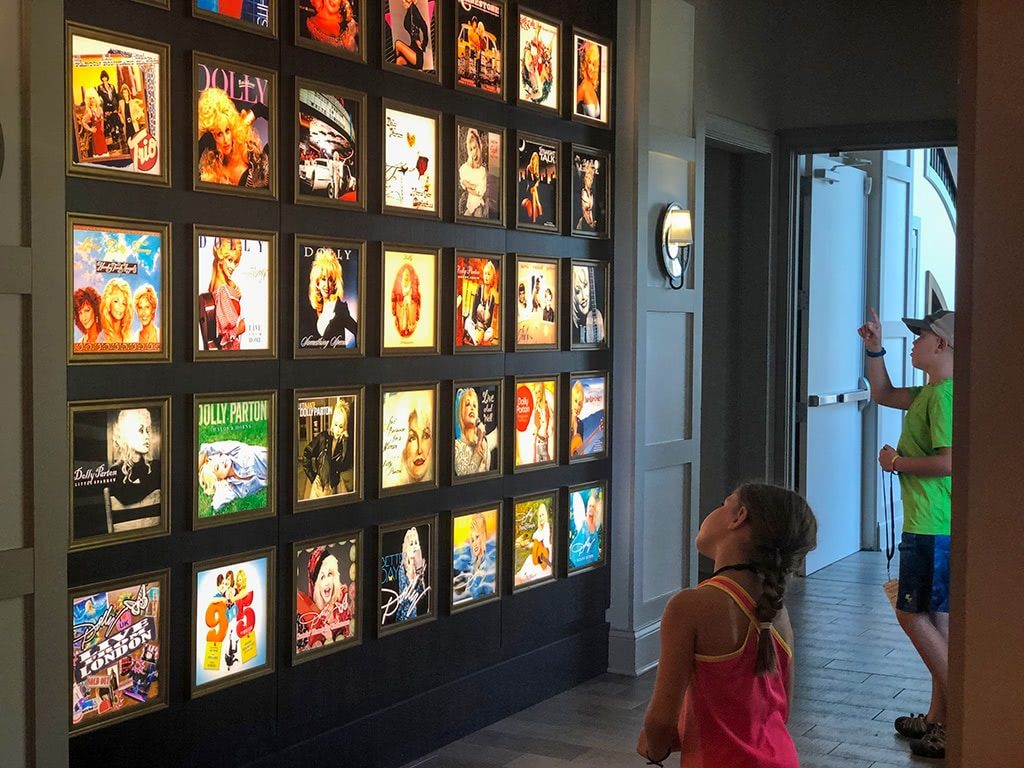 On around the corner you will find another unique sign that has a picture of the Dollywood Train and Grist Mill…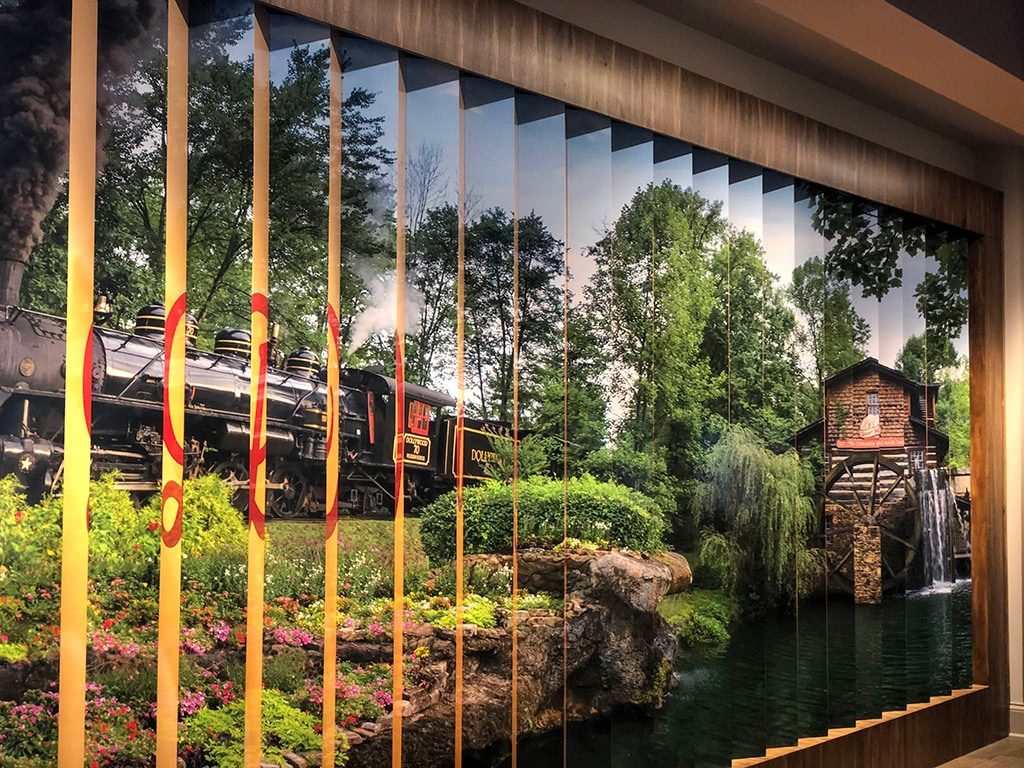 AND…as you keep walking, it turns into a Dollywood sign!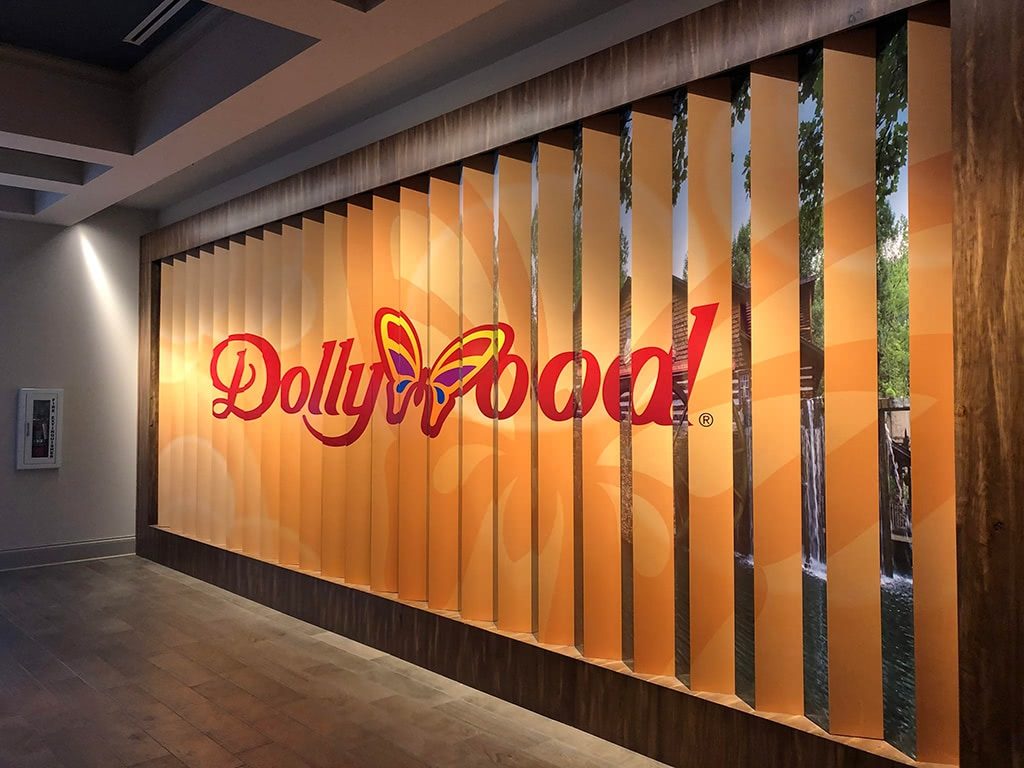 So fun! We just love unique touches like that!
Also on the bottom floor, you will find the Spa, the Game Room, Camp DW, the Song and Hearth Restaurant and the Indoor Pool. (More on some of those in a bit!)
There are plenty more places to explore (like some unique instruments, a special treasure box, etc.) – so be sure to take some time to explore and check out all of the special touches that make Dollywood's DreamMore Resort unforgettable!
2. Explore Outside and Play on the Playground!
Once you make it outside, you will find some beautiful theming as well! Of course you can't miss the giant DreamMore fountain right at the front of the resort. Be sure to take some family pictures to document your trip!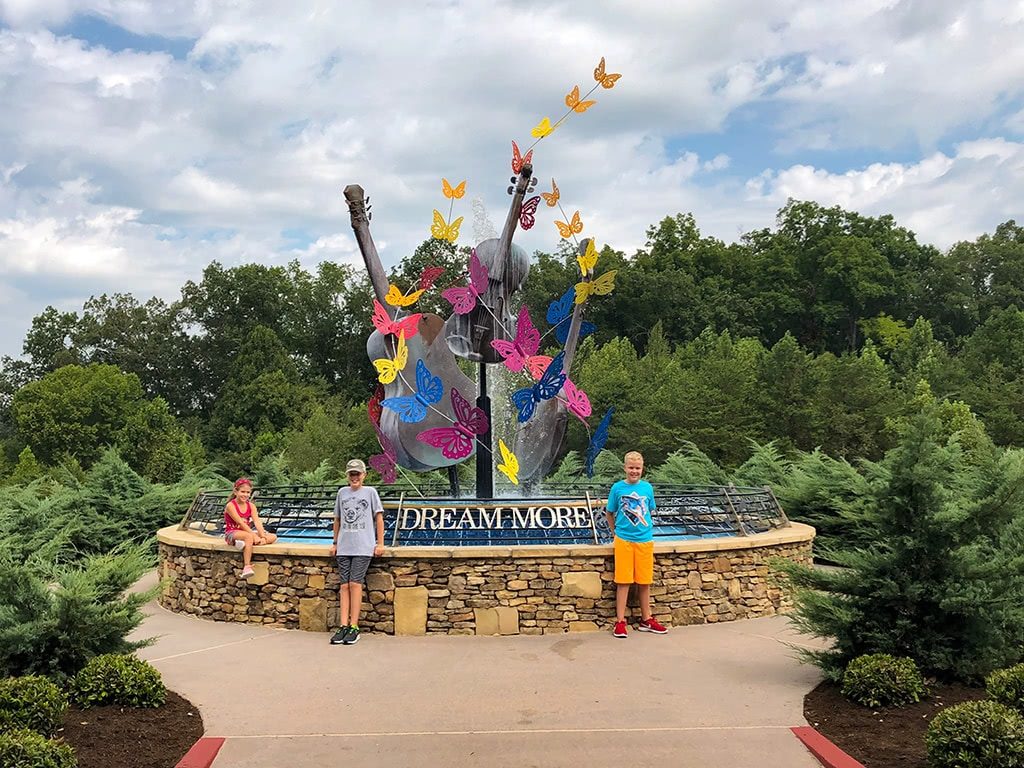 Right as you are walking into the front lobby you will also see a little cascading waterfall to your left. It definitely brings a taste of the Great Smoky Mountains to your doorstep!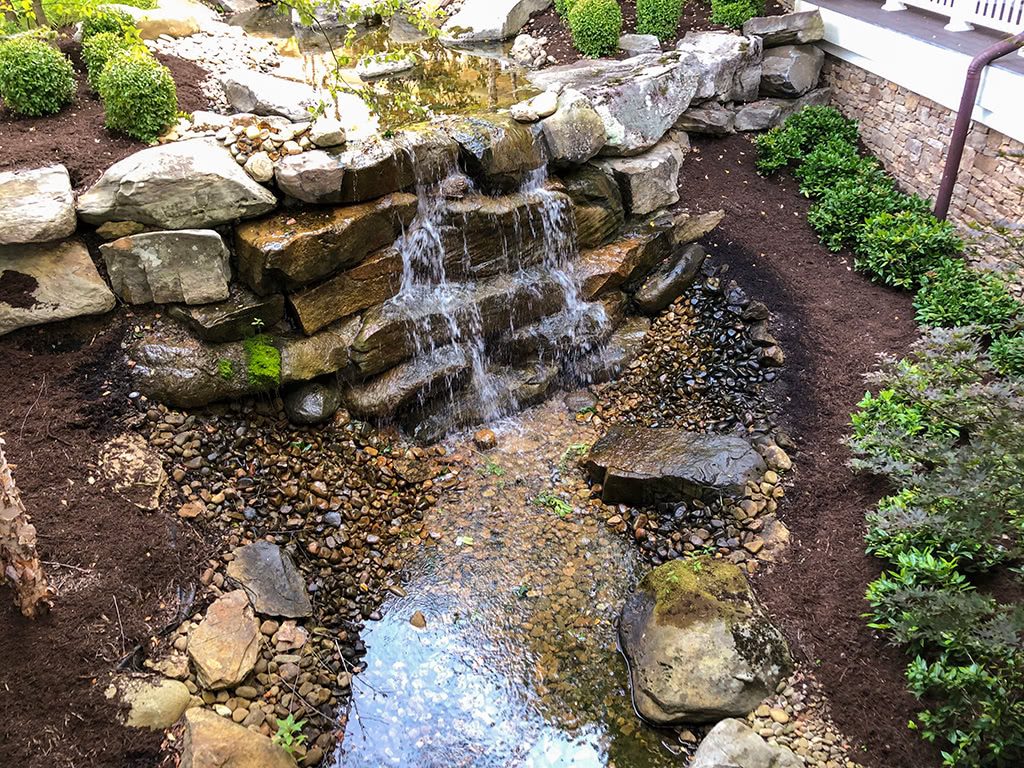 At the back side of the resort, you have some pretty garden areas to walk around in and even some benches welcoming you to come sit a spell and relax! And of course there was a giant butterfly shape in the landscaping!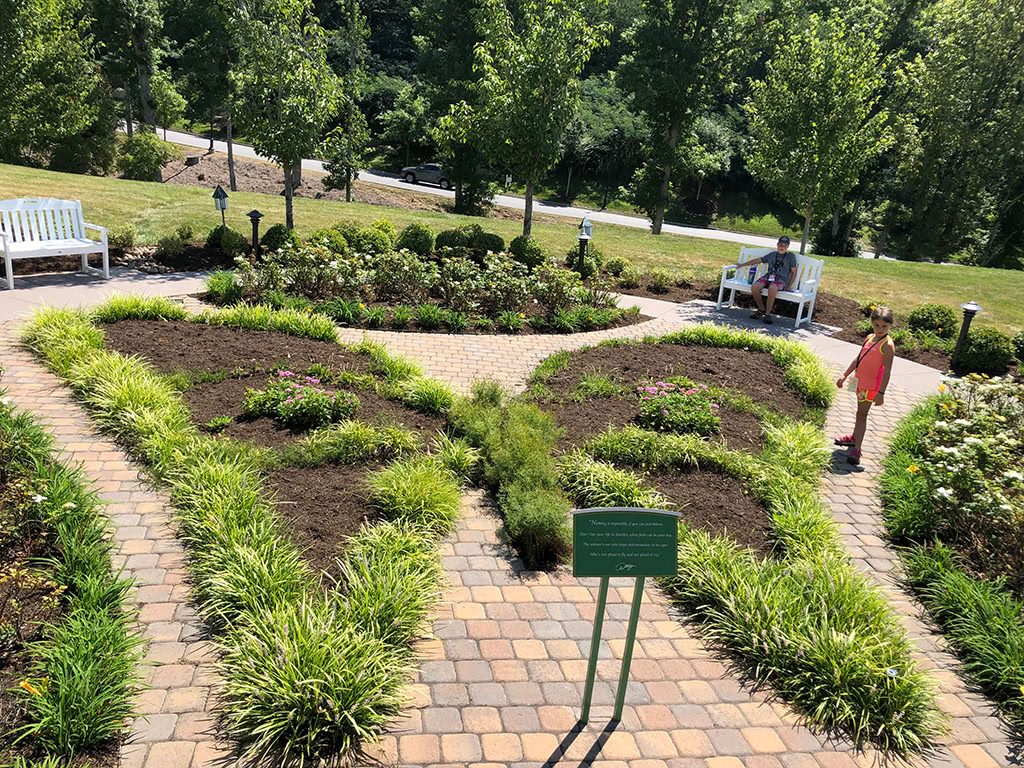 One of our favorite areas was The Barn. The rocking chairs were definitely calling our names!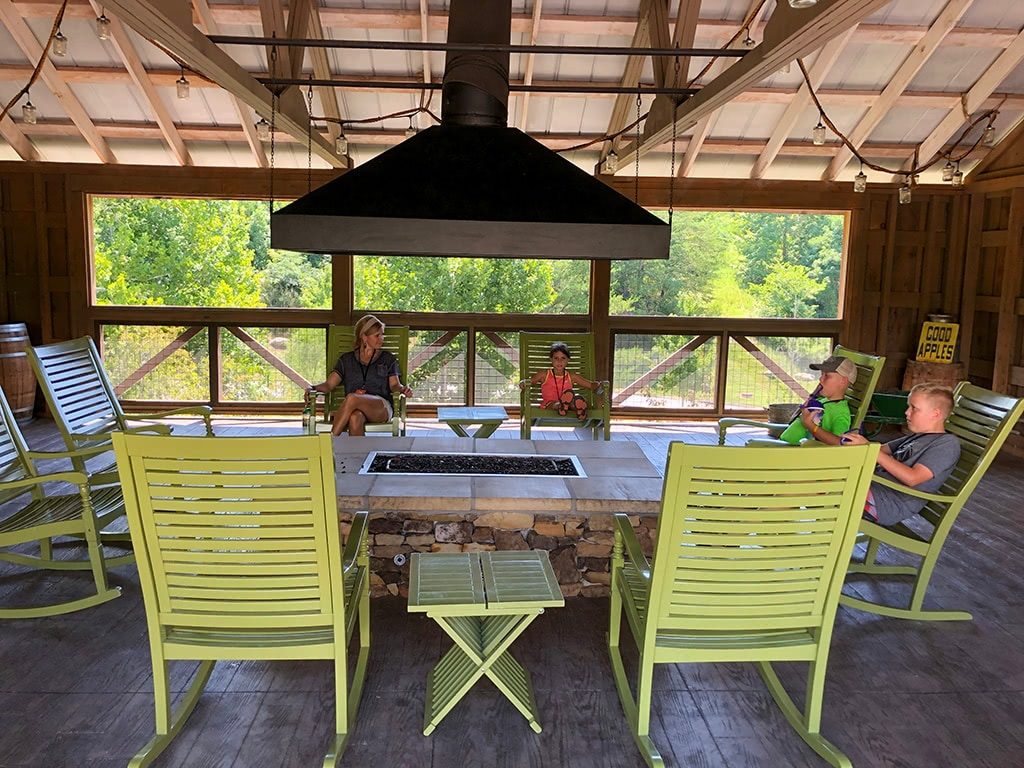 Right past The Barn you will find a sweet little playground area that is perfect for letting the kids get all of that extra energy out!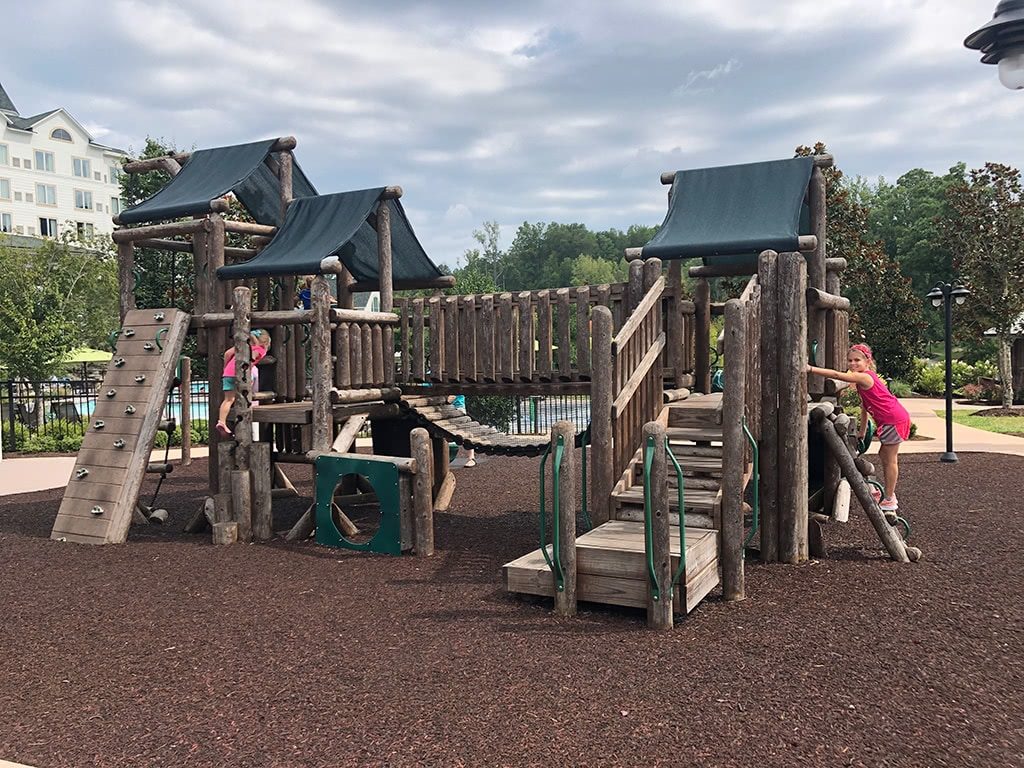 And the most adorable benches that are themed from some of Dolly's Imagination Library books.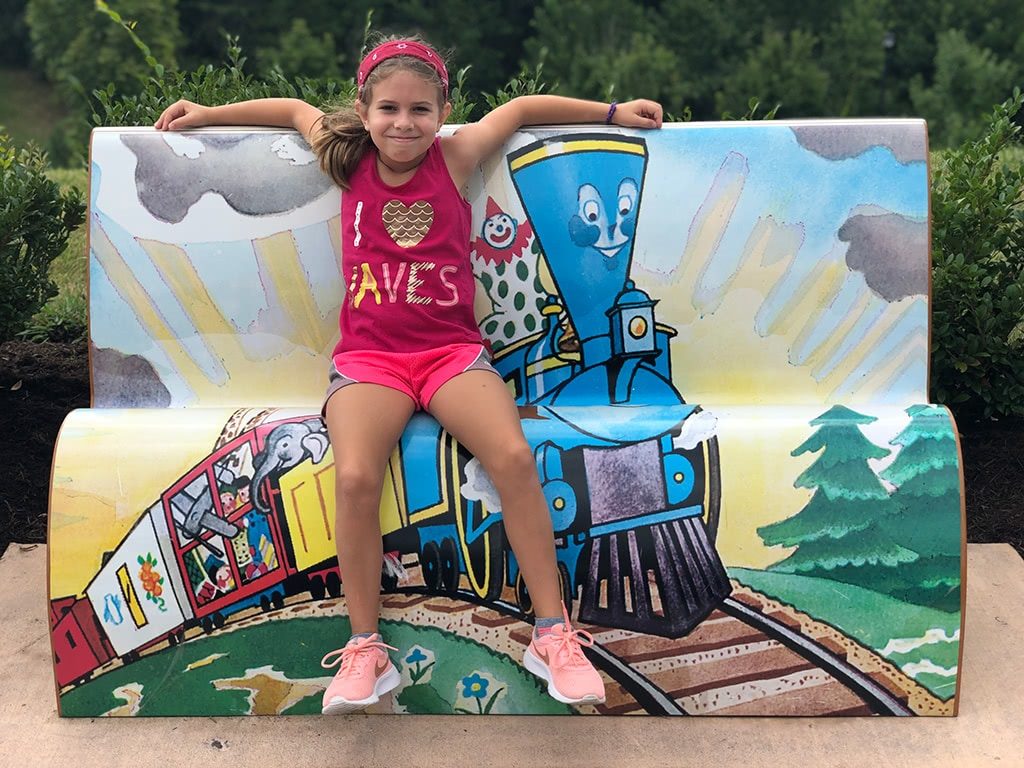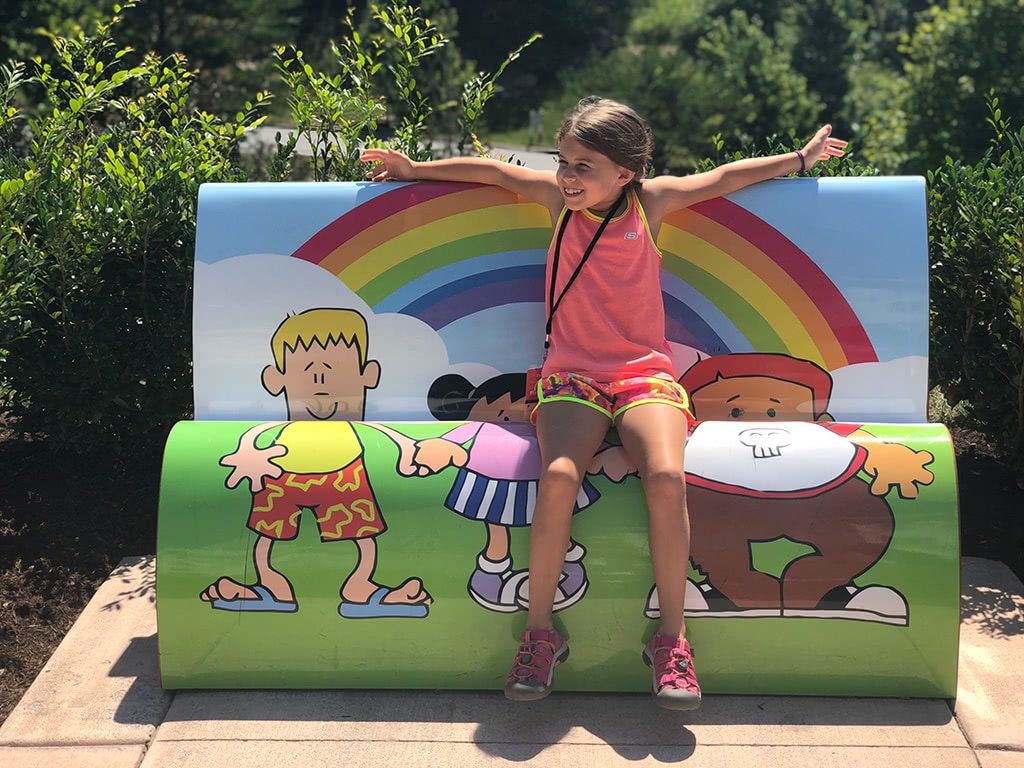 We were SO excited to find these as we are huge supporters of Dolly's Imagination Library program that strives to improve literacy in children by providing FREE books for children up to Kindergarten age. (You can read more about the Dolly's Imagination Library Program here.)
3. Play in the WATER at Dollywood's DreamMore Resort!
Okay, this of course is the crowd favorite by far. Who doesn't love playing in the pool?!?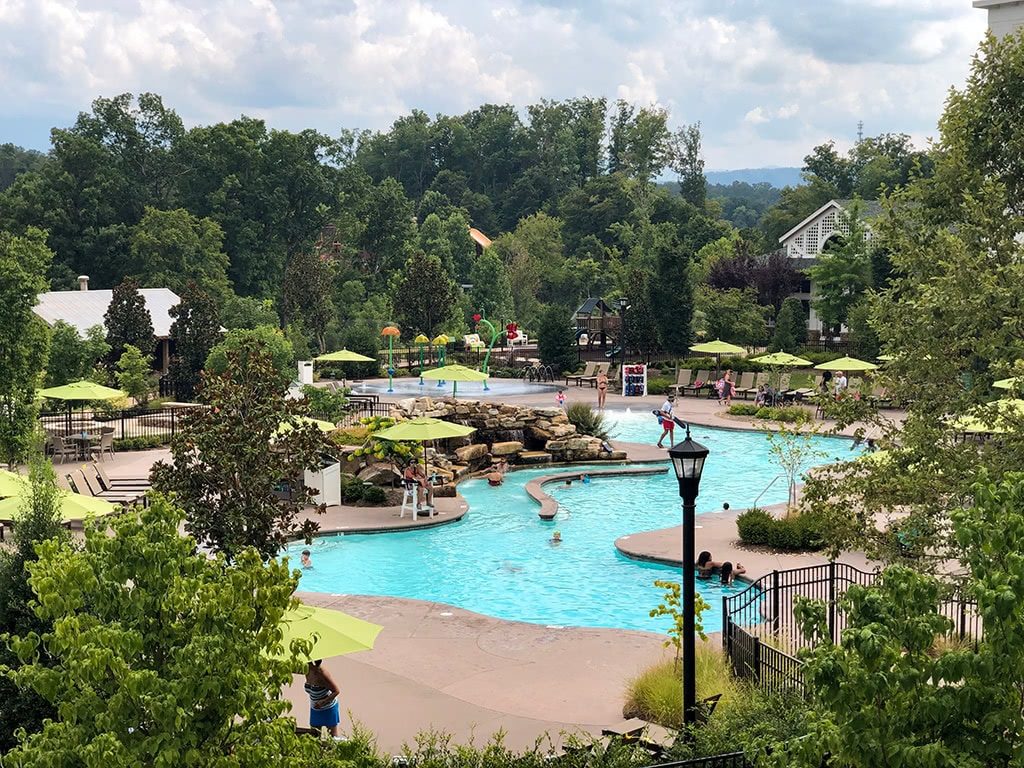 And Dollywood's DreamMore Resort has a very beautiful pool area called "The Swimming Hole!"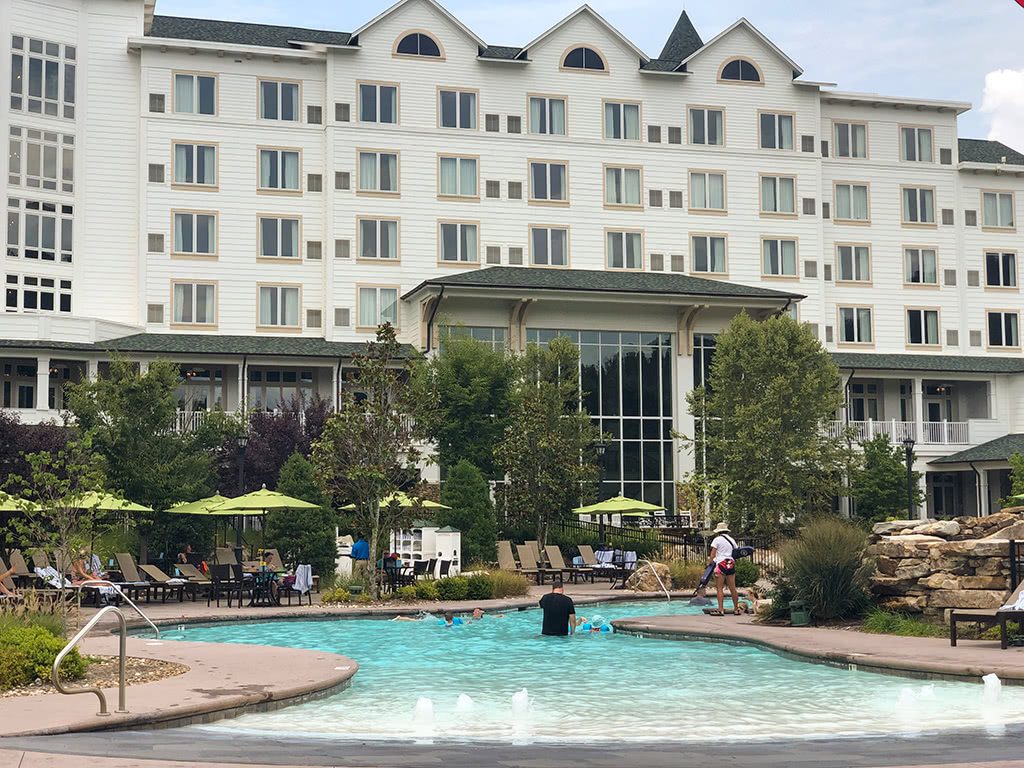 From the waterfall theming…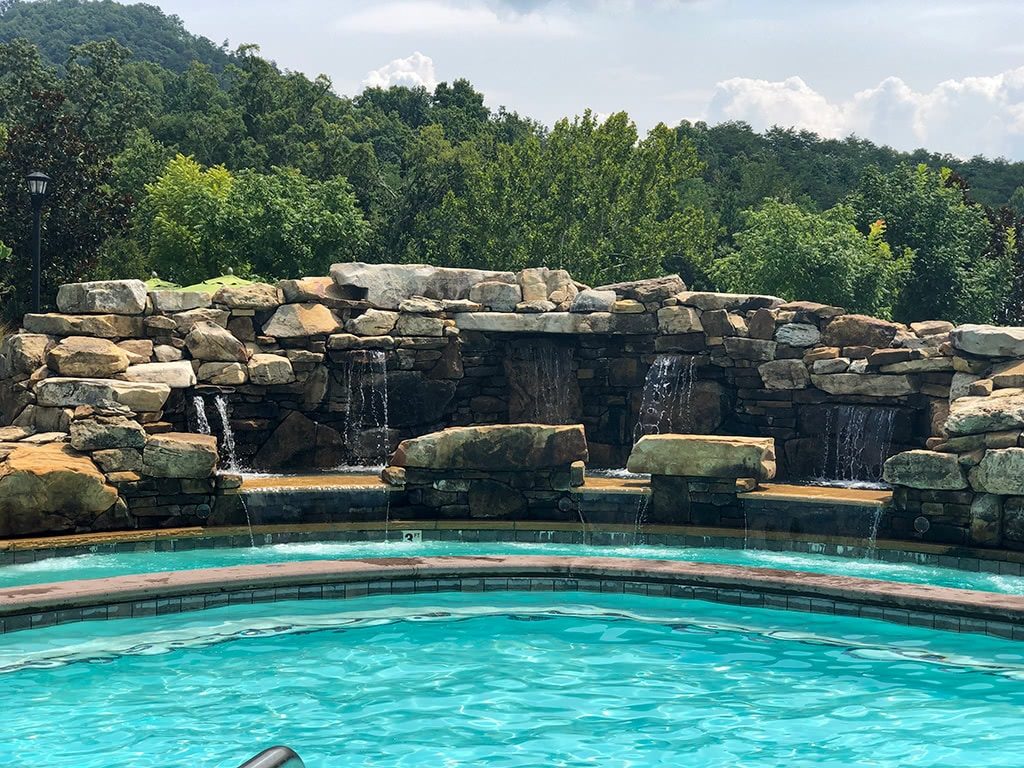 To the Splash Pad…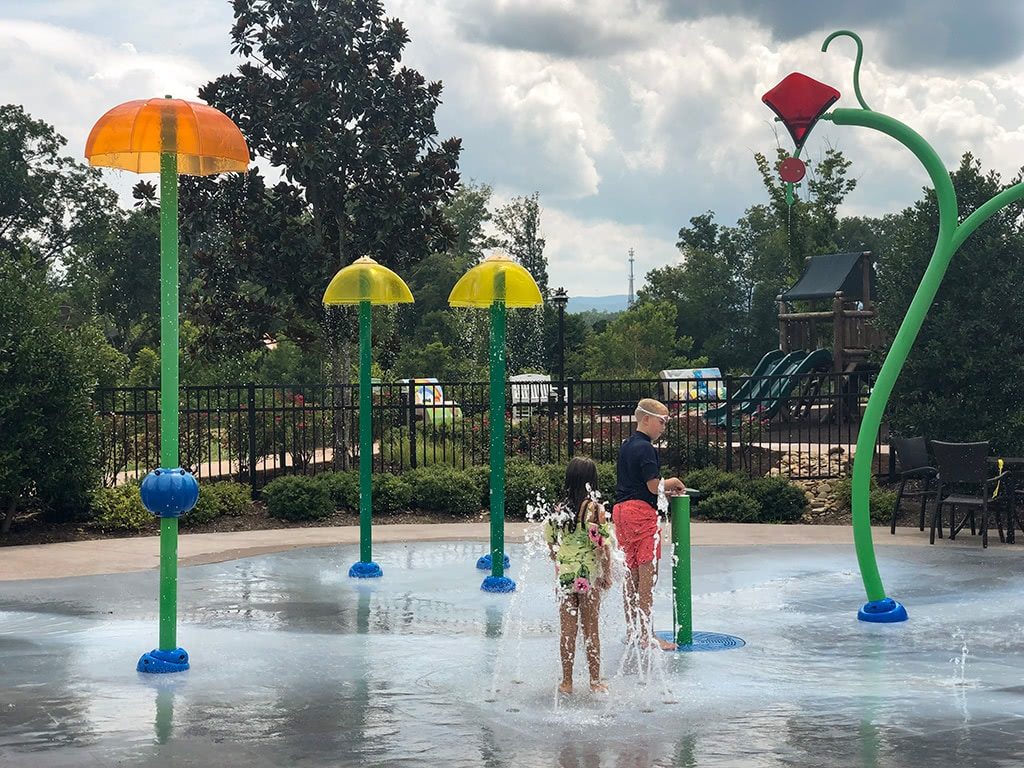 To the Hot Tub (for 16 years and older)…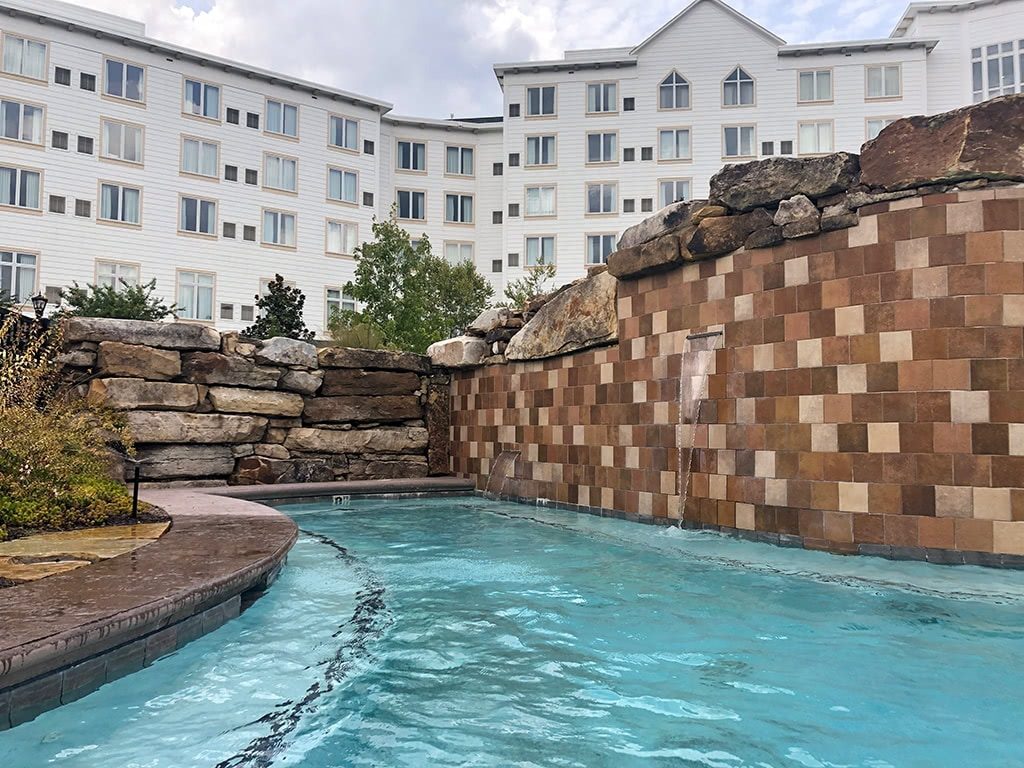 There is definitely something for all ages to enjoy.
You can tell Maggie had a good time!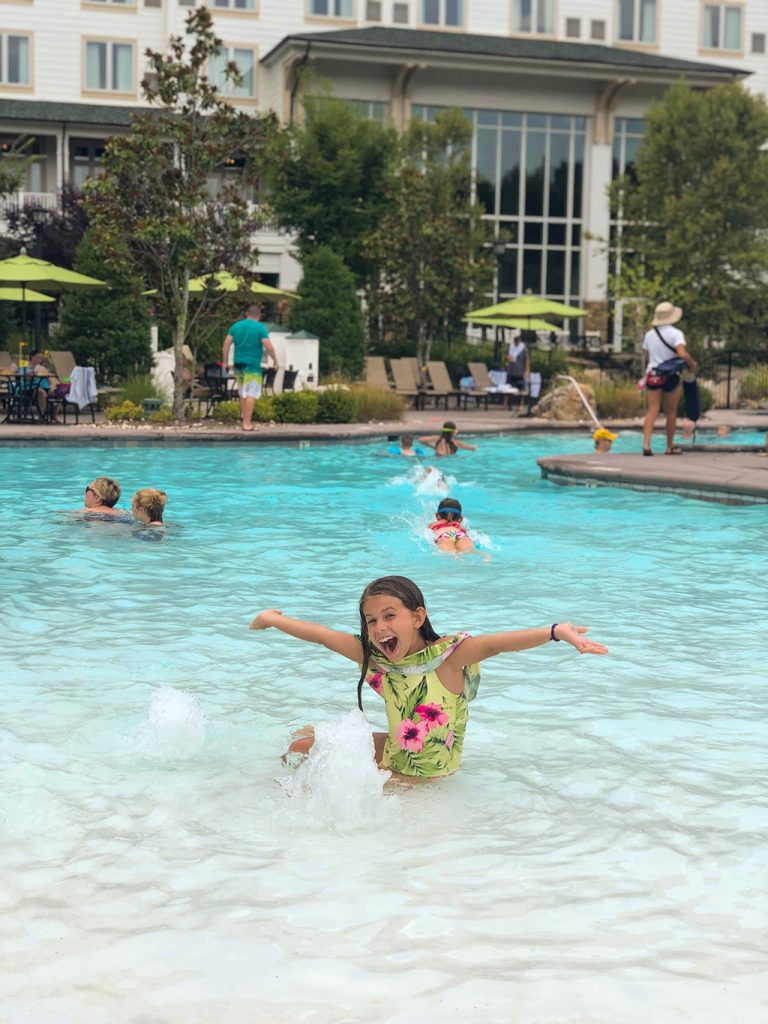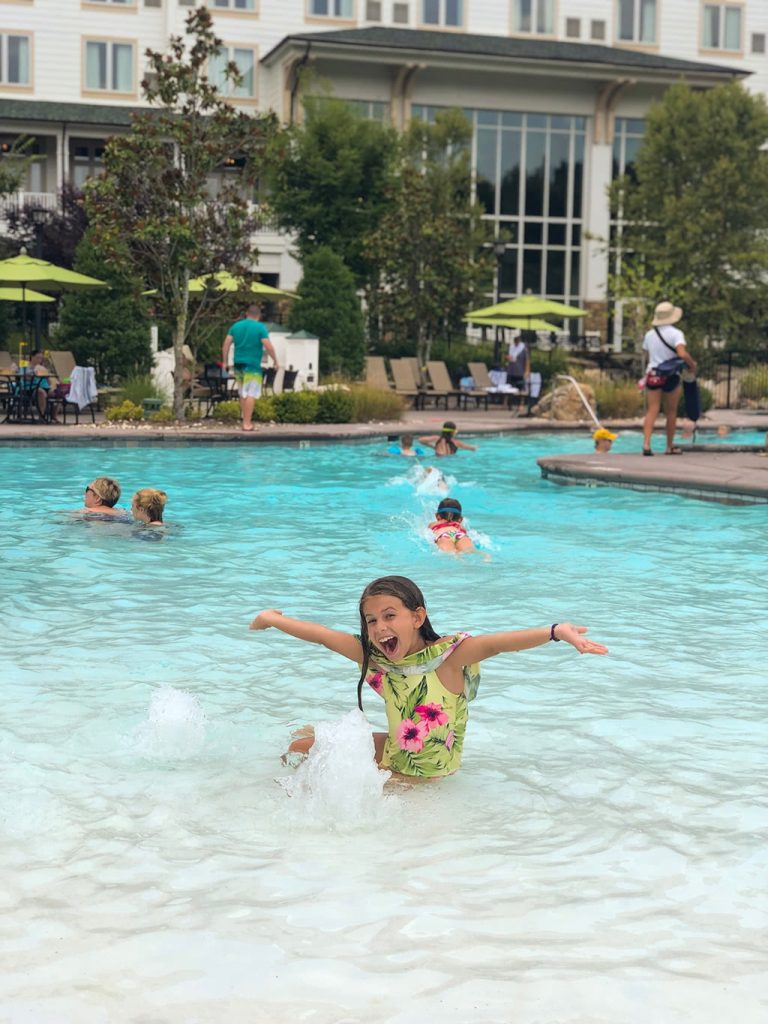 Then if you want to take some time to checkout the indoor pool area, you can head to The Garden House Indoor Pool!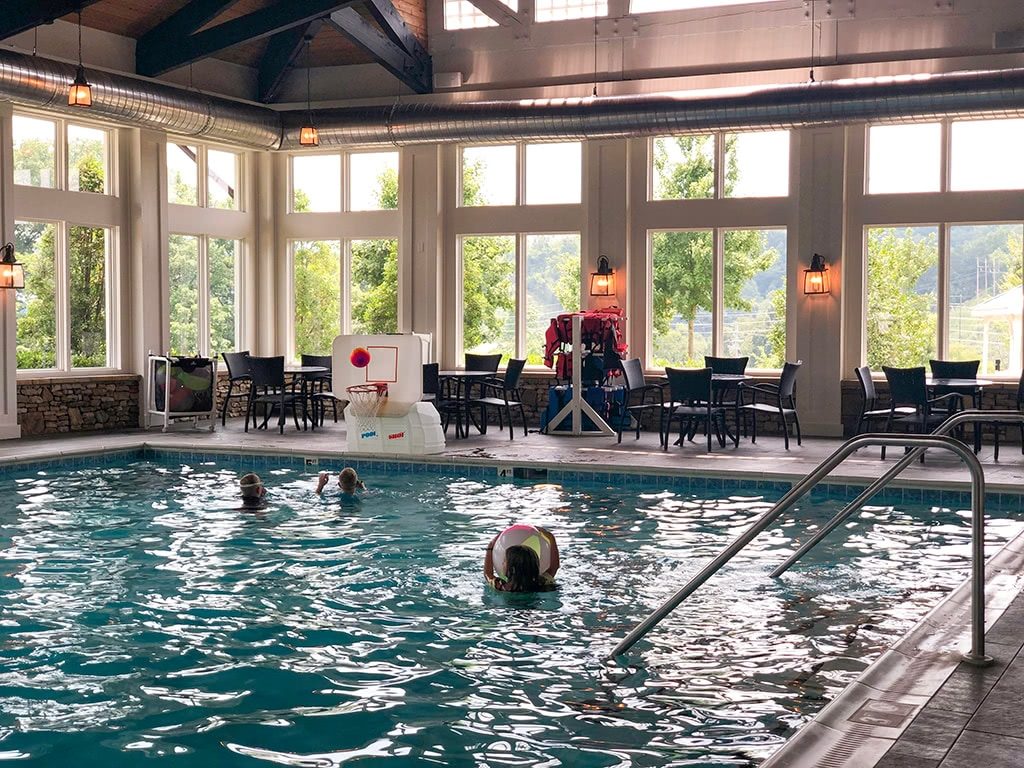 It was a fun change of pace! They had balls and basketball hoops as well as beach balls to bounce back and forth! The kids really enjoyed playing in there for a little while…especially since we had the whole pool to ourselves!
4. Do some daytime Camp DW activities and have some of Dolly's FREE Pink Lemonade!
Dollywood's DreamMore also has a special kids program called Camp DW!
Located on the bottom floor, near the indoor pool, they have various activities planned throughout the day. At check-in they will provide you with their weekly resort calendar and all of the Camp DW activities will be listed on there with the days and times!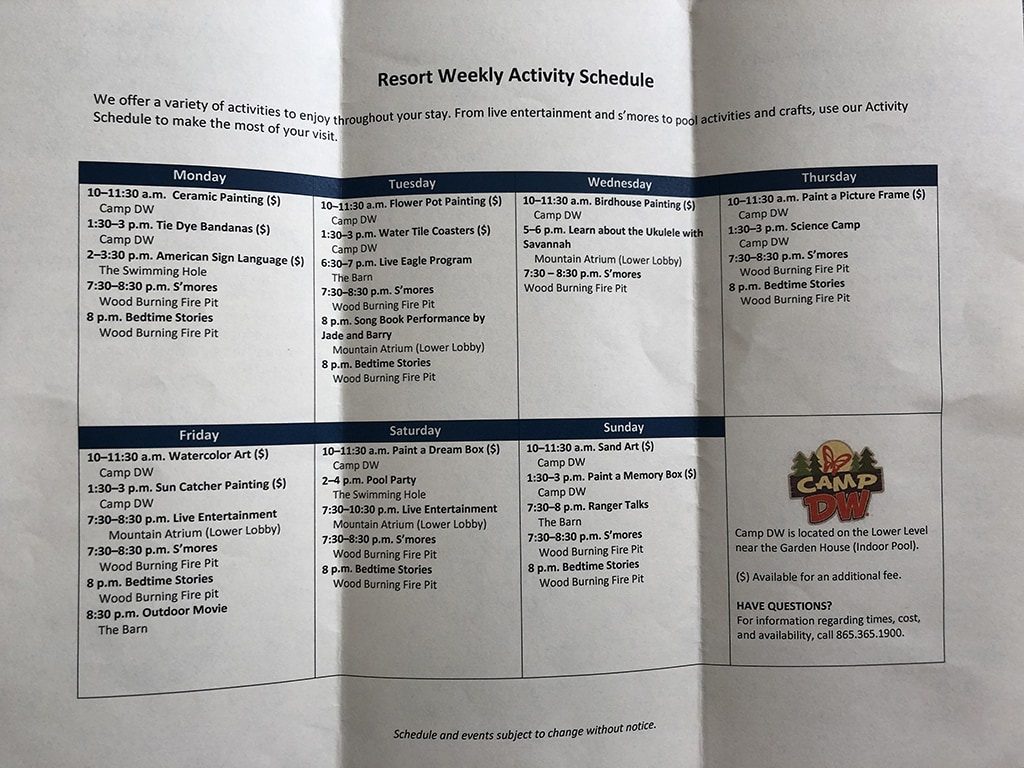 Some of the activities do cost extra, so be sure to check it out before you head that way.
However, one of our favorite things was Dolly's FREE pink lemonade that they serve daily from 4-5pm in the Lobby.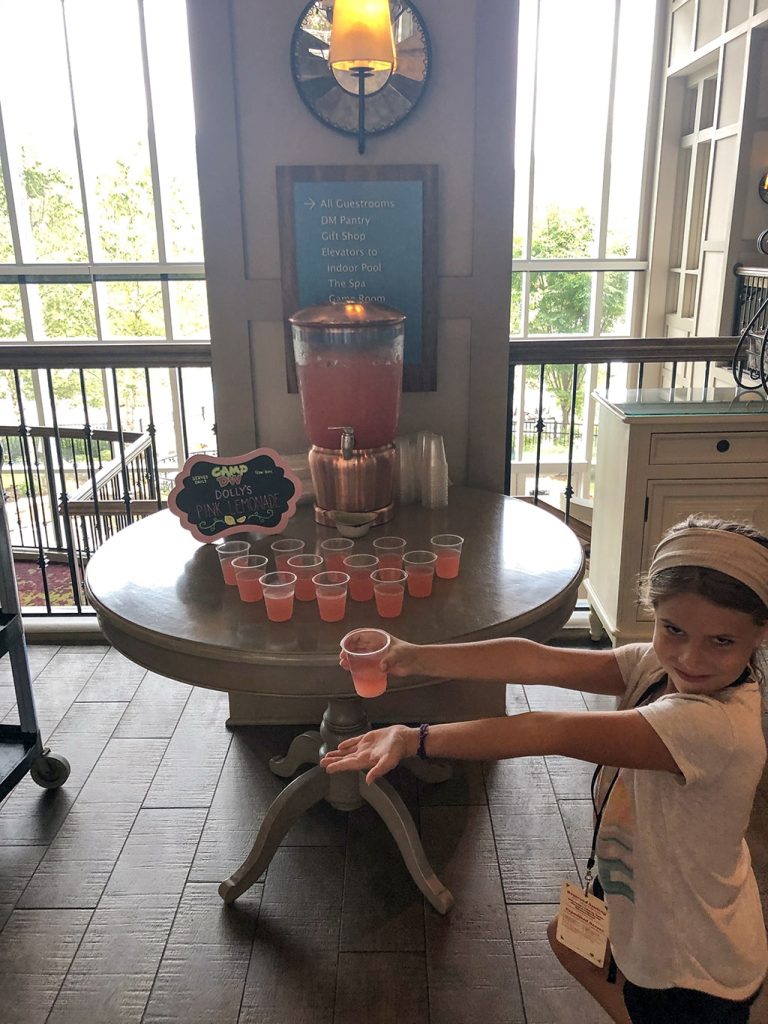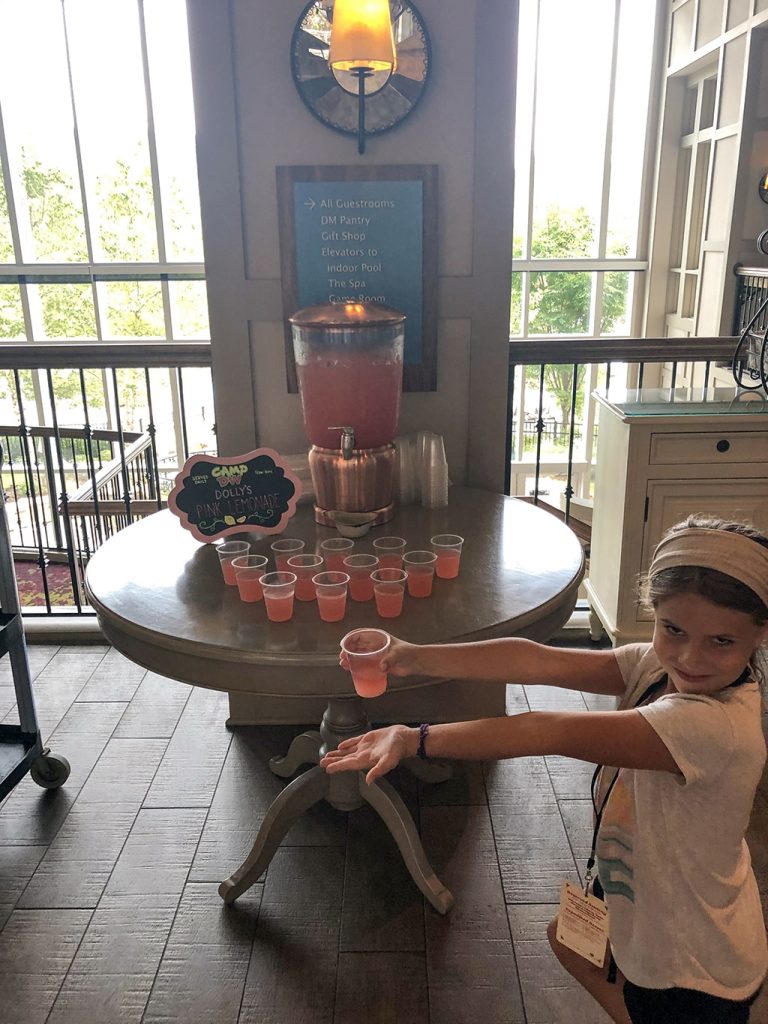 We may or may not have waited around everyday until 4pm before we headed out to our next activity. It was a nice refreshing complimentary service that we really looked forward to! (And we loved chit-chatting with the sweet Camp DW hostess as well!)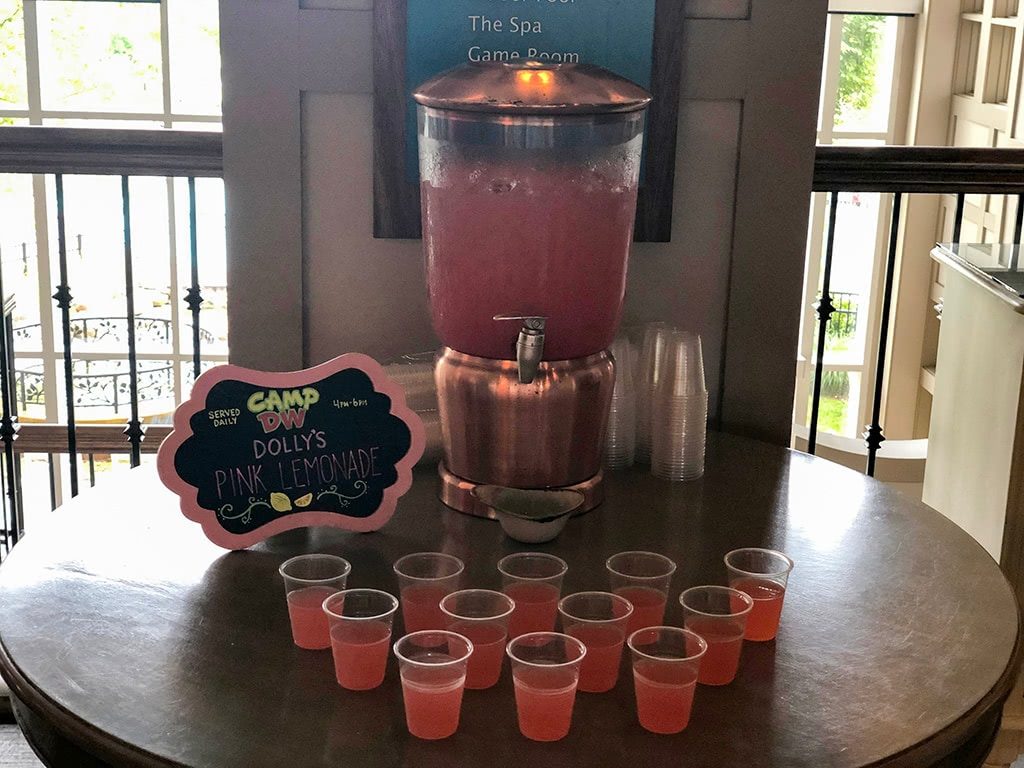 Also, does anyone know where "Pink" Lemonade came from? Why is it pink? And where did Dolly get those Pink Lemons? Either way…it's delicious. Don't miss it!
5. Enjoy a Meal at Dollywood's DreamMore!
Dollywood's DreamMore Resort has several different dining options.
From the Song and Hearth, which is a buffet style restaurant located on the first floor (reservations are recommended)…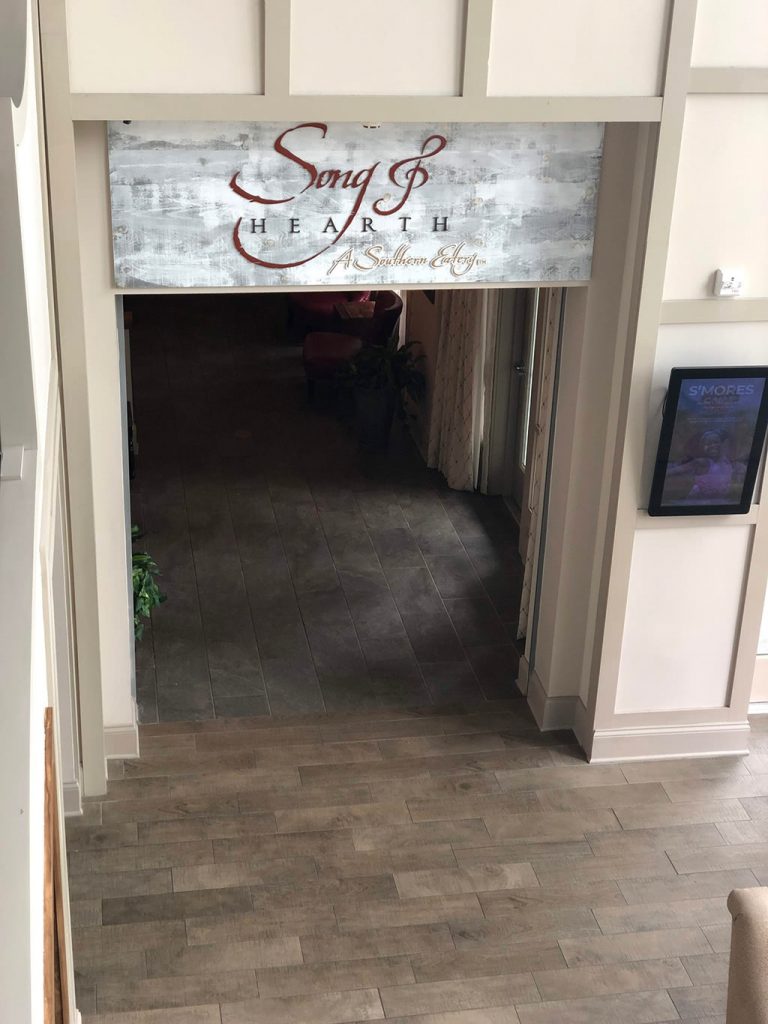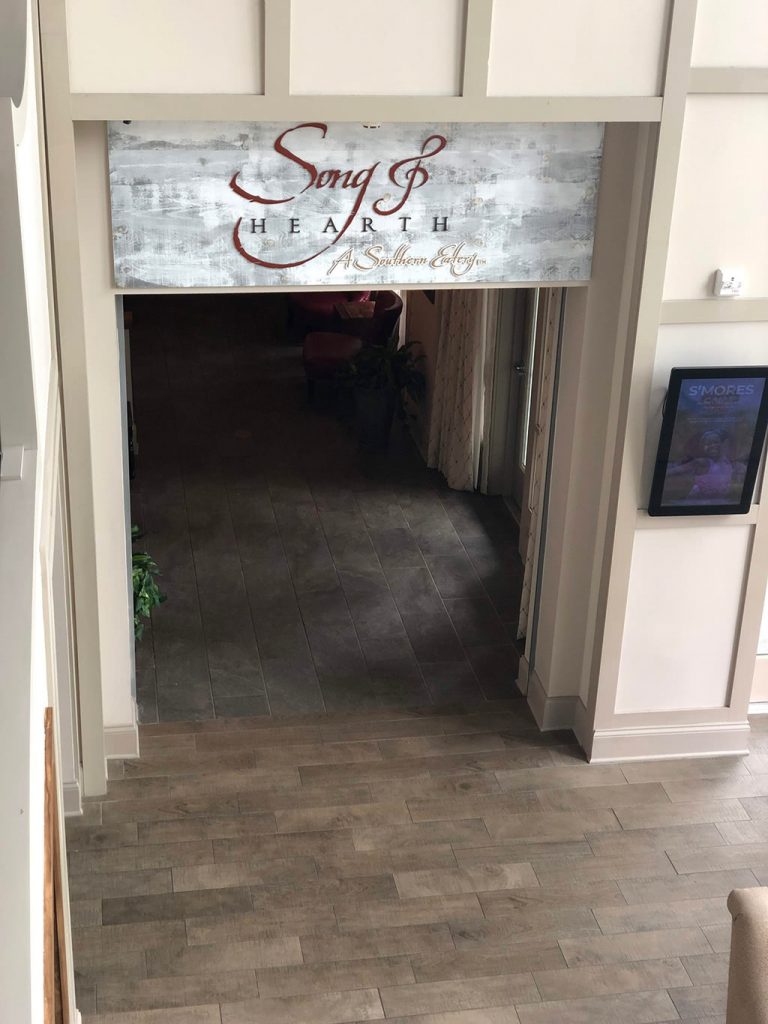 To the In-Room Dining (provided by Song & Hearth)…
To the Pantry that offers a variety of things including made to order pizza!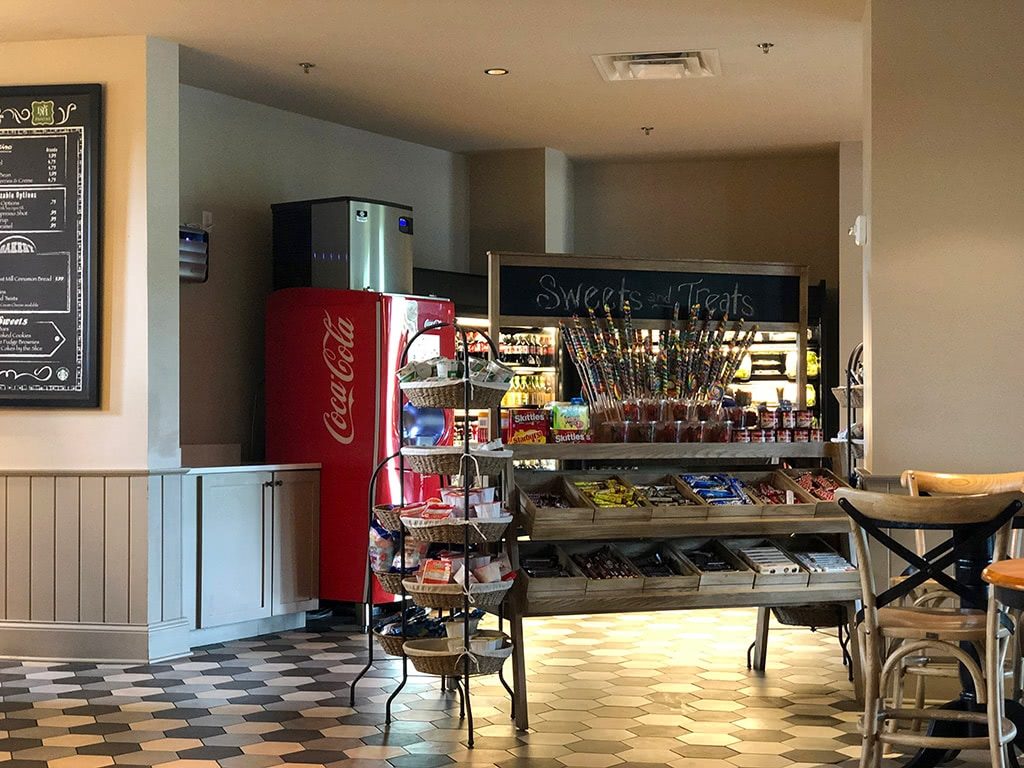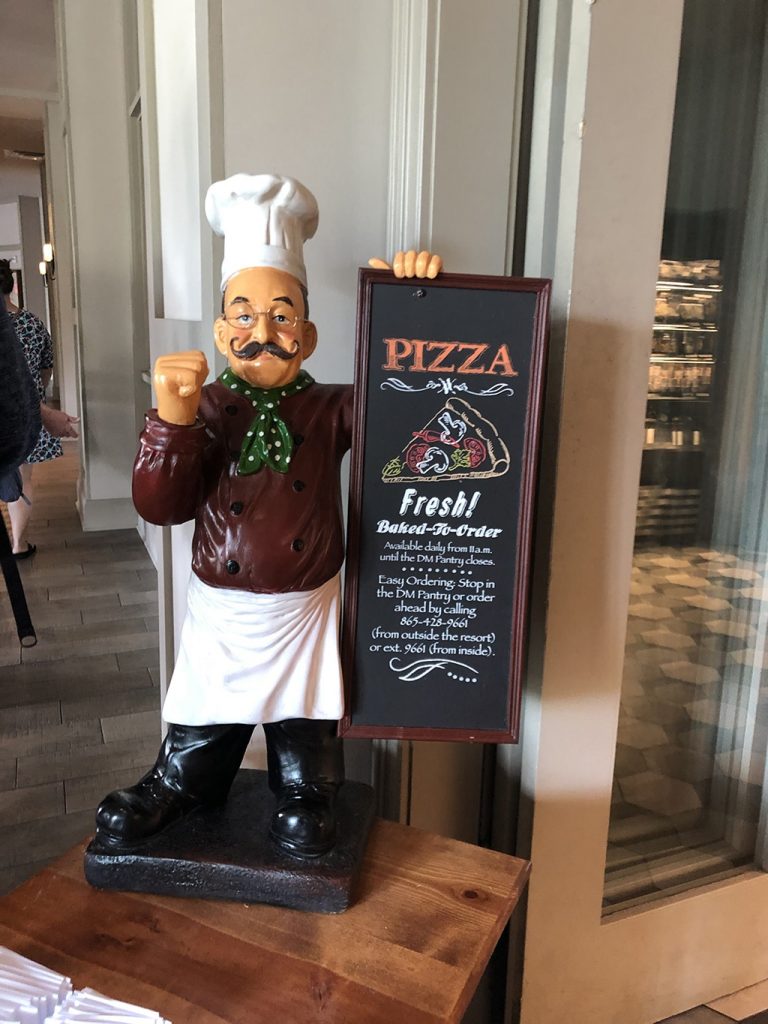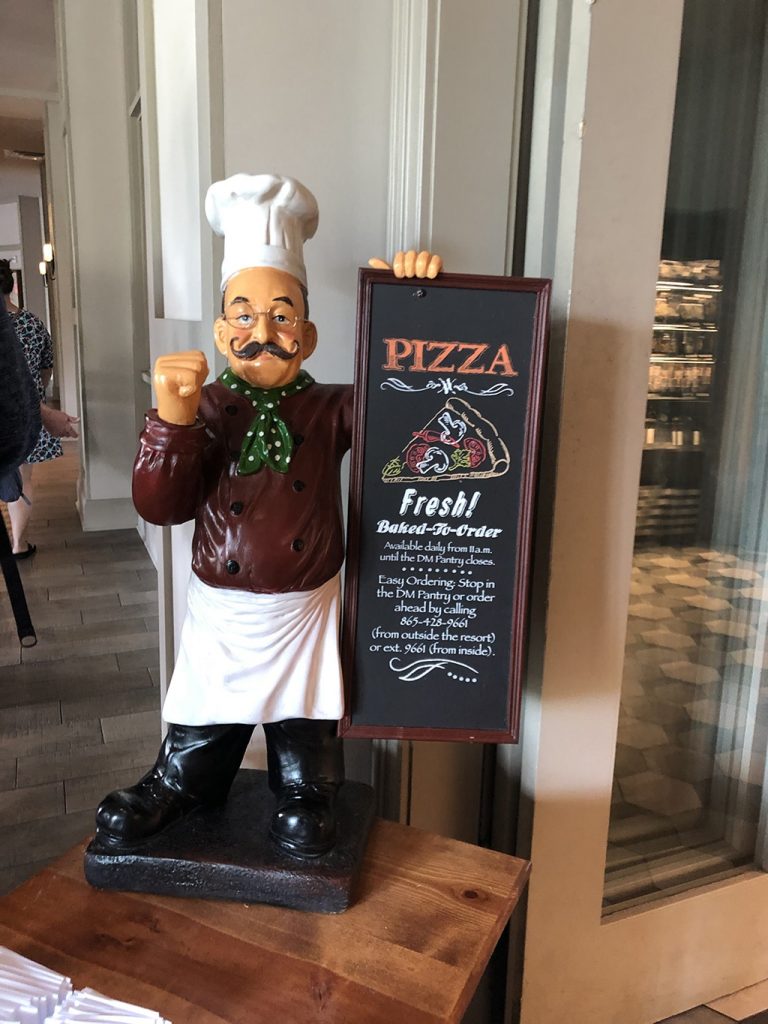 But our choice this go around? Poolside Dining!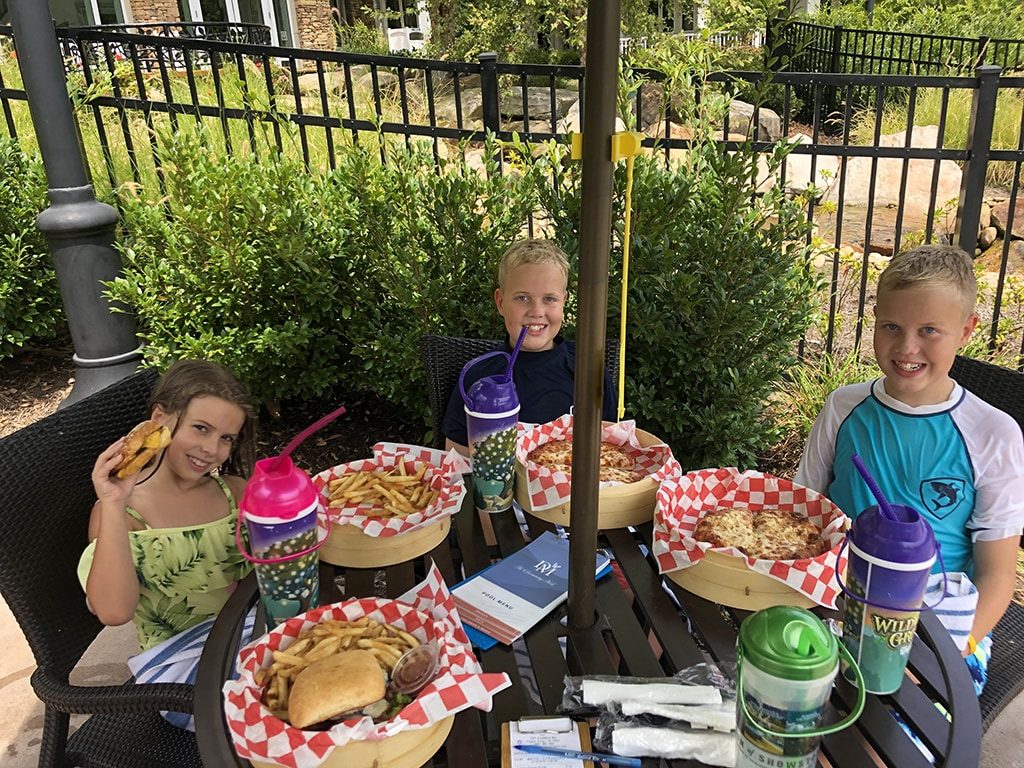 It was a fun experience and the prices were actually pretty reasonable!
All you do is pick a table (or chair even!) and browse through the menu (that usually can be found at a nearby table). Once you are ready to order, you just raise the yellow flag and an attendant will come and take your order.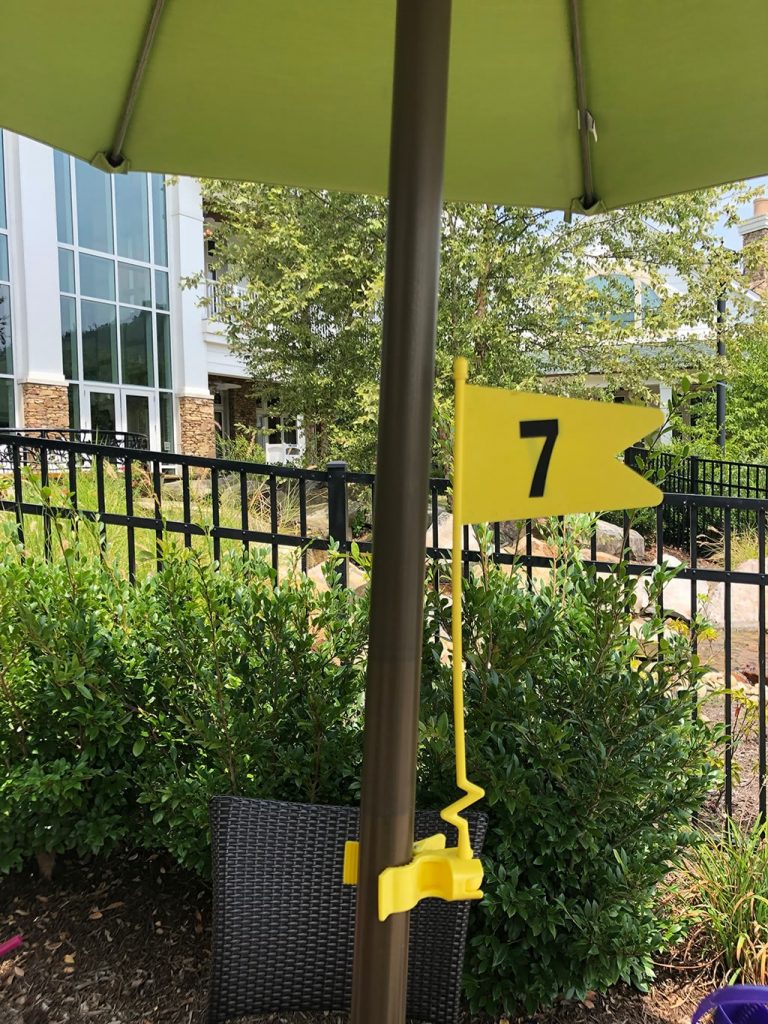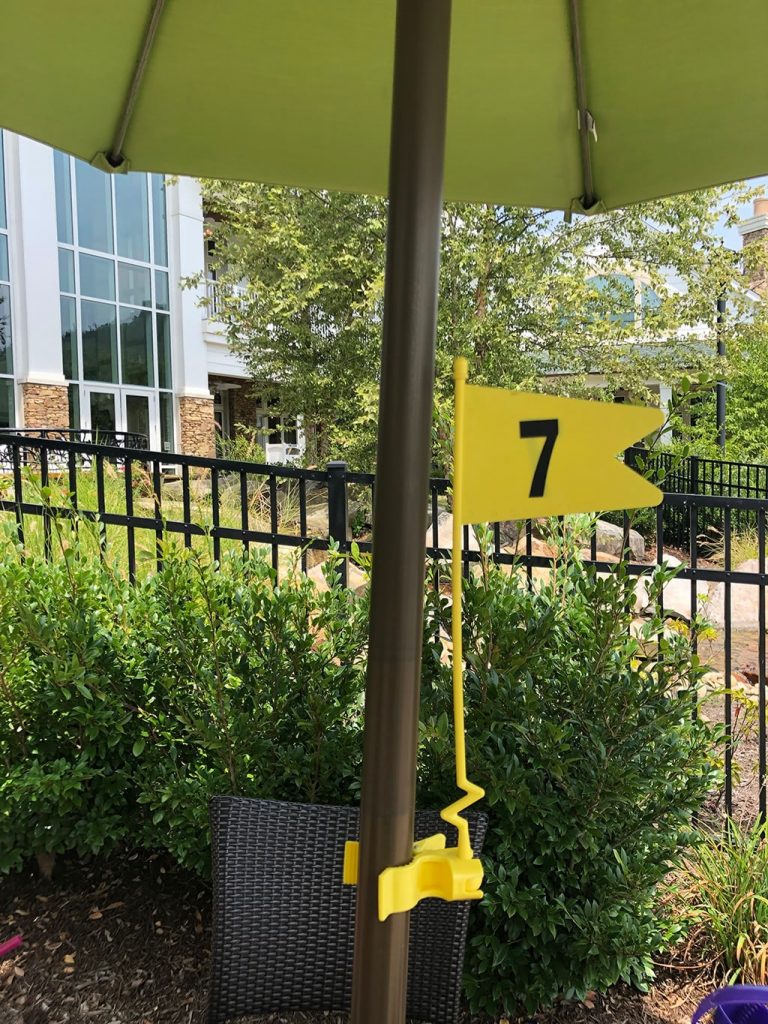 Then you can go and swim or hang out while you wait on your food! Easy peasy! And so fun!
6. Play some Games Together!
As you roam around the resort you will find some fun little surprises along the way, like family-friendly games that are just inviting you to come play!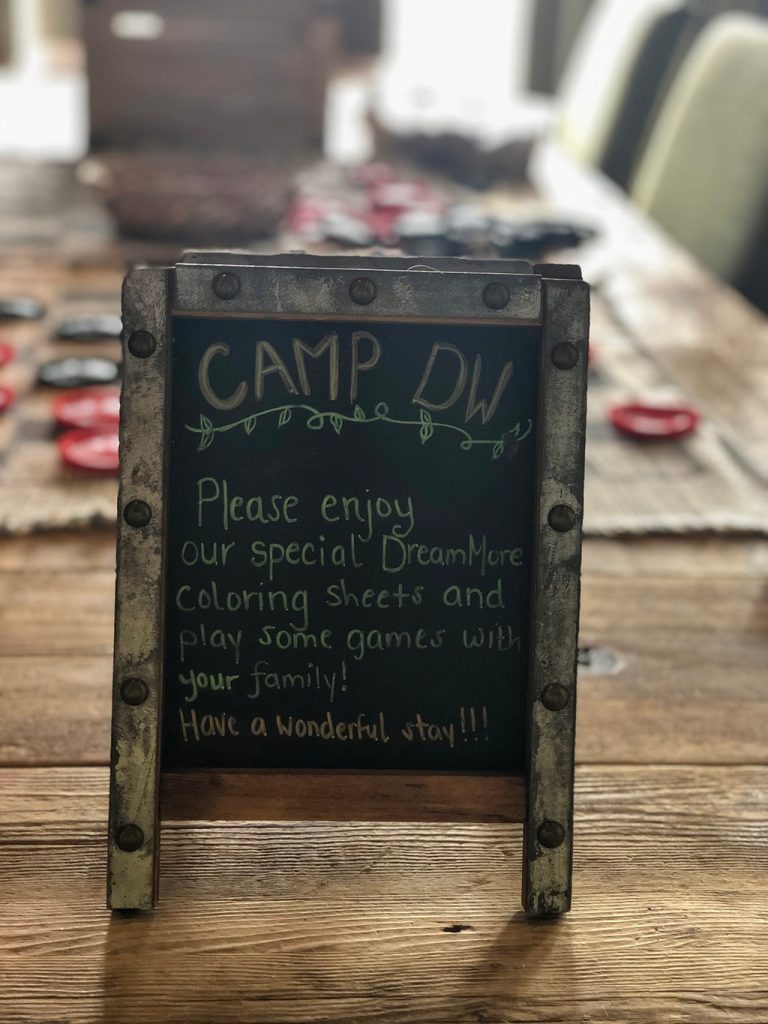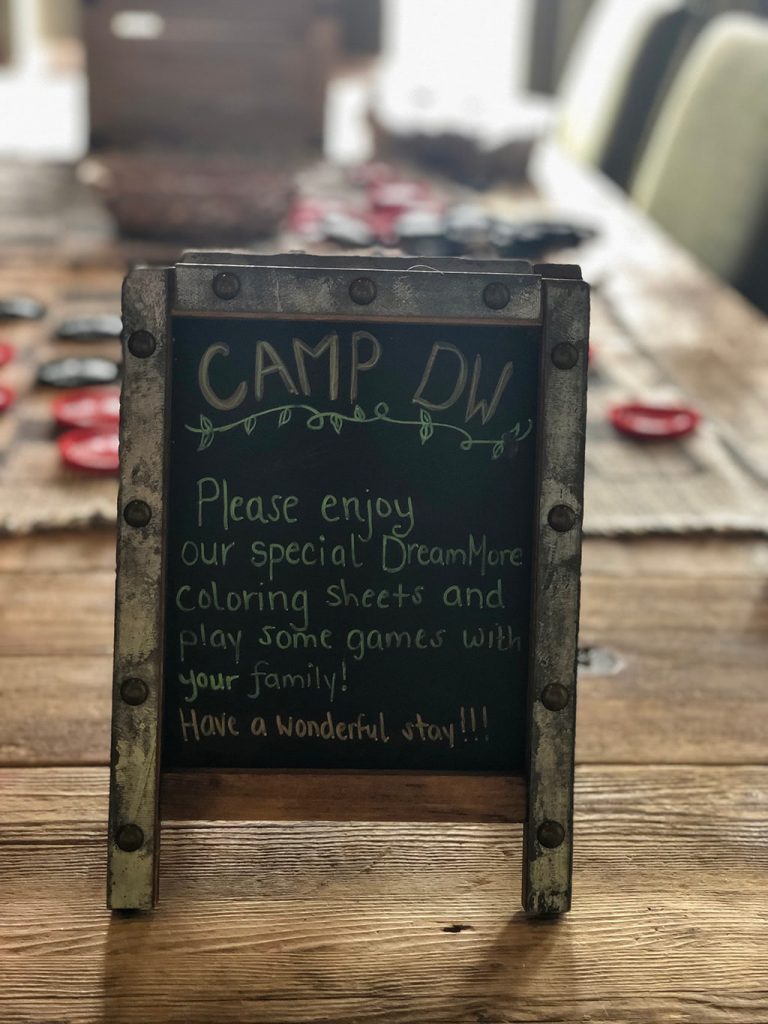 The living room area right off to the side of the check-in desk had some games set up that we enjoyed sitting down to play several times!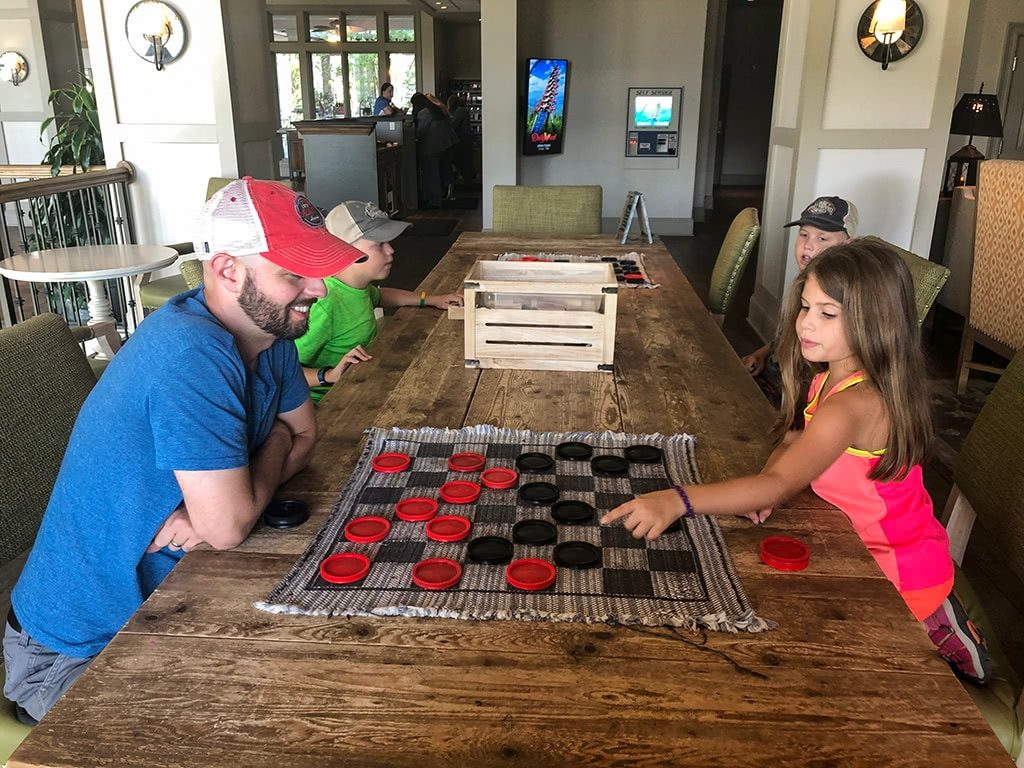 And downstairs outside of the pool area was another fun area we found that had giant checkers and a larger version of Connect 4.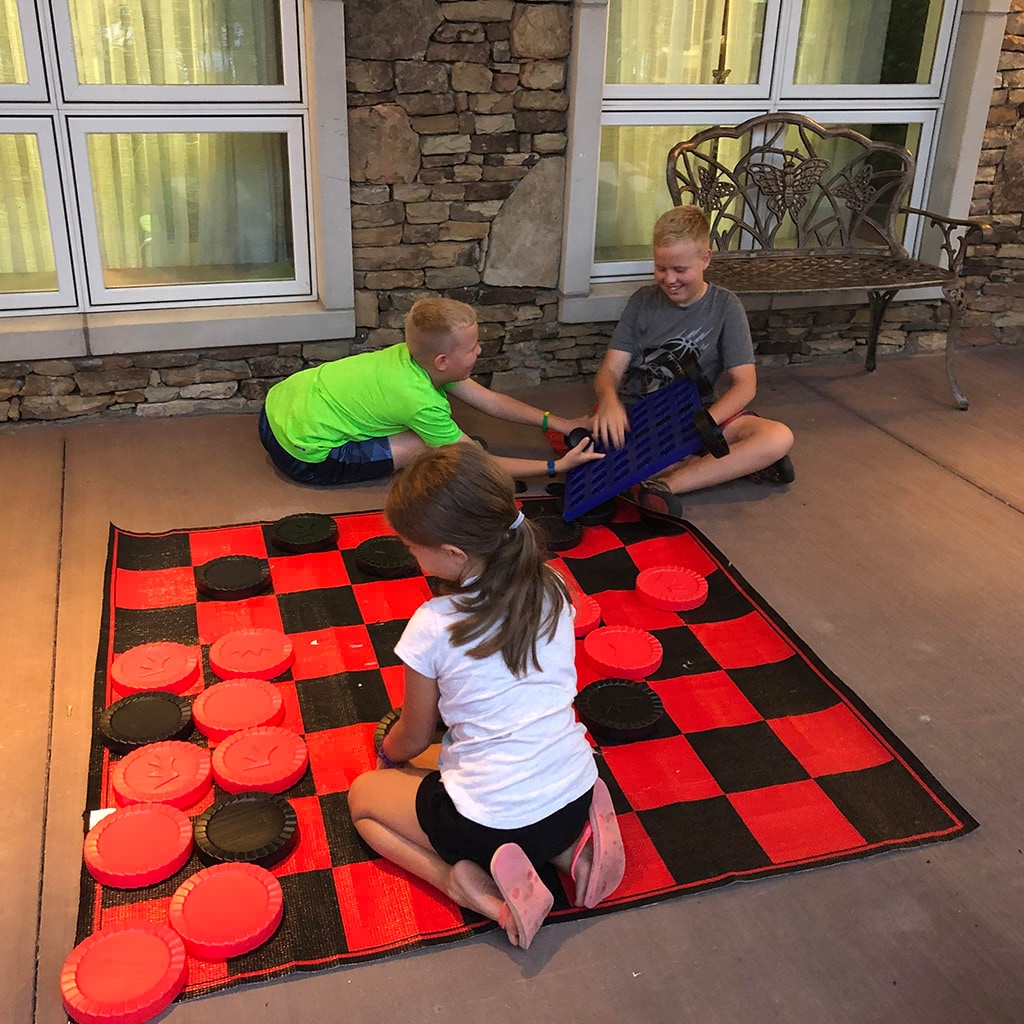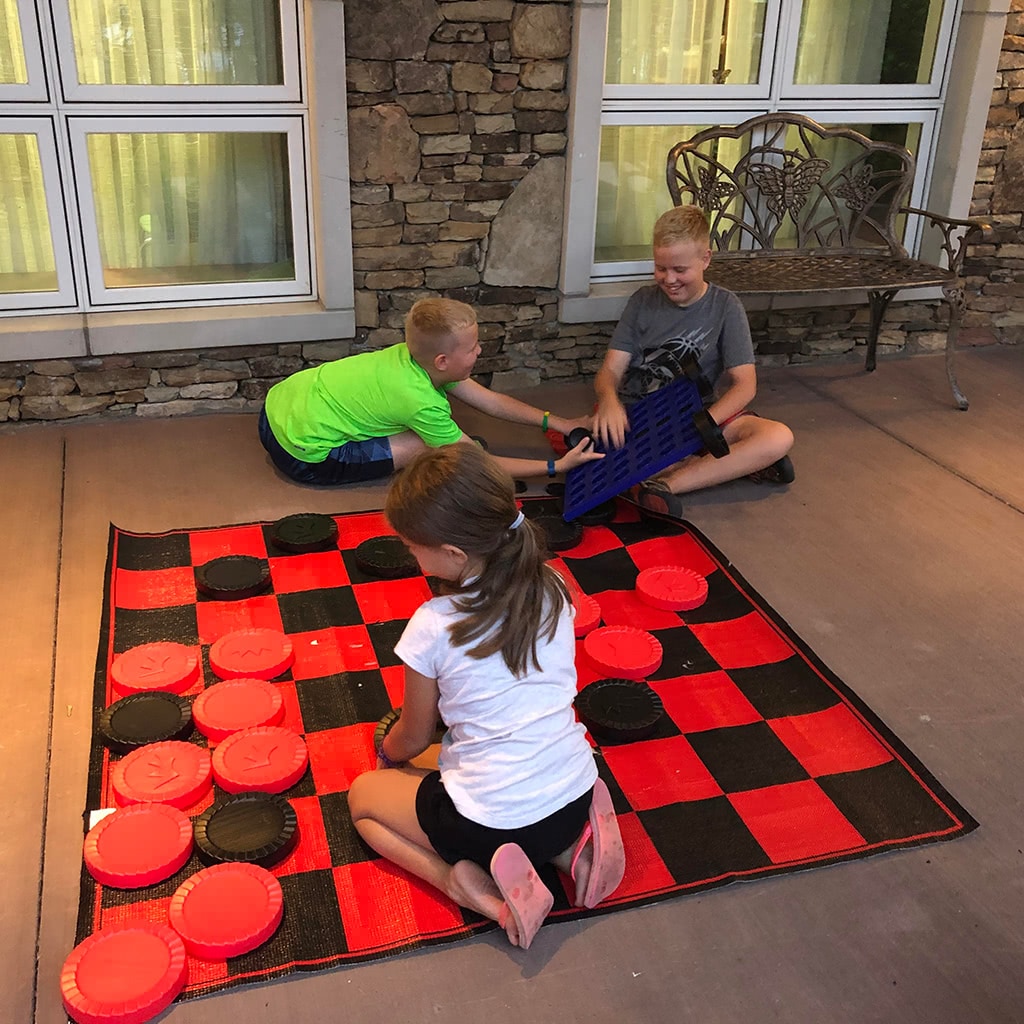 Then if that's not enough gaming for you, be sure to checkout the Game Room that's on the bottom floor. You can buy a card with credits and play until your heart is content (or your wallet is empty…whichever comes first).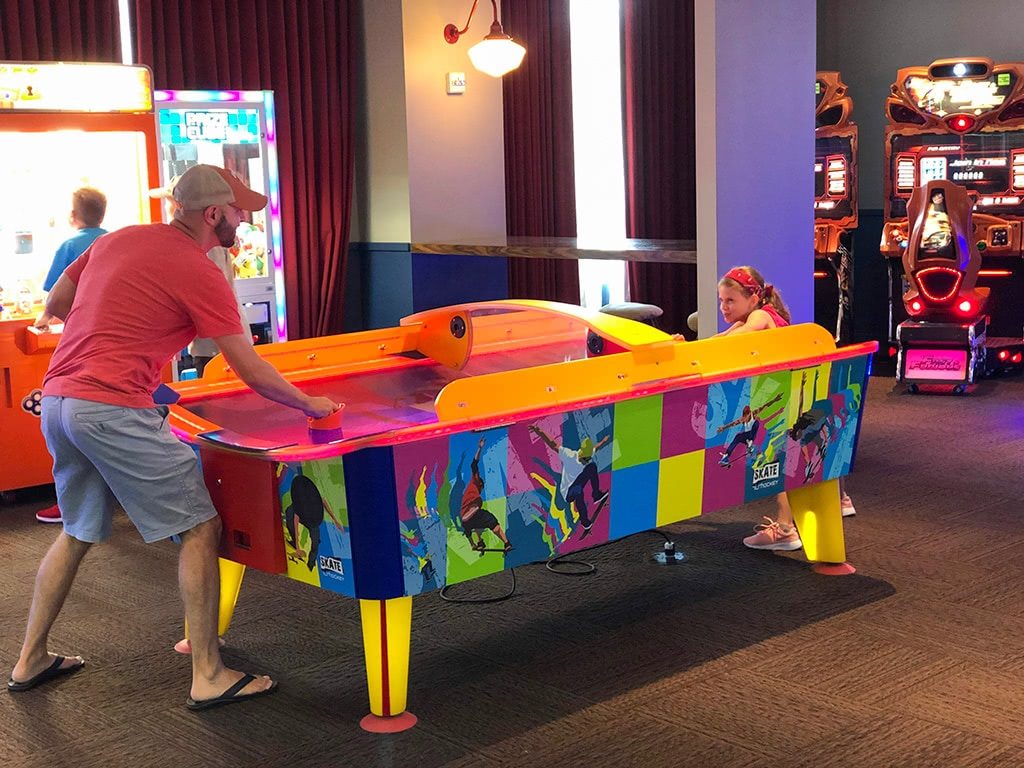 7. Enjoy an Ice Cream treat (or Coffee!) out on the porch!
If you are looking for a sweet treat (or afternoon coffee break), be sure to head over to the DreamMore Pantry and get some ice cream or specialty coffee (they Starbucks coffee)!
The kids enjoyed picking out their ice cream.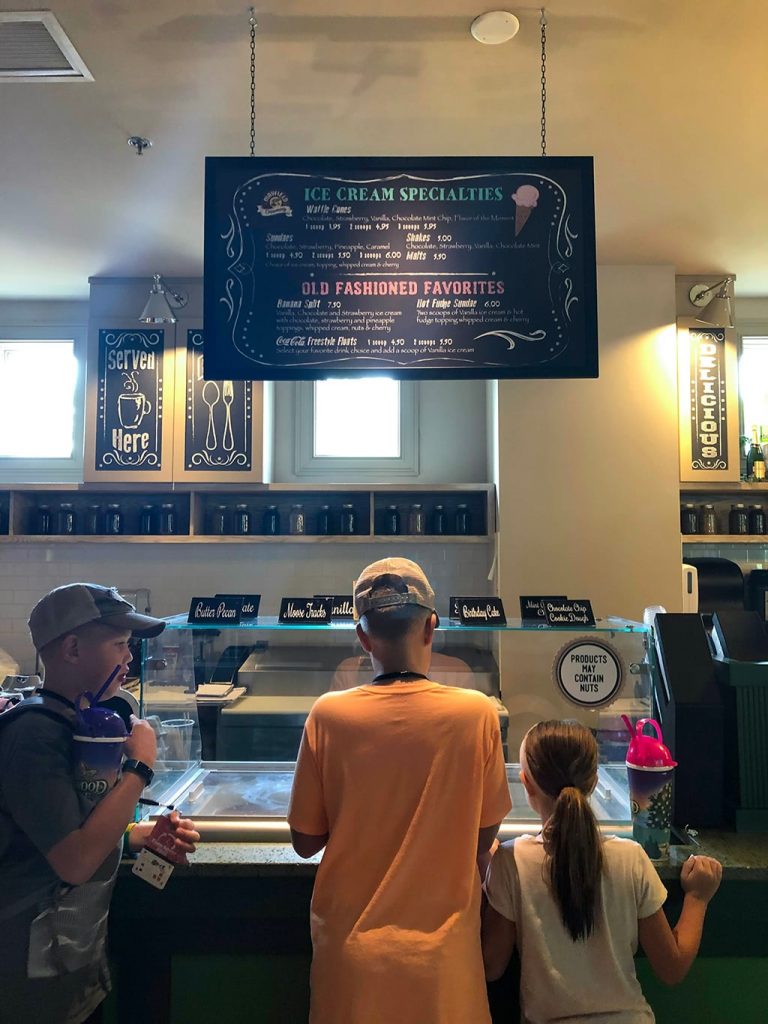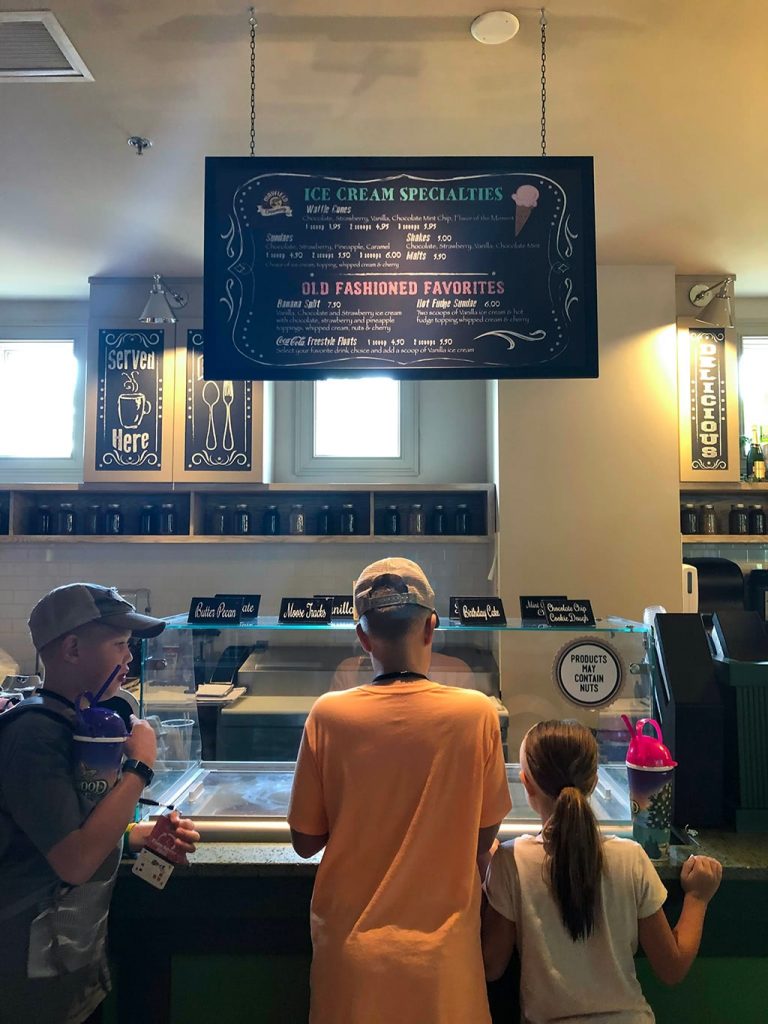 And Matt and I ordered ourselves a little coffee treat.
We actually ended up taking it out to the porch area and enjoyed our treats while we took in the views of the surrounding areas.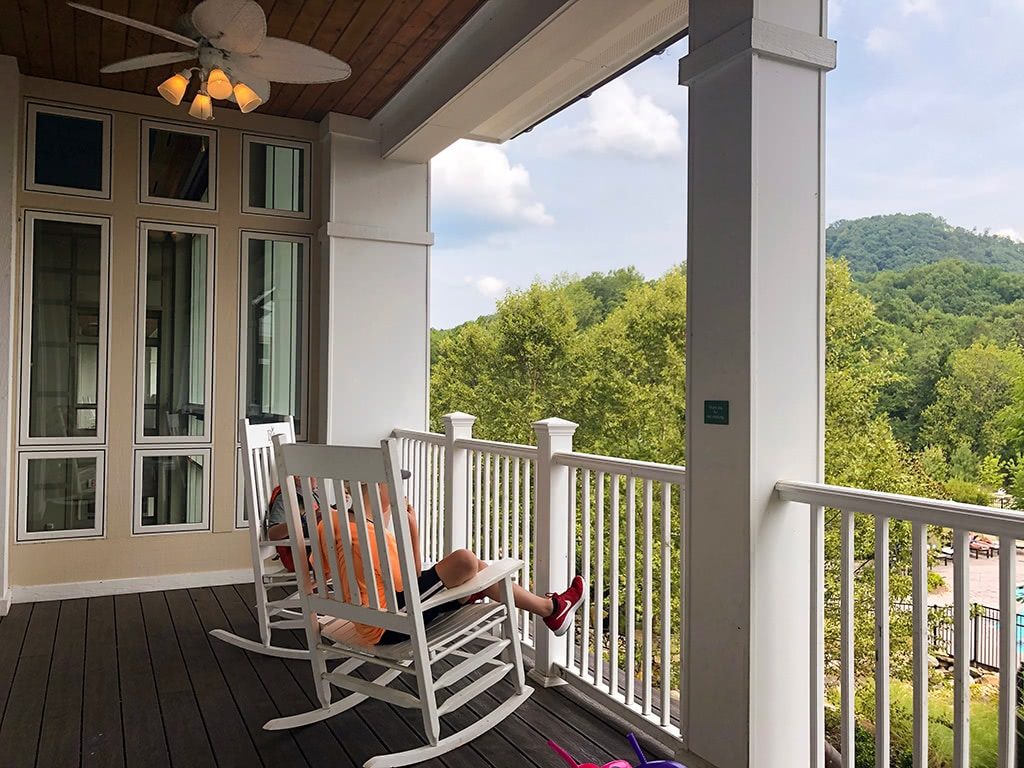 Maggie insisted on taking our picture as well.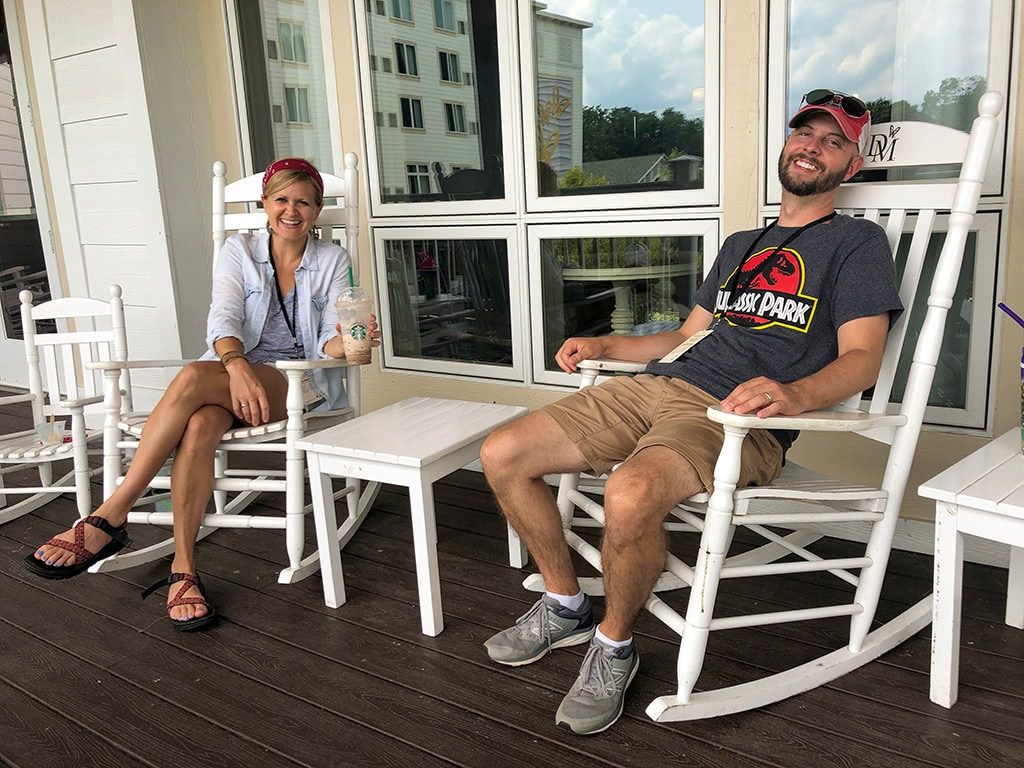 8. Ride the Trolley to Visit Dollywood or Dolly's Splash Country AND Use the Time Saver Passes!
One of the biggest perks of staying at Dollywood's DreamMore Resort is being able to utilize the free transportation trolley that drops you off right at the entrance of the parks!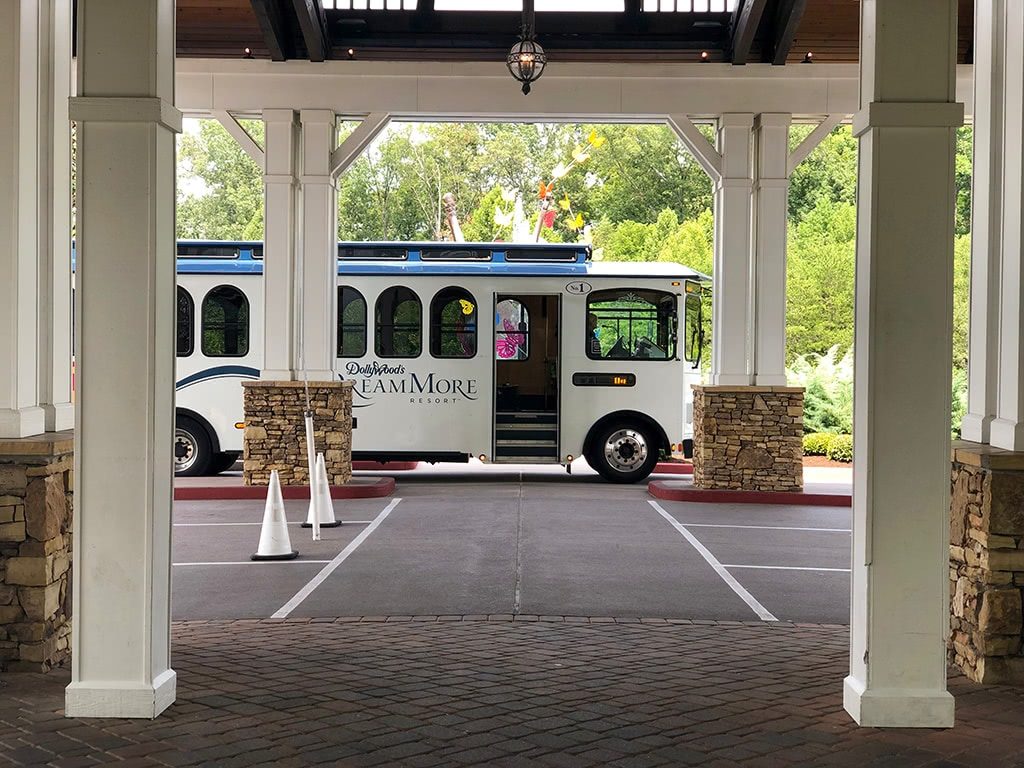 In fact, the Dollywood entrance that they drop you off at is a special entrance that you can only enter if you are riding the trolley or if you buy a special parking pass at the parking booth. So for those of us that are used to the regular parking lot and riding the tram into Dollywood, this is a special treat! Ha!
It's the little things in life, right?!?
Then when you are ready to head back to the resort, you just return to where they dropped you off at the specially marked Trolley pickup spot, and hop back aboard for a short trip to DreamMore!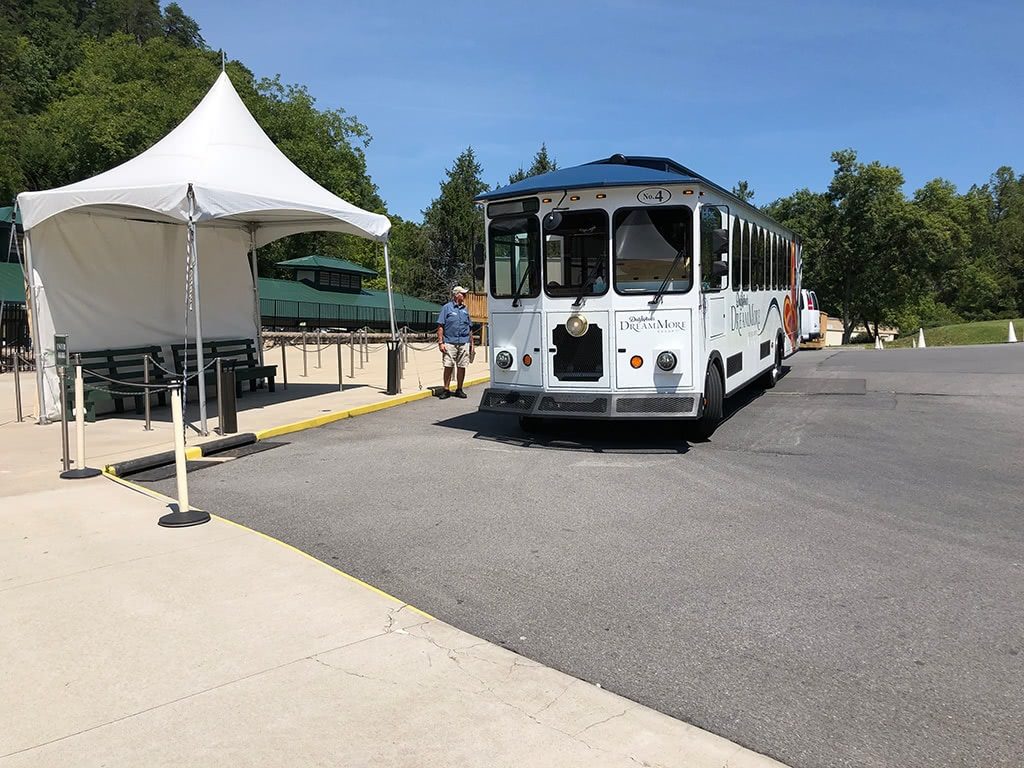 In addition to that, you also get a complimentary TimeSaver Pass included in your stay! This allows you to bypass the regular line at certain rides in the park. This little gem is perfect for busy days when the lines are long! (You can read more about the TimeSaver Pass here.)
The TimeSaver Pass also helps you do most of the big roller coasters without waiting too long, so you can use more of your time to checkout their newest expansion Wildwood Grove!
To pick-up your TimeSaver Pass or buy tickets to the parks, you will head over to the Concierge/Ticket Center that is located around the corner from the check-in desk.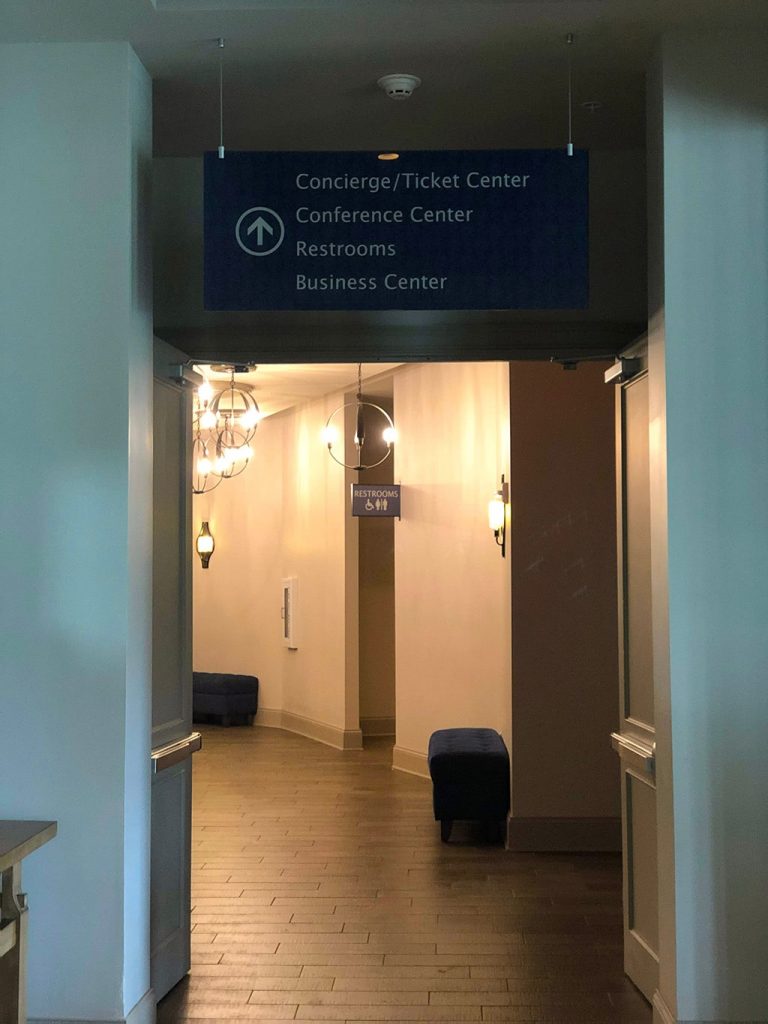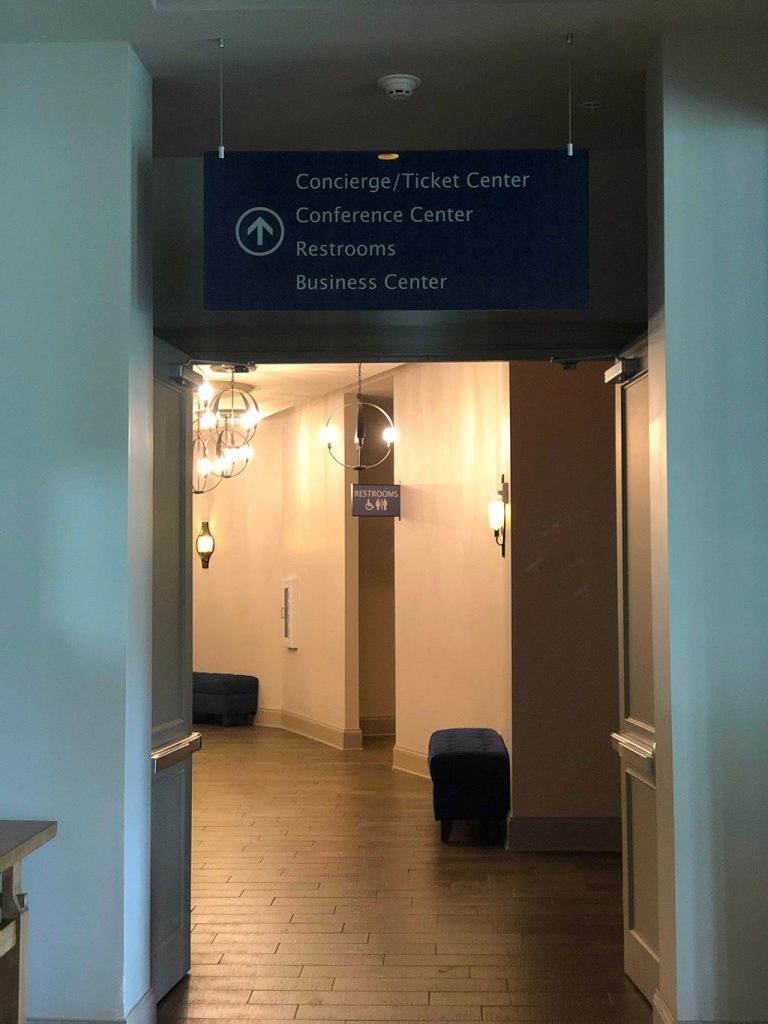 *TIP: You can go ahead and start utilizing the TimeSaver pass and Trolley the day that you check in. Be sure to stop by Dollywood's DreamMore Resort before you head to the park and do a "soft" check-in to go ahead and utilize the Trolley and the TimeSaver passes! AND…be sure to give them a call a little early to see if your room might be ready. You just never know!
9. Do Some of the Evening Activities: S'Mores by the Fire and Bedtime Stories
To wrap up your evening at Dollywood's DreamMore resort, be sure to check the schedule for the evening Camp DW Activities that are going on!
Our first night was a Ranger Talk in the barn where a retired Park Ranger came and shared some interesting information about the Great Smoky Mountains!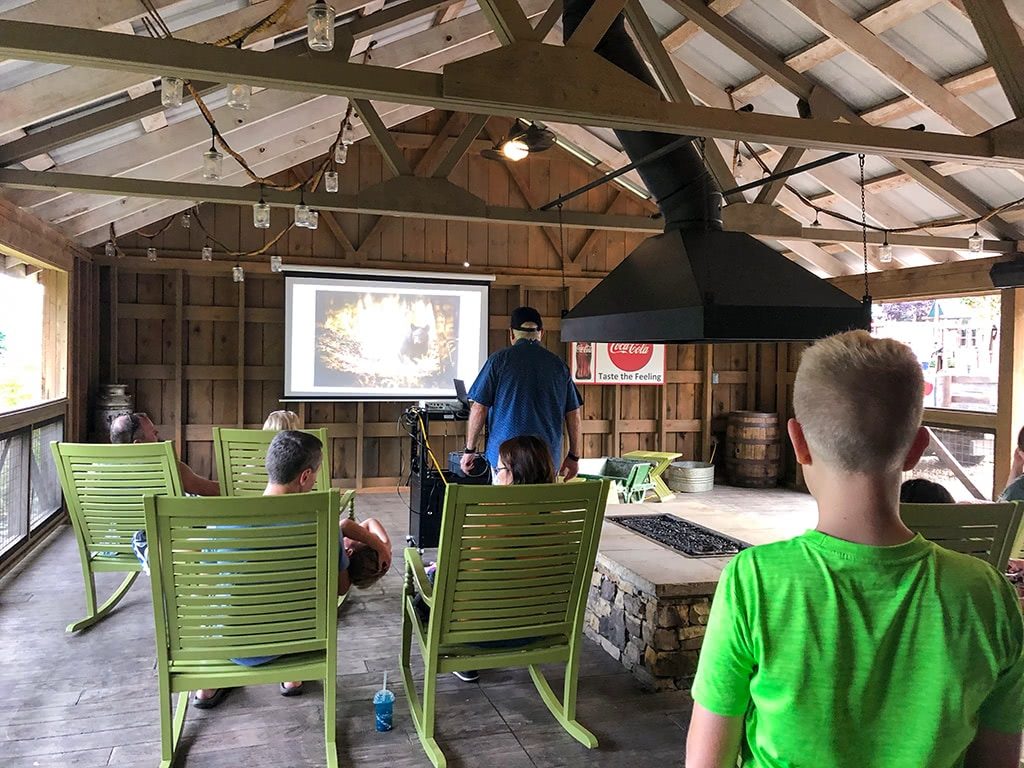 Our family really enjoyed the Ranger Talk but depending on the age of your children (little ones in particular…) they may not have the attention span for the entire length of the talk. Just keep that in mind.
They also have other evening activities throughout the week. Everything from live entertainment, music, and outdoor movies. So check the schedule!
But one thing that families seemed to really enjoy were the S'mores by the Fire Pit.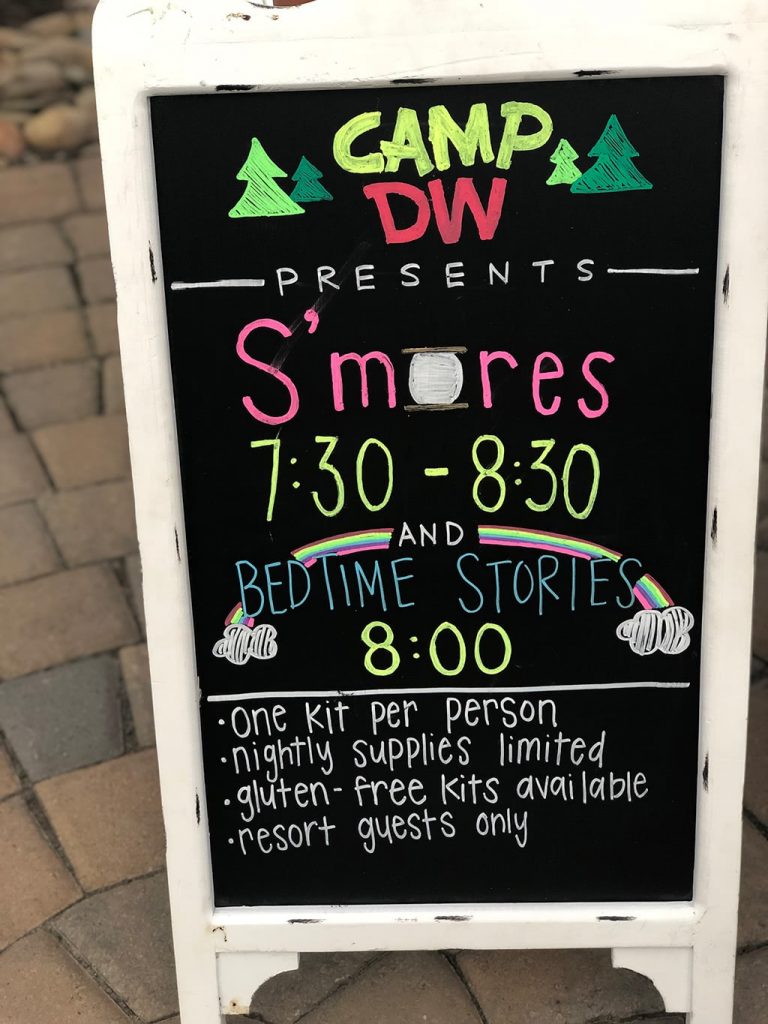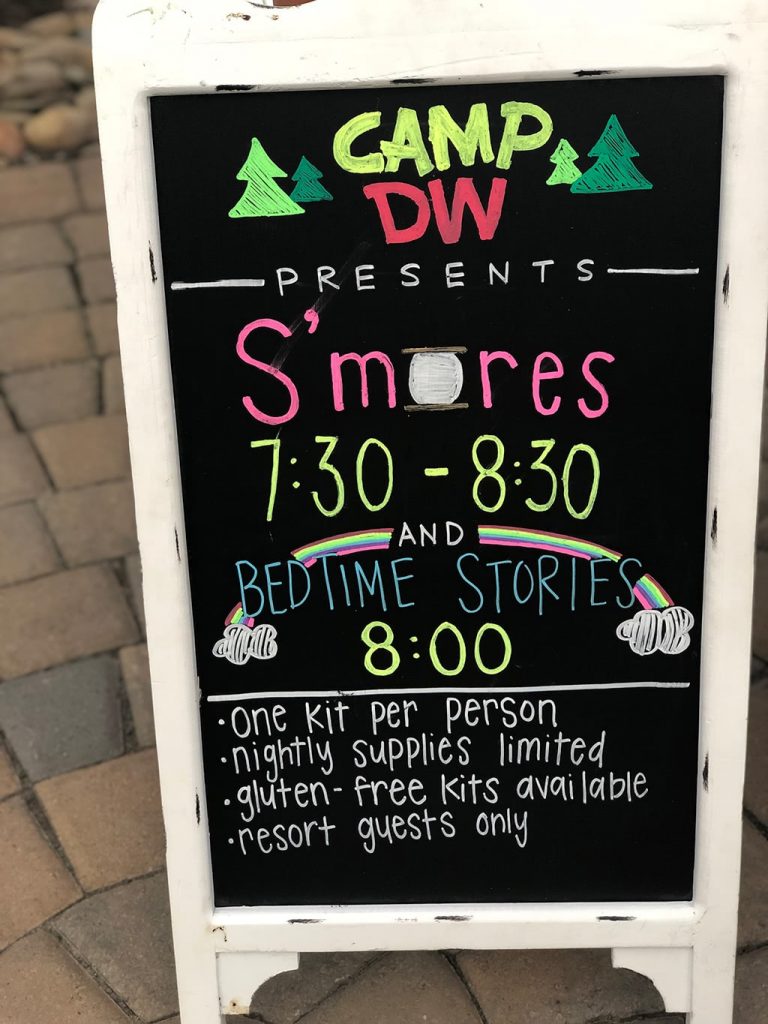 They give you pre-packed bags of everything you need to make your S'mores.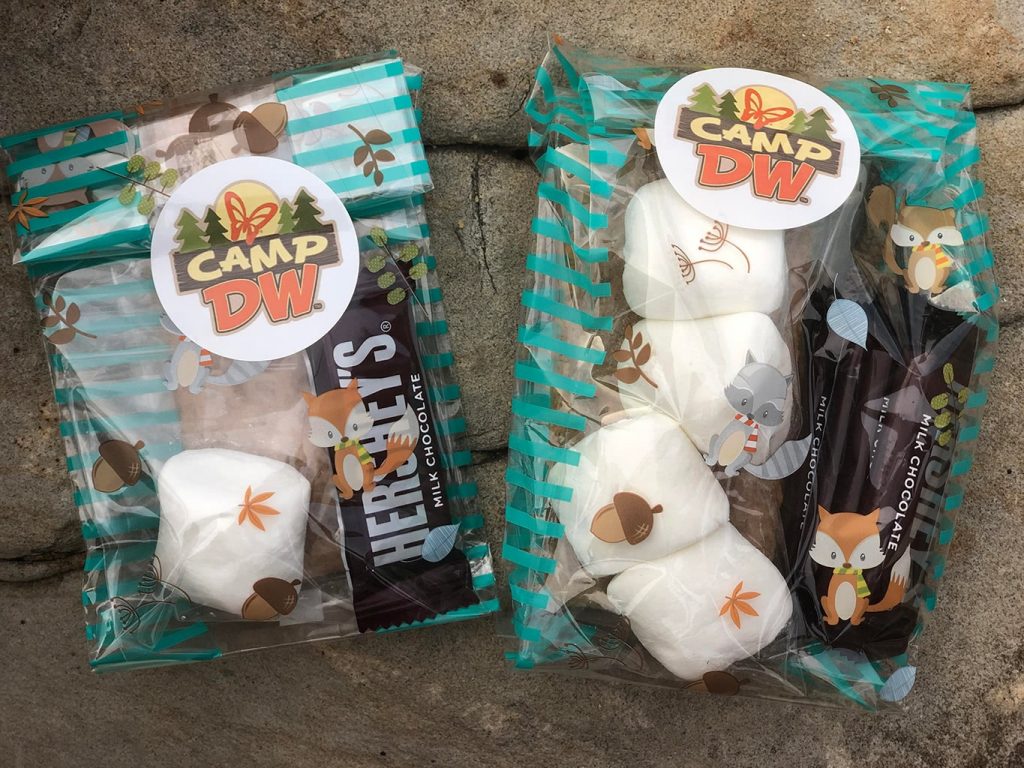 And then you actually get to roast them as a family.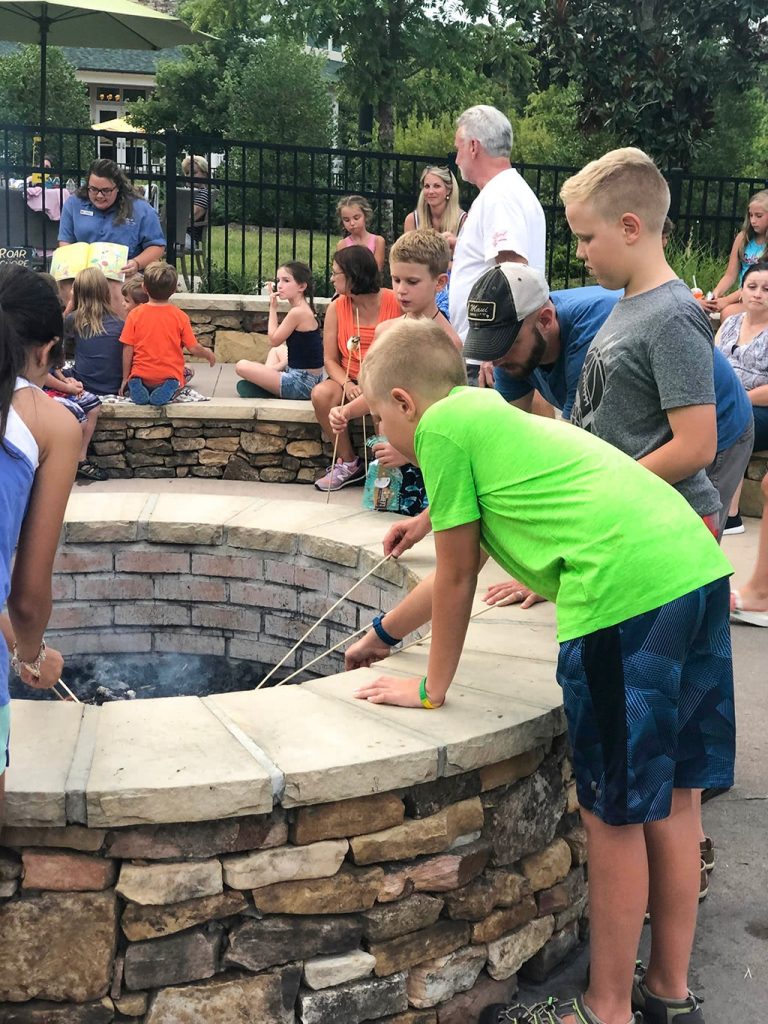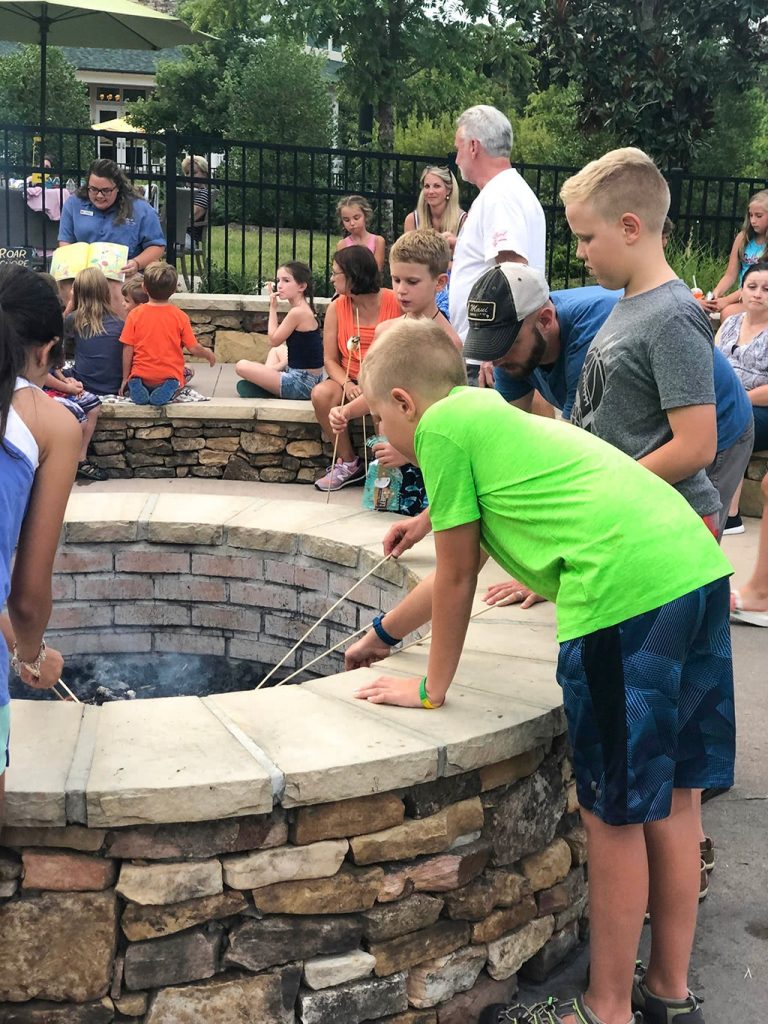 The Bedtime Stories were also happening at the same time. So it was sweet to see the little ones over listening to the stories. If you have little ones, they may enjoy that as well!
Final Thoughts about Dollywood's DreamMore Resort
All in all, our first trip to Dollywood's DreamMore Resort was pretty fun! We enjoyed getting to see all of the unique Dolly touches that make this resort so special.
We definitely made lots of family fun memories while we were there and look forward to going back one day! We definitely recommend visiting one day!
---
So what about you? Have you stayed at the DreamMore Resort? What was your favorite thing about it? We would love to hear your thoughts!
---
More Related Articles: