Looking for something family-friendly to do in the Great Smoky Mountains? Read on to discover our tips and tricks to one of our family's favorite spots- Clingmans Dome, the highest point in the Great Smoky Mountains National Park!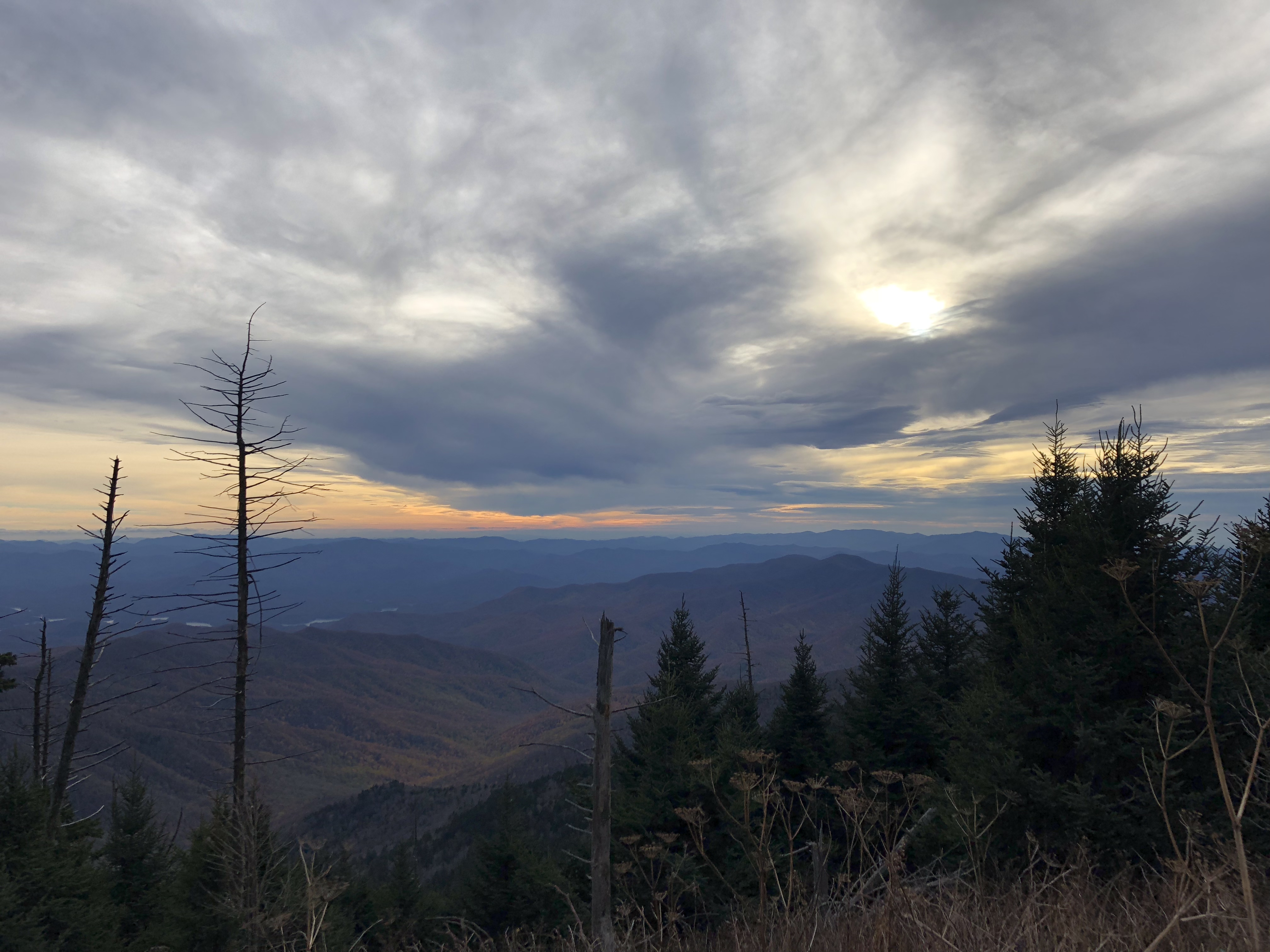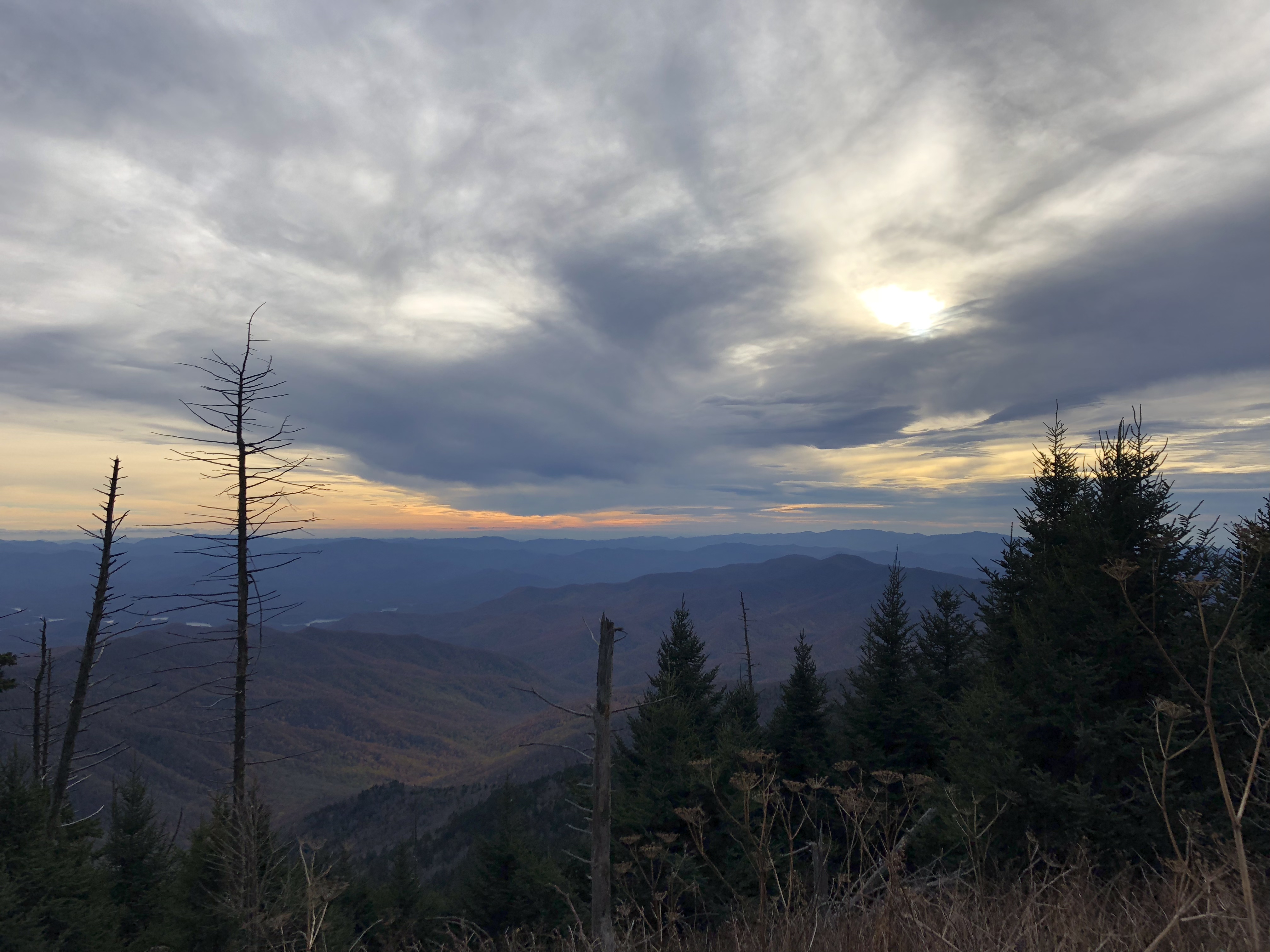 *This post may contain affiliate links. Read our full disclaimer.
Clingmans Dome Trail Information
Round Trip Length: 1 mile
Trail Location: Off of U.S. Highway 441 (Between Gatlinburg, TN & Cherokee, NC)
Directions: Clingmans Dome Trailhead
Trail Features: Panoramic Views, Tower
Difficulty: Easy – Moderate
Round Trip Hours: 1 – 2 hours
Clingmans Dome is the highest point in the Great Smoky Mountains National Park at 6,643 ft. Although it is only 0.5 miles one way, the paved trail is on a fairly steep incline, gaining 332 feet on the way up!
The Clingman's Dome tower at the end of the trail offers gorgeous panoramic views of the mountains, so it definitely is worth the trek!
Clingmans Dome History
The Clingmans Dome area is full of rich history. From the Cherokee Indians to the building of the Clingmans Dome tower, there is so much to learn about the history of this region. Here are a few books to grab to learn more about this area!
For more history and information about the Smokies, be sure to check out more Great Smoky Mountains Books and Guides here!
The Journey to Clingmans Dome
Every year we love to go see all of the pretty fall colors in the Great Smoky Mountains. This past year, we decided to head up to Clingmans Dome to get a good drive in on the mountain roads and to take one last peak from Clingmans Dome before they closed the road for the winter season.
So we pulled out the winter jackets, hats and gloves, threw in a bag of snacks and drinks, hitched up the horses and headed on our way!
Hwy 321 to Metcalf Bottoms
From the foothills of the mountains on the Maryville side, we headed north on Hwy 321 which leads through the quaint town of Townsend. As we drove through the winding roads of 321, the colors and views were of course beautiful!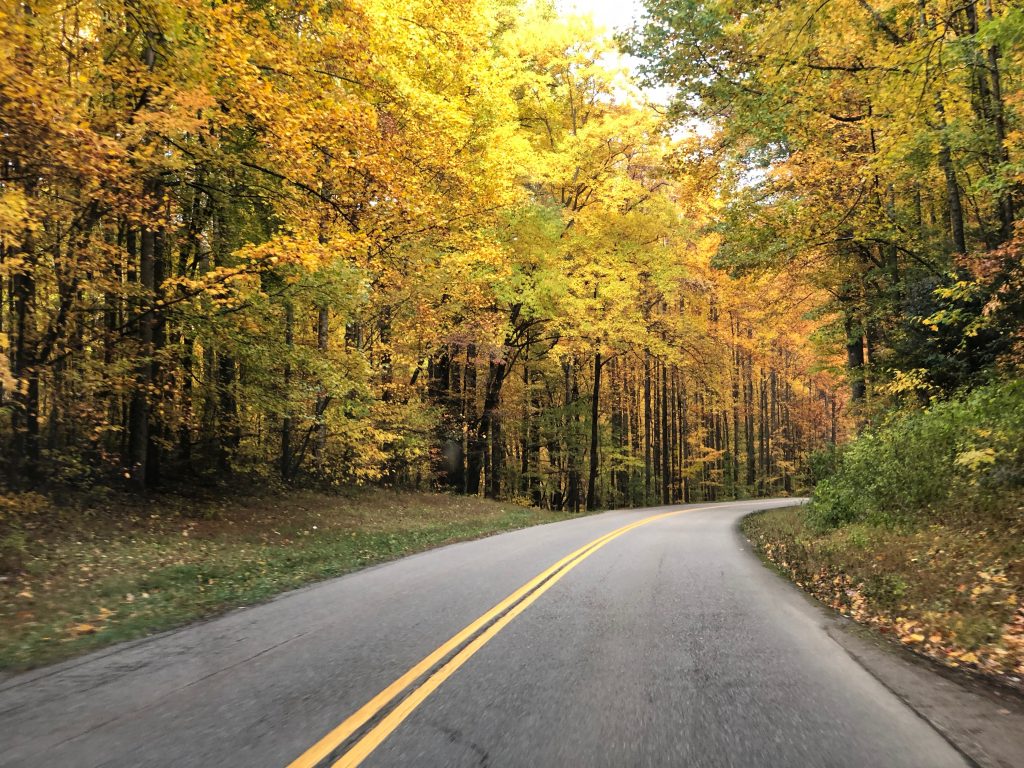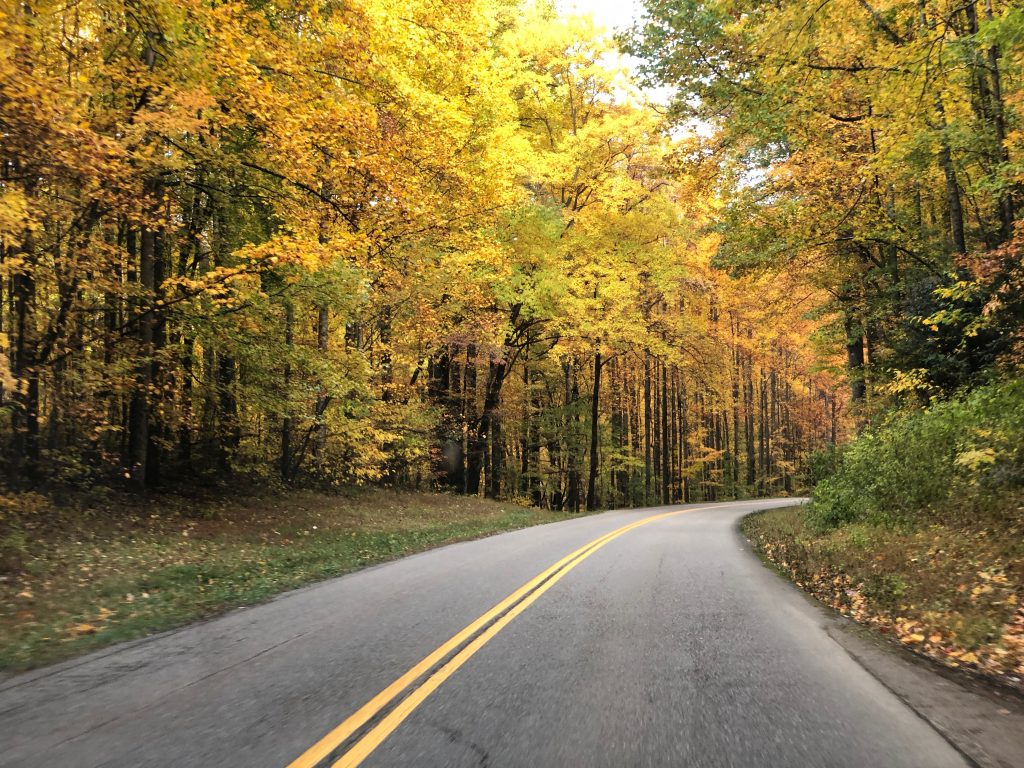 Another great option from the Maryville/Blount County side is to go on the Missing Link of the Foothills Parkway.
For this trip though, we took 321 to Wears Valley. We then took a left onto Wears Valley Road and followed it for a little while.
Next we took a right onto Lyon (Line) Springs Rd that leads right into the Metcalf Bottoms Picnic Area. Since there are limited access to restroom facilities, we stopped for a quick bathroom break at Metcalf Bottoms and then got back on the road.
Metcalf Bottoms to the Sugarlands Visitor Center
From Metcalf Bottoms, we took a left onto River Road to head towards Gatlinburg to get to Clingman's Dome.
Once we hit River Road, the colors were noticeably more vivid. We were able to catch several stretches of the road where there was very little traffic, and we were able to get some pretty amazing pictures!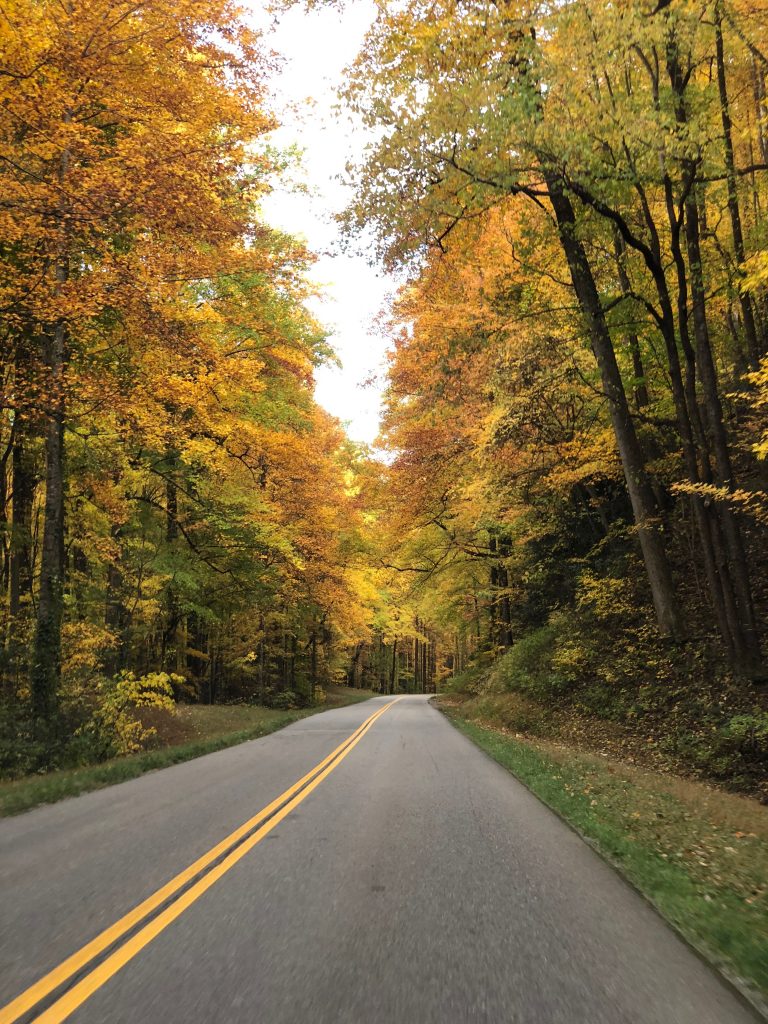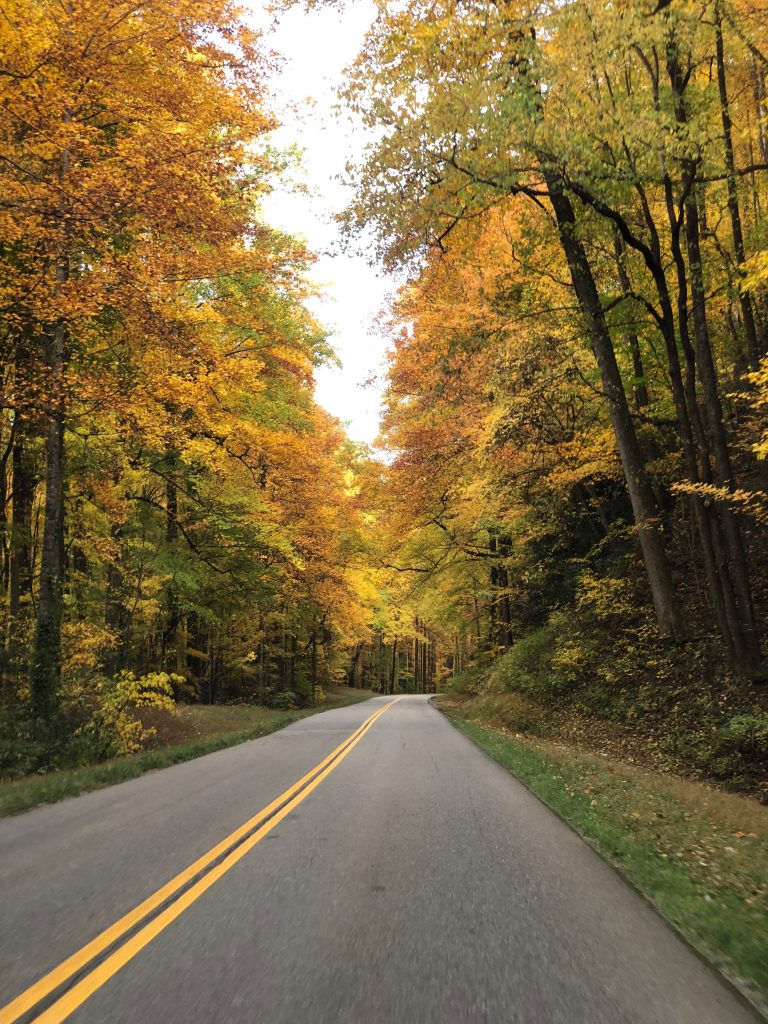 From Metcalf Bottoms, we traveled a little less than 10 miles to the Sugarlands Visitor Center. This was a really pretty part of the trip. The colors were absolutely stunning. Between the gorgeous colors on the trees and driving right next to the river, it was just perfect.
We caught one of the less crowded pull-offs and snapped a few pictures of the Little River with the colors.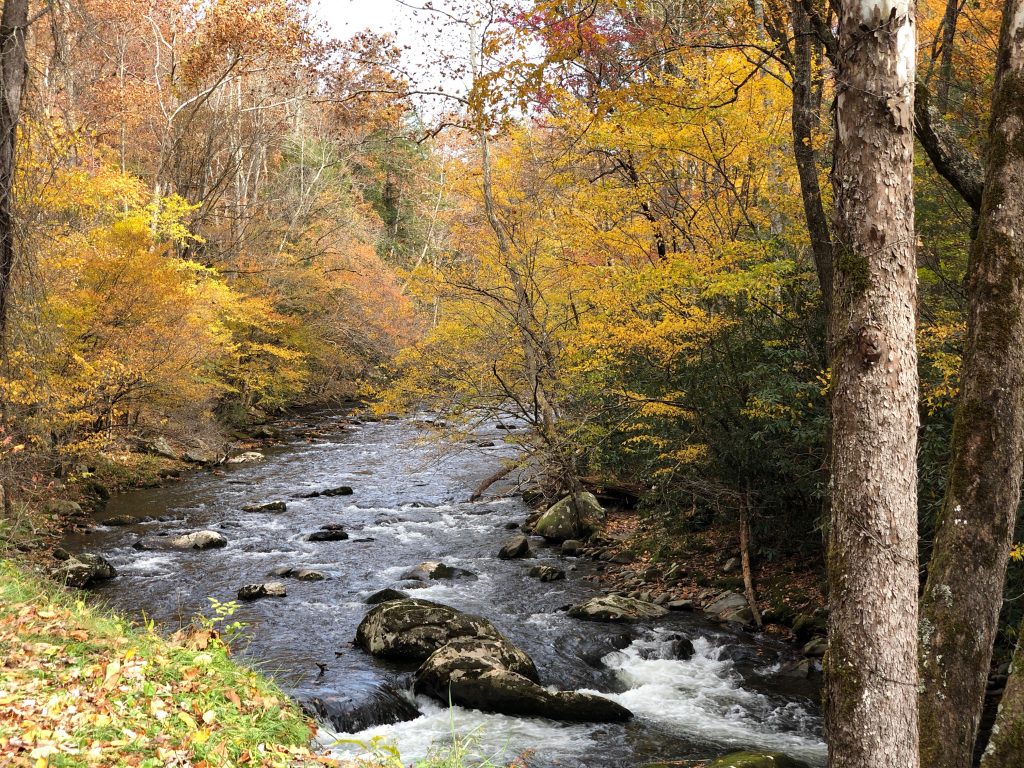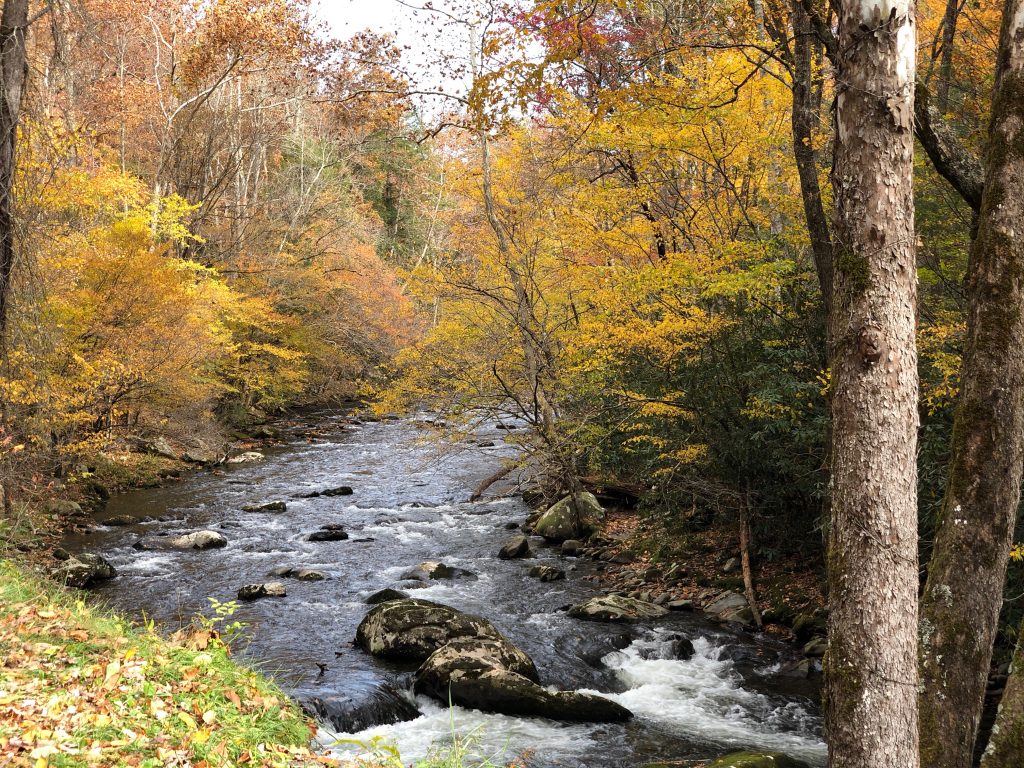 Laurel Falls Trailhead
Between Metcalf Bottoms and the Sugarlands, we hit a slightly congested area at the trailhead for Laurel Falls.
Laurel Falls is a very popular hike for those visiting the Smokies for the first time. Its definitely a must do at some point when you are visiting the Great Smoky Mountains.
It's a relatively easy hike and seems to be a popular choice as it's almost always bustling!
Sugarlands Visitor Center to Chimney Tops
After we passed the Sugarlands Visitor Center (which has a great beginner hike to Cataract Falls) on the left, we took a right onto US-441.
Once on this road, we traveled about 13 miles before we actually got to Clingmans Dome Road.
Along this stretch, we passed a few congested areas. One being the trailhead parking for the Chimney Top trail. This is a popular (yet strenuous) trail year-round that offers great views of the Great Smoky Mountains.
The second congested area was a little bit further past that, for the Alum Cave trailhead. This is also very popular on the weekends for those not only hiking to Alum Cave but also the Alum Cave trail to Mt. Leconte (the third highest peak in the smokies).
After some more curvy roads and climbing up the mountain, you will pass a parking lot on your left at an area that is known as "Rockefeller Memorial". This is the location where the Great Smoky Mountains were dedicated in 1940 by President Franklin D. Roosevelt.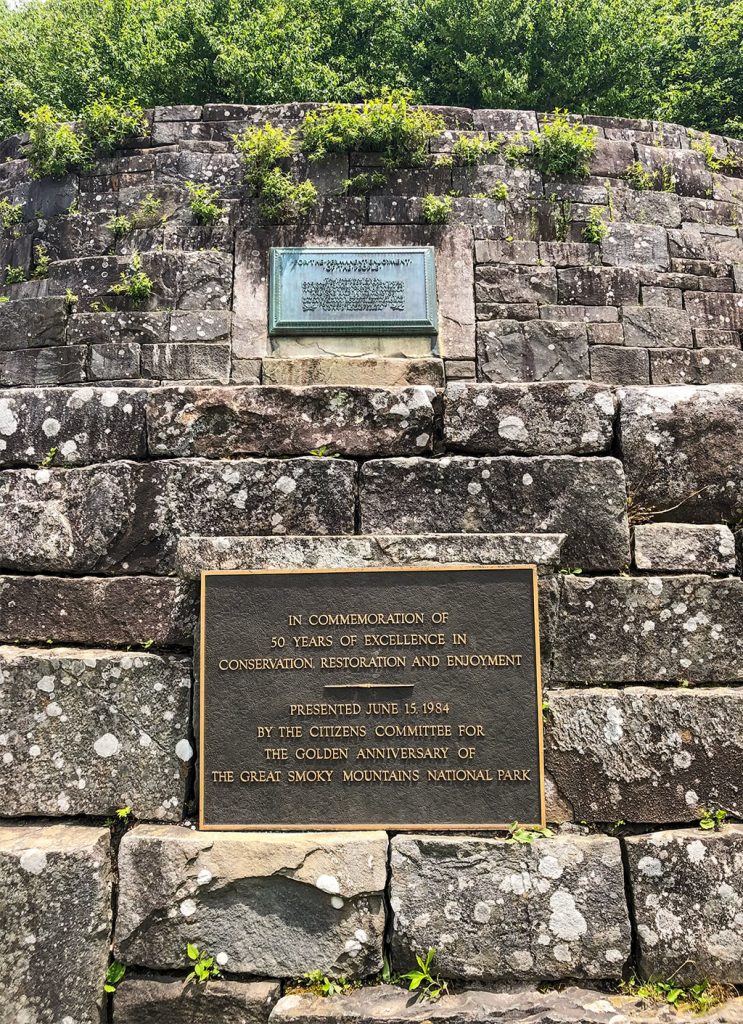 If not too crowded and you have plenty of daylight, this is a great little stop to take some pictures and read the history. We were about to run out of daylight, so we opted to head on to Clingmans Dome.
Visiting Clingmans Dome
Clingmans Dome Road & Parking
A little ways after that, we took a right onto Clingmans Dome Road. After driving about 7 miles on Clingmans Dome Road, we started seeing cars parked along the road on each side. We took our chance and waited a little longer in traffic to park a little closer to the actual parking lot.
We lucked out since it was later in the day and many people were heading out…so we scored a nice parking spot near the port-a-potties (which we were more than ready to visit!)
We hopped out, bundled up and made a quick visit to the restrooms.
After we came out of the port-a-potties, Maggie gave a public service announcement: "Whatever you do, you DO NOT want to look down that hole!" Of which several bystanders chuckled out loud.
It's a good life lesson though- don't ever look down the hole of a port-a-potty.
Be Prepared for the Temperature Change!
Since Clingmans Dome is 6,685 ft in altitude, the temperature is easily 15-20 degrees colder than in the valley (thus the warm apparel we packed!).
You can always tell the people that did not do their research and failed to prepare themselves or their families. We saw everything from shorts, short sleeves, people wrapped in blankets, etc…let's just say no one was trying to make a fashion statement!
It was 64 degrees when we left the foothills and it was 39 degrees when we got to the top of Clingmans Dome!
The wind chill actually made it feel MUCH colder than that, but we were at least prepared so we didn't freeze our tails off.
Take Advantage of Some AMAZING Photo Opportunities!
Once there, you need to take a minute to snap a quick photo on the sidewalk across from the restrooms.
There are usually tons of people there taking in their first panoramic view of the mountains, so it's pretty easy to ask someone to take a picture of your group, if you so desire! We always do and we have the sweetest memories of our family over the years!
Also, it looks like we are ready to climb Mount Everest or something. Did I mention it was COLD?!?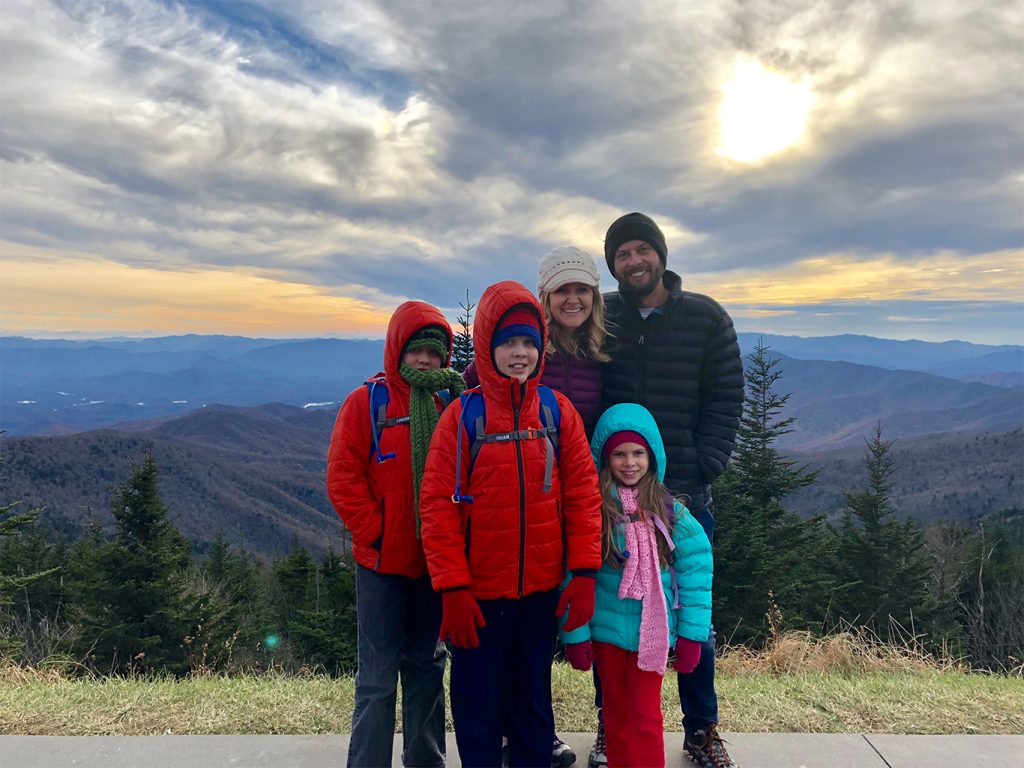 Take a few more panoramic pictures of the mountains and then head on up the trail to the 0.5 mile hike.
Hike To Clingmans Dome Tower!
Be sure to stop by the sign at the trailhead and read some of the information and background of the Clingmans Dome Tower.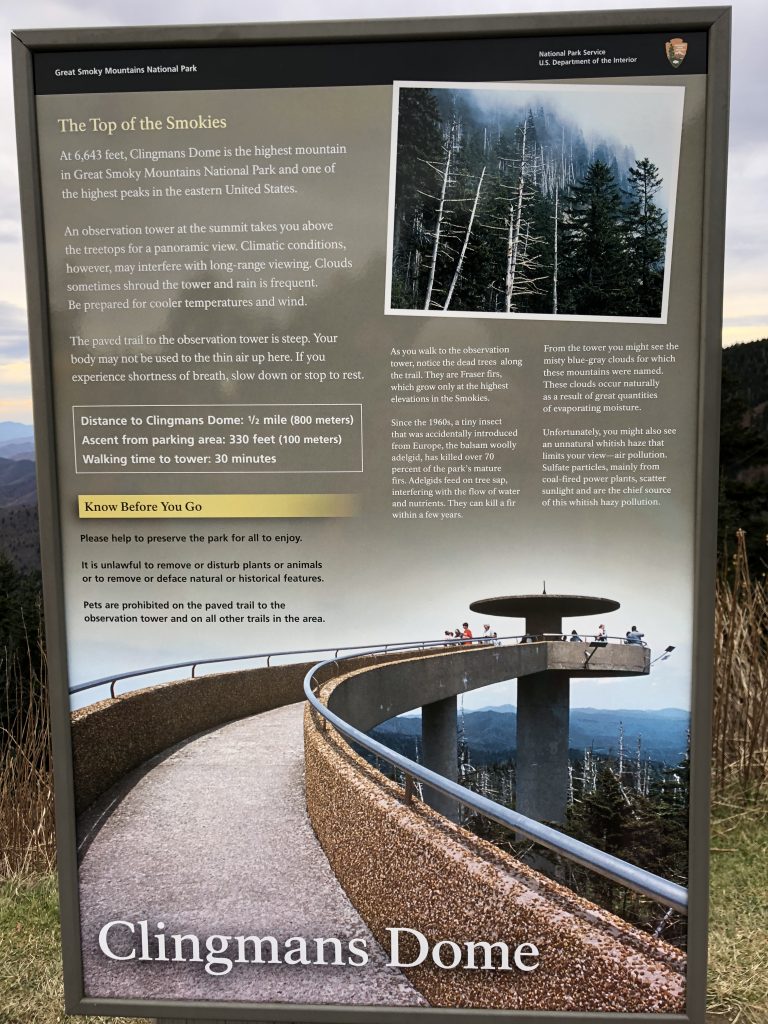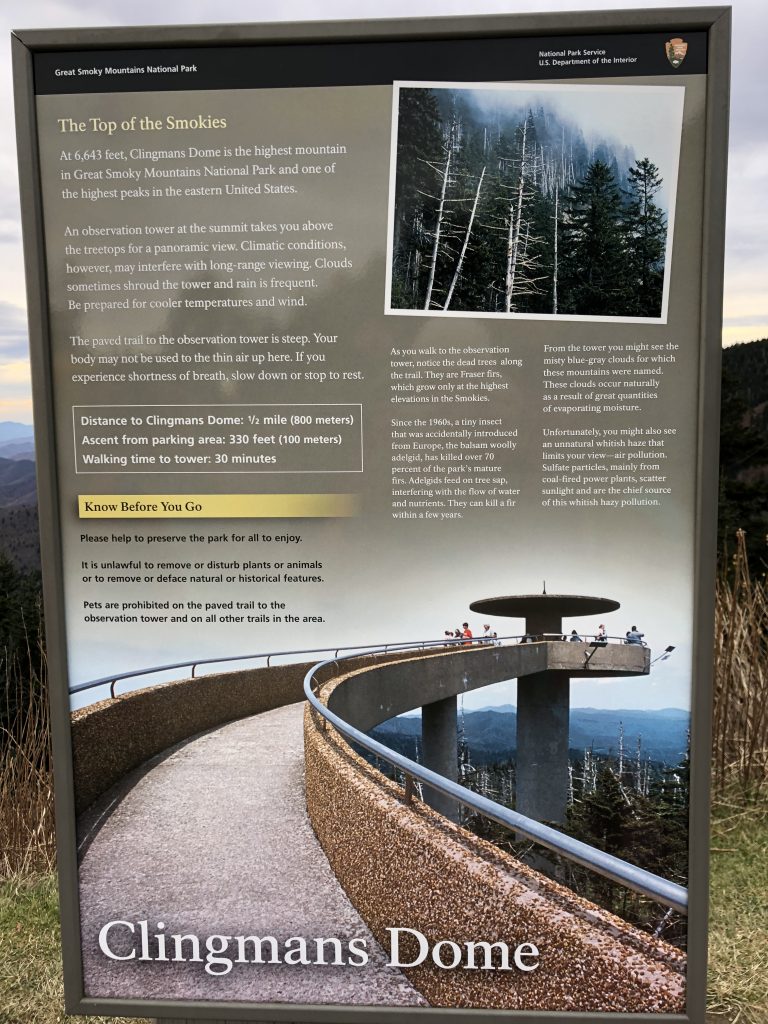 Along the way, there are several benches that allow you to take a break if needed. The altitude is very different at 6,685 feet, so if you aren't used to a lot of extracurricular activities or maybe aren't in your best shape, by all means- take your time and take several breaks as needed!
Be sure to snap a few more pics along the way on your left. The view is just breathtaking!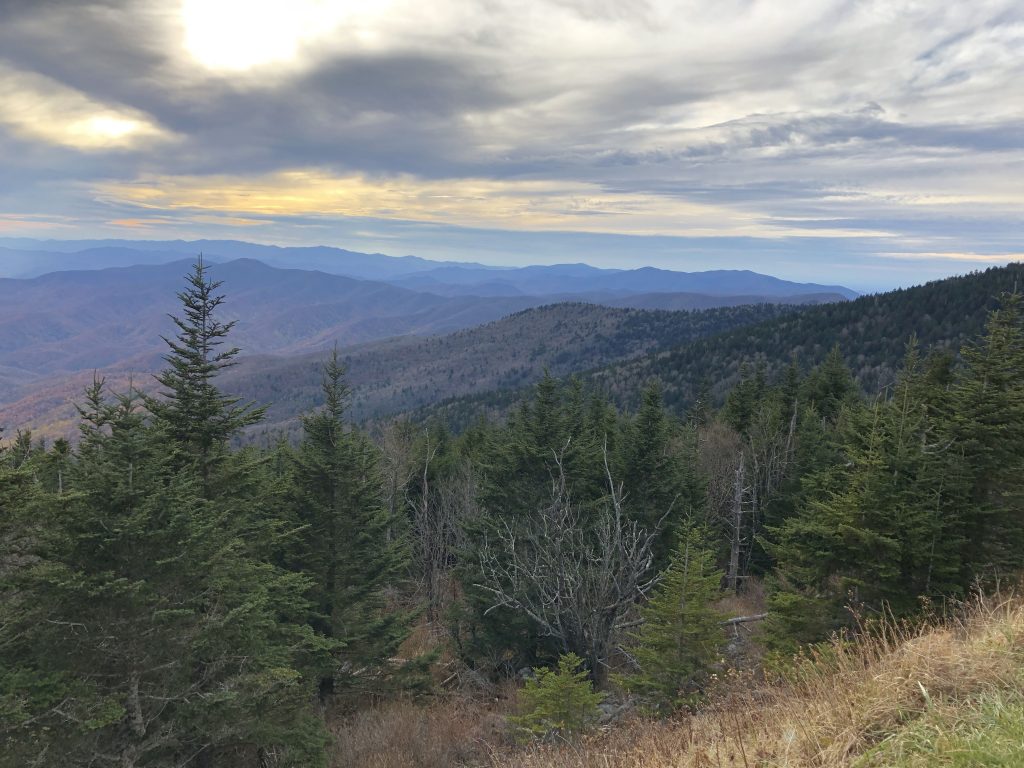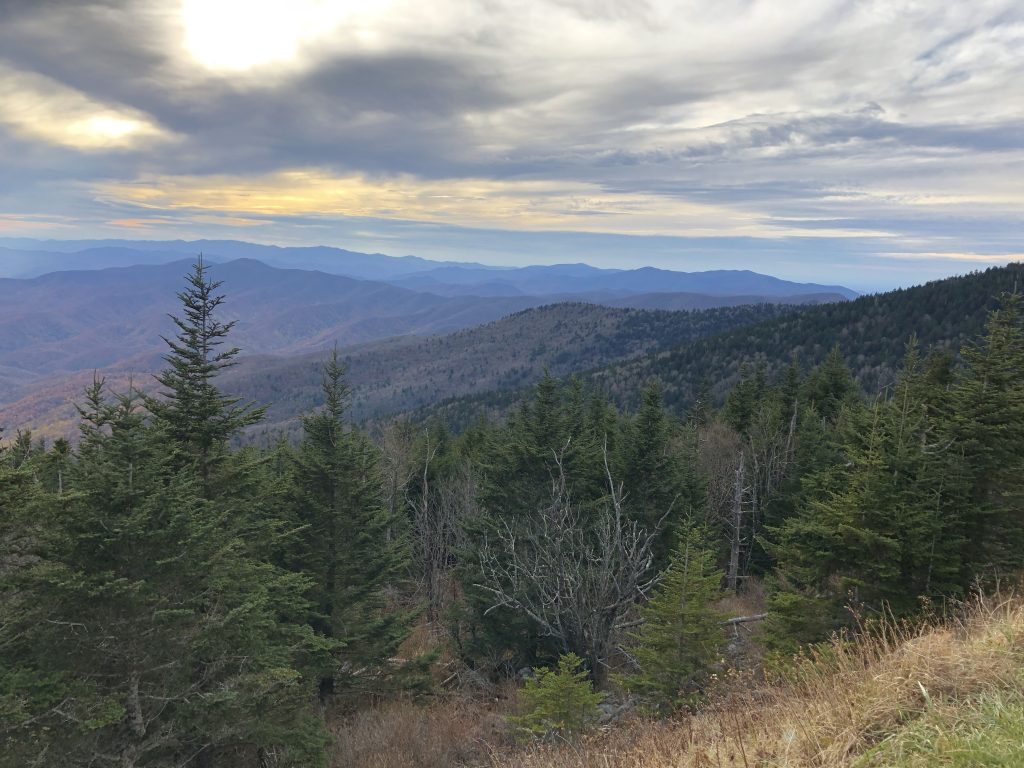 Explore at the Top!
Once we hit the base of the tower, we stopped to take a quick pic before we headed up. The kids are always so excited when they see the tower. They love going to the top!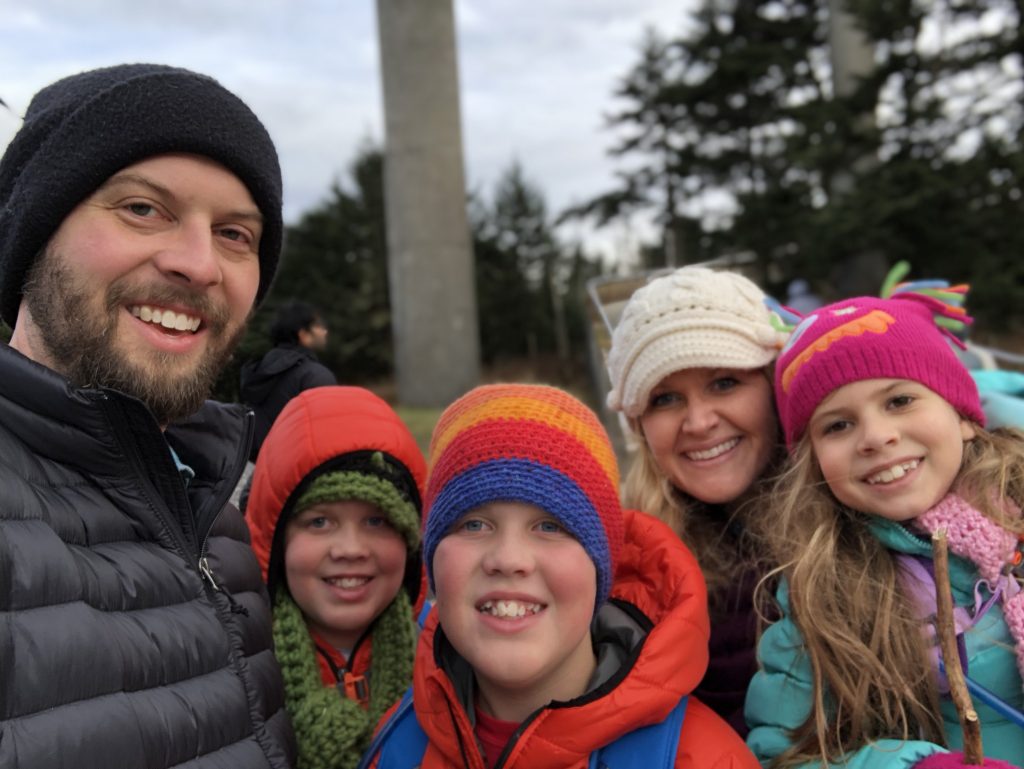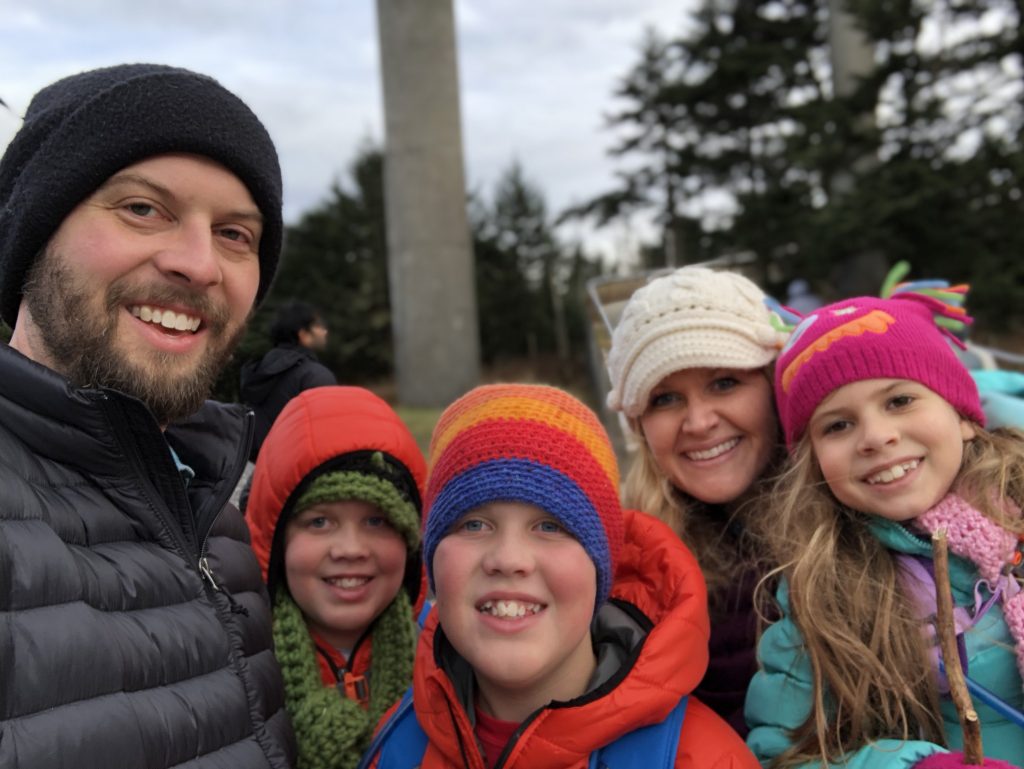 We lucked out and had a beautiful clear view of the mountains. Sometimes the clouds are too thick to see very far which is always a little disappointing, but definitely still worth the experience!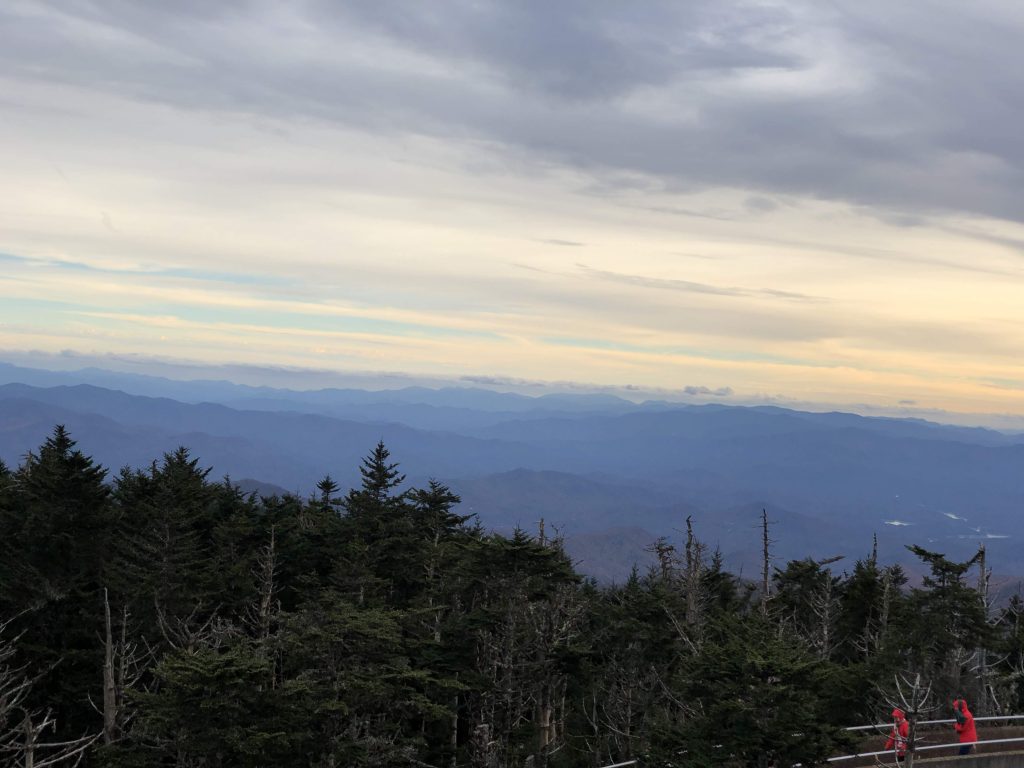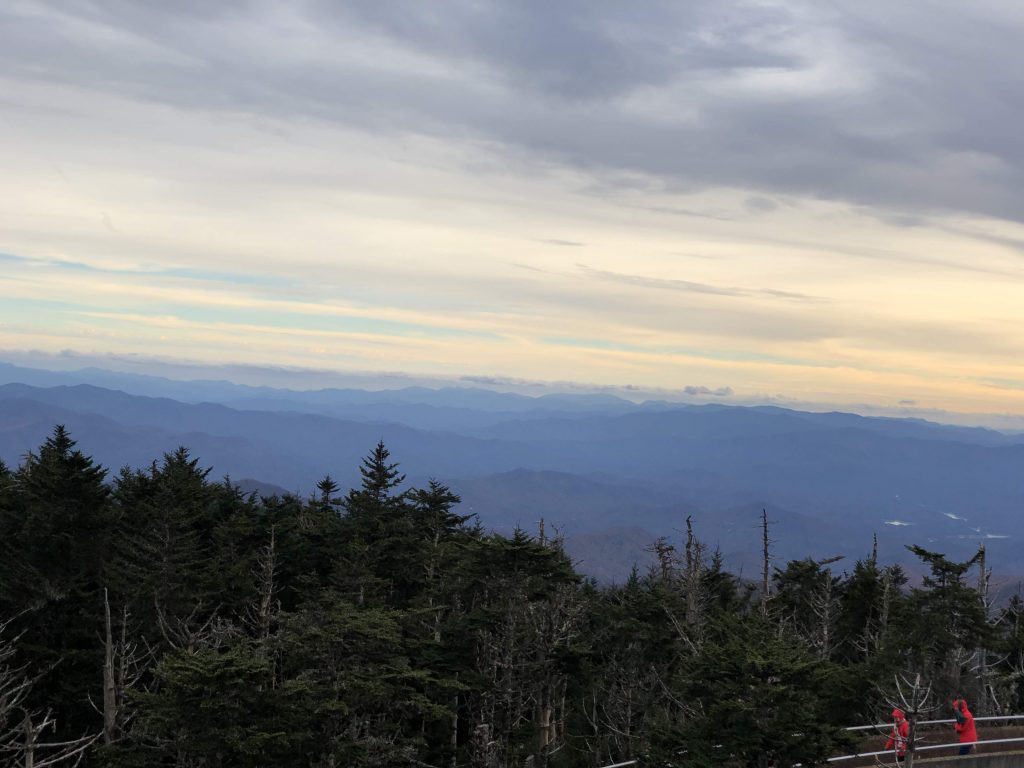 The wind was incredibly strong that day. I seriously thought we were going to blow off (or freeze death…). Either way, we didn't linger too long. We all got a quick look around and took a few pictures and then headed back down.
Half of the ramp to the tower was covered with ice, so on the way down, the kids held onto the rails and tried to ice skate for a minute, but then decided it wasn't worth the risk. So definitely pay close attention to any ice on the tower, as that would definitely not feel very good to fall on.
Head Back Down the Mountain!
The hike back down was 5 times quicker by far. We snapped a few more pics on the way down as the sun was setting.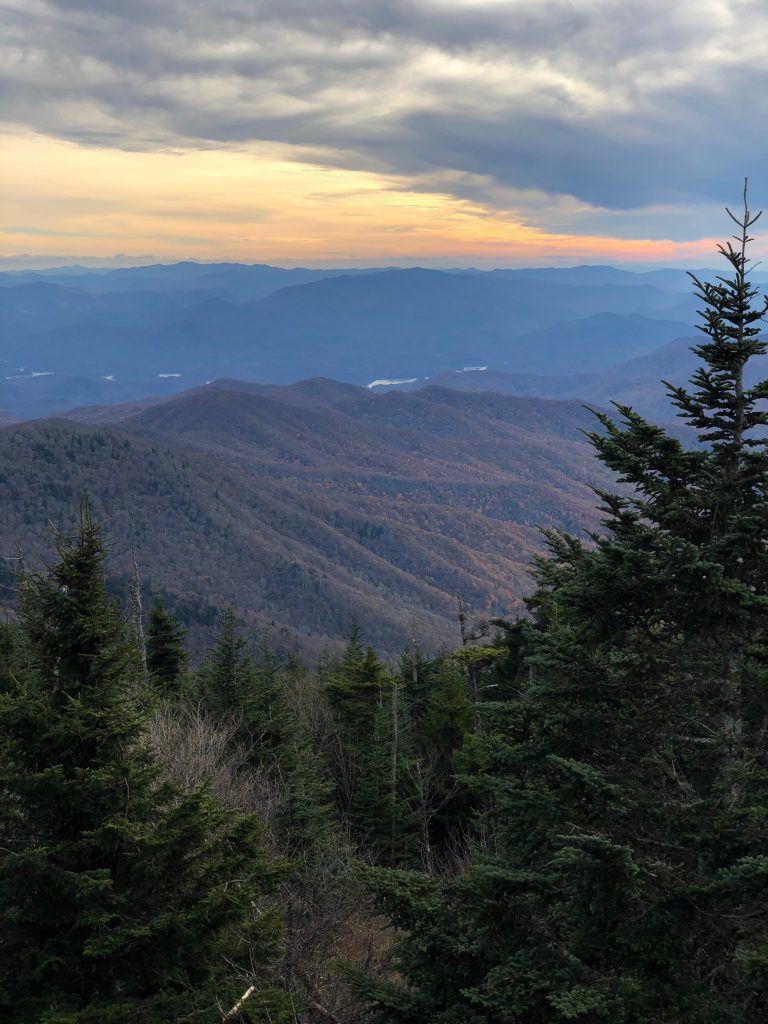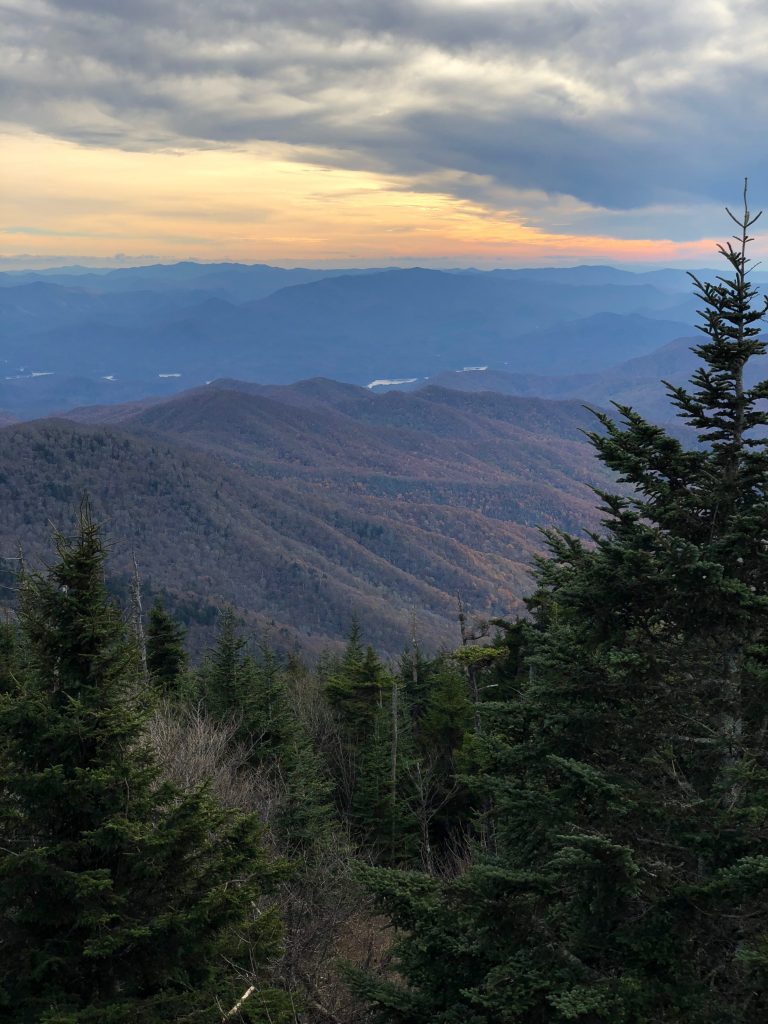 If you make it there a little earlier, you can stop at the National Park store that is at the beginning of the trailhead. They have great park resources, maps, souvenirs, etc.
We usually go in there but they were closed by the time we made it back down. Our kids could spend hours in there looking around (and trying to persuade us to get a souvenir, as well!)
We hit the port-a-potties AGAIN and loaded up in the warm car to start the thawing process. Another successful visit to Clingmans Dome!
A Few Things To Consider
Make sure you plan ahead and bring warm clothes. Do your research and be prepared…at least wear leggings under your shorts and grab a blanket out of your car. We have been in early October with shorts on and been okay before, but always make sure you do your homework & be prepared for cooler weather!
Plan out restroom breaks carefully. (And don't look down the hole of the port-a-potty. Per Maggie.)
Be patient in the parking lot. It can become very congested and traffic will often stop or not move at all. Grab a parking spot when you can and don't let the parking situation ruin your visit.
Be sure to fill up your gas tank beforehand! If you happen to get stuck in traffic for a while, you will be really glad that you did. (Trust us on this one…)
Take plenty of time to enjoy the experience with small kids. The incline is rather steep but it is paved and easy to walk. Let those in your party stop and take breaks as needed. Enjoy the time together making memories!
Be sure to check out the NPS.gov website for Road Closures. Clingmans Dome Road is typically closed every year from December 1-March 31. Be sure to plan your trip to Clingmans Dome outside of that time period!
For more information about Clingmans Dome be sure to read this: https://www.nps.gov/grsm/planyourvisit/clingmansdome.htm
Final Thoughts
If you ever have a chance to visit Clingmans Dome in the Fall, be sure to do it! Its definitely one of our favorite experiences that provide some of the best views in the Great Smoky Mountains!
---
Have you been to Clingmans Dome in the Great Smoky Mountains before? What was your favorite part of the trip? Be sure to leave a comment below about your experience at Clingmans Dome! We would love to hear about YOUR family's adventures!
---
More Related Articles: