Looking for an amazing waterfall hike in the Smoky Mountains? Be sure to check out Abrams Falls in the Smokies. This 5 mile roundtrip hike is definitely one to put on your hiking bucket list.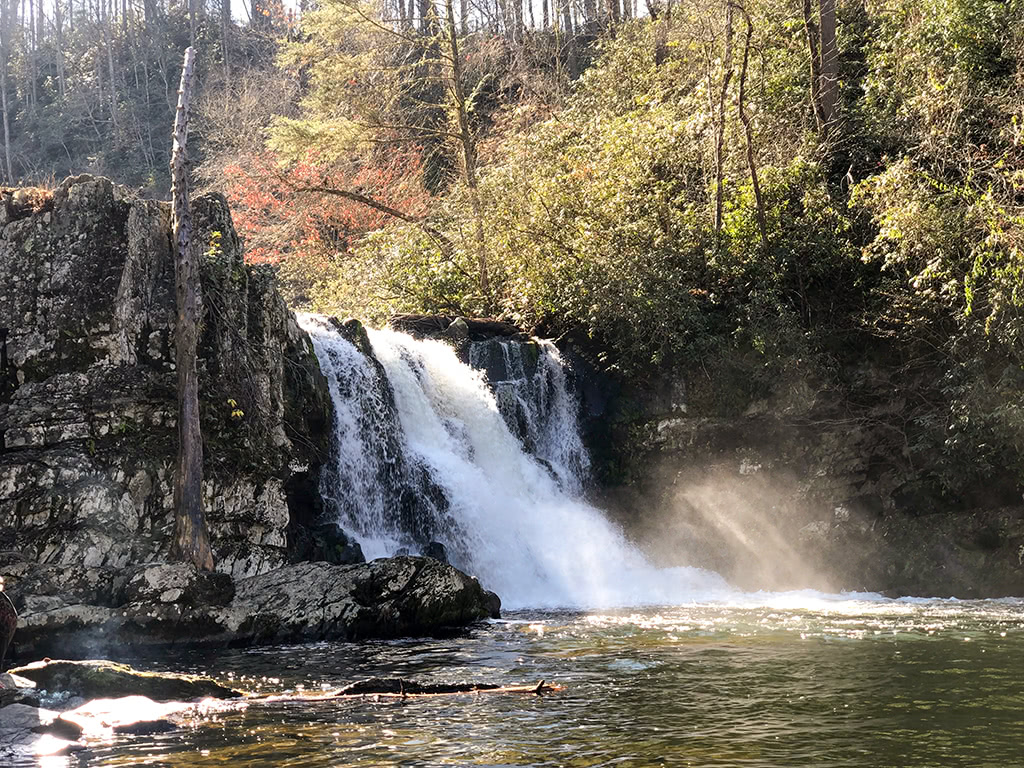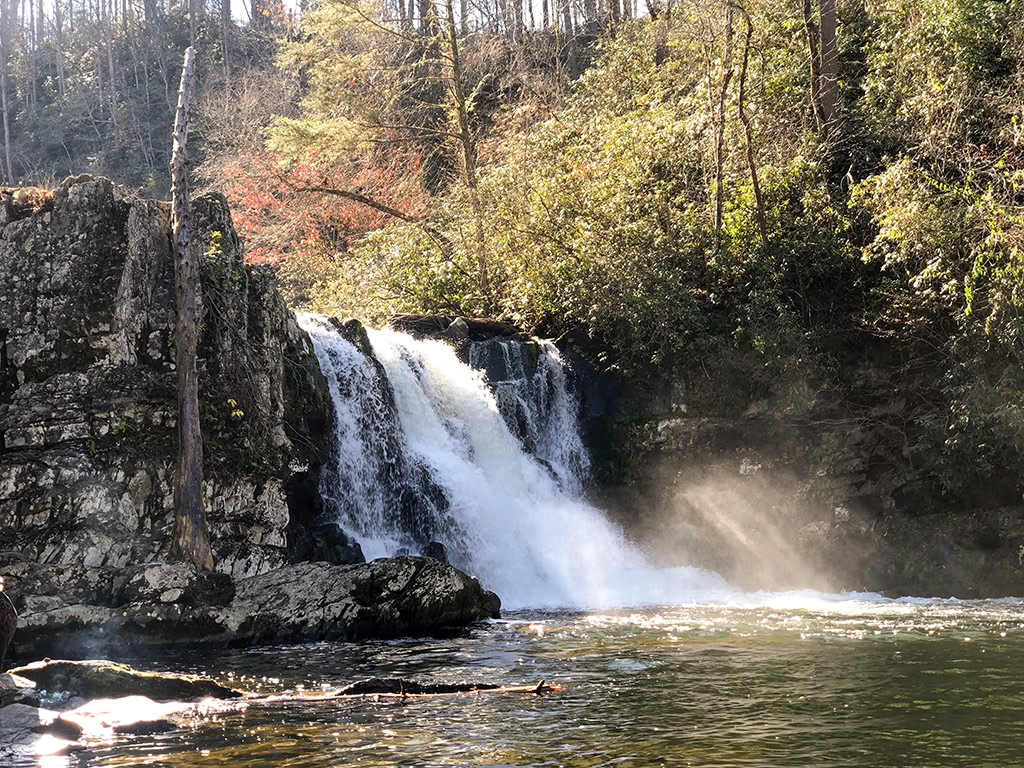 Keep reading for more tips on where to find this beautiful waterfall and a few things you need to know before you head that way!
*This post may contain affiliate links which help support this site, but won't cost you anything extra. Read our full disclaimer.
Abrams Falls Hike – Trail Information
Round Trip Length: 5.0 miles
Trail Location: Cades Cove Loop
Directions: Abrams Falls Trailhead
Trail Features: Waterfall
Round Trip Hours: 3 – 4 hours
The Abrams Falls hike is considered a more moderate hike. The total elevation gain on the hike is about 675 feet.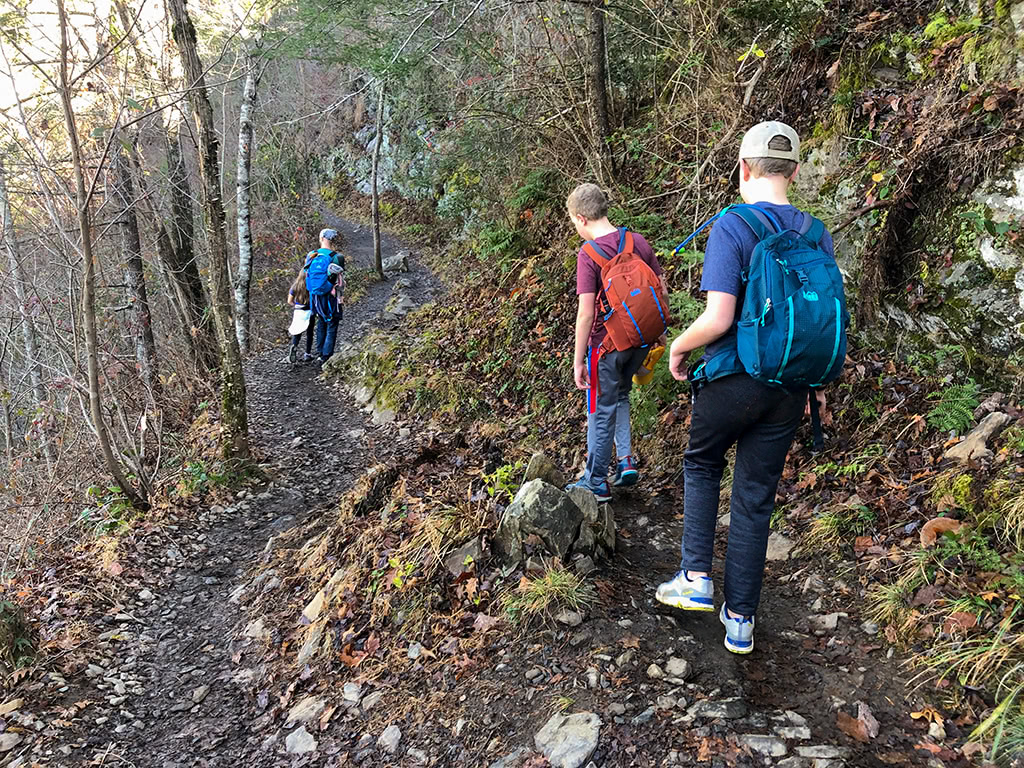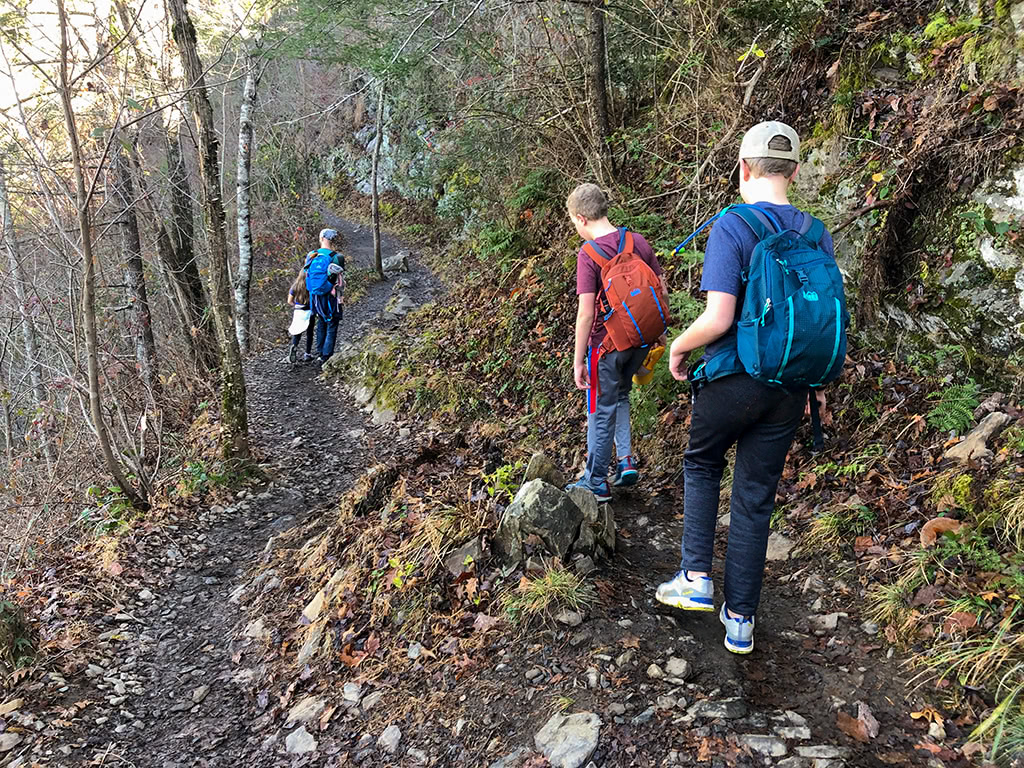 According to nps.gov, Abrams Falls and the Abrams Creek area is named after a Cherokee chief who lived in the area.
While the waterfall itself is only about 20 feet in height, the sheer volume of water flow coming over this falls make it appear much bigger! Between the sound of the gushing water flowing over the falls to the large pool of water at the base, it is such a beautiful serene place (when not too busy!) and will always be a favorite in the Smoky Mountains!
Hiking in the Smoky Mountains
As with any National Park, before you head out to explore, it never hurts to have on-hand some reliable and trustworthy resources for easy reference.
Here are a few of our favorite pocket guides about hiking in the Great Smoky Mountains:
For more history and information about the Smokies, be sure to check out more Great Smoky Mountains Books and Guides here!
How Do I Get to Abrams Falls?
If you are using your GPS to locate the Abrams Falls Trailhead you can type in Abrams Falls Trailhead, Towsend TN" and this will give you an exact location. However, don't forget that most areas of the Smoky Mountains typically do not have cell reception, so definitely have a back up plan with directions!
Since this trail is located in the Cades Cove Loop Road, keep in mind that traffic is often heavy at times, so be sure to plan accordingly.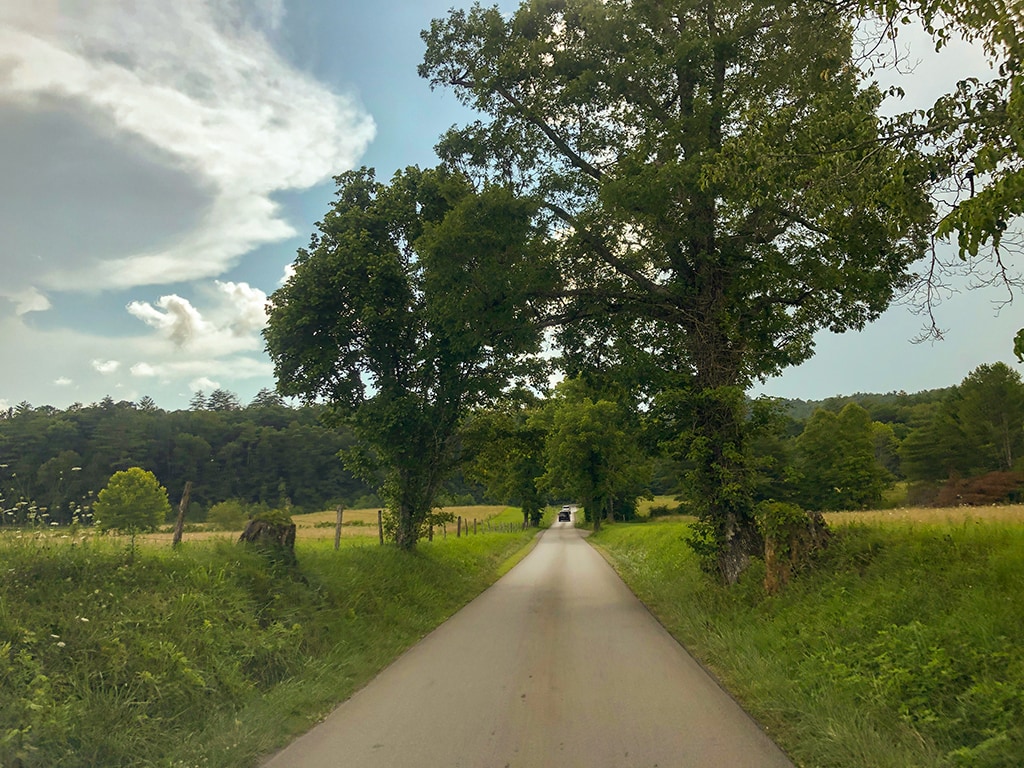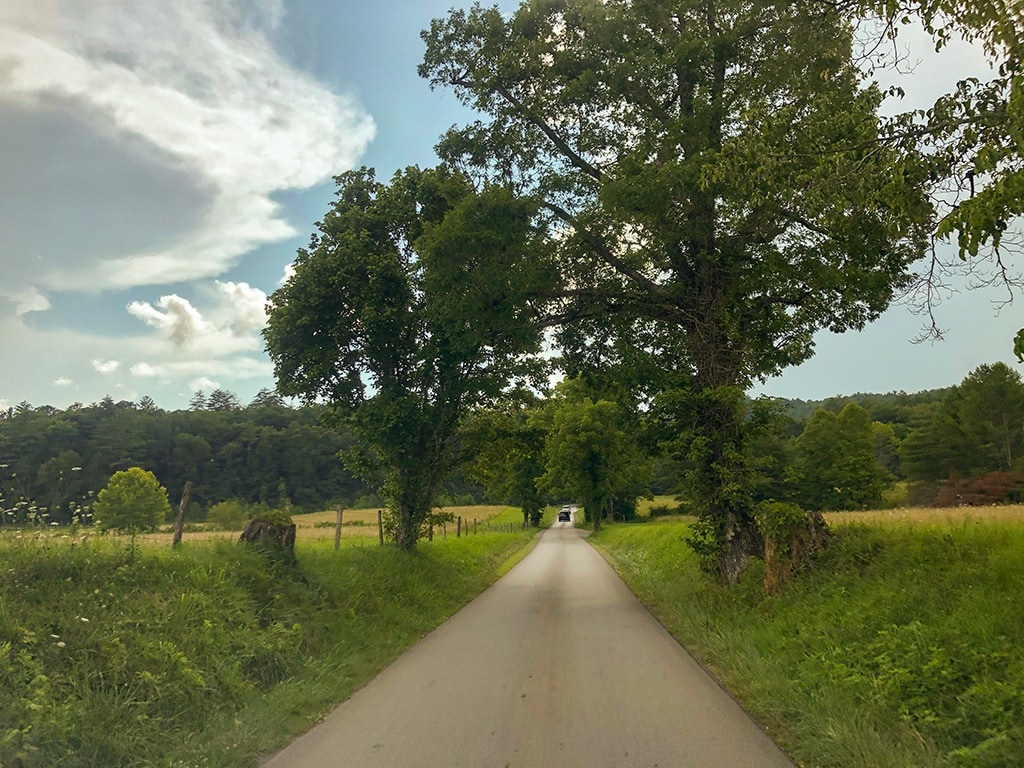 Also be sure to check the days and times that Cades Cove Loop is open. The loop is closed to motor traffic at certain days and times to allow bicycles and pedestrians to enjoy the loop.
From the Townsend Wye, it is about 7.5 miles on Laurel Creek Road to the entrance of Cades Cove. This road leads straight into the Cades Cove Loop Road.
There is also a visitor pavilion at the entrance that you can stop at and grab a Cades Cove Loop Guide for $1.00 that will tell you more about each stop around the loop.
Once on the Cades Cove Loop, you will see a side road right past Stop #10 that will lead you to the parking area for Abrams Falls Trailhead. It is marked with a sign so it is pretty easy to locate!
Learn More About Cades Cove
Cades Cove of the Great Smoky Mountains is full of rich history of the early settlers in this region. Abrams Falls is one of the many unique things to experience in Cades Cove!
Be sure to read up a little more about what it was like to live in Cades Cove, as it makes visiting this part of the park even more meaningful!
Here are a few of our favorite books about the history of the Cades Cove area in the Great Smoky Mountains: (While these are usually hard to find online, you can also stop by one of the GSMNP Visitor Centers to pick one of these up!)
For more history and information about the Smokies, be sure to check out more Great Smoky Mountains Books and Guides here!
Hiking to Abrams Falls!
Locating the Abrams Falls Trailhead
From the parking lot, you will head towards the wooded area to locate the trailhead.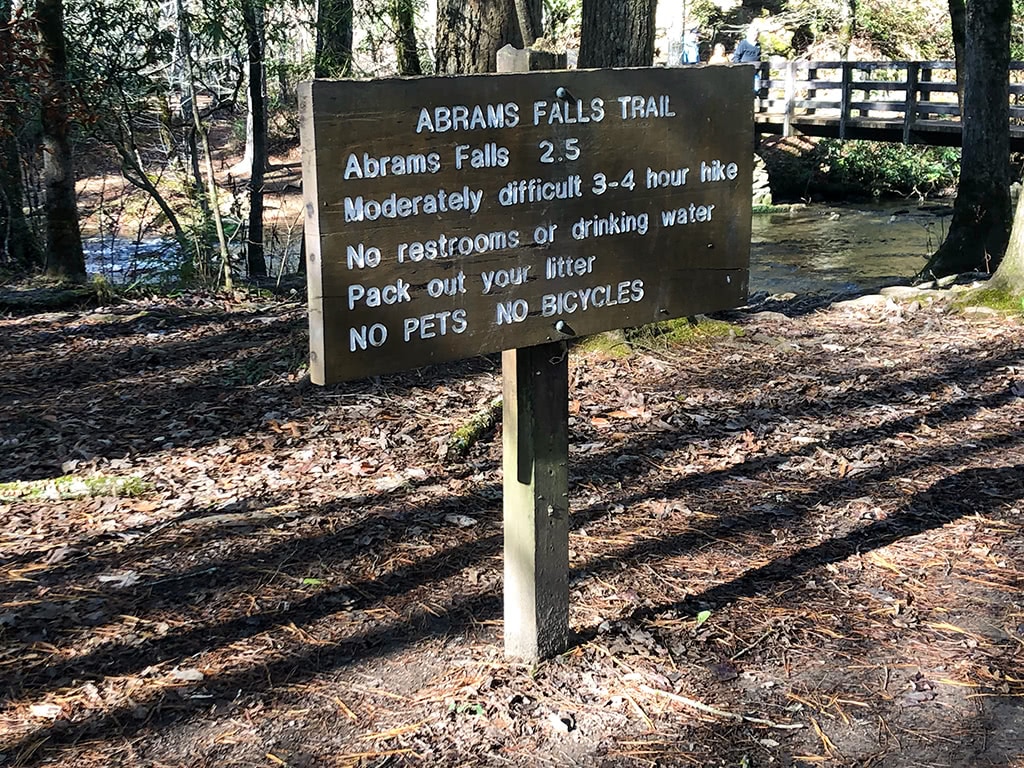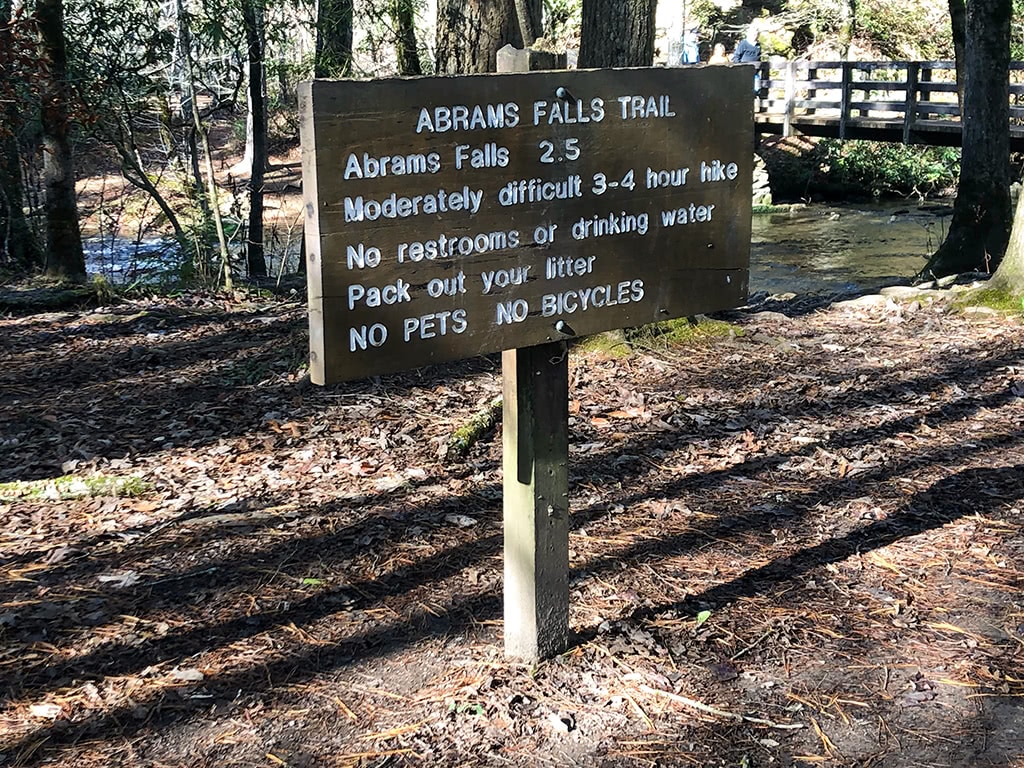 From there you will head to your right and cross your first (of many!) bridges on the trail. There will be a sign at the end of the bridge directing you to your left for Abrams Falls.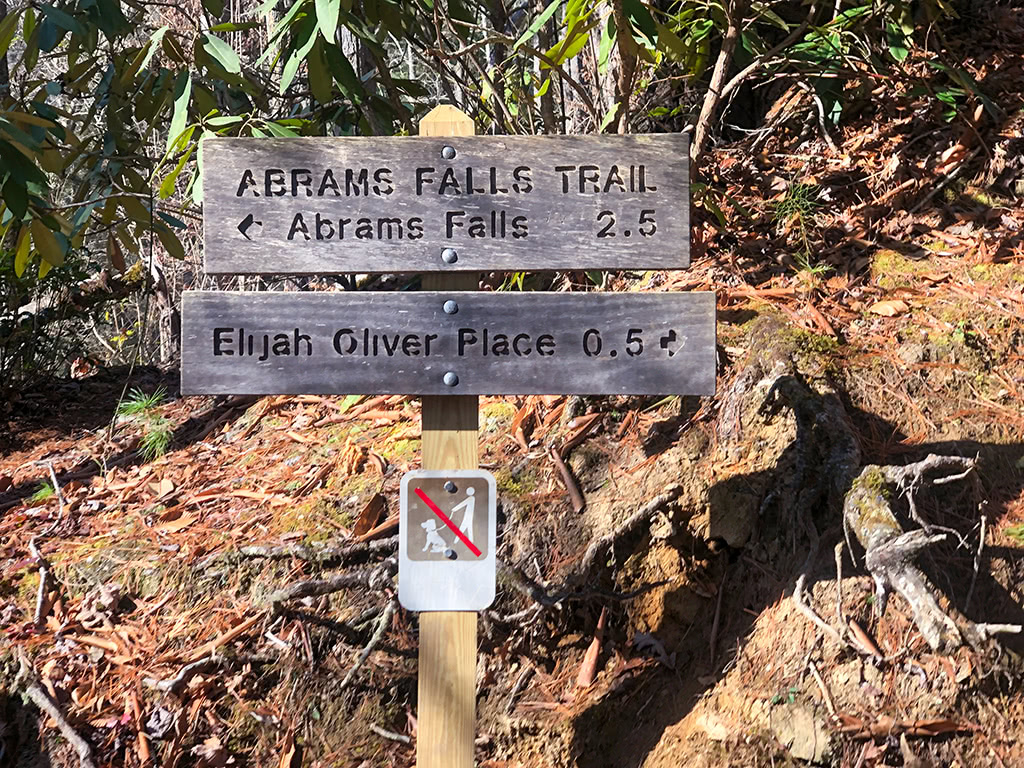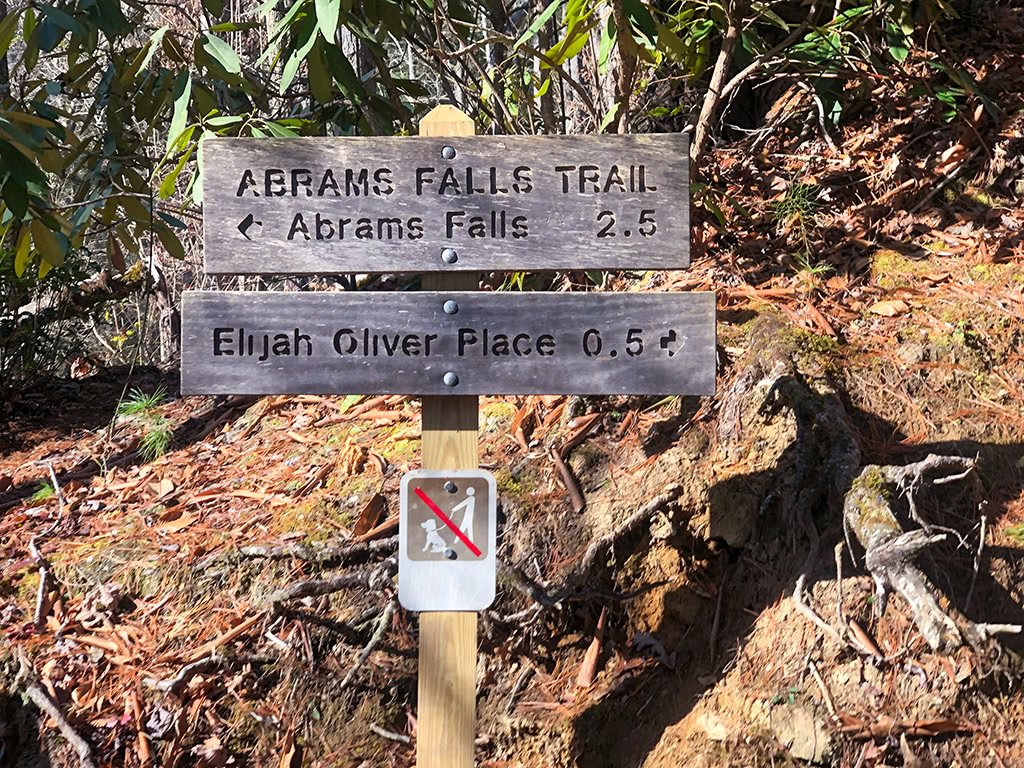 From there you are on the right path so you should be good to go!
On the Trail
The first part of the trail is on relatively flat terrain.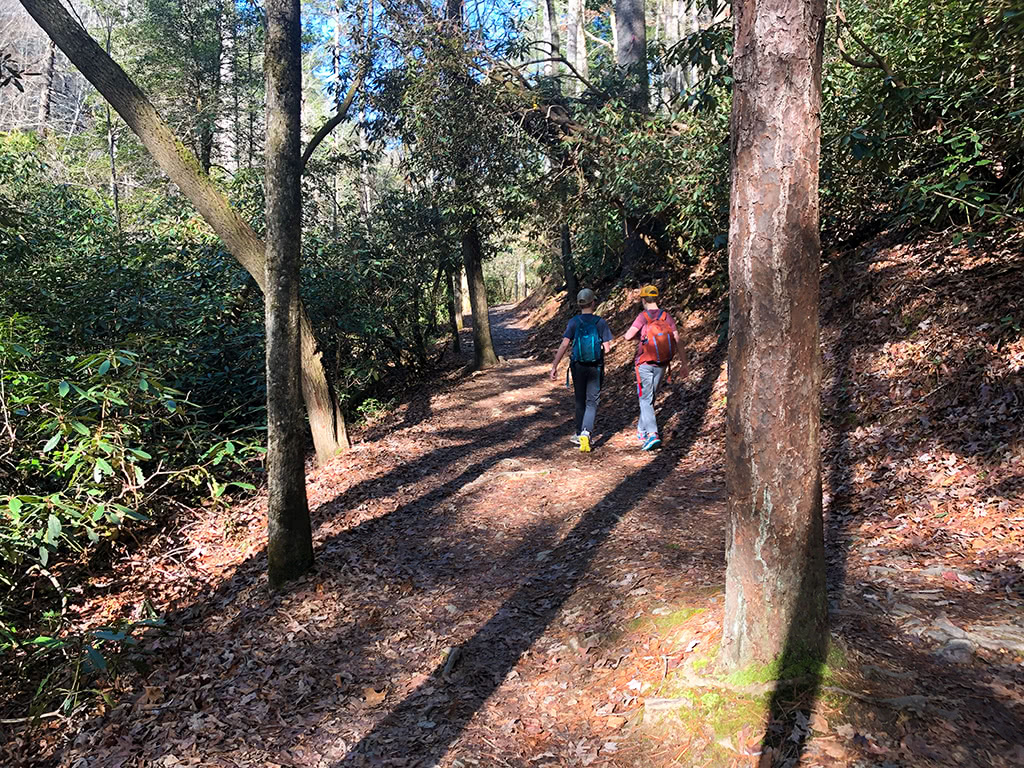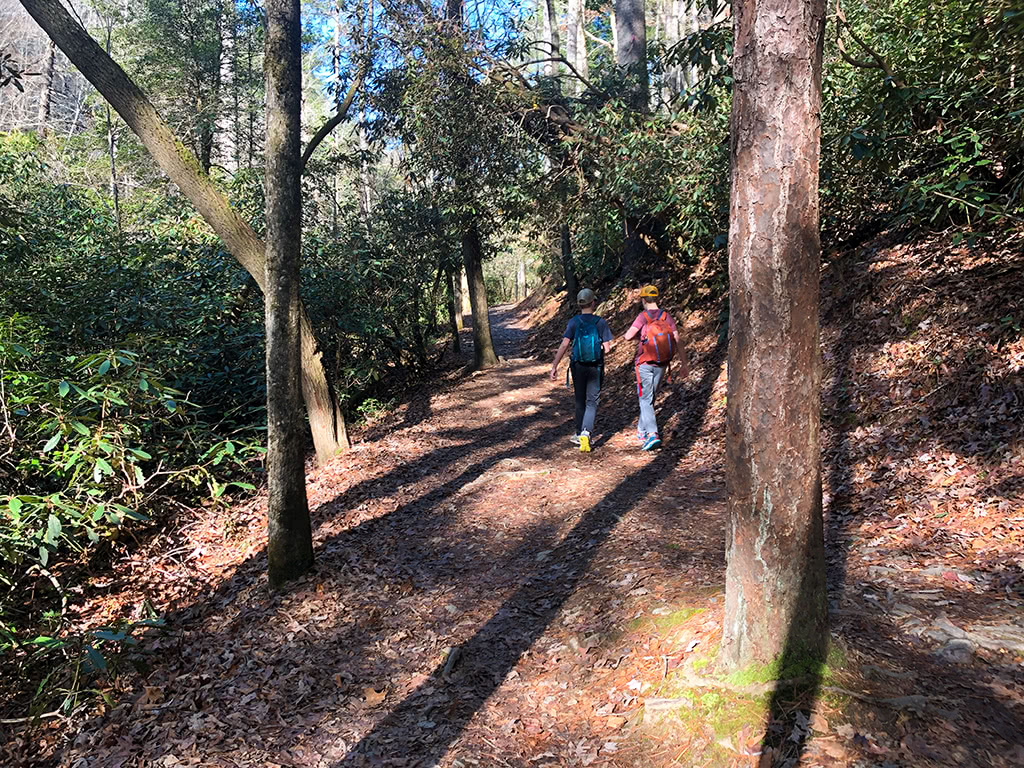 It follows along the river for a while, which is pretty nice for scenery.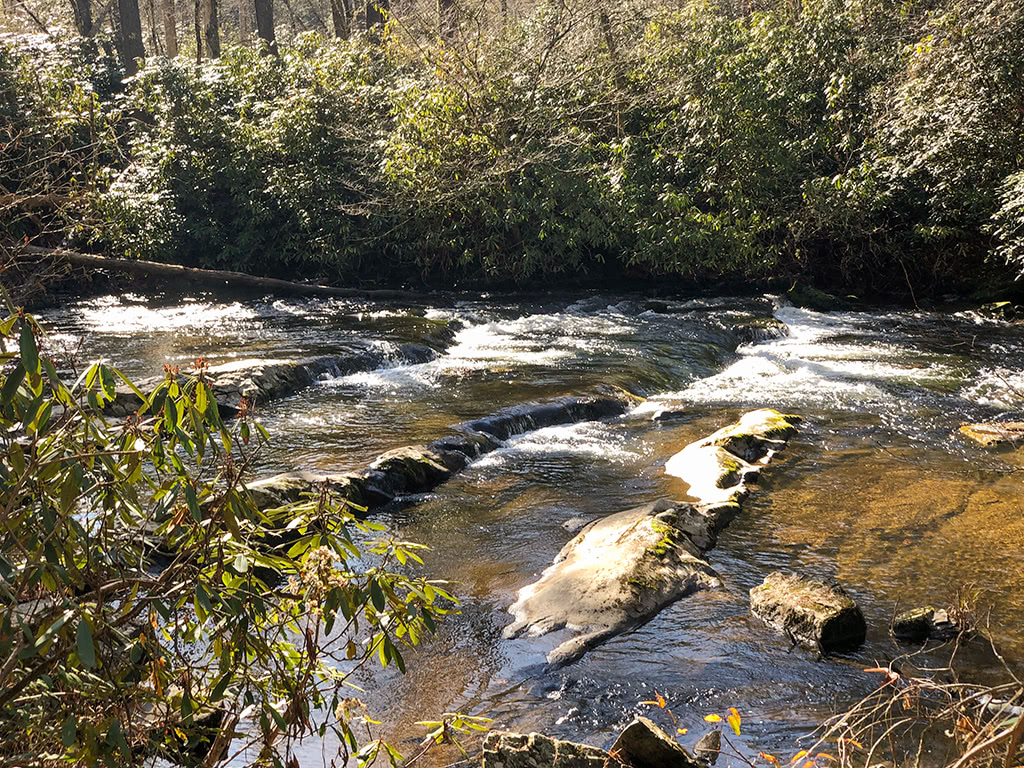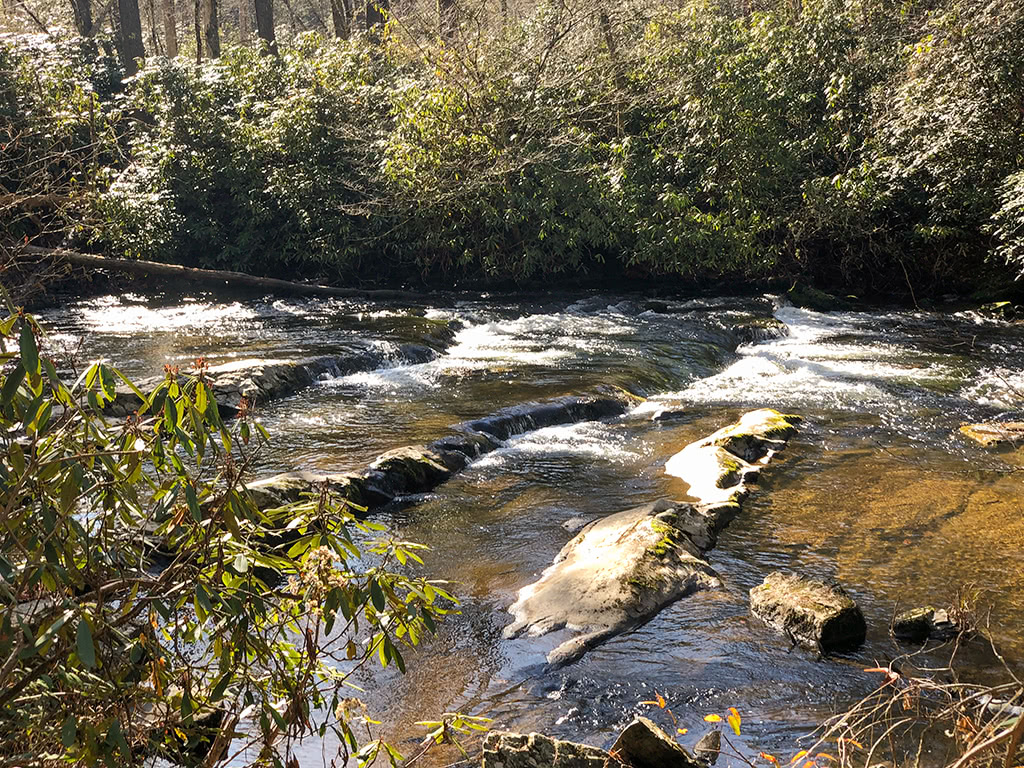 As you start ascending, parts of the trail will become a little more rocky at times. Be sure to take your time and watch your step!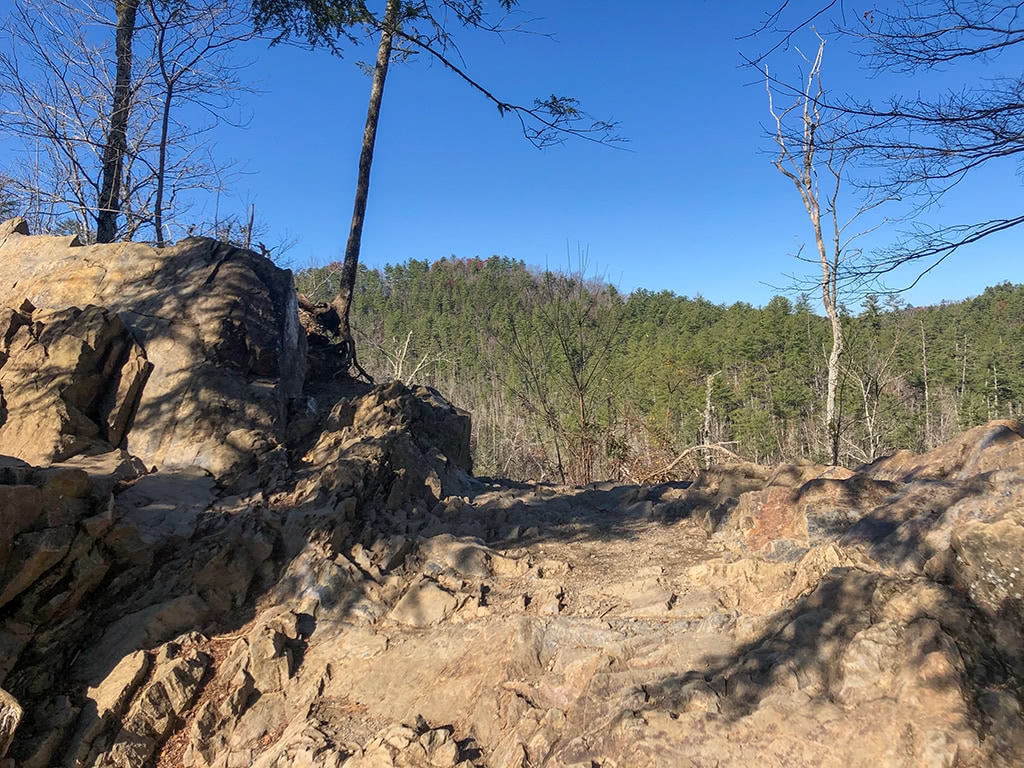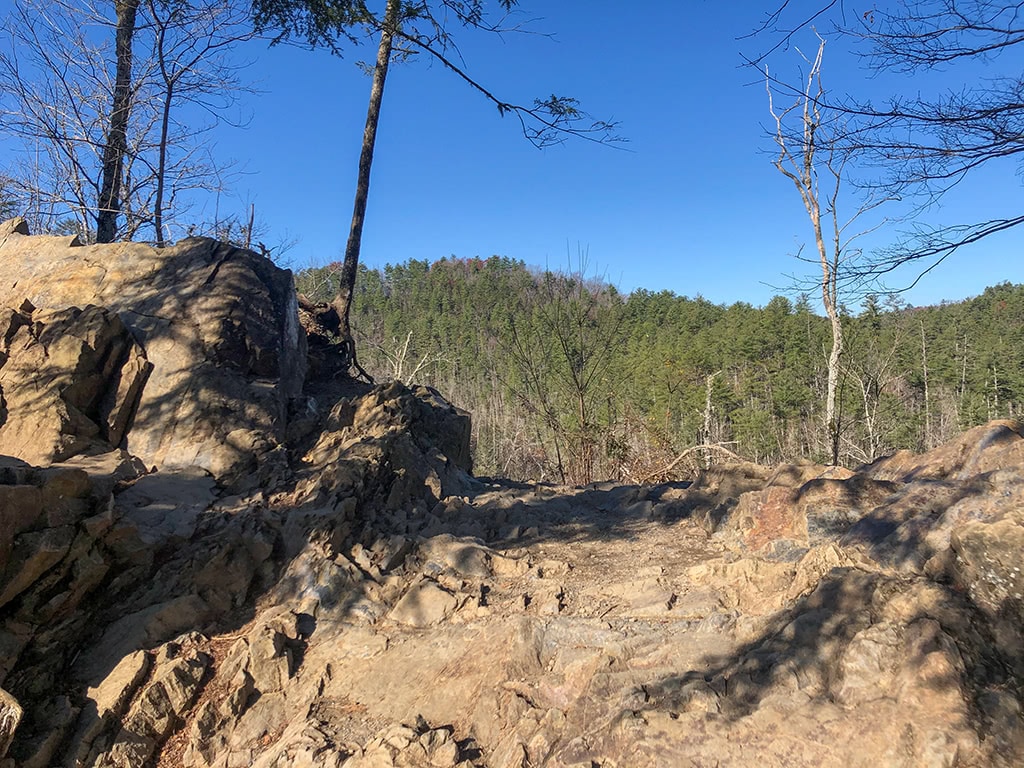 The Abrams Falls Trail also crosses quite a few footbridges along the way. We LOVE footbridges in the Smoky Moutains!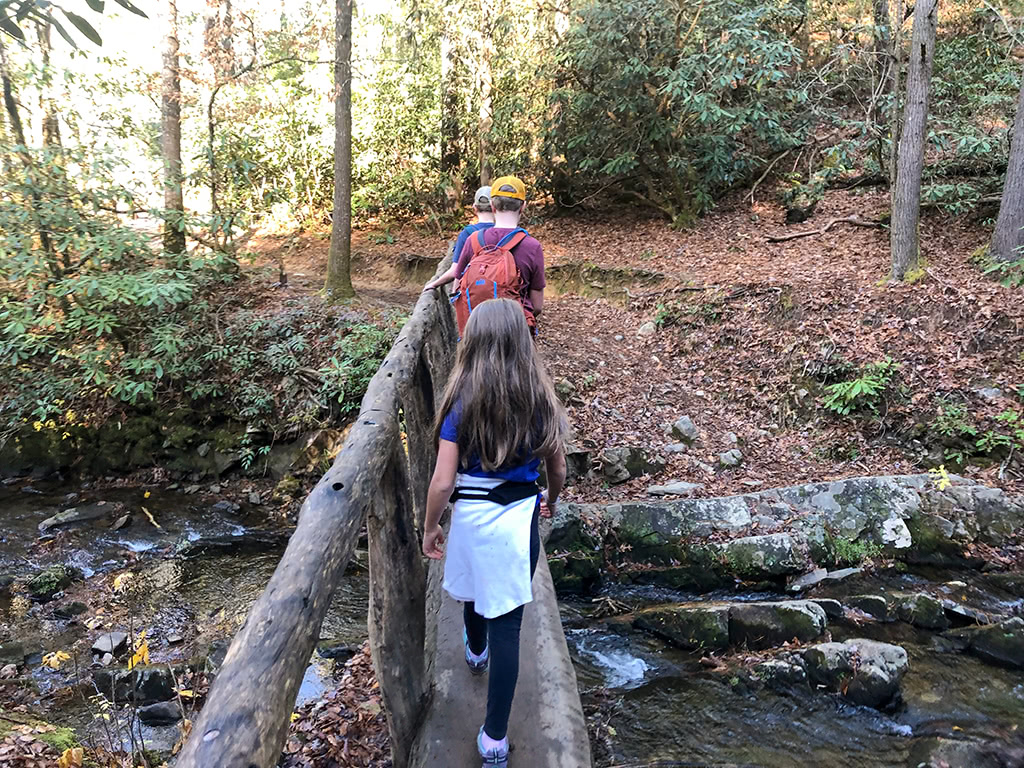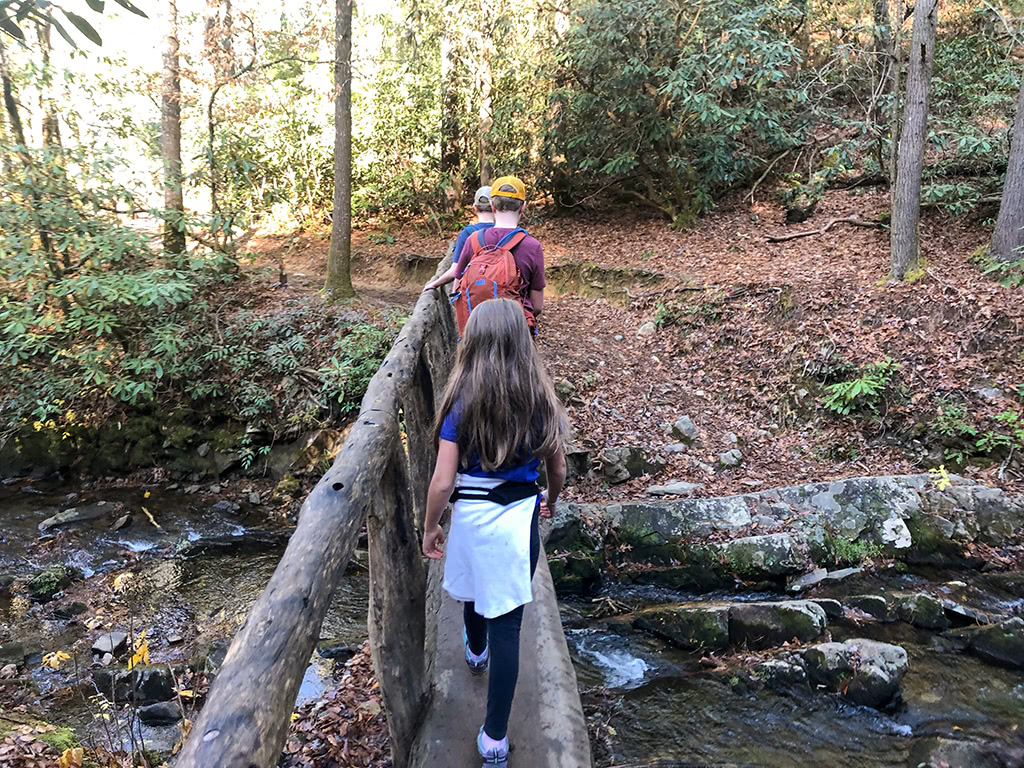 As you get closer to Abram Falls, you will make one last final descent where there are some rather treacherous drop-offs and rocky terrain. Be sure to keep the little ones in sight and take your time.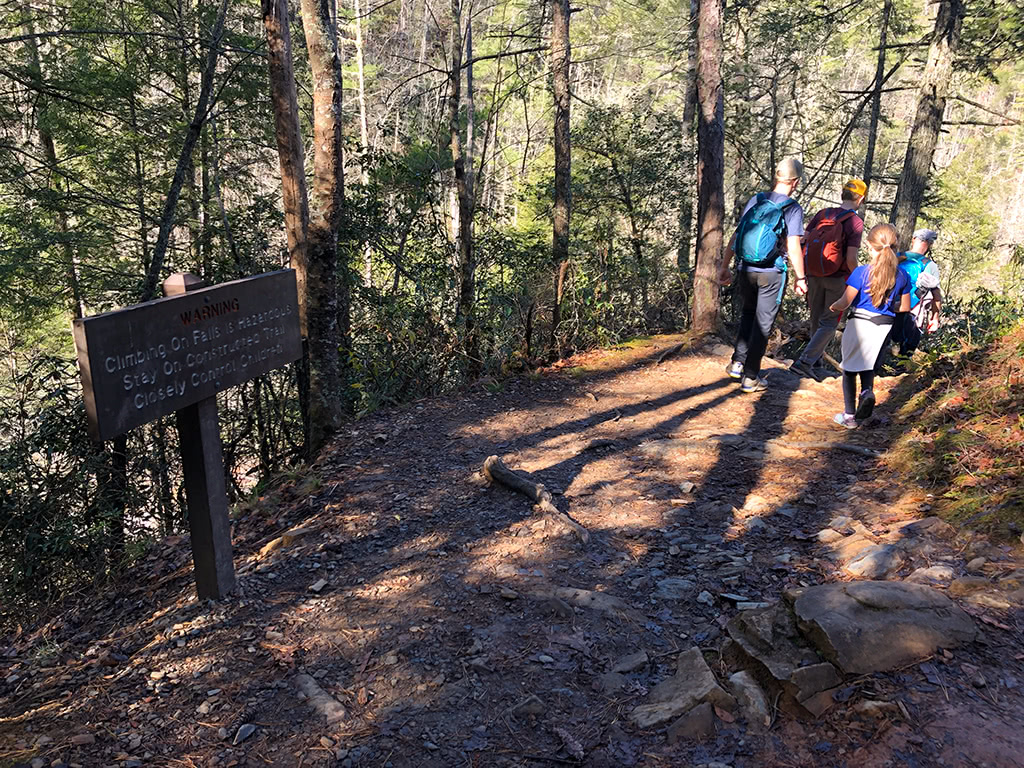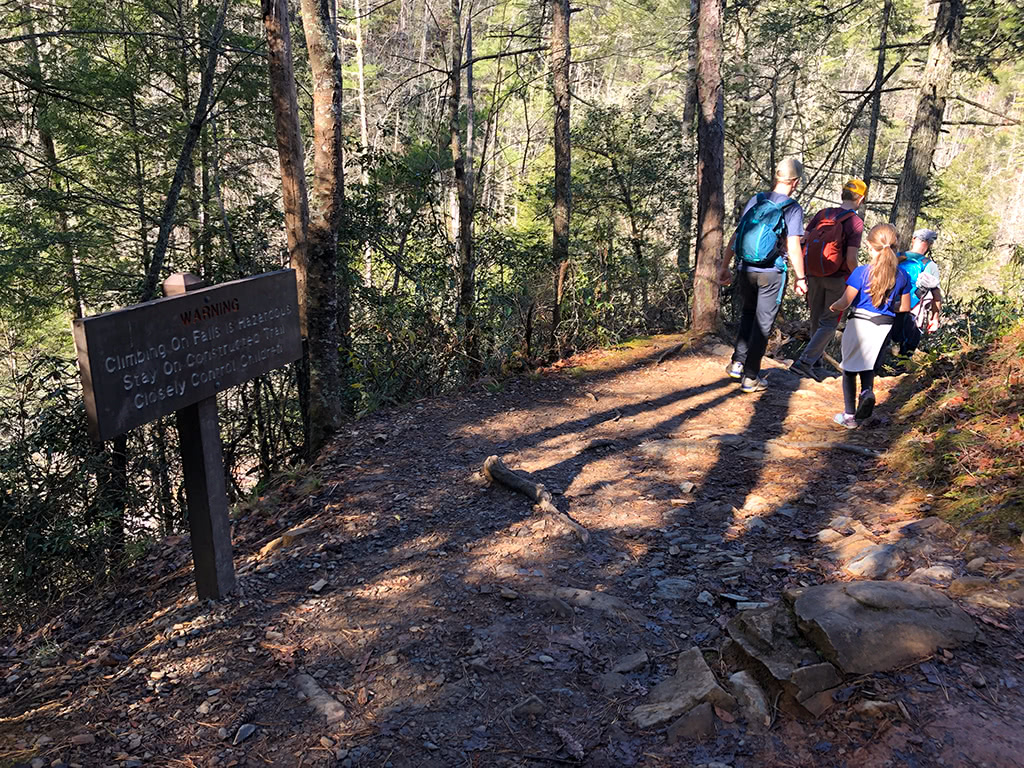 You will cross one last final footbridge and by then you should be able to hear the falls if you haven't already! You made it!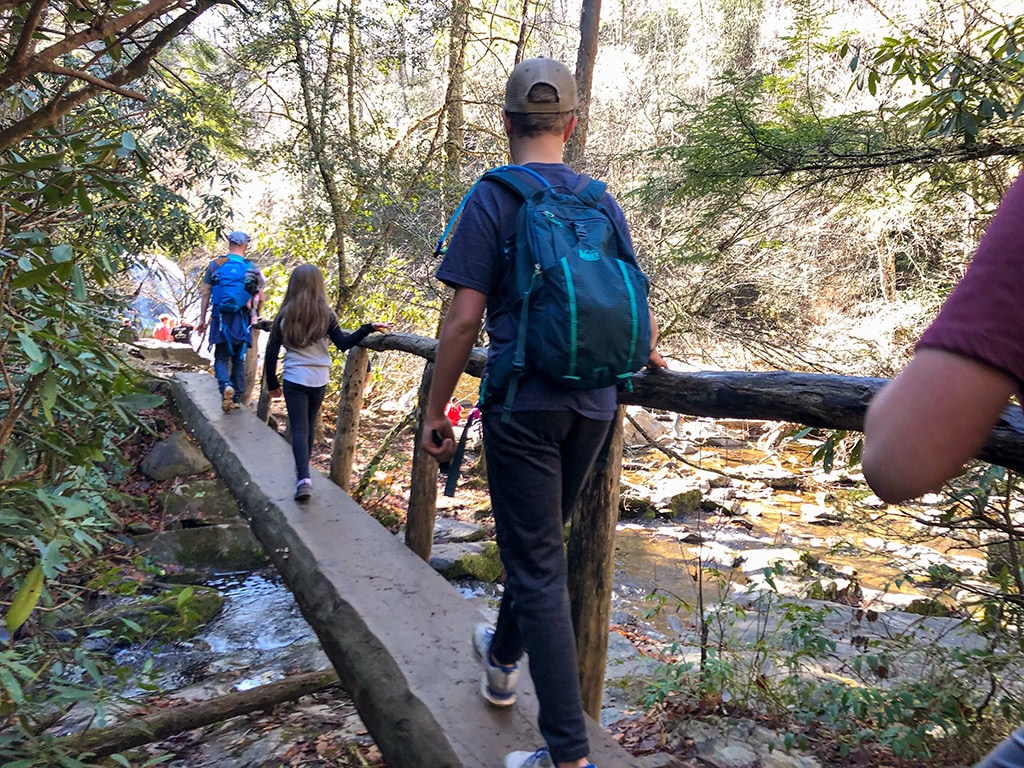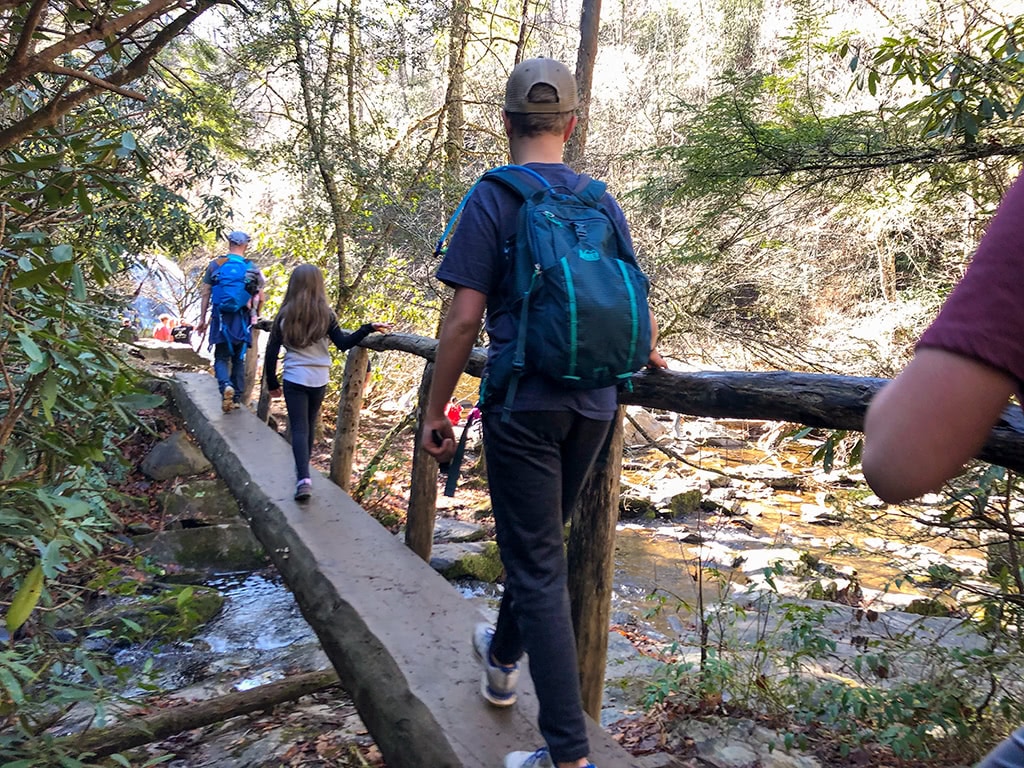 At Abrams Falls
Once you arrive at the falls, take your time and enjoy the scenery. Since this is a rather popular hike in the Smokies, there may be people lining up to take pictures at the falls.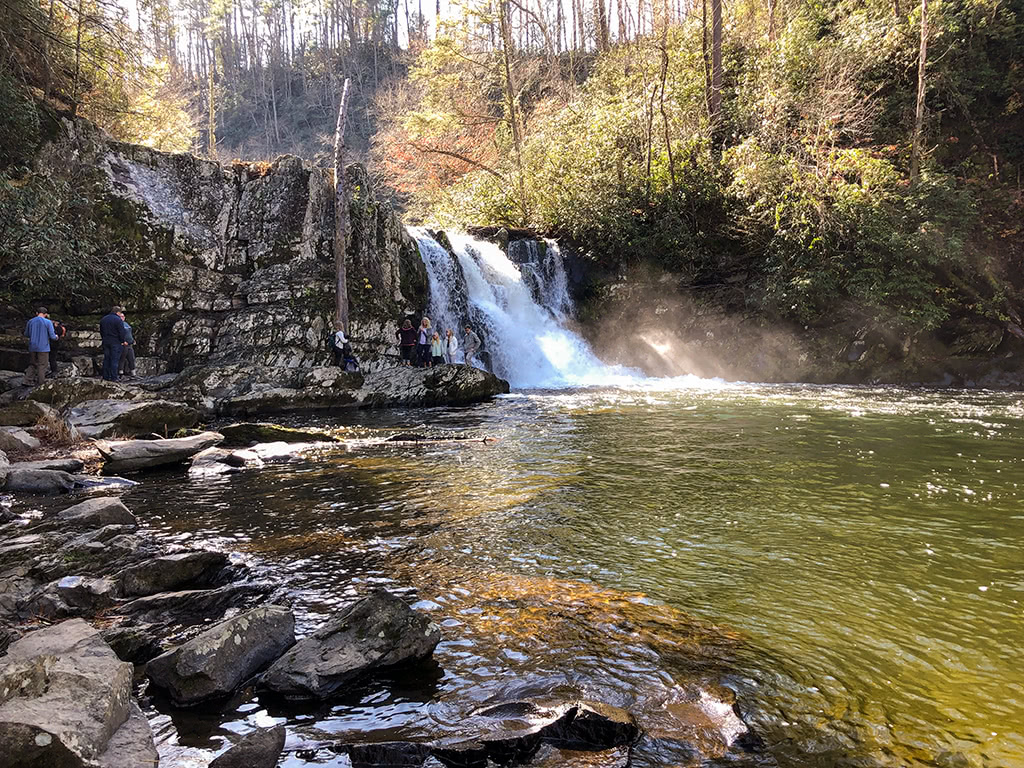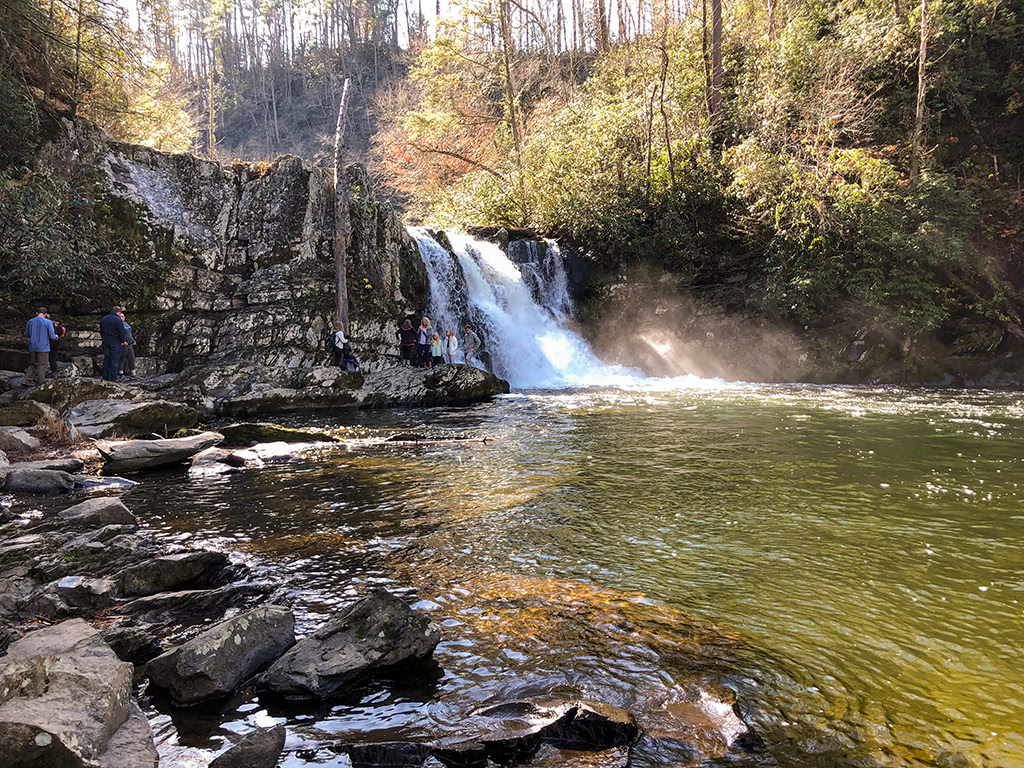 We always take a picnic lunch and sit and eat our lunch if we need to wait for people to clear out if it is a busy day. Take your time, be patient and be kind to others. The waterfall isn't going anywhere!
Over near the base of the falls there is a rock that you can stand on to take a picture near the falls.
(Just remember to be careful as some of the rocks can be very slippery when wet!)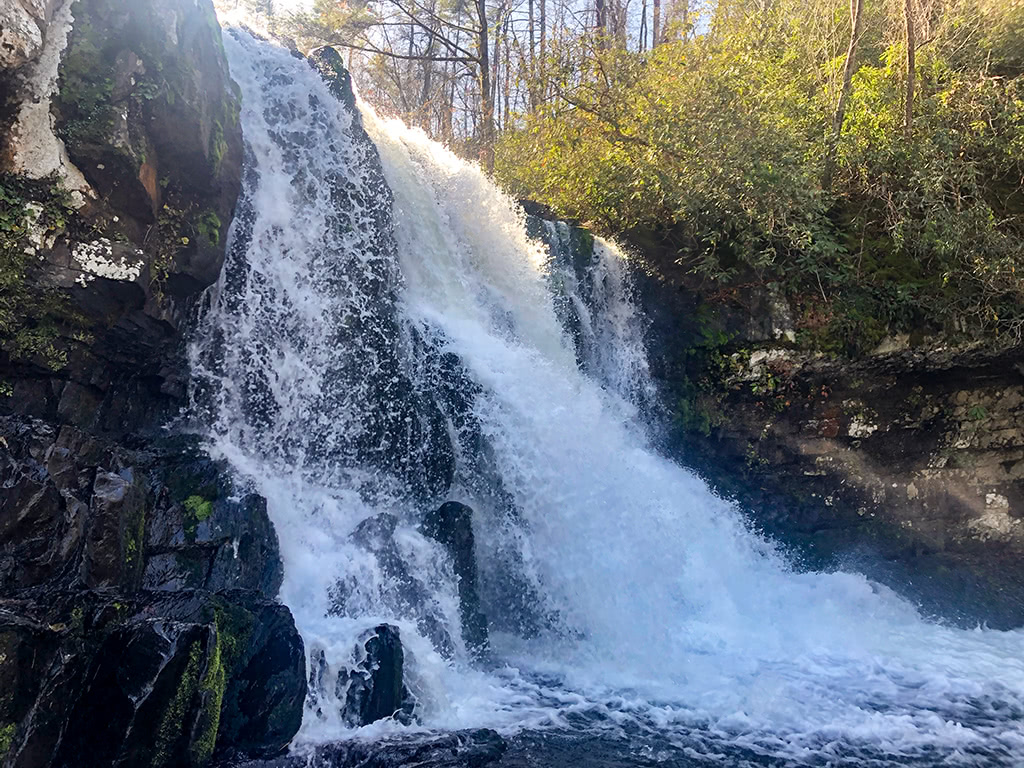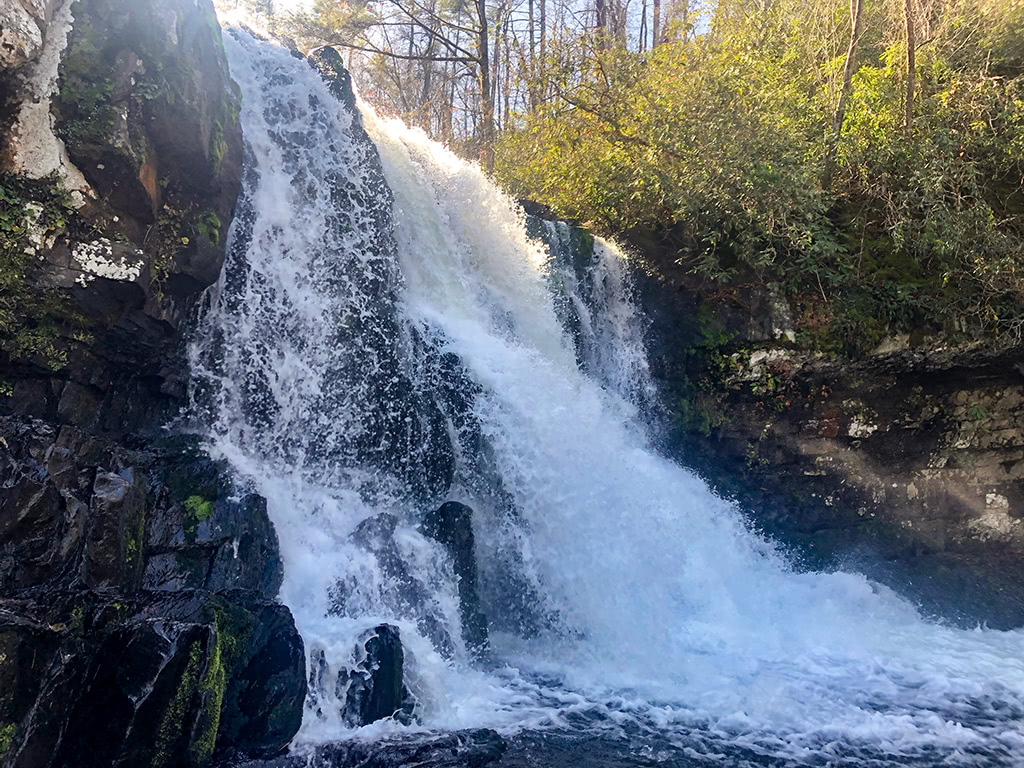 There are also warning signs posted that "Climbing on Falls is Hazardous" and to "Stay on Constructed Trail." There have been many fatal accidents over the years at Abrams Falls, so please be cautious and careful as you visit.
Once you are ready to head back, you will cross over the footbridge and take a right at the sign that is ever so kind to direct you back the correct way to the parking lot.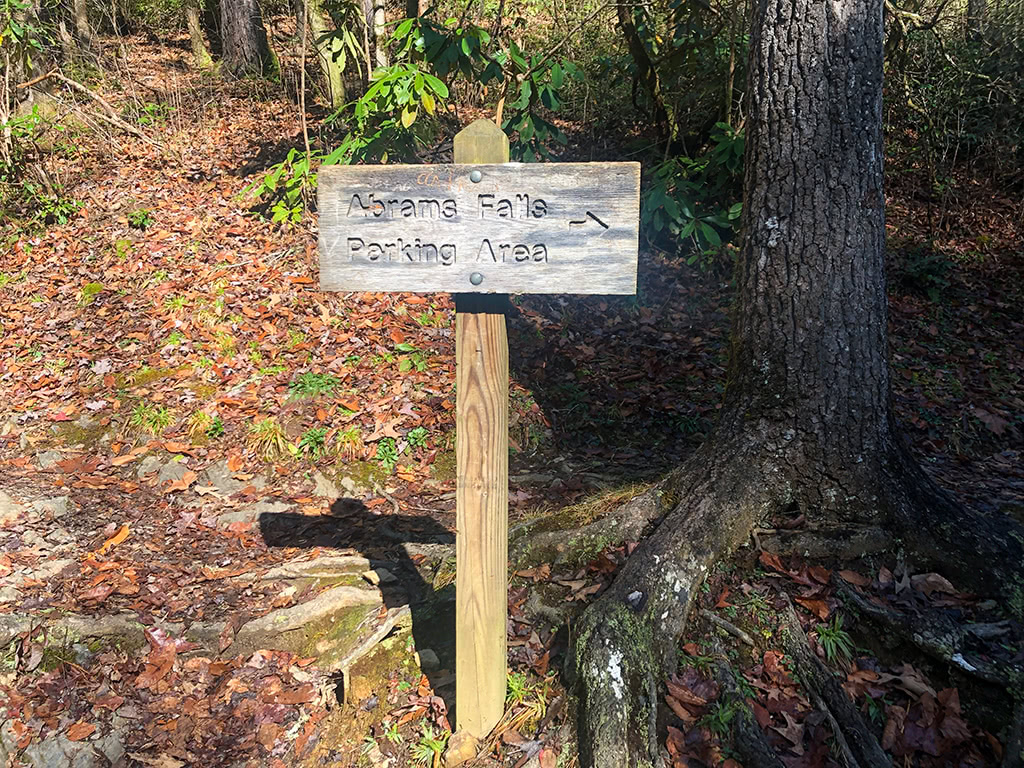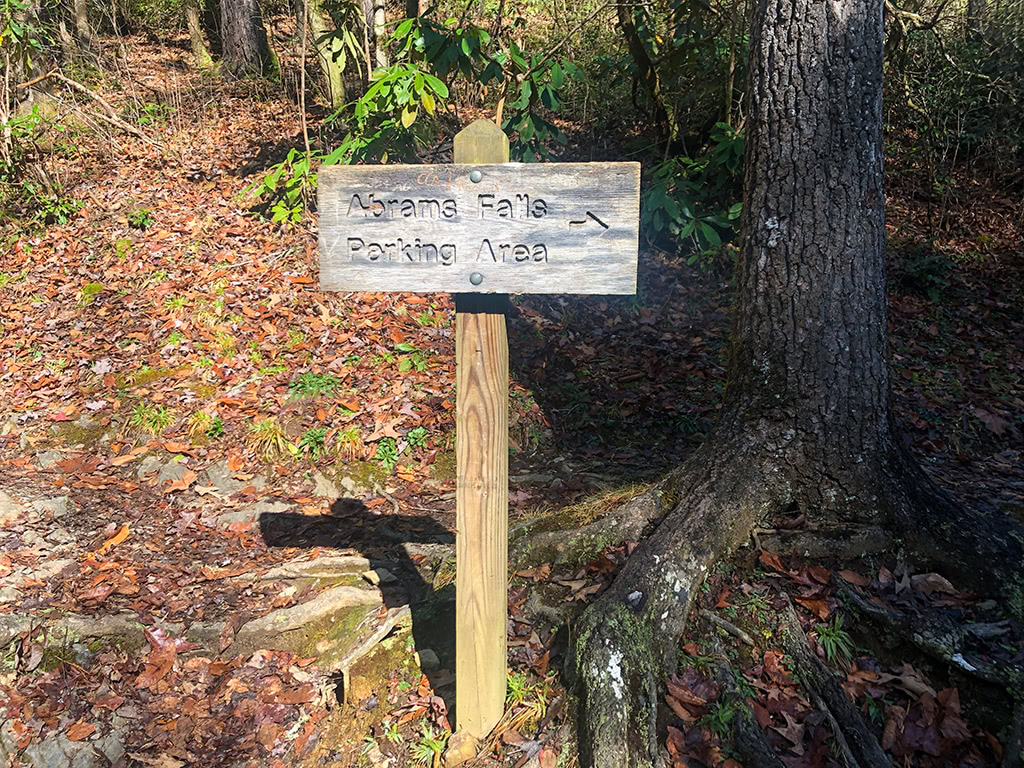 A Few Things To Consider
Although it is a rather popular hike for many first time visitors in the Smokies, the elevation gain on the Abrams Falls Trail can be challenging for some that are not used to hiking in the mountains. Be sure to take your time and let everyone in your group enjoy the journey to Abrams Falls!
While there are not any bathrooms between the beginning of the Cades Cove Loop and the trailhead, there are bathrooms at the parking lot near the trailhead of Abrams Falls. Be sure to stop by the Cades Cove Campground Store bathrooms beforehand if needed as well.
Final Thoughts
Abrams Falls trail is worth the 5.0 mile (roundtrip) hike to see this captivating waterfall. While it does take some effort to get to Cades Cove Loop at times, it will always be one of the favorite hikes of many visitors when they come to the Great Smoky Mountains!
---
Have you been to Abrams Falls?
What about you? Have you been to Abrams Falls before? What are your other favorite waterfall hikes in the Great Smoky Mountains? Be sure to share your comments below!
---
More Related Articles: