Are you planning a family vacation to the Grand Canyon area (or Arizona for that matter) and wondering what else to do while you are out there? If so, you MUST plan to take time to visit Meteor Crater in Arizona! –
We were on the fence about visiting it, but we are SO glad we did as it ended up being one of our favorite things!
Read on to learn more about our visit and tips that we learned along the way that will help you plan a perfect visit to Meteor Crater…the "world's BEST preserved meteorite impact site on Earth."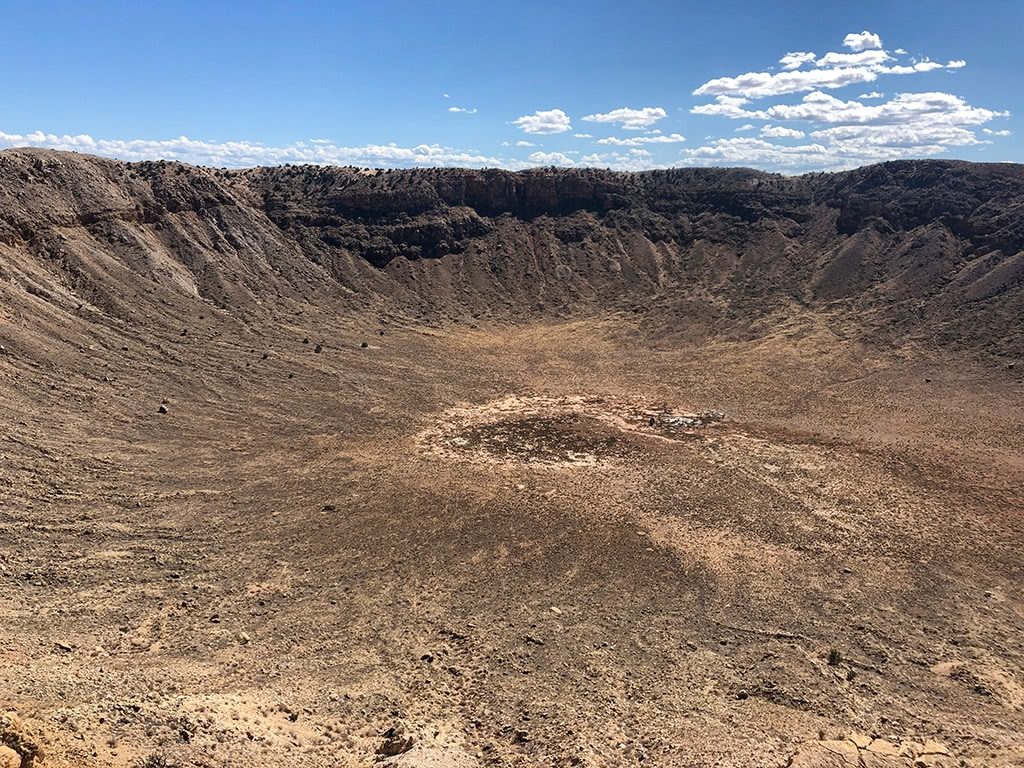 *This post may contain affiliate links which help support this site, but won't cost you anything extra. Read our full disclaimer.
A Little History About Meteor Crater in Arizona
The Meteor Crater in Arizona is full of interesting history! From the first discovery of the crater to its location on Route 66 or just the science behind meteorites, there are so many interesting things to learn before you go!
If you are looking for more resources, here are few recommended suggestions you can check out before you go!
Planning Your Visit to Meteor Crater in Arizona
How Much is it to Visit Meteor Crater?
As with any place you visit, be sure to take a minute to check out the Meteor Crater website to find the most up to date information for the admission prices. Tickets typically range between $13-$22.
How Much Time Should We Allow?
While you definitely could spend as much time as you wanted, we ended up spending about 2 hours there. If you end up doing the rim tour or the 4D experience, you will want to make sure you allot a little extra time for those as well!
Arriving at Meteor Crater
The minute we got off the interstate, we knew that we were in for a real treat! The drive takes you through open range where you may even see some livestock along the way!
Once we arrived there, the parking lot and entrance was easy to locate.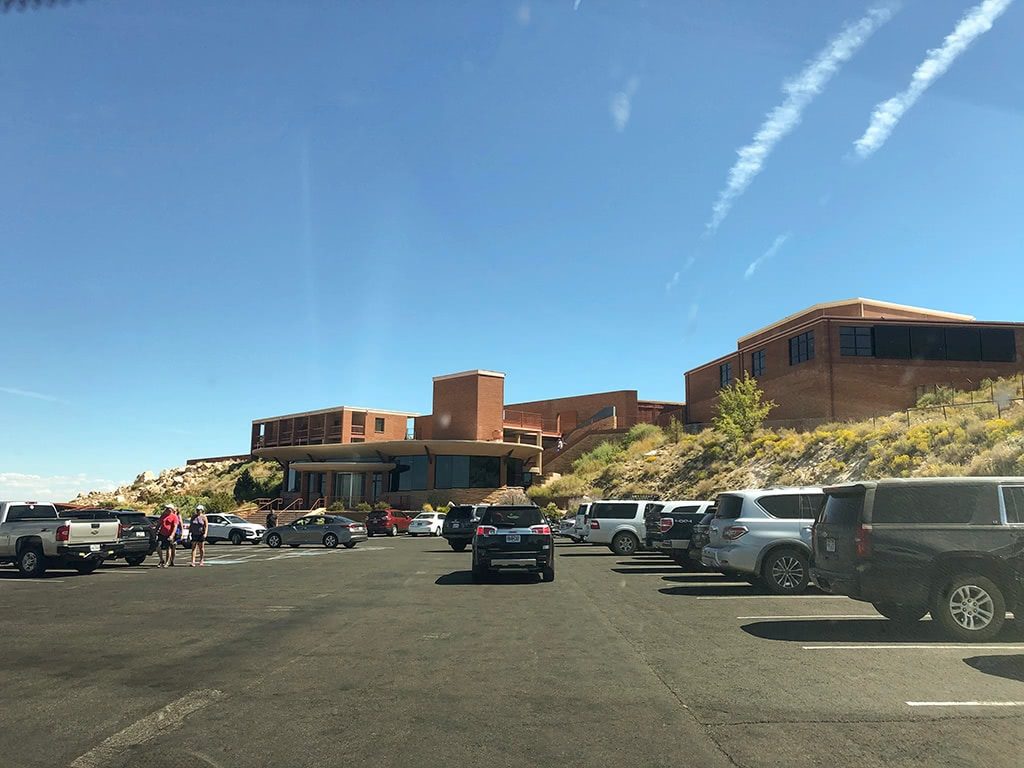 We parked our car and headed on in!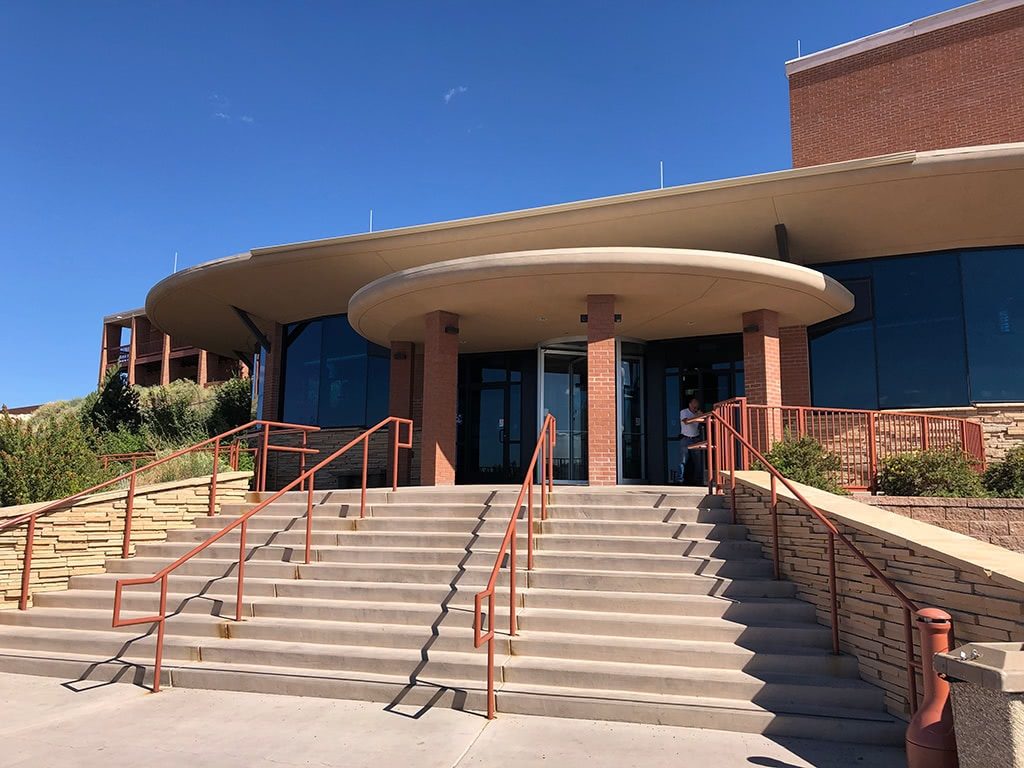 The Gift Shop & Restaurant at Meteor Crater in Arizona
After riding the elevators up from the main entrance and ticket counter, we walked out into an outdoor area that will point you in the right direction.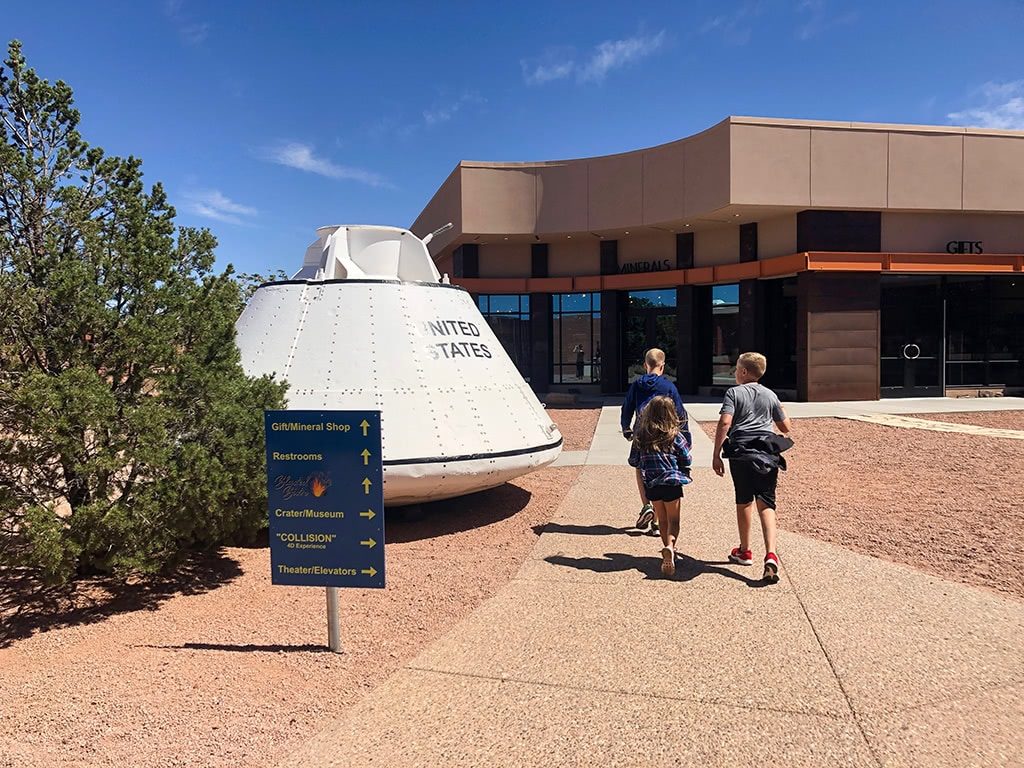 This area itself was fun to explore and check out!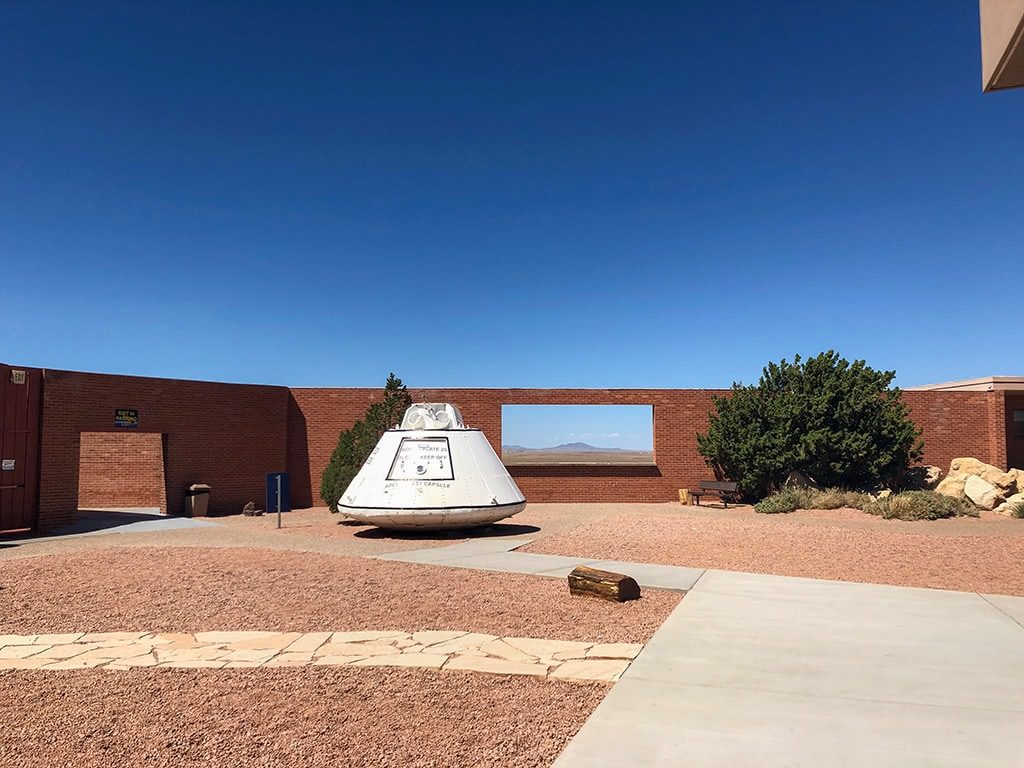 There is also a beautiful view from the outdoor courtyard.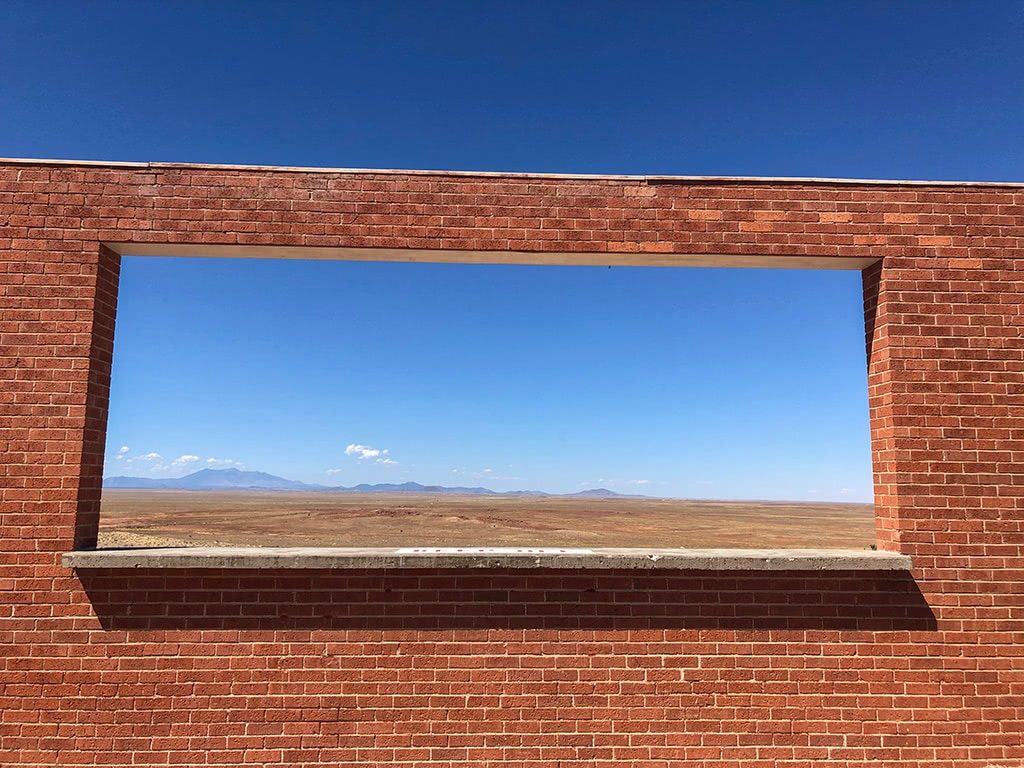 And you can also check out the Apollo Test Capsule that they have on display.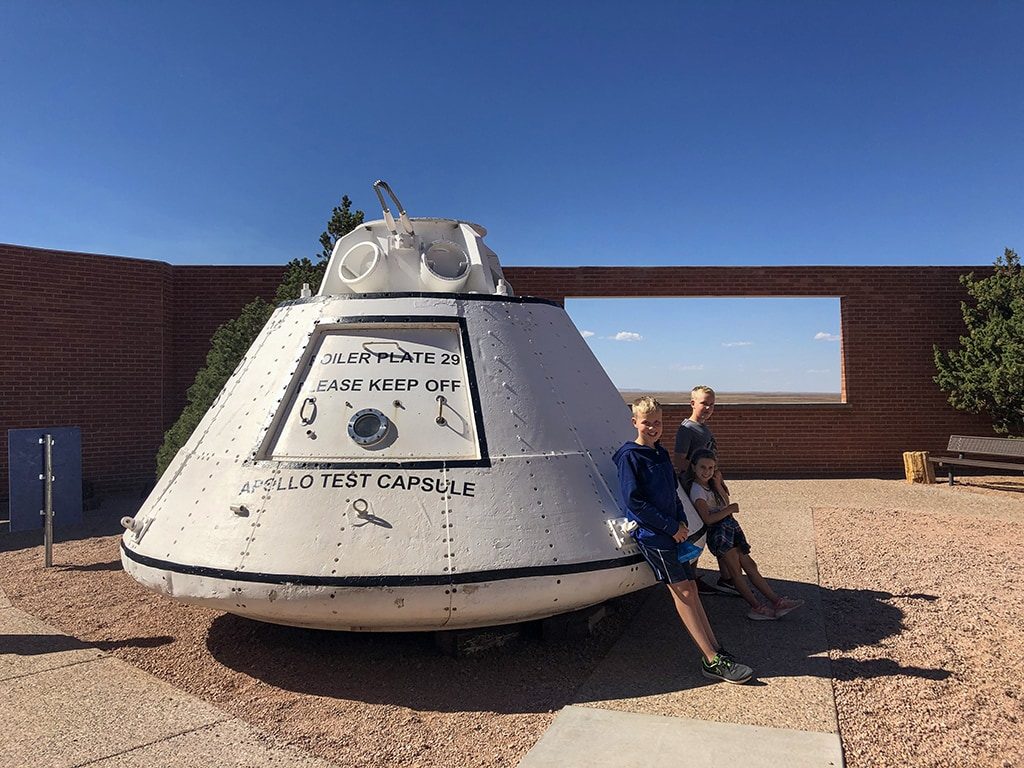 Gift Shop
After that, we stopped in to check out the gift shop!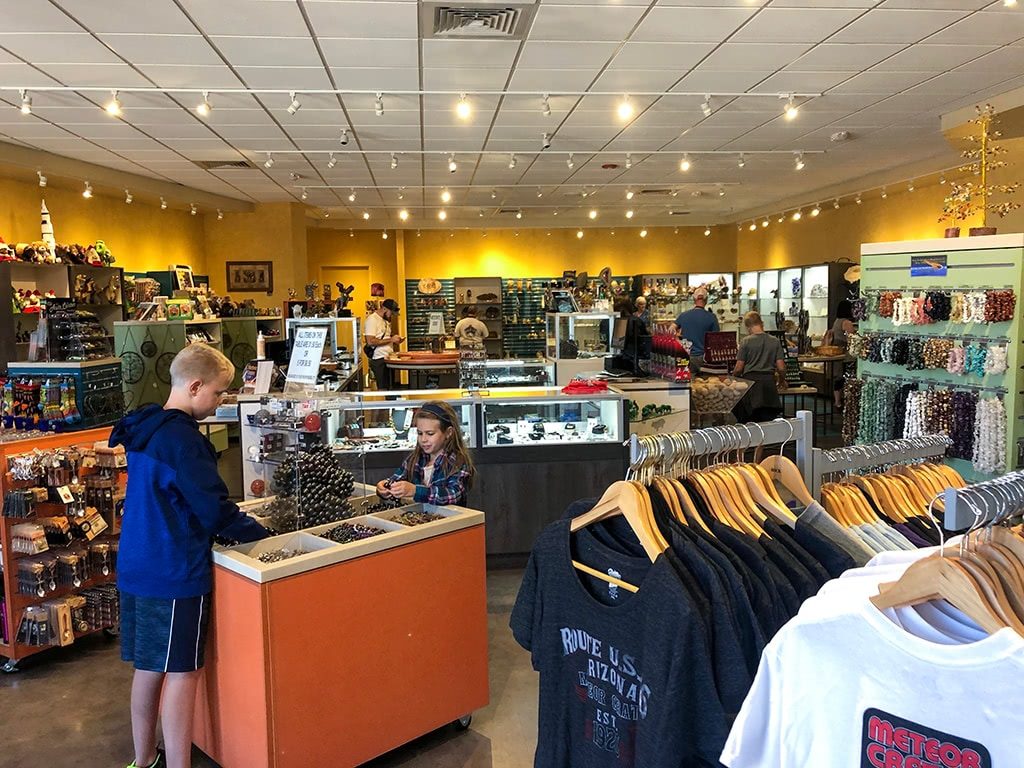 They have everything you can think of…from T-shirts, magnets, ornaments, and everything in between!
The most interesting souvenir was definitely little pieces of rock you can purchase from the meteorite site! Be sure to take home a little something to remember your trip to Meteor Crater!
Blasted Bistro
Right next to the gift shop you will find the restaurant on site, called the Blasted Bistro!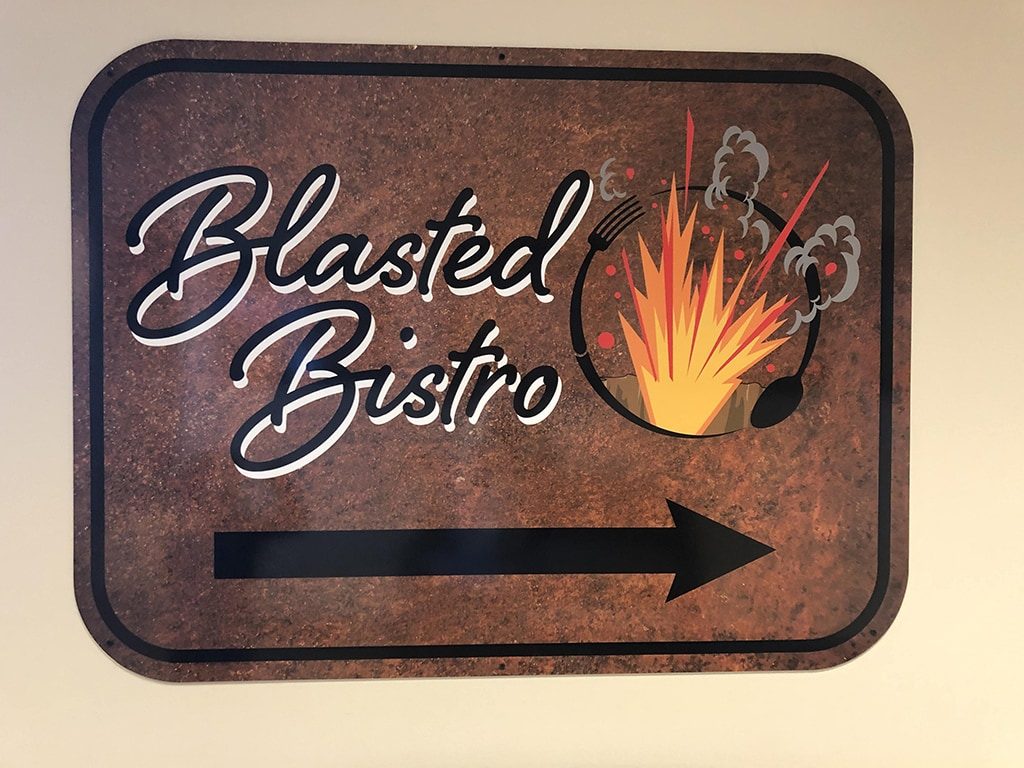 They have everything from soups, salads, kids meals, pastries, coffee and sweet items. So you definitely will have a chance to refuel or even grab a bite of lunch while you are there!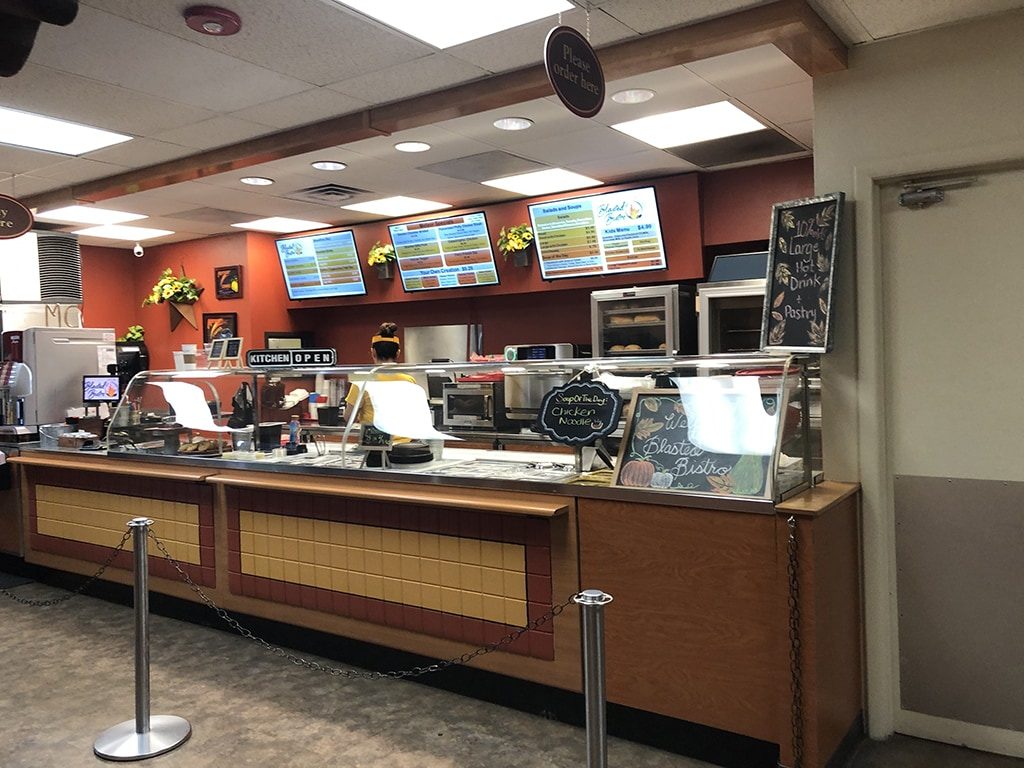 Exploring the Meteor Crater Museum & Outdoor Viewing Area
Next we headed over towards the museum and the crater viewing area.
Collision 4-D Experience
Once you walk into the museum building, immediately to your left you will see the 4D Theater area.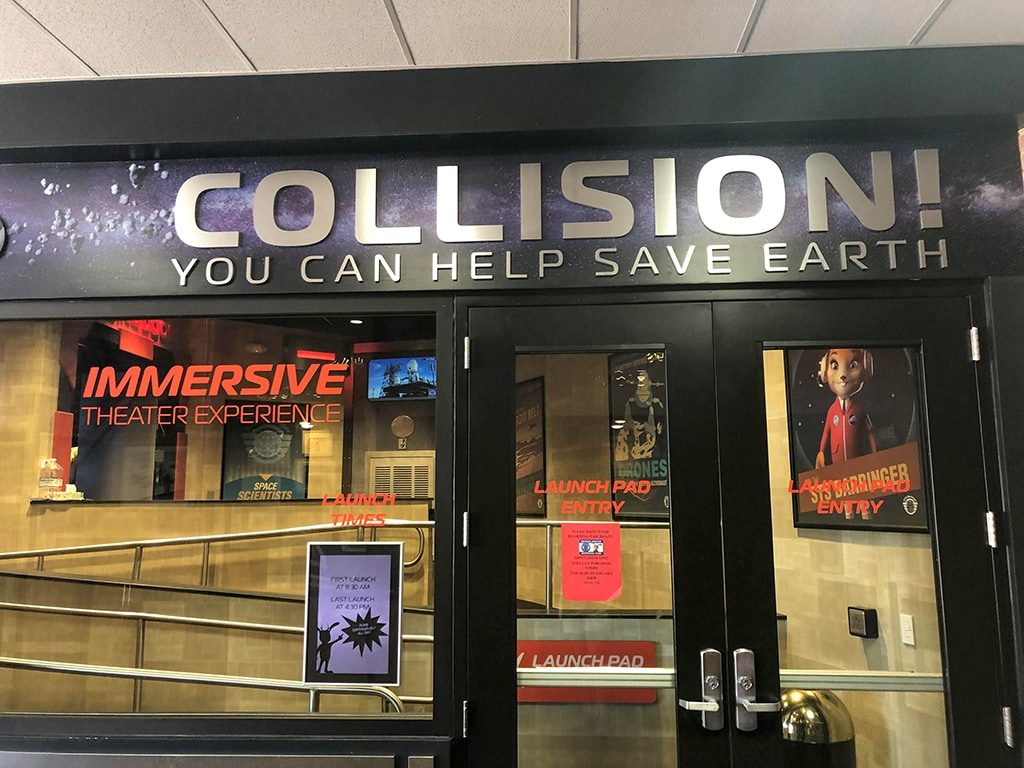 Although we didn't have time to do this experience, a visitor in the gift shop stopped us and told us that it was really fun and that the kids would love it! So be sure to put that on your list if you have plenty of time!
*Update- When we visited, the 4-D Experience was an additional cost. According to the Meteor Crater website, this experience is now included in the regular admission! Score!
Penny Pressing!
Right inside the lobby you will also find a pressed penny machine! This is one of our favorite things to collect on our adventures (as they are small, compact and easy on the wallet). So if you are into that kind of thing, be sure to check that out!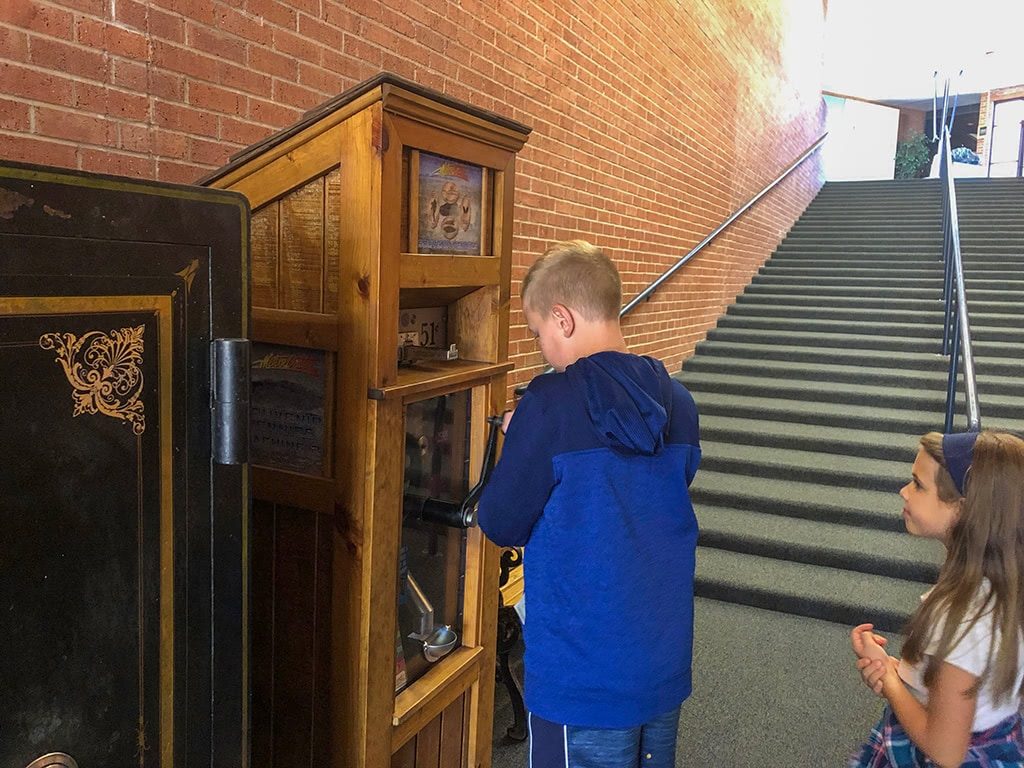 Guided Rim Tour
Once you make it to the top of the steps, you will find an area where you can find the daily schedule for the Guided Rim Tours.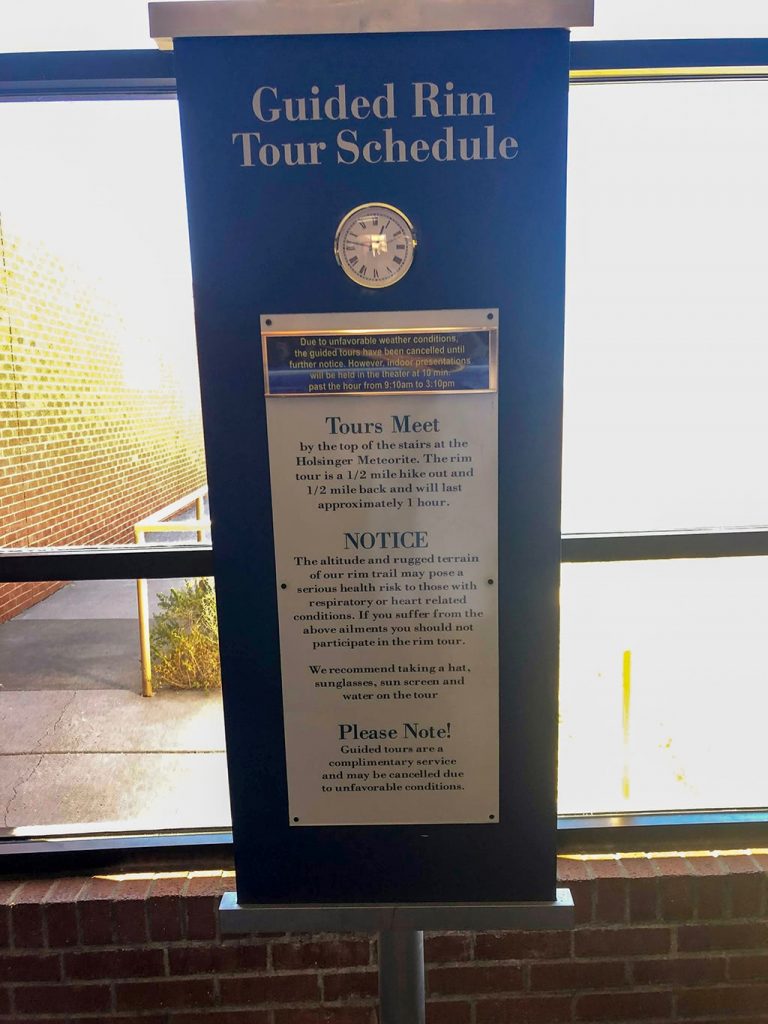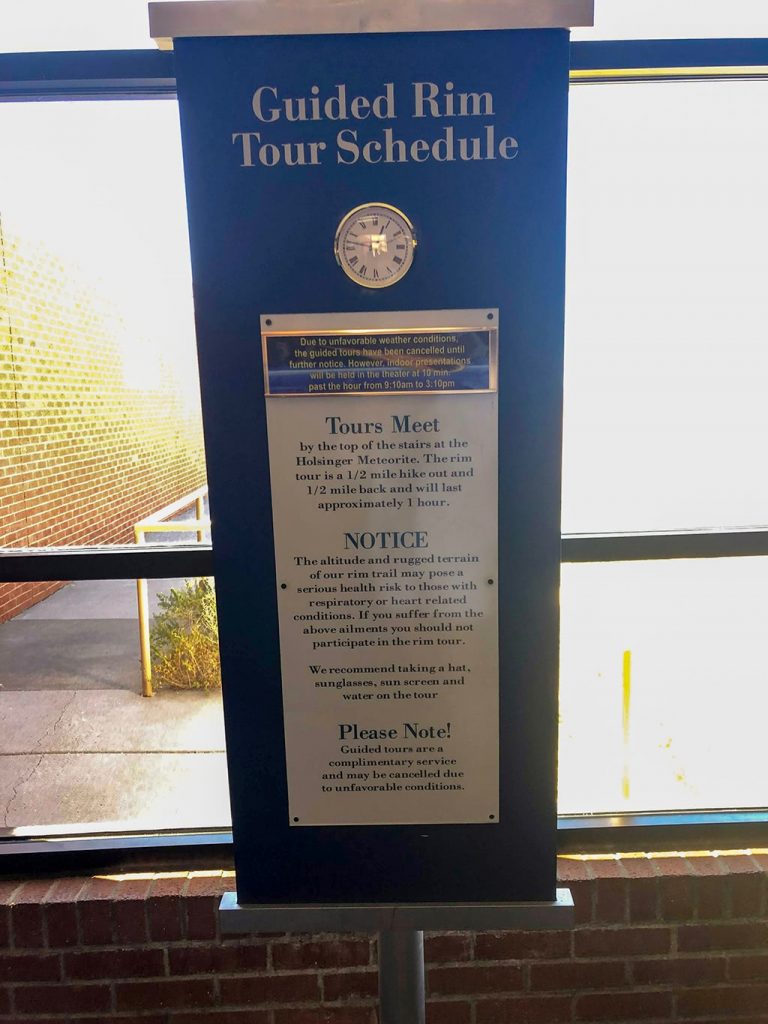 The day we visited it was too windy, so the guided rim tours were canceled for the day. However, I would definitely make this a priority as I think it would be really cool! They say to allow an additional 45 minutes to an hour for this experience!
"IMPACT, The Mystery of Meteor Crater" Film
Be sure to take time to watch "IMPACT, The Mystery of Meteor Crater" that will explain a lot of the history behind Meteor Crater. The schedule is posted right next to the theater entrance.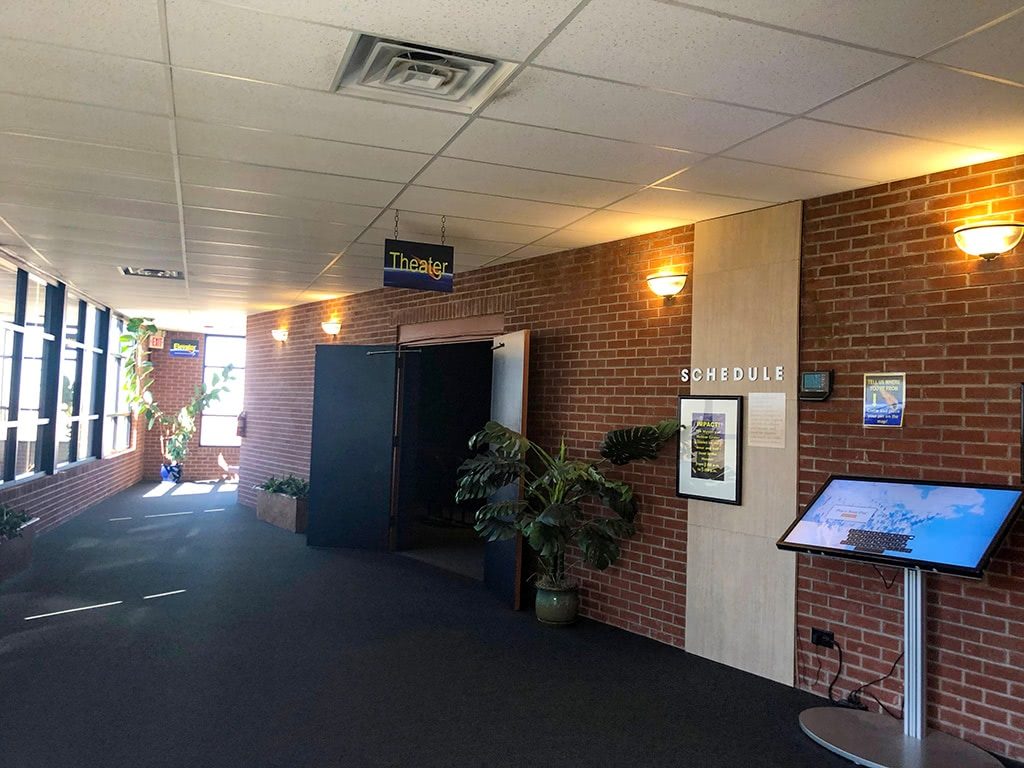 This film will play on the hour and the half hour, so be sure to plan accordingly!
The Museum at the Meteor Crater in Arizona
The actual museum part was quite enjoyable! We ended up spending the majority of our time there, as there was so much to do! There are plenty of interactive learning experiences for kids (and adults!) of all ages.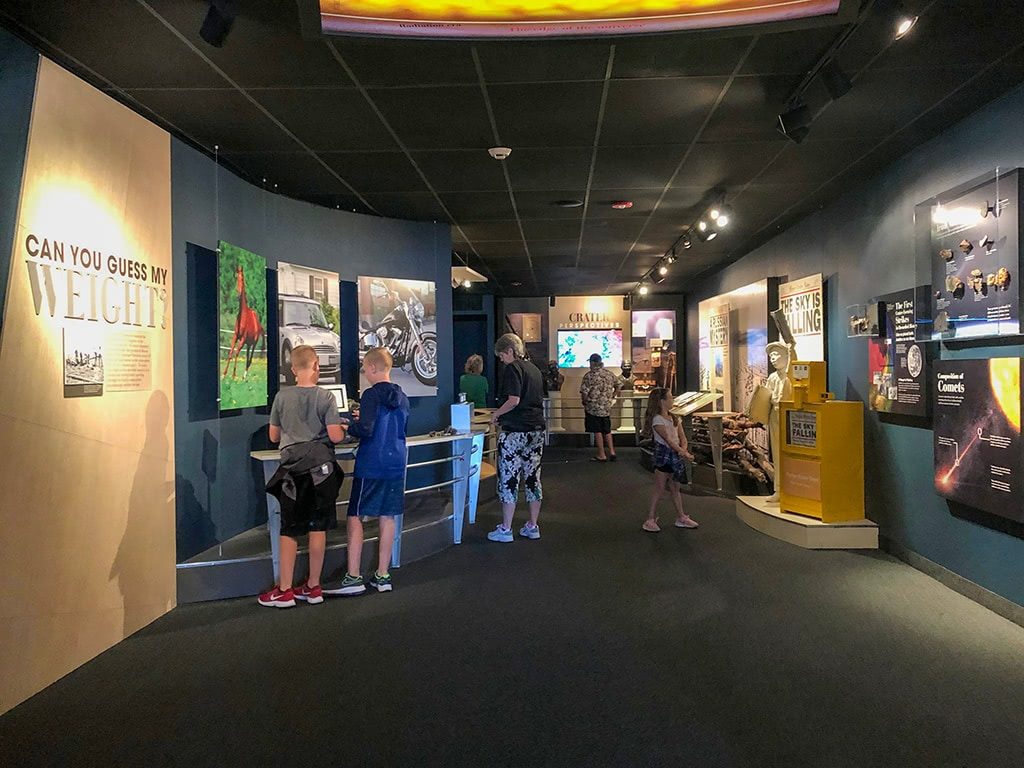 Right at the entrance of the museum, you will find the "Holsinger Meteorite" which is the largest fragment discovered from the 150 foot meteor that actually hit! How neat is that?!?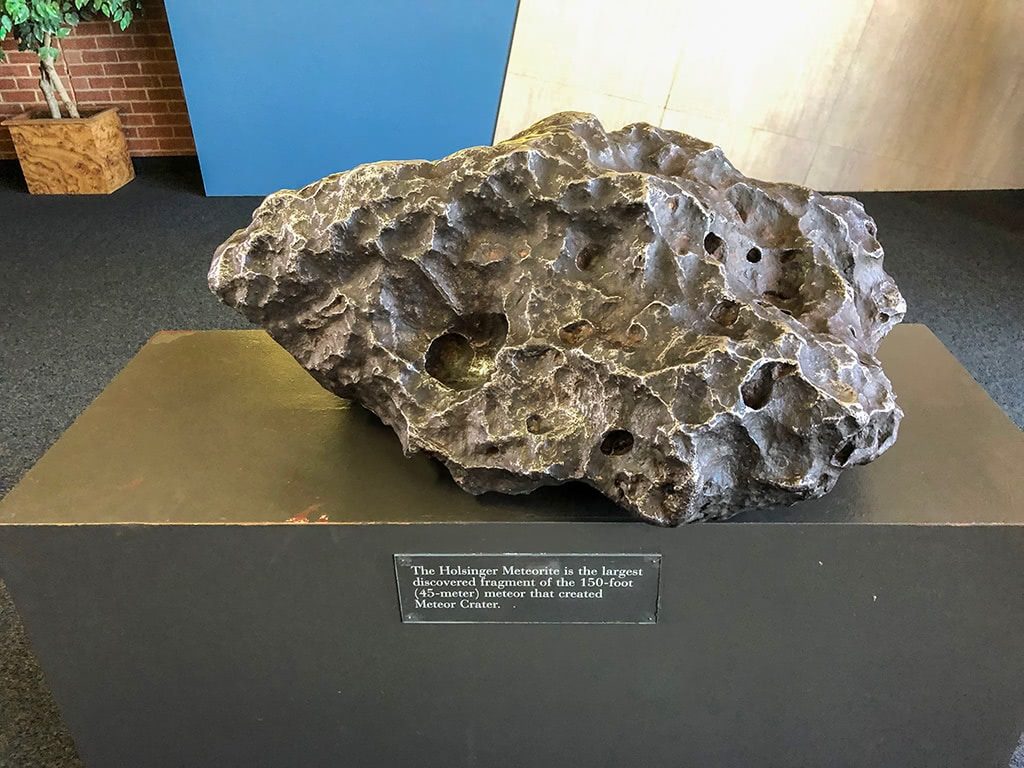 The kids loved the "Can you guess my weight?" exhibit that teaches you how much meteorites actually weigh.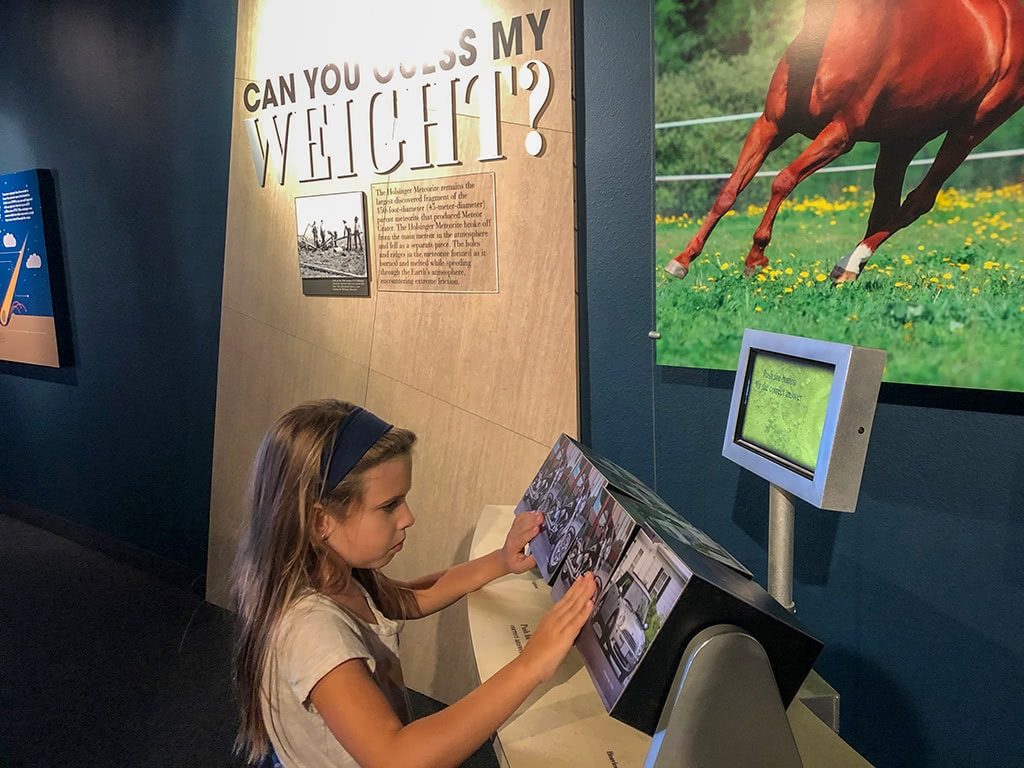 Another favorite experience was a simulator with special effects that shows you how Meteor Crater was formed.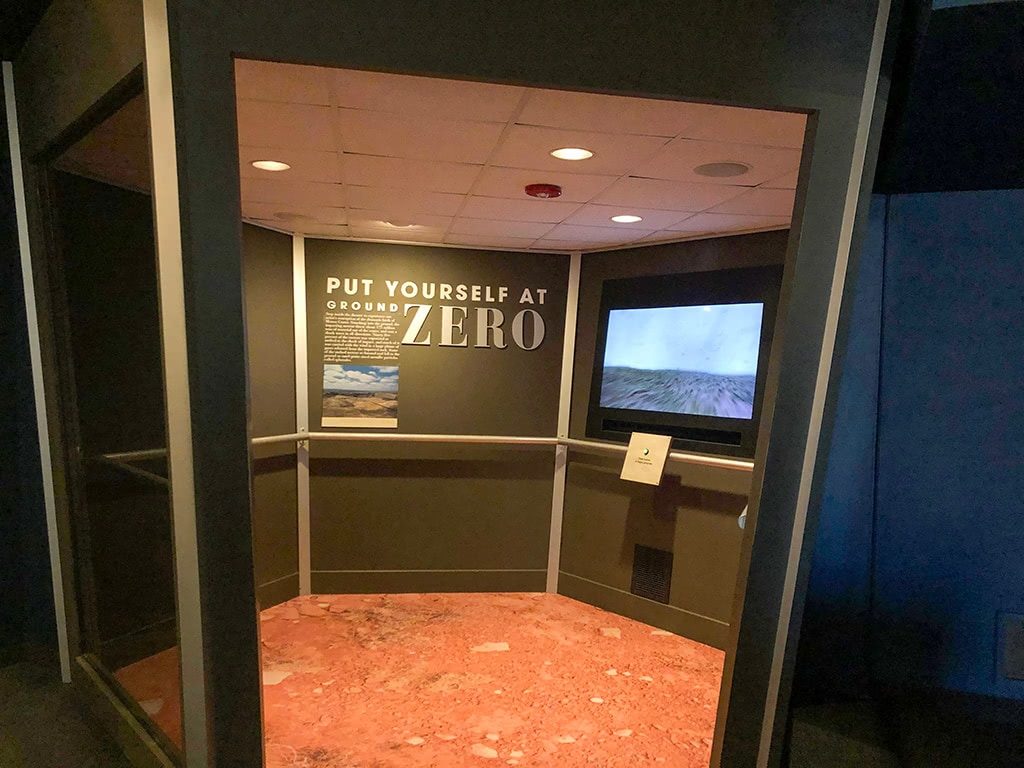 The "Is it a Meteor Crater?" exhibit was very interesting as it shows the different types of craters and how to distinguish between them.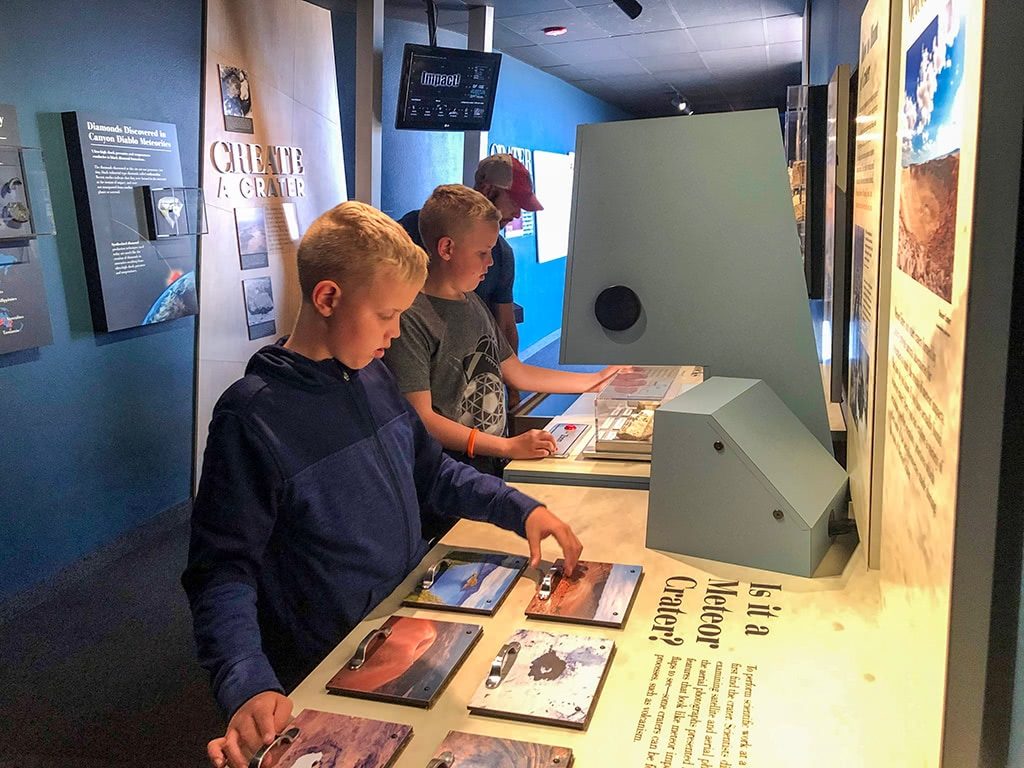 But the kids' favorite, hands down, was the "Create a Crater!" This experience allows you to choose all of the different levels (velocity, speed, diameter, etc.) and you can see firsthand what kind of impact it would make on earth and the size of crater it would make.
The kids loved adjusting the different levels to see how it would change. They even blew up the earth one time. Yikes!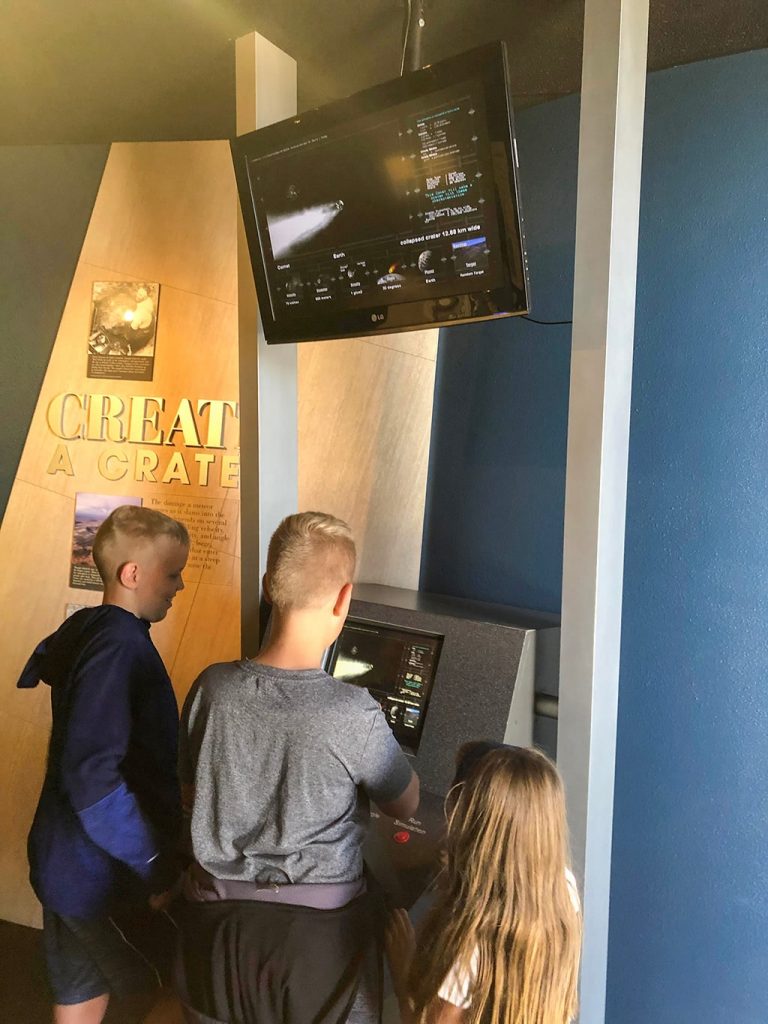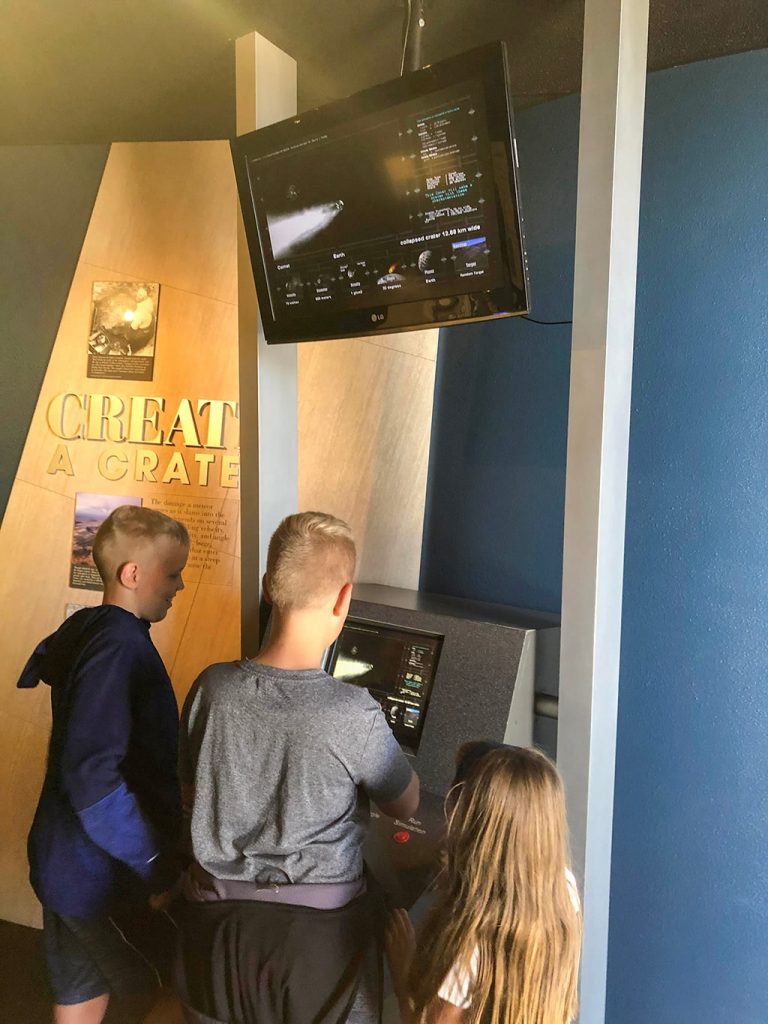 And last but not least, be sure to take advantage of the fantastic photo opportunity in the museum! It's a great place to get a good family photo to document your time at Meteor Crater!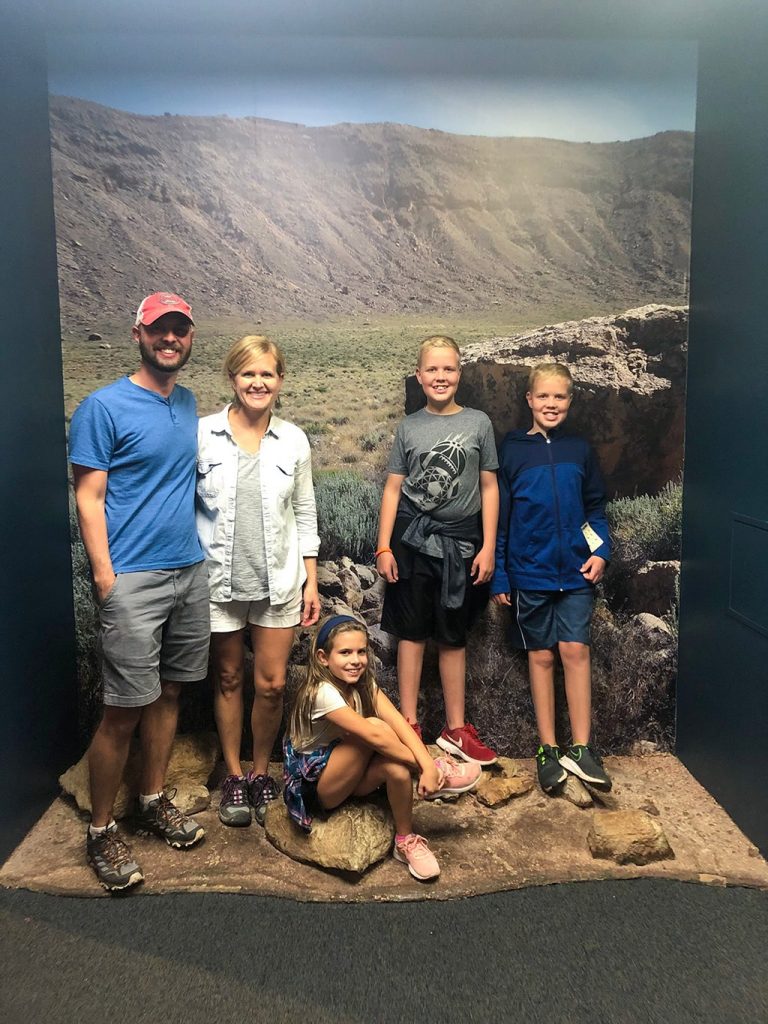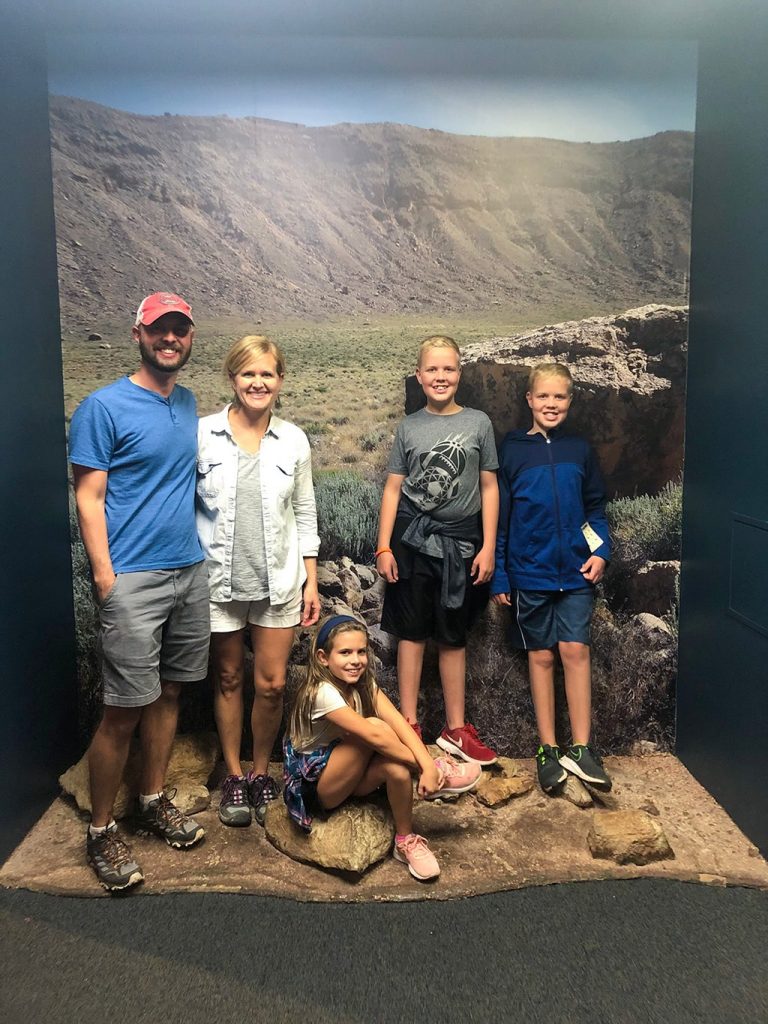 Viewing the Meteor Crater in Arizona
Even if the Guided Rim Tours are canceled for the day, you still have two other ways to view the crater.
1. Indoor Viewing
One way is from the museum where there is an indoor viewing area. About halfway through the museum, you can read about it and take a peek through the glass windows.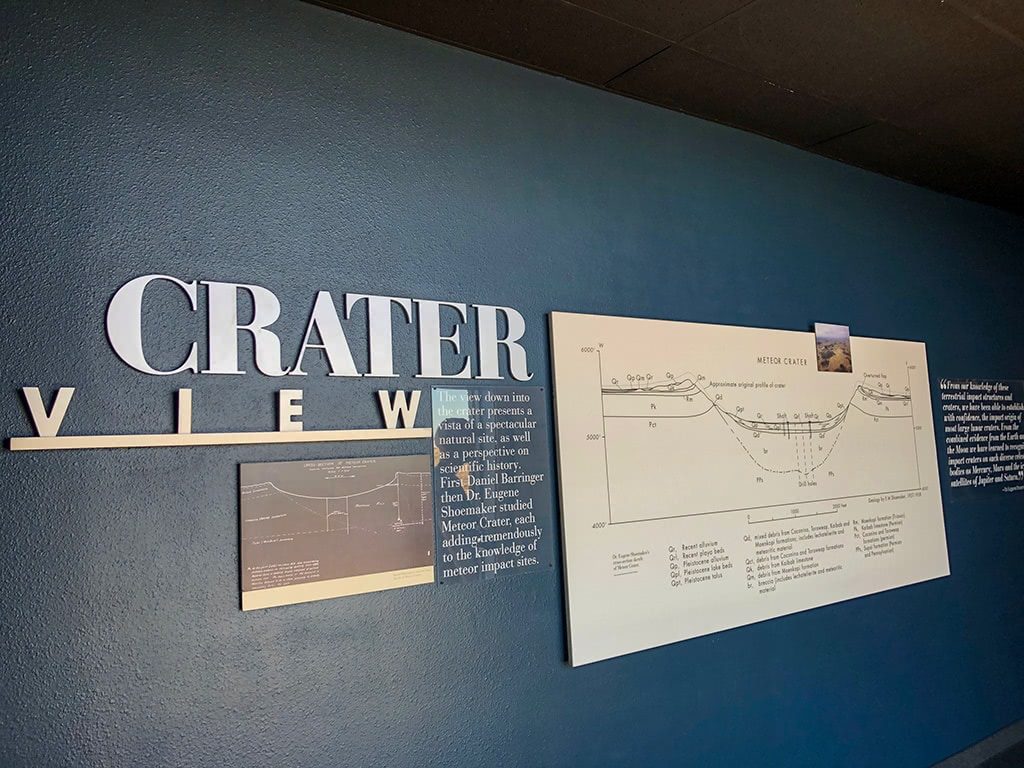 2. Outdoor Viewing
However, if you have made it all this way, you definitely HAVE to go outside to view the meteor crater up close.
Immediately upon walking outside, you can take a left down a walkway that takes you to an amazing viewing deck.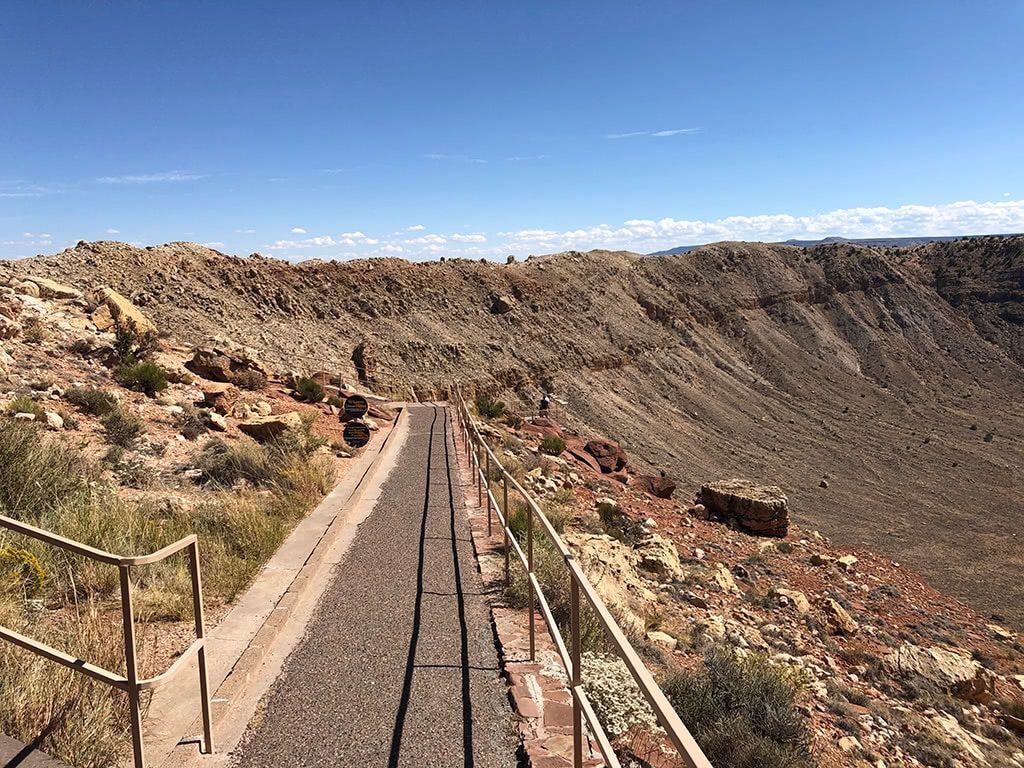 From that viewing platform, you can look through the viewers to see different areas of the crater.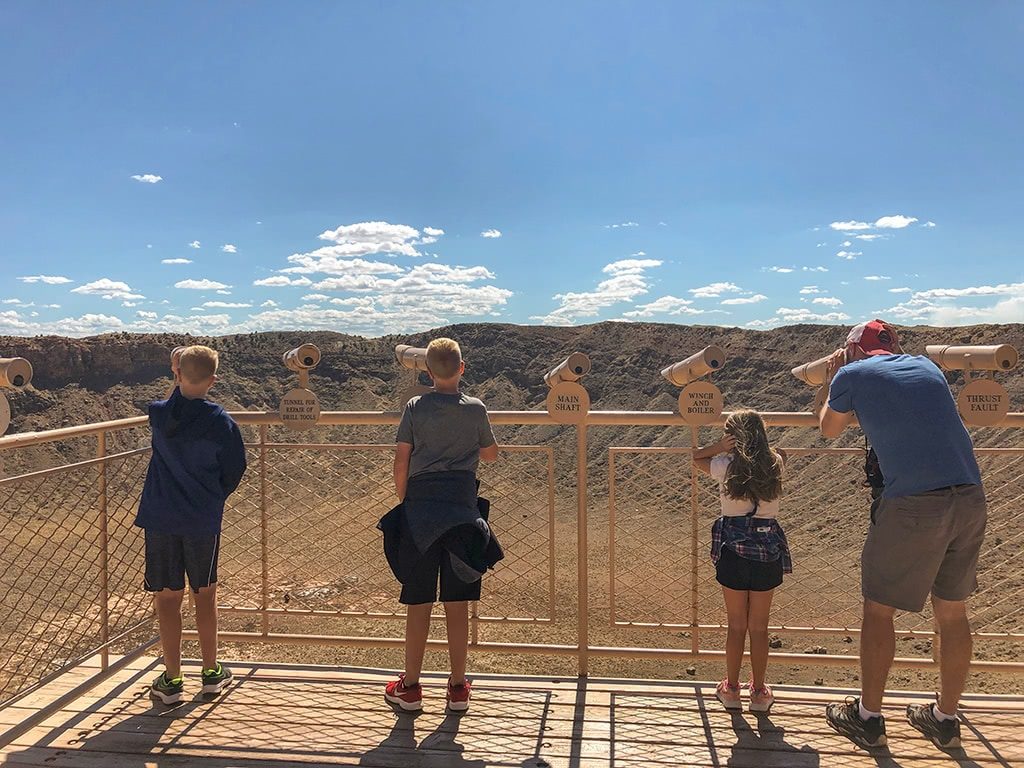 After that you can walk back to the other viewing area to the right that has a great covered place to take in a different view of the crater.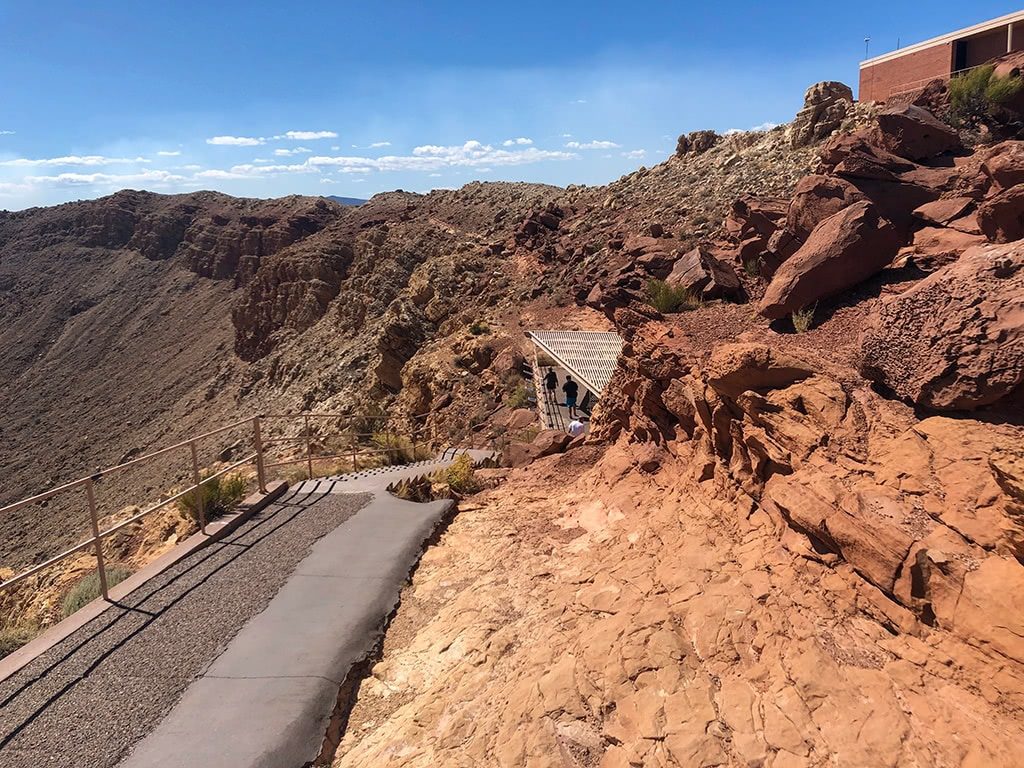 The entire crater is almost 1 mile across, 2.4 miles in circumference and a little more than 550 feet deep. They said they could fit about 20 football fields in the bottom of it, if that gives you an idea of the vastness!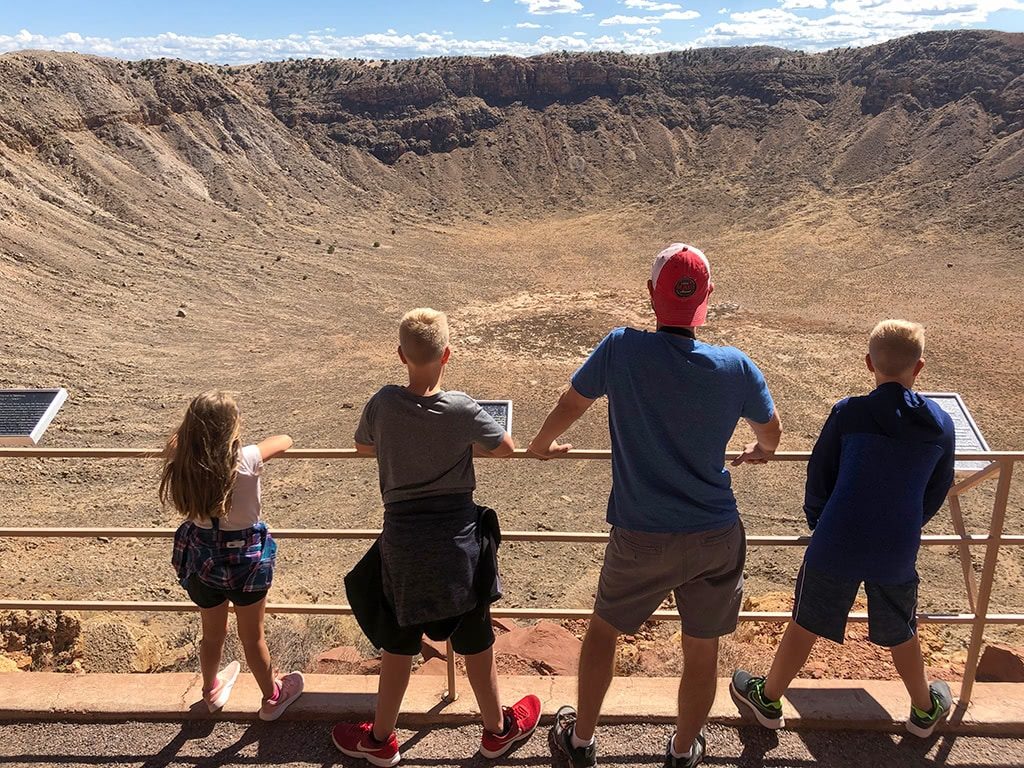 Final Thoughts
The Meteor Crater in Arizona was definitely a sight to see! It's just one of those things that you have to see in person to completely appreciate it. The history of Meteor Crater and the impact that it made over 50,000 years ago is still to this day very fascinating.
The people in history that discovered it, as well as the information that scientists have been able to collect from this impact site is very captivating for anyone that has an appreciation for space and how it affects the Earth.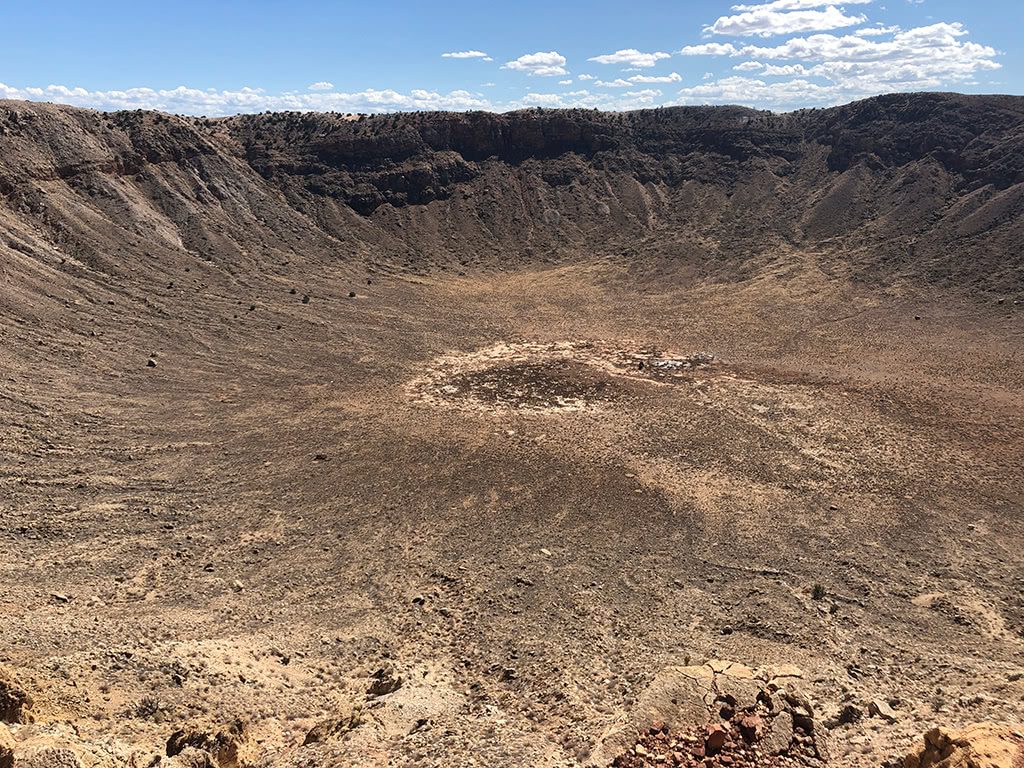 We absolutely LOVED our experience at Meteor Crater! It definitely piqued all of our curiosities to learn more about space and meteors. We went away with a more thorough understanding of meteors, for sure!
If you have a chance to visit Meteor Crater, definitely plan to stop by sometime! It's a family fun experience that we highly recommend!
---
Looking for more memorable things to do with your family? Be sure to check out more below!
More Related Articles: