Looking for family fun things to do in Chattanooga? We absolutely LOVE exploring and spending time in Chattanooga any time that we can! After calling that region home for a little over 10 years, we are always surprised at all of the NEW family fun things that the city has to offer!
Read on to learn more about more family fun things to do in Chattanooga, TN!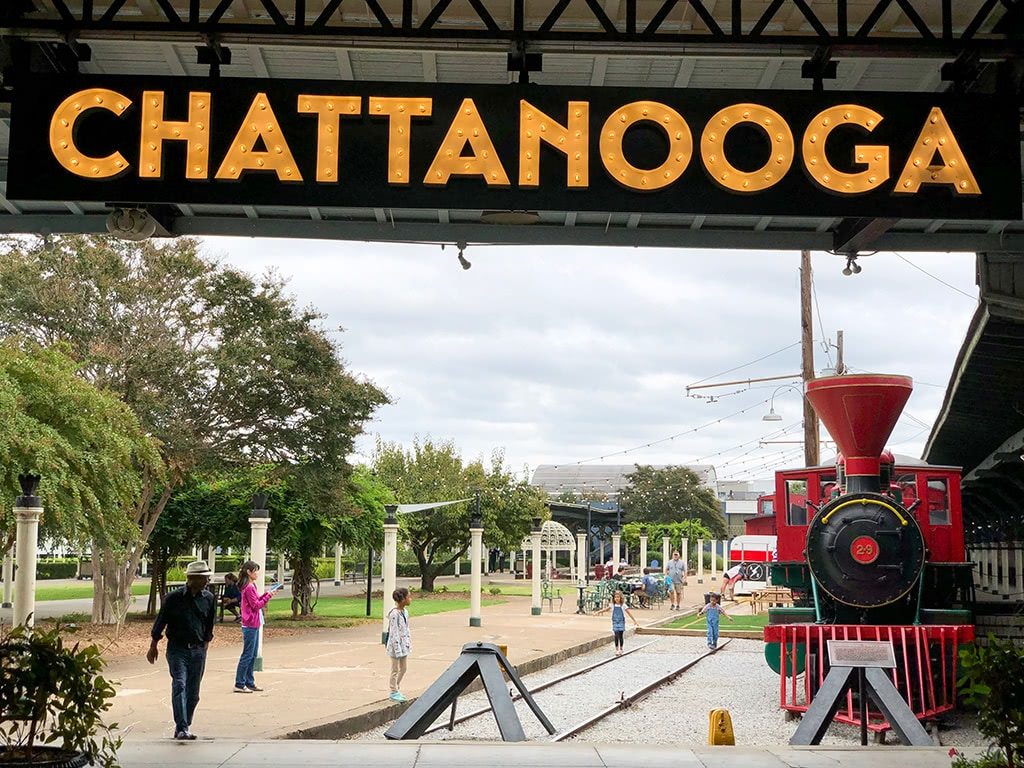 *This post may contain affiliate links which help support this site, but won't cost you anything extra. Read our full disclaimer.
Plenty of History and Unique Things to Do in Chattanooga!
The Chattanooga area is full or rich history and unique things to do! From the historic Chattanooga Choo-Choo to the Lookout Mountain Incline Railway in Chattanooga to historic battlefields and so much more, you will not run out of things to see and do!
And if you are interested in learning a little more about the area before you head that way, here are some good reads to pickup to learn all about the Chattanooga region!
5 Family Fun Things to Do in Chattanooga!
Then when you are ready to head that way, here are a few things to consider checking out with your family the next time you are in the Chattanooga area!
1. Experience the Chattanooga Market
The Chattanooga Market is located at the First Tennessee Pavilion, at 1826 Carter Street, Chattanooga TN, right across from Finley Stadium.
This eclectic gem can be experienced on most Sundays (starting at the end of April) through the end of the year from 11am-4pm.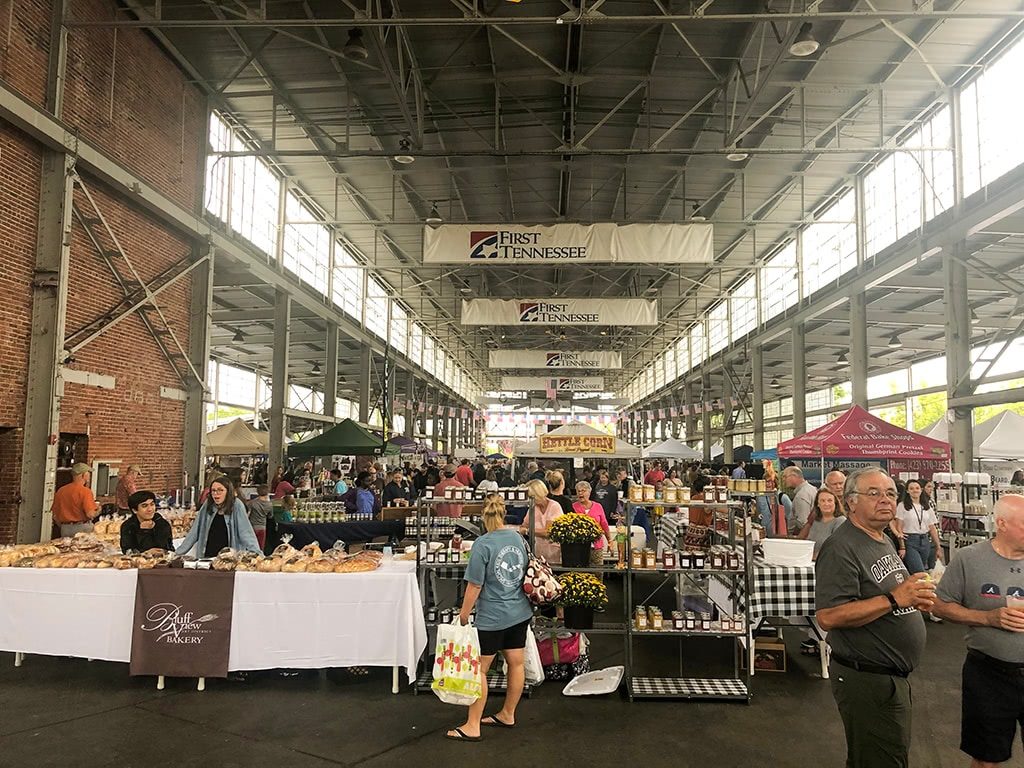 From produce and food, to handmade crafts and artwork, as well as live entertainment, the Chattanooga Market will definitely have something for everyone!
Every Sunday has a different theme, so be sure to check out the Chattanooga Market website beforehand so you know what to expect. The Sunday we were there was "CultureFest" and it was incredible! (Although I have to say the Haunted Market sounds pretty awesome!)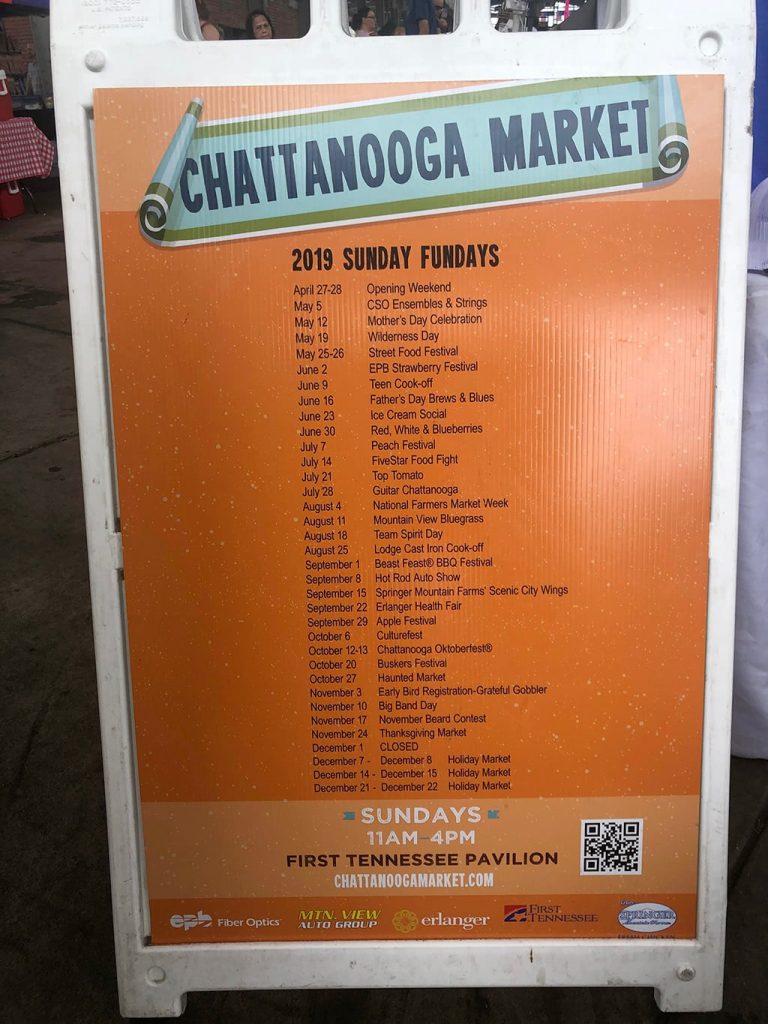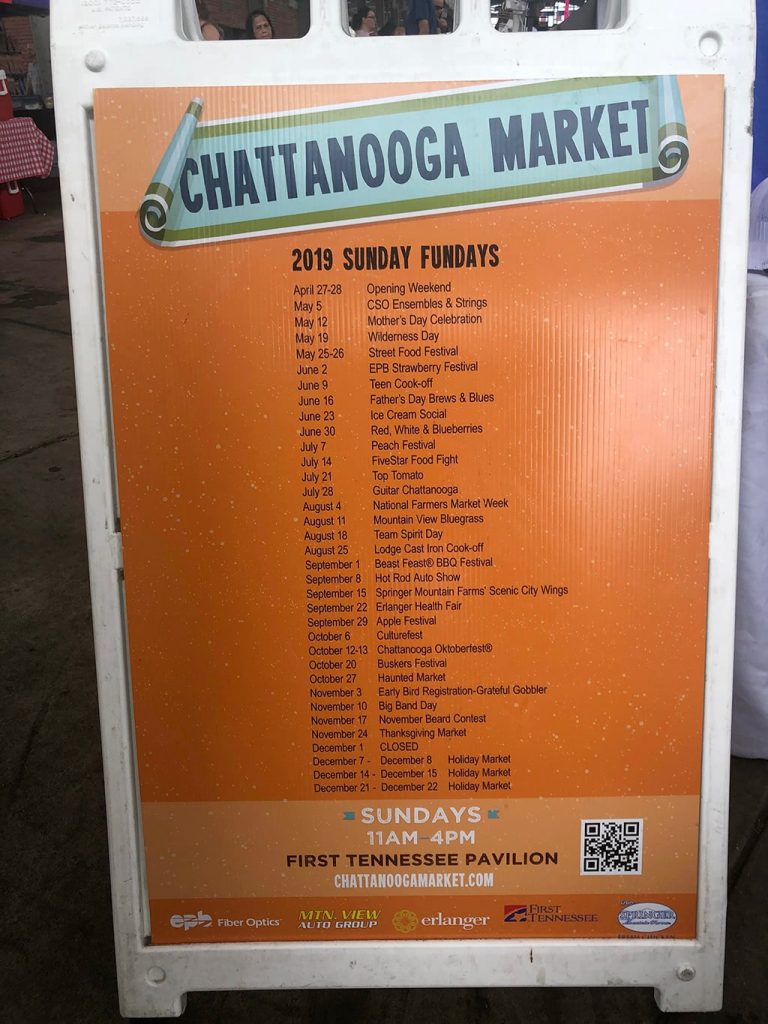 They had a variety of music from different cultures playing on the stage. And plenty of opportunities to try different ethnic foods. We even got to experience a tea ritual and sample the tea!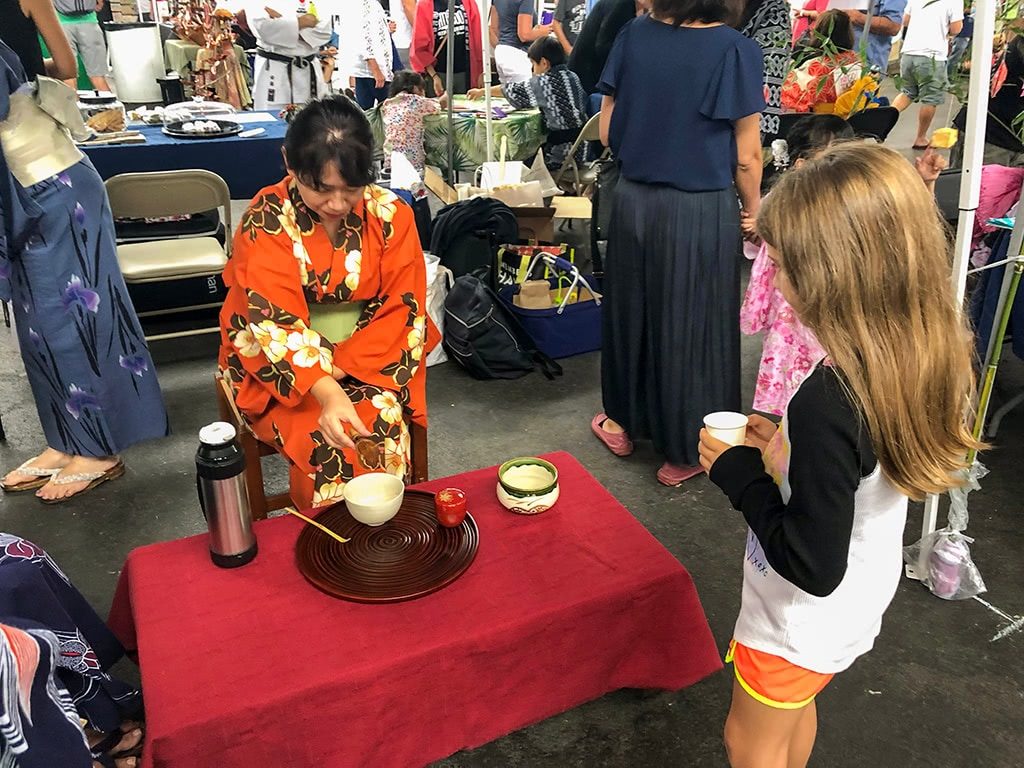 We also picked up some homemade jam, and some produce and fresh picked apples!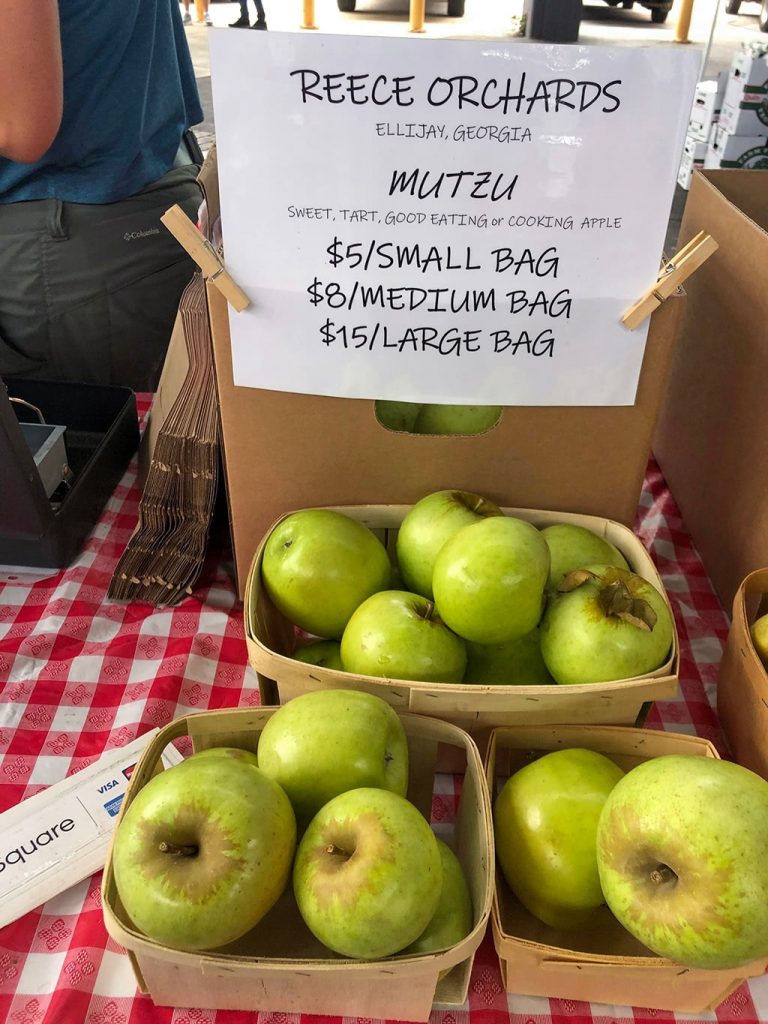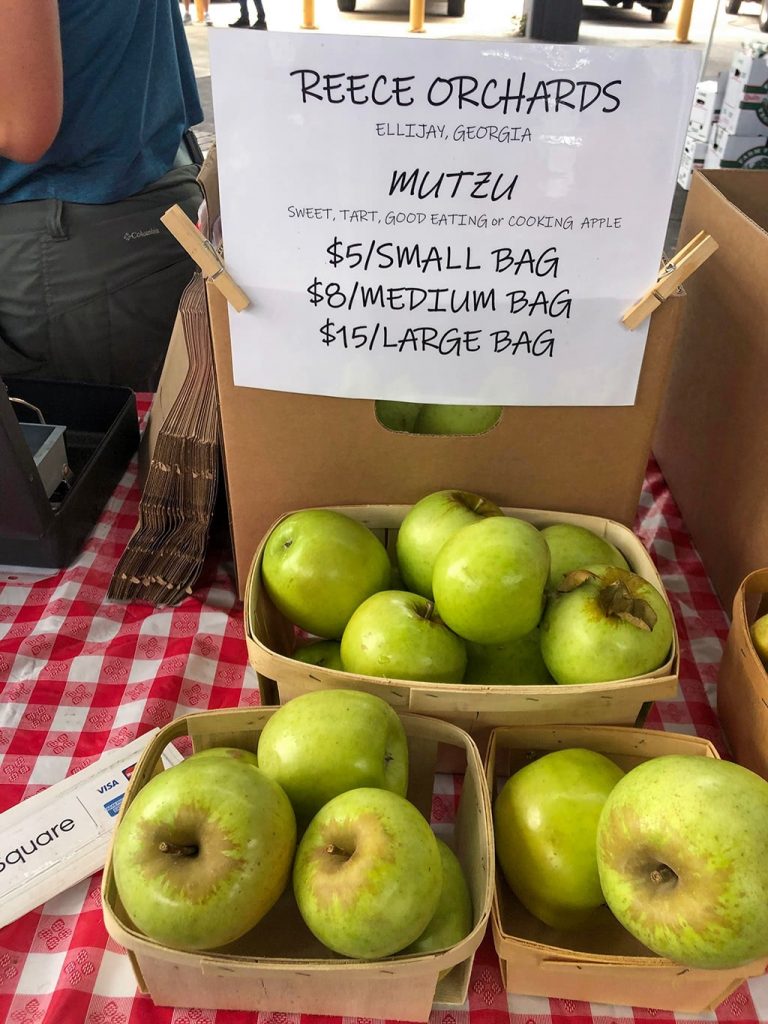 And we really enjoyed the Musical Saw demonstration.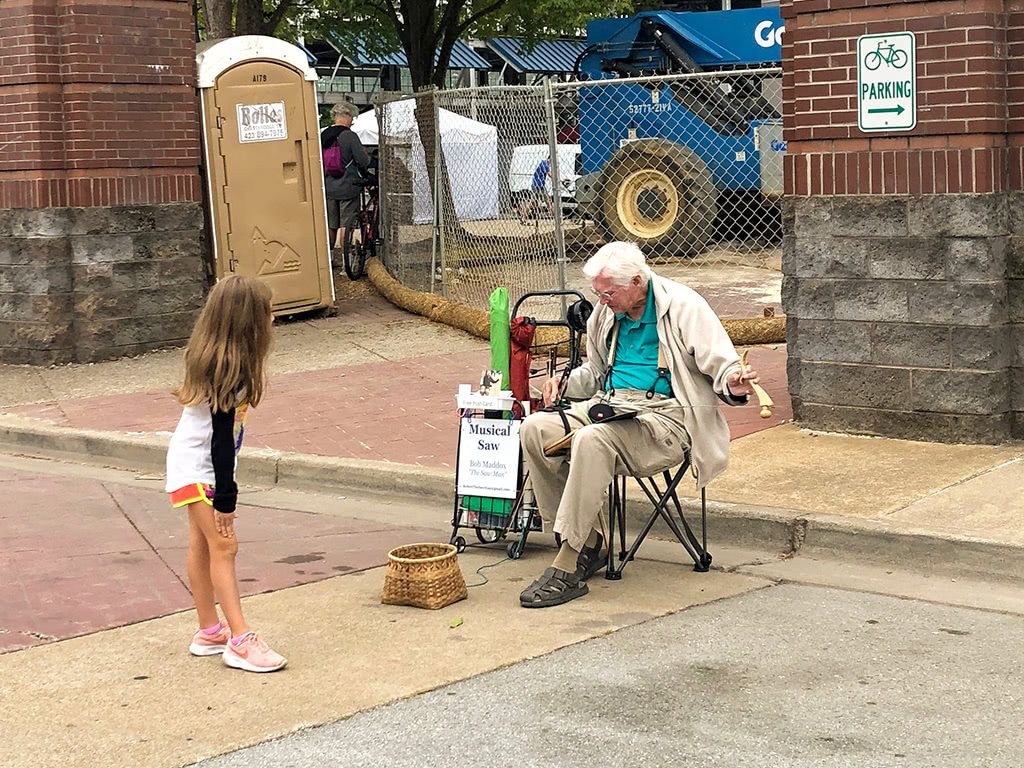 But one of the kids' favorite things was "That Statue Guy"! He was really entertaining to watch and so we gave him a tip and then he gave each of the kids a high five. It was a very memorable experience!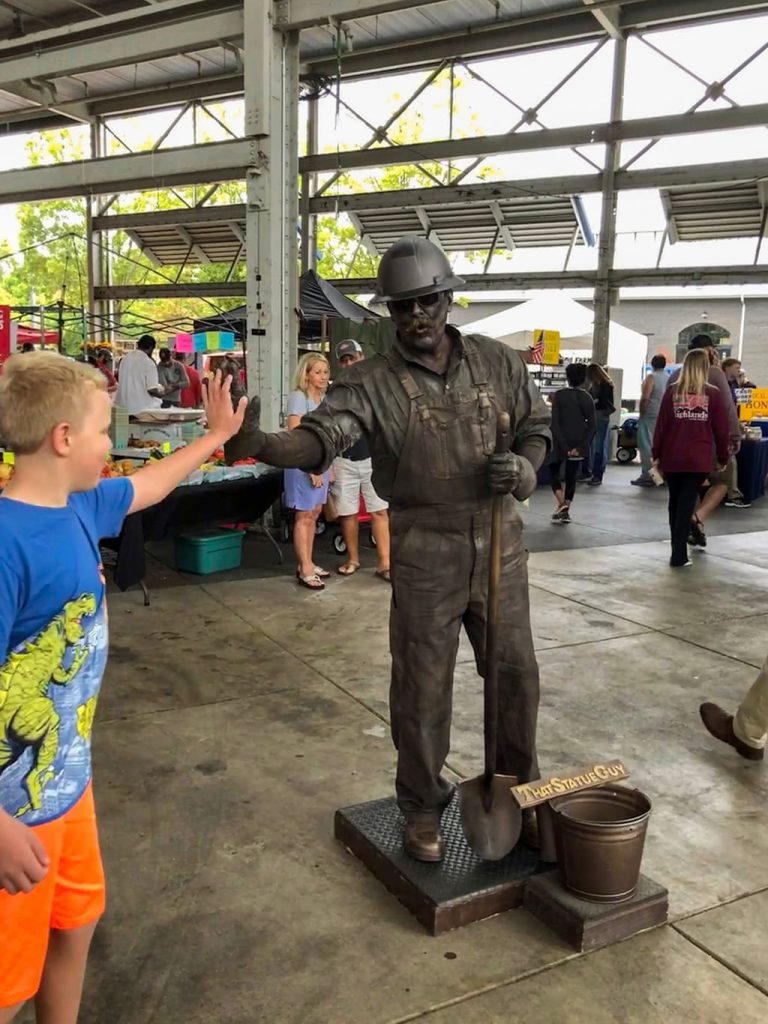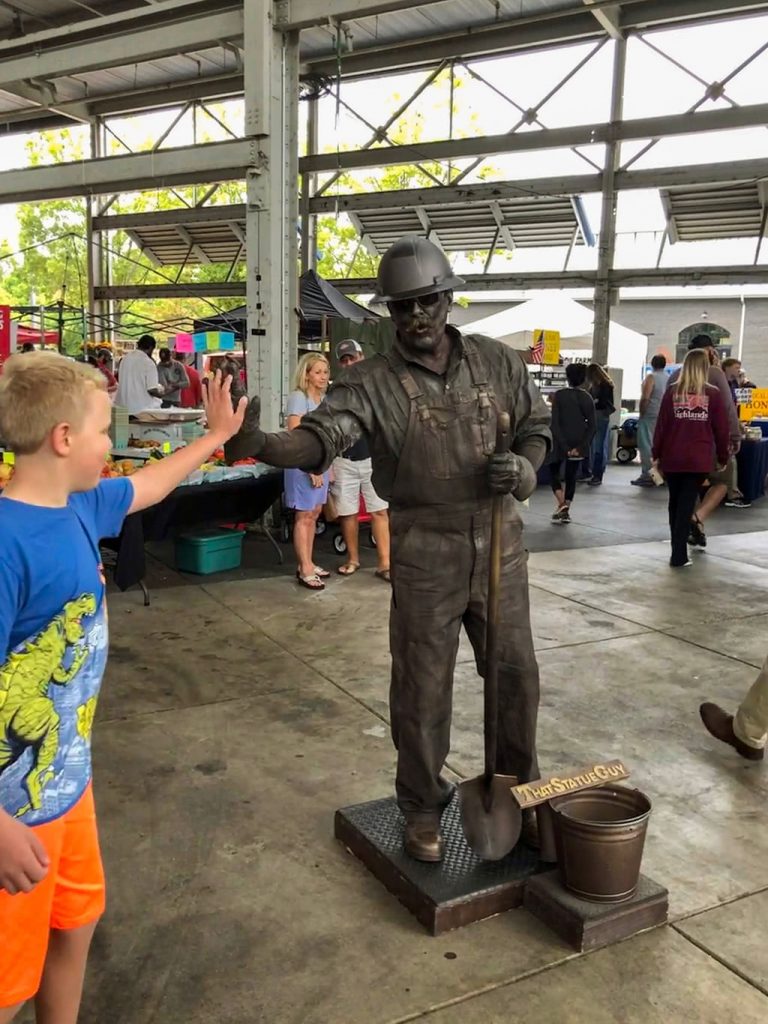 Tip: Get there early to beat the crowds. We got there right when it opened around 11am and it was definitely more crowded when we were leaving.
2. Check Out the Historic Chattanooga Choo Choo
The Chattanooga Choo Choo is absolutely one of our favorites and is SO much fun to explore! This if definitely one of our favorite family fun things to do in Chattanooga!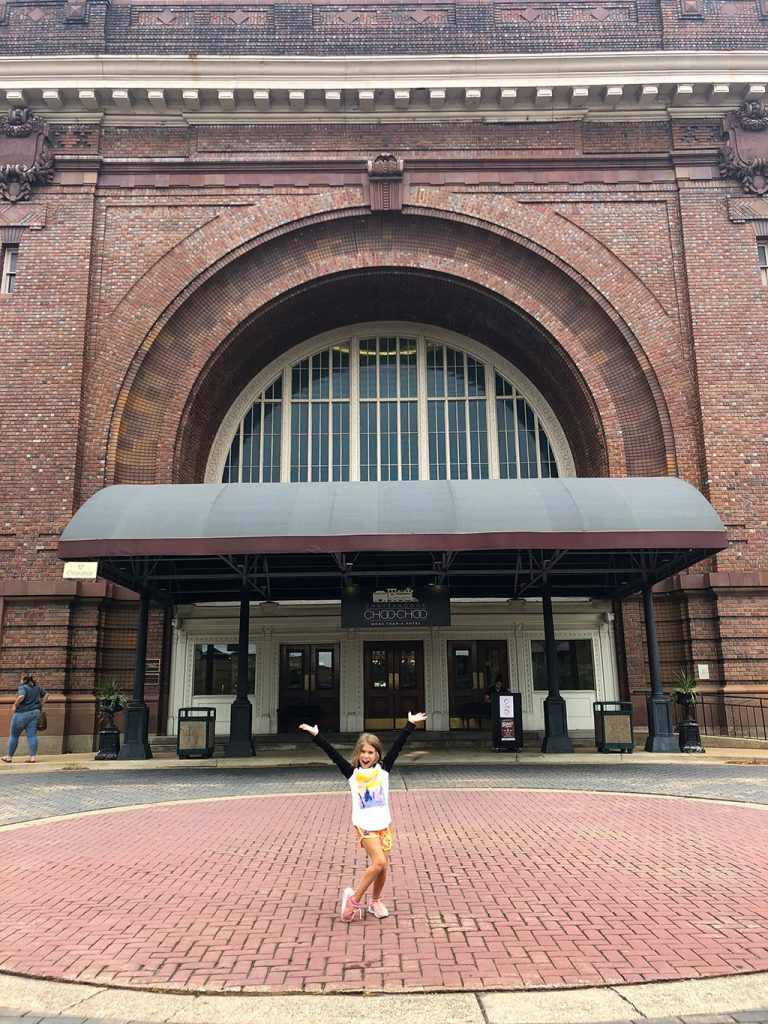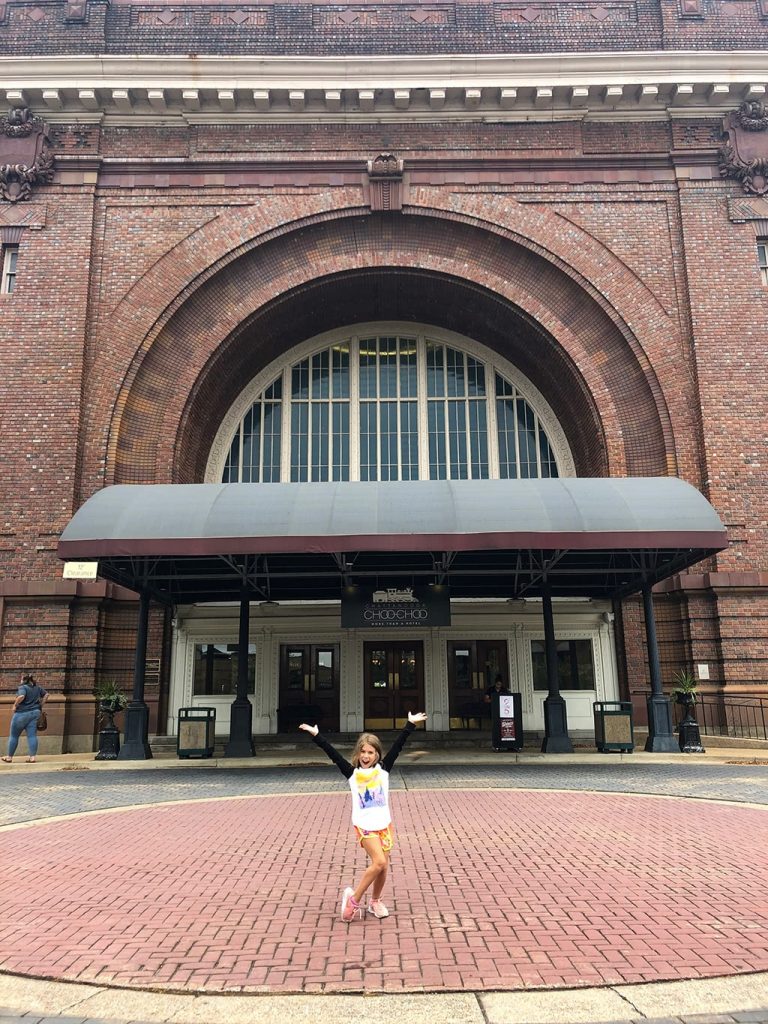 Located at 1400 Market St. Chattanooga, TN, you will find the Choo Choo in the more recently updated historic "Southside" part of town.
As soon as you walk into the lobby, the beautiful architecture greets you!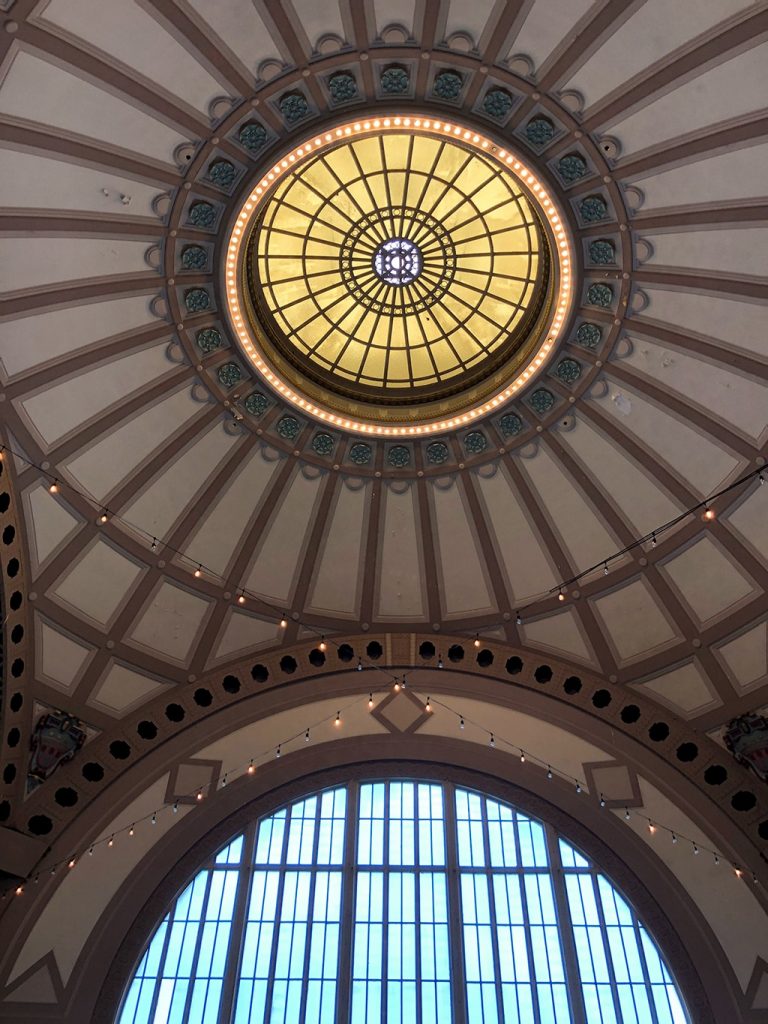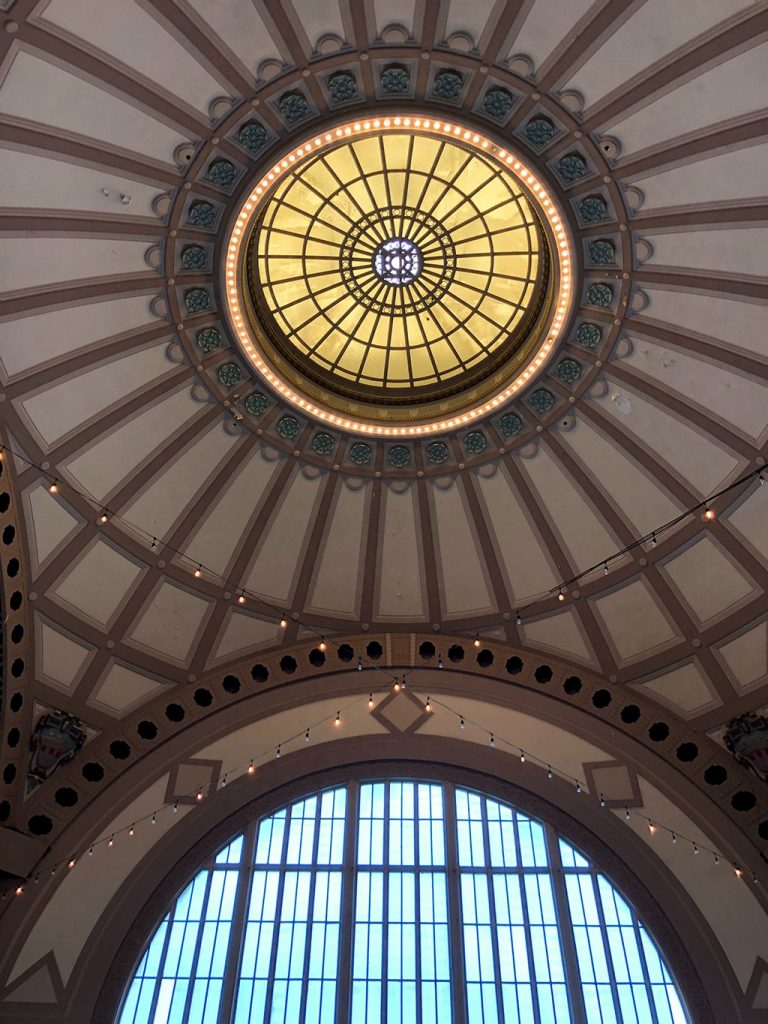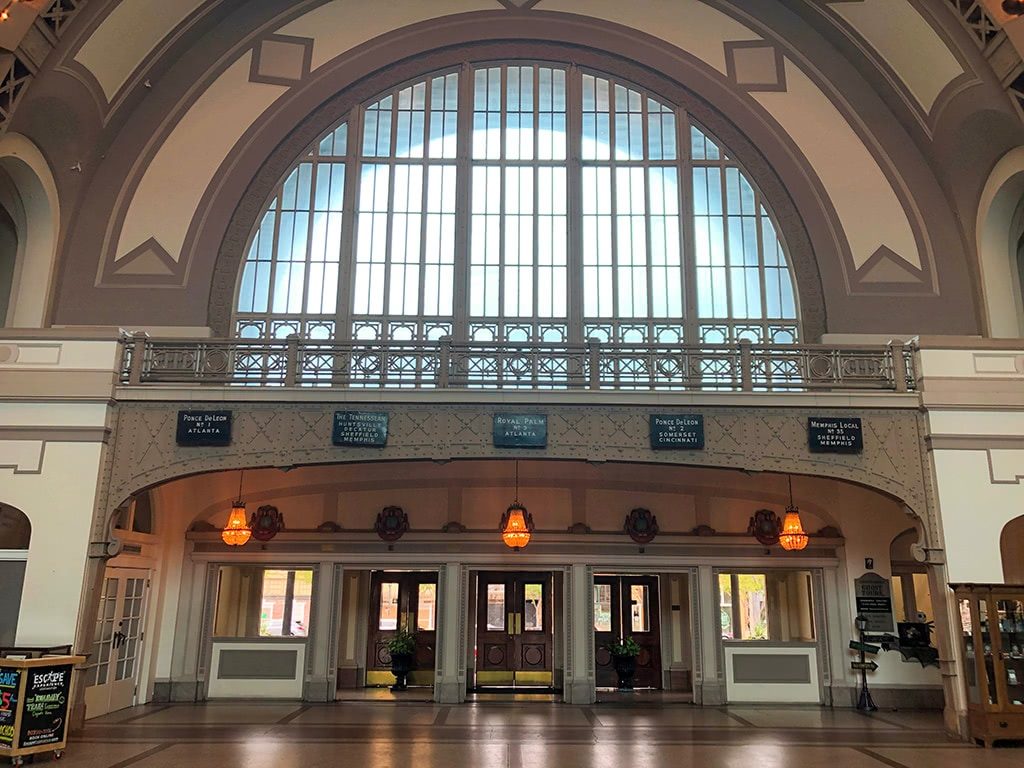 The kids immediately gravitated to the telephone booth and the old machine used for switching train tracks.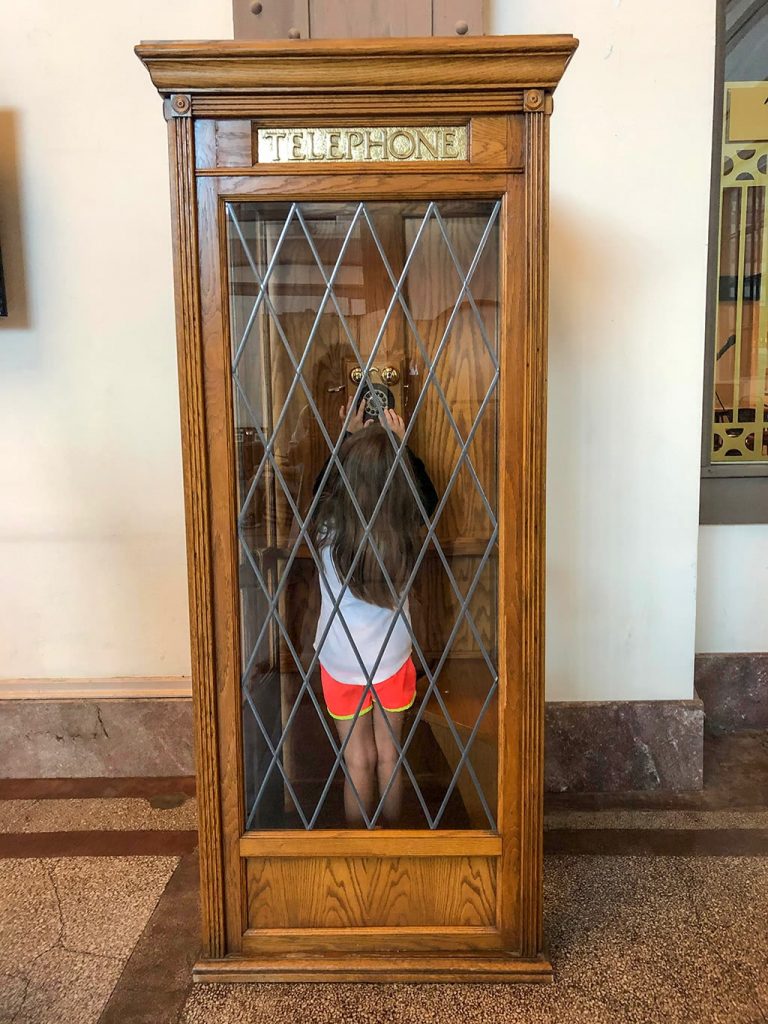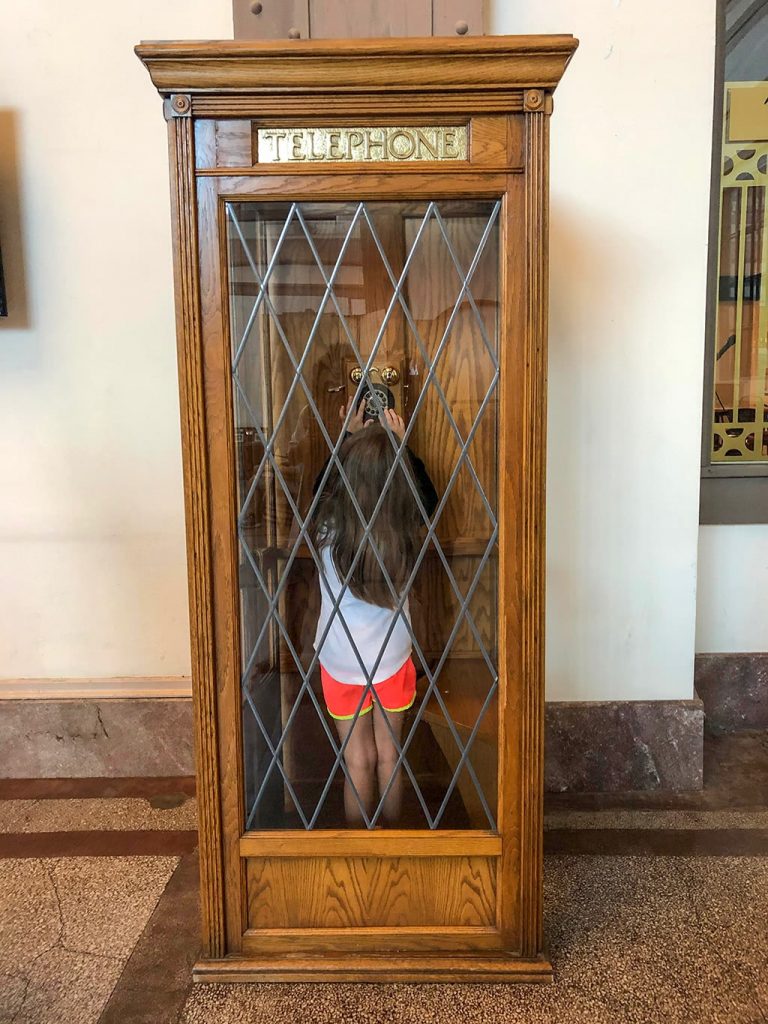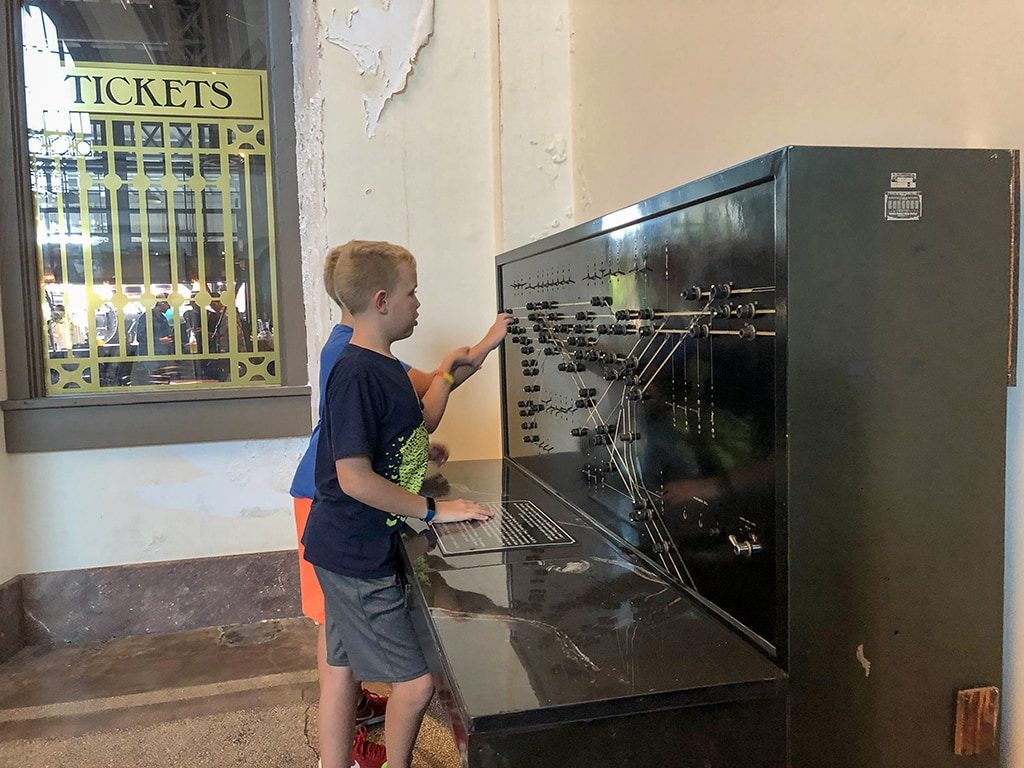 There are several restaurants and coffee shops as well. Our crew spotted a penny pressing machine, which of course we had to make a go at!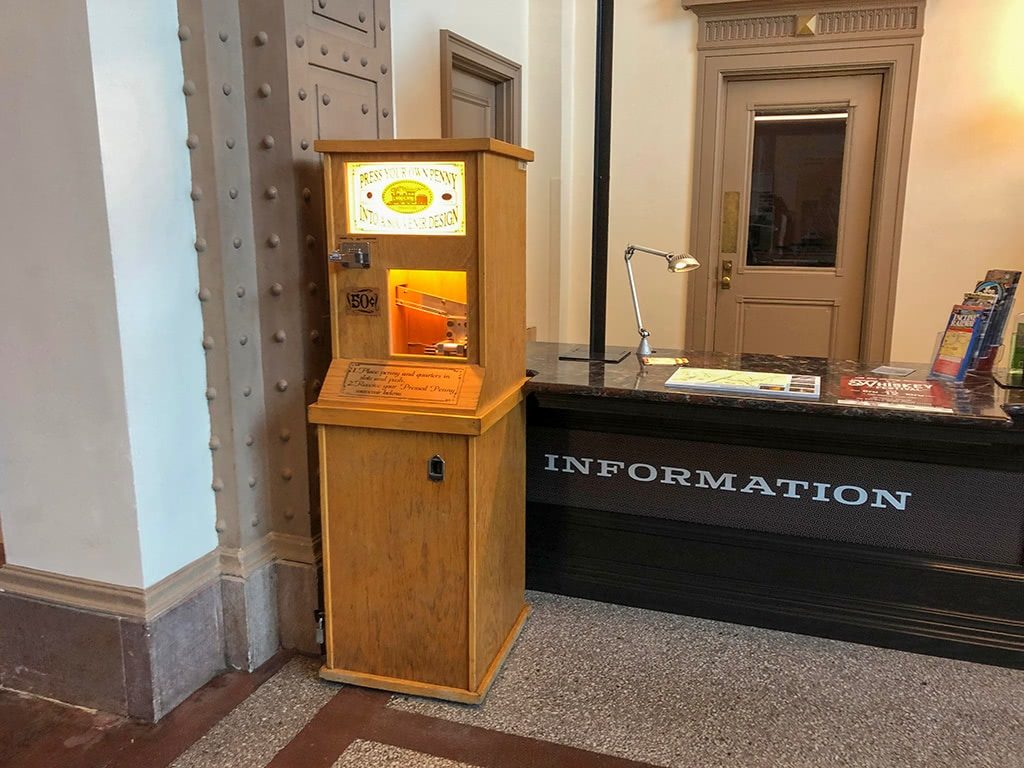 We then made our way outside.
From exploring the train, to the corn hole and bocci ball, and a giant jenga game, you will have plenty for the whole family to see and do!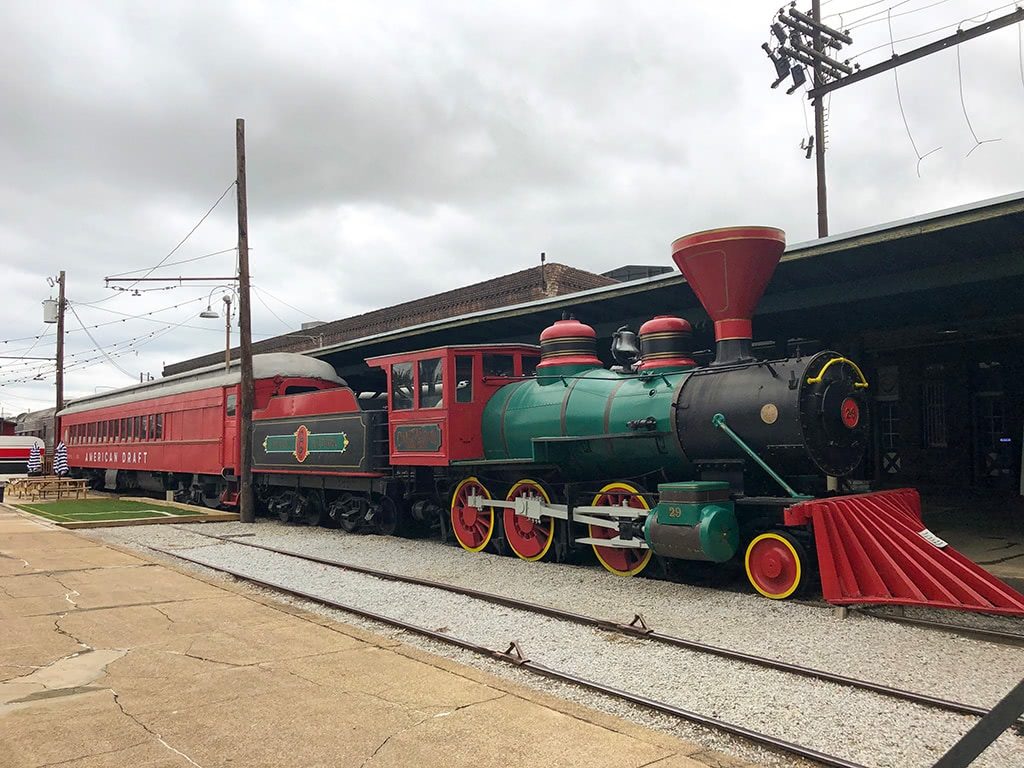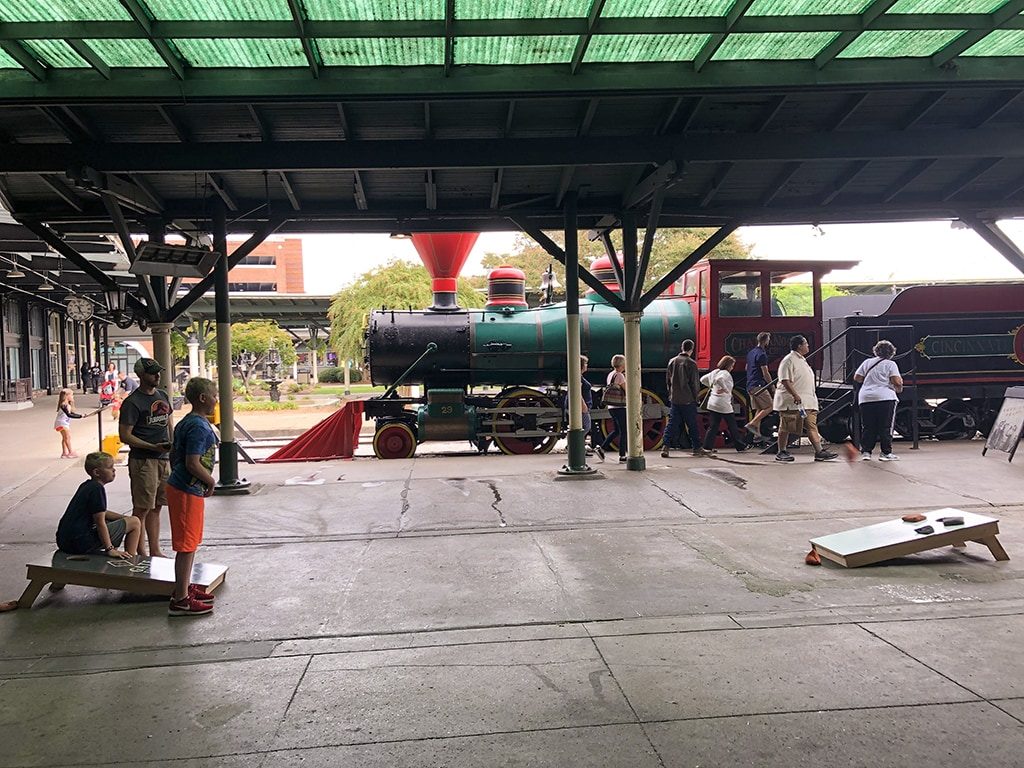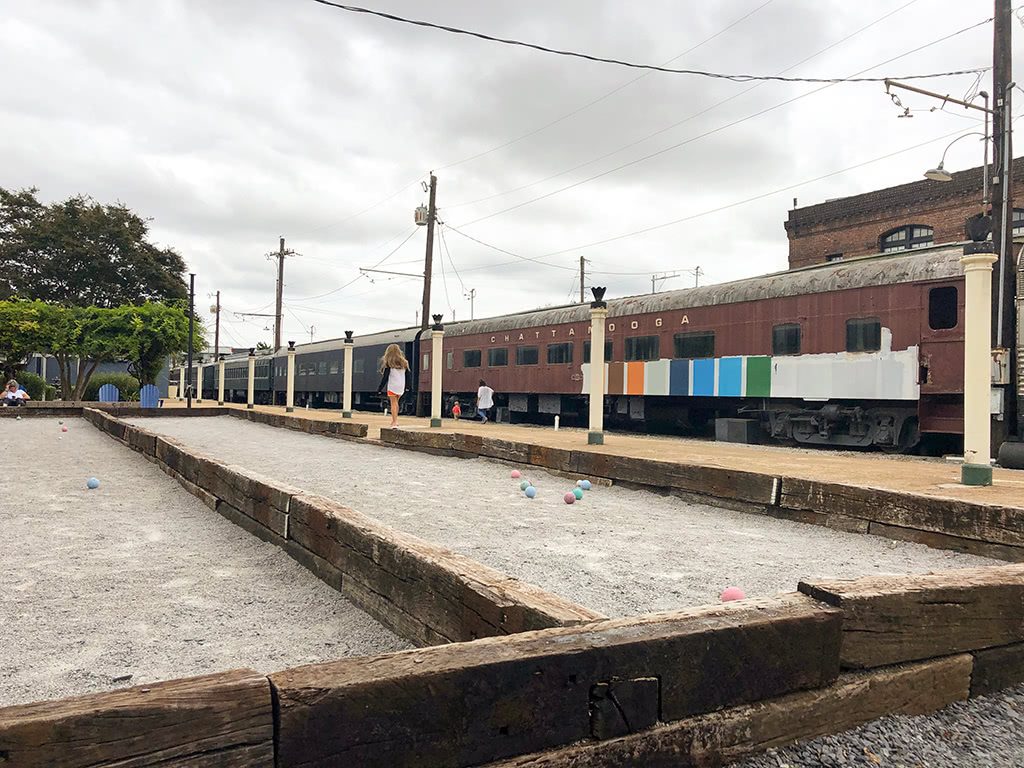 Be sure to take a few minutes to read about the history of the Chattanooga Choo Choo and step inside the engine! Kids (and Big Kids at Heart!) love to explore inside! It made me feel like I was in the engine from the Polar Express…"The Pin!"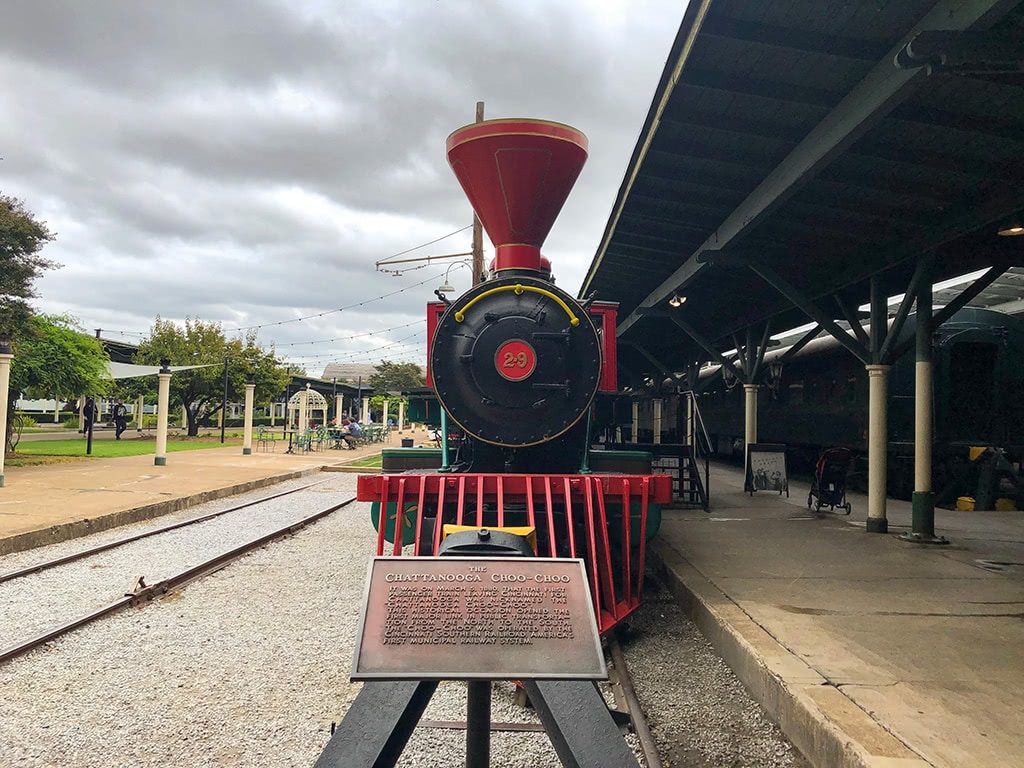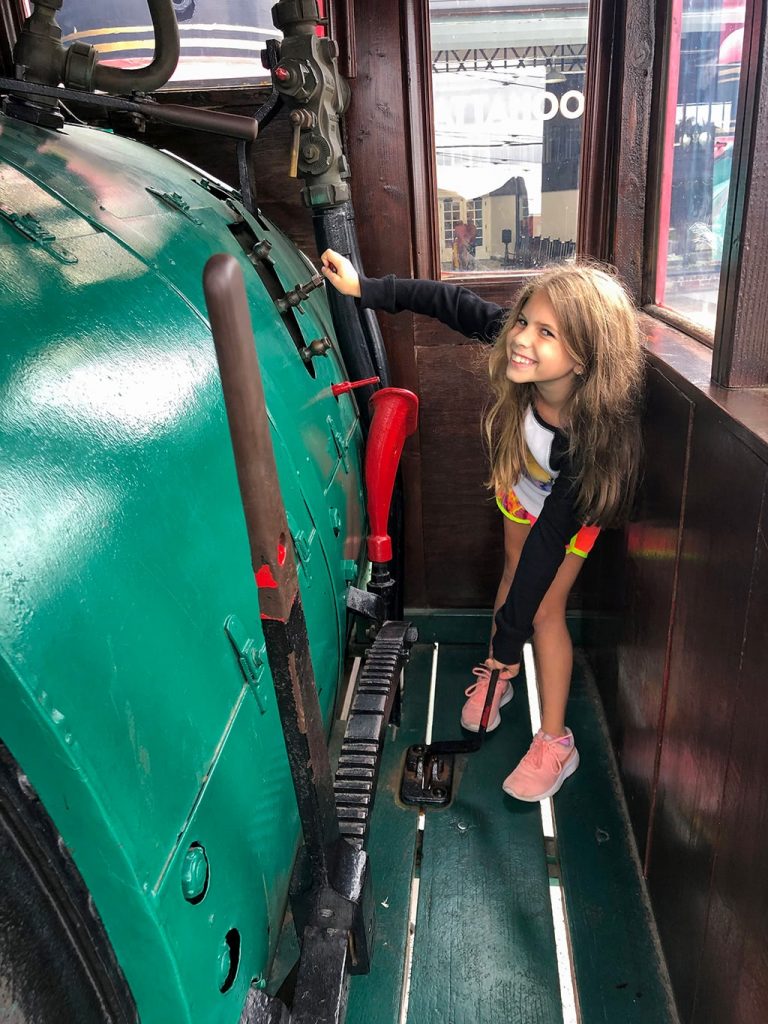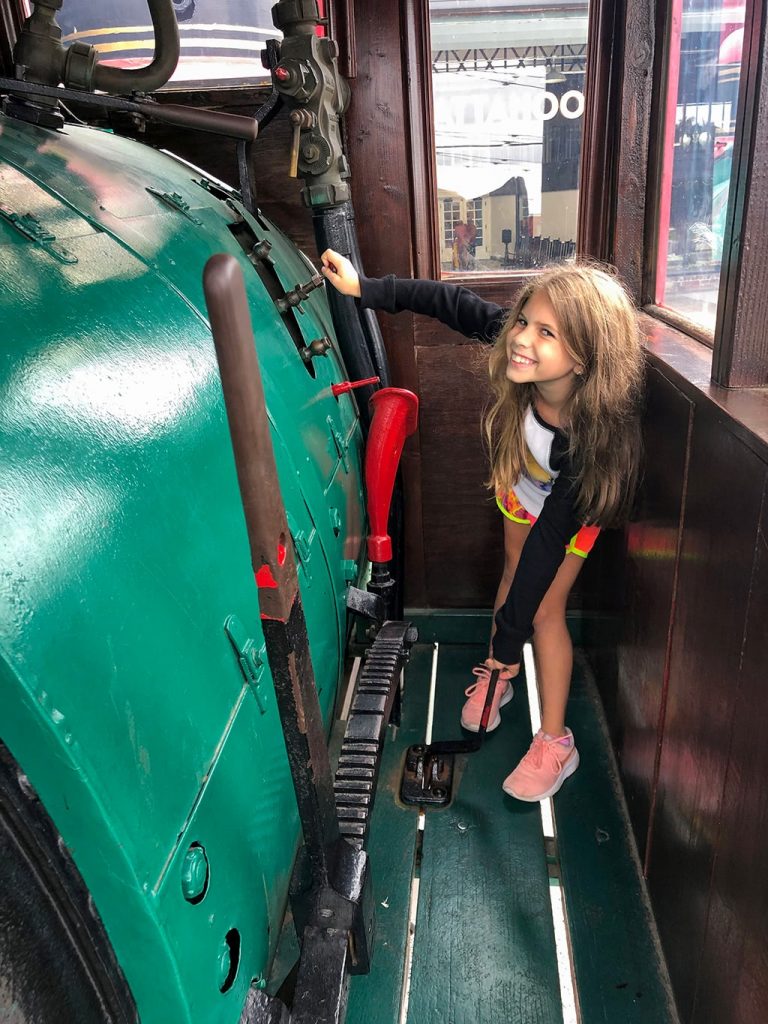 And the garden area was so pretty- we even spotted some fish in the pond!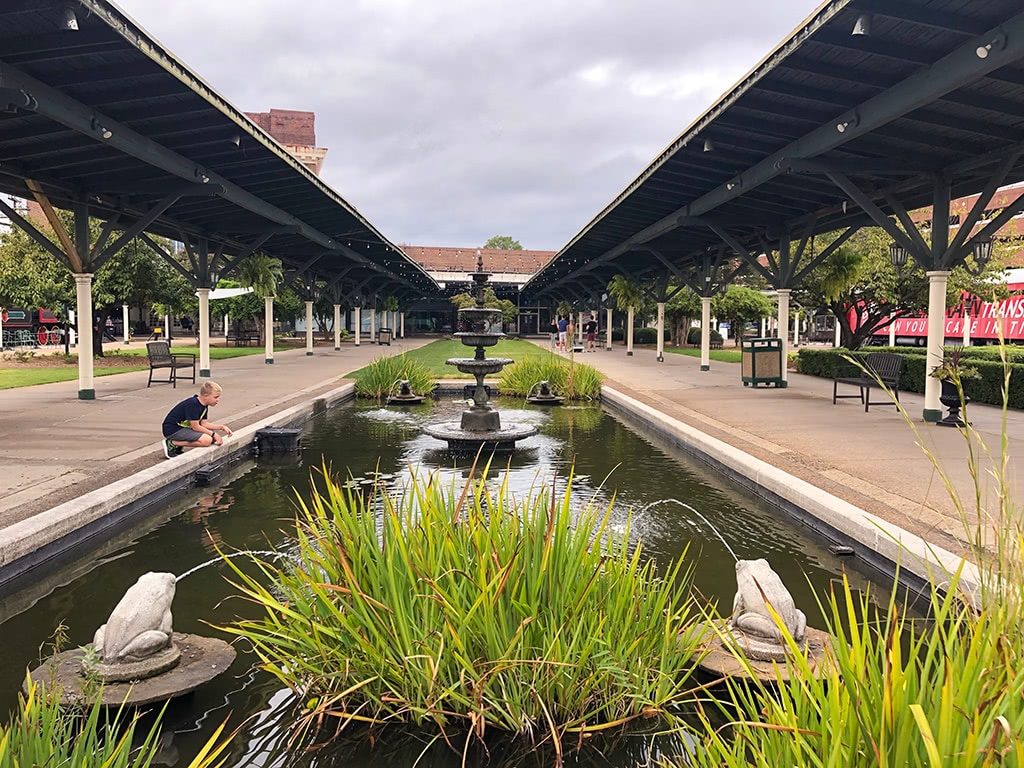 And if you happen to run out of things to do, you can visit the onsite arcade or the Runaway Train Transport Escape Experience if you have a few extra dollars to spare!
Last but not least, be sure to take a family picture under the Chattanooga sign to document your visit.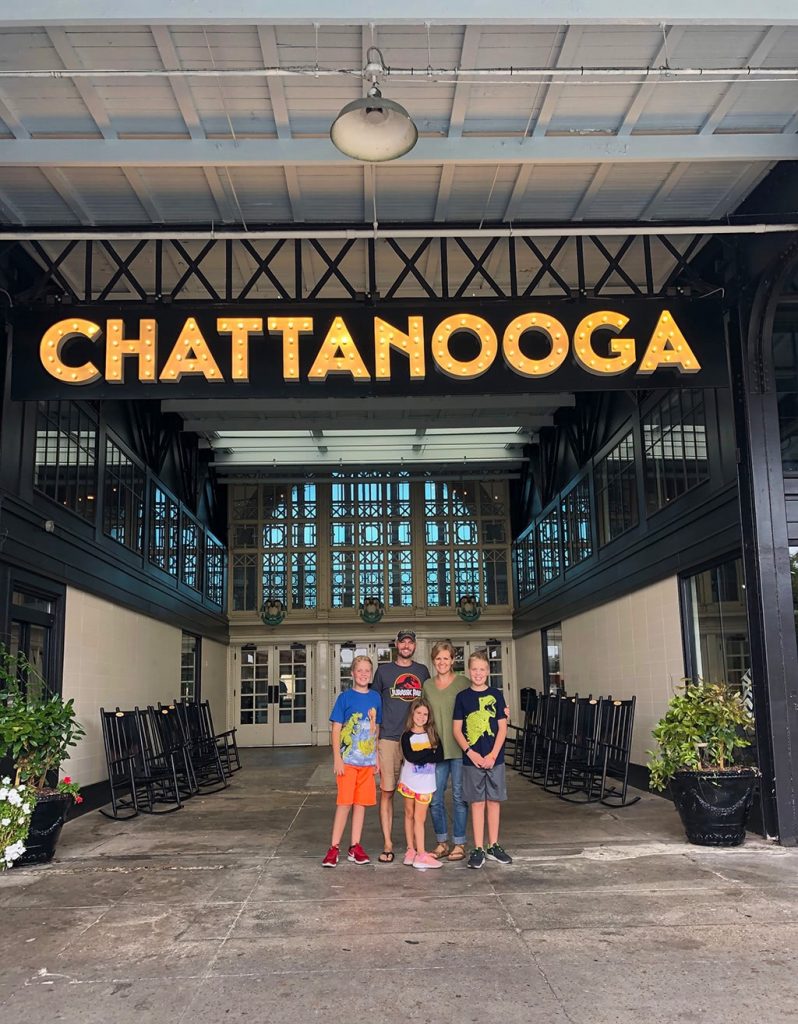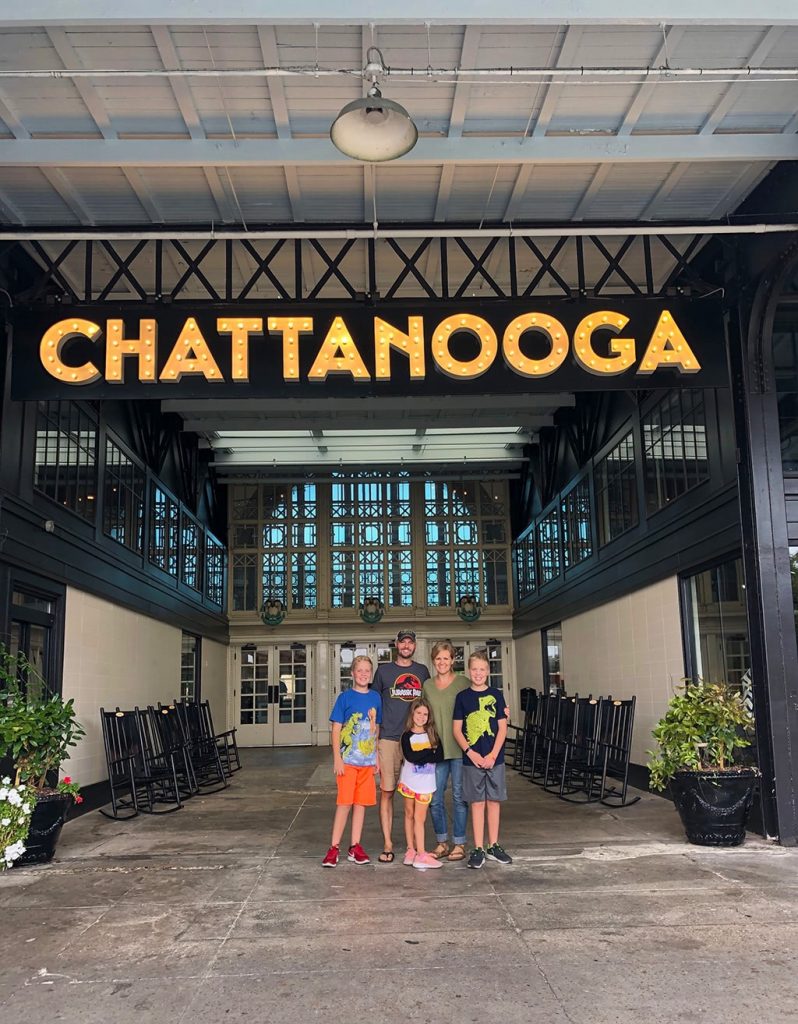 3. Explore at Coolidge Park
Coolidge Park is a family friendly park that seems to always have something going on! Located at 150 River St. Chattanooga, TN in the North Shore area, it is nestled right next to the Tennessee River and offers beautiful views of Chattanooga.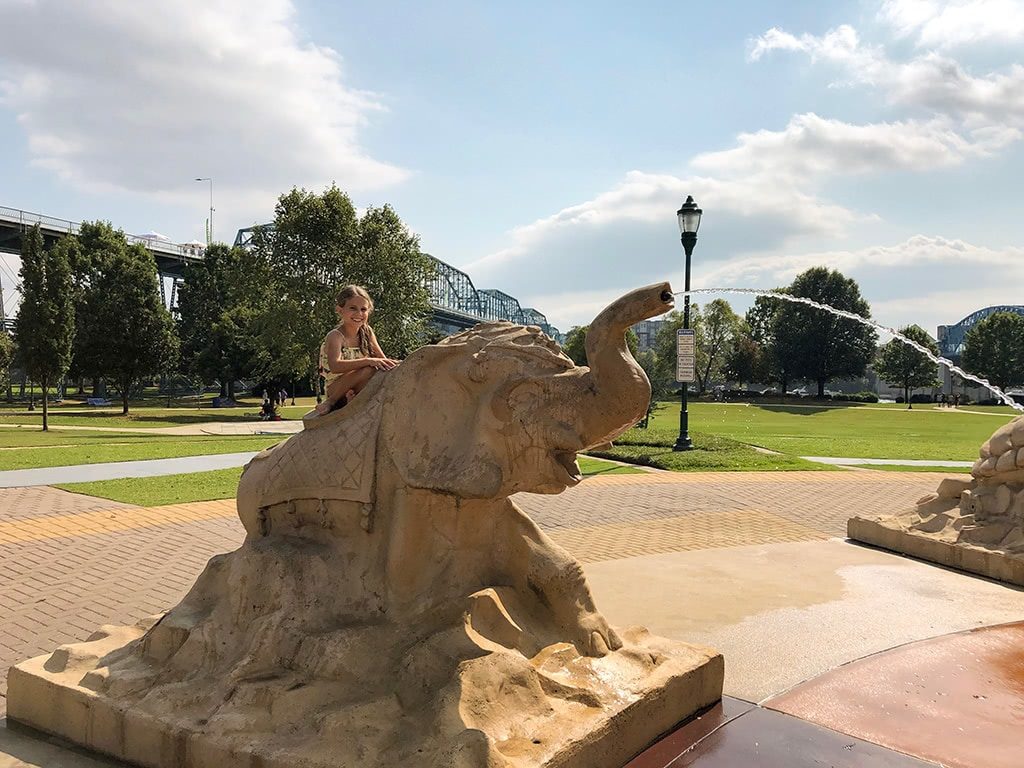 You can take a walk on Walnut Bridge (aka "The Walking Bridge") and take in the many gorgeous views of Chattanooga and the Tennessee River.
Grab a picnic lunch and head over to some of the picnic tables for a memorable family meal. Or grab a frisbee and toss it around on the huge open lawn.
And if you happen to be there in the warmer months, be sure to let your little ones splash and play in the fountains to cool off!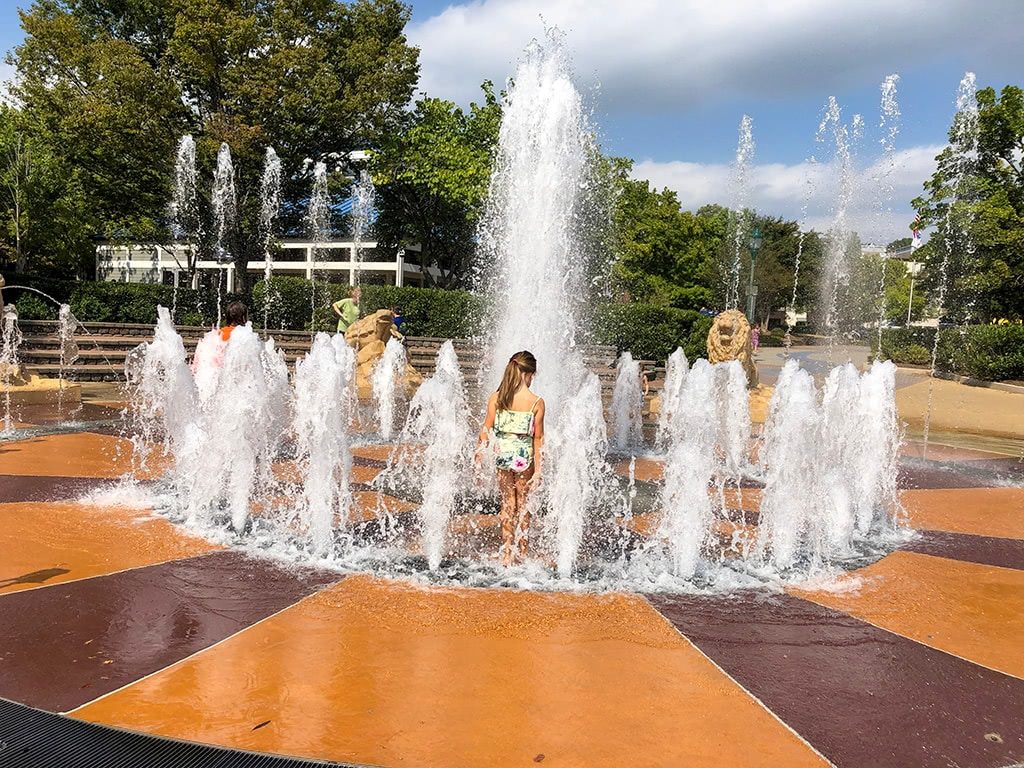 If that isn't enough, be sure to check out the 100 year old carousel! (Note: Requires an additional fee.) There is plenty to see and do at Coolidge Park!
4. Get a Treat (and/or Coffee!) at one of the Many Local Eateries!
Chattanooga definitely does NOT have a shortage of unique dining options to choose from! We always love to try somewhere new when we visit but we also love some of our tried and true places as well!
One of our absolute favorite places to get some treats for the kids (and coffee for us!) is Milk & Honey.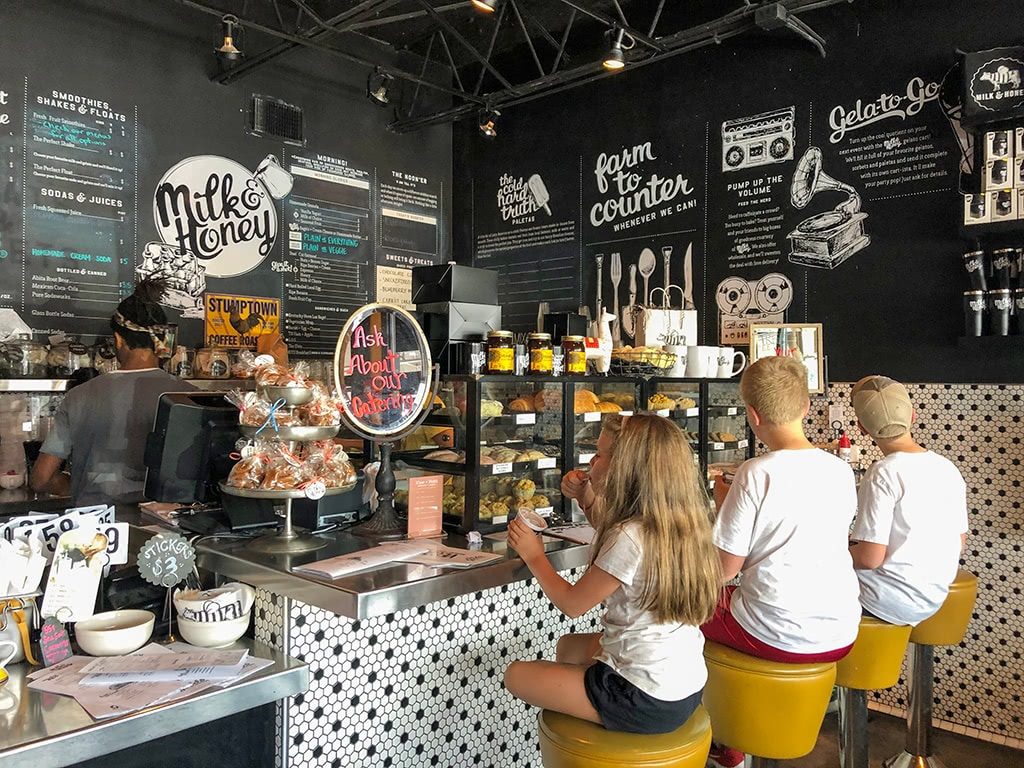 Matt and I always like trying one of their unique lattes. And the kids love trying out new flavors of gelato (Coca cola anyone?!?)!
Located at 135 North Market Street, Chattanooga, TN, Milk and Honey is just a hop, skip, and a jump around the corner from Coolidge Park, Renaissance Park, Walnut Bridge, as well as many other area attractions in the North Shore area.
5. Play at Renaissance Park
Last but definitely not least, is one of our absolute MOST favorite fun things to do in Chattanooga! "Sled" on cardboard boxes down the hill at Renaissance Park!
Located in the North Shore area at 133 River St, Chattanooga, TN, this is a perfect place to check out for a bit if you are visiting Coolidge Park.
The hill at Renaissance Park has become known as "Cardboard Hill" in Chattanooga. It is one of the most hilarious things we have done and we just absolutely love it.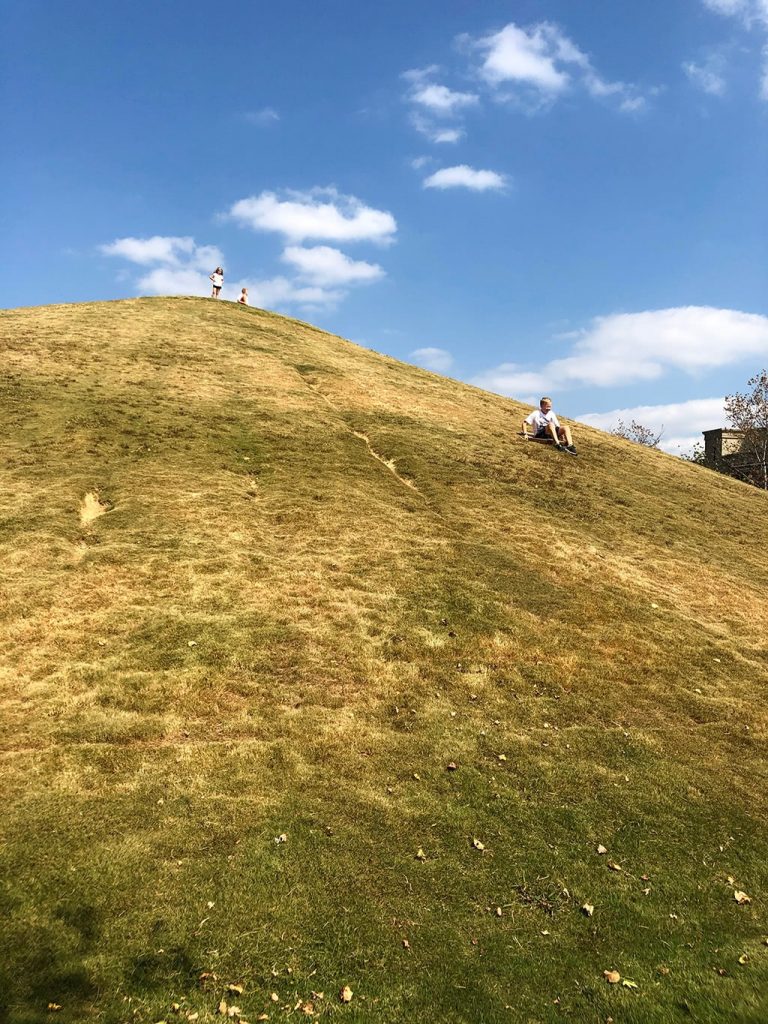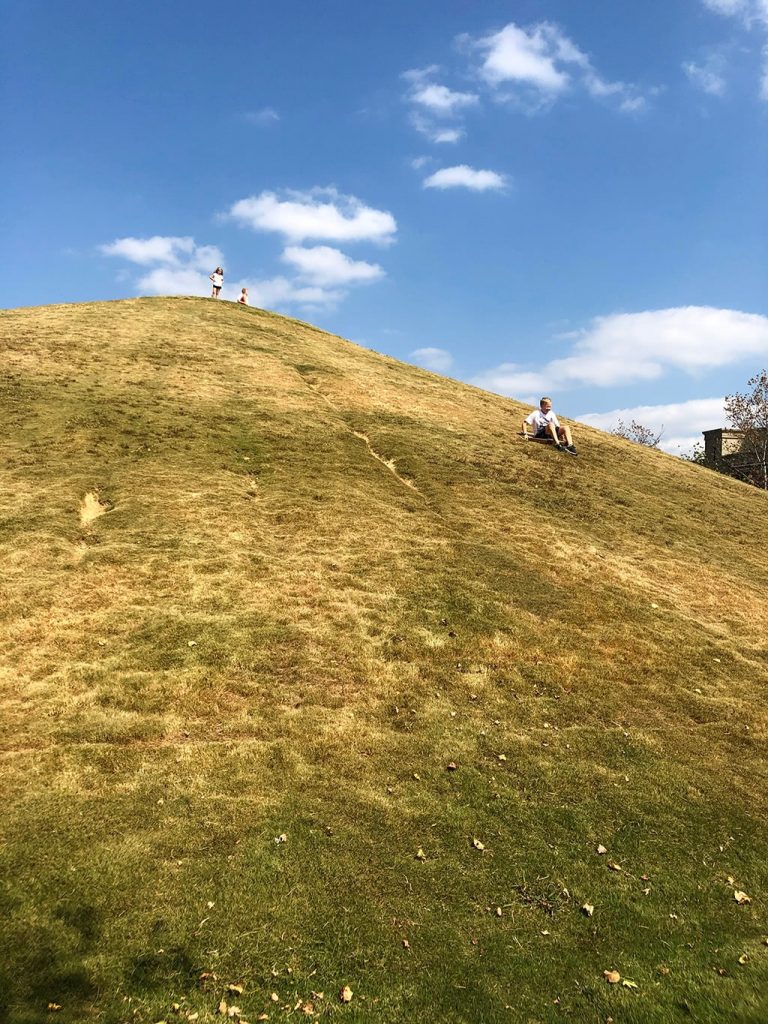 You can bring your own cardboard box or just cross your fingers and hope that there are some spare boxes when you arrive. Often times people will just leave their boxes propped up by some of the benches for the next people to use. Your call!
Grab your box, trek to the top of the hill…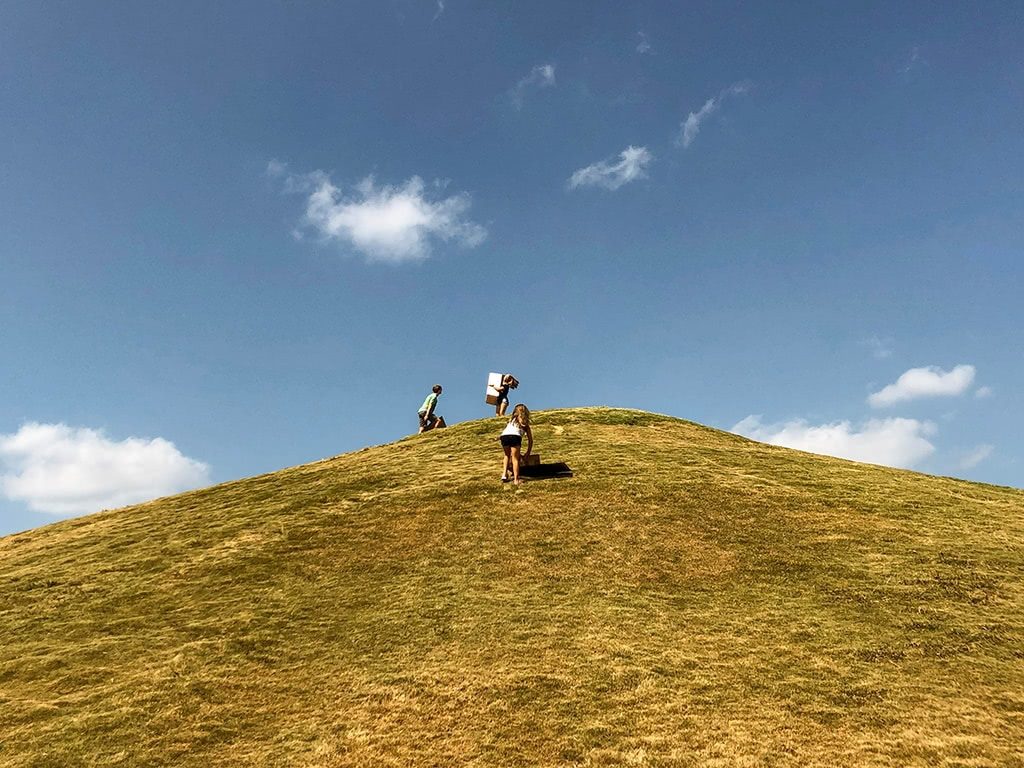 Hop aboard your cardboard chariot, and ride on down!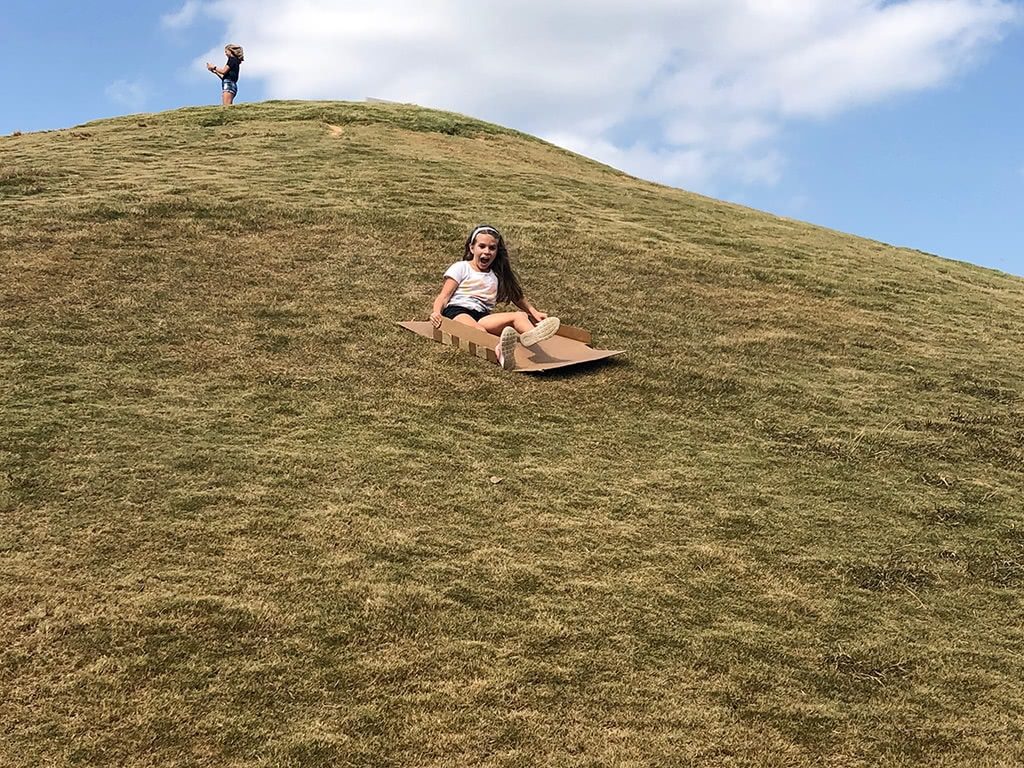 We always laugh so hard when we go do this. The kids can't get enough and often will ask if we can go back before we leave.
Random…yes. Priceless memories…absolutely! It's a WIN!
*Warning- Don't be throwing a hip out or anything. It does go surprisingly FAST!
Apart from riding down the hill on cardboard boxes, there are also some beautiful views of Chattanooga here. Be sure to walk across a few of the bridges while you are there to see some pretty scenic areas of Chattanooga. Or take in a few sights at the top of the hill while you're up there!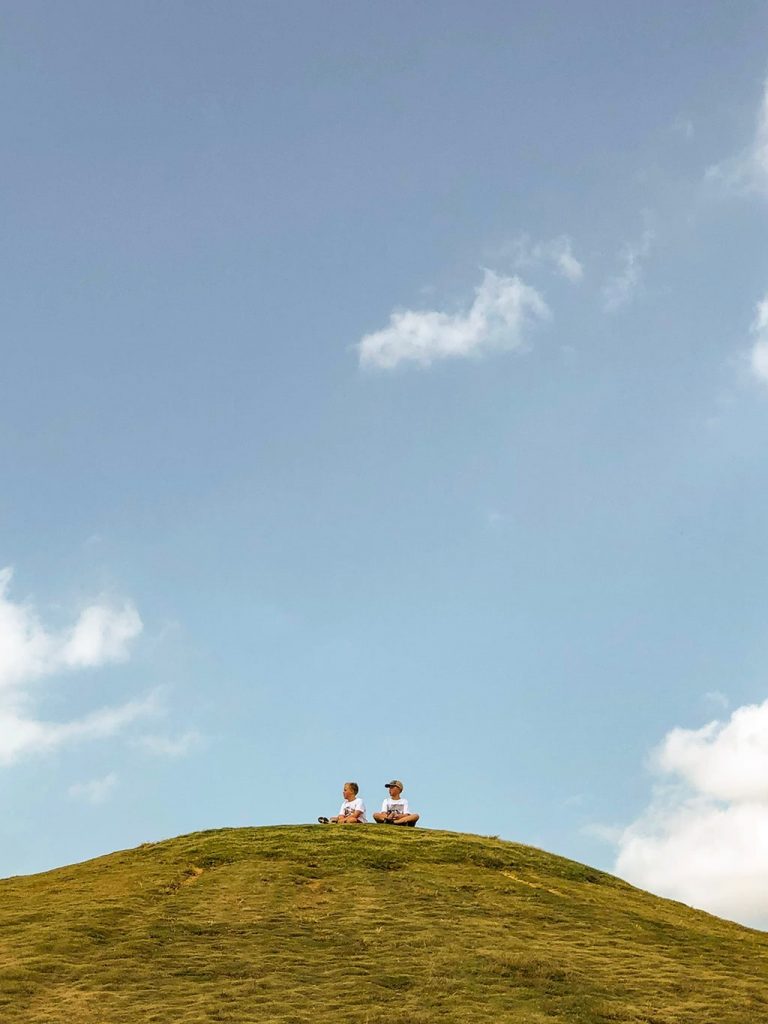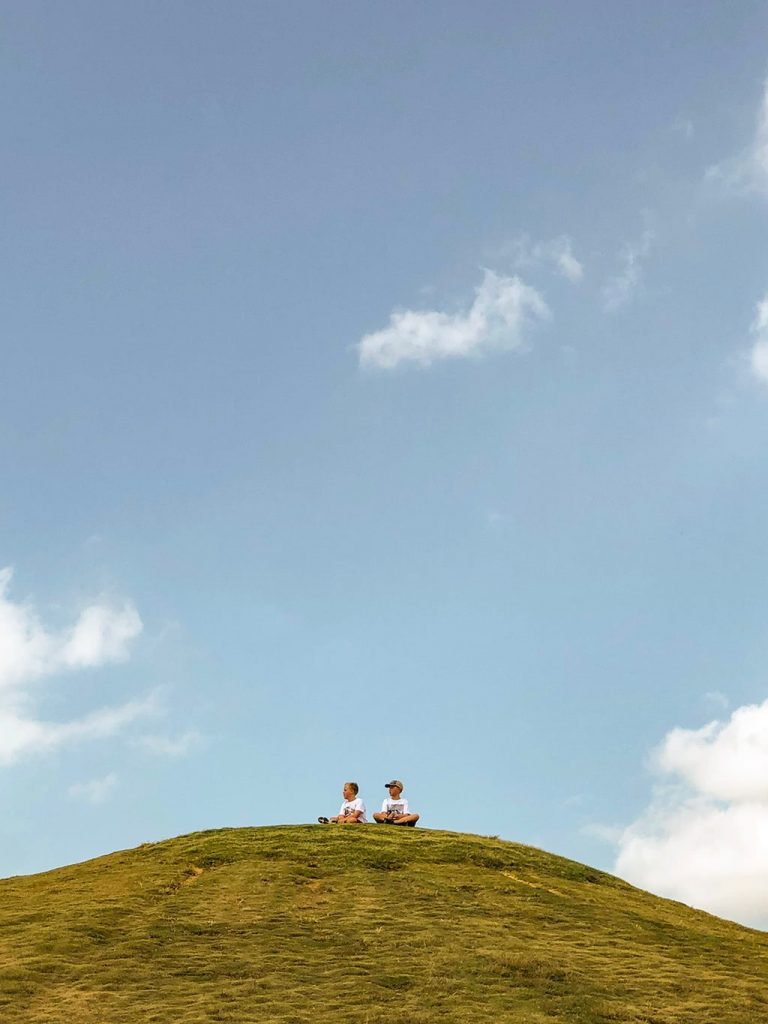 Last Minute Tips on Fun Things to Do in Chattanooga!
Parking! – Be prepared to pay for parking. It's typically $1/hour and you can pay at a parking booth. OR you can use the handy app to enter your license plate number to pay. That way it will also remind you when your time is almost up (in case you get wrapped up and don't want to leave!)
Shuttle Service! – The Downtown Chattanooga area also offers a free bus/shuttle service that stops at many of these locations! So if parking is a little intimidating, be sure to read more here about this fantastic FREE service!
Final Thoughts
We just adore the Chattanooga, TN area and always love our time that we spend there! While there are a TON of family fun things to do in Chattanooga, these 5 family-friendly ideas will give you a good taste of the Chattanooga area and what it has to offer! (And it's not too hard on the wallet, either!)
---
So what are your favorite family fun things to do in the Chattanooga area? We would love to hear more about your family's favorites!
---
More Related Articles: