Oh my goodness! It's that time again! Dollywood is now open for the 2019 season! After being closed for a couple of months for the winter, Dollywood is officially back in full swing and it is going to be such a fun year!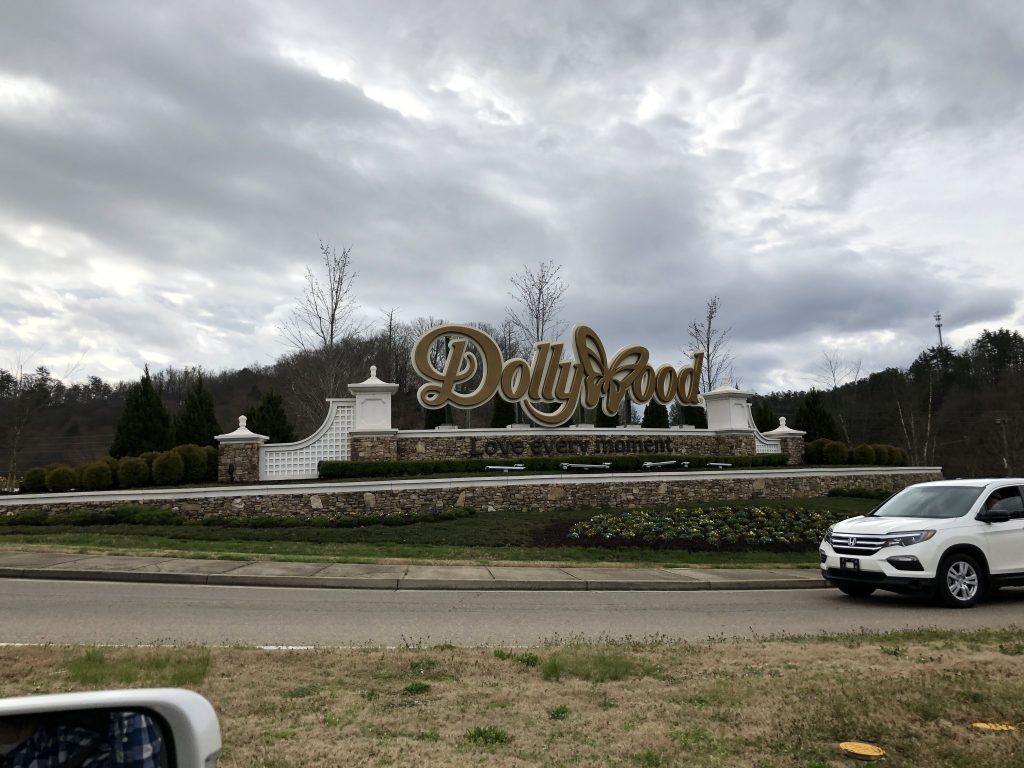 We managed to make it there for the Dollywood Passholder Preview Day which was the day before their official opening day to the public.
It was so much fun to take in the excitement of the first opening day along with checking out this year's Festival of Nations, which is always a unique experience!
Not to mention, a little ride on the train gave us a quick peek at the progress of the upcoming expansion, Wildwood Grove, that is set to open this year.
AND…we got to see someone REALLY special in the parade…
But enough teasers…let's just jump into our first day at Dollywood for 2019!
Dollywood's Festival of Nations Decorations and Photo Ops
Immediately after hopping off the tram (which is one of my favorite rides at the park), we headed straight for the gates.
Right away, we started seeing lots of flags and decorations for the Festival of Nations.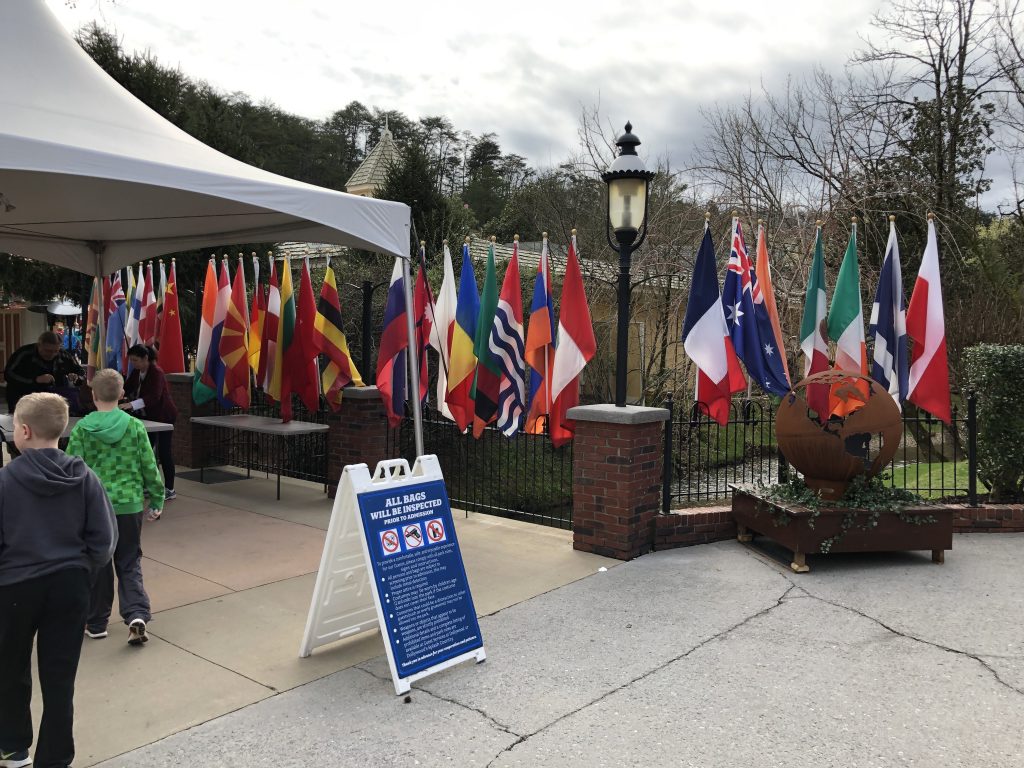 There is usually a photographer standing there to take a picture for you if you want. We just snapped a few quick pics of the kids with the Festival of Nations flags and headed on our way.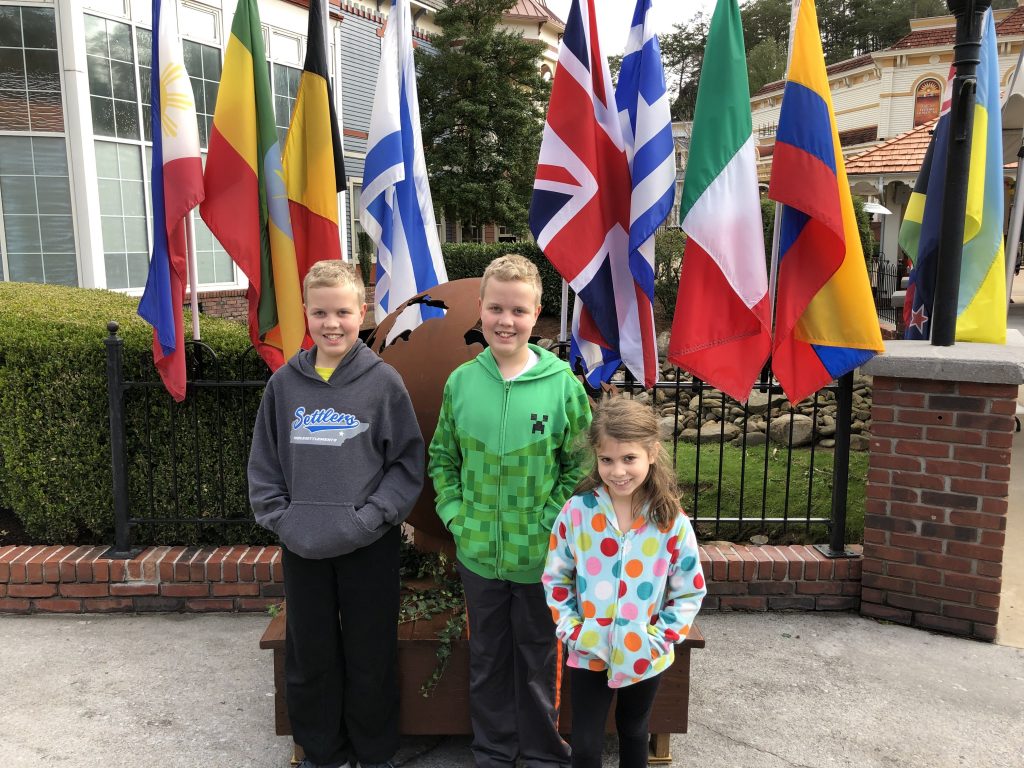 After making our way through the bag inspection, we were part of the first 5,000 passholders to make it in the gate, so we each got a fancy little magnet.
Apparently it is their first ever collectible exclusive passholder magnet. You better believe we are sporting all 5 of those on our fridge.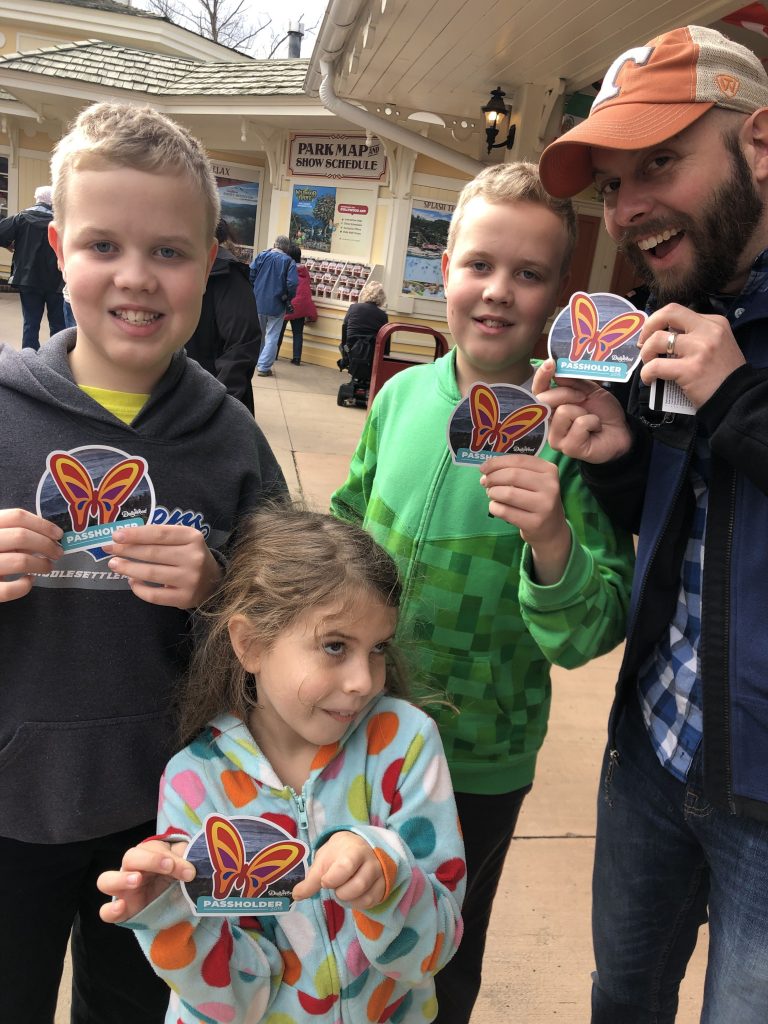 Right at the front as you walk in, there is another great photo op in front of the Showstreet Palace Theater.
If the line is a little long, head on over to the right of the Showstreet Palace for a less crowded photo spot. It's a a flower garden made into a butterfly with the Dollywood sign.
For those of us that grew up at Dollywood, this is a CLASSIC for Dollywood pictures.
We stopped to take a few pictures at the butterfly and a sweet little couple came by and offered to take a picture for us. Family pic for the day- done!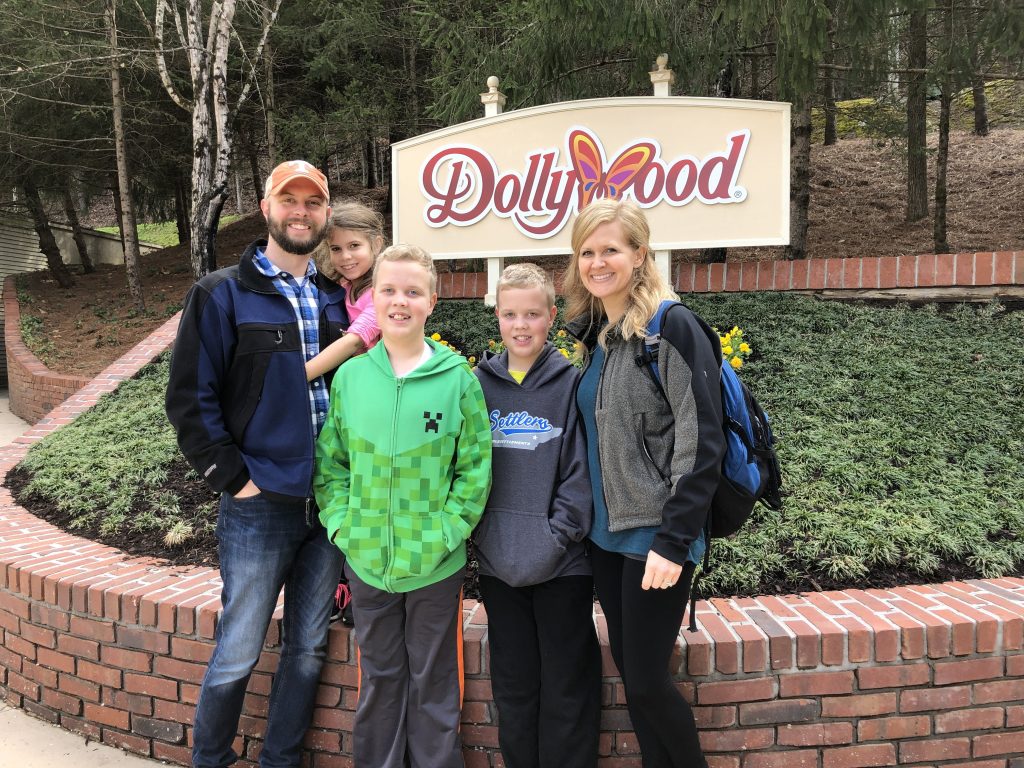 Dollywood Roller Coasters!
Timber Canyon
Now that we were in, we decided to head up towards Timber Canyon and hit the roller coasters first because our crew LOVES the coasters!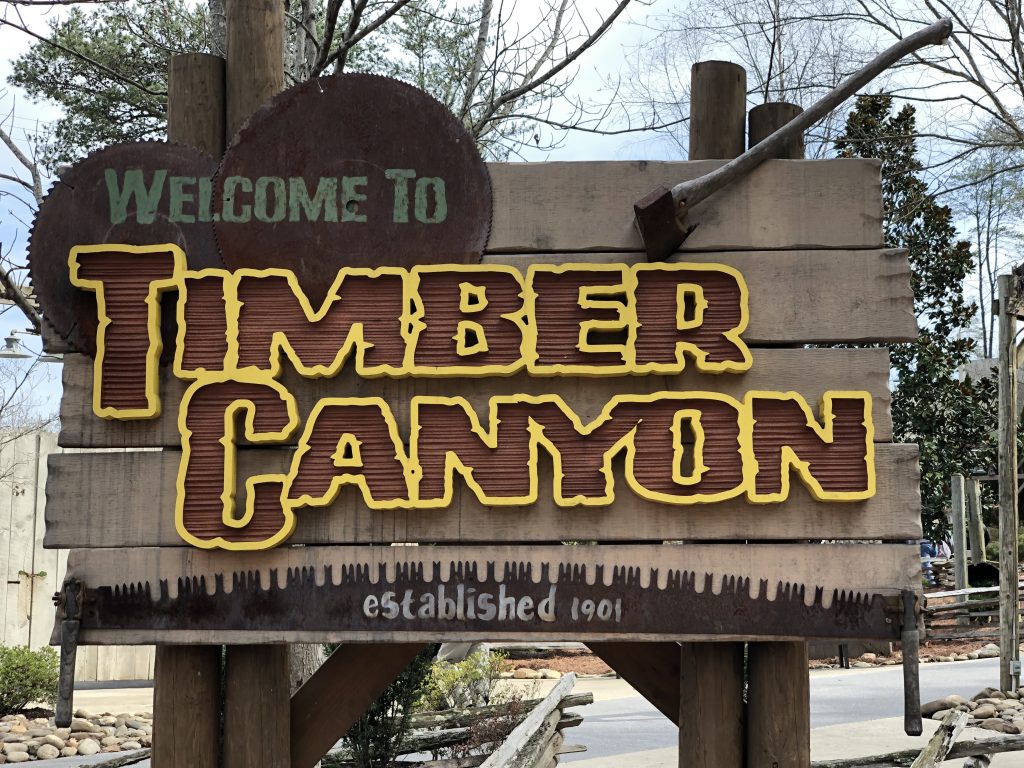 How fun is the theming in Timber Canyon?!?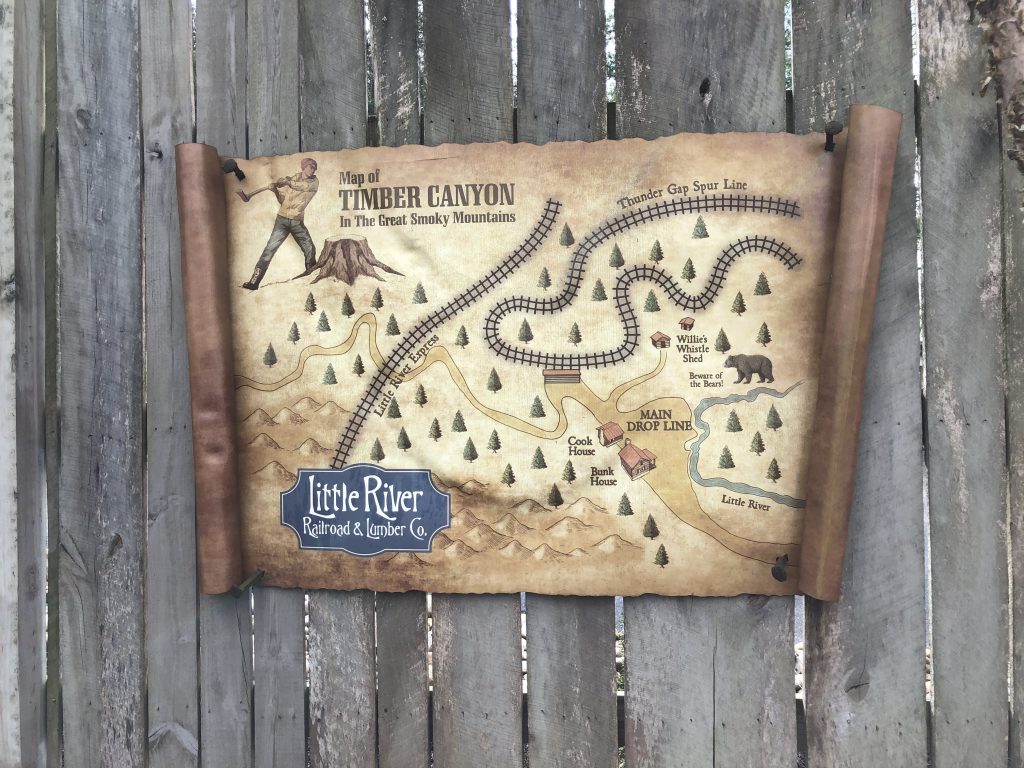 Looks like Elixir Medicine Company has ya covered with the best rattle snake oil. I wonder if you can buy that in essential oils? Hmm…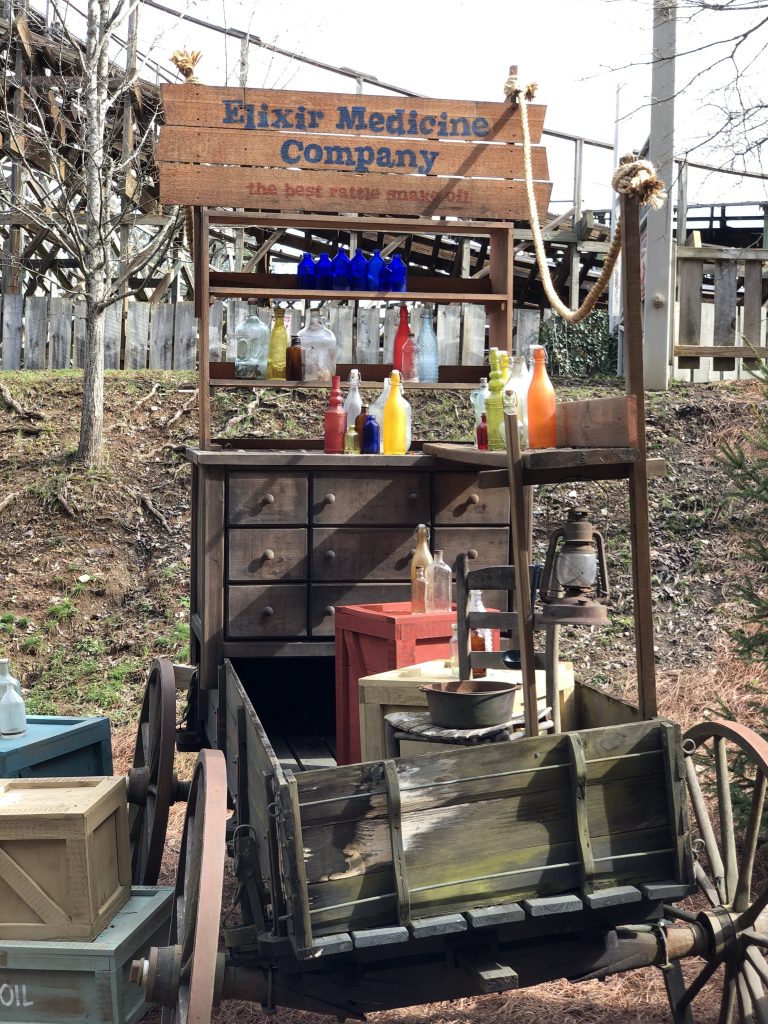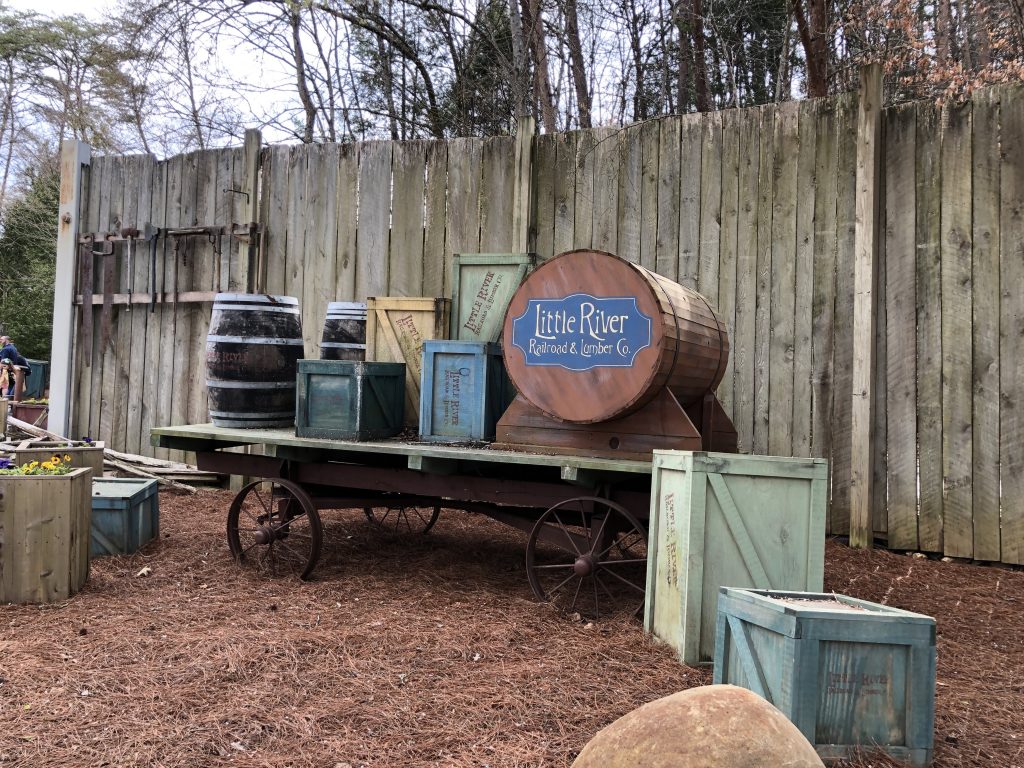 This side of the park isn't *as* little kid friendly as the other parts, so we have become very strategic in this area since Maggie still isn't tall enough to ride most of the coasters (until Wildwood Grove opens, which is VERY little kid friendly).
We usually have enough time to let someone take her to do the Whistle Punk Chaser, the kiddy coaster while the others go ride Thunderhead, the wooden coaster.
Next, the roller coaster people will make their way up to Mystery Mine while the little ones ride the Lumberjack Lifts.
Wilderness Pass
After that, we will head to the Plaza at Wilderness Pass area where there is a big water fountain and some fun photo opportunities.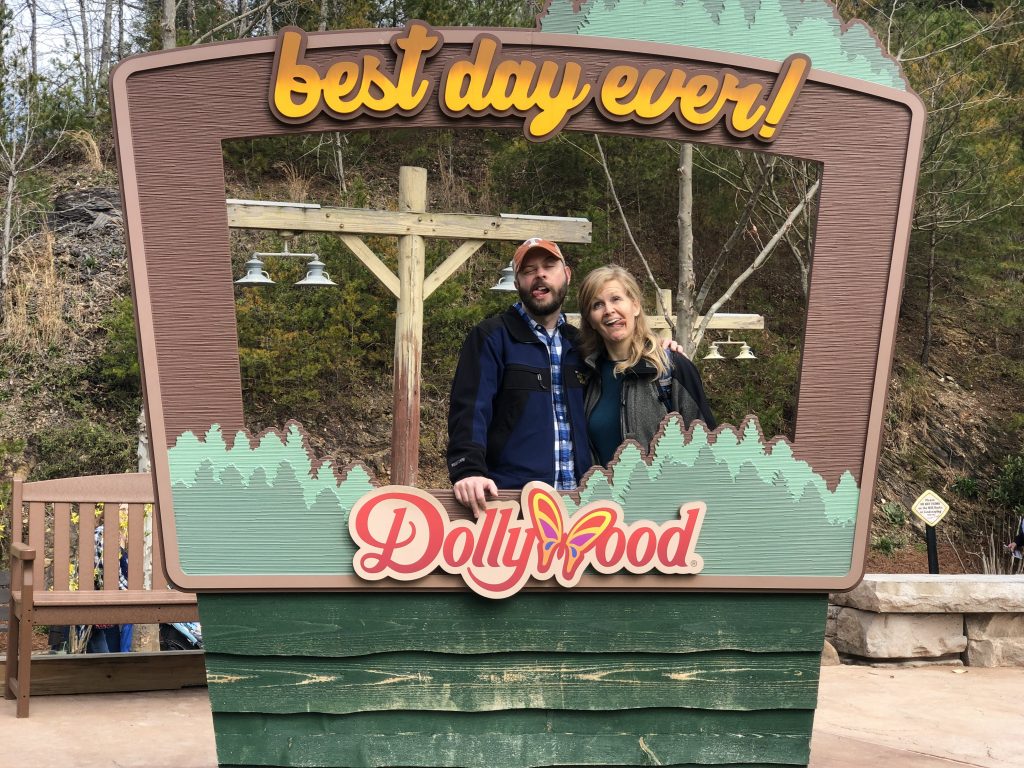 Best Day Ever! (Photo compliments of Maggie)
Then we will usually hit the Fire Chaser since we all can ride that. This is one of Maggie's favorites!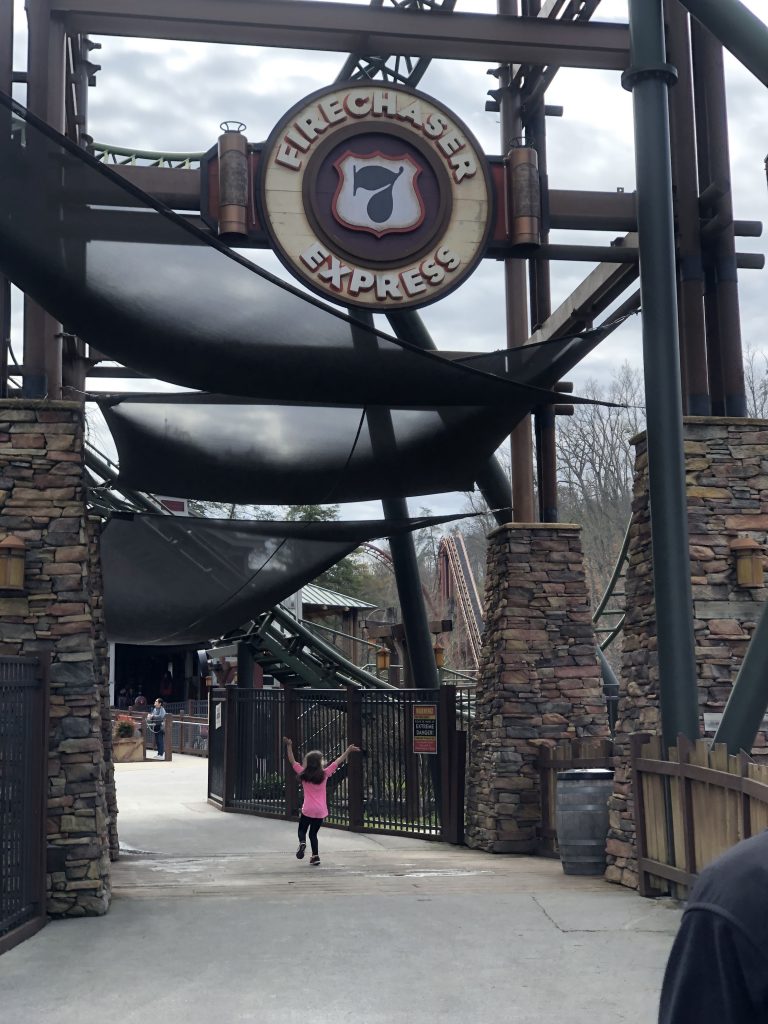 One of the best parts of the FireChaser is how fast it takes off. It surprises me EVERY TIME!
If you have smaller ones in your party, there is a great little play area right below the Fire Chaser that kiddos seem to LOVE!
From there you have the Wild Eagle and then the Tennessee Tornado…which are both must do's at some point if you love roller coasters!
Craftsman's Valley
After that, you will make your way around the bend to Craftsman's Valley where one of my all-time favorite classic rides at Dollywood is…the Blazing Fury!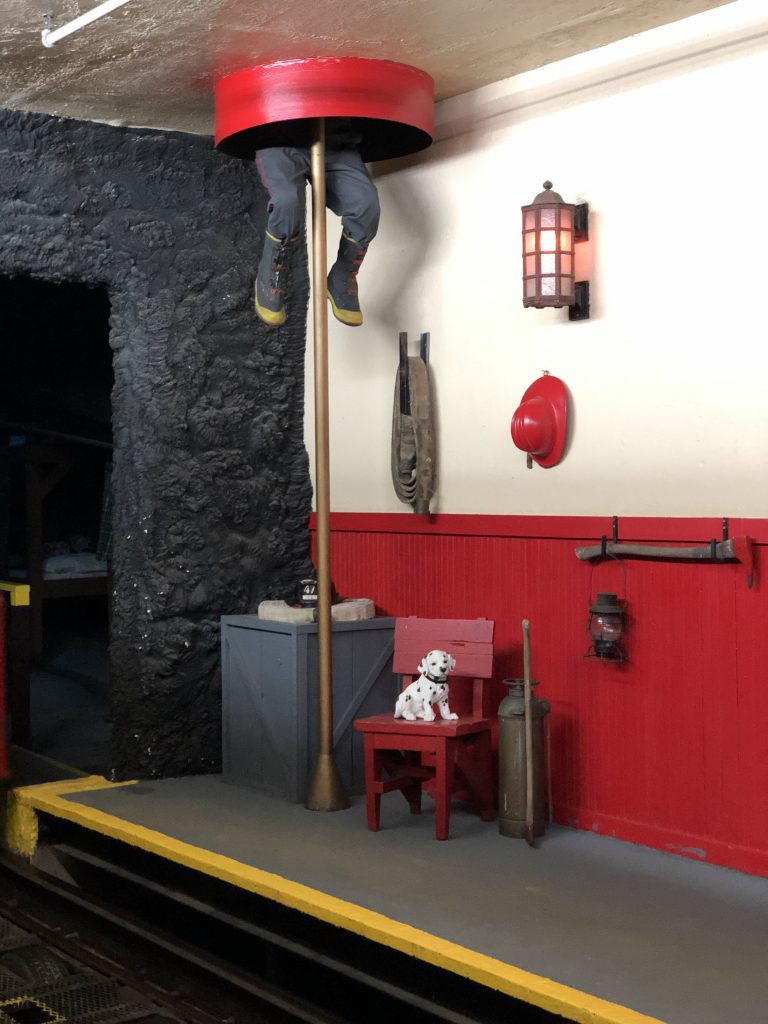 That poor Fireman has been trying to get down that pole for a LONG time!
And just so you know, if you are riding Blazing Fury with little kids for the first time, there is a loud boom at the very end when you come down the last drop (the "dynamite" going off).
We have been with friends several times that are riding it for the first time and the noise scares their little ones. So be sure to tell your littles there will be a loud noise at the end!
It still startles me and I'm an adult.
Dollywood Festival of Nations Shows
Cuba Vibra Show
After riding some of our favorite roller coasters and grabbing a bite to eat, we decided to hit the new Festival of Nations show in Dolly Parton's Celebrity Theater, called "Cuba Vibra!"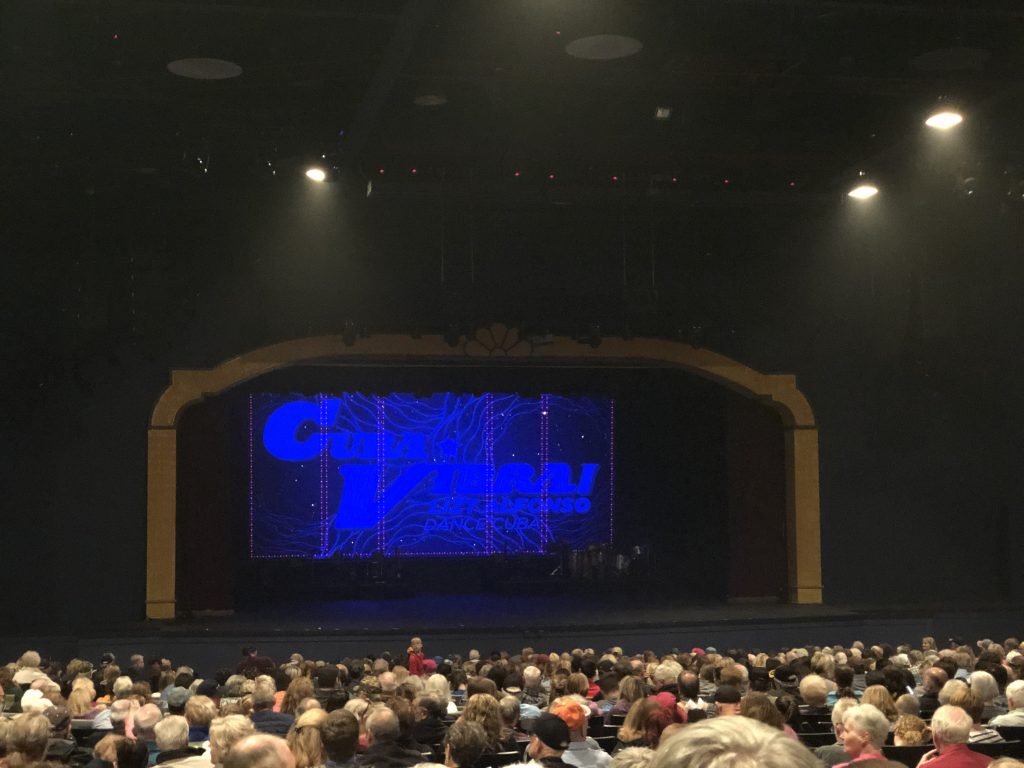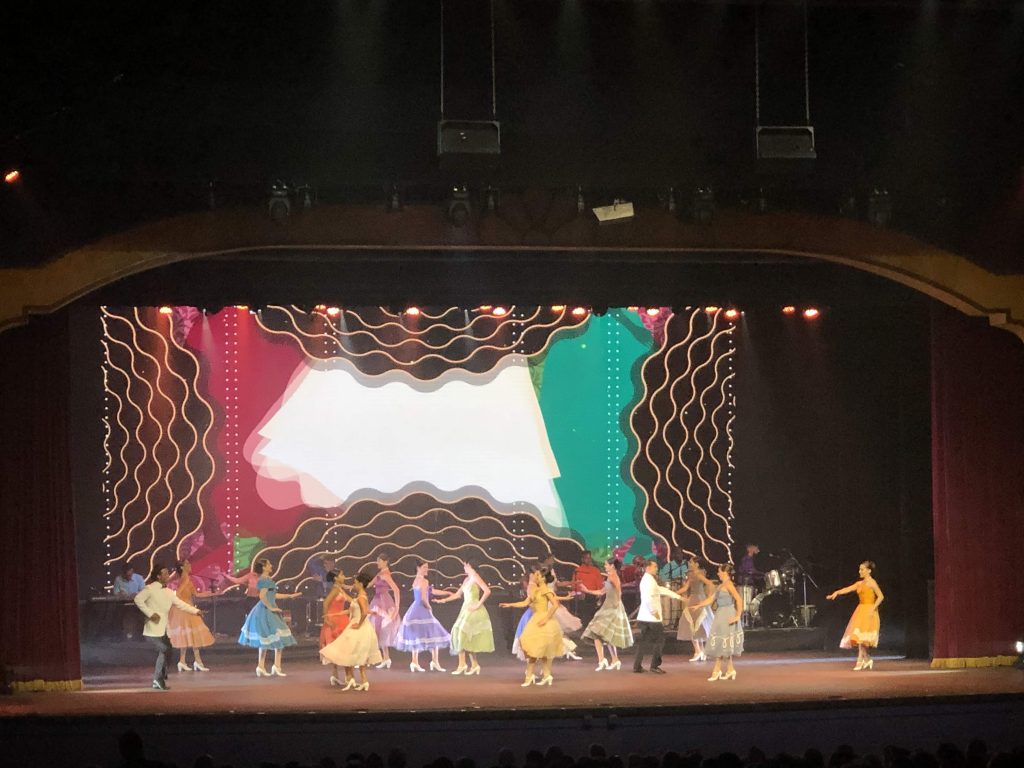 The shows in the Dolly Parton's Celebrity Theater are usually really good and this one did not disappoint! From the costumes to the singers to the dancers and the musicians, it was overall excellent.
The unique choreography and music was definitely a highlight. At one point some of the dancers actually took off their shoes and were using them to create a rhythmic beat. It was very fascinating. Also I had no idea what was going on for a minute or two. I finally leaned over like a Grandma and asked Matt, "Are they playing their shoes?"
It was definitely an outstanding cultural fine arts performance! We really enjoyed it!
Other Shows
There were plenty of other Festival of Nations shows that were going on all day as well.
One that we didn't get to see was "Drum Sticks" which is a unique drum experience with an African theme. I heard that it was really good as well!
Besides the many Festival of Nations shows, there are also the classics like Kingdom Heirs, Wings of America Birds of Prey, and Heartsong.
You have to at least attend one show while you're there. Dollywood is known for their exceptional productions and entertainment! You can find up-to-date shows and schedules here.
More Rides and Fun!
Barnstormer
After the show, we headed over to the Barnstormer to give it a go.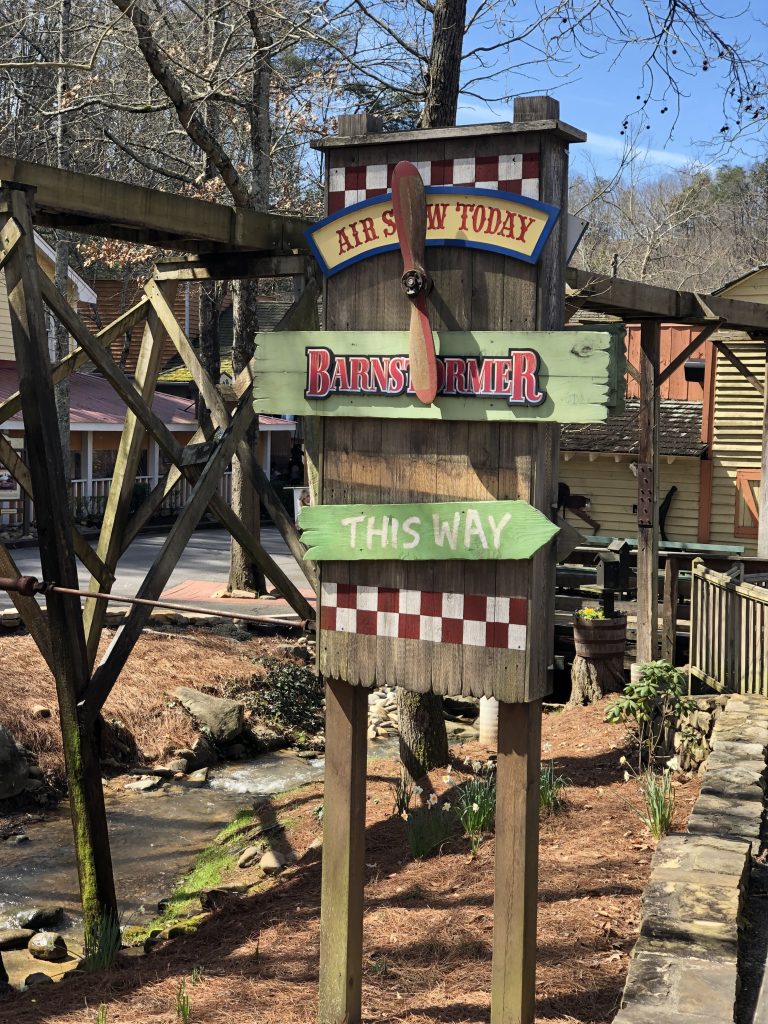 This is one of Jack and Eli's FAVORITE rides. I always opt out of this one because I just prefer to not have my body flung through the air on a giant pendulum…BUT that's just me.
However, when your hubby has cracked ribs (that's another story….) and can't ride it, you decide to be brave…FOR THE CHILDREN.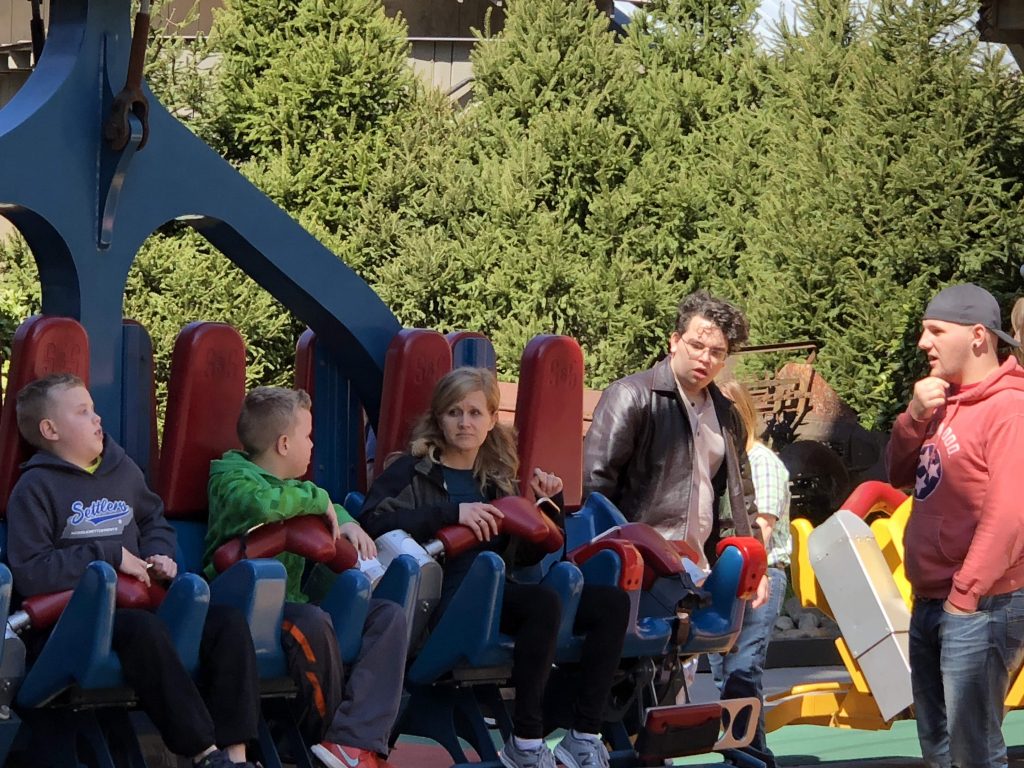 I mean, look at my face? I'm totally having second thoughts.
Also, I talked to the guy next to me the entire time with my eyes closed. He was cracking up at me.
I may get a little chatty when I'm super nervous. He told me that he was proud of me at the end. Although he secretly was probably like…"Can I please NOT sit next to the crazy lady next time?"
Country Fair
After all of my bravery, we decided we needed a little treat and headed to the Country Fair to get some slushees in our new fancy Wildwood Grove Refillable Mugs!
The mugs are definitely worth it if you plan to use them all year long. You can get refills of sodas for only .99! And we actually like to get slushees filled up in them for only $1.99!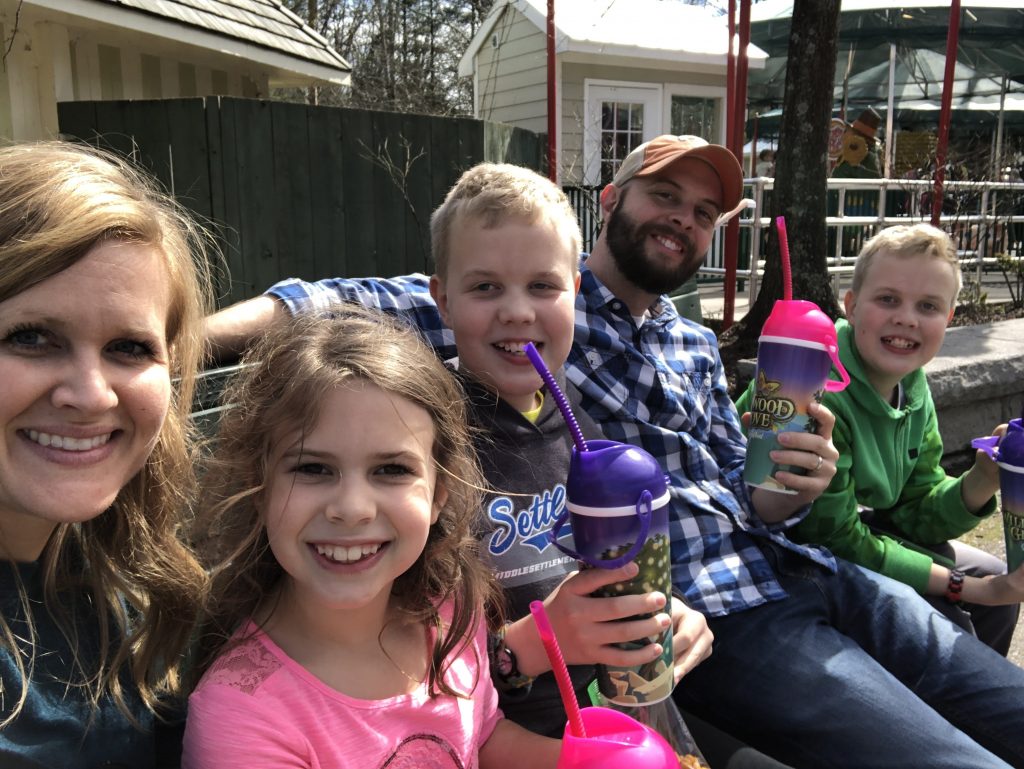 The Country Fair was not busy AT ALL! Just look at this picture we took while we were just sitting drinking our slushees!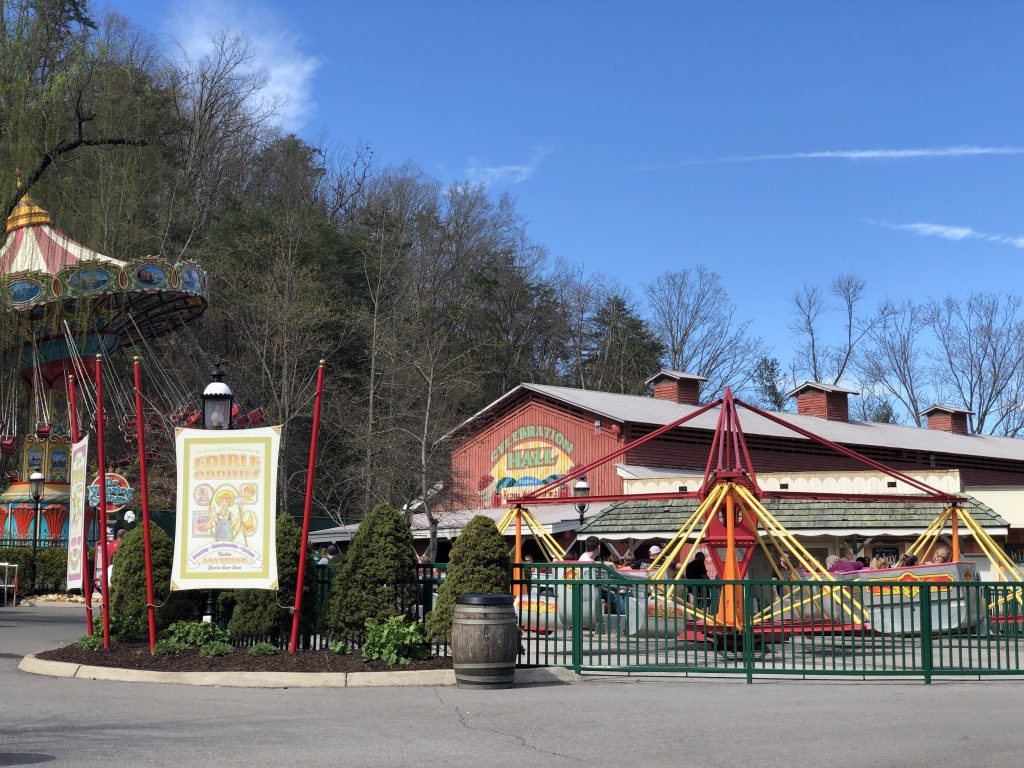 After our slushee time, we rode the swings and a few other rides then decided to go hop aboard the Dollywood Express!
The Dollywood Express
This is also one of our favorite classic rides of Dollywood. Maybe its because we have fond memories as children, or maybe its because as adults we get to sit down for 30 minutes and not have to walk anywhere.
Either way, good ol' Cinderella, the locomotive was pulling us for a ride around Dollywood this particular day.
Maggie was also super concerned about getting soot in her eyes. So she assumed this position for the majority of the ride.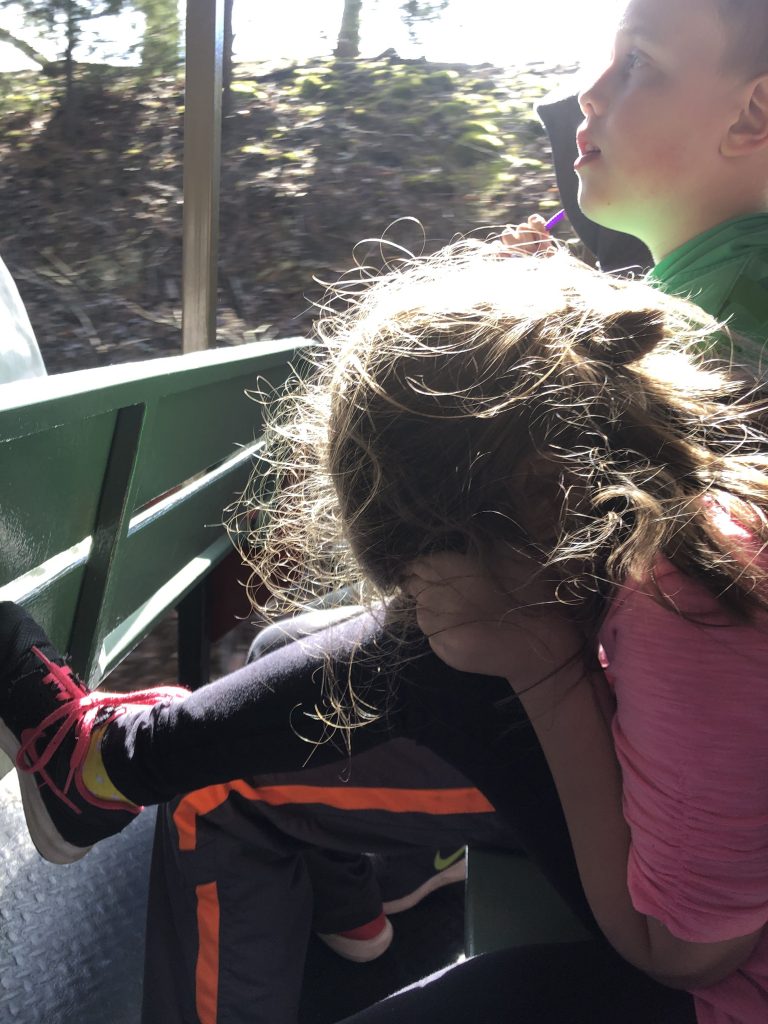 I'm happy to report that she did not get any soot in her eyes & she did in fact survive.
Although, in her defense, it only takes one time of getting that soot in your eye and you will not forget to take precautions in the future. But most of the time, it's really not an issue
We also got to see quite a bit of the construction of Wildwood Grove from the Train. It is coming together!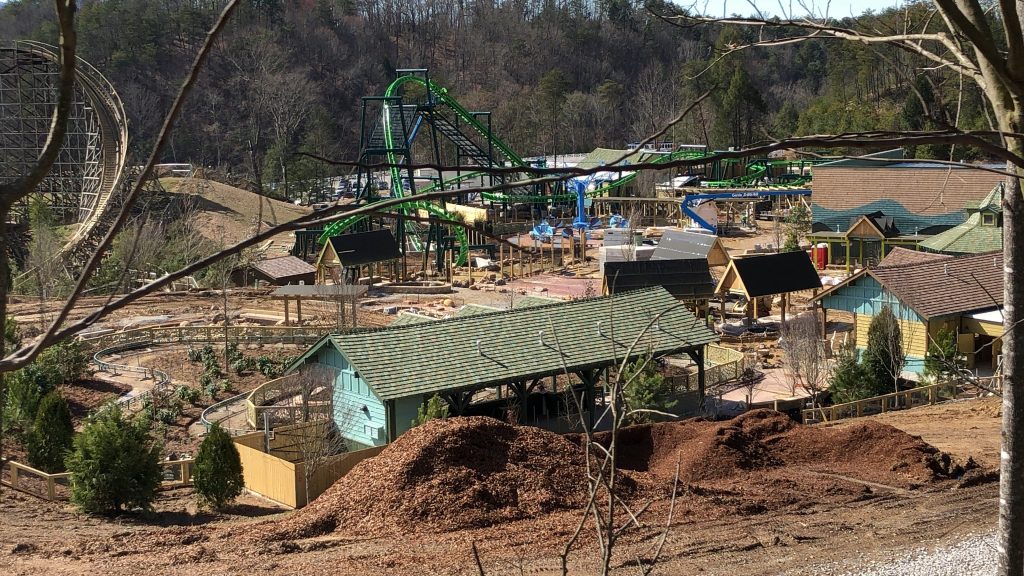 And then don't forget towards the end of the ride, Miss Lillian will often make an appearance to your left down below the bridge. Love her and her crazy chicken antics!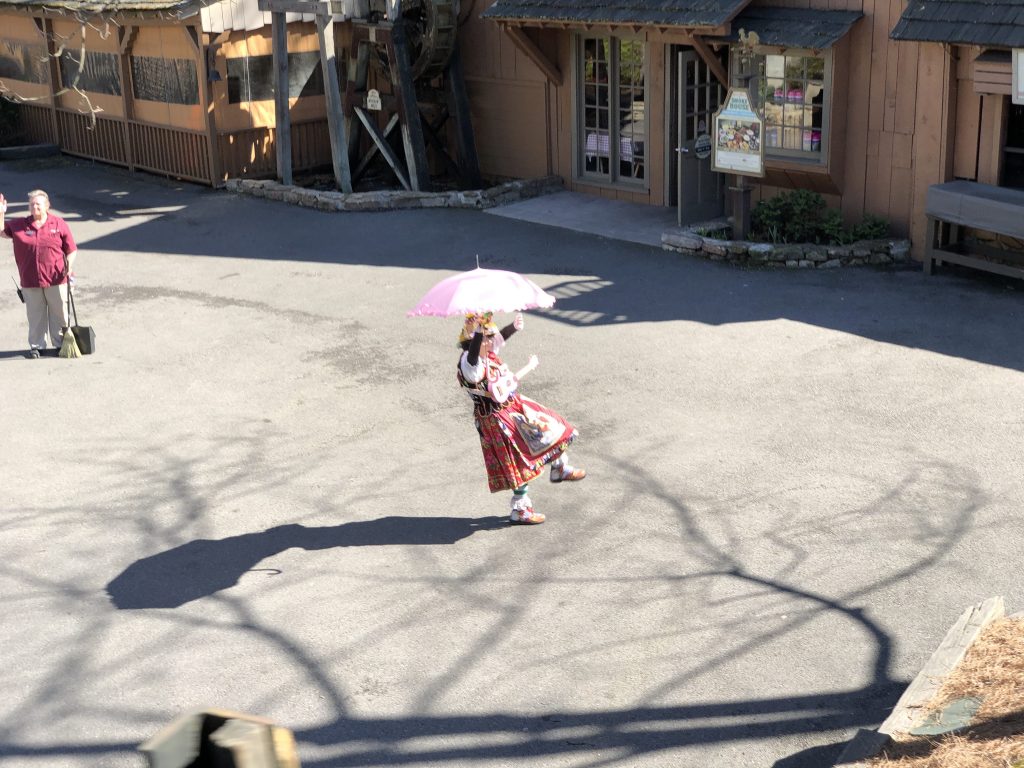 The Parade
Once we arrived back safely at the Train Depot, we hopped off and had a quick ride on the carousel before the parade began.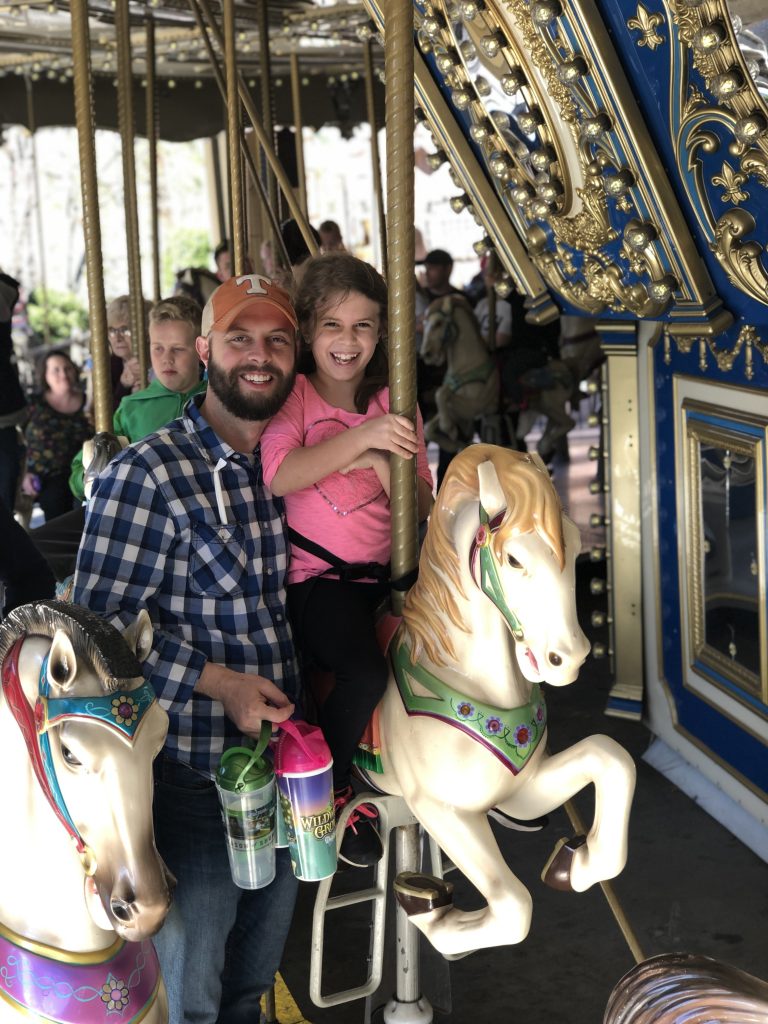 The parade was preceded by one of the roaming characters that was pretending that we were all there for him. It was pretty funny.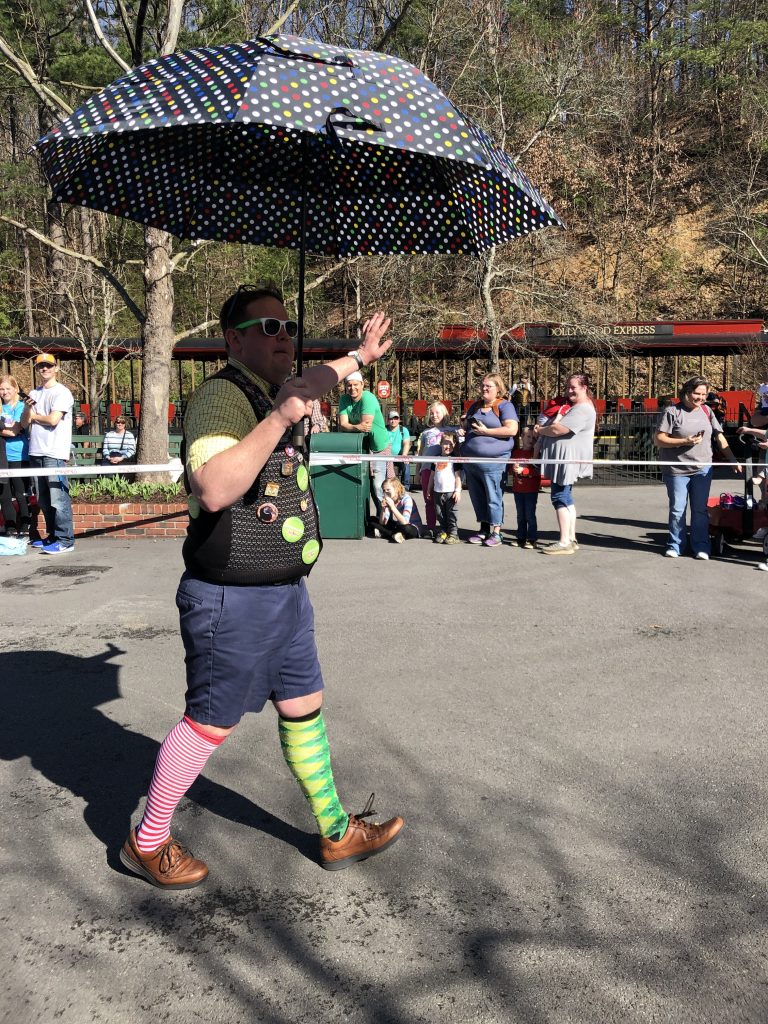 The parade was coming along nicely with the Festival of Nations folks, when all of a sudden I looked up and saw Dolly Parton herself!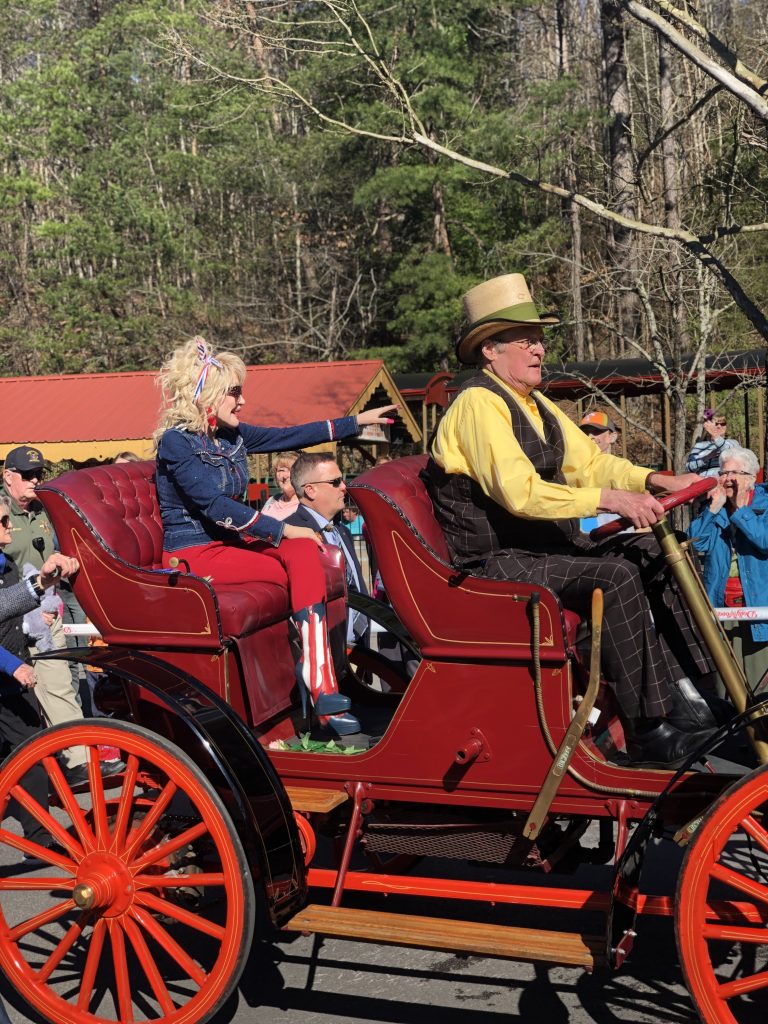 While we did have some suspicions that she might be in the parade, it still was startling and exciting all at once to actually see her in person!
I'm not sure who was more excited…Matt or the kids…okay, okay…it was really me. I may have screamed her name really loud when I saw her. It probably startled her just as much as it startled me.
Our day was officially complete. We saw Dolly. We can go home now.
Dollywood Festival of Nations Food
One last thing that we had on our agenda was to stop and try out some of the special foods that they have for the Festival of Nations.
When we got to the park that morning, we picked up some little Passport looking books that tell about all of the food and where you can buy it from.
Jack had been studying it and reading it all day, so this kid was super excited to try out some of the food.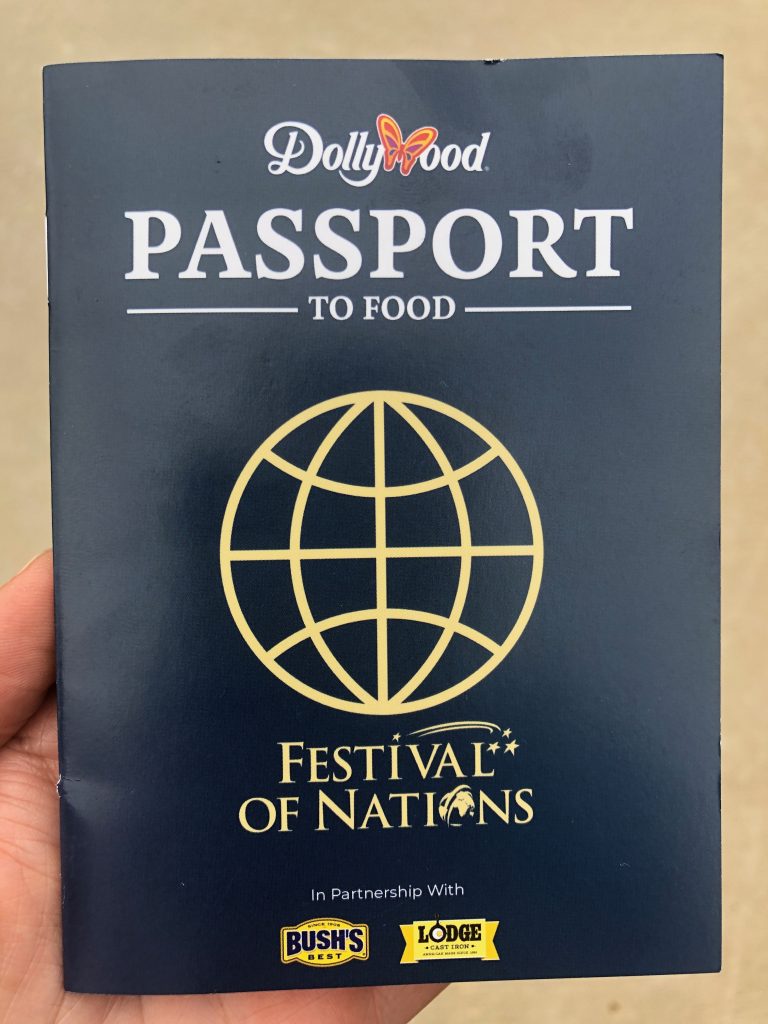 To be real honest, I wanted to try something from every country, but we were running out of time and we all agreed on trying out the Cannoli and Chocolate Biscotti from Italy in the Spotlight Bakery, which would be our last stop on our way out.
And this is what led us to our CaddyWampus Moment for this trip.
Our CaddyWampus Moment
When we finally got there, the line was WAY out the door (which didn't match the rest of our day with crowds) and it did not seem to be moving very fast.
All of the other food booths were a good ways back which means we would have had to backtrack significantly.
With all of us on the verge of hangry, it started getting scary real fast. We all said never mind and left as quickly as possible.
I'm happy to report that we were able to avoid any major hangry catastrophes. However, it did get a little questionable a few times.
We also decided that we definitely wanted to come back again during the Festival of Nations season and try out some of the food as we were super disappointed that we didn't get to this go around.
Ah well, you win some, you lose some! We didn't get any of the fancy Festival of Nations food BUT…we did see Dolly!
Tips & Tricks
Be sure to watch at least one of the special Festival of Nations shows. The other shows will be there for probably most of the year, so if you want to see a Festival of Nations show, nows the time to do it!
Plan accordingly for the Festival of Nations food booths. Maybe a mid-afternoon snack would be more ideal. Don't wait to the last minute when hangry sets in. This is no good for anyone.
If you want to see a good view of the new land, Wildwood Grove, hop aboard the Dollywood Express and it will take you on a special behind the scenes tour that you can only see from the train!
There are plenty of Photo Ops throughout the park during the Festival of Nations (and year-round, for that matter). Take time to stop and take a few pictures throughout your day!
Final Thoughts
This was one of our first years actually making it to the Festival of Nations. It is only open for a short season, so you have to get there in the first few weeks that Dollywood opens for the new year. We really enjoyed it and have a better idea of what to expect next time! We look forward to seeing what its like next year as they always switch up the entertainment and shows, so each year you can experience something new!
---
What are your family's favorite things to do at Dollywood? What are your favorite things about the Festival of Nations at Dollywood? Did you try any of the Festival of Nations foods? Leave a comment below! We would love to hear from you!
---
More related articles: